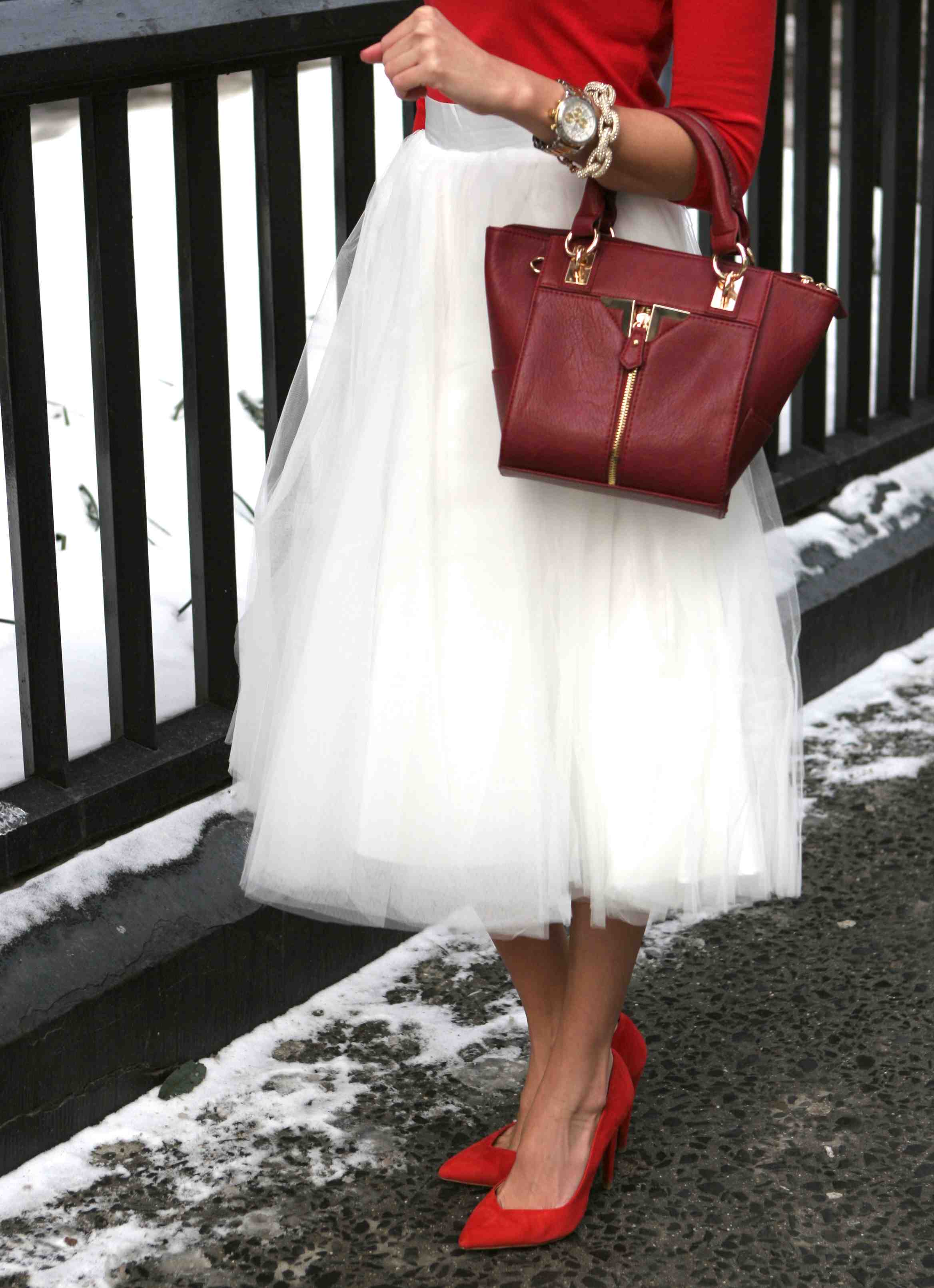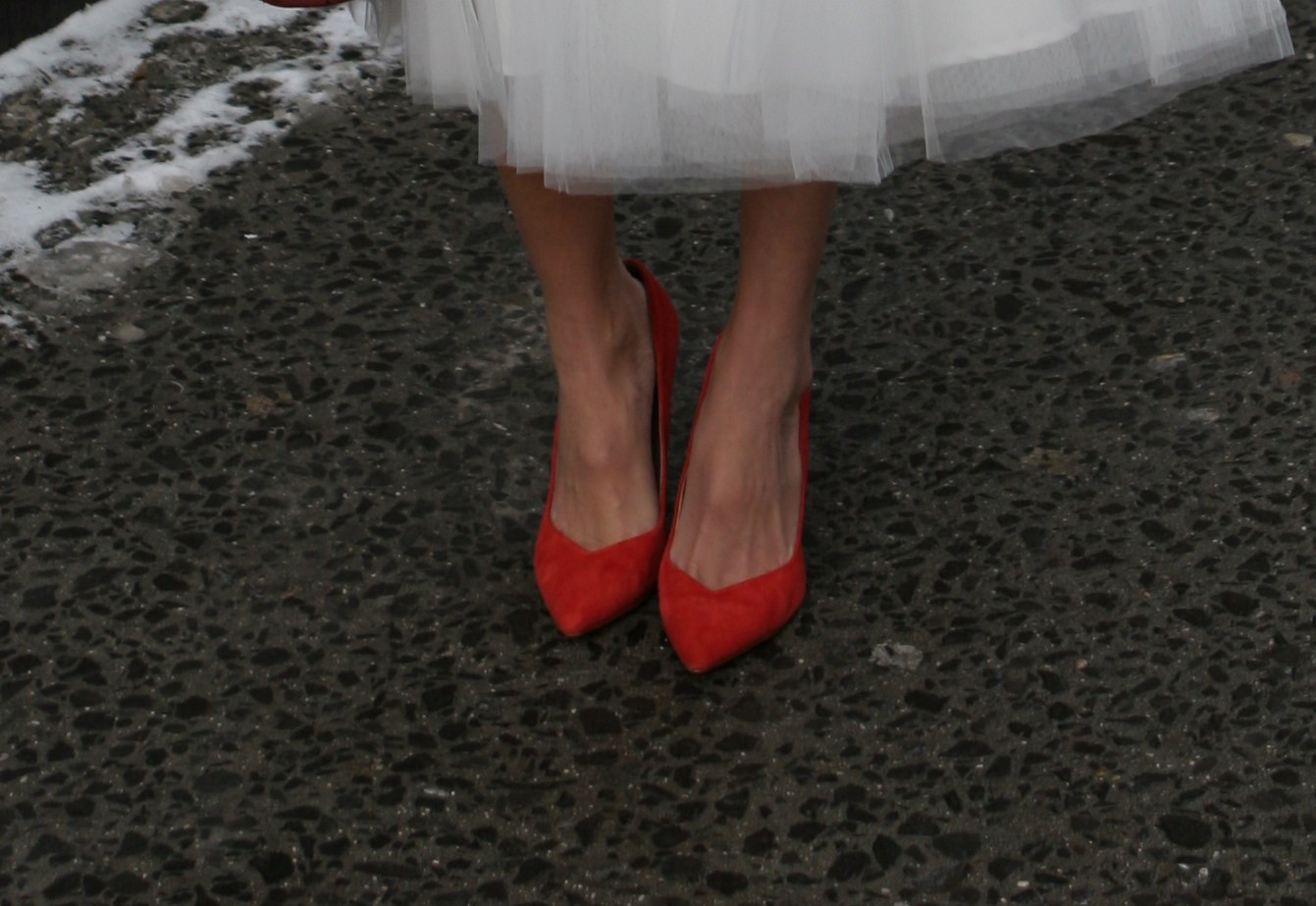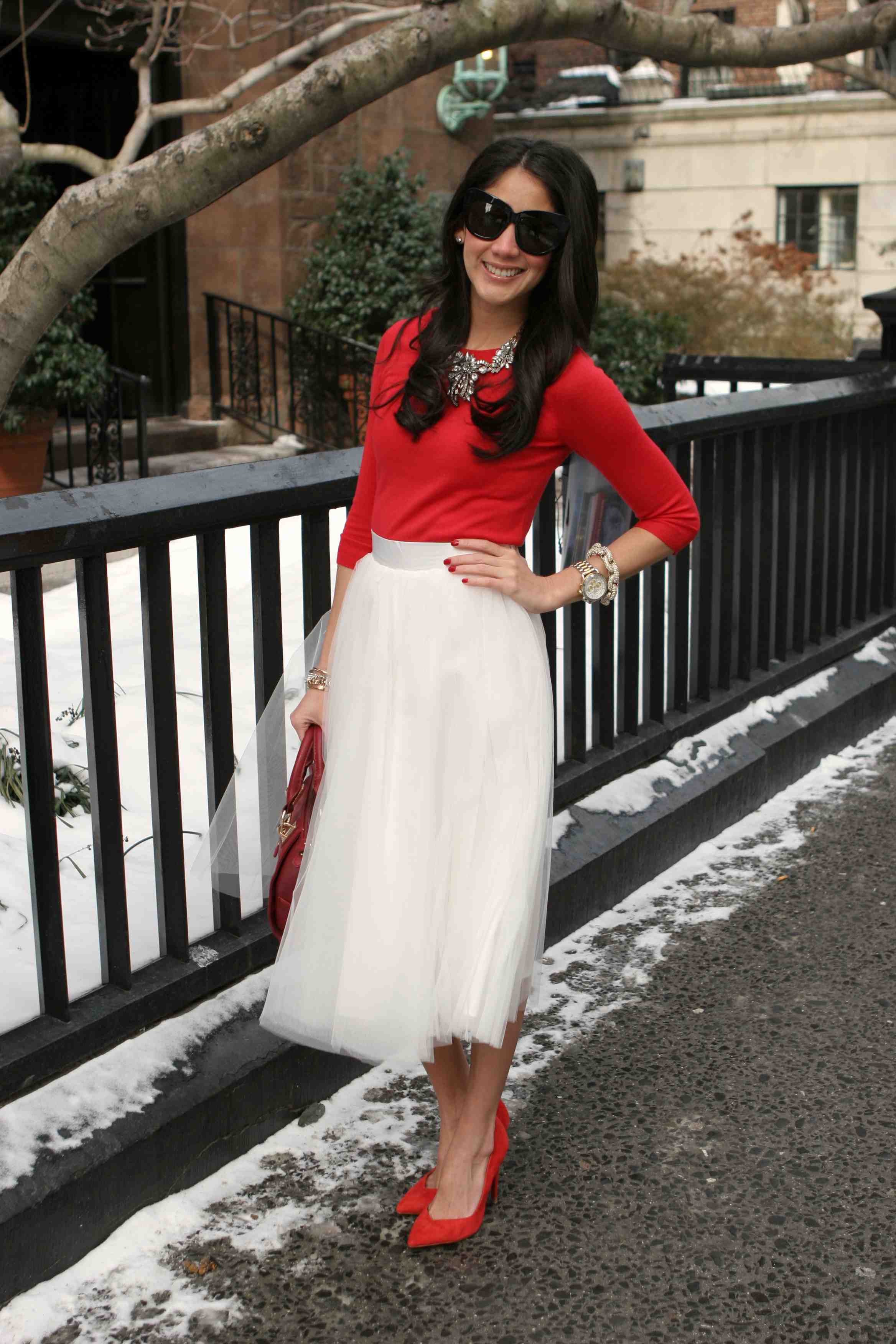 Any day is a good day for a tulle skirt, wouldn't you agree? Valentine' Day is just around the corner and nothing is more elegant and simple than a white and red combo. I really love my Space 46 Boutique tulle skirt. This super cute online store has beautiful skirts in different lengths and colors for everyone's styles. Check them out, I know you'll love them as much as I do. Wanting to keep things alive and with a punch of color, I paired my tulle skirt with a red J.Crew tippi sweater, J.Crew crystal necklace, Danielle Nicole Alexa mini bag, Coach watch, Stella & Dot renegade cluster bracelets, BaubleBar original pave links bracelet, Zara heels, House of Harlow 1960 Chelsea sunglasses. If you're looking for outfit ideas and want to see what options you have, look no more for what to wear for Valentine's Day, and check this post out.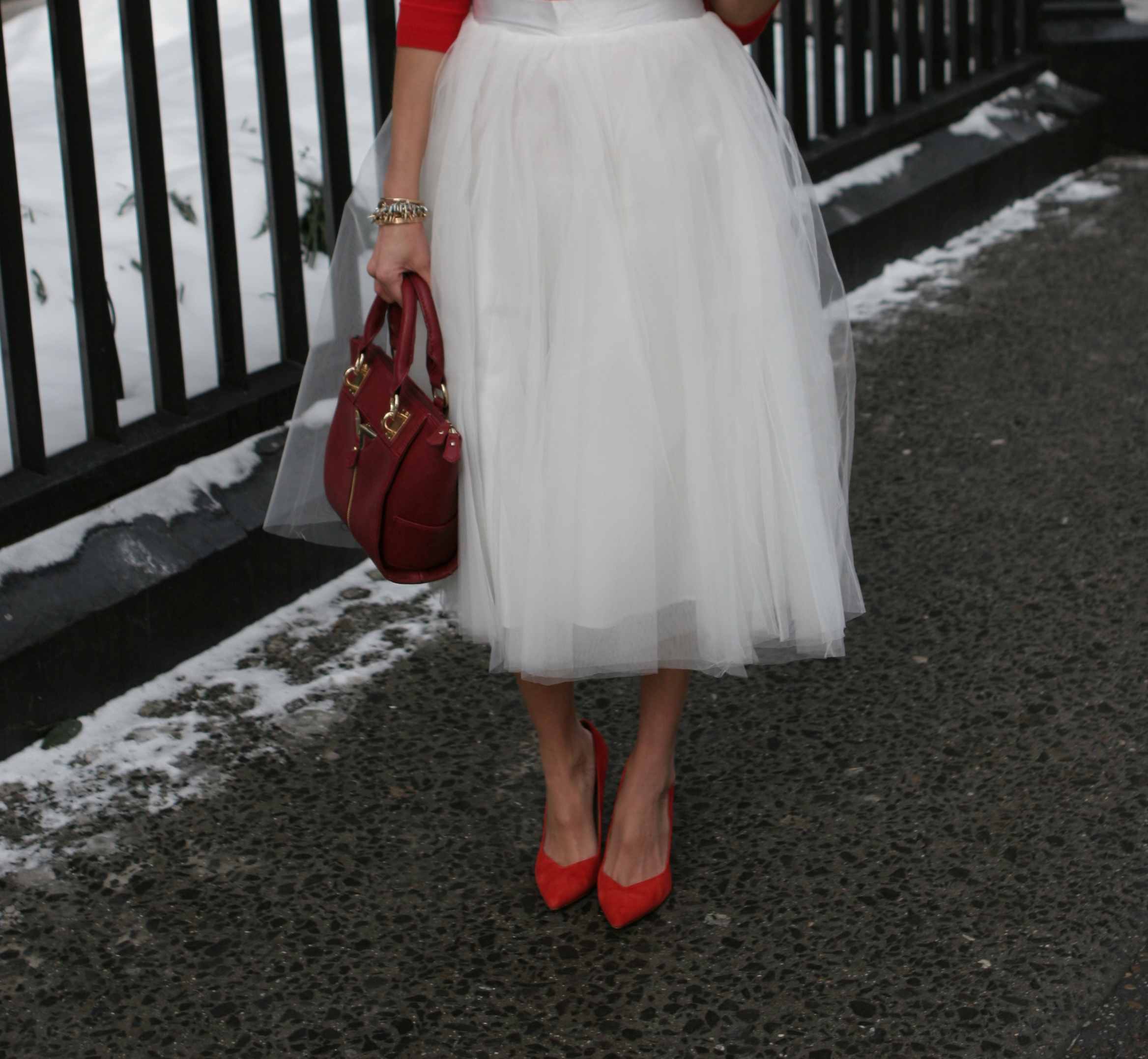 Jeder Tag ist ein guter Tag für einen Tüllrock. Valentinstag ist gleich hier und nichts ist mehr elegant und einfach als eine weiße und rotte combo. Ich liebe mein Space 46 Boutique Tüllrock. Diese super nette Online-Shop hat ganz schöne Röcke in verschiedenen Längen und Farben für jeden Stil. Überprüfen Sie sie heraus, ich weiß, dass Sie es lieben werden. Meine Tüll-Rock mit rotte J.Crew tippi Pullover, J.Crew Halskette, Danielle Nicole Alexa mini Tasche, Coach Uhr, Stella & Dot abtrünnigen Cluster Armbänder, BaubleBar Armband, Zara asymmetrische Schuhe, House of Harlow 1960 Chelsea Sonnenbrille.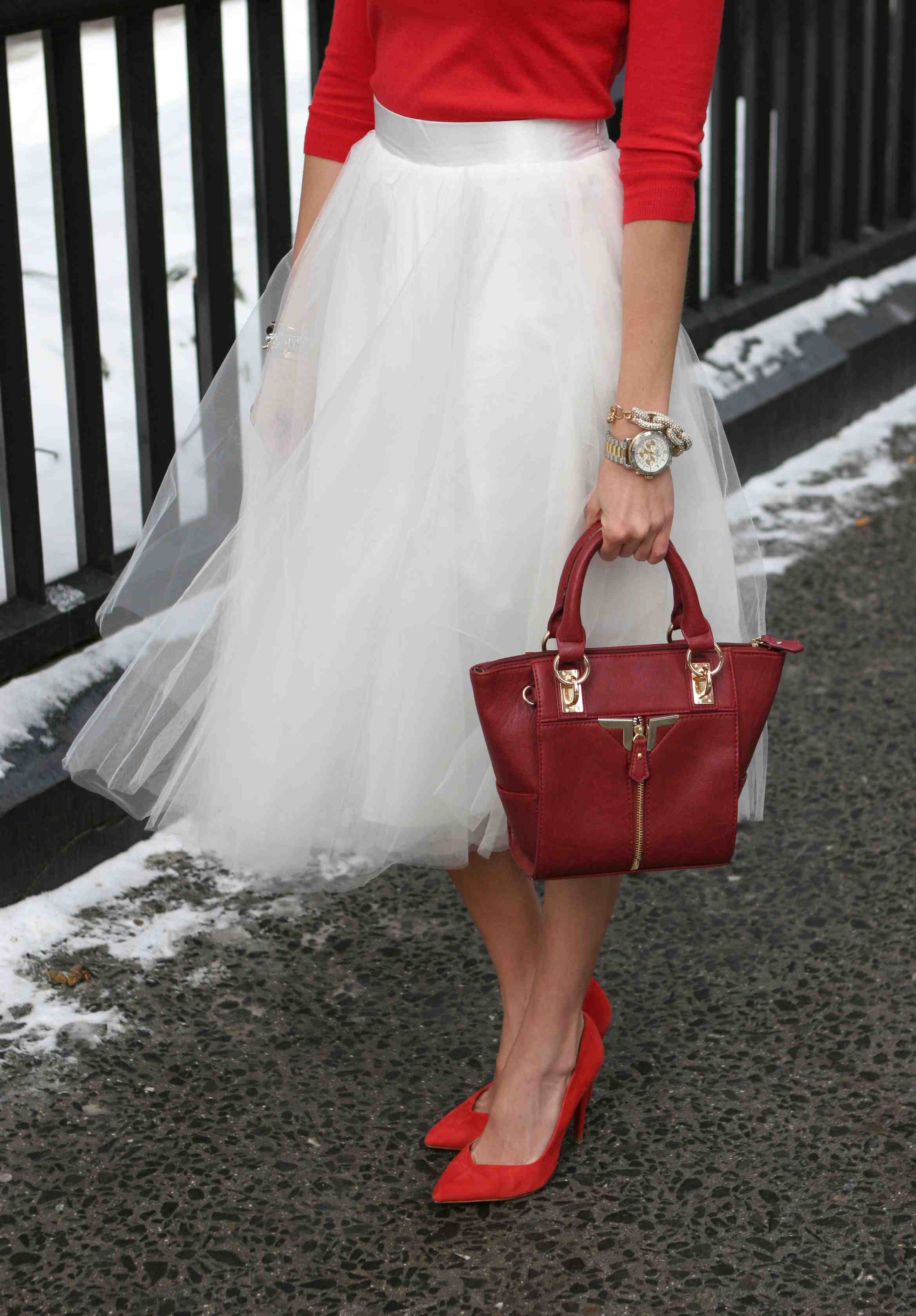 Cualquier día es un buen día para una falda de tul, ¿no les parece? El día de San Valentín está a la vuelta de la esquina y no hay nada más elegante y simple que un combo blanco y rojo. Me encanta mi falda de tul de Space 46 Boutique. Esta tienda en línea es súper linda, tiene hermosas faldas en diferentes longitudes y colores para los estilos de cada uno. Les recomiendo que visiten la página, sé que les va a encantar tanto como a mí. Queriendo mantener las cosas vivas y con un toque de color, combiné mi falda de tul mi suéter rojo J.Crew tippi, collar de cristales J.Crew, cartera Danielle Nicole Alexa mini, reloj Coach, pulseras Stella & Dot, pulsera BaubleBar, tacones Zara asimétricos, gafas House of Harlow 1960 Chelsea.