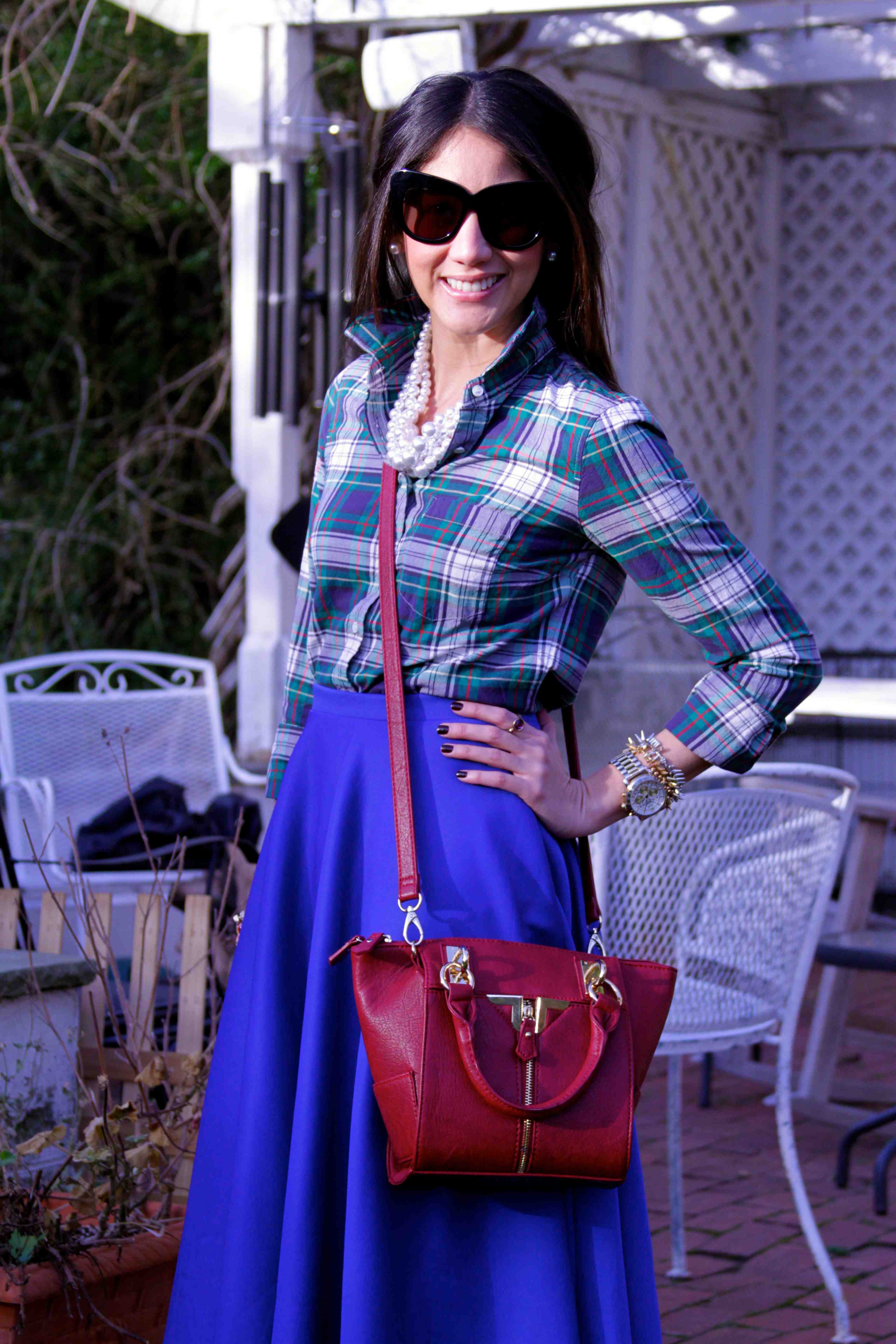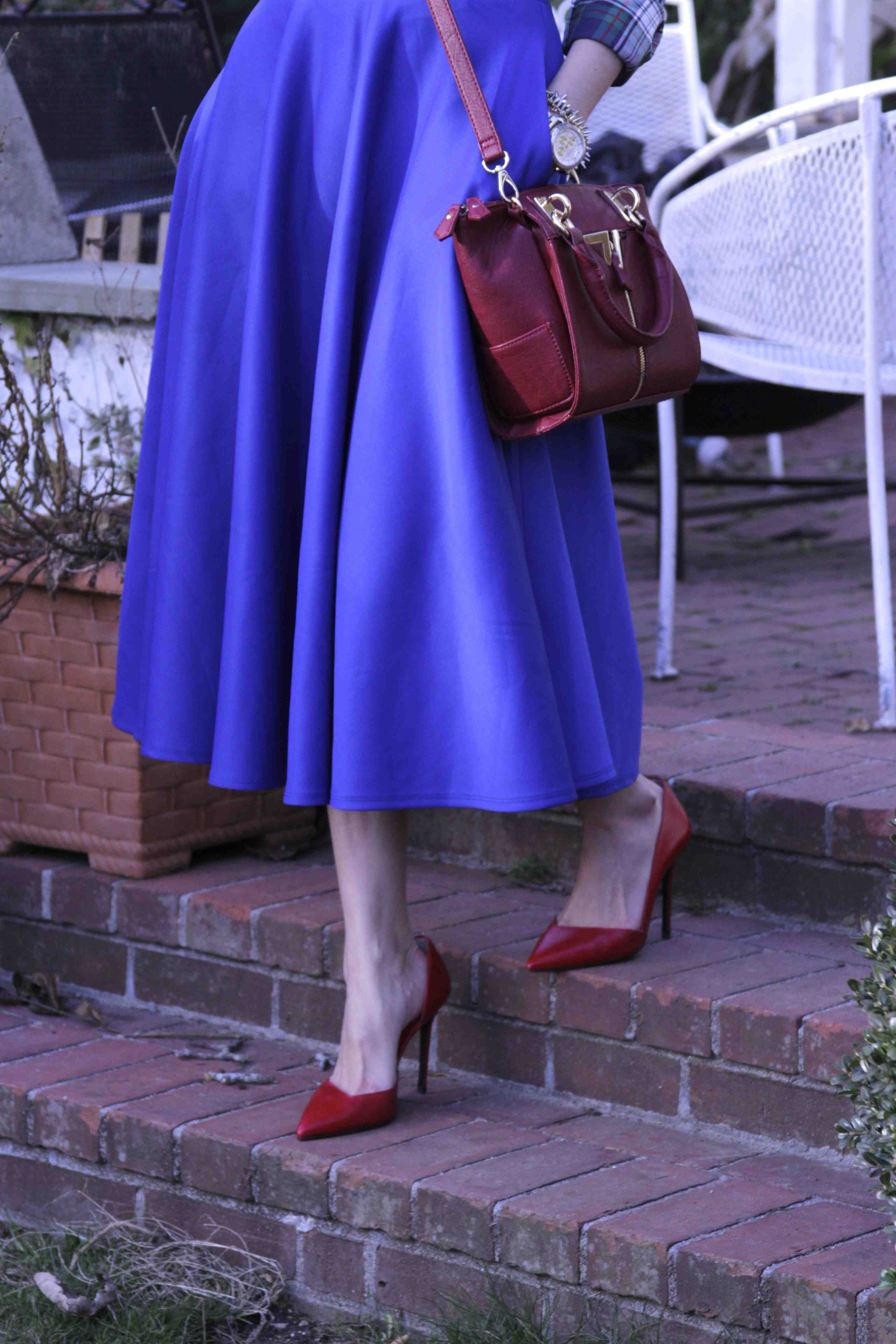 Two of my favorite things when it comes to fall fashion is plaid and a pop of color. Today, I continue to share with you my love for full/midi skirts. This cobalt midi skirt is perfection. You don't need much to make a fun and dressy outfit out of this one. Wanting to keep things stylish and a bit preppy, I added my favorite plaid shirt from J.Crew and my favorite pearl necklace from Lauren Elan (last seen here), plus other jewels to complete my arm party, coach watch via T.J.Maxx, Stella & Dot renegade cluster bracelets, BaubleBar original pave links bracelet. I'm all about the pop of colors so I couldn't resist to add a pop of red with this merry merry red Zara asymmetric heels and this super cute Danielle Nicole tote bag. You don't have to break the bank to put together a stylish outfit. The only thing new (well, got it in the last few months) is the Asos midi skirt, everything else I already had. Whenever I'm putting together an outfit, my wardrobe treasures flash through my mind and I end up with outfits like this. Which can also be worn to some of the holiday parties you have coming up.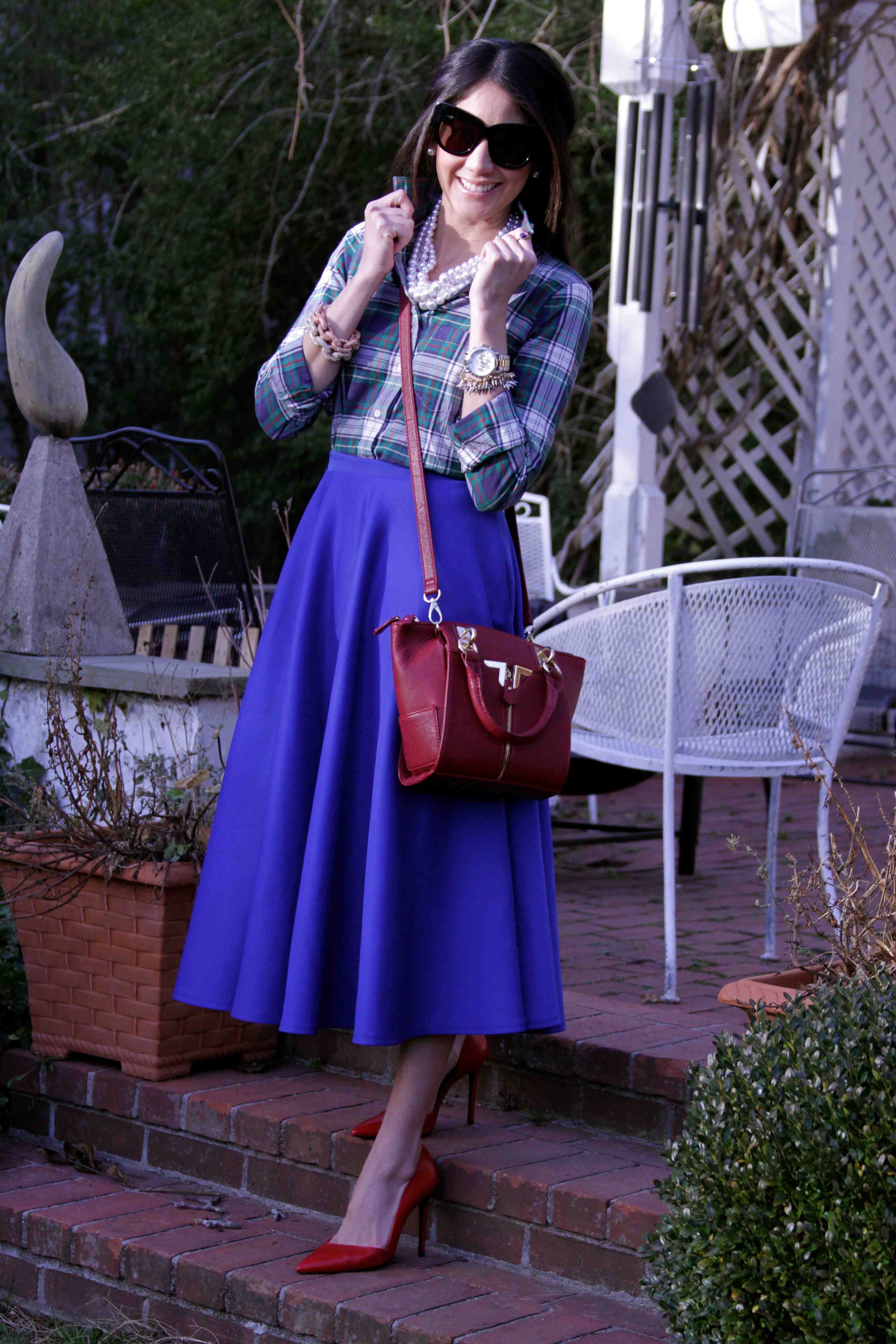 Zwei meiner Lieblings-Dinge, wenn es um Herbstmode kommt, ist Plaid und ein Pop der Farbe. Heute habe ich weiterhin mit Ihnen meine Liebe für voll/Midi Röcke zu teilen. Das Kobalt midi Rock ist Perfektion. Sie brauchen nicht viel, um einen Spaß und eine Elegant-Outfit aus diesem zu machen. Zu wollen, was stilvoll und ein bisschen preppy zu halten, habe ich meine Lieblings-kariertes Hemd von J.Crew und meine Lieblings- Perlenkette von Lauren Elan (zuletzt hier gesehen), sowie andere Juwelen, um meinen Arm Partei , Coach Uhr via T.J.Maxx, Stella & Dot abtrünnigen Cluster Armbänder, BaubleBar Armband. Ich bin alles über die Pop- Farben, so konnte ich nicht widerstehen, um ein Pop der roten mit diesem fröhlich rot Zara asymmetrische Schuhe und diesem super netten Danielle Nicole Einkaufstasche hinzuzufügen. Sie müssen nicht die Bank brechen zusammen ein stilvolles Outfit zu setzen. Das einzige, was neue (gut, habe es in den letzten Monaten) ist die Asos Midirock, alles andere hatte ich schon. Immer, wenn ich die Zusammenstellung ein Outfit, meine Garderobe Schätze blinken mir durch den Kopf und ich am Ende mit Outfits wie dieses. Die auch zu einigen der Urlaub Parteien kommen Sie haben getragen werden.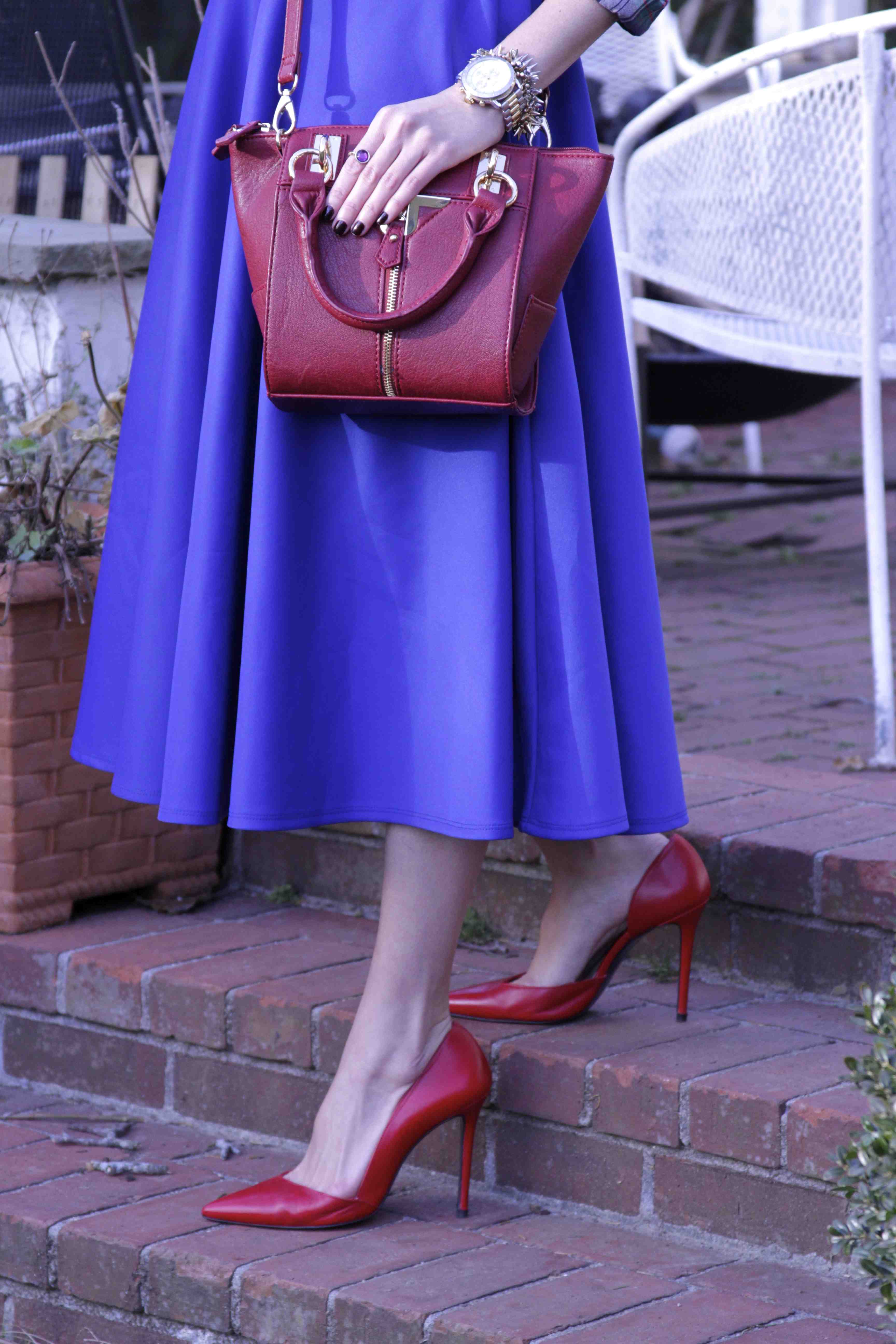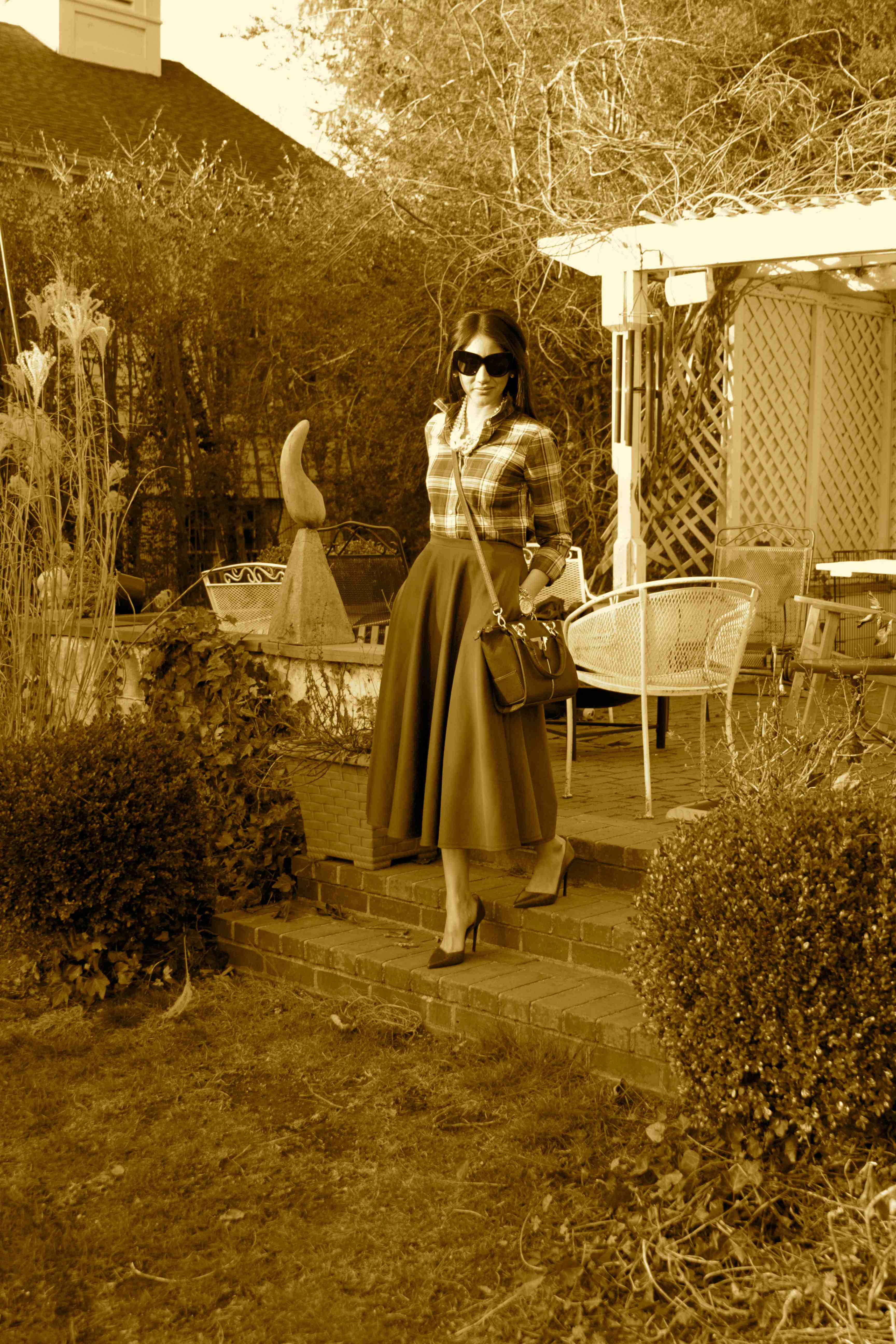 Dos de mis cosas favoritas cuando se trata de la moda de otoño son las telas escocesas y un toque de color. Hoy, sigo compartiendo con ustedes mi amor por faldas full/midi. Esta falda midi de color cobalto es la perfección. Ustedes no necesitan mucho más para hacer esta falda divertida. Queriendo mantener las cosas con estilo y un poco de muy buen gusto, he añadido mi camisa favorita de tela escocesa de J.Crew y mi collar favorito de perlas Lauren Elan (visto por última vez aquí), además de otras joyas para completar mi fiesta de accesorios, reloj entrenador a través de T.J.Maxx, pulseras Stella & Dot, pulseras BaubleBar. Estoy todo sobre el pop de los colores , así que no pude resistirme a añadir un toque de color rojo con esta merry merry tacones rojos Zara asimétricos y esta cartera super linda Danielle Nicole. Ustedes no tienen que romper el banco para armar un conjunto con estilo. Lo único nuevo (bueno, lo tengo en los últimos meses ) es la falda midi Asos, todo lo demás ya lo tenía. Cada vez que estoy armando un conjunto, mis tesoros de mi armario parpadean a través de mi mente y termino con conjutnos como este. Lo que también se puede usar para algunas de las fiestas navideñas que están tan solo a la vuelta de la esquina.