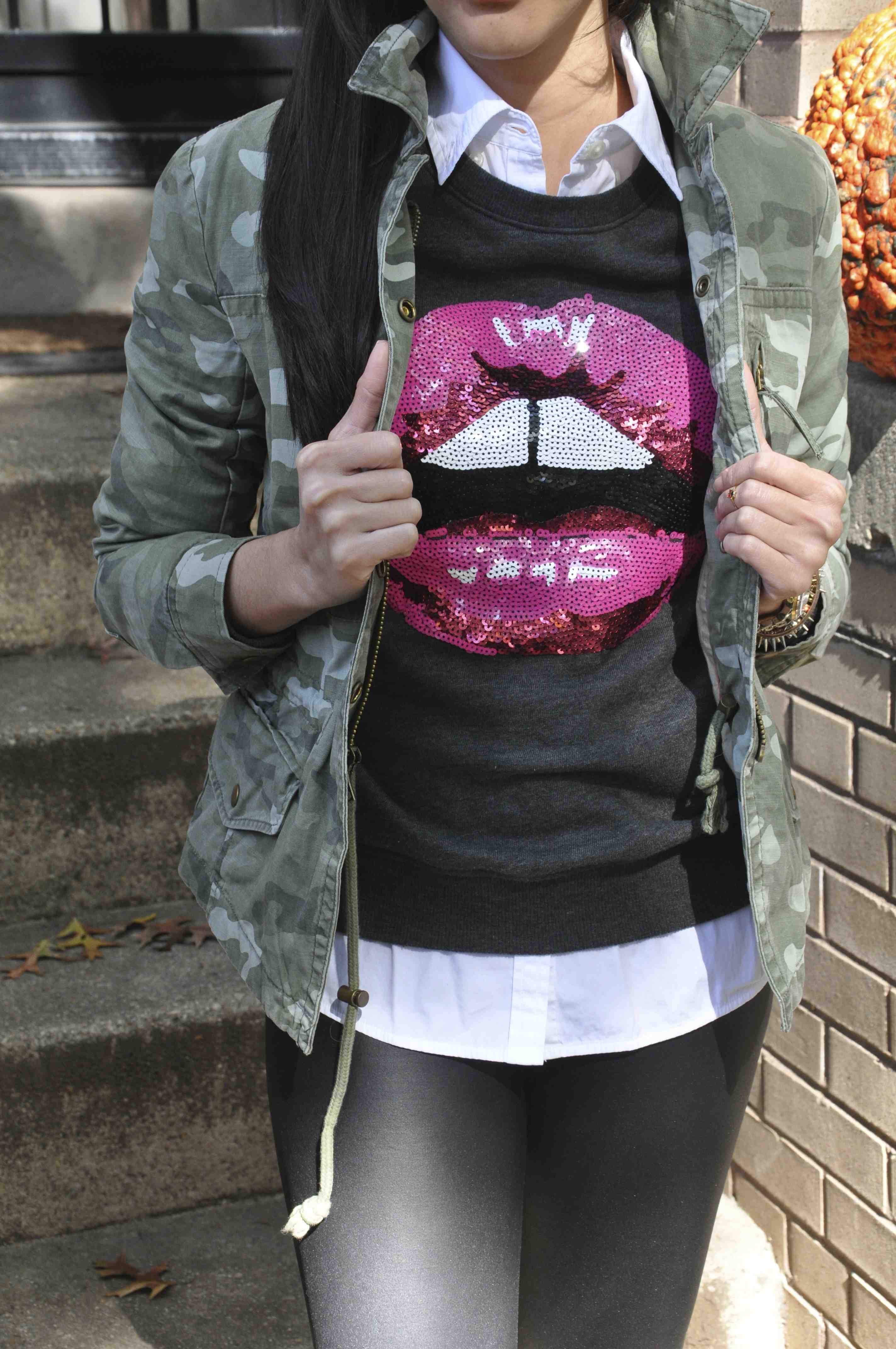 This weekend was a super trooper kind of weekend with this pretty camouflage jacket and sleek leather leggings. Check out this post and get tips on how to layer your clothes this fall. Mix and match a long-sleeve shirt, sweater and jacket for cozy layer combo. If you want extra warmth, add a thicker long jacket on top of this combo and you'll take winter with no problem. Forever21 dazzling sequined lips sweatshirt, Equipment Elliot silk top, Gap printed utility jacket, Topshop leather leggings via Nordstrom, ZARA heels, House of Harlow 1960 Chelsea sunglasses, Coach watch via T.J.Maxx, Stella & Dot, Stella & Dot renegade cluster bracelets, Anarchy Street classic nail bangle.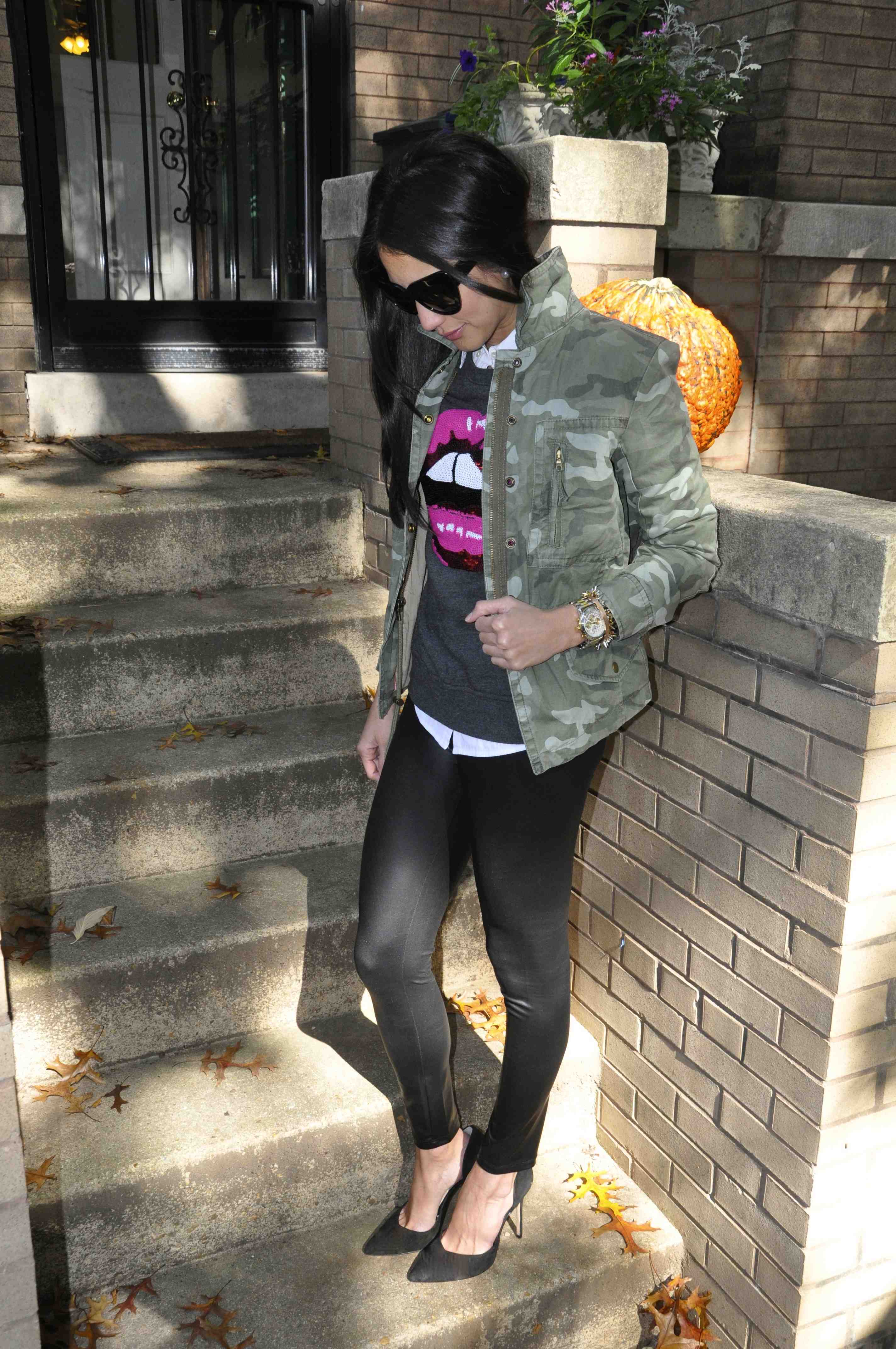 Dieses Wochenende war ein super trooper Wochenende mit diesem hübschen Camouflage-Jacke und eleganten Leder-Leggings. Überprüfen Sie in diesem Beitrag und erhalten Tipps, wie Sie Ihre Kleidung Schicht in diesem Herbst. Mix and match ein Langarm-Shirt, Pullover und Jacke für gemütliche Schicht Combo. Wenn Sie zusätzliche Wärme wollen, fügen Sie eine dickere Jacke lange oben auf dieser Combo und Sie werden im Winter ohne Probleme nehmen. Forever21 Pullover, Equipment Hemd, Gap Jacke, Topshop leggings via Nordstrom, ZARA Schuhe, House of Harlow 1960 Chelsea Sonnenbrillen, Coach Uhr via T.J.Maxx, Stella & Dot abtrünnigen Cluster Armbänder, Anarchy Street klassische Nagel Armreif, Louis Vuitton vintage Tasche.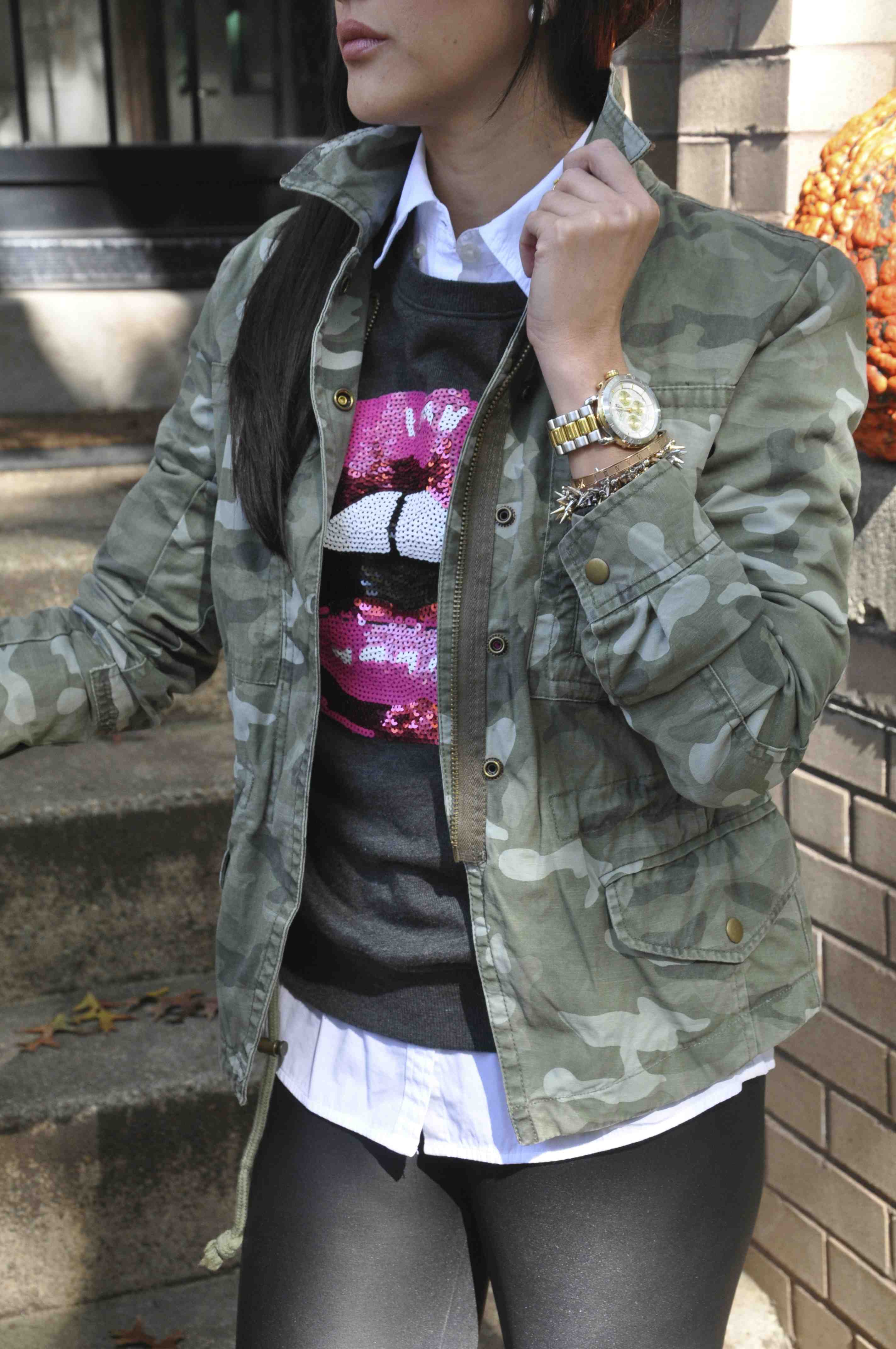 Este fin de semana fue un fin de semana de súper trooper con esta chaqueta cool de camuflaje y polainas de cuero liso. Echa un vistazo a este artículo y obtén consejos sobre cómo armar capas de ropa este otoño. Mezcla y combina una camisa de manga larga, suéter y chaqueta. Si deseas más calor, añade una chaqueta larga gruesa a este combo y tomarás el invierno sin ningún problema. Suéter Forever21, camisa Equipment, chaqueta de utilidad,Gap, leggings Topshop via Nordstrom, zapatos ZARA, gafas de sol de House of Harlow 1960 Chelsea, reloj Coach a través de T.J.Maxx, Stella & Dot pulseras racimo renegado, brazalete clásico clavo Anarchy Street.