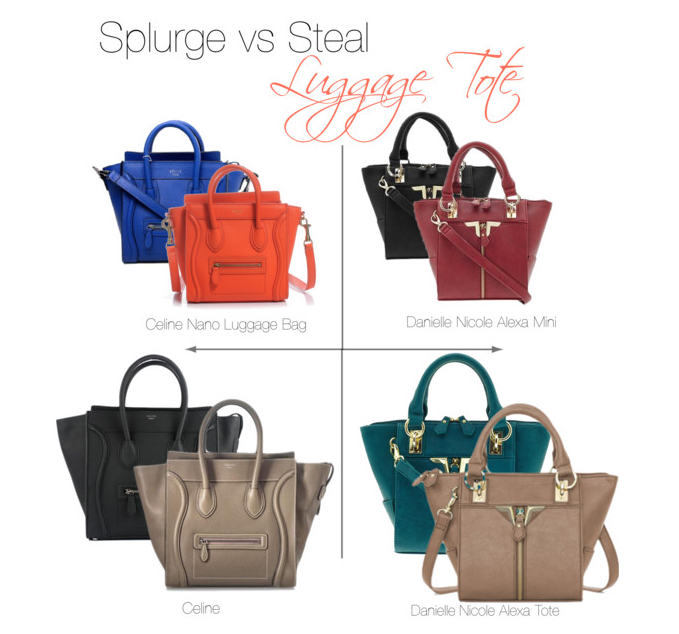 Today's splurge vs steal fashion segment brings you luggage tote and mini bags. The Celine bag is the most coveted bag in the fashion industry. When I found the Danielle Nicole bags I was very happy as I love Celine's simple style and office-friendly look, check it out. It's super practical and a price you can't beat. Celine Nano luggage bag vs Danielle Nicole Alexa mini crossbody. Celine luggage tote vs Danielle Nicole Alexa Tote.
Heutige protzen vs stehlen Fashion-Segment bringt Ihnen Gepäck Tote und Mini-Taschen. Die Celine Tasche ist die begehrteste Tasche in der Modebranche. Wenn ich die Danielle Nicole taschen Ich war sehr glücklich, als ich Celines einfachen Stil und Büro-freundlichen Blick liebe gefunden, check it out. Es ist super praktisch und ein Preis, den man nicht schlagen kann. Celine Nano Gepäcktasche vs Danielle Nicole Alexa mini crossbody. Celine Gepäck Tote vs Danielle Nicole Alexa Tote.
En el segmento de moda de derroche vs robo, les traigo carteras grandes y pequeñas de Celine y Danielle Nicole. La cartera Celine es la cartera más codiciada en la industria de la moda. Cuando encontré las carteras Danielle Nicole estuve super feliz ya que me encanta el estilo sencillo de Celine y la apariencia apropriada para la oficina, échale un vistazo. Es súper práctica y a un precio que no se puede superar. Celine Nano bolso de equipaje vs Danielle Nicole Alexa Mini crossbody. Celine vs cartera grande Danielle Nicole.