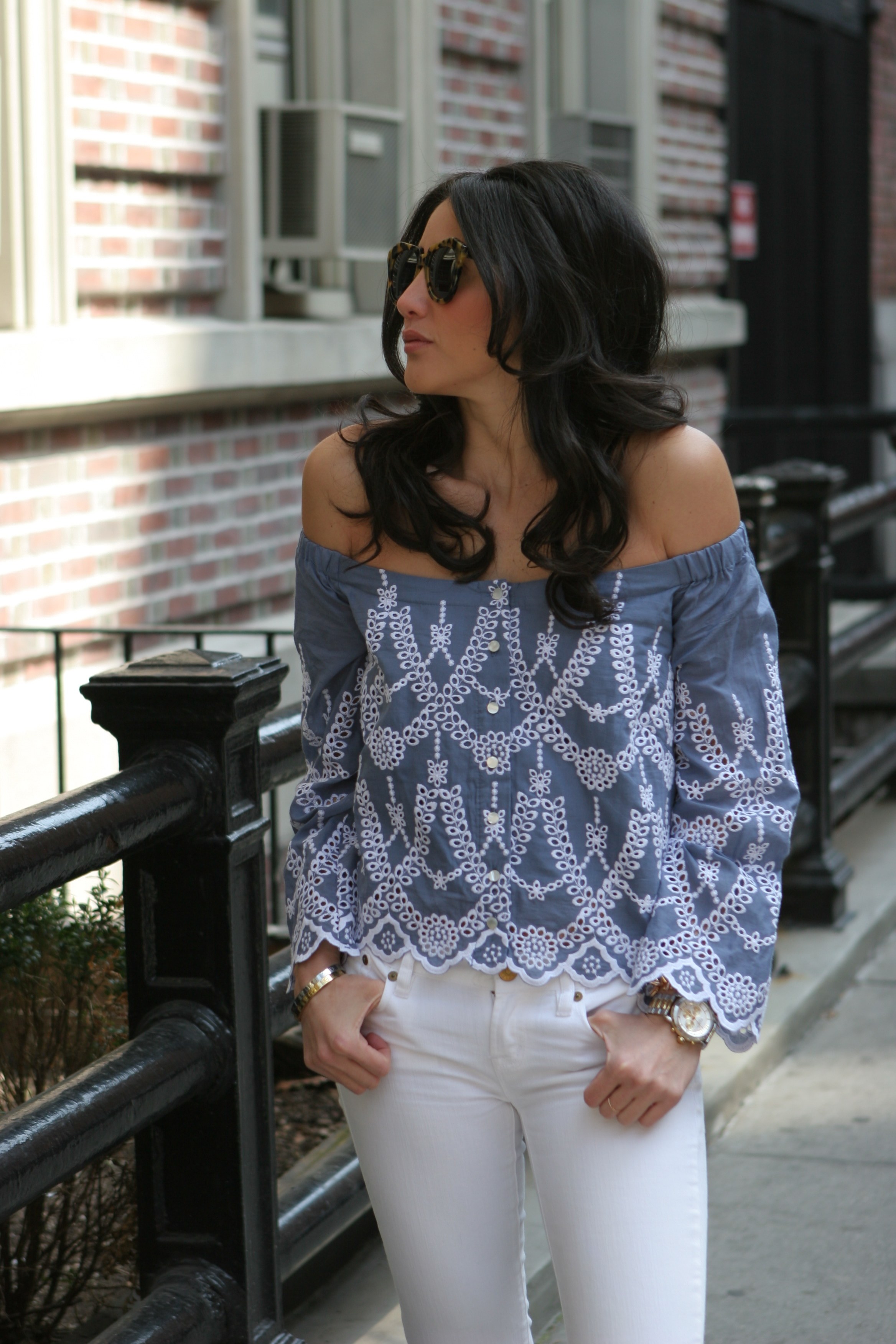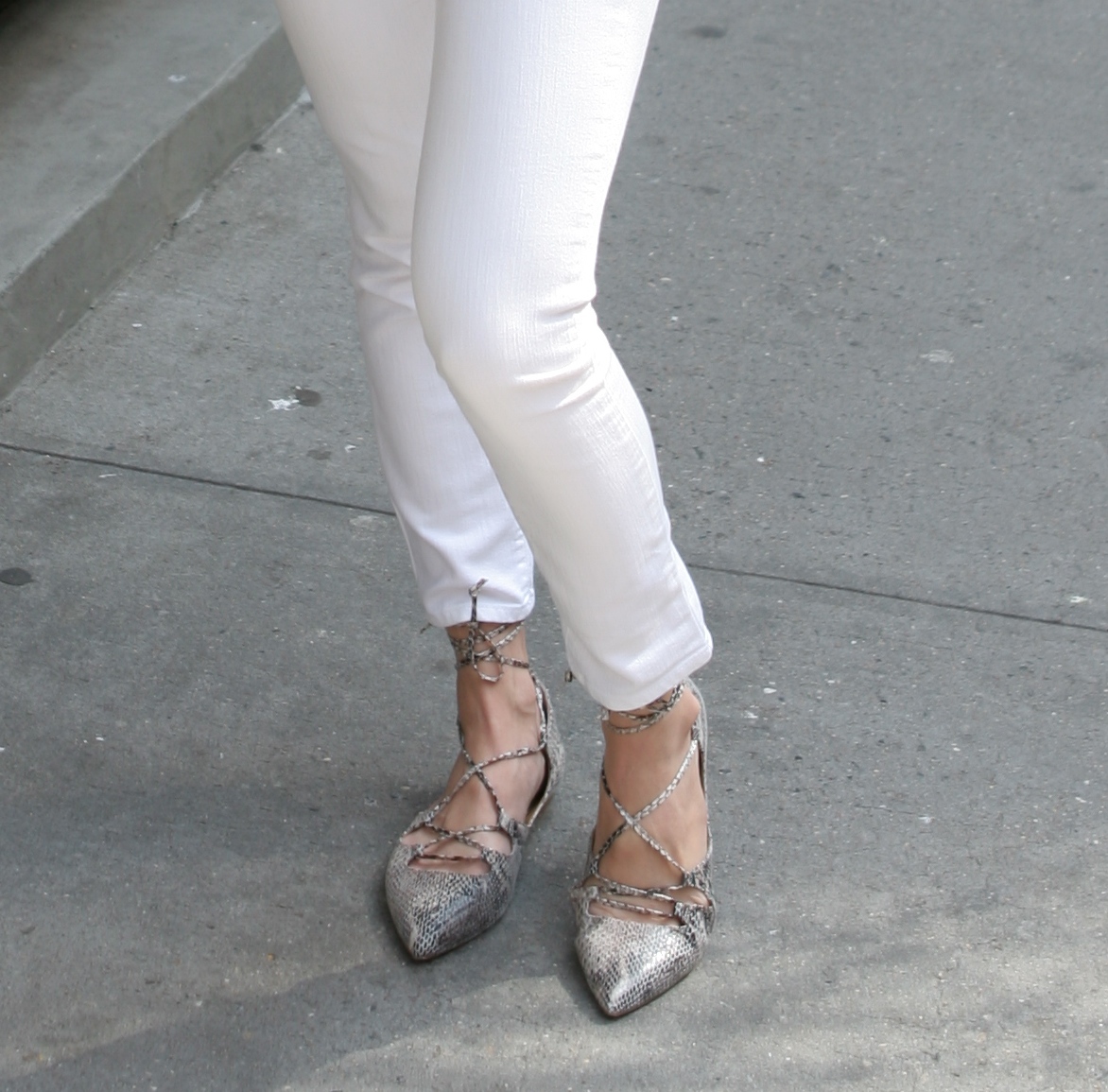 Top: Kendall + Kylie off-the-shoulder scalloped eyelet blouse | Pants: J.Crew toothpick jean in white | Shoes: Banana Republic Allie lace-up flats (40% off) | Earrings: J.Crew pearl and crystal earrings (30% off with code TIMETOSHOP) | Watch: Coach| Bracelets: Anarchy Street naild it bangle, Stella & Dot renegade cluster bracelet | Lipstick: MAC 'Huggable' lipcolour | Make-up: Chanel Joues contraste powder blush, Bare Minerals foundation kit.
It's no news that I'm all over off-the-shoulder tops and this is a special fun piece I'm planning to wear at Coachella next weekend so I had to share it with you in case you're in the market for festival-ready looks. If you're wondering what to wear at Coachella or what to wear to a music festival this year, I have you covered. This Kendall + Kylie off-the-shoulder scalloped eyelet blouse has the right amount of boho chic, festival fun while conserving a simple and sophisticated touch. At the festival, I'll probably wear this top with high-waist shorts and lace-up sandals and maybe a hat, I'll make sure to share this look. For a casual spring stroll down the West Village, this off-the-shoulder eyelet top looks great with cropped jeans and strappy flats.
Es ist nichts Neues, dass ich alle über off-die-Schulter-Tops liebe und dies ist ein besonderer Spaß Stück, das ich bei Coachella am nächsten Wochenende zu tragen habe vor, so dass ich es in Fall mit Ihnen teilen mussten Sie auf dem Markt für Festival sind -bereite aussieht. Wenn Sie sich fragen, was bei Coachella zu tragen oder was zu einem Musikfestival tragen in diesem Jahr, ich habe für Sie. Kendall + Kylie off-die-Schulter-scalloped Öse Bluse hat die richtige Menge schicke Boho, Festivalspaß , während eine einfache und hoch entwickelte Note zu bewahren. Auf dem Festival, werde ich wahrscheinlich ESTA-Oberteil mit hoher Taille Shorts und Spitzen-up-Sandalen tragen und vielleicht ein Hut, werde ich sicherstellen, dass dieser Blick zu teilen. Für einen lässigen Frühling Spaziergang entlang der West Village, Das Off-the-Schulter schaut oben Öse groß mit den geernteten Jeans und Riemchen-Wohnungen.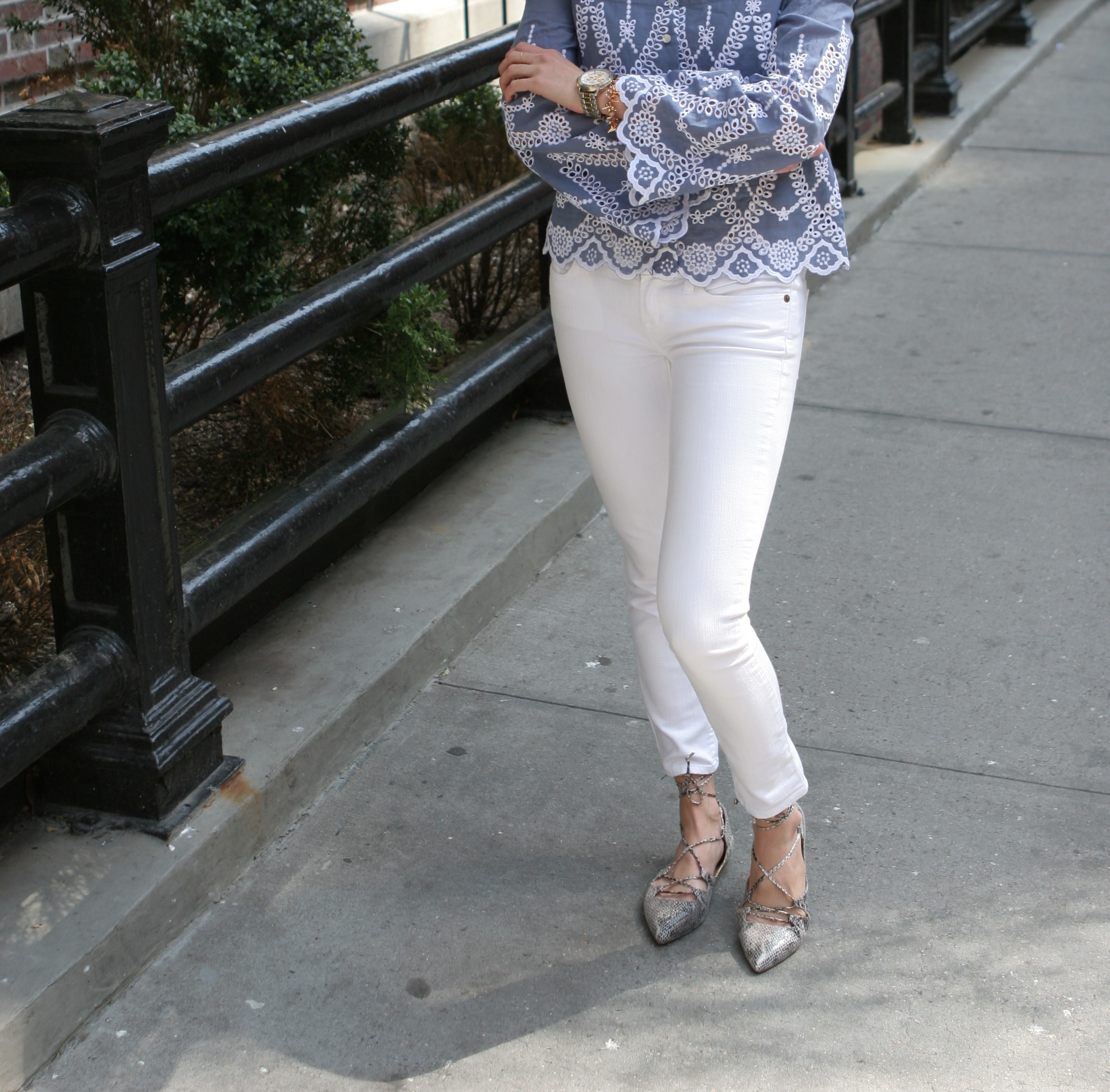 No es ninguna noticia que me encantan las piezas a los hombros y estoy pensando usar este top para Coachella el próximo fin de semana, así que tuve que compartirlo contigo en caso de que estés buscando un look para un festival. Si te preguntas qué ponerte para Coachella o qué ponerte para un festival de música este año, sigue leyendo. Este top a los hombros de Kendall + Kylie tiene la cantidad correcta de boho chic, conservando al mismo tiempo un toque simple y sofisticado. Probablemente me voy a poner este top con shorts a la cintura alta y sandalias con cordones y tal vez un sombrero para Coachella, me aseguraré de compartir este look contigo pronto. Para un paseo casual por el West Village, este top a los hombros se ve muy bien con jeans cropped y sandalias.