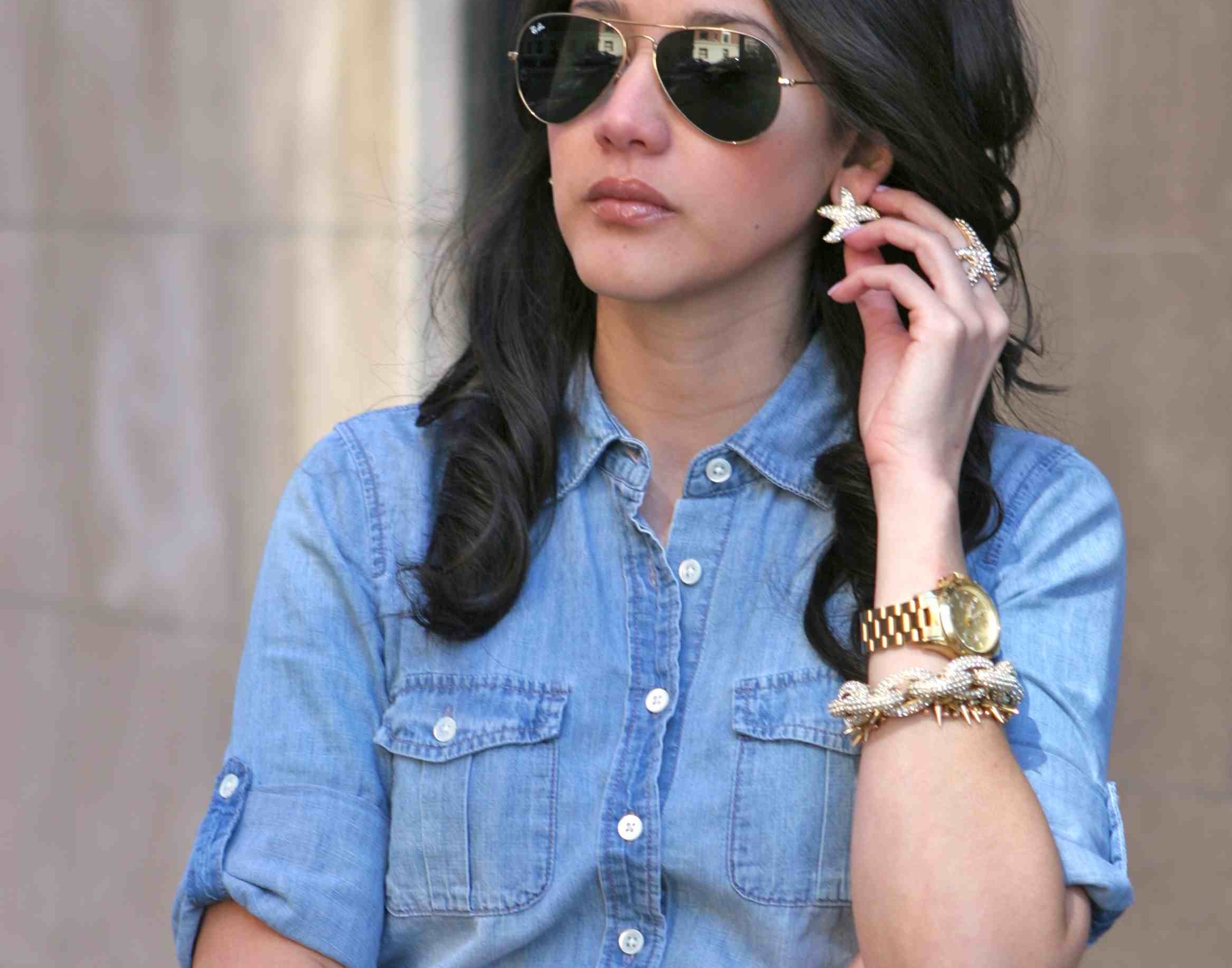 My chambray shirt has been popping out a lot lately. Whenever I'm packing to go to New York or picking an outfit, my chambray shirt always comes first to mind. as we get closer to warmer days, I put together my chambray shirt with this lovely flower skirt for a casual office look. Fridays are business casual days at my office and I cannot wait to wear this outfit. By adding brown accents (belt and sandals), the outfit gets a little fresh spring air, try mixing up your spring work clothes for a comfy, appropriate yet chic look. I'm a huge starfish accessories fan, if you can't tell. I was beyond happy when I found these awesome big starfish earrings at Fornash, I've been looking for them for so long. I have to thank my colleague Chelsea, who also has them, and gave me the tip! Outfit details: J.Crew keeper chambray shirt, BCBG belt, H&M floral skirt, Halogen sandals, Michael Kors watch, Stella&Dot renegade cluster bracelet, Ray-Ban 'Original Aviator' 58mm Sunglasses, Fornash Starfish stud earrings with sparkly stone detail (my new favorite pair of starfish earrings), Bauble Bar pave links bracelet, Chanel Joues Contraste 55, MAC Viva Glam V lip gloss, Essie 'Pansy' nail polish from Nordstrom. To see the rest of my beauty/makeup essentials click here.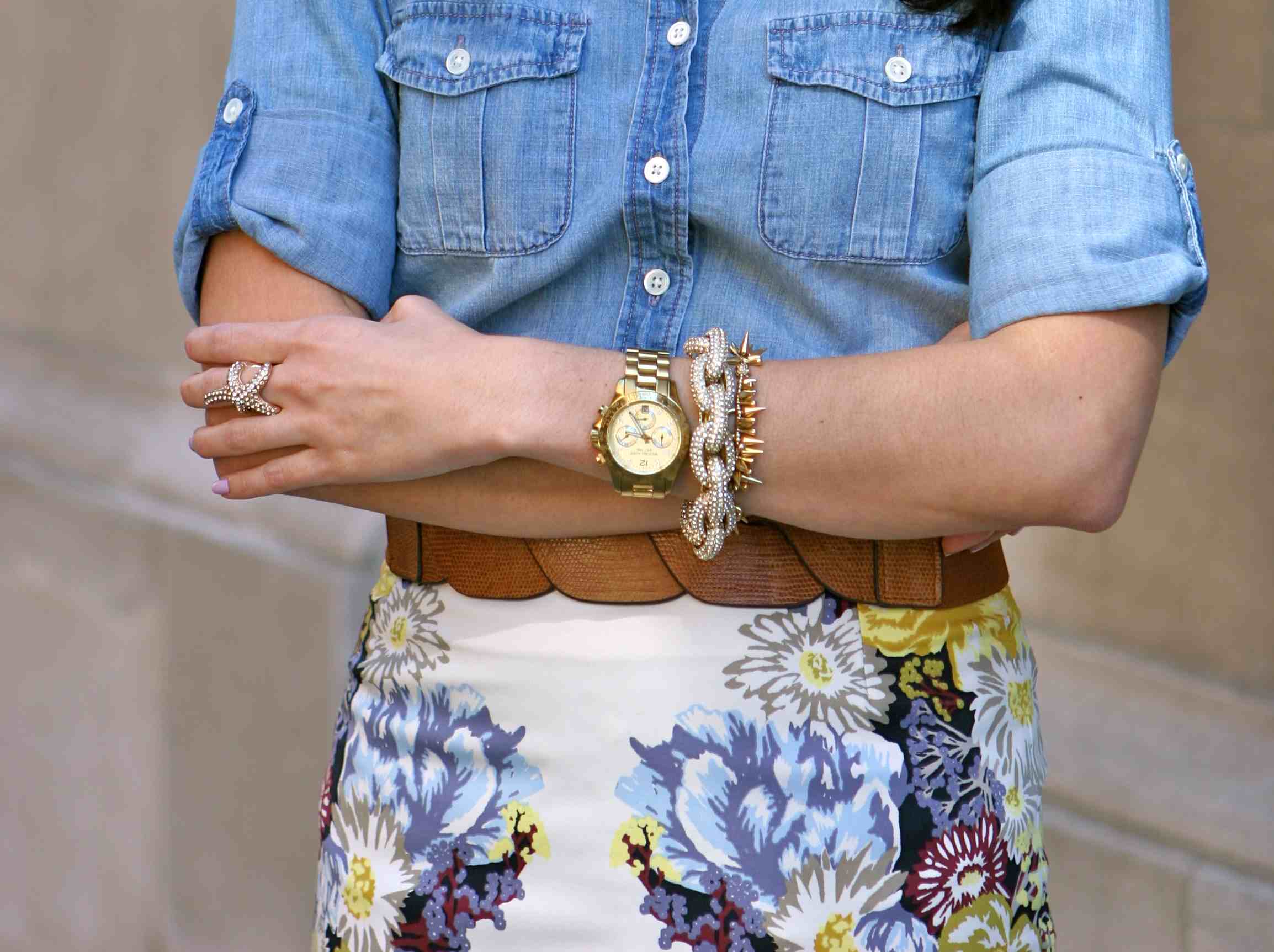 Ich liebe meine chambray Shirt. Immer, wenn ich packe, nach New York zu gehen oder Kommissionierung ein Outfit, mein chambray Shirt kommt immer zuerst in mein Kopf. Wie wir näher an wärmeren Tagen zu bekommen, habe ich zusammen meine chambray Shirt mit diesem reizenden Blume Rock für einen casual Büro-Look. Freitags sind business leger Tage in meinem Büro, und ich kann es kaum erwarten, dieses Outfit zu tragen. Durch die Zugabe von braunen Akzenten (Gürtel und Sandalen), das Outfit ein wenig frische Frühlingsluft bekommt, versuchen Mischen Sie Ihre Feder Arbeitskleidung für einen bequemen, angemessen noch chic aussehen. Ich bin ein großer Fan Seestern Zubehör, wenn Sie nicht sagen können. Ich war über glücklich, wenn ich diese fantastischen große Ohrringe Seestern Fornash gefunden, habe ich für sie schon lange gesucht. Ich habe meinem Kollegen Chelsea, der auch ihnen zu danken, und gab mir den Tipp! J.Crew keeper chambray shirt, BCBG Gürtel, H&M floralen Rock, Ray, Halogen Sandalen, Michael Kors Uhr, Stella&Dot abtrünnigen Cluster-Armband, Ray-Ban 'Original Aviator' 58mm Sonnenbrille, Fornash Seestern Ohrstecker mit funkelnden Stein detail (meine neue Lieblings-Paar Ohrringe Seestern), Bauble Bar pave links bracelet, Chanel Joues Contraste 55, MAC Viva Glam V lip gloss, Essie 'Pansy' Nagellack von Nordstrom. Um den Rest meiner Schönheit / Make-up Essentials klicken Sie hier.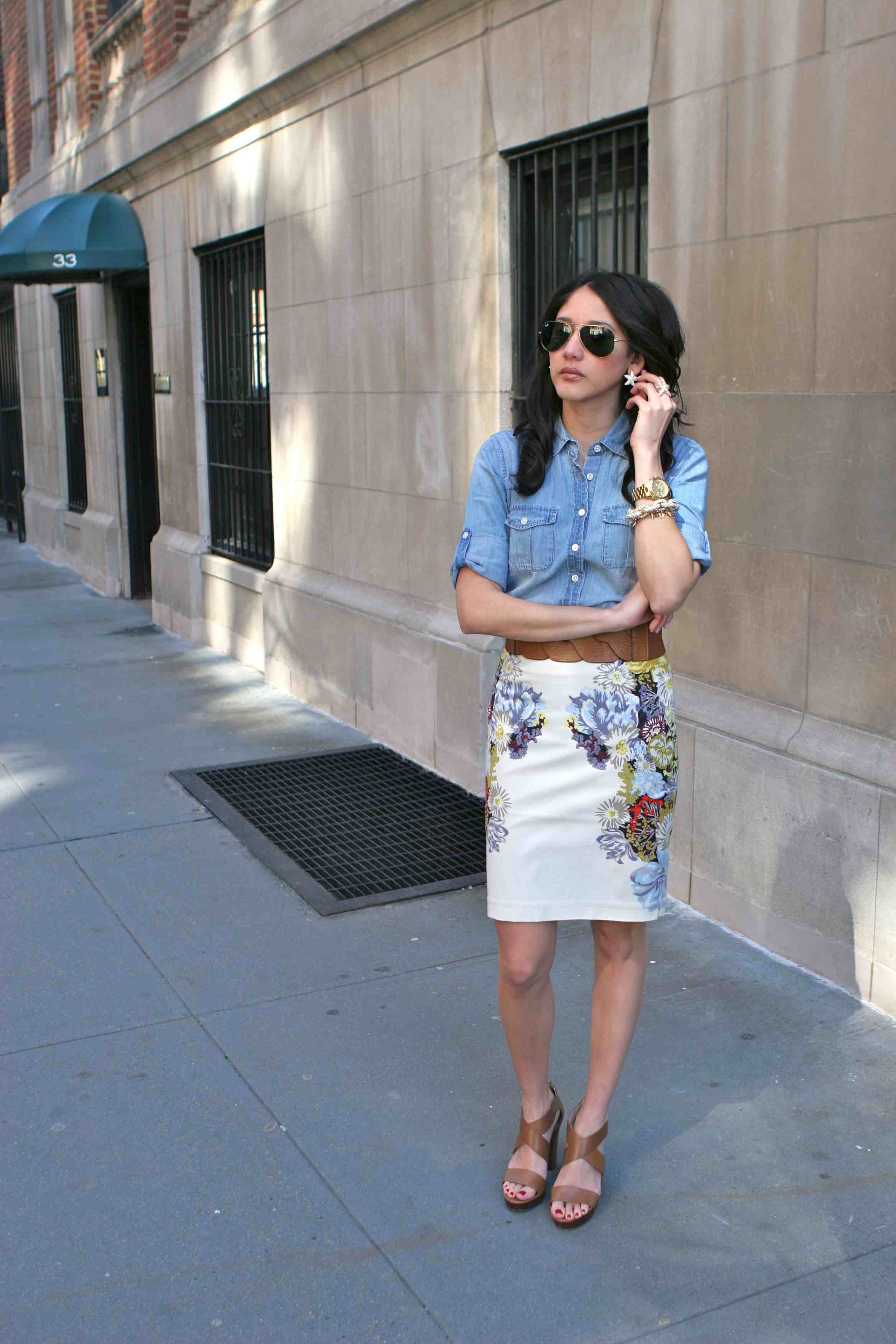 Últimament he usado mucho mi camisa de chambray. Siempre que empaco para ir a Nueva York o cuando estoy escogiendo un outfit, mi camisa chambray siempre viene primero a la mente. A medida que nos acercamos a días más cálidos, puse mi camisa de chambray con esta hermosa falda de flores para un look casual de oficina. Los viernes son días Business casual en mi oficina y no puedo esperar para ponerme este equipo. Mediante la adición de acentos marrones (cinturón y sandalias), el outfit lleva un poco de aire fresco de la primavera, intente mezclar la ropa de trabajo de primavera para un look cómodo, adecuado pero chic. Soy una gran fan de aretes de estrella de mar, si no se han dado cuenta. Estuve muy feliz cuando encontré estos grandes pendientes impresionantes de estrellas de mar en Fornash, los cuales he estado buscando durante mucho tiempo. Tengo que agradecer a mi colega el Chelsea, que también los tiene, y me dio el dato! J.Crew camisa arquero chambray, cinturón BCBG, falda de flores de BCBG, sandalias Halogen, reloj Michael Kors, pulseras Stella&Dot, gafas Ray-Ban 'Original Aviator' 58mm, aretes de estrella de mar con detalles de piedras Fornash (mis nueveos aretes preferidos de estrella de mar), pulseras de Bauble Bar, Chanel Joues Contraste 55, MAC Viva Glam V lip gloss, Essie 'Pansy' esmalte de uñas de Nordstrom. ver el resto de mis imprescindibles de belleza / maquillaje clic aquí.