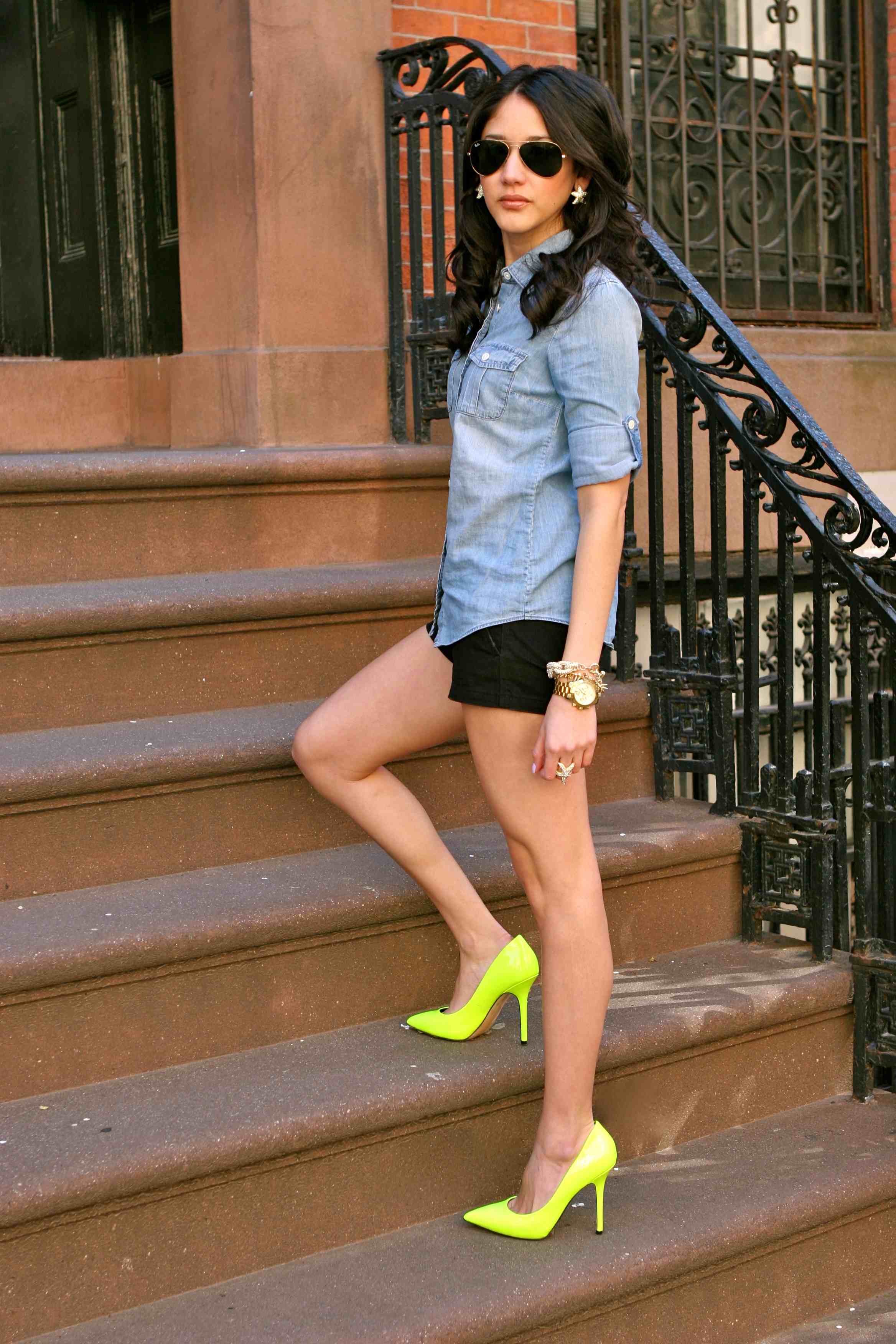 Hello again, I can't keep stop myself from wearing this denim/chambray shirt. It's just so easy to mix and this whole combo screams summer so I'm packing it up for next weekend's holiday. If you're trying to figure out what to wear for Memorial Day weekend, I recommend you pack your chambray shirt. I know my colleague Mary is with me on this one, she always looks lovely when she wears hers around the office. Now, let's get down to business, neon shoes have summer written all over. From the lovely Kate Spade Licorice Patent heels, Jimmy Choo, Steve Madden and countless more, I decided to get these lovely pair from Nine West. They're comfortable, I know because I walked in the rain for 20 minutes and wasn't in pain. Another plus is that they are ski-high and on sale for $49.99, such a steal! You can see more of my Polyvore sets, including my favorite spring pumps. J.Crew keeper chambray shirt, American Eagle shorts, Nine West Sally pumps, Michael Kors watch, Stella&Dot renegade cluster bracelet, Ray-Ban 'Original Aviator' 58mm Sunglasses, Fornash Starfish stud earrings with sparkly stone detail (my new favorite pair of starfish earrings), Mint Julep starfish ring (similar here), Bauble Bar pave links bracelet, Chanel Joues Contraste 55, MAC Viva Glam V lip gloss, Essie 'Pansy' nail polish from Nordstrom. To see the rest of my beauty/makeup essentials click here.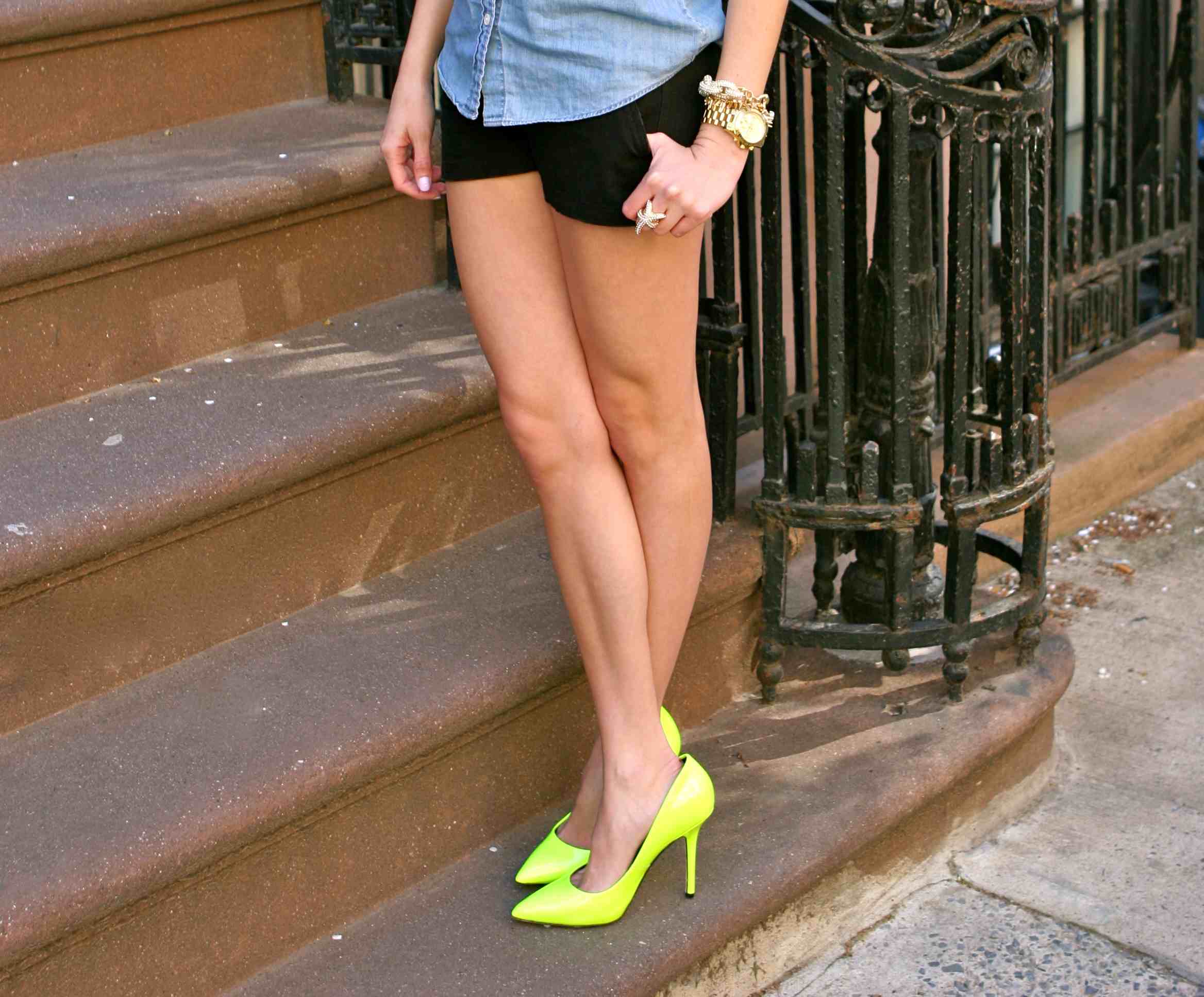 Hallo, mir gefällt dieses Chambray Hemd, damit ziehe ich es ganz viel an. Ich kann es mixen und dieses Outfit hat Sommer überall geschrieben und ich wird es für Memorial Tag Wochenende packen. Ob du nicht sicher was du kann für dieses Wochenende anziehen, du muss dieses Chambray Hemd mitnehmen. Meine Kollege, Mary, sieht sehr gut aus wenn sie es im Büro anziehen. Neon Schuhe haben Sommer überall geschrieben. Du kannst Kate Spade Licorice Patent Schuhe, Jimmy Choo, Steve Madden und ganz mehr ankaufen. Ich have die Nine West Schuhe gekauft. Sie sind bequem, ich weiß, weil ich mit diesen Schuhe, für zwanzig Minuten in Regen, gewandert habe. Diese Schuhe sind sehr hoch und du kannst sie für nur $49.99 kaufen! Du kannst mehr von meiner Polyvore Sets sehen, einschließlich meiner Lieblings-Frühlings-Schuhe. J.Crew keeper chambray shirt, American Eagle shorts, Nine West Sally Schuhe, Michael Kors Uhr, Stella&Dot abtrünnigen Cluster-Armband, Ray-Ban 'Original Aviator' 58mm Sonnenbrille, Fornash Seestern Ohrstecker mit funkelnden Stein detail (meine neue Lieblings-Paar Ohrringe Seestern), Mint Julep Seesterne Ring (ähnlich hier), anillo de estrella de mar Mint Julep (similar aquí), Bauble Bar pave links bracelet, Chanel Joues Contraste 55, MAC Viva Glam V lip gloss, Essie 'Pansy' Nagellack von Nordstrom. Um den Rest meiner Schönheit / Make-up Essentials klicken Sie hier.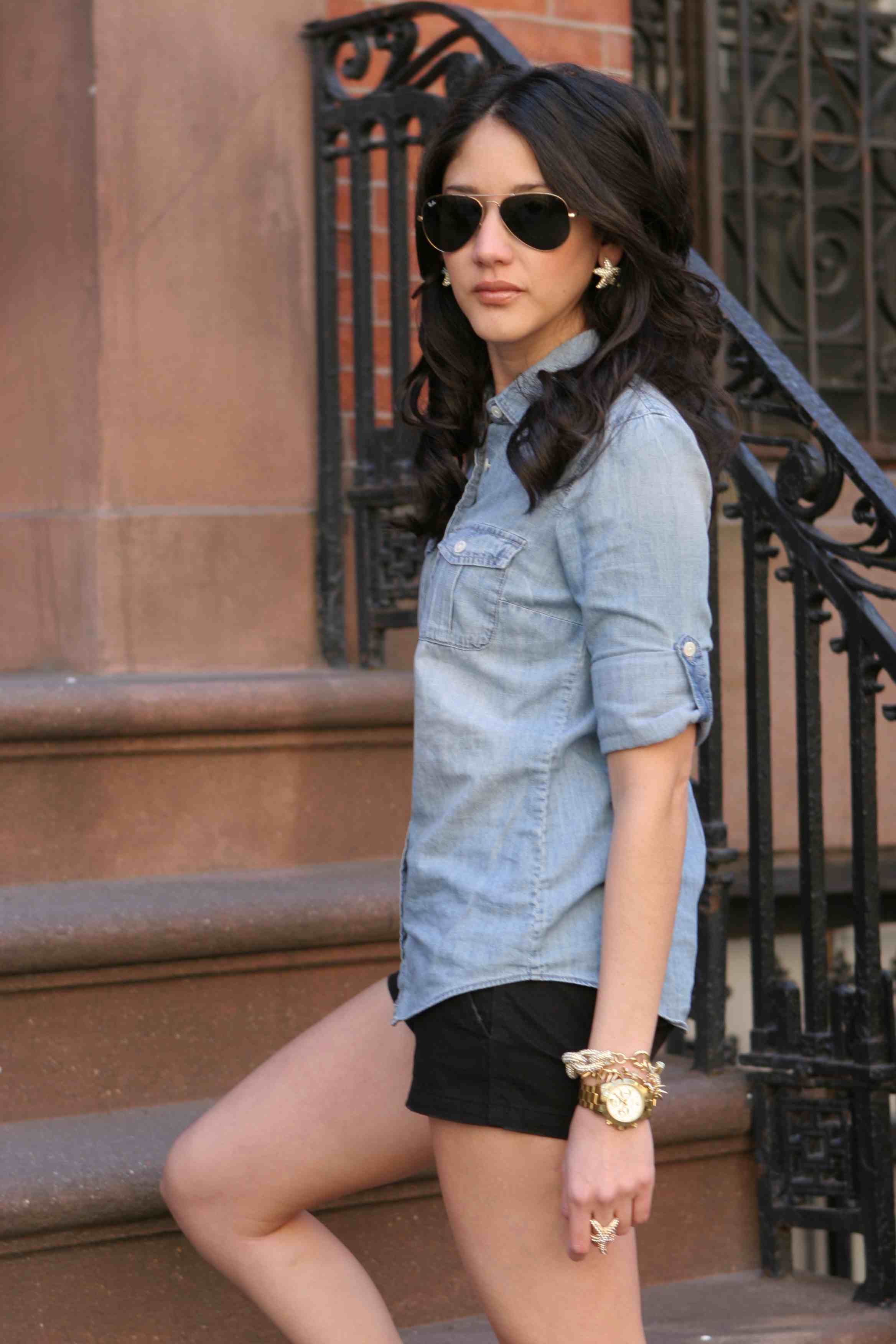 Hola de nuevo, no puedo parar de usar esta camisa chambray/denim. Es tan fácil de combinar y todo este conjunto exclama verano así que estoy empacando este conjunto para el feriado del próximo fin de semana. Si estás pensando que ponerte para Memorial Day, te recomiendo usar chambray. Yo se que mi colega Mary está de acuerdo conmigo, siempre se la ve linda cuando usa su camisa chambray en la oficina. Ahora hablemos de lo importante, los zapatos de color neon/fosforescentes tienen la palabra verano escrita por todos lados. Desde los zapatos espectaculares Kate Spade Licorice Patent hasta los Jimmy Choo, Steve Madden y muchos más, me decidí por los de Nine West. Son cómodos, yo se porque camine en la lluvia por 20 minutos en ellos y no sentí dolor. Otra ventaja de los zapatos es que son super altos y están en rebaja or $49.99, es una ganga! Pueden ver más de mis sets de Polyvore, incluyendo mis zapatos favoritos de primavera. J.Crew camisa arquero chambray, shorts de American Eagle, zapatos Nine West Sally, reloj Michael Kors, pulseras Stella&Dot, gafas Ray-Ban 'Original Aviator' 58mm, aretes de estrella de mar con detalles de piedras Fornash (mis nueveos aretes preferidos de estrella de mar), pulseras de Bauble Bar, Chanel Joues Contraste 55, MAC Viva Glam V lip gloss, Essie 'Pansy' esmalte de uñas de Nordstrom. ver el resto de mis imprescindibles de belleza / maquillaje clic aquí.