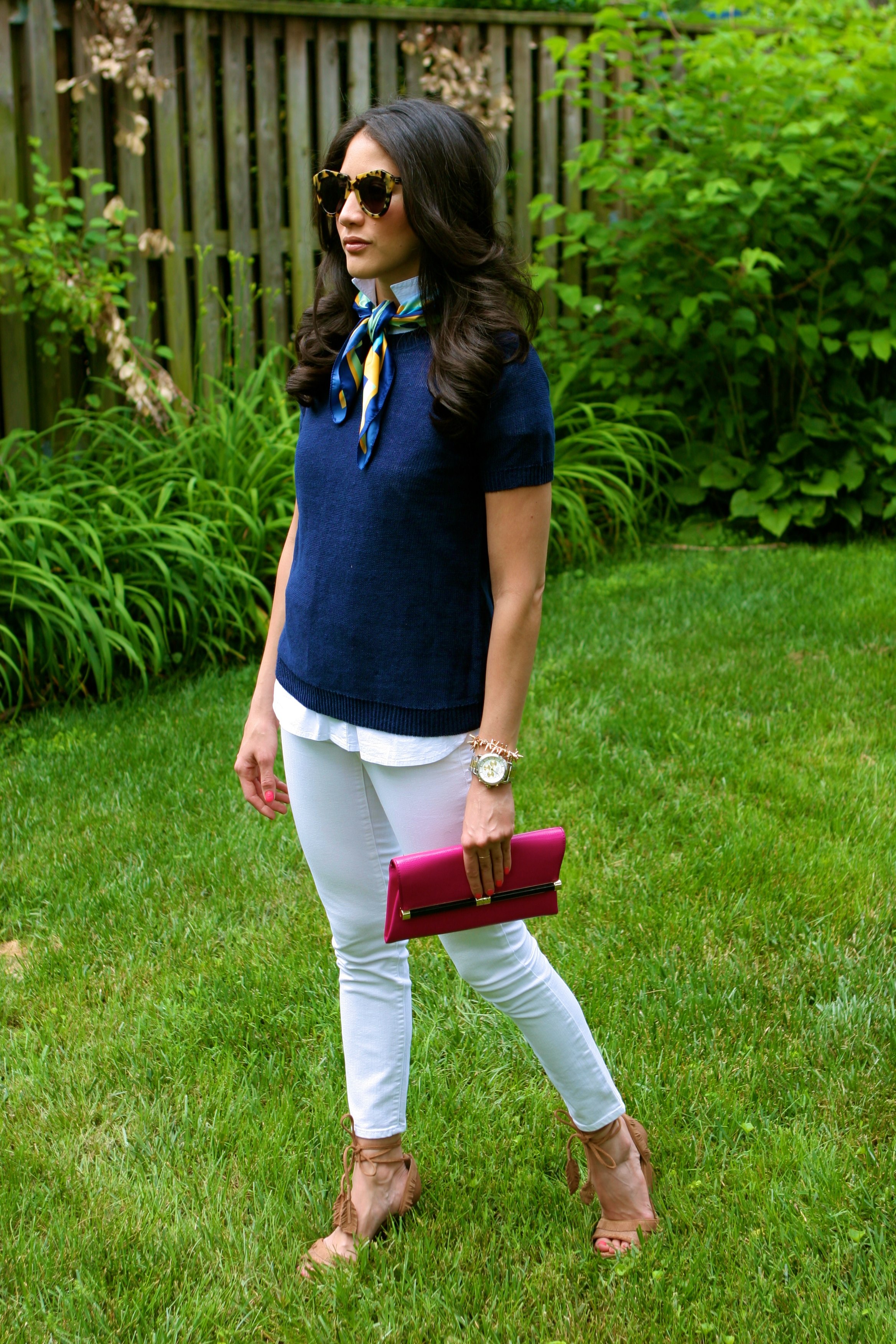 Top: J.Crew Factory short-sleeve popover shirt | Sweater: J.Crew Factory short-sleeve linen sweater | Pants: J.Crew toothpick jean in white | Scarf: Zara striped bandana style scarf | Shoes: Banana Republic Delores raffia-fringe wedges | Sunglasses: Karen Walker Number One sunglasses | Watch: Coach stainless steel watch | Bracelet: Stella & Dot renegade cluster bracelet | Bag: Diane von Furstenberg 440 envelope embossed clutch.
There are many ways to tie neck scarves, neckerchiefs or however you want to call them, you've seen it on the runway, on the street, you name it. Tying a neck scarf is actually very easy, personally, I like to tie it at the front on top of layers or striped tops for a feminine, polished and classic look. This necktie style has an old fashion flare that I love and it makes me think that if I was riding a convertible I would untie it and wrap it around my hair to keep my hair-do intact. This colorful scarf brings out the popover shirt and sweater mix. Neck scarves have replaced necklaces in many instances. When the weather gets a bit warmer, I like to wear the bandana or neck scarf to keep it cool and hide those uncomfortable sweaty neck moments.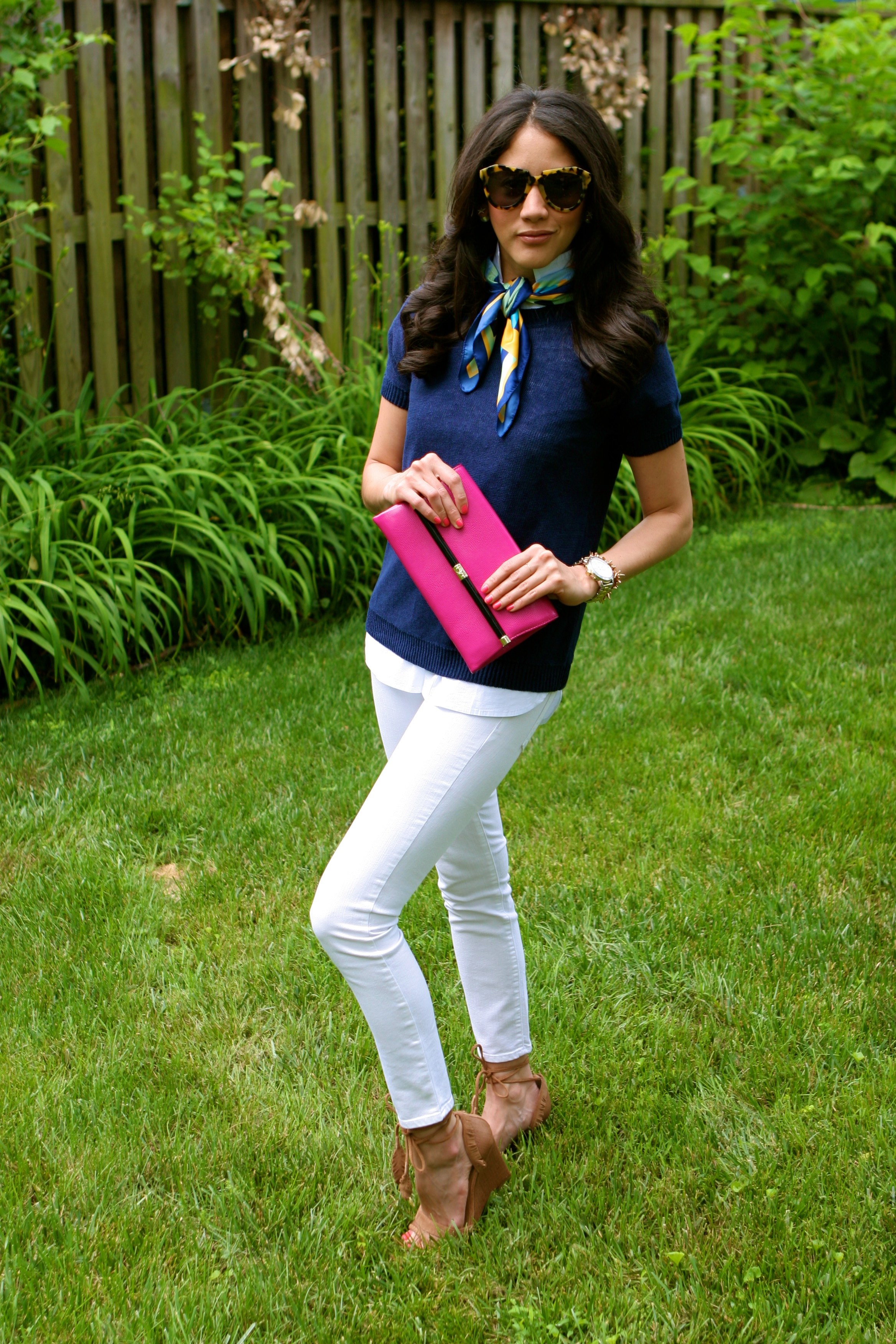 Es gibt viele Möglichkeiten, Halstücher, haben Sie es auf der Piste gesehen, auf der Straße, nennen Sie es. Ein Halstuch Binden ist eigentlich sehr einfach, persönlich, ich mag es, auf der Vorderseite oben auf Schichten oder gestreifte Tops für einen femininen, poliert und klassischen Look zu binden. Diese Krawatte Stil hat eine alte Mode-Fackel, die ich liebe, und es macht mich denken, dass wenn ich ein Cabrio Reiten ich es lösen würde und wickeln Sie es um meine Haare meine Haare tun intakt zu halten. Dieser bunte Schal bringt die popover Hemd und Pullover Mischung aus. Halstücher haben Halsketten in vielen Fällen ersetzt. Wenn das Wetter ein bisschen wärmer wird, wie ich den Bandana oder Halstuch zu tragen, sie kühl zu halten und diese unbequem verschwitzten Hals Momente verbergen.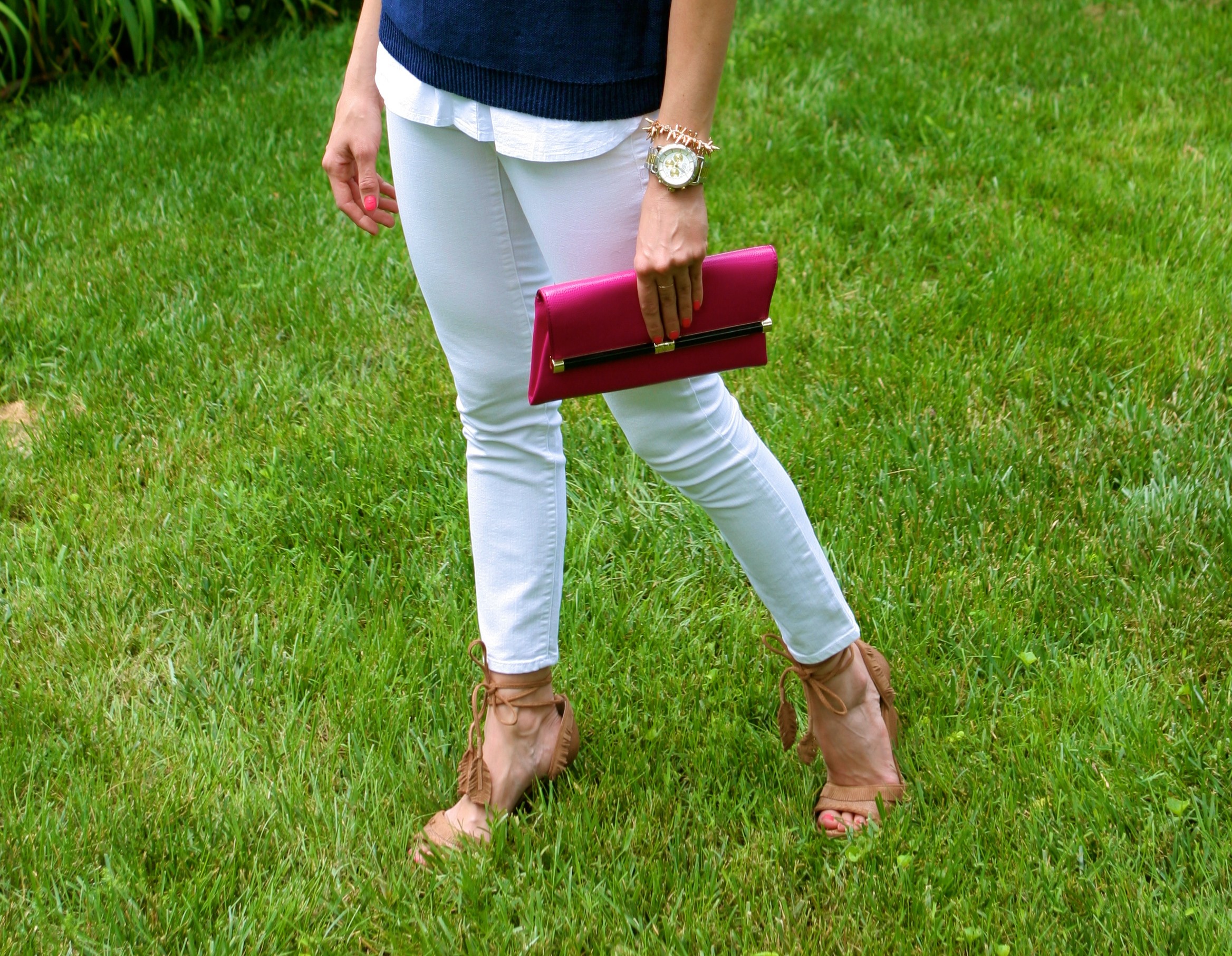 Hay muchas maneras de amarrar bufandas, pañuelos en el cuello, o como le quieras decir, las han visto en la pasarelaa, en la calle, etc. Amarrar un pañuelo de cuello es muy fácil, personalmente, me gusta amarrarlo en la parte delantera en la parte superior de las capas o camisas de rayas para un look femenino, pulido y clásico. Este estilo de pañuelo tiene un look vintage que me hace pensar que si estuviera en un convertible, la desamarrara y me la pusiera alrededor de mi pelo para mantenerlo intacto. Este pañuelo de colores resalta la camisa y el jersey popover. Los pañuelos de cuello han sustituido en muchos casos a los collares. Cuando el clima se pone un poco más caliente, me gusta llevar el pañuelo o bandana en el cuello para mantenerlo fresco y ocultar esos momentos incómodos de sudor.