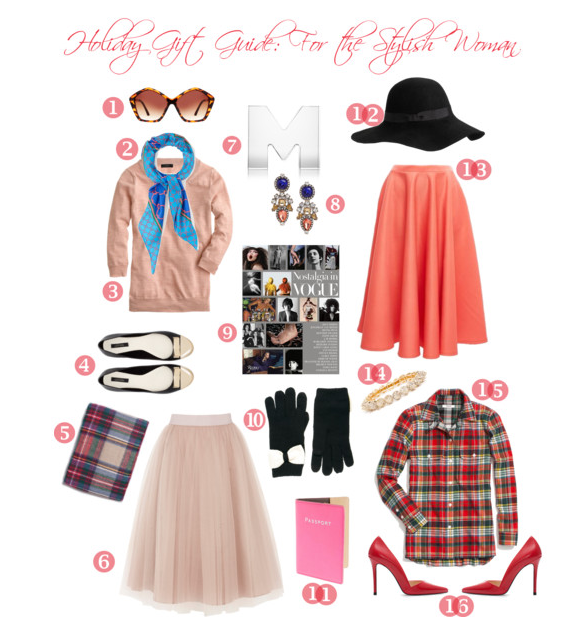 It's pretty much a given that it's hard to shop for the stylish woman. She has it all right?! Not to worry, today, I'm sharing with you a few essential pieces that any stylish woman would love. Take a look at the below super special gifts I have put together for you. If you have any other ideas to add to this list, leave them in the comments, I would love to hear what your wish lists are. PSST: All these gifts are under $100!
Es ist ziemlich viel gegeben, dass es schwer ist, für die stilvolle Frau einkaufen. Sie hat es alles oder night? Keine Sorge, heute bin ich mit Ihnen teilen ein paar wesentliche Stücke, dass jede stilvolle Frau lieben würde. Werfen Sie einen Blick auf die unten super special Geschenke, die ich für Sie zusammengestellt haben setzen. Wenn Sie noch andere Ideen zu dieser Liste hinzufügen, lassen Sie sie in den Kommentaren haben, würde ich gerne hören, was Ihr Wunsch-Listen sind. All diese Geschenke sind für unter $100!
Es casi un hecho que es difícil comprar para la mujer fashionista. Ella lo tiene todo ¿no?! No te preocupes, hoy voy a compartir con ustedes algunas piezas esenciales que toda mujer con estilo amaría. Echa un vistazo a los regalos especiales a continuación super lindos que he reunido para ustedes. Si tienen alguna otra idea para agregar a esta lista, déjenlas en los comentarios, me encantaría escuchar lo que sus listas de deseos son. Todos estos regalos están disponibles a menos de $100. 
1) Asos sunglasses: every gal need statement sunnies and I'll tell you, I'm in love with this option. The leopard print definitely adds a kick to this style.
2) C. Wonder silk chain printed scarf: I ordered this for myself in the green color and I couldn't be happier, such a great gift!
3) J.Crew merino tippi sweater: 25% with code WINTER, I have this sweater in several colors and wear them all the time. If you're shopping for the stylish gal, go with this great sweater that you can wear it anywhere, best sweater!
4) Zara leather ballerina flats with cap toe and bow: very ladylike, casual and the stylish gal can wear them from the office to cocktail hour.
5) Zara soft checked scarf: statement piece + super cozy.
6) Space46 Wendy midi tulle skirt: I want this one in Ivory (size M, thanks!).
7) Tory Burch clear Lucite letter: every stylish gal needs this awesome piece to decorate her room. You can use it on your desk and add a fabulous touch to your room décor.
8) Bauble Bar primary Aztec drops: these earrings are both elegant and bold. I want them!
9) Nostalgia in Vogue book: I was gifted this one a couple of years ago and I still read it, totally recommend it.
10) Asos gloves with bows: nothing better than adding bows to your outfit to make it prettier.
11) J.Crew colorblock leather passport case: it comes in different colors and it's a great gift for the stylish jetsetter.
12) Cole Haan slouchy hat: winter is always better with a warm and stylish hat over our heads, think about it.
13) Asos midi skirt: very ladylike, classic, fun and you can wear this fabulous skirt from brunch to an engagement party.
14) Bauble Bar mini disco cone cuff: wouldn't mind if someone gave me this for Christmas, it would be a great addition to any gal's arm party.
15) Madewell plaid shirt: get into the holiday spirit with this super cute plaid shirt, every gal should have one of these in her closet.
16) Zara asymmetric leather high heel shoes: merry merry red, must have shoes this season.