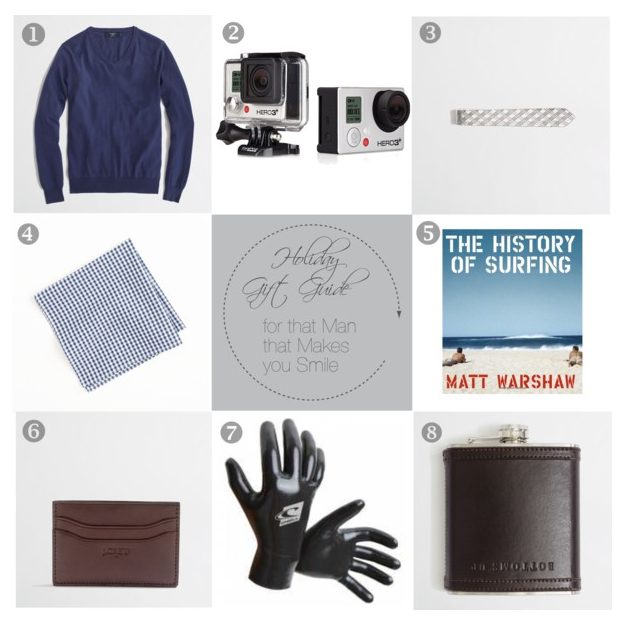 Shopping for guys is usually more difficult than shopping for girls, especially when they tend to return most gifts they get. Some men won't tell you what they want, some don't know what they want or they will only tell you gift ideas that they know are outrageous. In order to help you steer through the gift maze for that man that makes you smile, I'm sharing 8 holiday gift ideas for your man that will sure make him happy without you breaking the bank. This is my third holiday gift guide this year, please make sure you share any other ideas you may have. The holiday gift guide for the stylish woman is here and the holiday gift guide for the Hostess is here. Happy shopping everyone! 1) J.Crew Factory cashmere v-neck sweater, 2) GoPro HERO 3 + black edition helmet cam-surf package (this is the only gift on this gift guide that is over $100, it's $399, but I have to include it because I gave it to my boyfriend when it first came out and he love it. I sort of combined two occasions to afford it ;)), 3) every man needs a good tie clip and I have my eye on this J.Crew Factory tie clip, 4) you know any blazer, jacket or suit looks better with a J.Crew Factory pocket square, 5) The History of Surfing book will be perfect for the sports and surfing lover, 6) this leather card holder is a great gift for that man that makes you smile, it comes in a great price, 7) Cleanlinesurf wetsuit gloves, do I need to say more?, 8) Bottoms Up flask is a sleek and cute gift your man will definitely appreciate.
Shopping für Männer ist in der Regel schwieriger als Shopping für Frauen, vor allem, wenn sie dazu neigen, die meisten Geschenke, die sie bekommen zurückzukehren. Einige Männer werden Ihnen nicht sagen, was sie wollen, einige nicht wissen, was sie wollen, oder sie werden Ihnen nur sagen, Geschenkideen, die sie kennen, sind ungeheuerlich. Um zu helfen, Sie durch das Labyrinth Geschenk für diesen Mann, der Sie lächeln, hier sind 8 Feriengeschenkideen für Ihren Mann, die sicher machen ihn glücklich, ohne dass Sie die Bank macht zu lenken. Dies ist mein dritter Holiday Gift Guide in diesem Jahr, stellen Sie bitte sicher, dass Sie keine anderen Ideen, die Sie haben können, zu teilen. Das Holiday Gift Guide für die stilvolle Frau ist hier, und das Holiday Gift Guide für die Hostess ist hier. Herzliches Einkaufen alle!
Ir de compras para los chicos suele ser más difícil que ir de compras para las chicas, especialmente cuando tienden a devolver la mayoría de los regalos que reciben. Algunos hombres no te dirán lo que quieren, algunos no saben lo que quieren o sólo te dirán ideas de regalos que saben que son una barbaridad. Con el fin de ayudarlos a navegar a través del laberinto que es el ir de compras para ese hombre que te hace sonreír, estoy compartiendo 8 ideas de regalos para su hombre, que seguro lo va a ser feliz sin romper el banco. Esta es mi tercera guía de regalo de este año, por favor asegúrense de compartir alguna otra idea que puedan tener. La guía de regalos navideños para la mujer con estilo está aquí y la guía de regalos navideños para la Anfitriona está aquí. Felices compras!