It's not news that I love polka dots so it was no surprise I fell in love of this super cute Shop the Front Row a-line polka dot dress when I first saw it. If you love this dress too, enter for a chance to win this giveaway. All you have to do is follow me on instagram and twitter. Follow me on Facebook, bloglovin and Pinterest to increase your chance to win, leave a comment below and let me know how you entered. Wanting to keep things classy with an edge I added these Betsy Johnson polka dot sandals, BCBG belt, House of Harlow 1960 Chelsea sunglasses, Stella & Dot bracelets, Forever21 rings.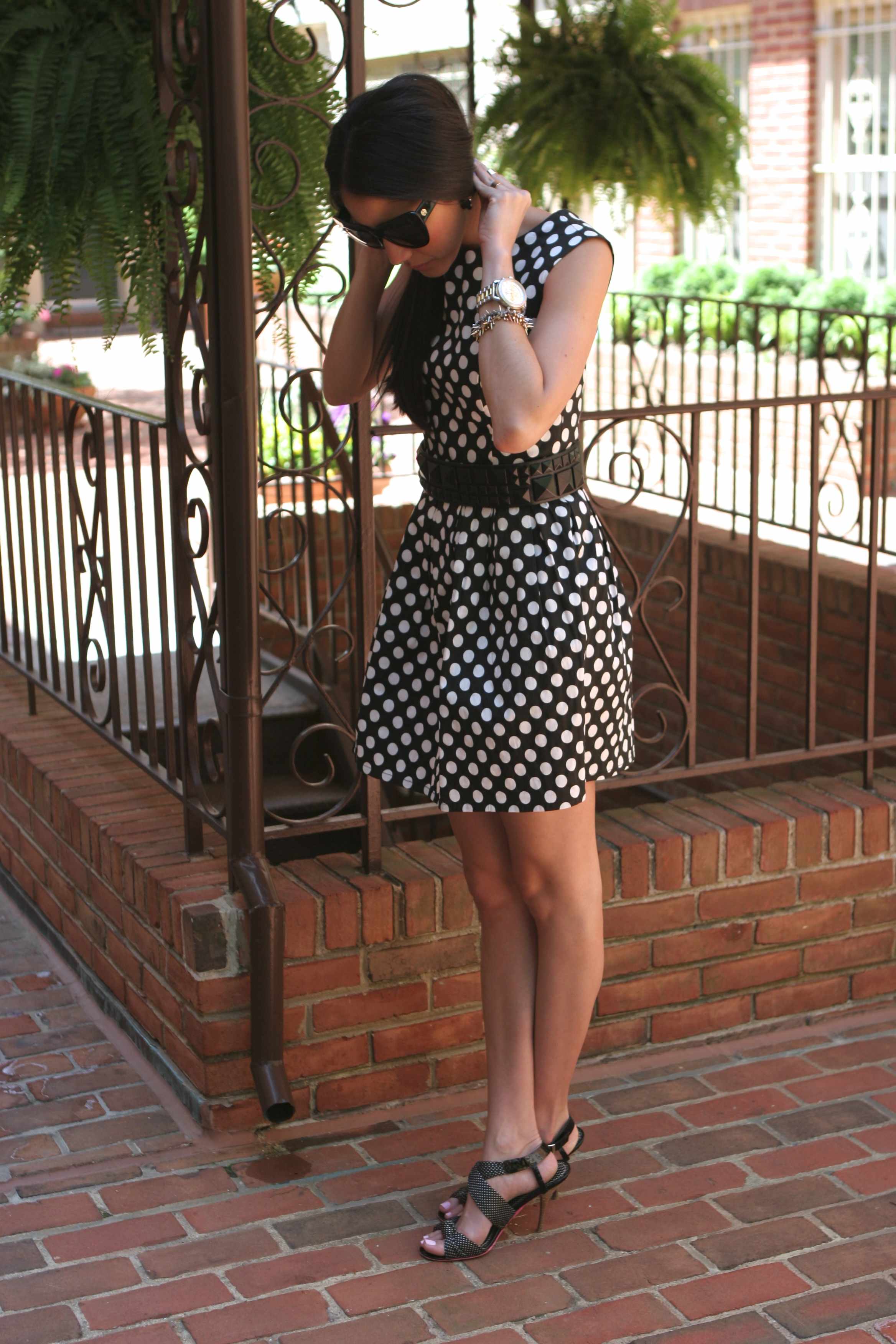 Es ist nichts Neues, dass ich Polka Dots liebe und so war es keine Überraschung, wenn ich mich mit diesem schone Shop the Front Row Kleid verliebte, als ich sah es zuerst. Wenn Sie dieses Kleid auch lieben, geben Sie für eine Chance, um dieses Giveaway zu gewinnen. Alles, was Sie tun müssen ist, folgen Sie mir auf instagram und twitter. Folgen Sie mir auf Facebook, bloglovin und Pinterest, um Ihre Chance zu gewinnen, einen Kommentar unten verlassen und lassen Sie mich wissen, wie Sie eingegeben erhöhen. Zu wollen, was mit einer Kanten Ich habe diese Betsy Johnson Tupfen Sandalen, BCBG Gürtel, House of Harlow 1960 Chelsea Sonnenbrille, Stella & Dot Armband, Forever21 Ringe.
No es novedad que me encantan los polka dots por lo que no fue sorpresa cuando me enamoré de este vestido super lindo de polka dots Shop the Front Row, cuando lo vi por primera vez. Si te gusta este vestido también, participa y ten o la portunidad de ganar este sorteo. Todo lo que tienes que hacer es seguirme en instagram y twitter. Sígueme en Facebook, bloglovin y Pinterest para aumentar tus posibilidades de ganar, deja un comentario abajo y déjame saber cómo entraste en este sorteo. Queriendo mantener las cosas con clase y con un edge añadí estos zapatos de Betsy Johnson de lunares, cinturón BCBG, Shop the Front Rowgafas House of Harlow 1960 Chelsea, pulseras Stella & Dot, anillos Forever21.