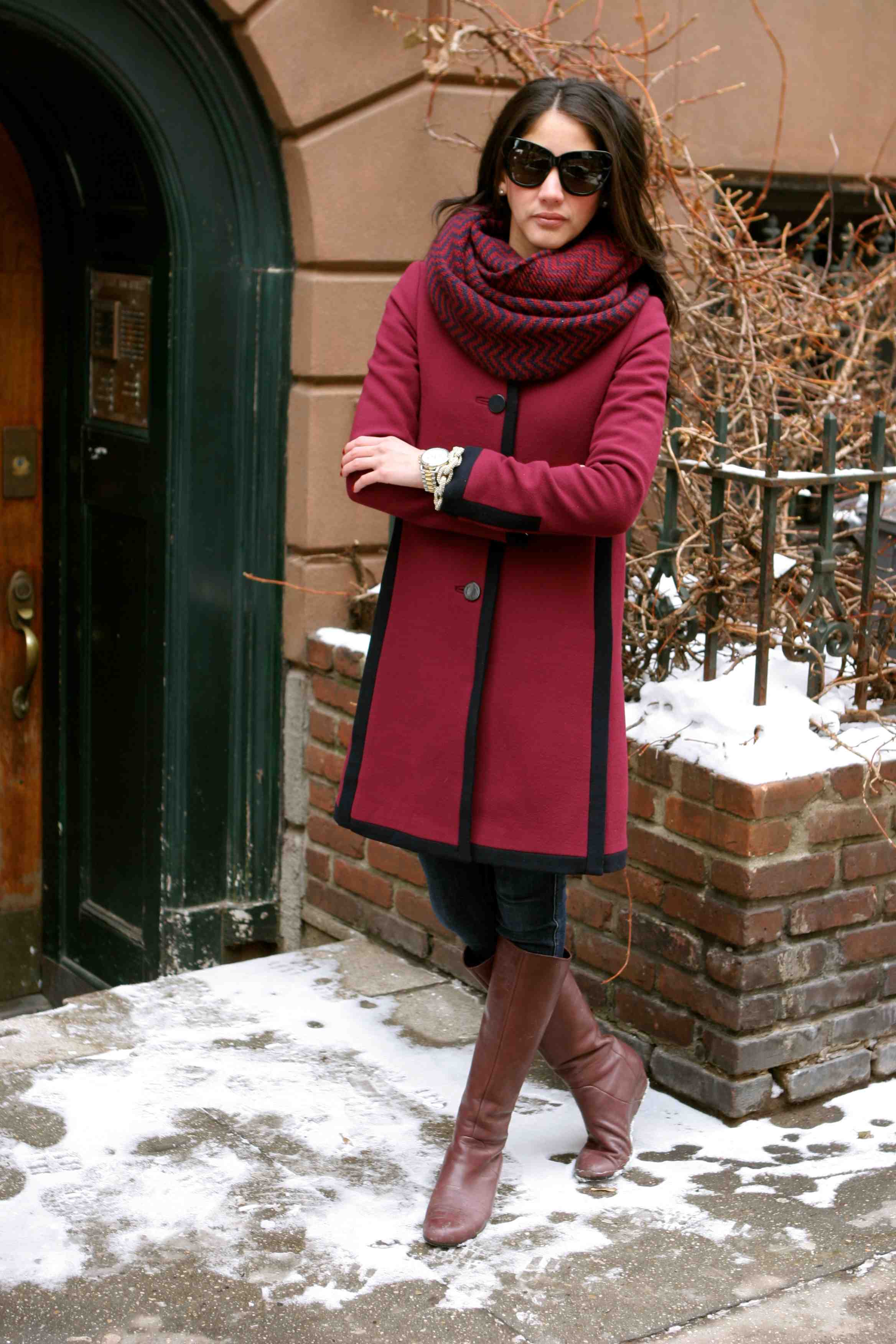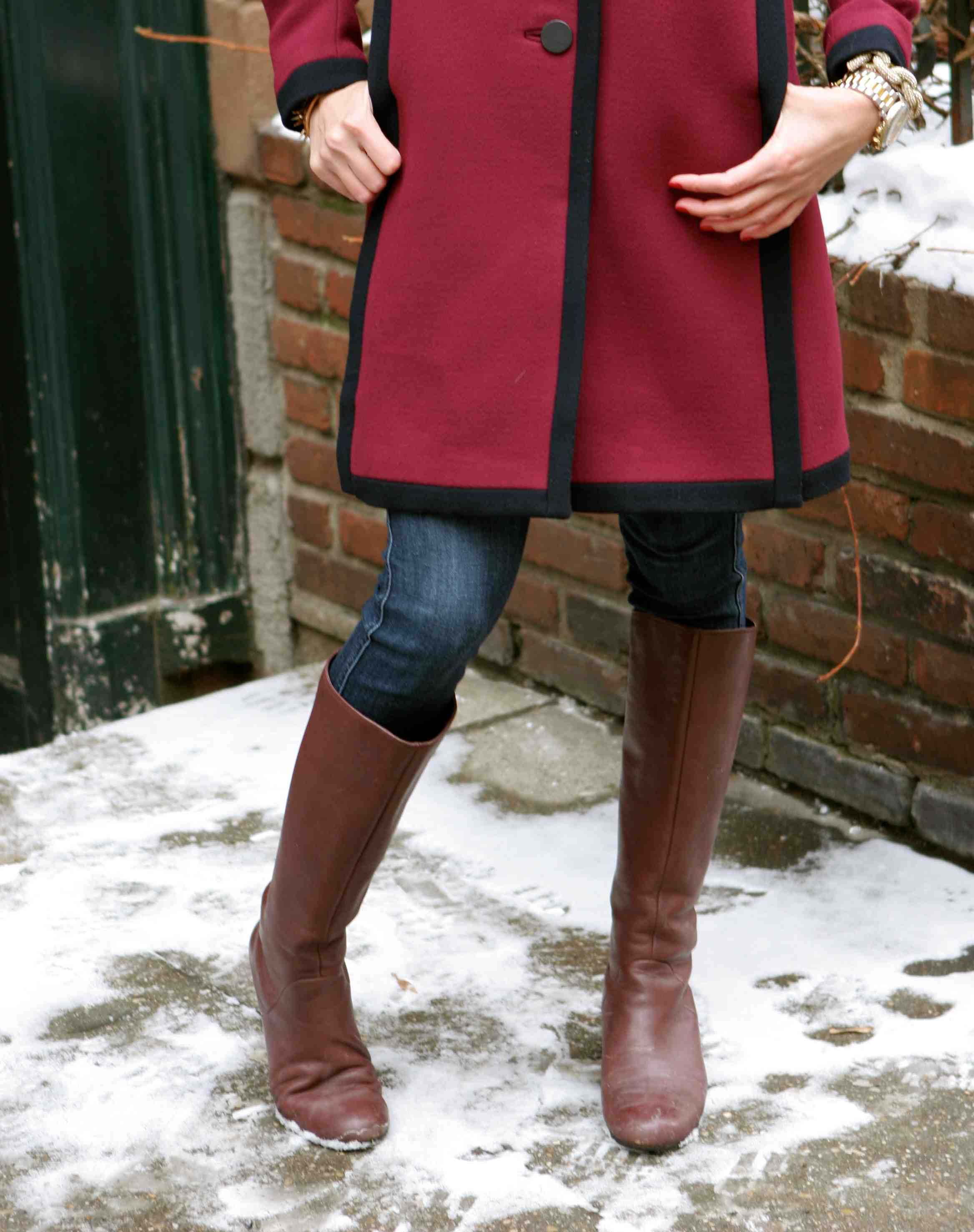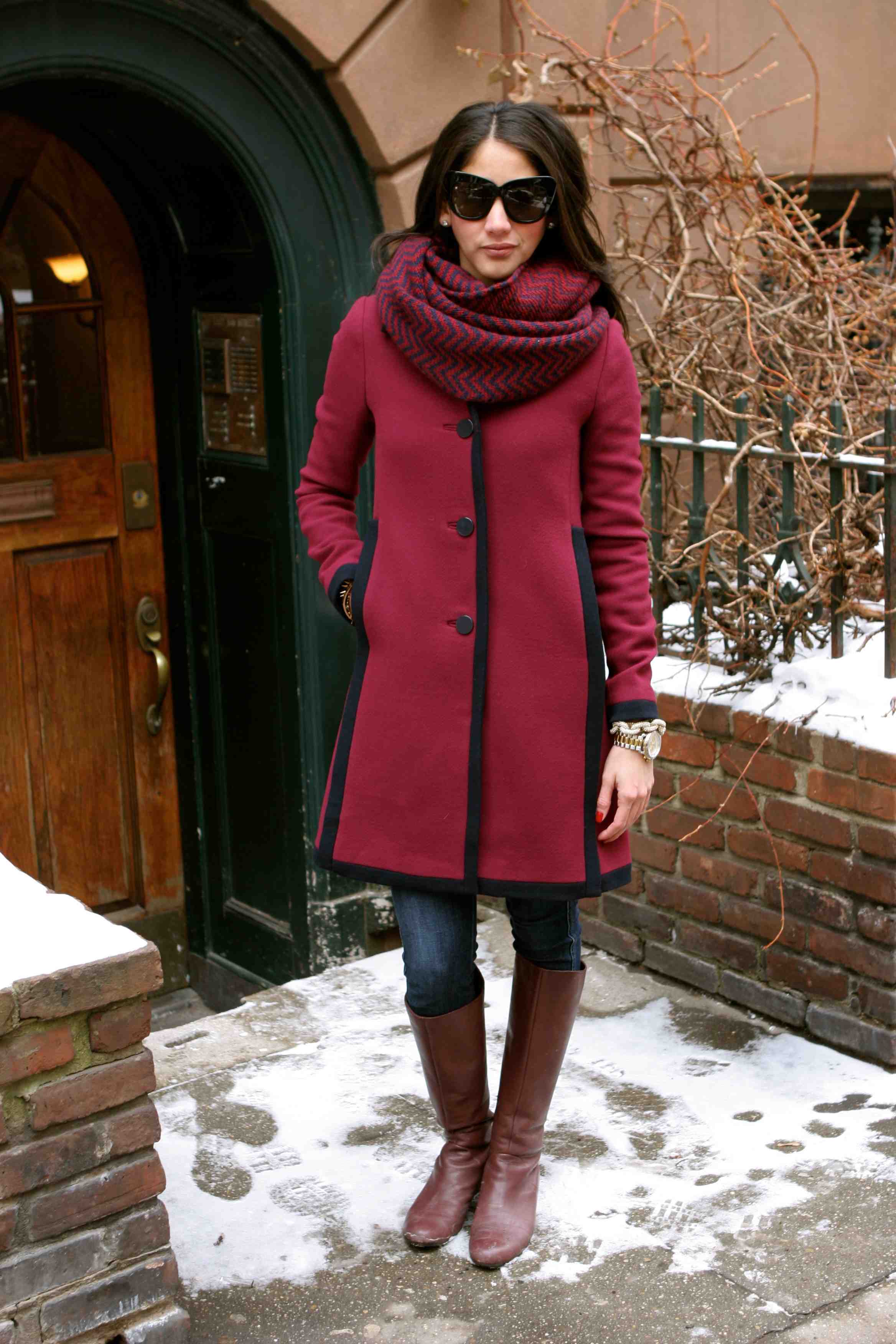 Today's color scheme was inspired by some of my favorite fall colors. Happy Monday! When you buy something at J.Crew, you know you're paying not only for a beautiful piece but also for great customer service. Here's a little tip I learned this weekend. One of the buttons of my coat fell off and while chatting with a representative, I found out I could get reimbursed for repairing it. Same goes for fixing the lining of my double-cloth lady day coat. I'm a happy camper. J.Crew double-cloth tipped coat burgundy and navy coat (similar here), Marciano denim, J.Crew infinity scarf, BP burgundy boots (similar here) via Nordstrom, Coach watch, BaubleBar original pave links bracelet, House of Harlow 1960 Chelsea sunglasses.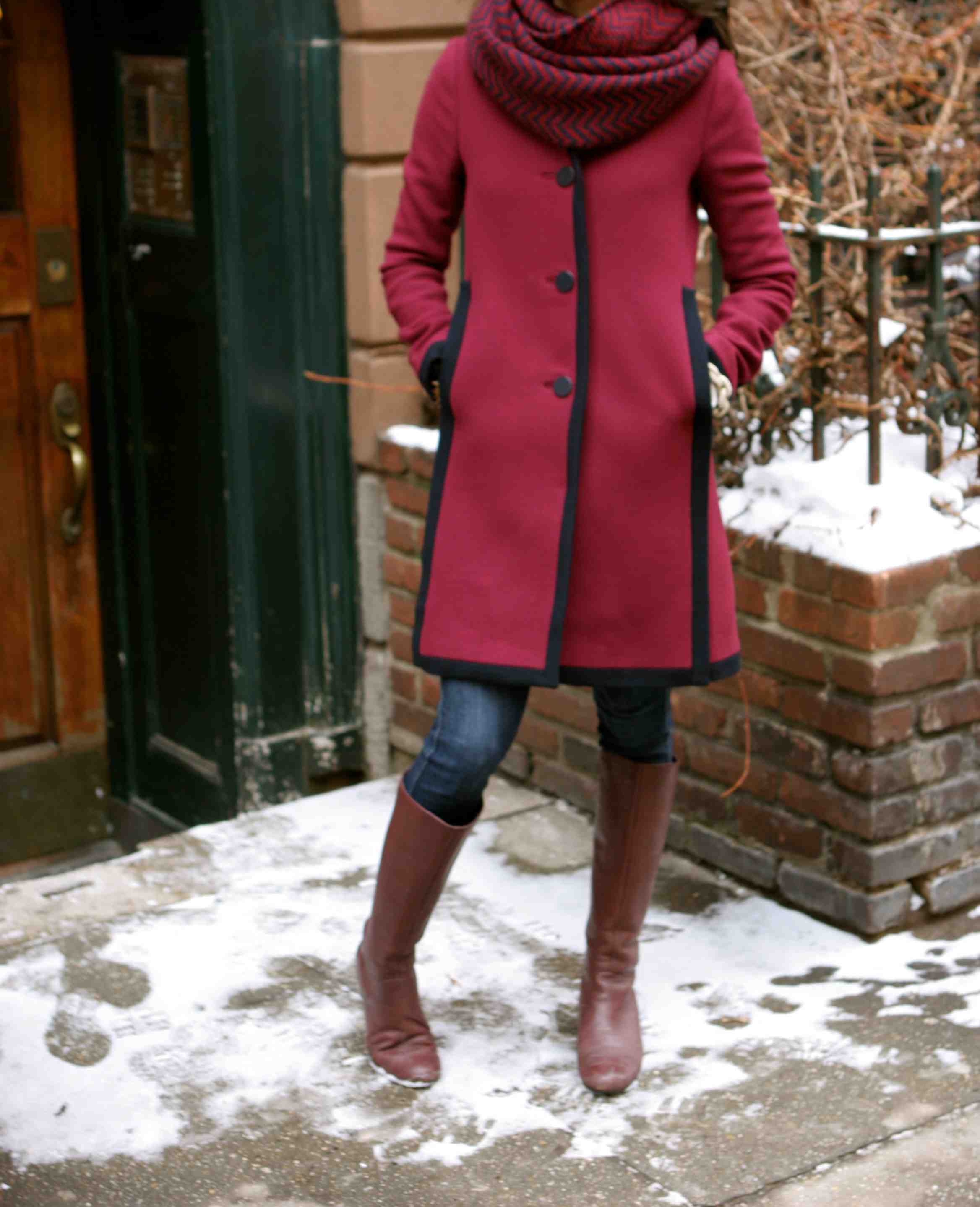 Heutige Farbschema ist von einigen meiner Lieblingsherbstfarben inspiriert. Herzliche Montag! Wenn Sie etwas bei J.Crew kaufen, wissen Sie, dass Sie nicht nur für ein schönes Stück zahlen, aber auch für große Kunden-Service. J.Crew Jacke (ähnlich hier), J.Crew Schal, Marciano jeans, BP Stiefel via Nordstrom ähnlich hier), Coach Uhr, BaubleBar Armband, House of Harlow 1960 Chelsea Sonnenbrille.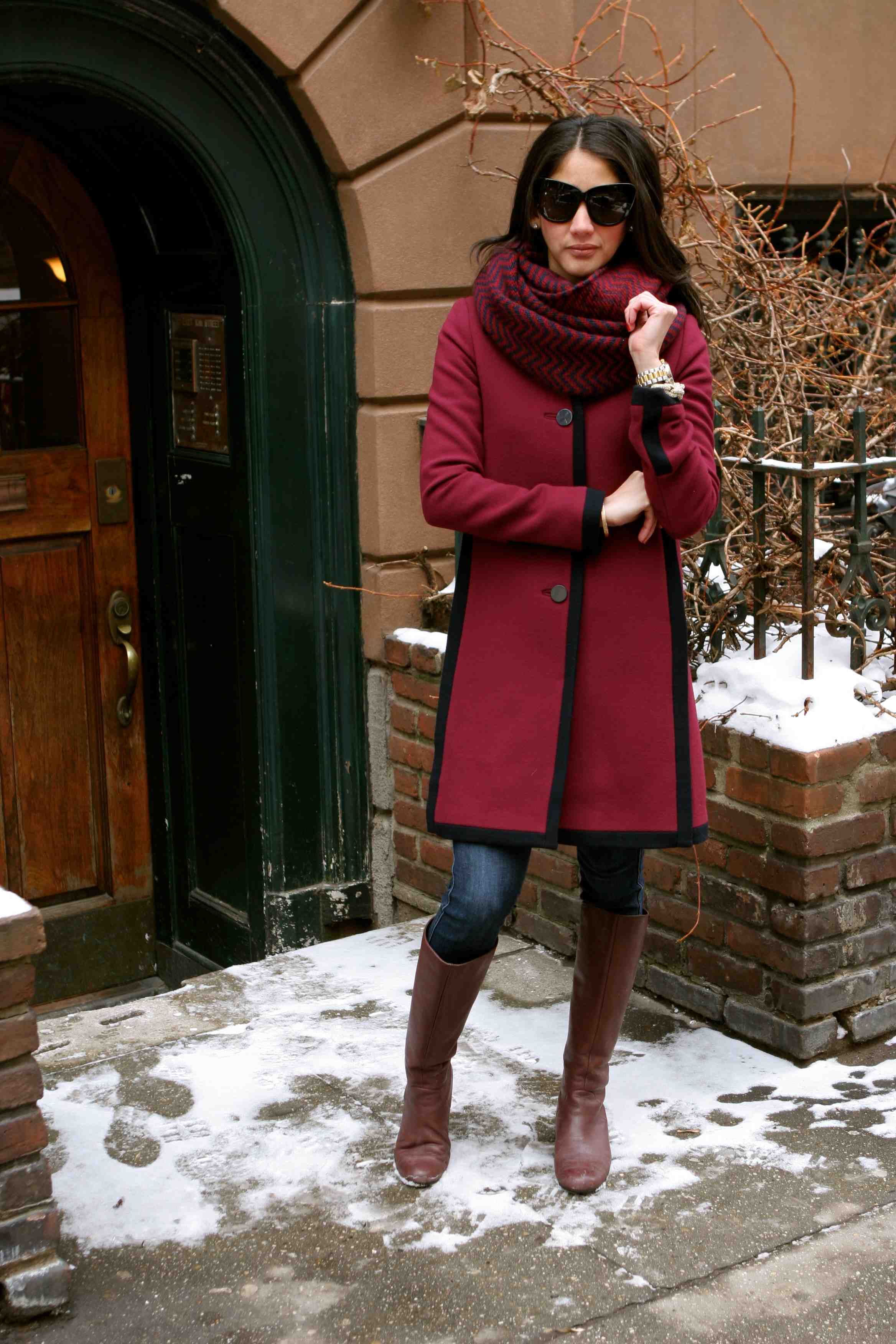 El esquema de color de hoy fue inspirado por algunos de mis colores favoritos de otoño. Feliz lunes! Cuando compras algo en J.Crew, sabes que estás pagando no sólo por algo lindo, sino también paor un gran servicio al cliente. He aquí un pequeño tip que aprendí este fin de semana. Uno de los botones de mi abrigo se cayó y cuando hable con un representante, me enteré de que podía obtener un reembolso por repararlo. Lo mismo aplica para la fijación del forro de mi abrigo de doble tela de dama. Estoy muy feliz. Chaqueta J.Crew (similar aquí), bufanda J.Crew, jeans Marciano, botas BP via Nordstrom (similar aquí), reloj Coach, pulsera BaubleBar, gafas House of Harlow 1960 Chelsea.