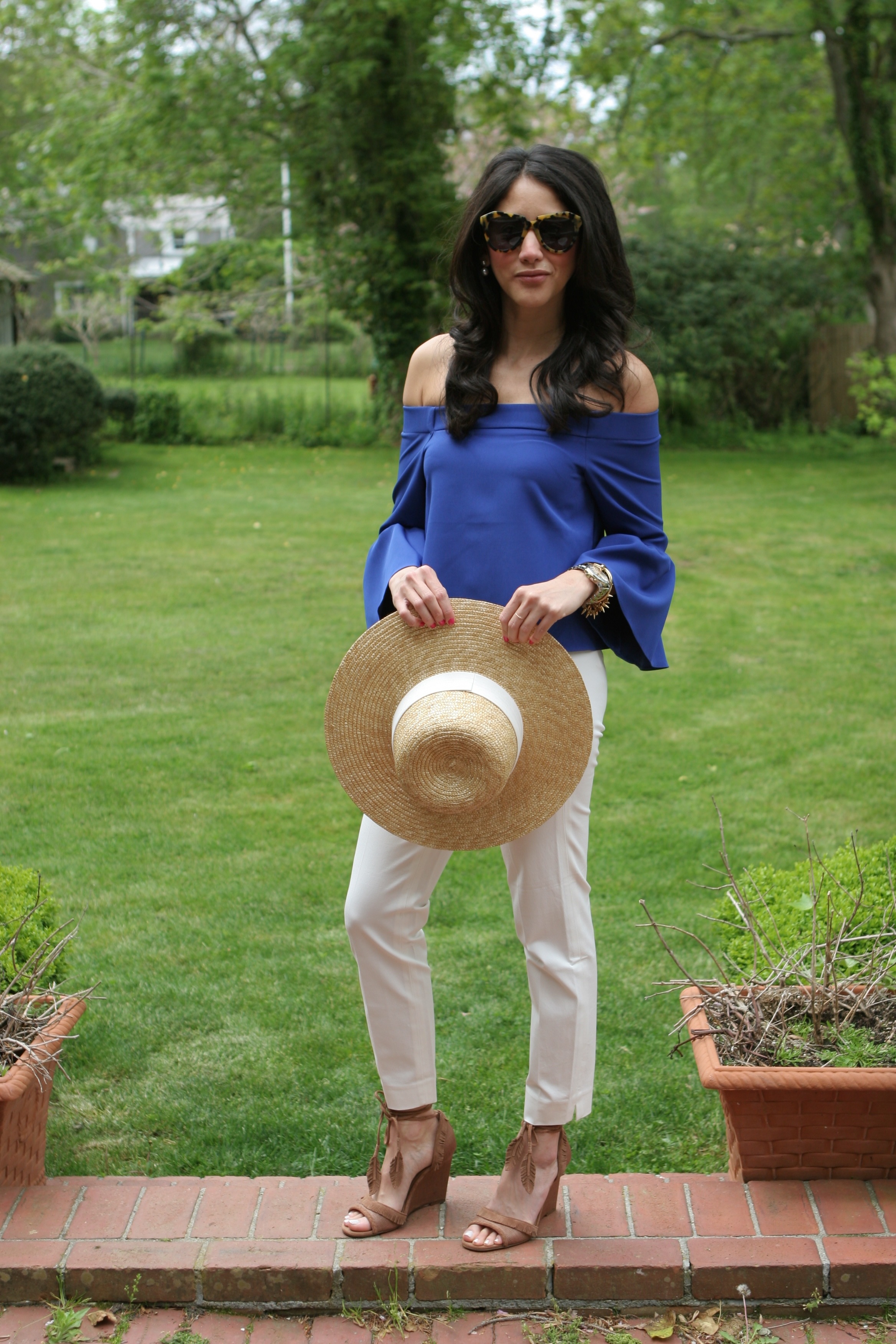 TOP: ASOS OFF THE SHOULDER TOP WITH RUFFLE SLEEVE | PANTS: J.CREW MARTIE PANT IN BI-STRETCH COTTON | SHOES: BANANA REPUBLIC DELORES RAFFIA-FRINGE WEDGES | HAT: BRIXTON 'JOANNA' STRAW HAT | SUNGLASSES: KAREN WALKER NUMBER ONE SUNGLASSES | WATCH: COACH STAINLESS STEEL WATCH | BRACELET: STELLA & DOT RENEGADE CLUSTER BRACELET.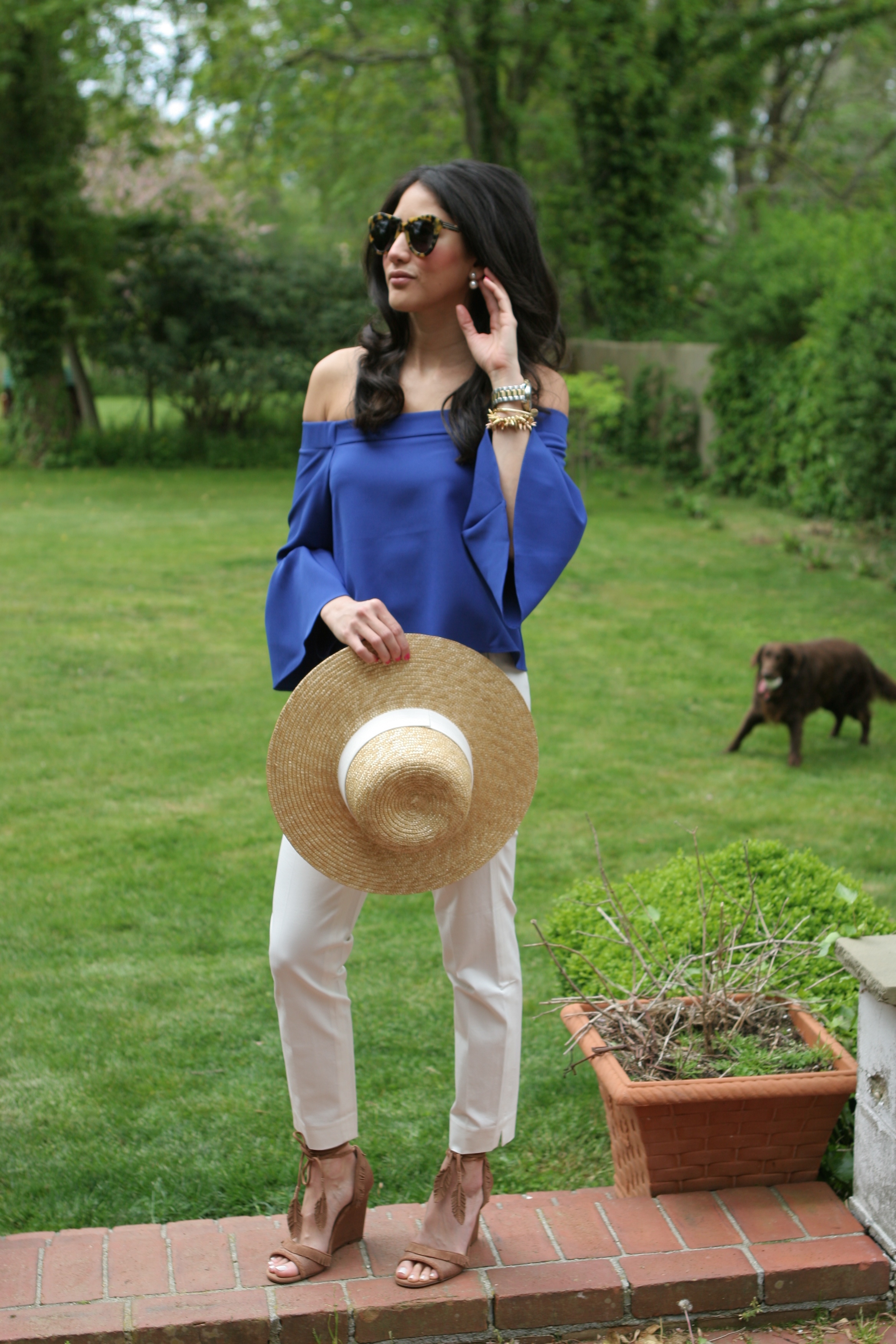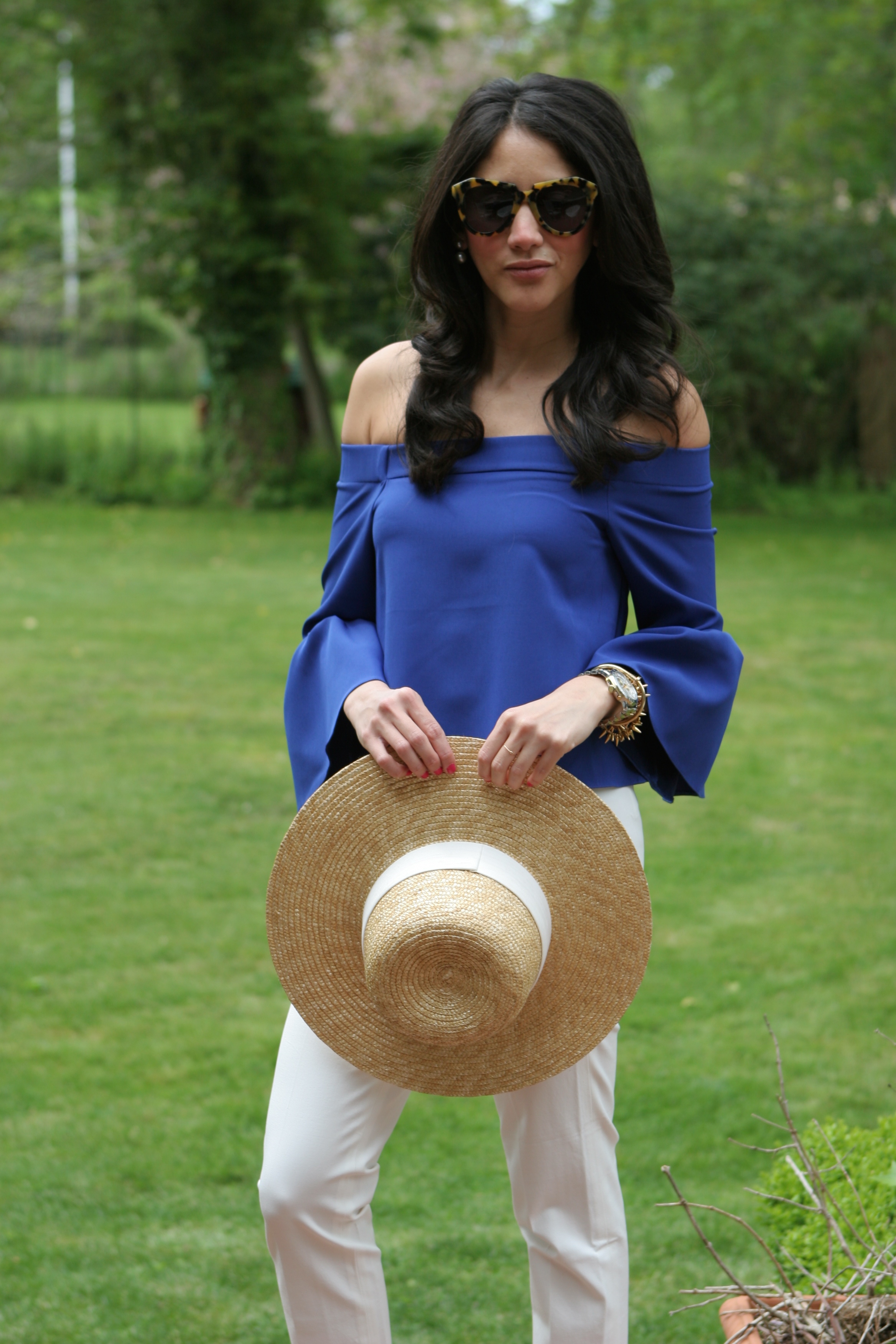 If you want to give the off the shoulder trend a little twist, try the bell shaped off the shoulder tops and dresses. High-end designers have many options as well as fast-fashion houses such as Zara, H&M and Asos of course. Summer is still here and there's plenty of time to rock those off the shoulder pieces, plus this heat wave is not going anywhere anytime soon. The bell shaped off the shoulder top is perfect for making a statement. Mix and match fabrics, and balance out the oversized proportions by pairing the bell shaped off the shoulder top with slim pants or skinny jeans. This bell shaped off the shoulder top is also a great summer (last seen here with statement shorts) to fall transition piece. It's bright for summer days but it can also be a nice fall top because of the dark cobalt hue.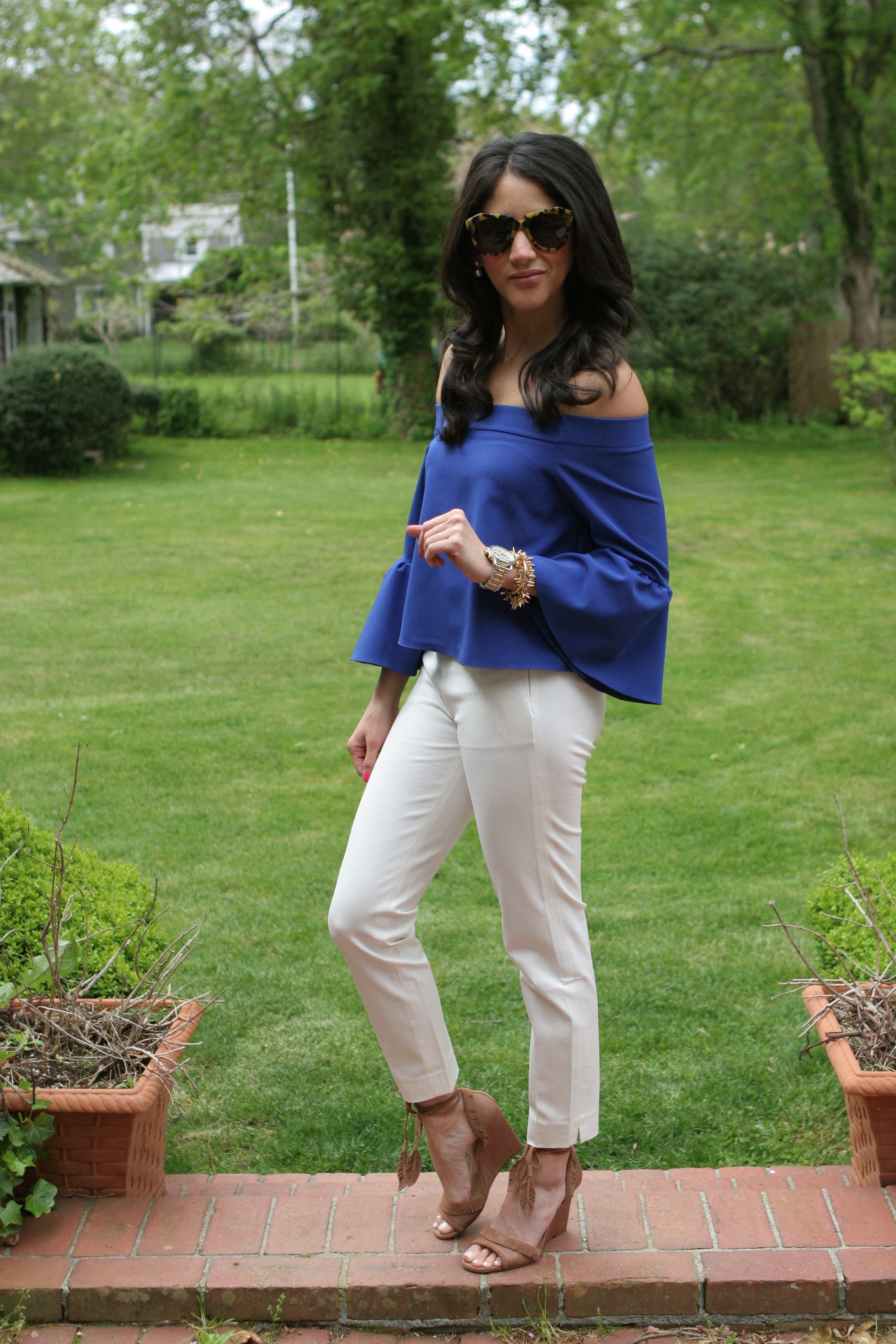 Wenn Sie die von der Schulter Trend ein wenig Drall geben wollen, versuchen Sie die Glocke die Schulter Tops und Kleider geformt aus. High-End-Designers haben viele Optionen sowie schnell Modehäuser wie Zara, H&M und Asos natürlich. Der Sommer ist noch hier und es gibt genügend Zeit, diejenigen aus den Schulterstücken zu schaukeln, und diese Hitzewelle ist nicht überall jederzeit schnell gehen. Die Glocke von der Schulter Spitze geformt ist perfekt für eine Aussage zu machen. Mix und match Stoffe und Ausgleich die überdimensionalen Proportionen durch die Glocke Paarung der Schulter Top mit schmalen Hosen oder skinny Jeans geformt aus. Diese Glocke weg von der Schulter Spitze geformt ist auch eine große Sommer (zuletzt mit Aussage Shorts gesehen hier) Übergangsstück zu fallen. Es ist hell für Sommertage, aber es kann auch wegen der dunklen Kobalt Farbton ein schöner Herbst Spitze.
Si quieres dar a la tendencia de tops y vestidos a los hombros un giro inesperado, tratar la forma de campana en las mangas. Los diseñadores de alta gama tienen muchas opciones, así como las casas de moda rápida como Zara, H&M y Asos, por supuesto. El verano está aquí y todavía hay un montón de tiempo para rockear esas prendas a los hombros, además esta ola de calor no se va a ninguna parte por ahora. Las mangas en forma de campana son perfectas para hacer una declaración con tu look. Mezclar tejidos y el equilibrio de las proporciones para un lindo conjunto con un top a los hombros con mangas de campana, combínalas con pantalones formaditos o jeans skinny. Me puse este top por última vez con unos shorts estampados y unos zapatos altos. Es super lindo para los días de verano, pero también puede ser una buena prenda para pasar de verano a otoño.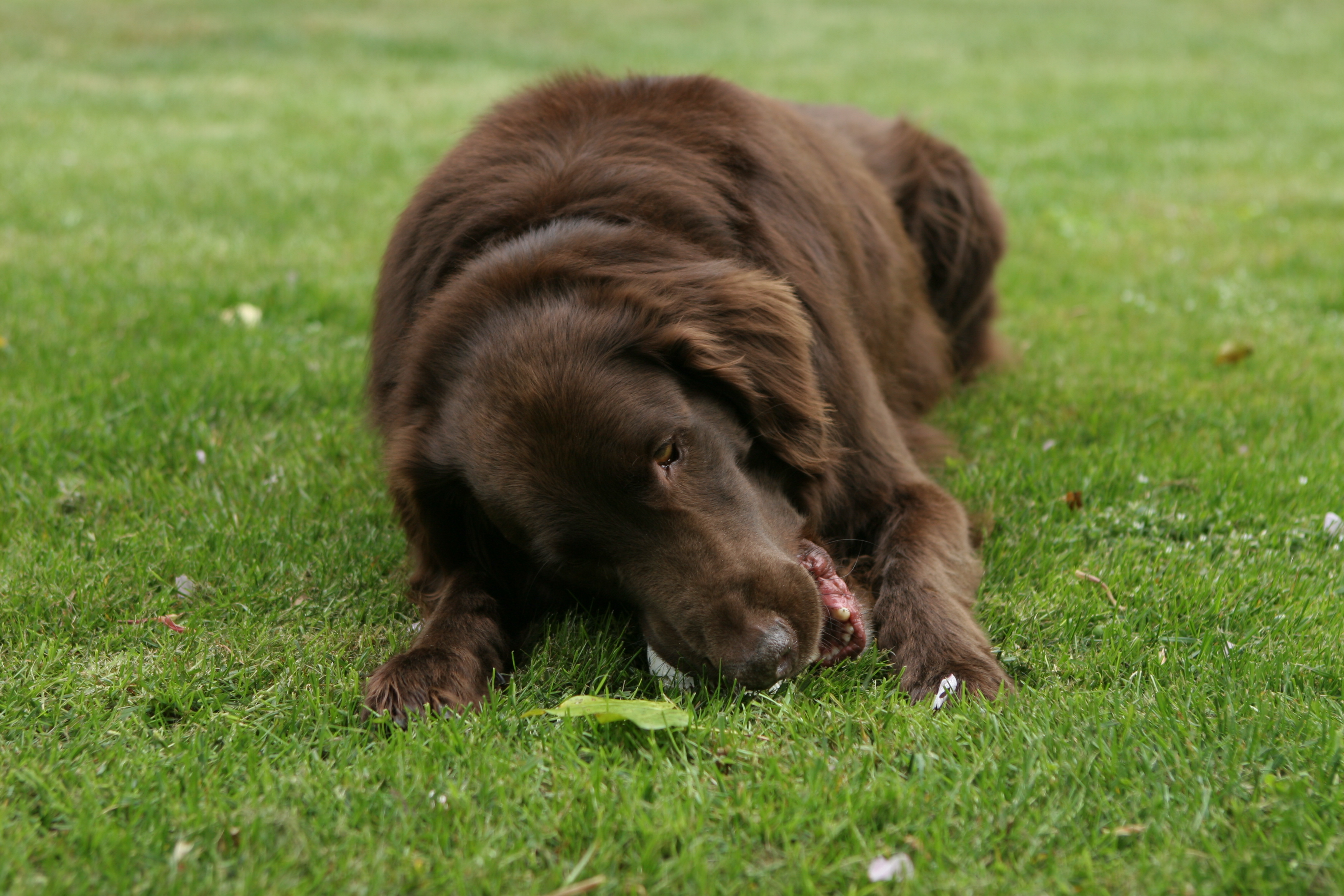 SHOP THE POST