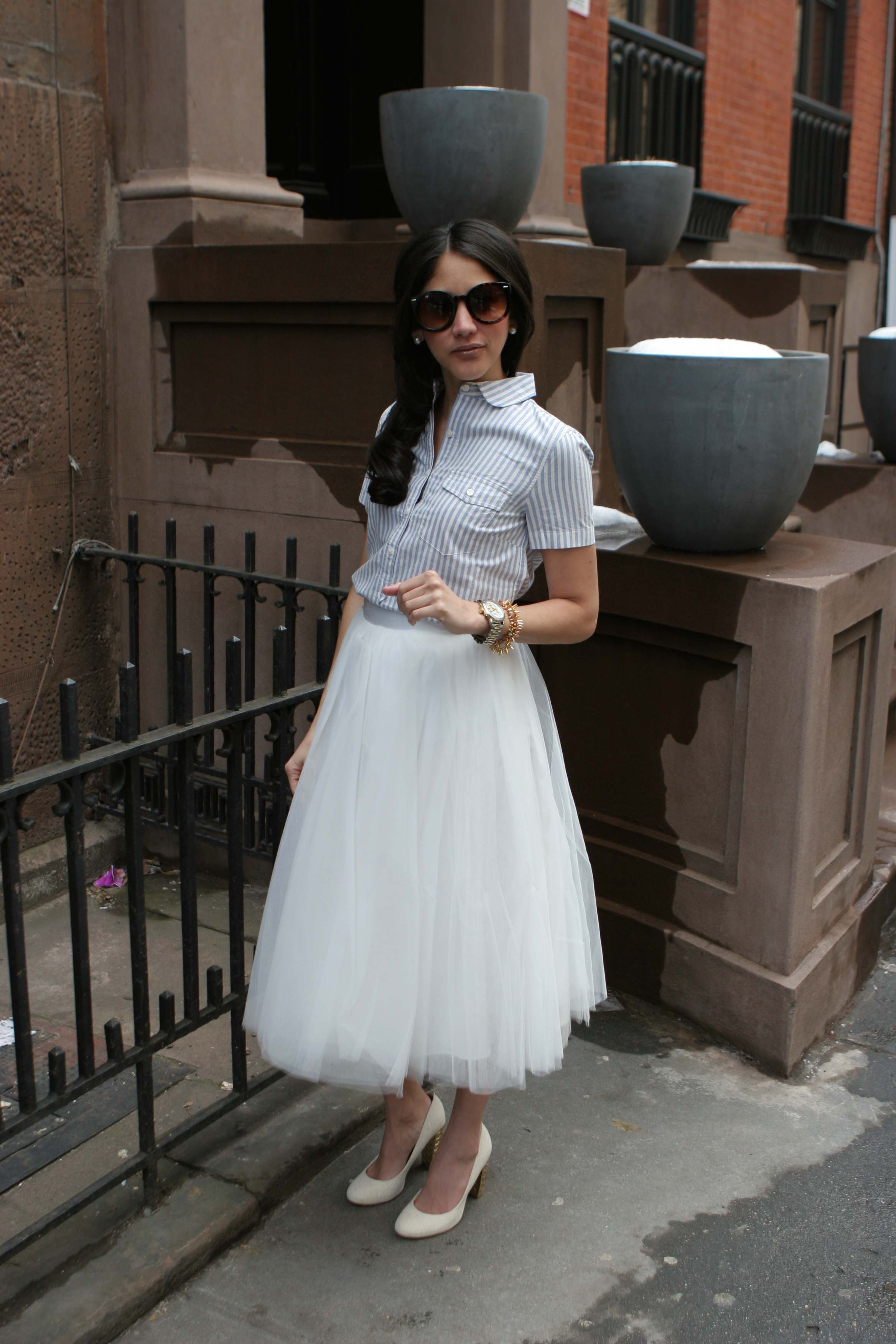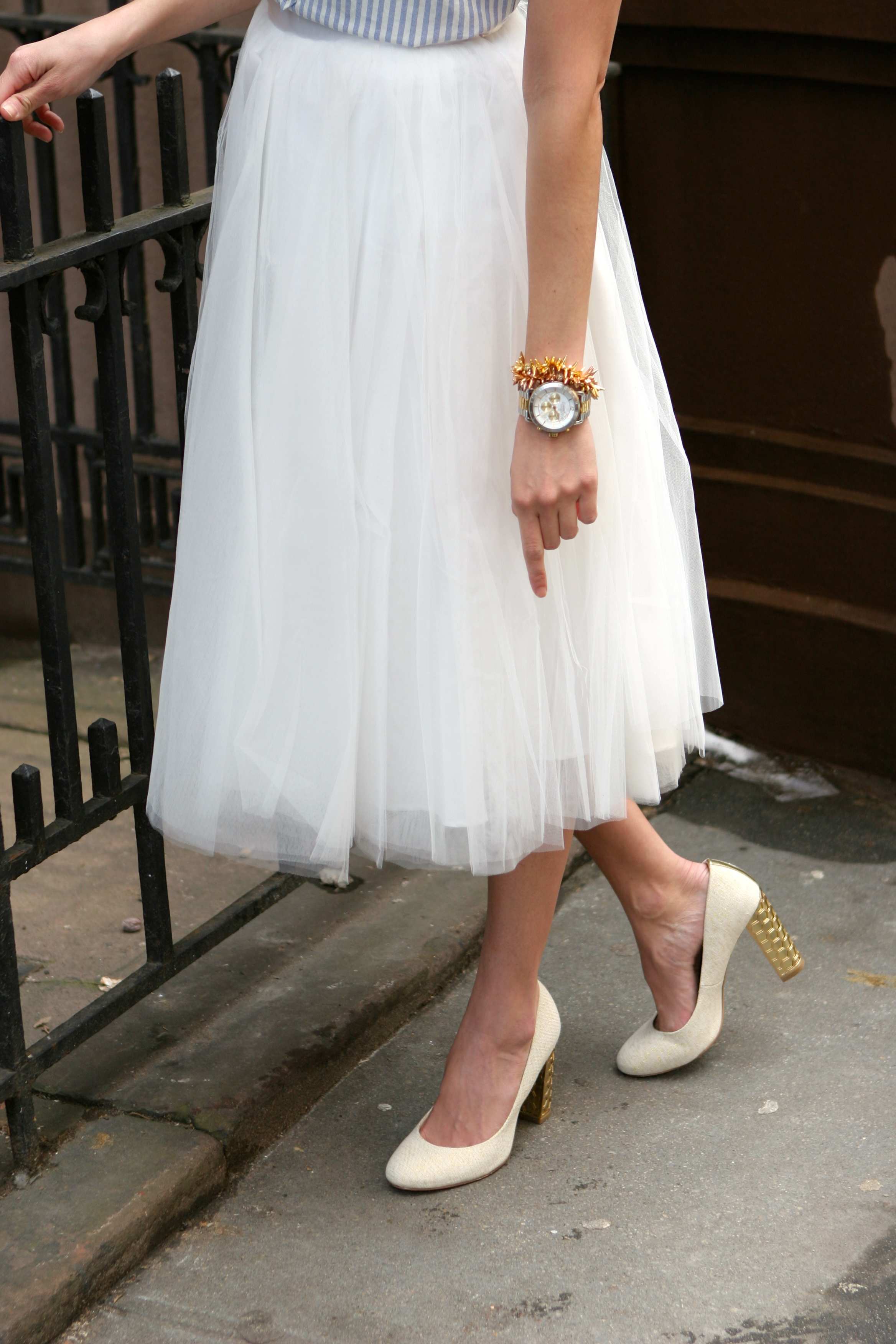 With spring and summer events, all my midi skirts are making their way back to my wardrobe (even though they never really left because I used them every now and then during the winter!) and I'm trying to decide (not easy) which one to wear next. Tulle skirts are really easy to use. White tulle skirts and stripe popovers were a no-brainer. Easy, classy, feminine, clean and put-together, don't you think? This combo is perfect for a weekend brunch, bridal shower, meet up with your girlfriends, dinner with your boyfriend's parents (they know me so they will totally expect this look, my boyfriend on the other hand will just give me that look). Space 46 Boutique Wendy tulle skirt, J.Crew stripe top, C.Wonder pumps, vintage sunglasses, Stella & Dot renegade cluster bracelets, Coach watch. I just noticed these photos were taken when there was still snow outside!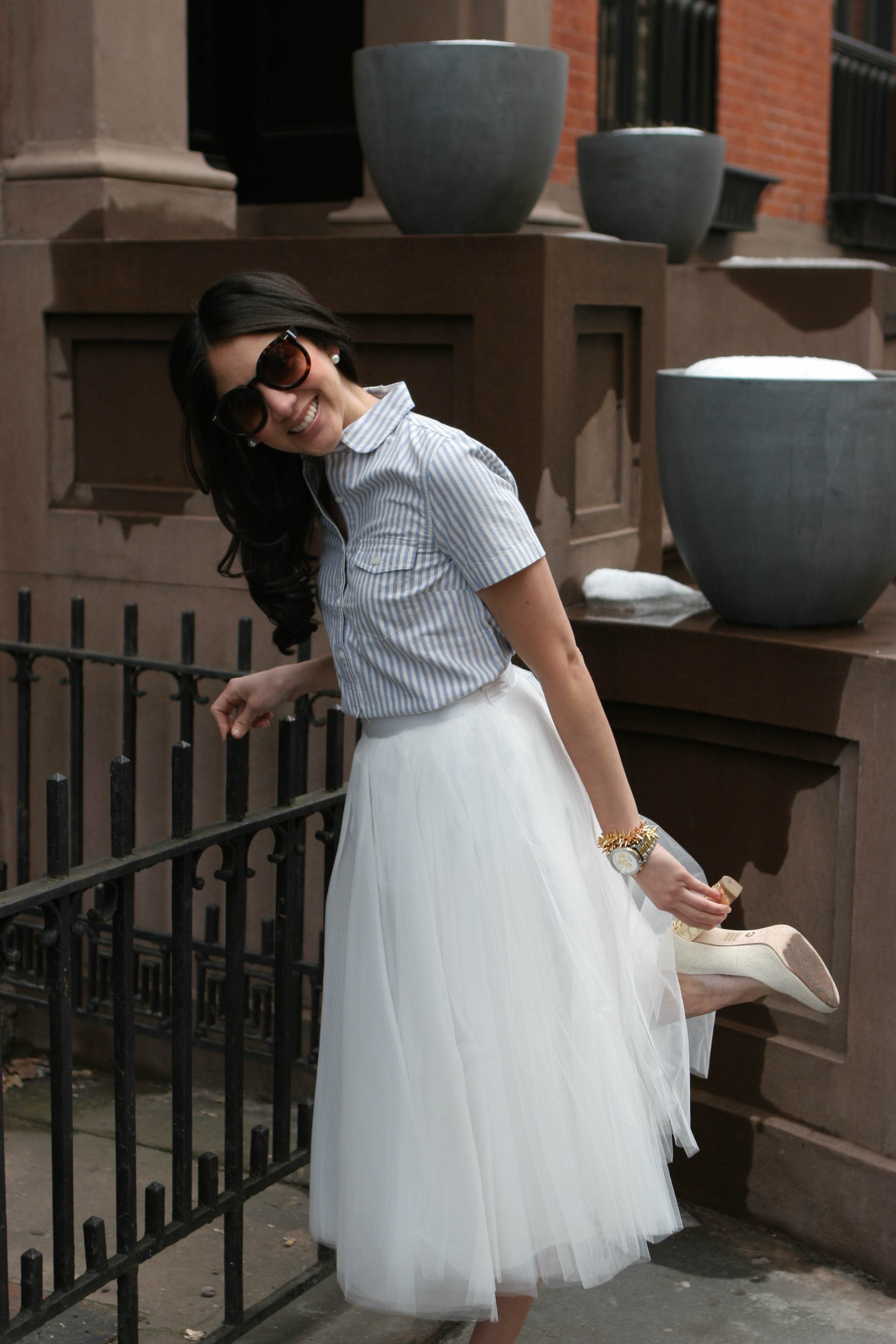 Mit den Frühling und Sommer-Events, meine Midiröcke wollten ihren Weg zurück zu meinem Kleiderschrank (obwohl sie nie wirklich verlassen, weil ich sie hin und wieder während des Winters!) Und ich versuche zu entscheiden (nicht einfach), die einem zum nächsten tragen. Tüll Röcke sind wirklich einfach zu bedienen. Weißem Tüll Röcke und Streifen popovers waren ein Kinderspiel. Einfach, nobel, weiblich, sauber und Put-zusammen, finden Sie nicht auch? Diese Combo ist ideal für einen Wochenendbrunch, Brautdusche, treffen sich mit Ihren Freundinnen, Abendessen mit den Eltern deines Freundes (sie kennen mich, so dass sie völlig erwarten diesen Blick, mein Freund auf der anderen Seite wird nur geben Sie mir diesen Blick). Space 46 Boutique Wendy Rock, J.Crew Hemd, vintage Sonnenbrille, Stella & Dot renegade cluster  Armbander, Coach Uhr. Ich habe gerade bemerkt diese Fotos aufgenommen wurden, als es noch Schnee am Straße war!
Con eventos de primavera y verano a la vuelta de la esquina, todas mis faldas midi están haciendo su camino de regreso a mi armario (a pesar de que en realidad nunca se fueron porque las usé de vez en cuando durante el invierno!) Y estoy tratando de decidir (no es fácil), cual me voy a poner en mi próxima salida. Faldas de tul son muy fáciles de usar. Faldas de tul blanco y camisas de manga corta de raya fue una combinación obvia. Fácil, con clase, femenino, limpio, ¿no crees? Este combo es perfecto para un brunch de fin de semana, shower nupcial, reunirte con tus amigas, cena con los padres de tu novio (me conocen y se que no les sorprendería si me ven con este look, mi novio, por otro lado me daría esa mirada). Falda de tul Space 46 Boutique Wendy, camisa de rayas J.Crew, gafas vintage, pulseras Stella & Dot renegade cluster, reloj Coach. Me acabo de dar cuenta que cuando tome estas fotos todavía había nieva afuera.