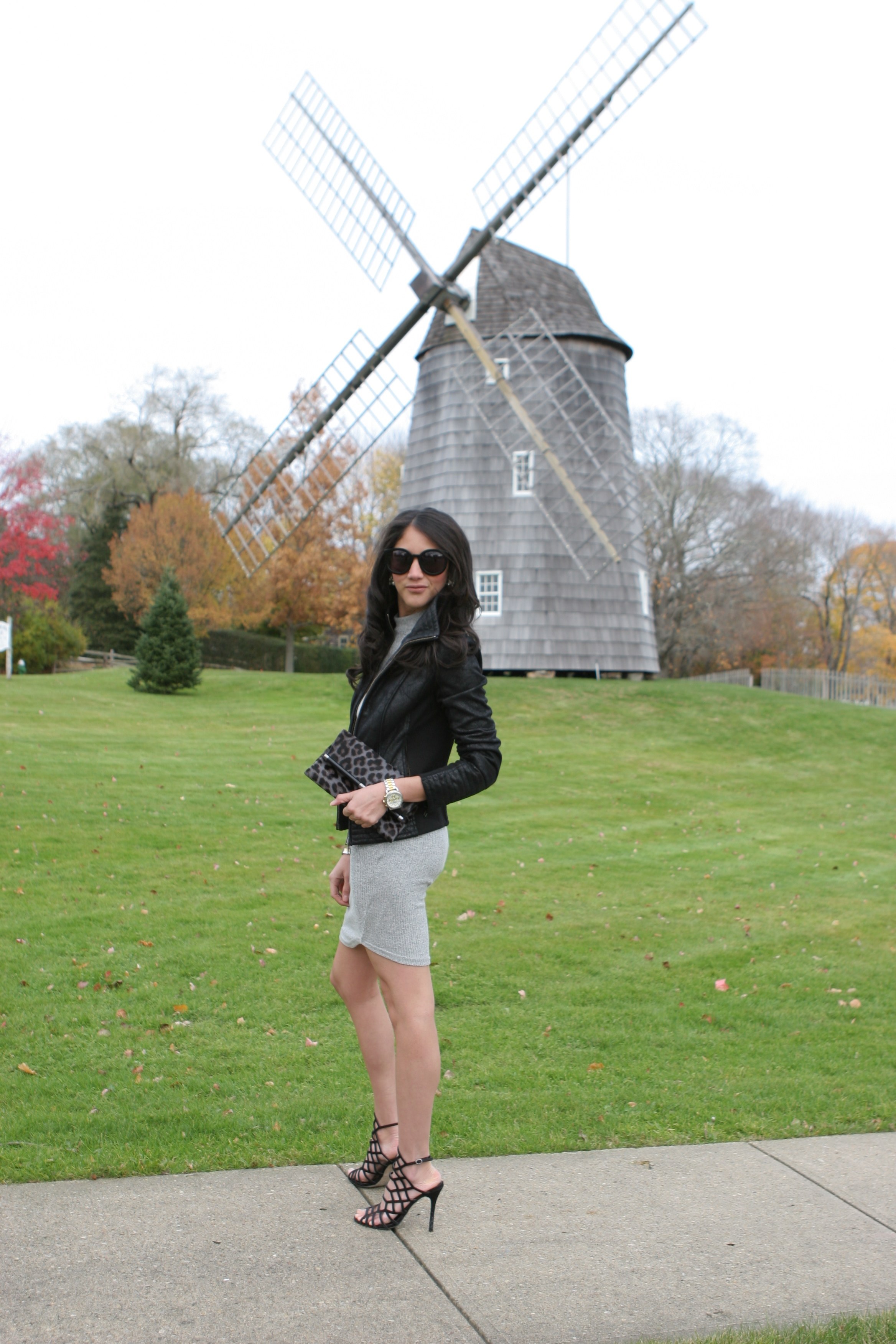 JACKET: ARMANI EXCHANGE FAUX-LEATHER JACKET | DRESS: LF STORES BODYCON DRESS (SIMILAR NASTY GAL ELECTRIC LOVE BODYCON DRESS) | SHOES: STEVE MADDEN 'SLITHUR' SANDALS | BAG: DVF LEOPARD ENVELOPE CLUTCH | SUNGLASSES: KAREN WALKER NUMBER ONE SUNGLASSES | EARRINGS: J.CREW CRYSTAL EARRINGS | WATCH: COACH STAINLESS STEEL WATCH | BRACELET: STELLA & DOT RENEGADE CLUSTER BRACELET.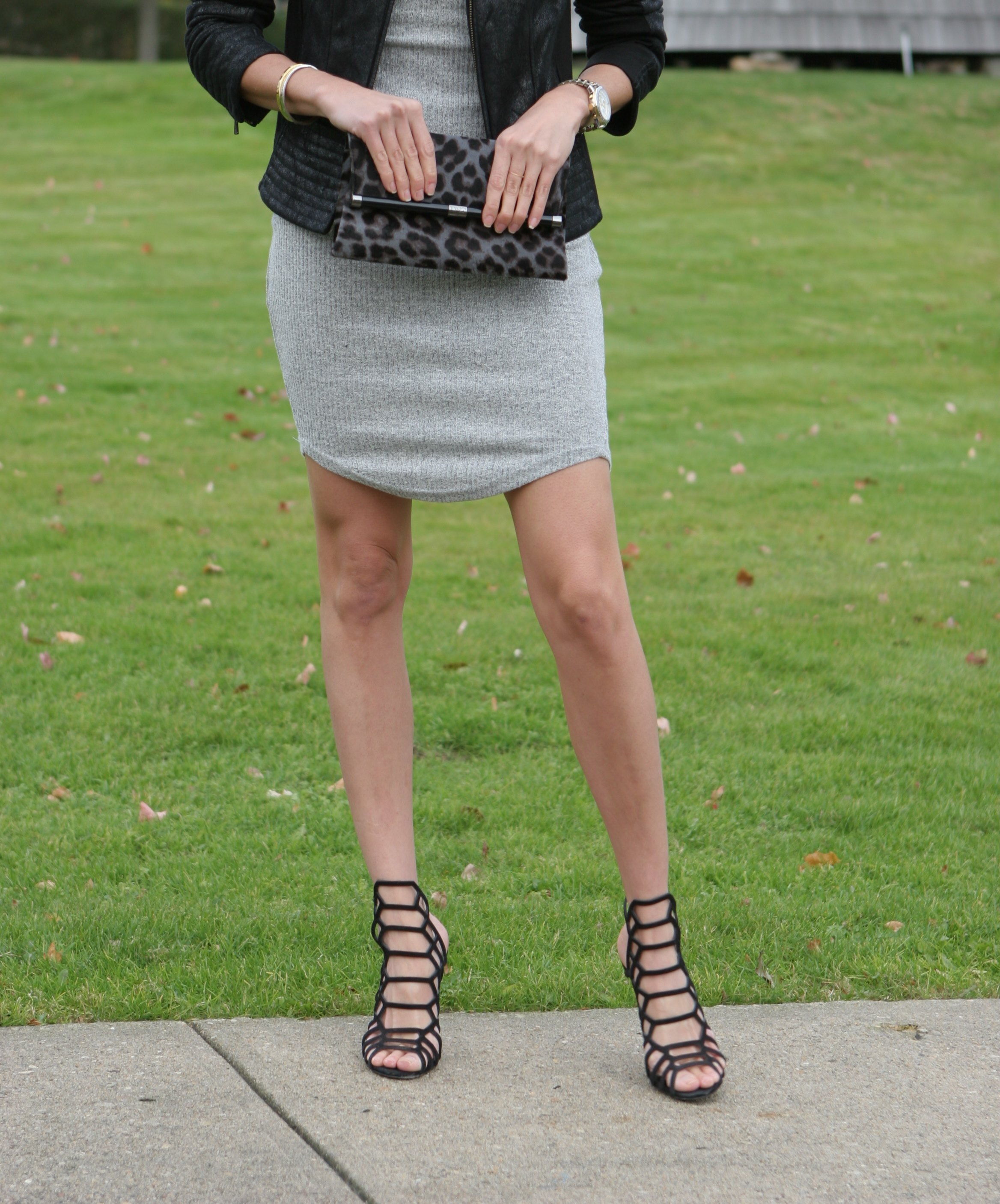 It's no news that I love fashion and couture. The fabrics, the designers, the models, I love it all. Even though I wish I could have the biggest closet in the world, I live in the real world and the older I get, the less I buy and figure out ways to mix and match pieces that I already have in my closet. You'll be surprised the countless outfits you can put together with clothes you already own. Don't get me wrong, I do spruce up my closet here and there but for the most part I keep reusing pieces I've had as far as ten years ago. I take really good care of my clothes and have great timeless pieces that I know I'll keep wearing for many years to come. As we kick off 2017, I encourage you to look in your closet and put together new outfits for a rewarding outcome. When in doubt, feel free to reach out to me.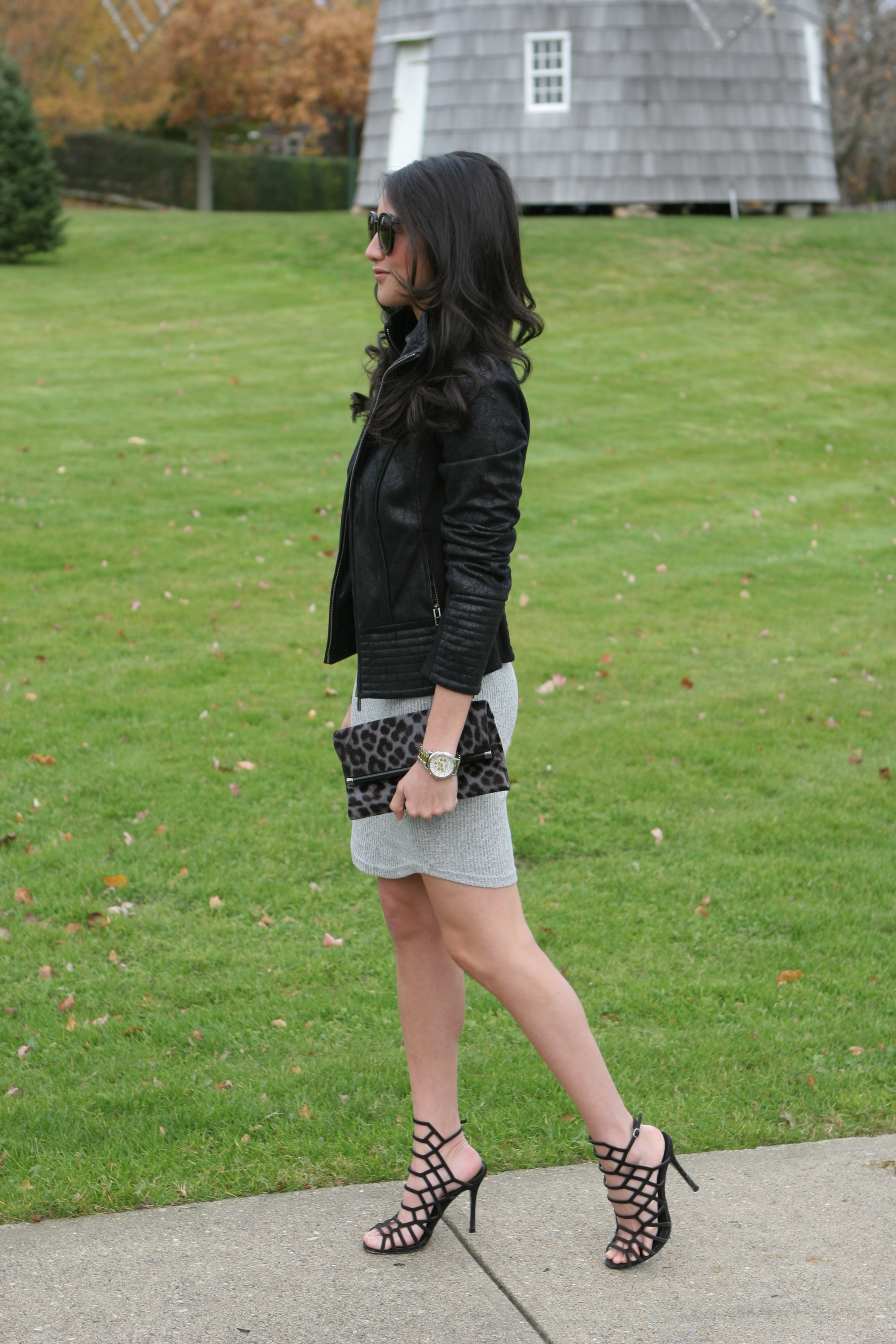 Es ist nichts Neues, dass ich Mode liebe. Stoffe, Designer, Models, ich liebe alles weg. Obwohl liebe ich die größte Schrank der Welt zu haben, mit den neuesten Trends in jeder Saison, ich lebe in der realen Welt und je mehr die Jahre vergehen, kaufen weniger und neue Wege finden, zu kombinieren, sieht, dass ich in meinem Schrank haben hängen. Sie werden unendlich überrascht, dass Sie Kombinationen mit Kleidung anlegen können Sie bereits besitzen. Versteh mich nicht falsch, wenn ich auch ein Stück zu meinem Schrank von Zeit zu Zeit hinzufügen, aber die meiste Zeit, werden Sie mir die Wiederverwendung von Kleidung, die ich seit über zehn Jahren habe finden. Ich kümmere genug und haben meine Kleider zeitlose Stücke, die seit vielen Jahren weiterverwenden zu kommen. Als wir 2017 nähern, ermutigen Sie, dass ich in Ihrem Kleiderschrank gut aussehen und neue Looks für ein zufriedenstellendes Ergebnis zu kombinieren. Wenn Sie Zweifel haben, schreiben Sie mir und wir helfen Ihnen gerne weiter.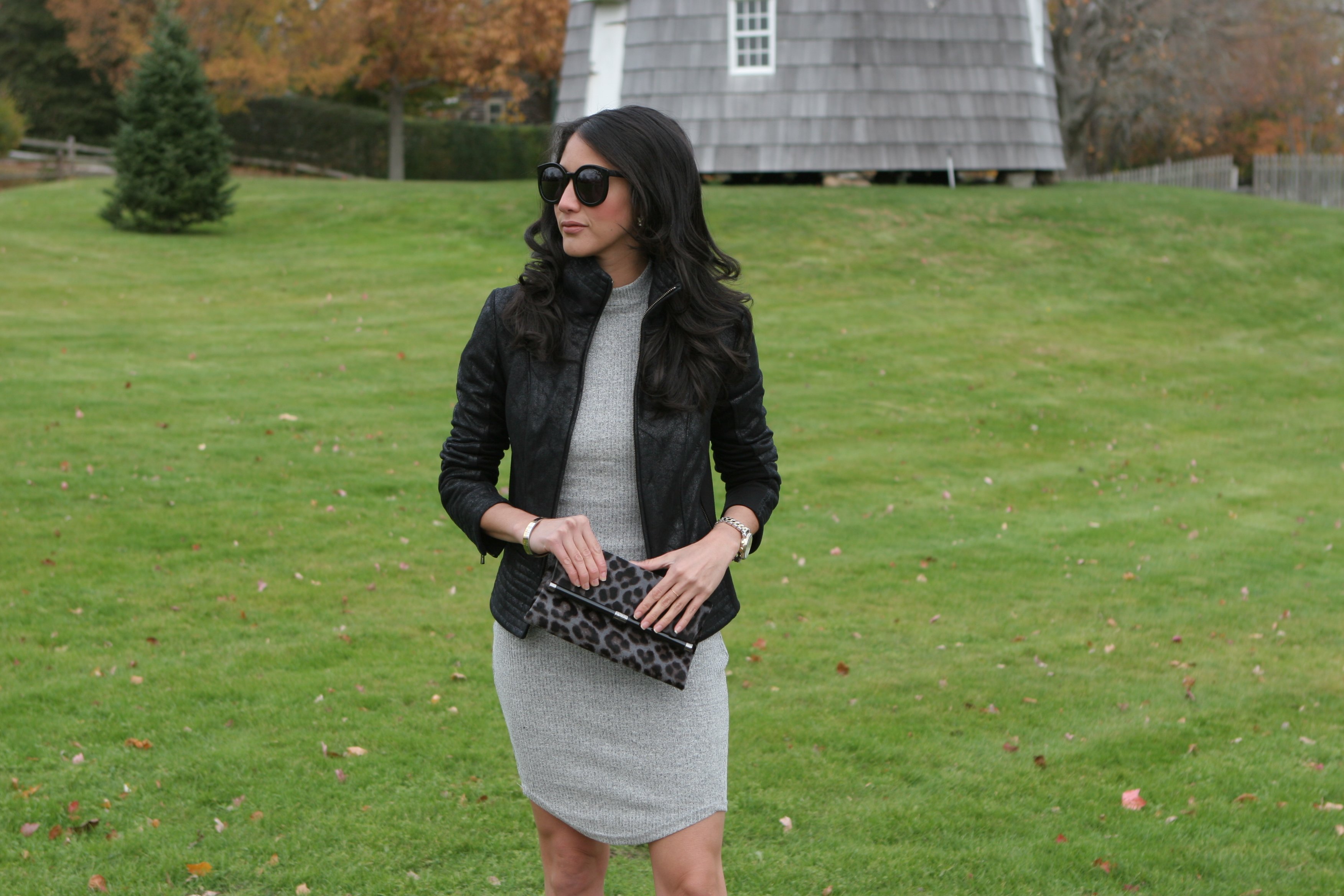 No es noticia que me encanta la moda. Las telas, los diseñadores, las modelos, me encanta toditito. Aunque me encantaría tener el closet más grande del mundo con las últimas tendencias todas las temporadas, vivo en el mundo real y mientras más pasan los años, compro menos y encuentro nuevas maneras de combinar looks que ya tengo colgados en mi closet. Te sorprenderás de los outfits infinitos que puedes crear con la ropa que ya posees. No me malinterpretes, si añado piezas a mi closet de vez en cuando pero la mayoría del tiempo, me encontrarás reusando ropa que he tenido por más de diez años. Cuido mi ropa bastante y tengo piezas que son atemporales que continuaré usando por muchos años por venir. A medida que nos acercamos al 2017, quiero alentarte a que busques bien en tu closet y combines nuevos looks para un resultado satisfactorio. Cuando estés en duda, escríbeme y con gusto te ayudaré.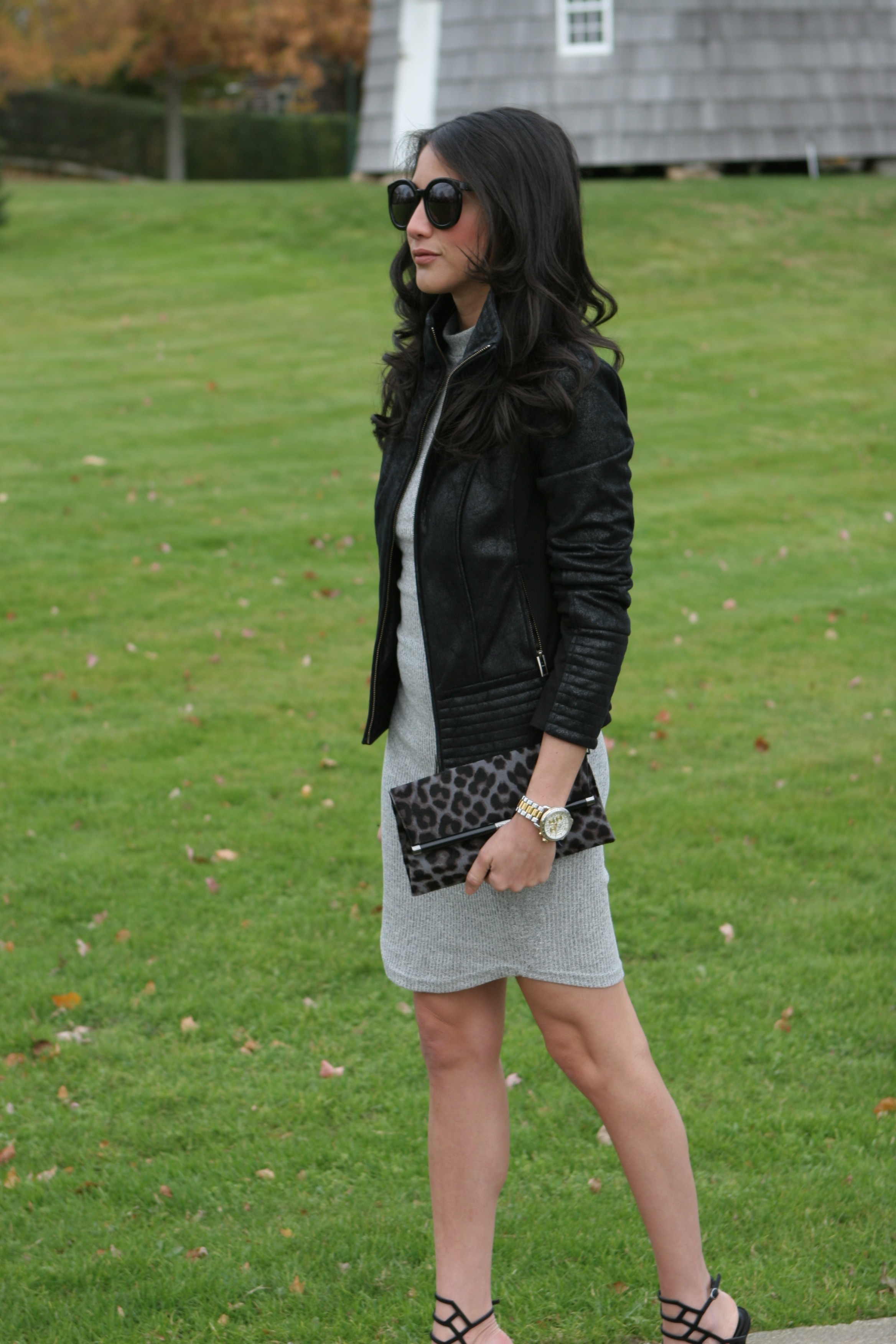 SHOP THE POST