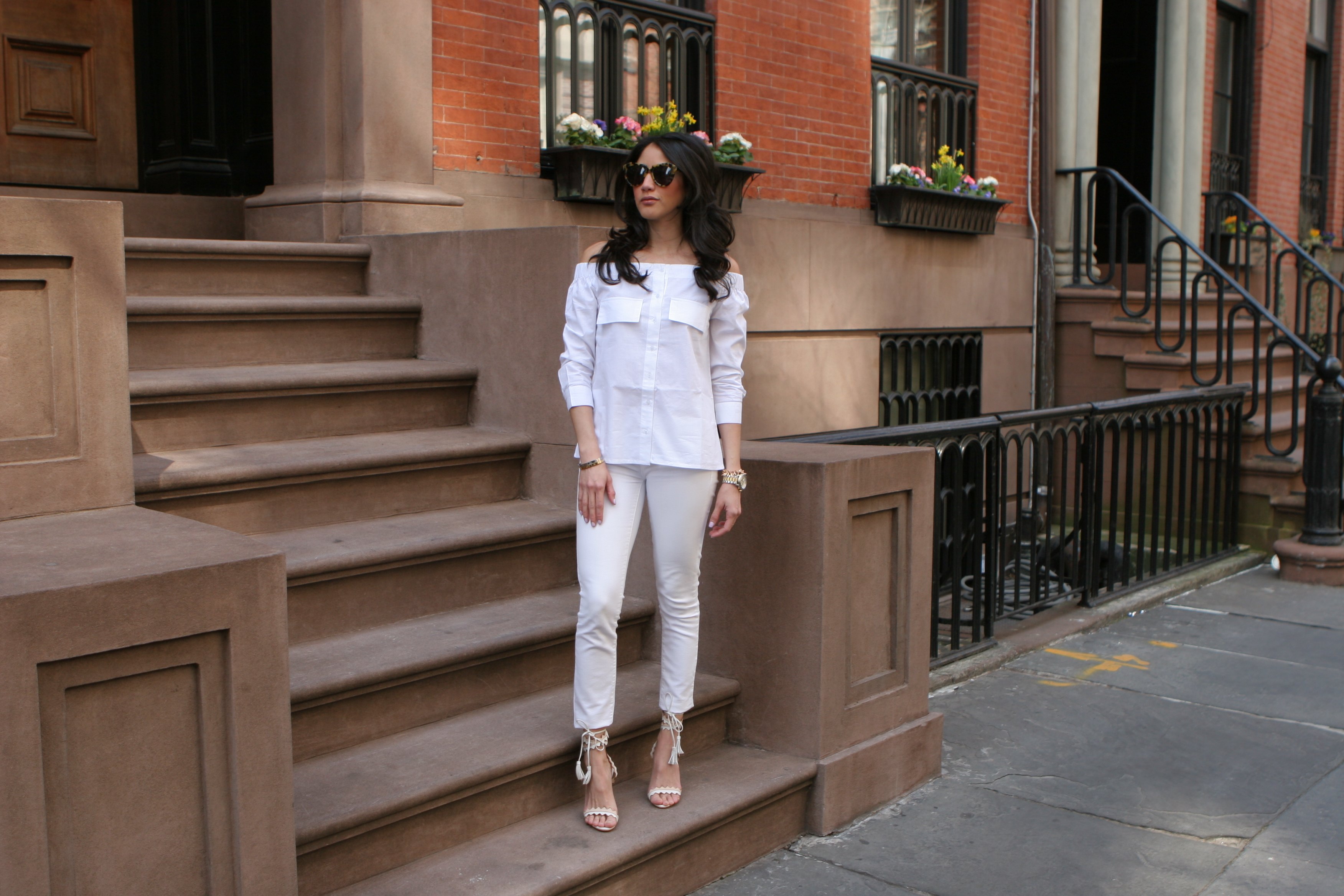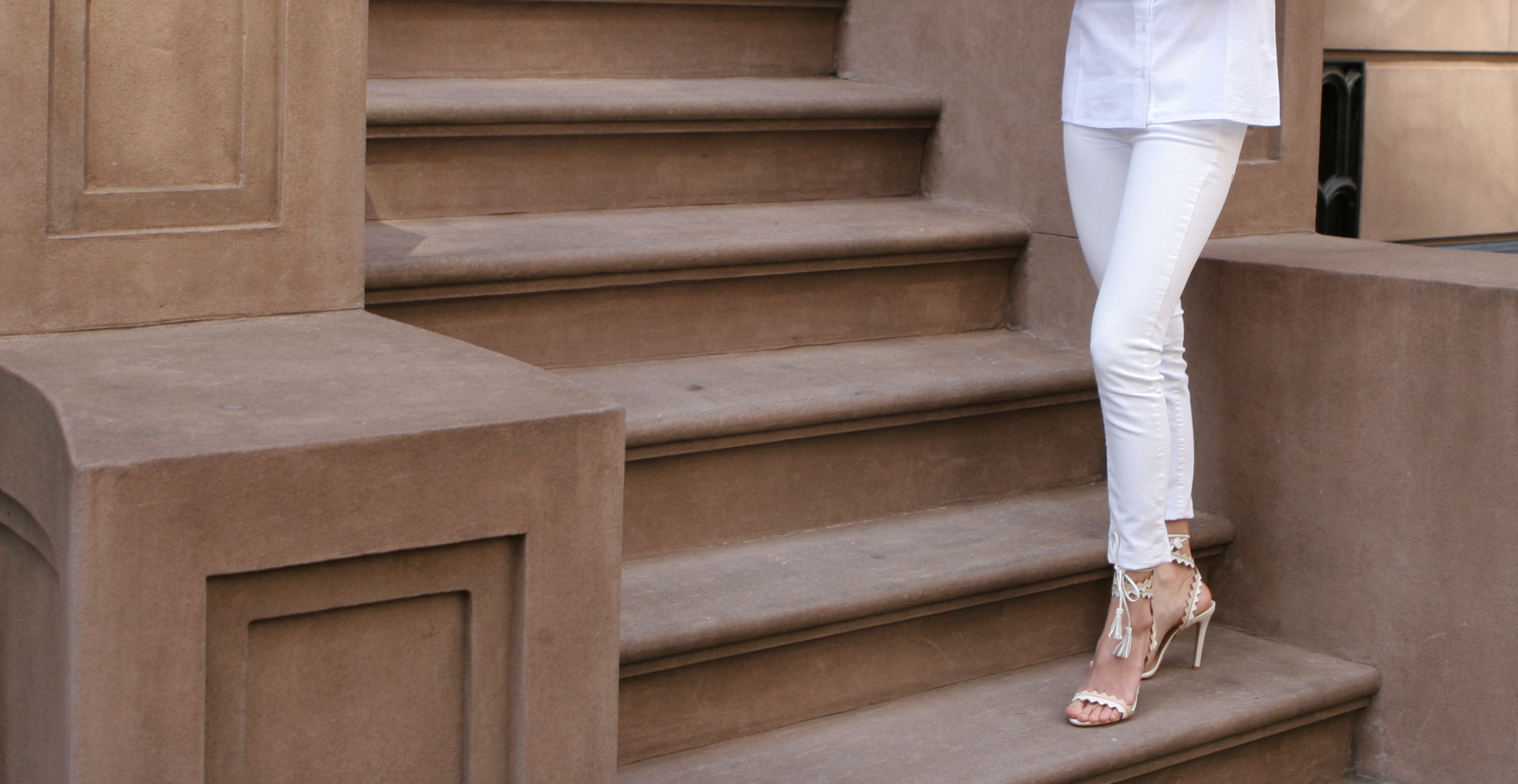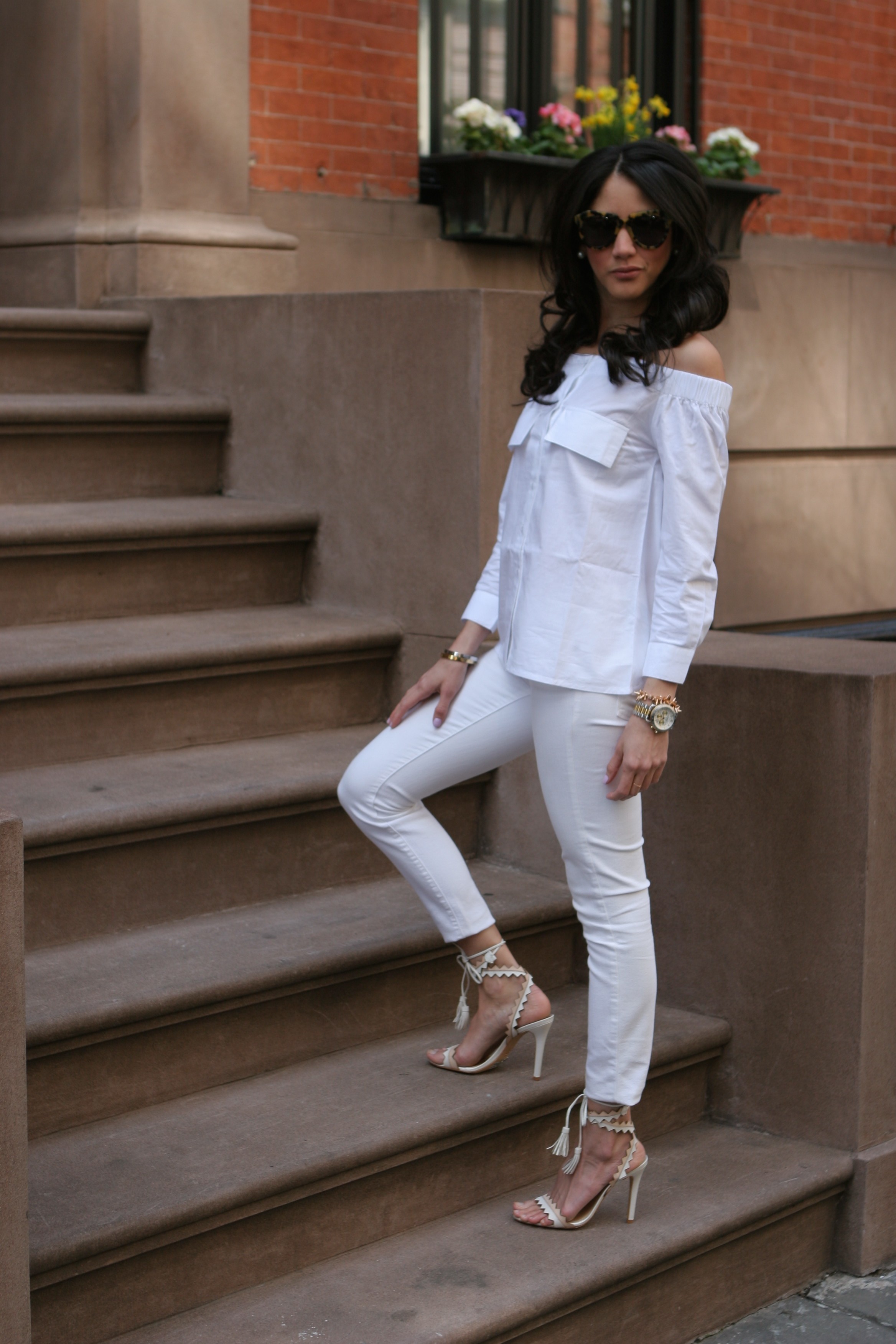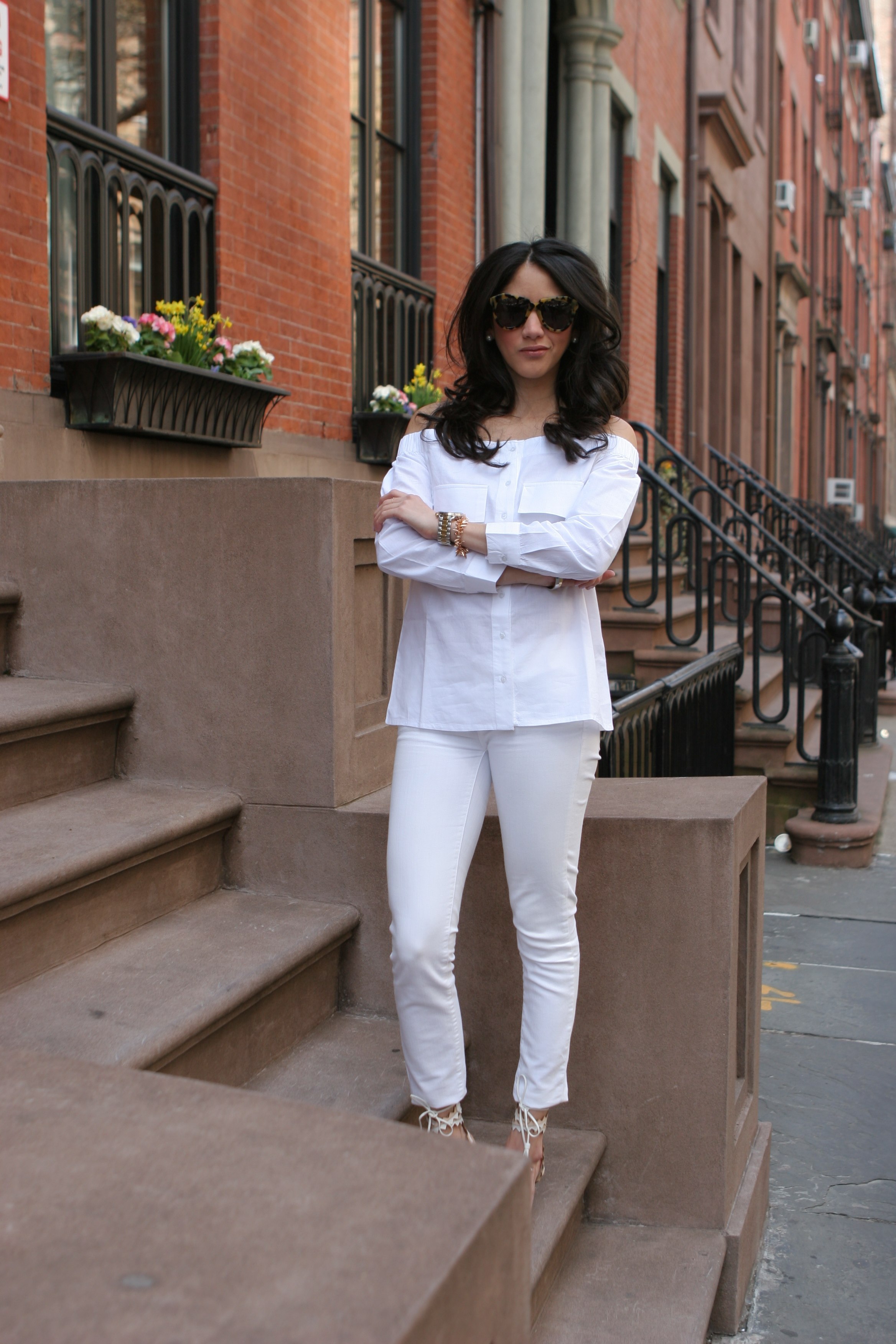 Top: Walter Baker sunny off-the-shoulder shirt | Pants: J.Crew toothpick jean in white | Shoes: Schutz margo dress sandals | Sunglasses: Karen Walker Number One sunglasses via Shopbop | Watch: Coach | Bracelets: Stella & Dot renegade cluster bracelet | Lipstick: MAC 'Huggable' lipcolour | Make-up: Chanel Joues contraste powder blush, Bare Minerals foundation kit.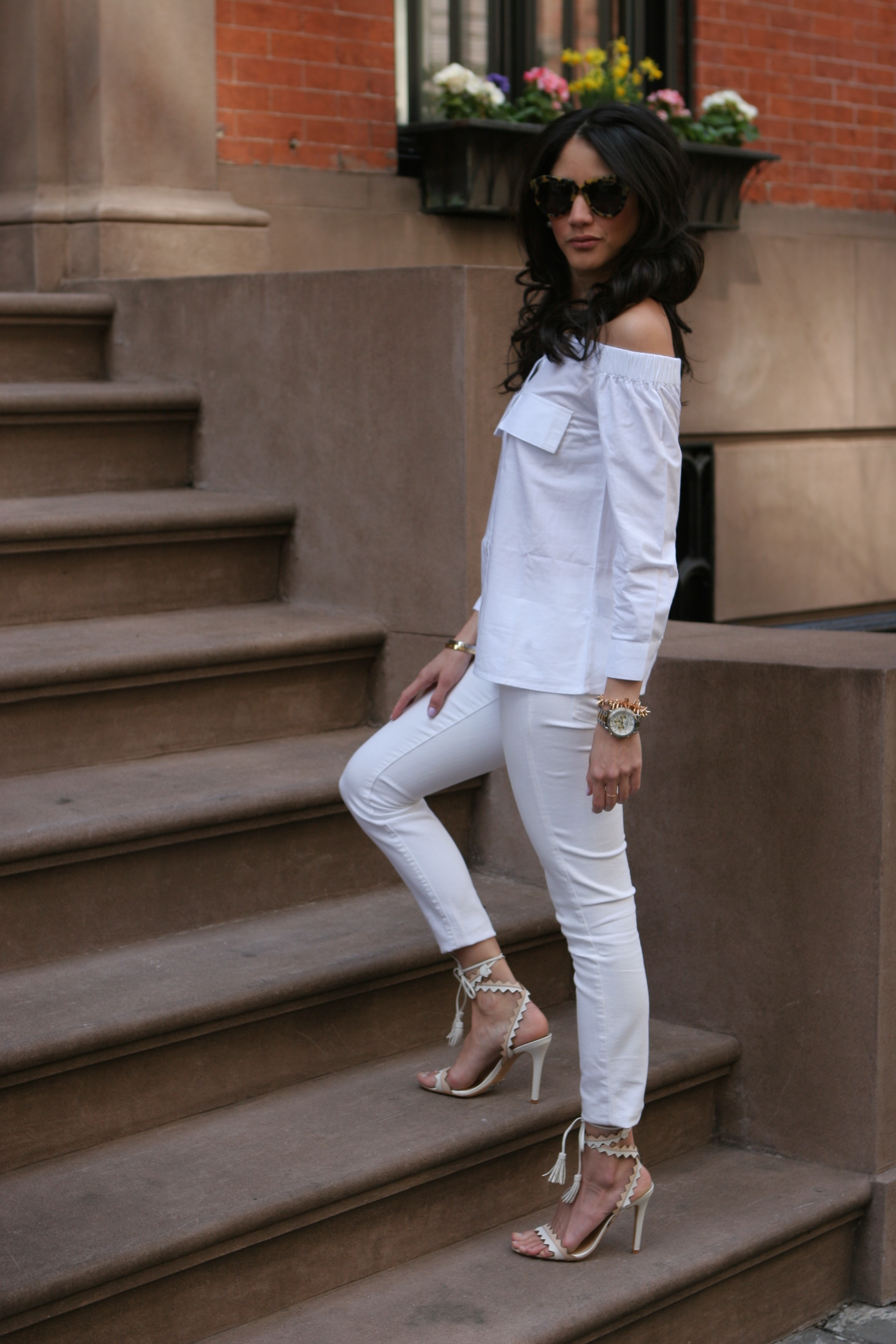 Spring and summer fashion is affordable for everyone. You do not have to empty your bank account to be fashionable or showcase a fabulous spring style. The key is to feel comfortable with yourself and wear clothes that compliment your figure and go with your personality. Not everything that is fashionable looks good on everyone. This off-the-shoulder top has a classic design, it's miniminal and leaves your bare shoulders exposed and you feel very comfortable and feminine. Seriously, I'm obsessed with tops and dresses that leave the shoulders exposed. I cannot stop,, every time I see one with a different style or vivid color, I just have to buy it. Bring on off-the-shoulder tops and leave your shoulders bare for a sexy look. This off-the-shoulders top in particular is one of my favorites for this time of year, the white tones are perfect for spring and summer.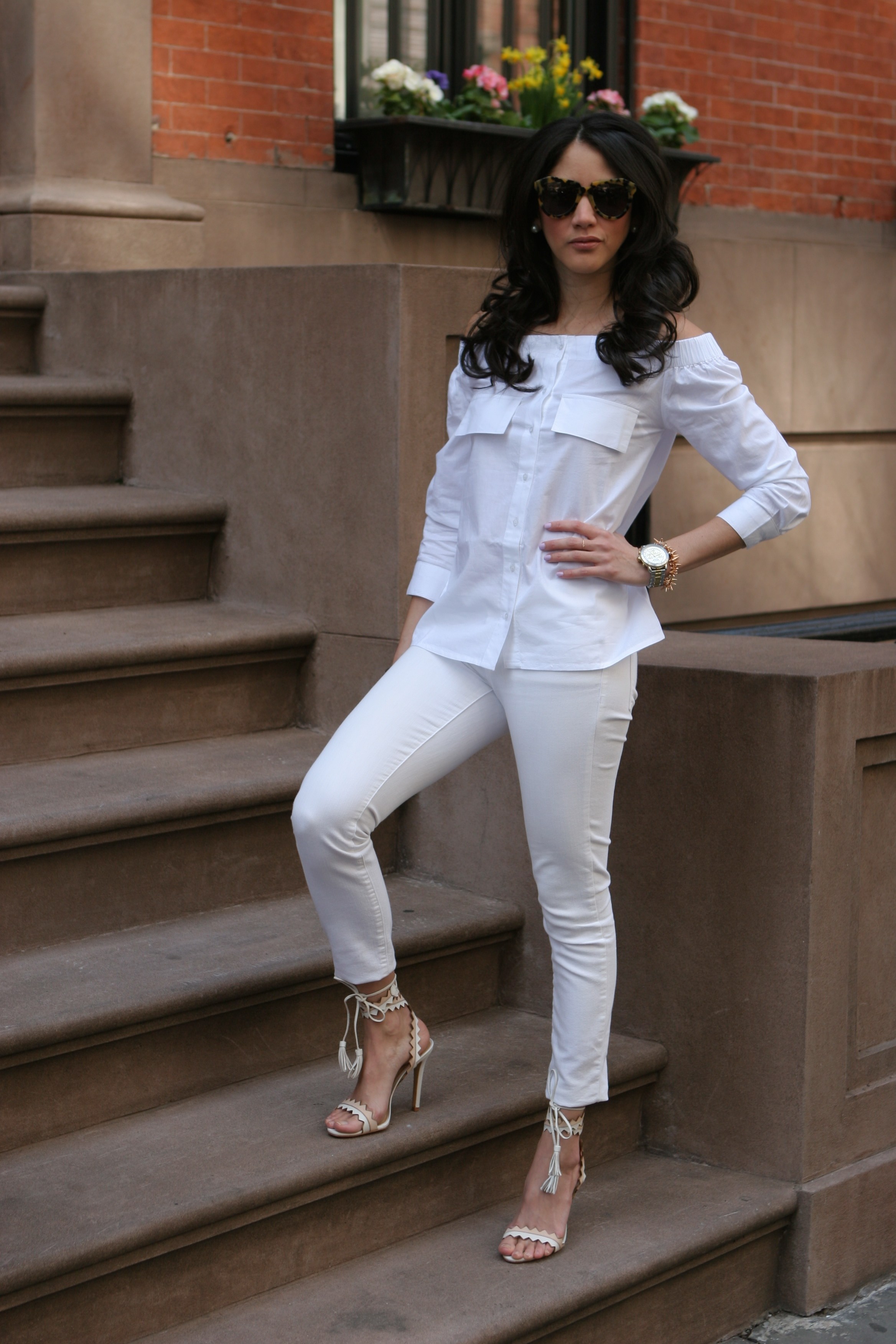 Frühjahr und Sommer Mode sind für jedermann erschwinglich. Sie müssen nicht Ihre Bank plündern modisch zu sein oder eine Feder Stil. Der Schlüssel ist, um sich wohl fühlen mit sich und tragen Sie Kleidung, die sie Ihre Figur und gehen mit Ihrer Persönlichkeit Kompliment. Nicht alles, was gut in Mode sieht auf jeden. Diese Schultern hat oben ein klassisches Design miniminal und lässt nackten Schultern und man fühlt sich sehr bequem und feminin. Ich bin ernsthaft besessen von Tops und Kleider, die die Schultern frei lassen. Ich kann nicht aufhören, jedes Mal, wenn ich mit einem anderen Stil oder lebendige Farbe zu sehen, ich sterbe, es zu kaufen. Bringen Sie Spitzen Schultern und lassen Sie Ihre Schultern frei gibt Ihnen einen sexy Look. Diese Top Schultern insbesondere einer meiner Favoriten dieser Epoche ist, sind weiße Töne unfehlbar für Frühjahr und Sommer.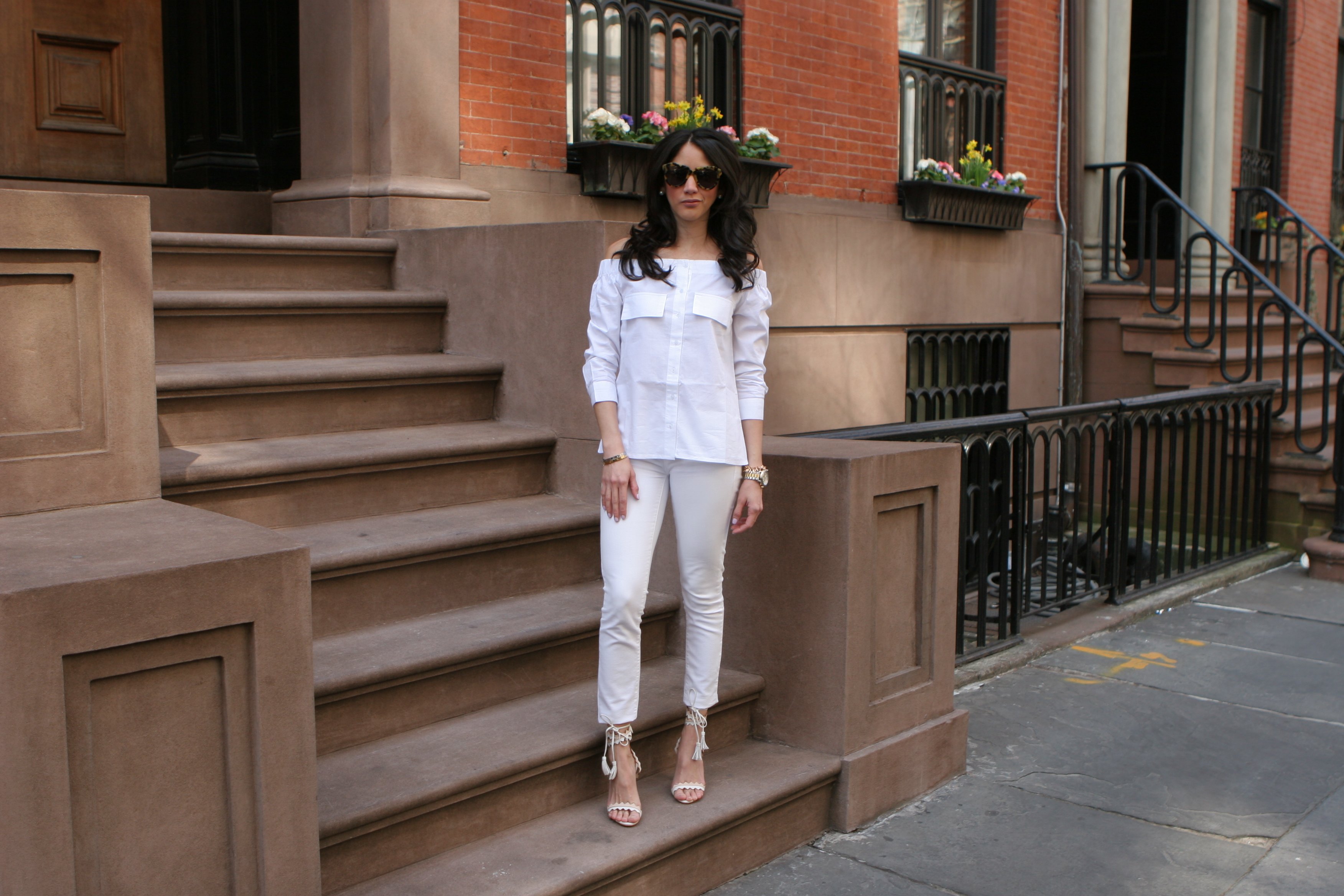 La moda de primavera y verano es asequible para todos. No tienes que saquear tu banco para estar a la moda o tener un estilo primaveral. La clave está en sentirte cómoda contigo misma y usar ropa que alague tu figura y vaya con tu personalidad. No todo lo que está a la moda le queda bien a todos. Este top a los hombros tiene un diseño miniminal y clásico, deja los hombros al aire y te sientes muy cómoda y femenina. En serio que estoy obsesionada con los tops y vestidos que dejan los hombros al aire. No puedo parar, cada vez que veo uno con un estilo diferente o color vivo, me muero por comprarlo. Lleva tops a los hombros y dejar tus hombros al descubierto te da un look sexy. Este top a los hombros en particular es uno de mis favoritos de esta época, los tonos blancos son precisos para la primavera y verano.