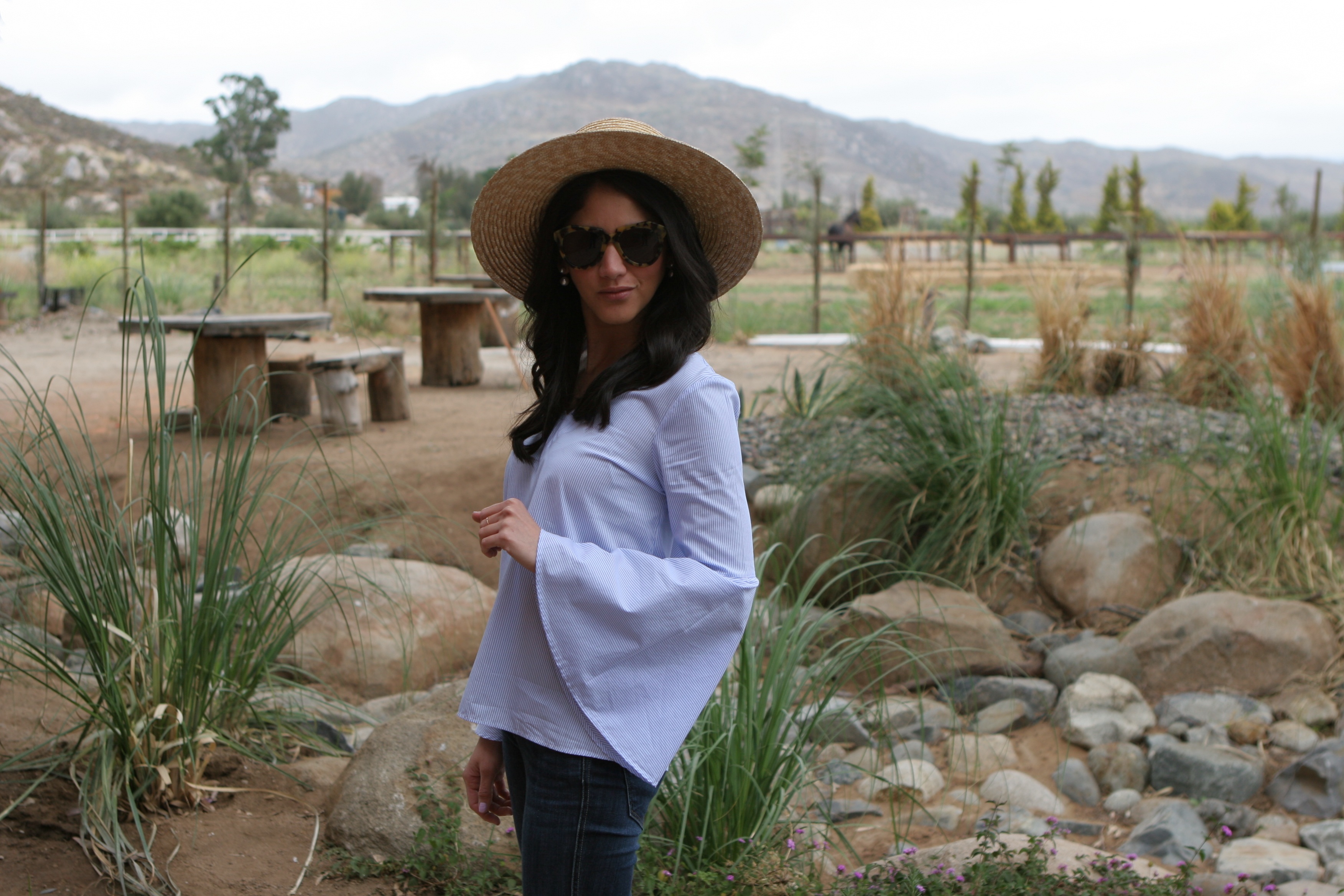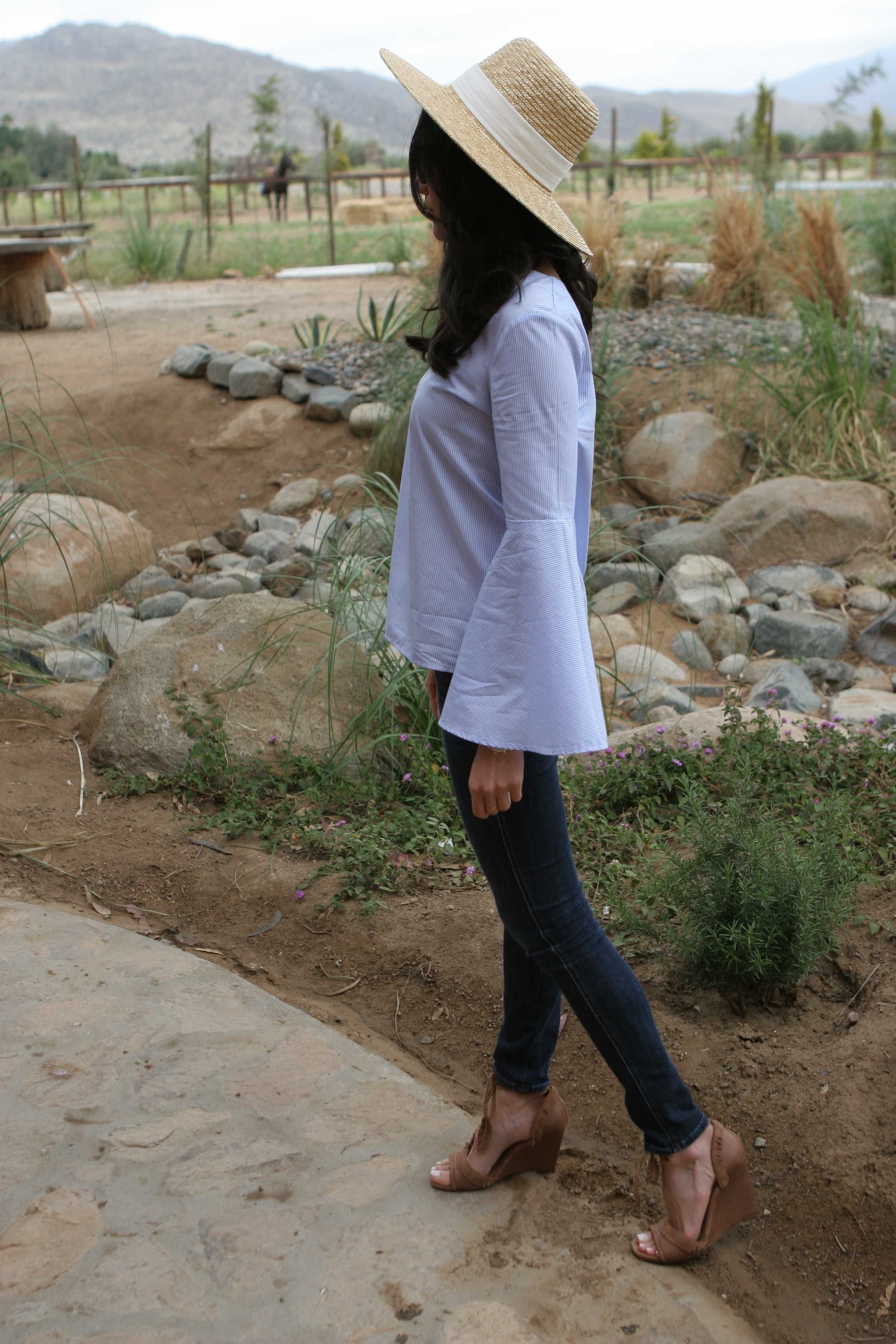 Top: Zara striped blouse | Jeans: J.Crew toothpick jean in classic rinse | Hat: J.Crew wide brimmed straw hat (also loving these ones: 1, 2, 3) | Sunglasses: Karen Walker Number One sunglasses via Shopbop |Watch: Coach | Bracelets: Stella & Dot renegade cluster bracelet | Lipstick: MAC 'Huggable' lipcolour | Make-up: Chanel Joues contraste powder blush, Bare Minerals foundation kit.
Petite girls usually stay away from very loose tops. The reasoning behind it is that it makes them look more petite than what they actually are. I know this because I'm a petite girl and nine out of ten loose tops make me look smaller and even though I love loose tops I usually stay away. One of the most important fashion rules is to know what looks good on you. Not every trend suits your figure. Once you have figured out your style, getting dressed is no longer stressful but a very fun process. This striped top with bell sleeves is a little on the loose side but let me tell you, it works great for petite girls. It has that loose look but because it has fitted chest and shoulder structures, the top works wonders for petite girls. The bell sleeves are very popular at the moment and this top carries the trend well without being too over-the-top. When I buy something, I make sure I can wear whatever piece I'm getting through the seasons and the trends. Trends come and go but as long as I can picture myself wearing something over the next few years, I know I made a good purchase. This top is great for family dinners, the loose torso area is a good hiding place for all those big meals and when the time comes, it can be a good maternity top plus the sleeves are so much fun. I recently wore this outfit while I was in Mexico. Will and I took an impromptu trip to Ensenada over Memorial Day Weekend and explored the vineyards, beaches and did a little horse back riding while staying at the cutest little ranch, Hotel Boutique in Valle de Guadalupe.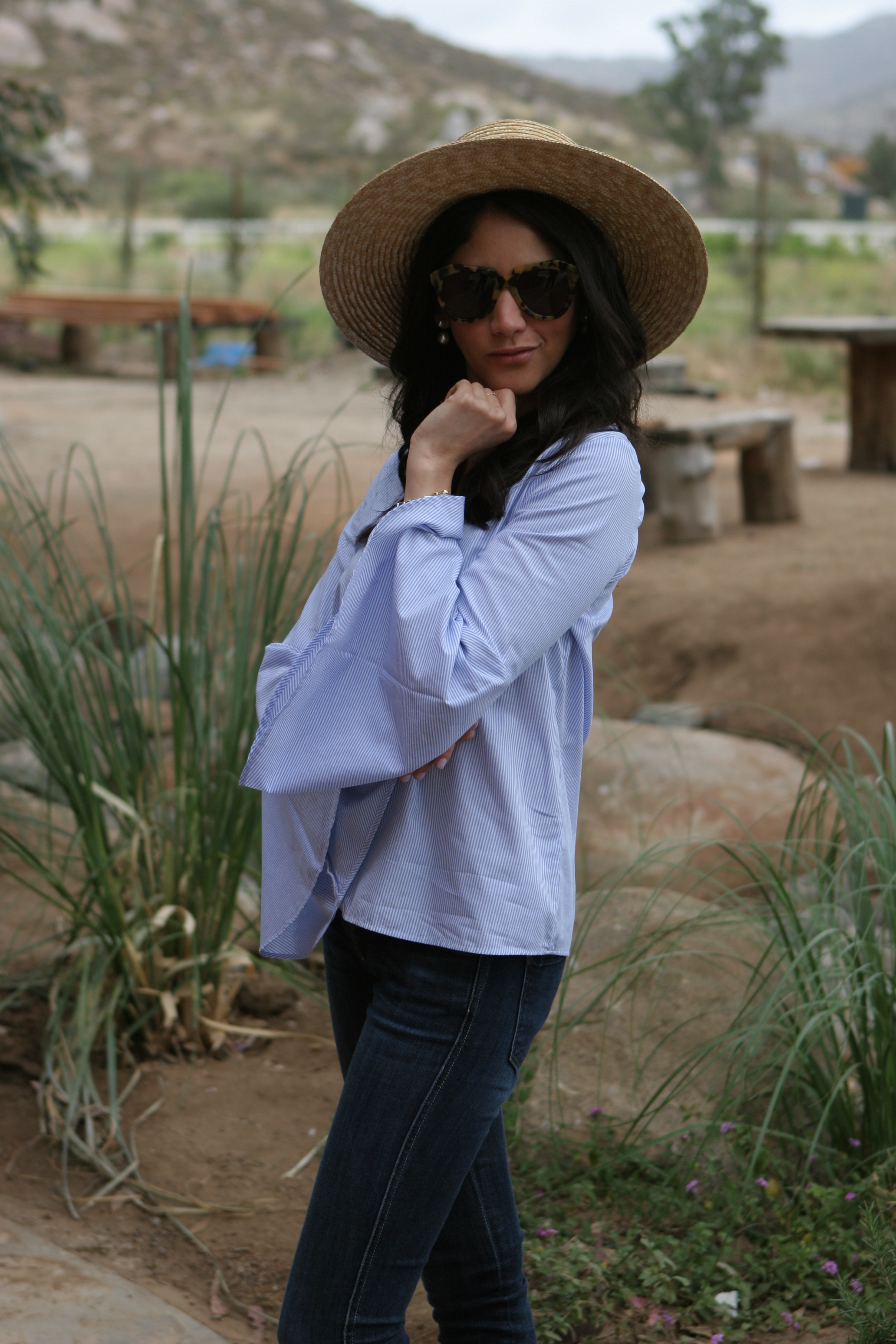 Petite Mädchen bleiben in der Regel von sehr lockeren Tops entfernt. Die Überlegung dahinter ist, dass es ihnen mehr petite aussehen lässt als das, was sie tatsächlich sind. Ich weiß das, weil ich eine zierliche Mädchen bin und neun von zehn lose Tops machen mich kleiner aussehen und obwohl ich lose Spitzen lieben weg in der Regel bleibe ich. Einer der wichtigsten Moderegeln zu wissen, was gut aussieht auf Sie. Nicht jeder Trend passt Ihre Figur. Sobald Sie Ihren Stil herausgefunden haben, Ankleiden ist nicht mehr anstrengend, aber ein sehr Spaß Prozess. Das gestreifte Oberteil mit Glockenärmel ist ein wenig auf der losen Seite aber lassen Sie mich Ihnen sagen, es funktioniert gut für zierliche Mädchen. Es hat sich lose Optik, sondern weil es der Brust und Schulter Strukturen, die Top-Arbeiten ausgestattet. Wunder für zierliche Mädchen. Die Glocke Ärmel sind sehr beliebt im Moment, und diese Spitze trägt den Trend gut, ohne zu den Top-Über zu sein. Wenn ich etwas kaufen, ich sicherstellen, dass ich tragen kann, was Stück, das ich bin durch die Jahreszeiten und die Trends zu bekommen. Trends kommen und gehen, aber solange ich mich etwas in den nächsten paar Jahren das Tragen vorstellen können, ich weiß, dass ich einen guten Kauf gemacht. Das Top ist ideal für Familienessen ist der lose Rumpfbereich ein gutes Versteck für alle, die große Mahlzeiten und wenn die Zeit kommt, kann es eine gute Schwangerschafts-Top plus die Ärmel sind so viel Spaß. Ich trug vor kurzem dieses Outfit, während ich in Mexiko war. Will und ich nahm eine improvisierte Reise nach Ensenada über das Memorial-Day-Wochenende und erforschte die Weinberge, Strände und habe ein wenig Reiten zurück, während auf der niedlichste kleine Ranch, Hotel Boutique in Valle de Guadalupe. zu bleiben.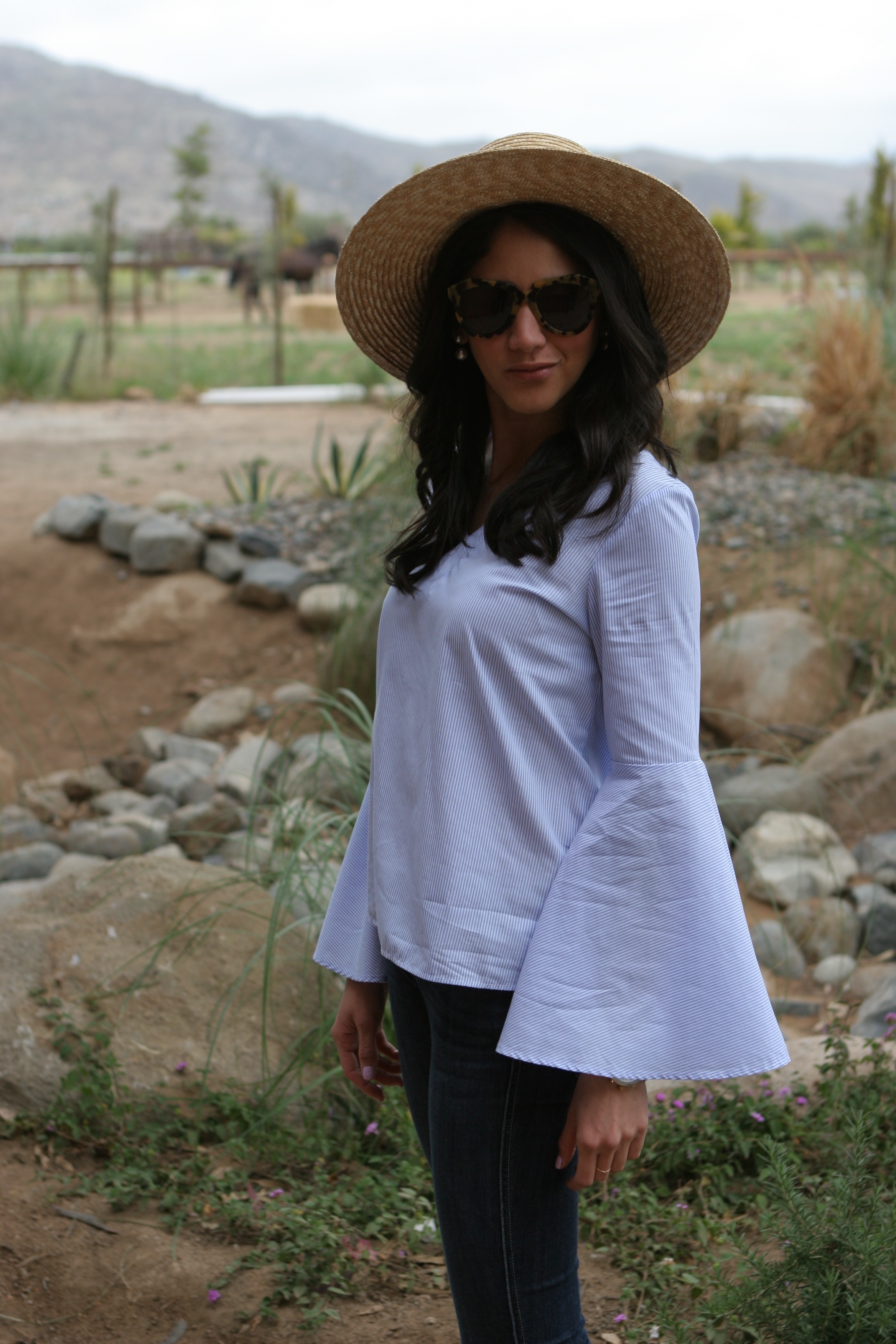 Chicas petite por lo general no se visten con tops sueltos. El porque detrás de esto es que los tops sueltos las hacen ver más petite de lo que realmente son. Lo sé porque soy una chica petite y nueve de cada diez tops sueltos me hacen ver más petite de lo que soy y aunque me encantan los tops sueltos, normalmente no me pongo este tipo de tops. Una de las reglas de la moda más importante es saber lo que se ve bien en ti. No todas las tendencias se adaptan a tu figura. Una vez que descifras tu estilo, vestirse ya no es estresante, pero un proceso muy divertido. Este top de rayas con mangas de campana es un poco suelto, pero déjame decirte que se ve muy bien en las chicas petite. Tiene ese look flojo pero gracias a las estructuras armadas del pecho y del hombro, este top es perfecto para chicas petite. Las mangas de campana son muy populares en este momento y este top lleva la tendencia bien sin ser demasiado over-the-top. Cuando compro algo, me aseguro de que lo puedo usar a través de las estaciones del año y las tendencias. Tendencias vienen y van pero siempre que puedo imaginarme usando algo en los próximos años, se que hice una buena compra. Esta camiseta es ideal para cenas familiares, la zona del torso suelto es un buen escondite para todas esas grandes comidas y cuando llegue el momento, puede ser una buena camiseta de maternidad y las mangas son muy divertidas. Hace poco me puse esta ropa mientras estaba en México. Will y yo fuimos a Ensenada por el fin de semana del Memorial Day y exploramos los viñedos, playas y anduvimos a caballo durante nuestra estadía en este rancho pequeñito, Hotel Boutique in Valle de Guadalupe.
[show_shopthepost_widget id="1656672″]