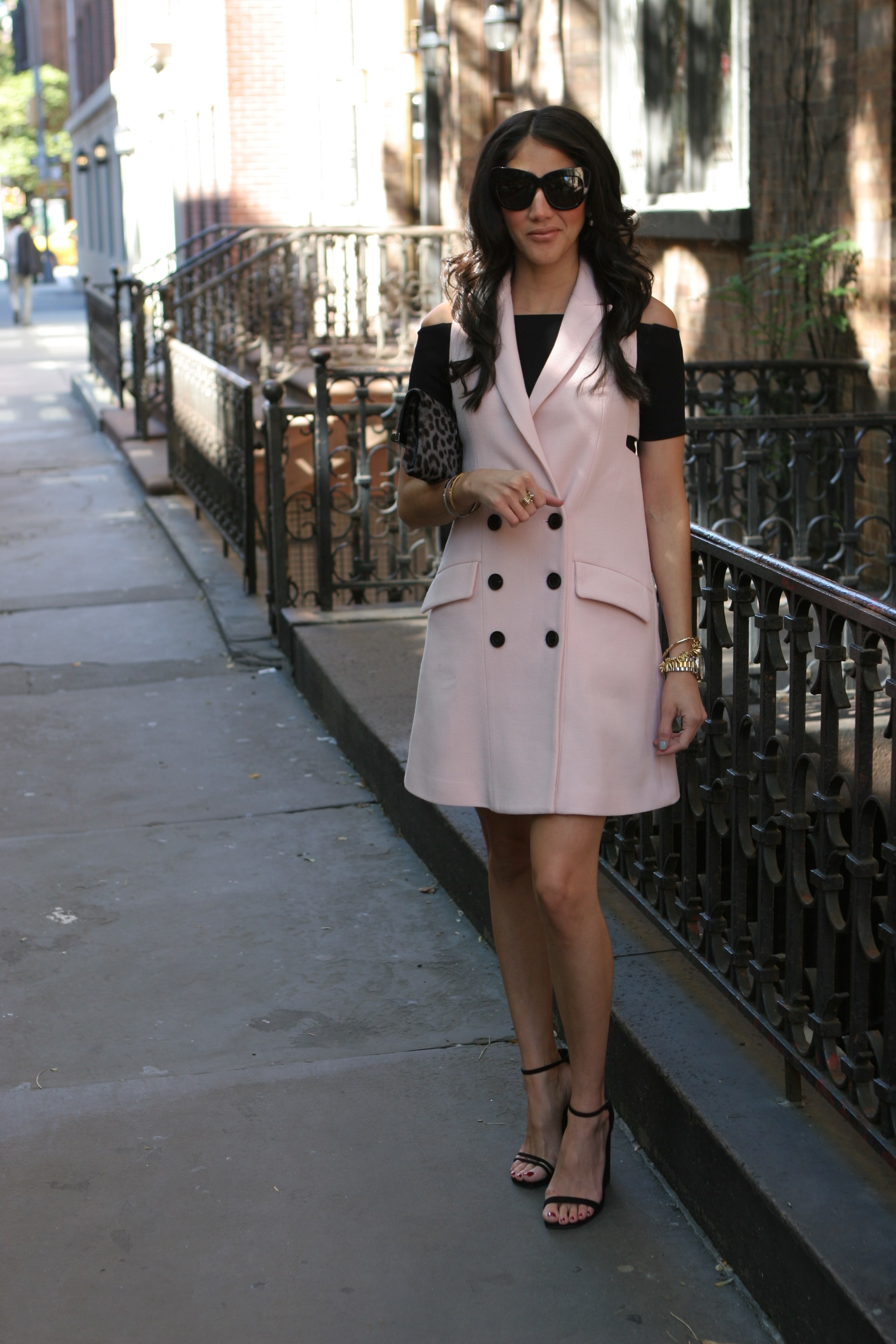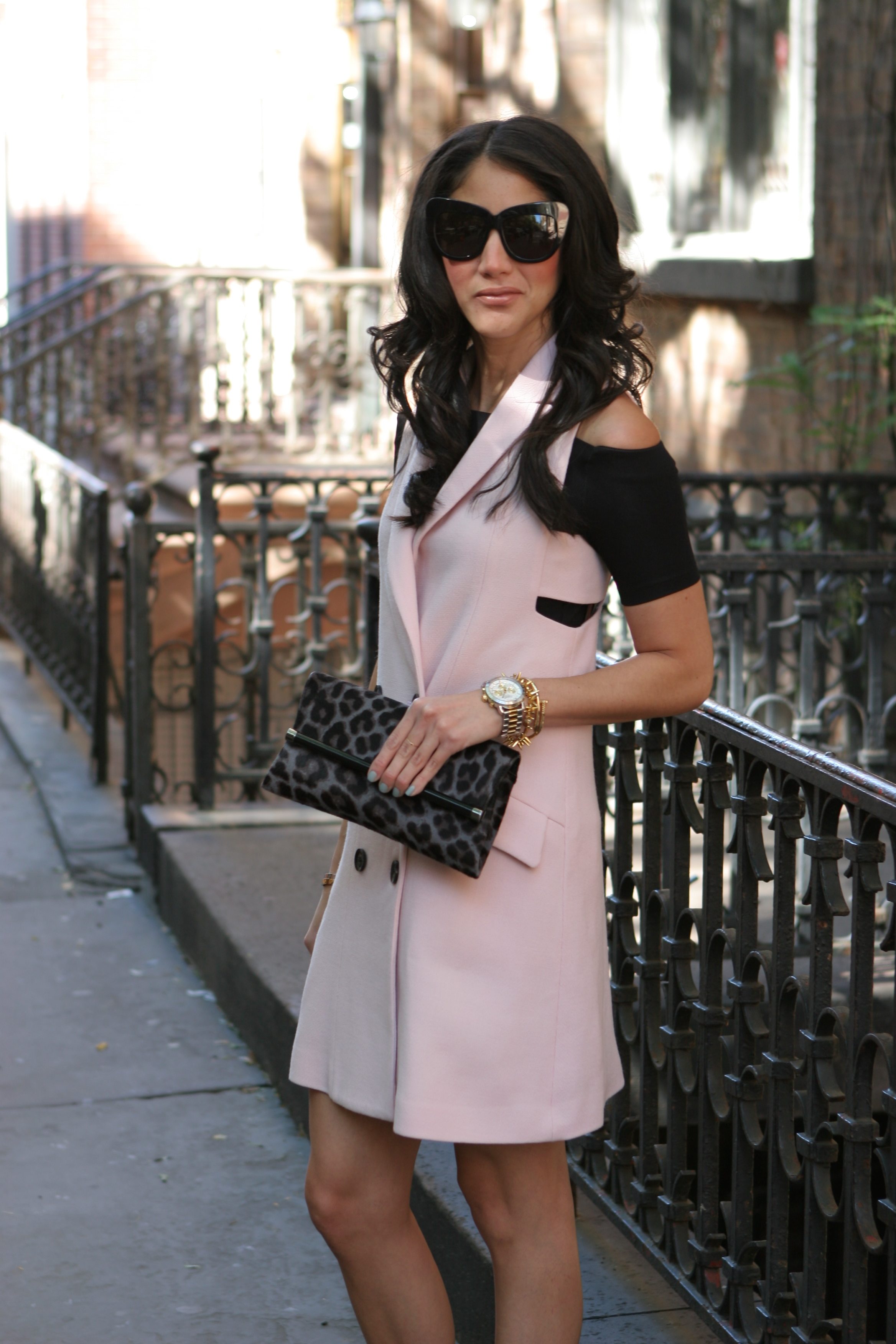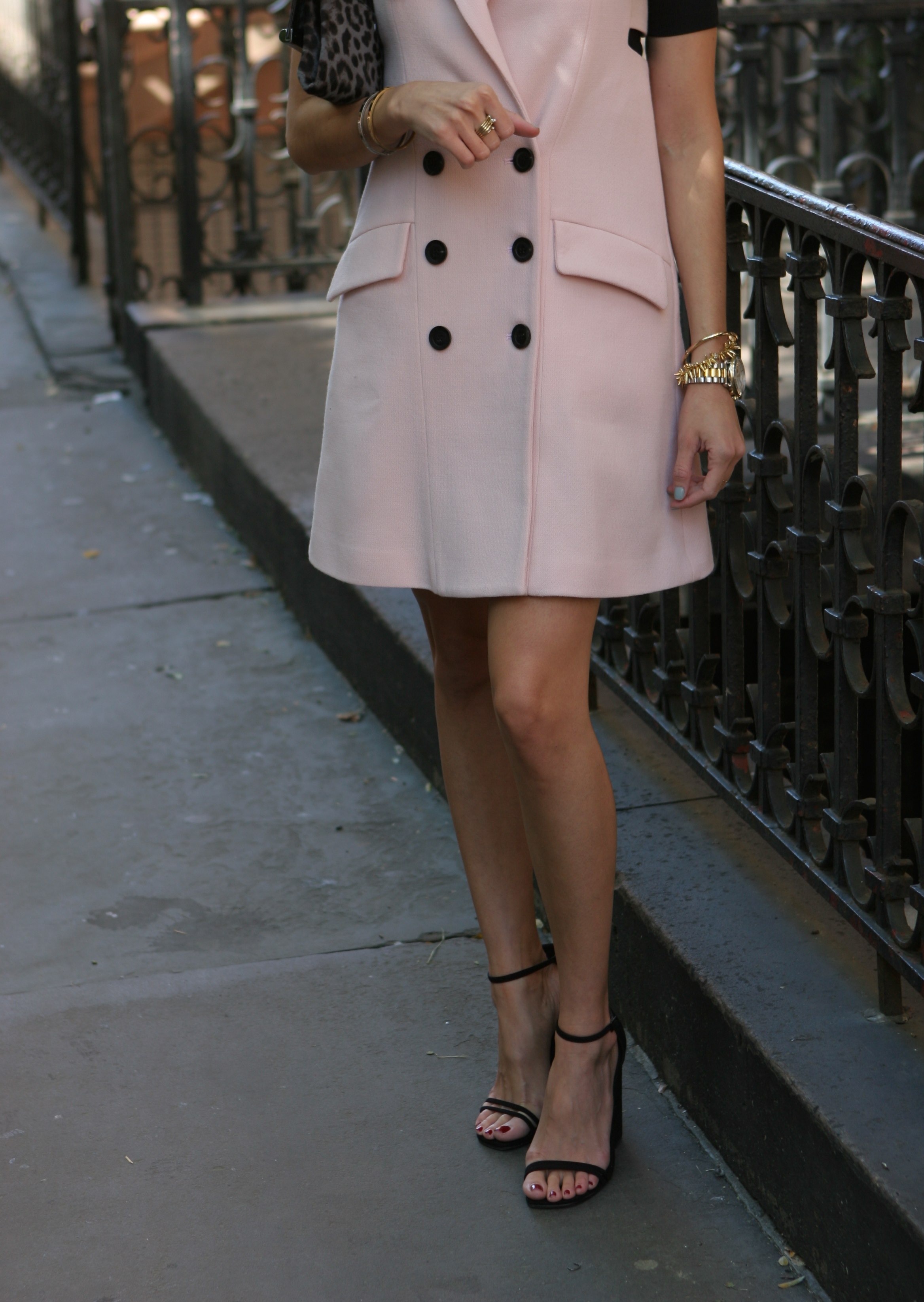 Vest: Marissa Webb Tessa sleeveless crepe dress at Neiman Marcus | Dress: H&M (similar from Revolve Clothing) | Shoes: Asos homecoming wedges (now $40) | Bag: Diane von Furstenberg leopard calf hair envelope clutch | Sunglasses: House of Harlow 1960 Chelsea (I also love these ones from Karen Walker)| Watch: Coach | Bracelets: Stella & Dot renegade cluster bracelet, Anarchy Street nail bangle, vintage bracelets | Earrings: BaubleBar pearl drops | Lipstick: MAC 'Huggable' lipcolour.
The cutest vest dress I've ever tried on. The virgin wool, hem that hits just above the knee, the double breasted button details on the front and the soft fabric are just some of the many pros of this fabulous Marissa Webb Tessa sleeveless crepe dress, powder pink color. I first saw it on Marissa Webb herself wearing it with the collar popped during summer and I fell in love with it. Yes, this piece is way out of my budget but once a year I always splurge myself in one timeless and perfect piece and this year this vest dress was the winner. I know I will wear it forever thus it's hanging beautifully in my closet. Since it's fall and the days are getting chilly, I decided to wear my Marissa Webb Tessa sleeveless crepe dress with this simple and under $40 H&M off-the-shoulder dress. The off-the-shoulder details and the sleeveless vest turn into a geometric chic ensemble and you should wear it for date night immediately.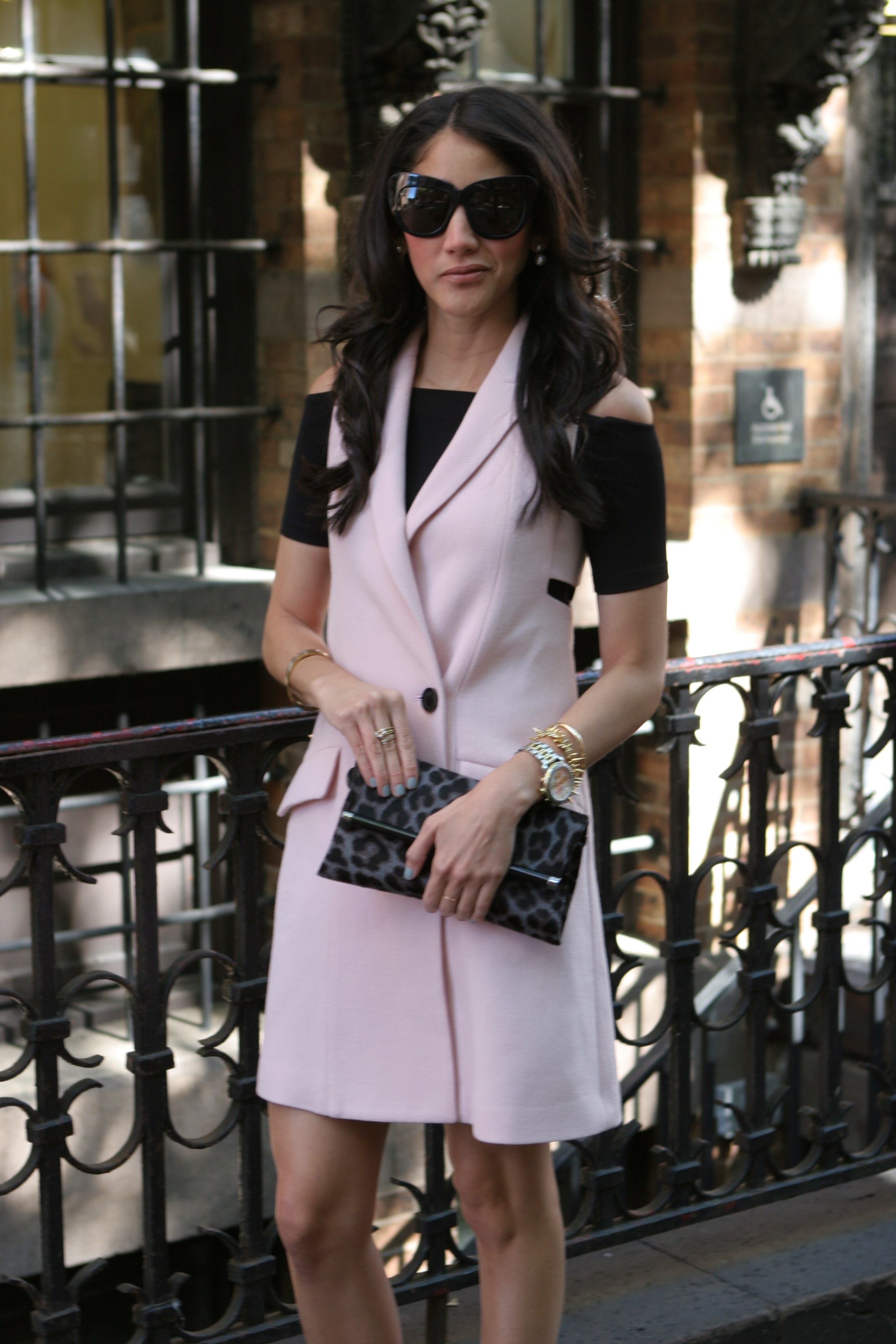 Dies ist das süßeste Kleidweste Ich habe versucht. Wolle, Saum erreichte knapp über dem Knie, Details der Doppelvorwärtstasten und Weichgewebe sind nur einige der vielen Vorteile dieser fabelhaften ärmelKreppKleid Marissa Webb Tessa, powder pink. Das erste Mal, dass ich dieses Kleid sah, war an sich Marissa Webb trägt es mit dem Bund im Sommer angehoben und verliebte sich in dieses Kleid-Weste. Ja, ist dieses Stück aus meinem Budget, aber einmal im Jahr Ich mime immer mit einem zeitlosen Design und in diesem Jahr dieses Kleid-Weste war der Sieger. Ich weiß, ich werde dieses Kleid Weste eingeben, damit es hängt immer schön in meinem Schrank. Da wir uns im Herbst und die Tage werden kälter, beschloss ich, meine Kreppärmelloses Kleid Tessa Marissa Webb dieses Kleid von H & M Einzel-und weniger als $40 zu den Schultern zu verwenden. Die Einzelheiten des Kleides und der Schulter ärmellose Weste wurde eine elegante geometrische Satz und empfehlen es für ein Datum sofort.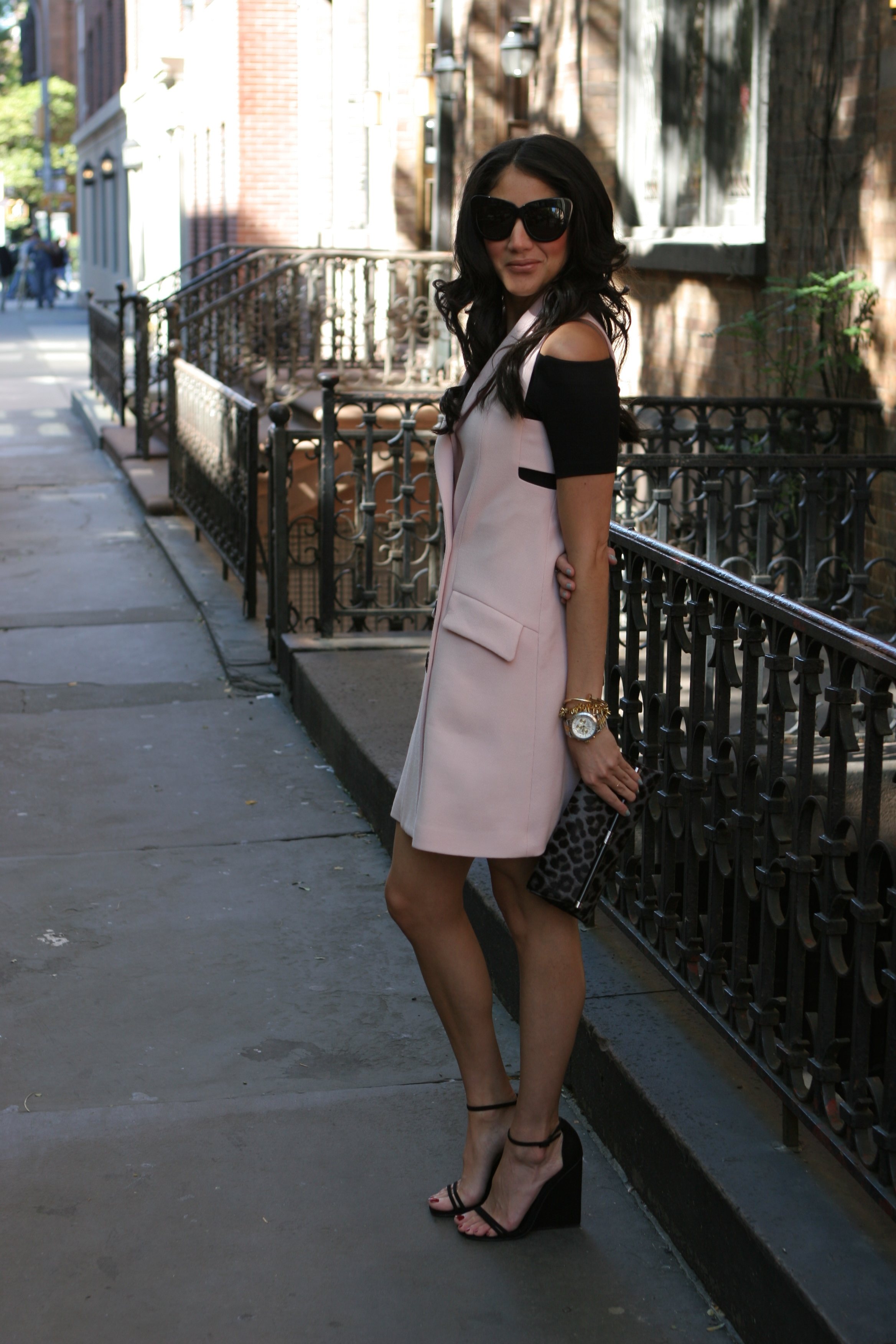 Este es el vestido-chaleco más lindo que me he probado. La lana, el dobladillo que llega justo por encima de la rodilla, los detalles de botones dobles adelante y el tejido blando son sólo algunas de las muchas ventajas de este fabuloso vestido de crepé sin mangas Marissa Webb Tessa, en polvo de color rosa. La primera vez que vi este vestido fue en la propia Marissa Webb que lo lleva con el collar alzado durante el verano y me enamoré de este vestido-chaleco. Sí, esta pieza está fuera de mi presupuesto, pero una vez al año siempre me mimo con una pieza atemporal y este año este vestido-chaleco fue el ganador. Sé que me voy a poner este vestido-chaleco siempre por lo que está colgado maravillosamente en mi armario. Ya que estamos en pleno otoño y los días son cada vez más fríos, decidí usar mi vestido de crepé sin mangas Marissa Webb Tessa con este vestido H&M sencillo y a menos de $40 a los hombros. Los detalles del vestido a los hombros y el chaleco sin mangas se convirtieron en un conjunto elegante geométrico y recomiendo usarlo para un date de inmediato.