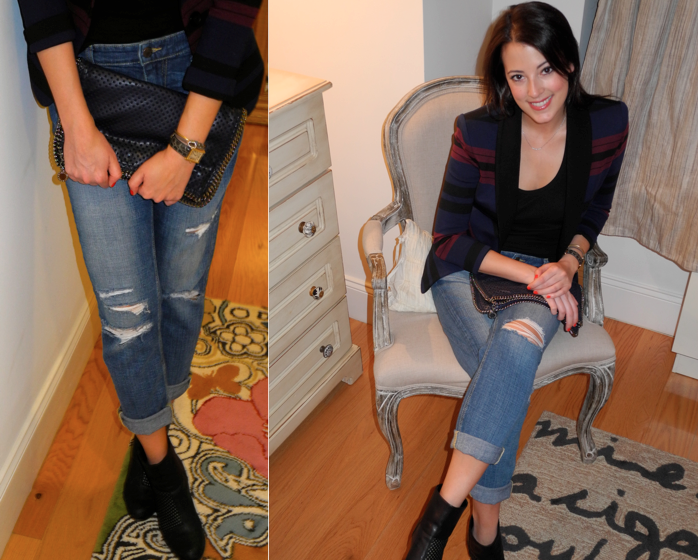 Today, I give you the beautiful Jessica Ritt. Jess has a great sense of style and is ruling New York City's lifestyle and fashion public relations world. I loved how she shared her outfit details for all of us to see her glam. I hope you have fun reading these profiles about young professionals in the fashion world. Maybe you'll get a few tips on how to make it all work, get encouragement for your next career move or just learn something new. Take it away Jess. | Heute gebe ich Ihnen die schöne Jessica Ritt. Jess hat einen tollen Sinn für Stil und regiert New York City Lifestyle und Mode Öffentlichkeitsarbeit Welt. Ich liebte, wie sie ihr Outfit Details gemeinsam für uns alle zu ihrem Glam sehen. Ich hoffe ihr habt Spaß beim Lesen diese Profile über junge Profis in der Welt der Mode. Vielleicht finden Sie ein paar Tipps, wie Sie machen es alle Arbeit zu bekommen, bekommen Ermutigung für Ihren nächsten Karriereschritt oder einfach etwas Neues lernen. Nehmen Sie es weg Jess. | Hoy, les doy a la linda Jessica Ritt. Jess tiene un gran sentido de la moda y está dominando el mundo de relaciones públicas de la moda y estilo en Nueva York. Me encanta como compartió los detalles de sus conjuntos con nosotros para ver todo su glamour. Espero que se diviertan leyendo estos perfiles de jóvenes profesionales en el mundo de la moda. Tal vez encuentren algunos consejos de cómo involucrarse en este mundo, soporte para dar un nuevo paso en sus carreras o aprendan algo nuevo. Toma el escenario Jess. | ABOUT HER: I am a 29 year-old girl from Seattle, Washington. I have been living and working in New York City for seven years. I am a publicist at a well-known Fashion PR firm in Chelsea, where I manage the lifestyle and special events division, which includes design, art, events, lifestyle and fashion clients. | ÜBER SIE: Ich bin eine 29-jährige Mädchen aus Seattle, Washington. Ich habe gelebt und gearbeitet in New York City für sieben Jahre. Ich bin ein Publizist bei einem bekannten Fashion PR-Firma in Chelsea, wo ich den Lebensstil zu verwalten und besondere Ereignisse Division, die Design, Kunst, Events, Lifestyle und Mode Clients beinhaltet. | SOBRE ELLA: Tengo 29 años y soy de Seattle, Washington. He estado viviendo en Nueva York hace siete años. Soy publicista en una agencia de relaciones públicas muy conocida en Chelsea, donde manejo clientes en las áreas de arte, moda, eventos y estilo.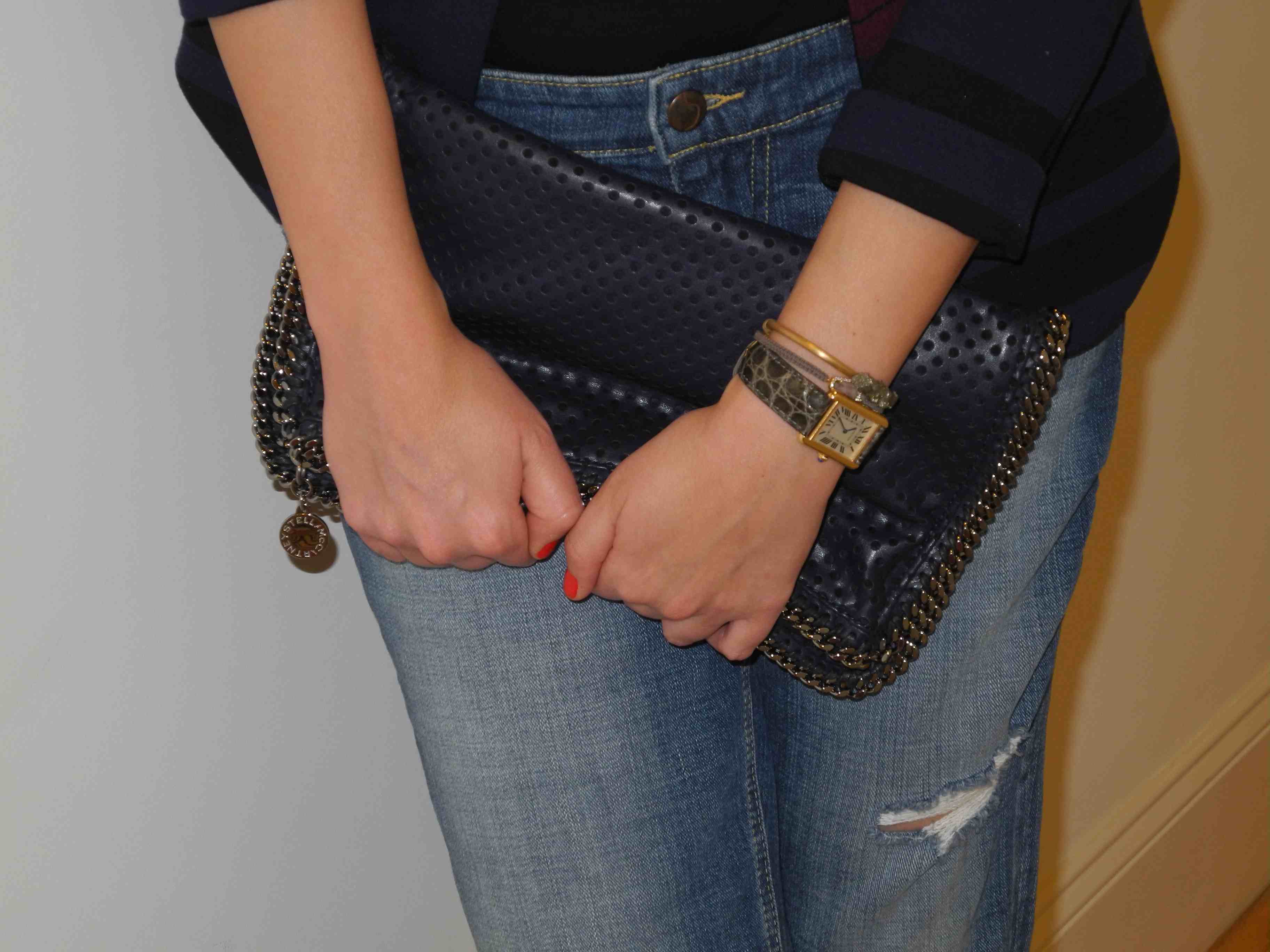 HOW SHE STARTED: I began my career in PR in college, where I held PR summer internships at Starbucks in Seattle, and then at Coach in NYC. After this, I knew I wanted to stay in PR. | WIE SIE BEGANN: Ich begann meine Karriere in der PR in der Schule, wo ich statt PR Sommer Praktika bei Starbucks in Seattle, und dann bei Coach in NYC. Danach wusste ich, ich wollte in PR bleiben. | COMO COMENZO: Mi carrera empezó en la Universidad, donde hice algunas pasantías en PR en Starbucks en Seattle y en Coach en NYC. | HER STYLE: My style is classic, comfortable, and fun. I love to pair neutrals with a bold or patterned shoe or jacket and let my accessories and statement pieces stand out. I am drawn to interesting textures, cuts and fabrics, and usually prefer an asymmetrical design over a print. I mix high and low priced pieces in my outfits – H&M and Zara are perfect for adding a seasonal trend pieces to your wardrobe, without the guilt. | IHR STIL: Mein Stil ist klassisch, bequem und macht Spaß. Ich liebe es, mit einem mutigen Neutralen oder gemusterten Schuh oder Jacke koppeln und lasse meine Accessoires und Verlustrechnung Stück abheben. Ich beziehe mich auf interessante Texturen, Schnitte und Stoffe gezogen und bevorzugen in der Regel eine asymmetrische Design über einen Druck. Ich mische hohen und niedrigen Preisen Stücke in meinen Outfits – H & M und Zara sind perfekt für einen saisonalen Trend Stücke zu Ihrem Kleiderschrank, ohne die Schuld. | SU ESTILO: Mi estilo es clásico, cómodo y divertido. Me encanta combinar prendas neutrales con zapatos de colores vivos o impresos o una chaqueta y dejar que mis accesorios resalten. Me siento atraída hacia texturas, cortes y telas interesantes y suelo preferir diseños asimétricos sobre impresos. Mezclo prendas de precios altos y bajos – H&M y ZARA son perfectos para añadir prendas de temporada a tu guardarropa, sin sentirte culpable. | HER SPRING WARDROBE ESSENTIALS: Siwy boyfriend jeans, BCBG blazer, Rag and Bone Newbury Booties, Chanel Canvas Espadrille Flats, Joe's jean shorts, slouchy spring sweaters (DKNY Pure makes some of my favorites), Cos maxi skirts, Maje silk pants, Celine sunglasses, Stella McCartney clutch, basic Club Monaco tanks. | FRÜHJAHRSGARDEROBE ESSENTIALS: Siwy Boyfriend-Jeans, BCBG Blazer, Rag and Bone Newbury Booties, Chanel Canvas Espadrilles Flats, Joes Jeans-Shorts, slouchy Frühjahr Pullover (DKNY Pure macht einige meiner Favoriten), Cos maxi Röcke, Maje Seide Hose, Celine Sonnenbrille , Stella McCartney Kupplung, grundlegende Club Monaco Tanks. | SUS PRENDAS ESENCIALES: Siwy boyfriend jeans, BCBG blazer, Rag and Bone Newbury botas, Chanel Canvas Espadrille zapatos bajos, Joe's jean shorts, sueters de verano flojos, faldas Cos maxi, pantalones de seda Maje, gafas Celine, cartera Stella McCartney, camisetas básicas Club Monaco. | INFLUENCES: I am inspired by the fashion I see around my office, whether it's a chicly dressed co-worker, colors and patterns in the latest Joe's Jeans collection in our showroom, or a new Timo Weiland collection going down the runway at New York Fashion Week. Weekends in NYC are also great for people watching, as well as window-shopping! I take pictures of clothing in stores that inspires and excites me, even if it's just a color or small detail that I love.  | EINFLÜSSE: Ich bin von der Art und Weise sehe ich um mein Büro inspiriert, ob es ein schick gekleidet Mitarbeiter, Farben und Mustern in der neuesten Joes Jeans-Kollektion in unserem Showroom oder einem neuen Timo Weiland Sammlung gehen auf dem Laufsteg bei der New York Fashion ist Woche. Wochenende in NYC sind auch ideal für die Leute zu beobachten, sowie Fenster-Einkaufen! Ich fotografiere von Kleidung in den Läden, das inspiriert und reizt mich, auch wenn es nur eine Farbe oder kleines Detail, das ich liebe. | INFLUENCIAS: La moda alrededor de mi oficina me inspira, ya sea una companyera vestida chic, colores y patrones en la última colección de los jeans Joe's en nuestro cuarto, o la nueva colección de Timo Weiland en la pasarela de la Semana de Moda de Nueva York. Fines de semana en NYC son perfectos para ver la moda de la gente y para Windows-shopping! Tomo fotos de ropa en las tiendas de lo que me inspira, así sea un color o pequeño detalle que me guste.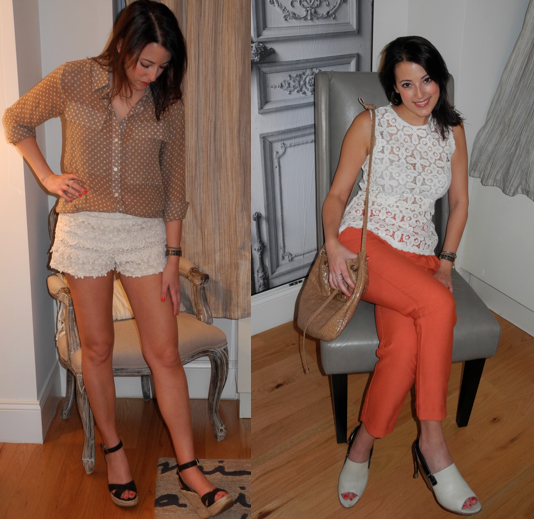 WORK OUTFIT: During the week, I maintain a mix of casual basics with fashion/business wear. When going more casual, colored denim is always a go-to. If I have a client or industry event after work, booties and a blazer or tailored jacket are perfect for transitioning from day to night. | ARBEITEN OUTFIT: Während der Woche, behaupte ich einen Mix aus Casual Grundlagen mit Mode / Unternehmen tragen. Wenn man mehr casual ist Coloured Denim immer ein go-to. Wenn ich einen Kunden oder Branchen-Event nach der Arbeit, Booties und ein Blazer oder Sakko sind perfekt für den Übergang vom Tag zur Nacht. | CONJUNTO DE OFICINA: Durante la semana, combino prendas casuales, jeans de colores siempre son permitidos. Si tengo una reunión con cliente, botines y un blazer son la transición perfecta para cambiar de día a noche. | FASHION TIPS: If you find something that's flattering and that you love, buy two! Personalize fashion trends and make them work for you, instead of trying to change your style to fit with the trends. There are subtle ways to incorporate any trend into even the most basic and classic ensemble. | FASHION-TIPPS: Wenn Sie etwas, das schmeichelhaft finden und die Sie lieben, kaufen zwei! Persönlich Modetrends und machen sie für Sie arbeiten, anstatt zu versuchen, Ihren Stil zu ändern, um mit den Trends passen. Es gibt subtile Möglichkeiten, um jedem Trend sogar in die Grund-und klassischen Ensemble zu integrieren. | CONSEJOS DE MODA: Si encuentras algo que alegue tu figura y te guste, compra dos! Personaliza prendas de temporada para que vayan con tu estilo, en vez de tratar de cambiar para caber en la tendencia. Hay maneras sutiles de incorporar cualquier tendencia en los más simples conjuntos. | FASHION TRENDS: Right now I love peplum, lace and white for spring. Perforated leather, black and white, and shorts suits are also some of my favorites! | FASHION TRENDS: Right jetzt liebe ich Schößchen, Spitze und weiß für den Frühling. Perforiertes Leder, schwarz und weiß, und Shorts Anzüge sind auch einige meiner Favoriten! | TENDENCIAS DE MODA: Me encanta el peplum, encaje y blanco para la primavera. Cuero, negro, blanco y shorts son unas de mis prendas favoritas. | WHAT'S NEXT: I am looking forward to traveling to Venice, Italy, for a client in just a few weeks. I am working with an artist who is showing at the Biennale this year, and hosting several events. Not a bad way to start off the summer! | WHAT'S NEXT: Ich freue mich auf die Reise nach Venedig, Italien, für einen Kunden in nur wenigen Wochen. Ich bin mit einem Künstler, der auf der Biennale zeigt sich in diesem Jahr mehrere Veranstaltungen und Hosting tätig. Kein schlechter Weg, um Start in den Sommer! | PRÓXIMO PASO: Estoy ansiosa por viajar a Venice, Italia, por un cliente en unas semanas. Una buena manera de empezar el verano!