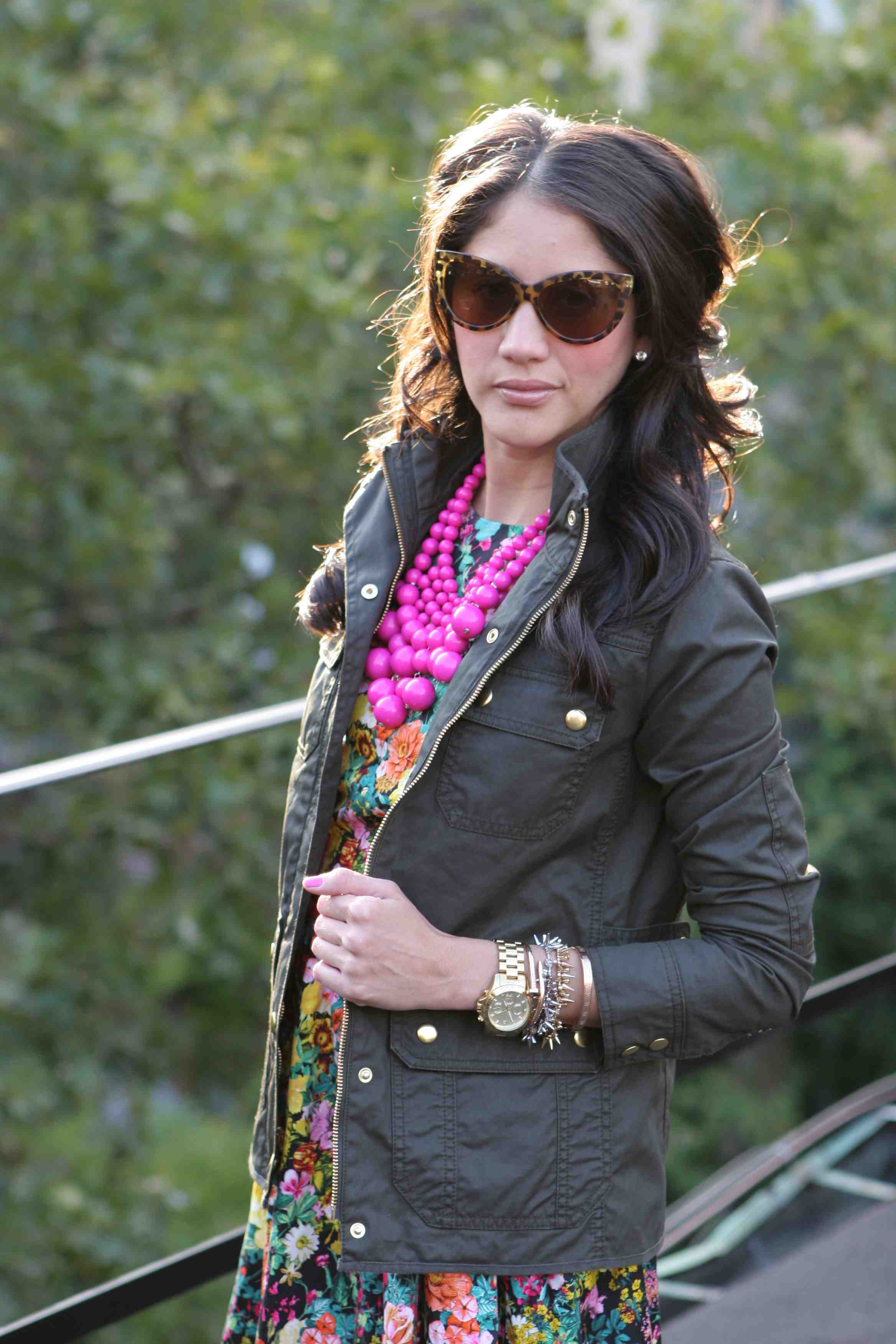 Transitioning from summer to fall is always easier when fall days are as warm as they have been for the past few weeks. Layers are my best friends when transitioning from summer to fall. Take this outfit for instance, you can wear a bright print dress and add on an army green utility jacket to keep you warm during those cold breezes fall seems to bring at night. You can start by mixing summer and fall colors in a slow motion to make the transition easier.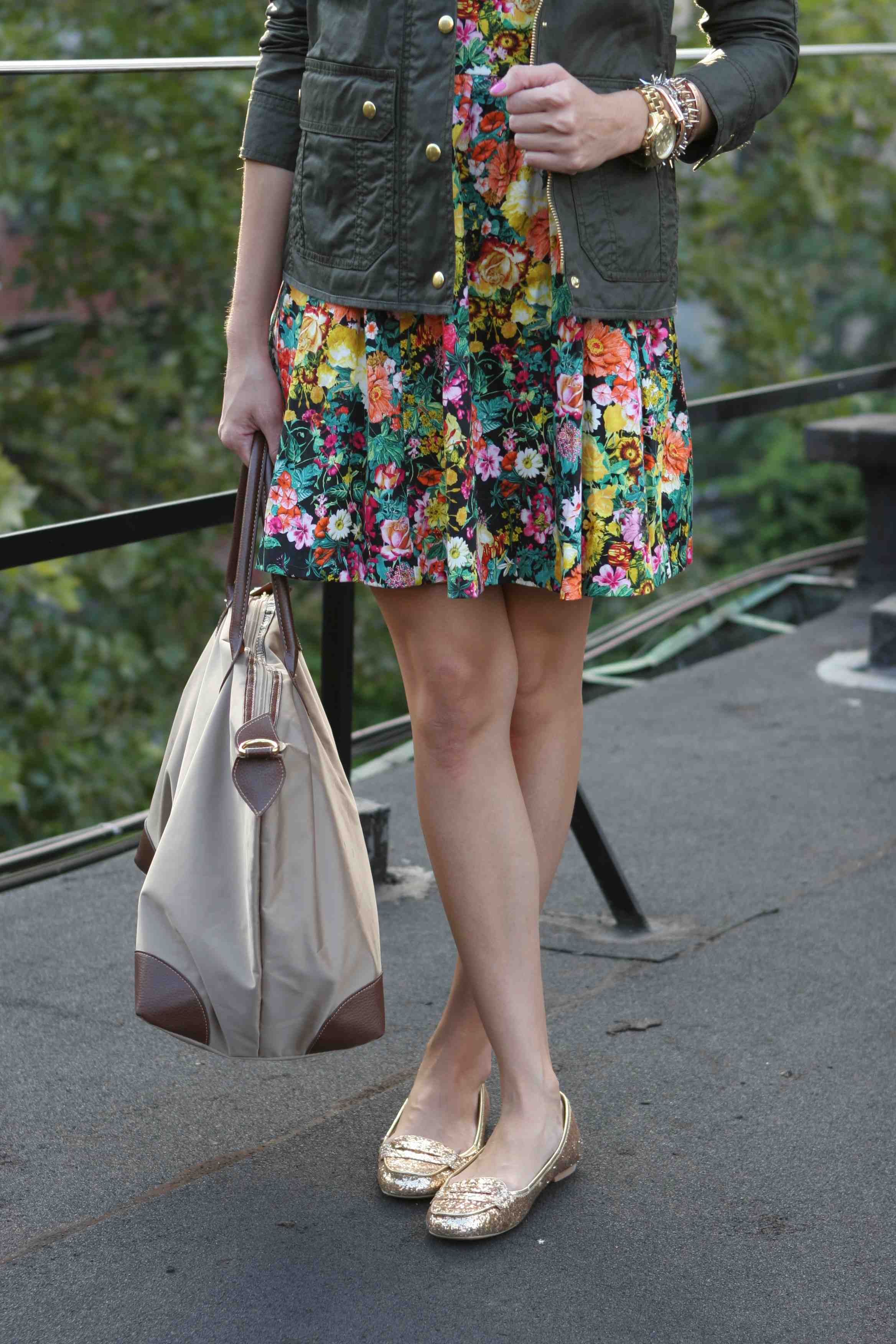 J.Crew downton field jacket (25% off sweaters now through October 6, I wear an XXS, it works great, I can wear a sweater and a shirt underneath and still be comfortable, I like clothes to be fitted and the XS is a bit more loose if you like that style better), ZARA dress, Forever21 sparkling flats (I'm a 7.5 on shoes but go up half a size on this brand as their shoes don't come in half sizes), ASOS cat-eye leopard sunglasses, BaubleBar necklace, Michael Kors watch, Stella & Dot renegade cluster bracelets, Anarchy Street classic nail bangle (my favorite bangle right now), Lou Lou travel bag (I love this bag, it's great when you travel on the weekends and you can use it as your "one personal item" and put your purse, laptop and a few extra outfits – the ones that didn't fit on your carry-on-).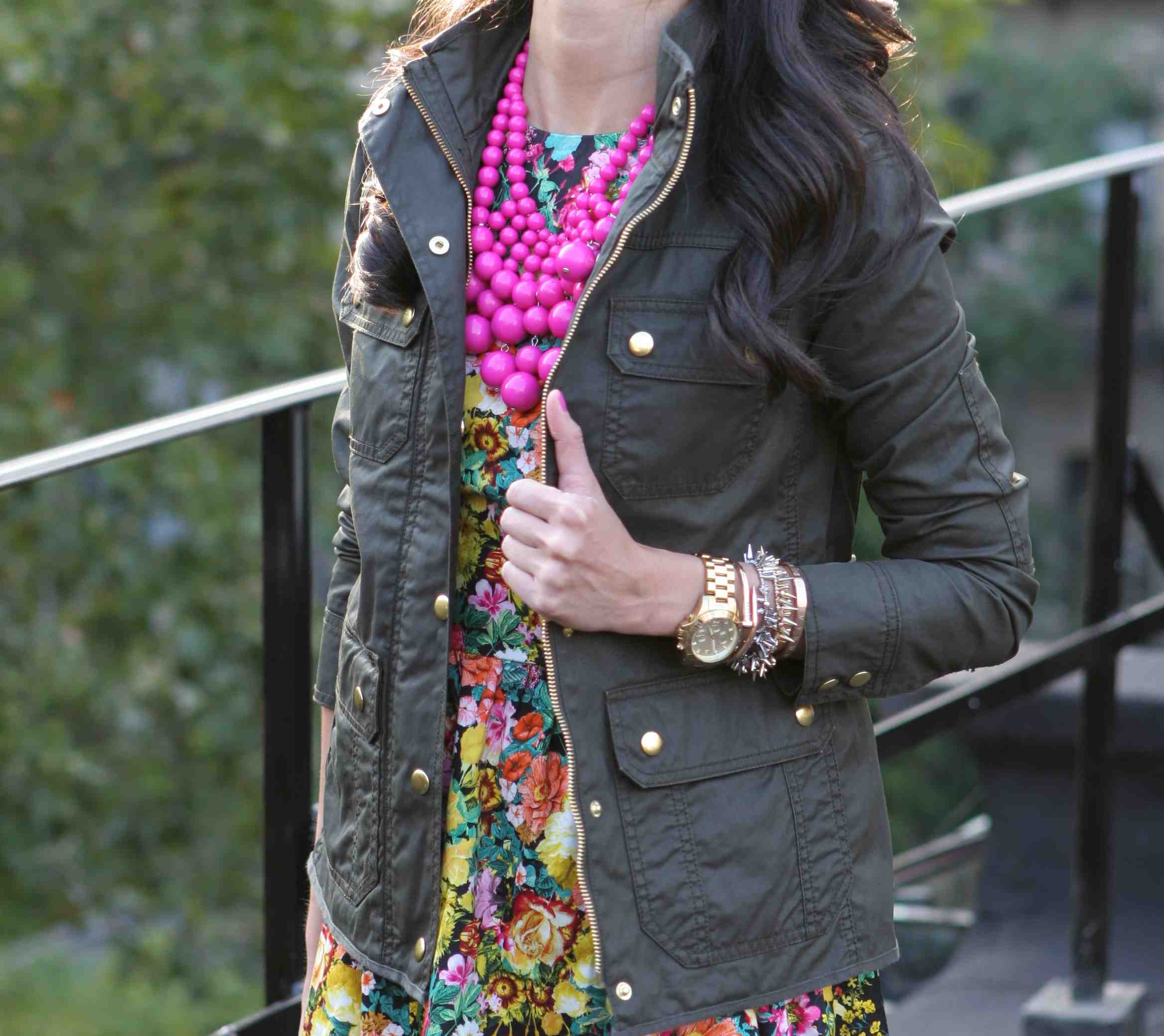 Der Wechsel von Sommer bis Herbst ist immer einfacher, wenn der Herbst Tage so warm sind, wie sie in den letzten paar Wochen gewesen. Ebenen sind meine besten Freunde beim Übergang von Sommer bis Herbst. Nehmen Sie dieses Outfit zum Beispiel, können Sie eine helle Print Kleid tragen und fügen Sie auf eine Armee grüne Jacke Dienstprogramm dich warm zu halten während jener kalten Brisen Herbst scheint in der Nacht zu bringen. Sie können durch Mischen von Sommer-und Herbstfarben in Zeitlupe zu starten, um den Übergang zu erleichtern.
J.Crew downton field jacket (25% Rabatt auf ausgewählte Pullover nun durch 6. Oktober, ich trage eine XXS, es funktioniert super, kann ich einen Pullover und ein T-Shirt darunter tragen und trotzdem bequem sein, ich mag Kleidung ausgestattet werden und die XS ist ein bisschen locker, wenn Sie diesen Stil besser gefällt), ZARA Kleid, Forever21 Schuhe (Ich bin ein 7,5 auf Schuhe, sondern gehen eine halbe Größe auf dieser Marke als ihre Schuhe nicht in halben Größen kommst), ASOS Sonnenbrille, BaubleBar Halskette, Michael Kors Uhr, Stella & Dot Armbänder, Anarchy Street Armband (meine Lieblings-Armreif jetzt), Lou Lou Tasche (ich liebe diese Tasche, es ist toll, wenn man an den Wochenenden und reisen können Sie es als Ihr "ein persönlicher Gegenstand" und setzen Sie Ihre Geldbörse, Laptop und ein paar zusätzliche Outfits – diejenigen, die nicht auf Ihrem Handgepäck passten -).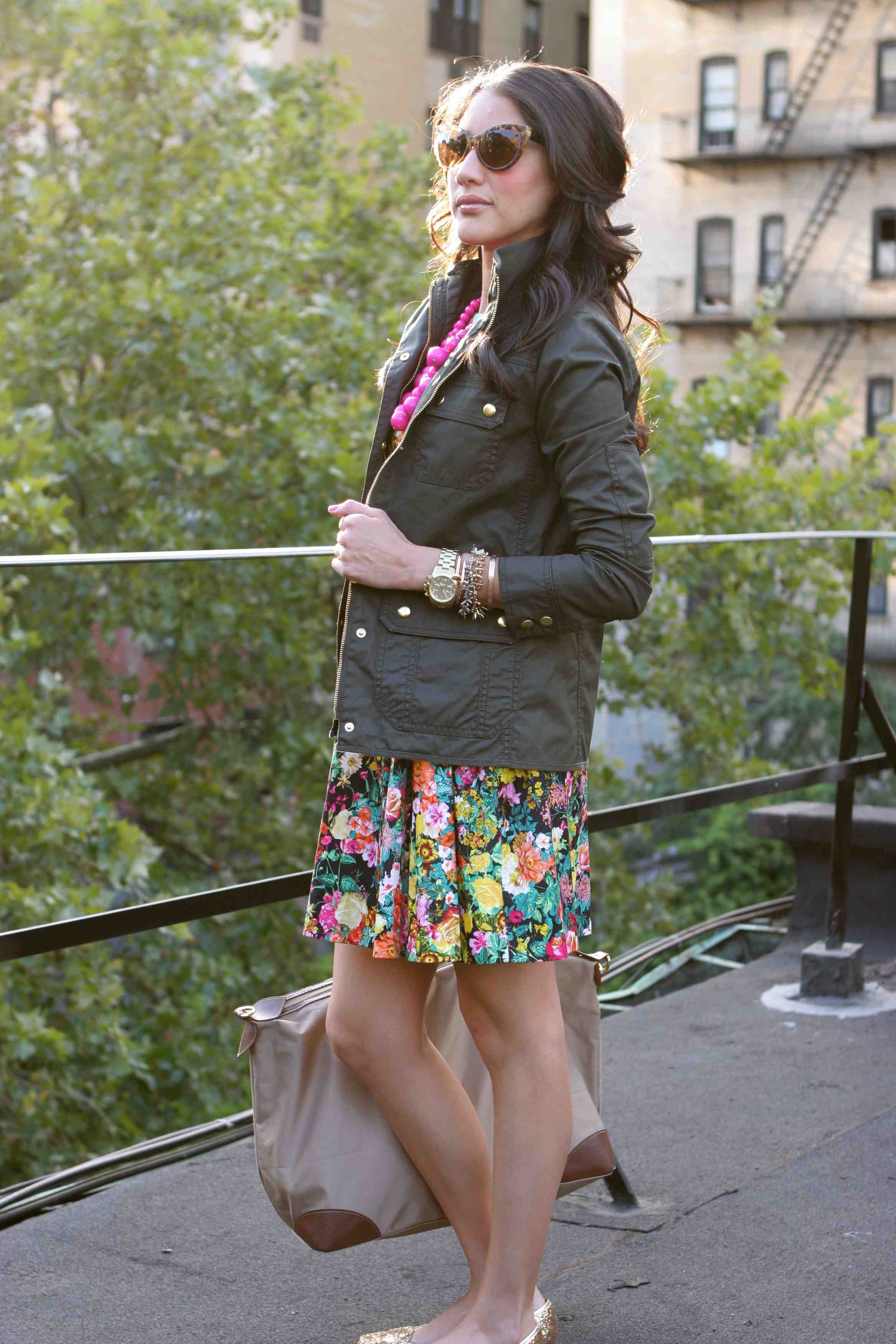 La transición del verano al otoño siempre es más fácil cuando los días de otoño son tan cálidos como lo han sido durante las últimas semanas. Las capas son mis mejores amigos en la transición del verano al otoño. Toma este conjunto, por ejemplo, puedes usar un vestido estampado de colores vivos y añadir una chaqueta verde militar para mantener el calor durante la brisa fría de otoño que siempre aparece en la noche. Puedes empezar por mezclar colores de verano y otoño lentamente para hacer la transición más fácil.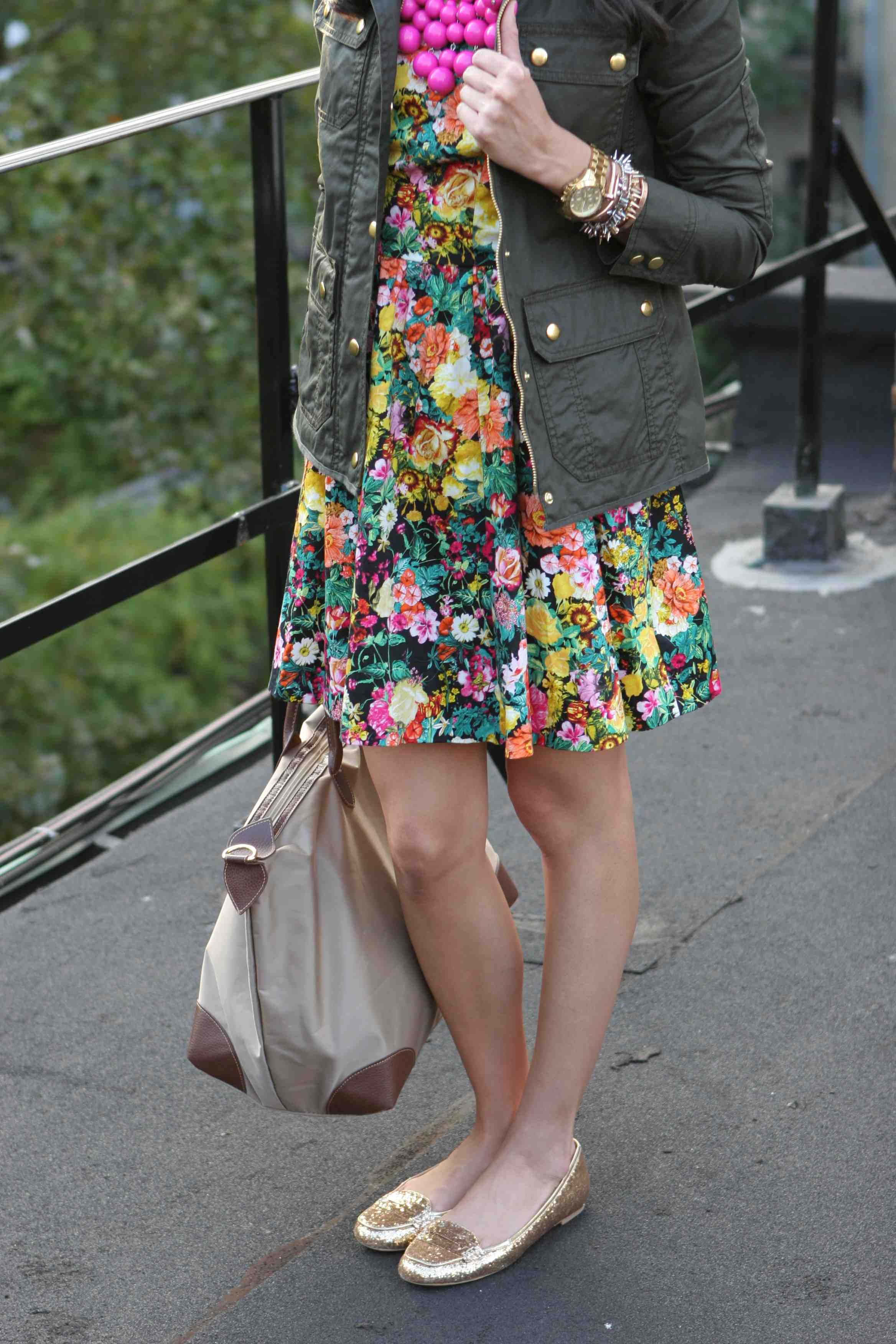 Chaqueta J.Crew downton field jacket (25% de descuento en suéteres ahora hasta el 6 de octubre. Llevo una talla XXS, funciona muy bien, puedo usar un suéter y una camisa debajo y seguir cómoda, me gusta la ropa armada y el XS es un poco más suelto si te gusta ese estilo mejor), Vestido ZARA, zapatos Forever21 (Soy un 7,5 en los zapatos, pero compro la siguiente talla en esta marca, talla 8, ya que sus zapatos no vienen en tamaños medio), gafas de gato de leopardo ASOS, collar de BaubleBar, reloj Michael Kors, pulseras Stella & Dot, pulsera Anarchy Street (mi brazalete favorito en este momento), maleta Lou Lou (me encanta este bolso, es súper útil cuando viaja los fines de semana y puedes utilizarlo también como "tu maleta personal" y poner tu cartera, ordenador portátil y algunos conjuntos extras – los que no encajaban en su equipaje de mano-).