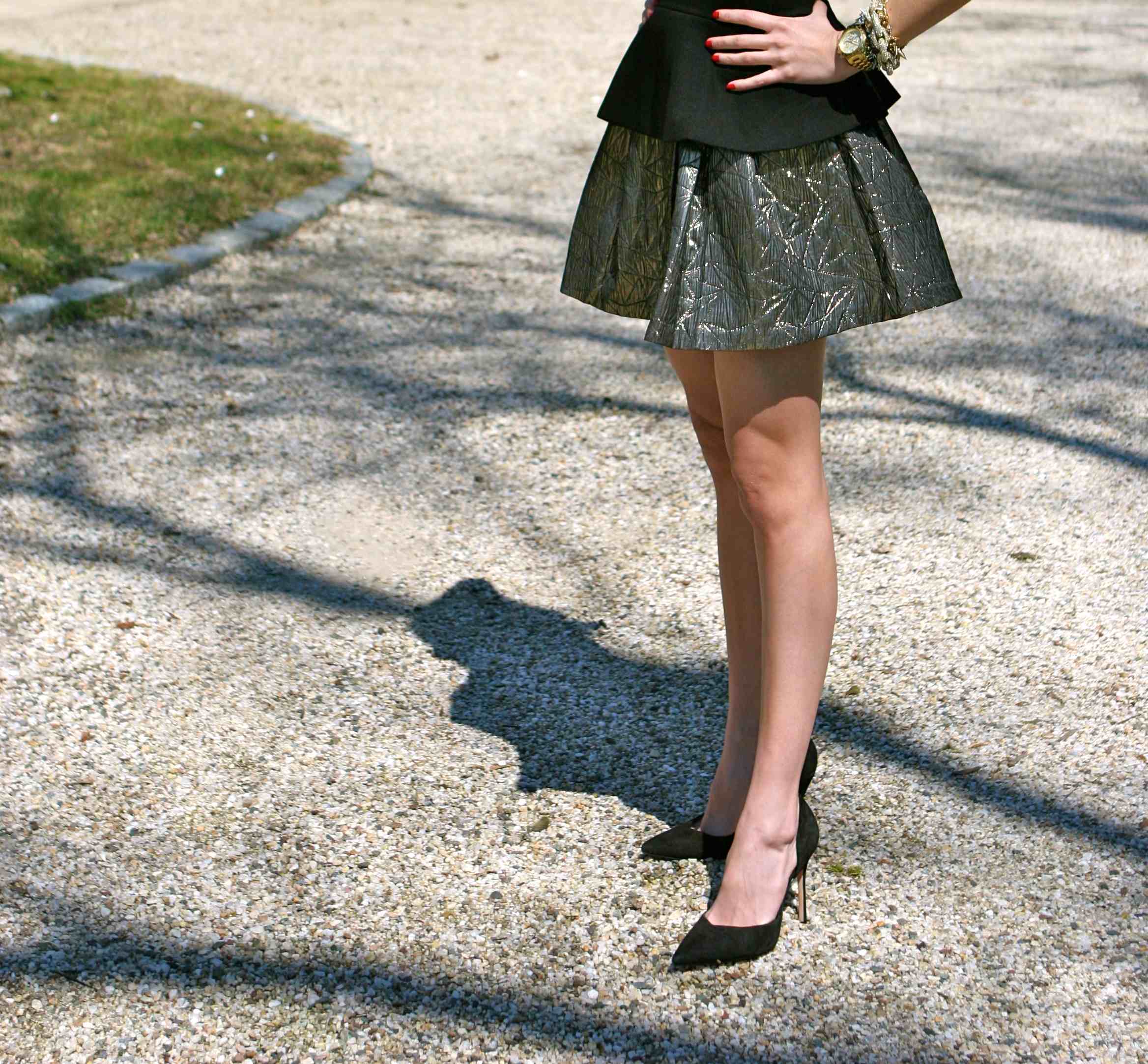 All of us girls began playing dress-up when we were little and continue to play with our outfits on a daily basis, at least I do. You know how we are always complaining we don't have clothes when we're looking for an outfit for a party or to go out even though we have a closet full of clothes? Well, I complaint too but in order to not disrupt my budget, I play around with outfits I've already wore and I know I love. The process is really easy, picture some of your favorite outfits, and then figure out how to mix and match. Before you know it, you'll have a brand new outfit, without leaving the house and using your favorite clothes. Today, I'm sharing with you my favorite skater skirt matched with a peplum dress that I wore as a top. The outfit is good to accentuate your waist because it's tight in the middle and then it flows with the skirt as one. I actually enjoy wearing this dress as a top because the skater skirt is very flowy so I feel protected having the dress skirt underneath. Marciano peplum dress wore as a blouse (I'm also loving this French Connection and Alice + Olivia peplum tops), ASOS skater skirt (also loving this one), ZARA high heel vamp shoes (these shoes are really a great buy, ZARA has them in blue and black and even though they're high, which I love, they're very comfortable. I've walked many blocks down 5th avenue in these high heels and I was proud of myself that I didn't complaint once!), House of Harlow 1960 Chelsea sunglasses, Michael Kors watch, Bauble Bar chunky chain bracelet, Stella & Dot renegade cluster bracelet, Chanel Joues Contraste 55, Essie pink-a-boo nail polish, MAC Viva Glam V Lipstick, MAC Viva Glam V Lip Gloss. To see the rest of my beauty/makeup essentials click here.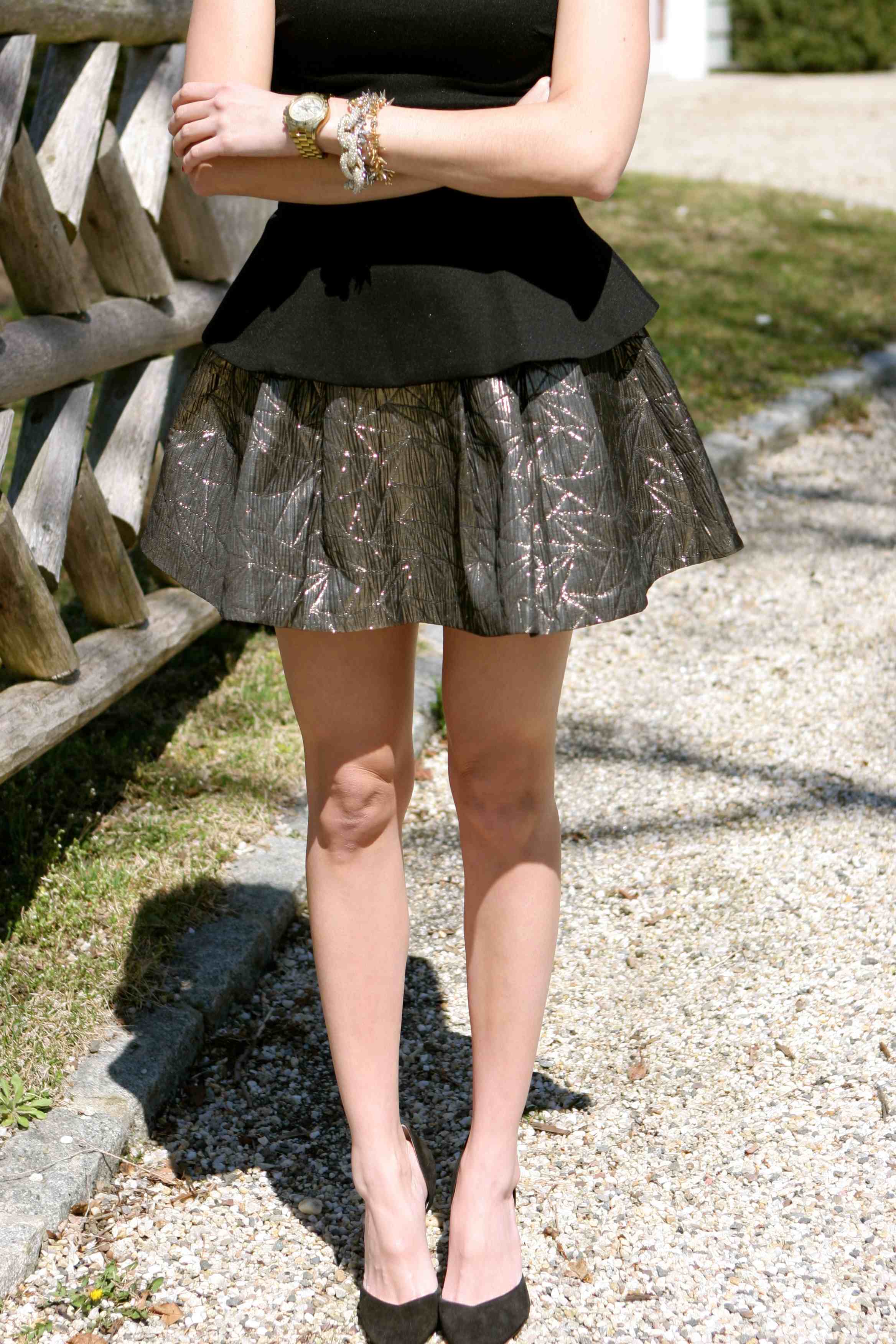 Alle von uns Mädchen begann zu spielen dress-up als wir klein waren und weiterhin mit unseren Outfits auf einer täglichen Basis zu spielen, zumindest ich. Sie wissen, wie wir beschweren sich immer wir haben keine Kleidung, wenn wir für ein Outfit für eine Party suchen oder zu gehen, obwohl wir einen Schrank voller Kleider haben? Nun, ich Beschwerde auch, aber um nicht zu stören mein Budget, ich spiele um mit Outfits habe ich schon trug, und ich weiß, ich liebe. Das Verfahren ist einfach, Bild einige Ihrer Lieblings-Outfits, und dann herauszufinden, wie zu mischen und anzupassen. Bevor Sie es kennen, haben Sie einen brandneuen Outfit, ohne das Haus zu verlassen und mit Ihrem Lieblings-Kleidung. Heute werde ich mit Ihnen teilen meine Lieblings-Skater-Rock mit einem Schößchen-Kleid, das ich trug, als Top abgestimmt. Das Outfit ist gut zu akzentuieren die Taille, weil es fest in der Mitte ist und dann fließt es mit dem Rock als eins. Ich eigentlich gerne dieses Kleid tragen als Spitze, weil die Skater Rock ist sehr flowy so fühle ich mich geschützt mit dem Kleid Rock darunter. Marciano peplum Kleid, dass ich al seine Bluse angezogen habe (jetzt liebe ich auch diese French Connection and Alice + Olivia peplum Bluse). ASOS Rock, ZARA high heel vamp Schuhe (diese Schuhe sind super, du kannst diese Schuhe in blau und schwarz in ZARA finden. Obwohl diese Schuhe hoch sind, ich liebe sie und sie sind sehr bequem. Ich habe ganz viel mit diesen Schuhe im 5th Avenue gewandert!). House of Harlow 1960 Chelsea Sonnenbrillen, Michael Kors Uhr, Stella & Dot abtrünnigen Cluster-Armband, Bauble Bar Armband, Chanel Joues Contraste 55, Essie pink-a-boo Nagellack, MAC Viva Glam V Lippenstift, MAC Viva Glam V Lip Gloss. Um den Rest meiner Schönheit / Make-up Essentials klicken Sie hier.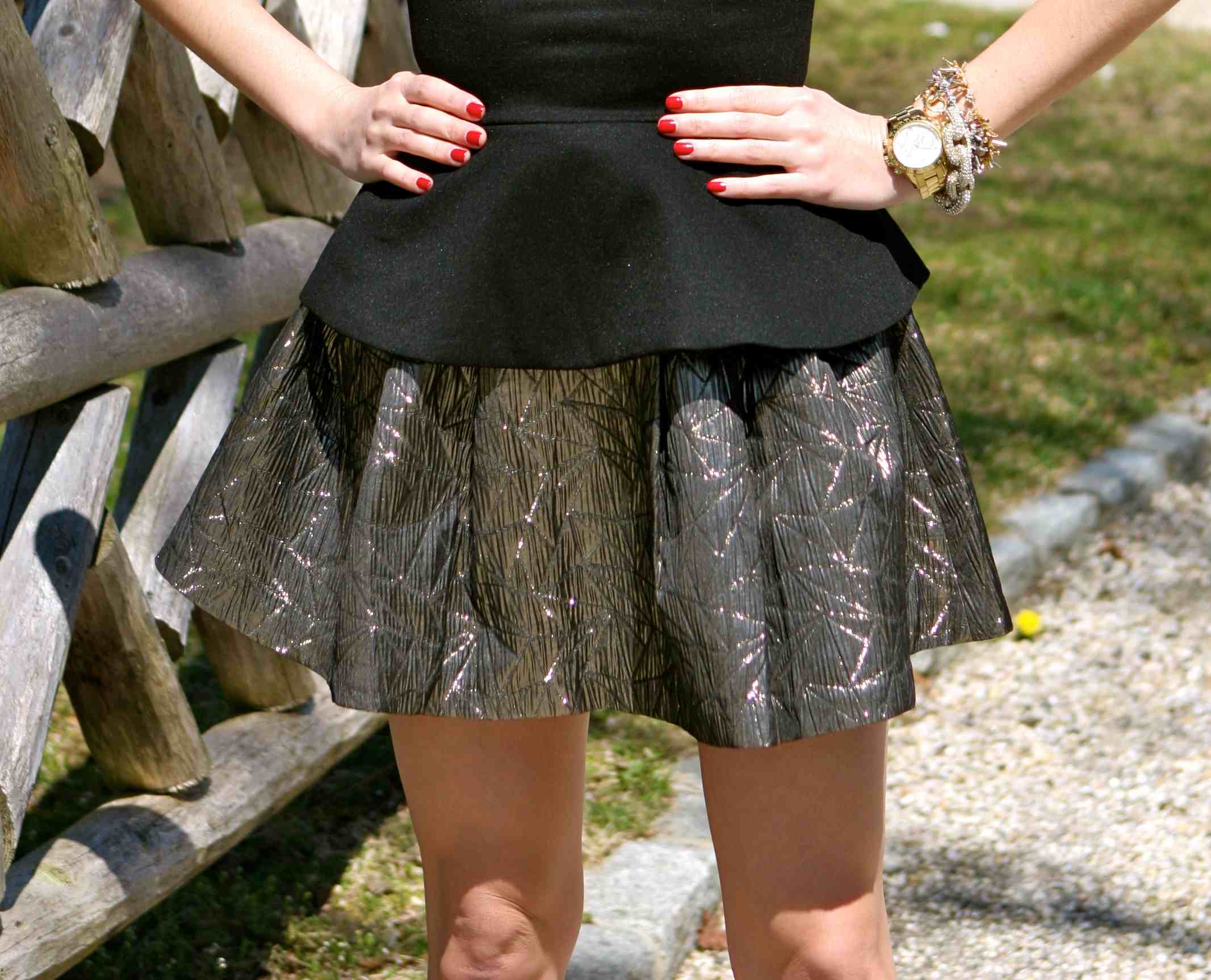 Todas nosotras empezamos a jugar a vestirnos desde que éramos chiquitas y continuamos jugando con nuestros conjuntos todos los días, por lo menos yo se que lo hago. Saben como siempre nos quejamos que no tenemos ropa cuando vamos a una fiesta o vamos a salir con amigas aunque tenemos un closet lleno de ropa? Bueno, yo también me quejo de esto pero para no romper mi presupuesto, juego con los conjuntos que ya me he puesto y que me encantan. El proceso es muy fácil, proyecta tus conjuntos preferidos y descifra como combinarlos. Antes que te des cuenta, tendrás un conjunto completamente nuevo sin salir de tu casa y usando tus conjuntos preferidos. Hoy, comparto con ustedes mi falda de patinador preferida, la cual combiné con un vestido peplum que use como una blusa. El conjunto es chévere porque acentúa tu cintura, es ajustado en el medio y de ahí fluye con la falda como si estuvieran pegados. En serio, me gusta usar este vestido como blusa porque la falda de patinador es super bailarina y me siento protegida usando la falda del vestido por debajo de la falda patinador. Vestido peplum de Marciano que lo use como blusa (también me encantan estos tops peplum de French Connection y Alice + Olivia), falda de patinador ASOS, ZARA zapatos de tacón alto (estos zapatos de ZARA son espectaculares, los puedes encontrar en azul y negro y aunque son super altos, lo cual me encanta, son super cómodos. He caminado muchas cuadras en la 5ta avenida en estos zapatos altos y me sentí orgullosa de mi misma porque no me queje ni una sola vez), House of Harlow 1960 Chelsea gafas de sol, reloj Michael Kors, pulseras de Bauble Bar, pulsera Stella & Dot, pendientes estrellas de mar Mint Julep, Chanel Joues Contraste 55, Essie pink-a-boo esmalte de uñas, MAC Viva Glam V Lipstick, MAC Viva Glam V Brillo de labios. Para ver el resto de mis imprescindibles de belleza / maquillaje clic aquí.