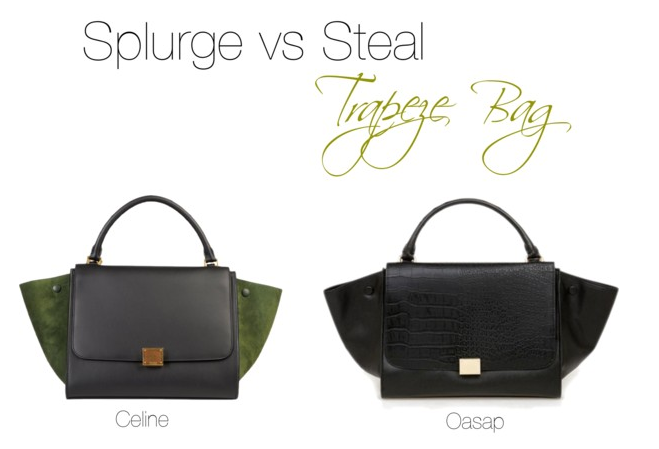 Today's steal vs splurge fashion overview, I give you these lovely tote bags, which you can use for work, shopping or just to go out with your girlfriends. Ok, so every fashion editor owns a Celine bag and every girl saves to get one right? They're awesome, the quality and chic design are perfection. I can't afford one yet but in the meantime I wanted to share with you this similar bag (under $100), such a steal. The decision is yours but if you're looking for this style and can't afford a Celine just yet, this is what you can get. Check out the Celine trapeze long strap bag ($3400) vs Oasap 2way contrast color luggage tote ($69).
Heutiger stehlen vs protzen Mode Übersicht, gebe ich Ihnen diese schönen Tragetaschen, welche Sie für die Arbeit, zum Einkaufen verwenden oder einfach nur zu gehen, mit Ihren Freundinnen kann. Ok, so dass jeder Fashion Editor besitzt eine Celine Tasche und jedes Mädchen spart man sofort zu bekommen? Sie sind fantastisch, die Qualität und schickes Design Perfektion. Ich kann nicht leisten noch nicht, aber in der Zwischenzeit wollte ich mit Ihnen teilen diese ähnliche Tasche (unter $100), wie ein Schnäppchen. Die Entscheidung liegt bei Ihnen, aber wenn Sie für dieses Design suchen und sich nicht leisten können einen Celine nur noch, das ist, was Sie bekommen können. Schauen Sie sich die Celine Trapez langen Riemen Beutel ($3400) vs Oasap 2way Kontrastfarbe Gepäck Tote ($69).
En el segmento de moda, encontrarán el robo vs derroche de hoy, te doy estas carteras super lindas, que las puedes utilizar para el trabajo, para ir de compras o simplemente para salir con tus amigas. Ok, yo se que la mayoría de editoras de moda poseen una cartera Celine y cada chica ahorra para comprar una verdad? Son super lindas, la calidad y diseño elegante son perfectas. No puedo comprar una todavía, pero mientras tanto quiero compartir con ustedes esta cartera similar (menos de $100), es una ganga. La decisión es tuya, pero si estás en busca de este estilo y no puedes comprar una cartera Celine todavía, esta es la opción para ti. Echa un vistazo a la cartera Celine trapeze ($3400) vs la cartera Oasap ($69).