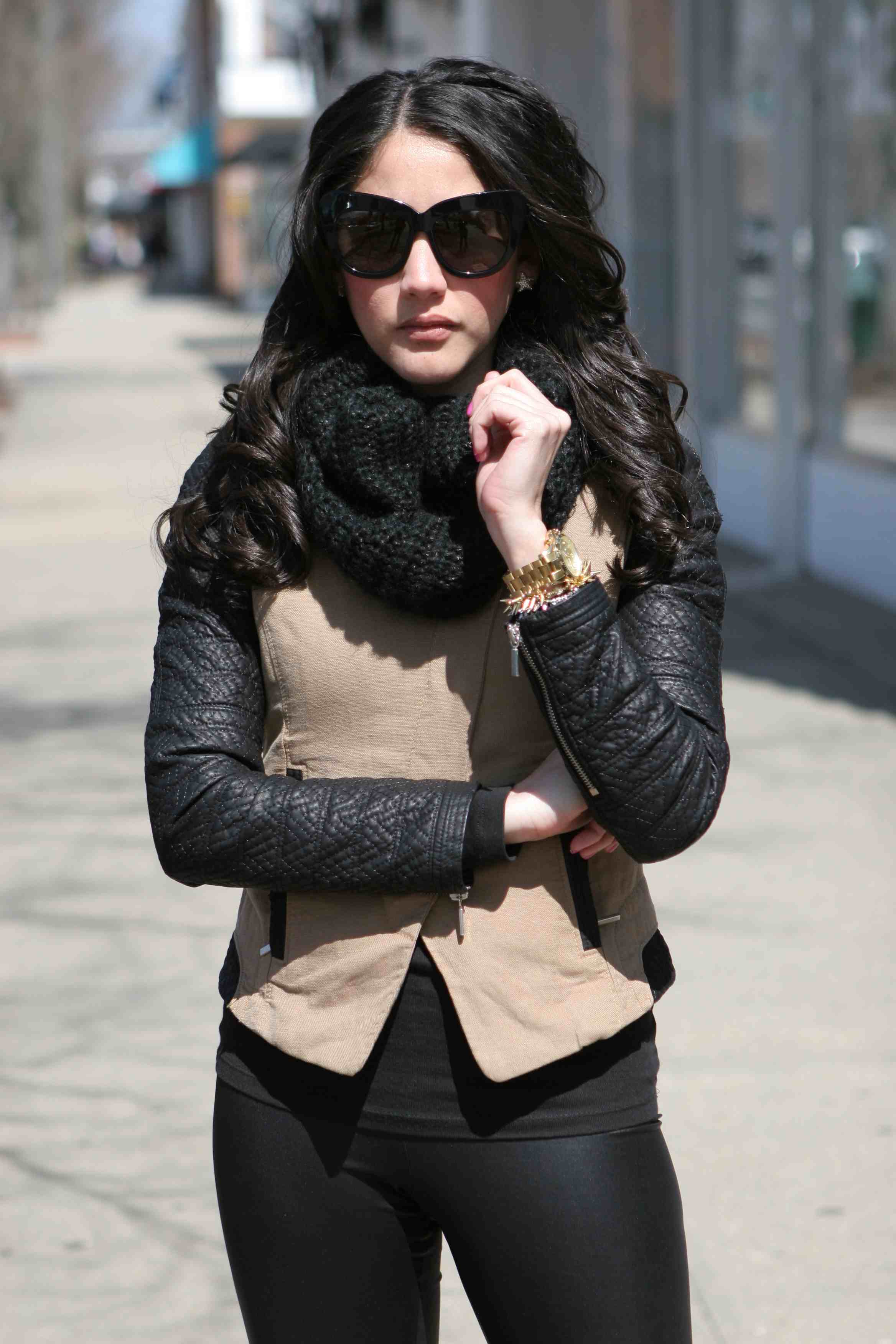 Spring leather made its way into spring 2013 runways. Go back to the Super Bowl where Beyonce, Michelle Williams and others were sporting warm leather outfits and check out the trend. As we take on spring, keep in mind warm leather. Warm leather pieces go beyond jackets, you can find skirts, shorts, t-shirts, blazers and so many more. Take a look at the variety of colorful spring leather pieces, especially dresses and skirts. To complete the outfit, try wearing cotton or linen fabrics with your leather, you'll be rocking and looking sophisticated with spring leather in no time. Whether you're wearing skinny faux leather leggings or baggy leather pants, you can dress them up with high sexy heels or keep it casual with chucks. I'm into laid-back spring leather leggings. This weekend we drop a few degrees and go back into spring (if you're in DC, you'll understand what I'm referring to – it's been feeling like summer this week-) and this warm leather outfit can be the right fit for you. I know I'll be wearing warm spring leather on my weekend walks through Washington Square Park. Outfit details: Zara jacket (recent), JCrew perfect-fit long-sleeve tee, Zara high heel vamp shoe, House of Harlow 1960 Chelsea sunglasses, Michael Kors watch, Stella&Dot renegade cluster bracelet, Mint Julep starfish earrings, Chanel Joues Contraste 55, Essie pink-a-boo nail polish. Shop spring leather outfits at Piperlime, Nordstrom.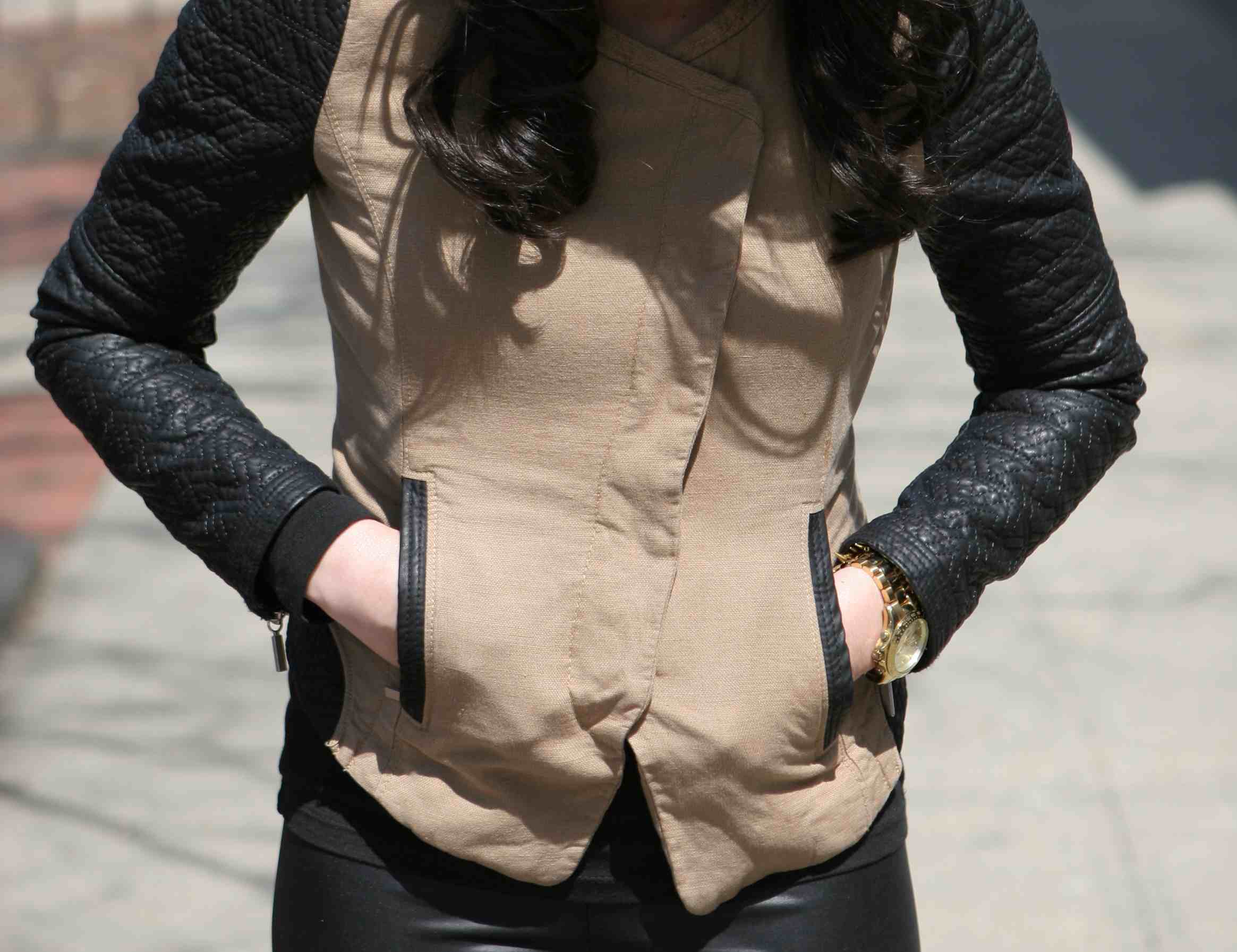 Frühling Leder war in der Frühjahr 2013 Modenschau. Erinnern sie am Super Bowl, wo Beyonce, Michelle Williams und andere haben warmen Leder-Outfits angezogen und sehen sie das Trend. Als der Frühling ist hier, denken sie warme Leder. Warm Lederstücke gehen über Jacken, finden Sie Röcke, Shorts, T-Shirts, Blazer und so viele mehr. Kucken sie mal auf die Vielfalt der bunten Frühling Lederstücke, vor allem Kleider und Röcke. Um das Outfit zu vervollständigen, versuchen Sie trägt Baumwolle oder Leinen mit Leder, wirst du rocken und suchen mit Feder Leder in kürzester Zeit anspruchsvolle. Ob du trägst dünn faux Leder-Leggings oder weite Lederhose, können Sie kleiden sie sich mit hoher sexy Heels oder halten Sie es lässig mit Chucks. Mir gefällt Frühling Leder-Leggings. Dieses Wochenende wird Frühling zurück kommen (wenn man in DC sind, werden Sie verstehen, was ich mich beziehe – es ist wie im Sommer das Gefühl in dieser Woche-) und das warme Leder-Outfit kann die richtige Outfit für Sie sein. Ich weiß, ich werde warme Frühjahr Leder auf mein Wochenende geht durch Washington Square Park tragen. Outfit Details: Zara Jacke (letzten) JCrew passgenaue-Langarmshirt, Zara high heel vamp Schuhe, House of Harlow 1960 Chelsea Sonnenbrillen, Michael Kors Uhren, Stella&Dot abtrünnigen Cluster-Armband, Mint Julep Seesterne Ohrringe, Chanel Joues befahren Contraste 55, Essie pink-a-boo Nagellack. Shop Frühjahr Leder-Outfits bei Piperlime, Nordstrom.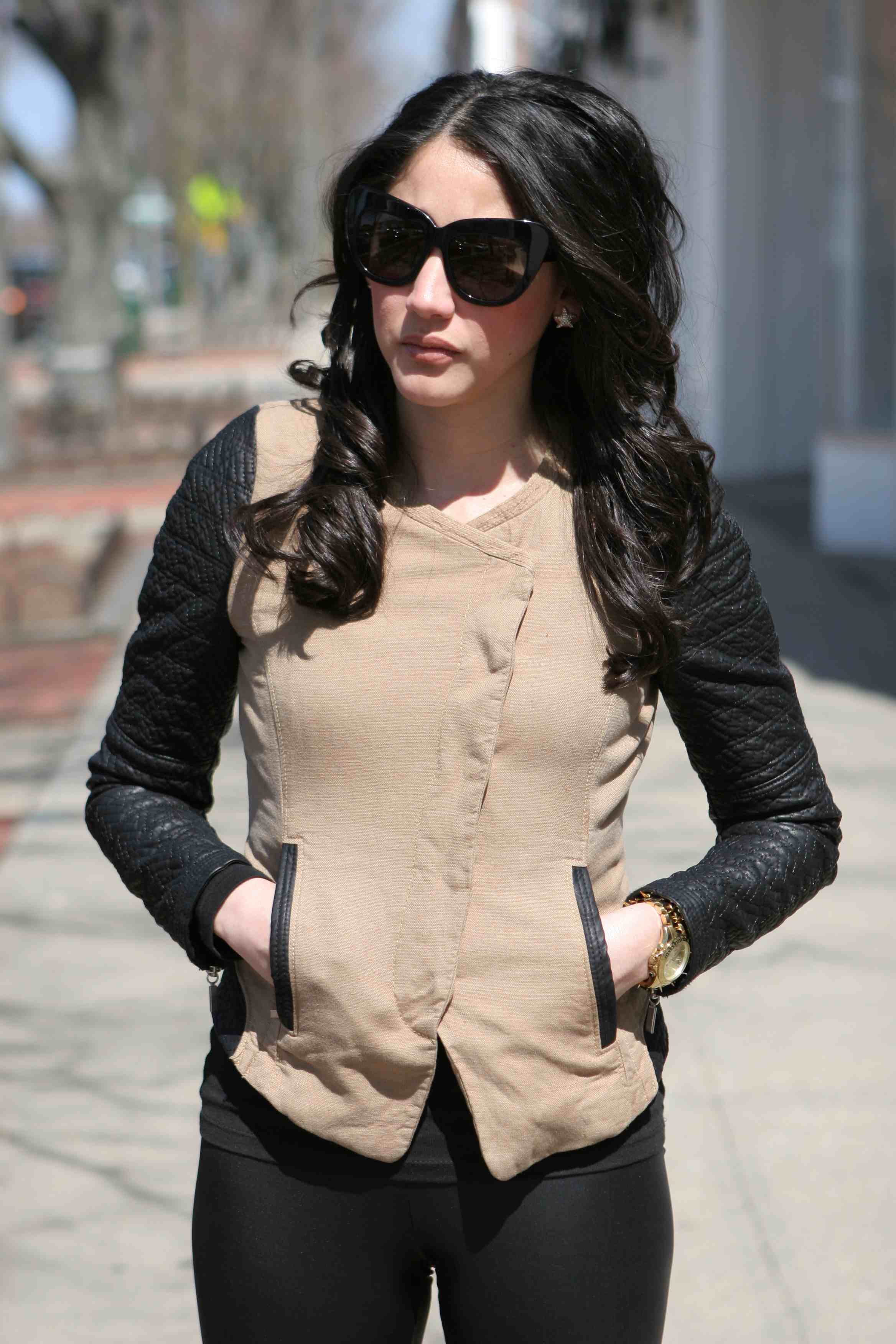 El cuero de primavera estuvo presente en las pasarelas de la primera 2013. Regresa al Super Bowl, donde Beyoncé, Michelle Williams y otros lucieron trajes de cuero cálidos de primavera y mira la tendencia. Al tomar la primavera, ten en cuenta el cuero cálido. Ropa de cuero cálido van más allá de las chaquetas, puedes encontrar faldas, pantalones cortos, camisetas, chaquetas y muchos más. Echa un vistazo a la variedad de piezas de cuero de primavera coloridas, sobre todo vestidos y faldas. Para completar el traje, trata de usar telas de algodón o lino, estareas rockeando y viéndote sofisticada con cuero de primavera en cualquier momento. Ya sea que estes usando leggings de cuero ajustados o pantalones holgados, puedes vestirte con tacones altos sexy o mantener un look casual con sneakers. Me gusta lo relajado que es el cuero de primavera. Este fin de semana la temperatura bajará unos grados y se sentirá como primavera (si estás en DC, vas a entender a lo que me refiero – que se ha sentido como verano esta semana-) y este traje de cuero cálido puede ser el combo más adecuado para ti. Sé que voy a estar usando cuero de primavera este fin de semana en mi caminata por el Washington Square Park. Detalles de mi traje: chaqueta de cuero Zara (reciente), JCrew ajuste perfecto camiseta de manga larga, Zara zapatos de tacón alto vamp, House of Harlow 1960 gafas de sol del Chelsea, reloj Michael Kors, pulsera Stella&Dot, aretes de estrellas de mar Mint Julep, Chanel Joues Contraste 55, Essie rosa-a-boo esmalte de uñas. Compra cuero de primavera en Piperlime, Nordstrom.