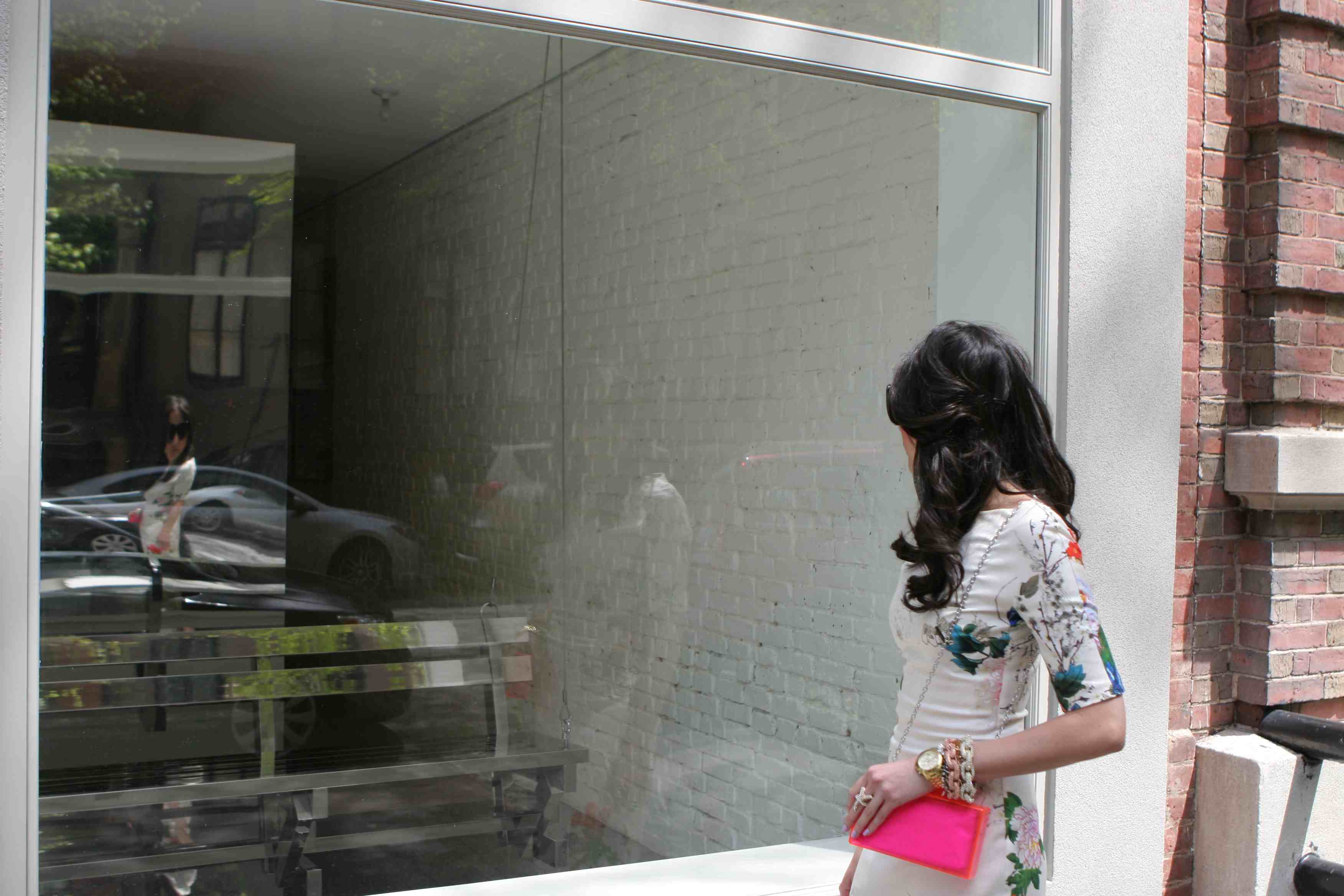 Spring dresses are perfect for the office because they're sleek, can pass for business casual and you feel very comfortable in them. Spring floral dresses are also a great outfit to go to church or temple, meet your significant other's parents and hosting a spring gathering on your rooftop on a sunny spring afternoon. It's fitted to compliment your figure but not too tight which makes it very appropriate for the office. The floral print has a hint of Asian styling but overall I find this ZARA dress very classic and a must-have spring outfit. If you want to see more of my spring picks from ZARA, click here. Outfit details: ZARA floral dress, Zara pumps (similar from Alice + Olivia), ZARA neon box clutch, Michael Kors watch, House of Harlow 1960 Chelsea sunglasses, Stella & Dot renegade cluster bracelet, Fornash Starfish stud earrings with sparkly stone detail (my new favorite pair of starfish earrings), Fornash starfish ring, Bauble Bar pave links bracelet, Chanel Joues Contraste 55, MAC Viva Glam V lip gloss, Essie 'Pansy' nail polish from Nordstrom. To see the rest of my beauty/makeup essentials click here. This ZARA floral dress checks the box in all of the before mentioned outfit choices. It has a soft neckline that reminds me of the 60s and 70s, very Mad Men cut I would say.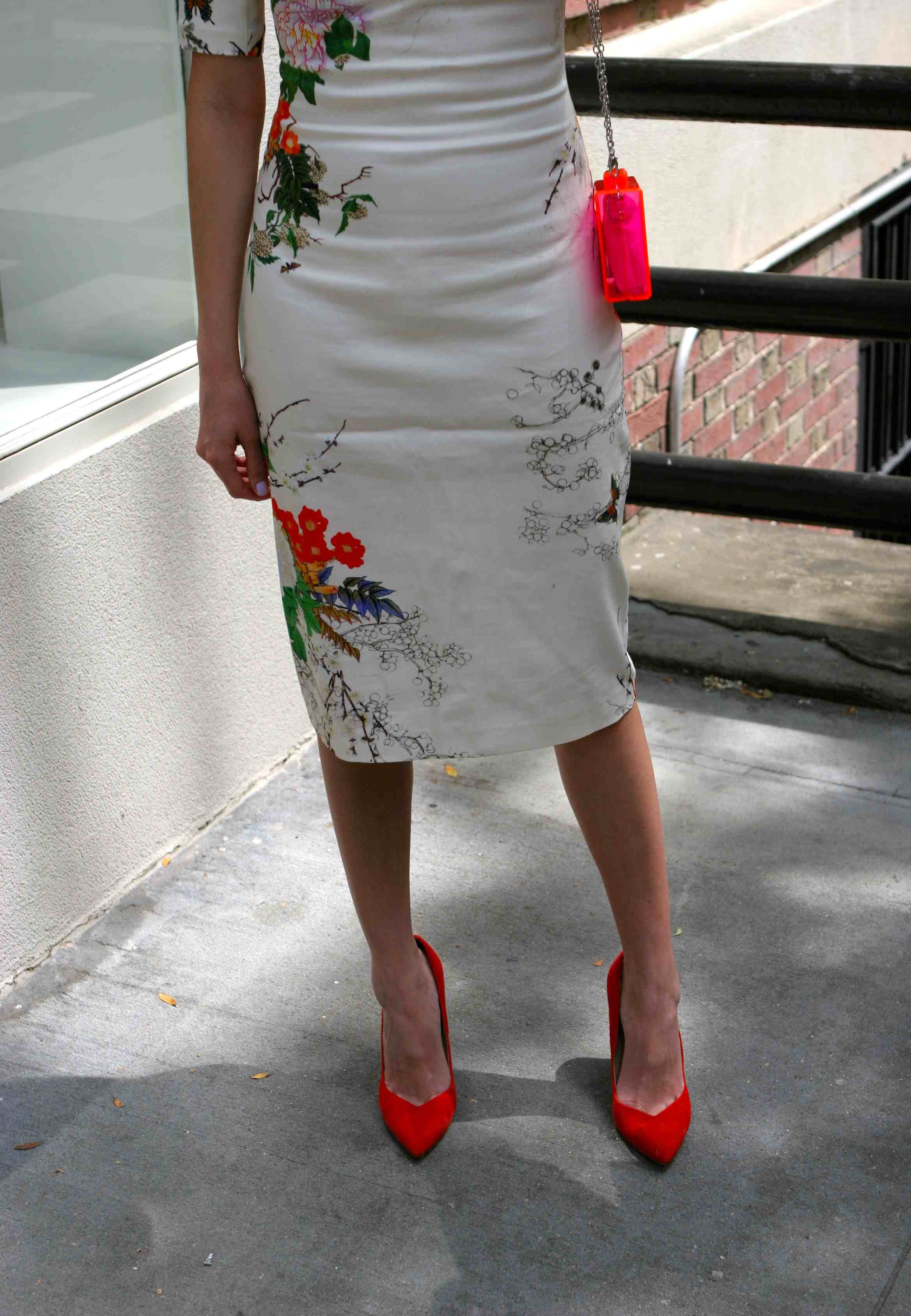 Frühling Kleider sind perfekt für das Büro, weil sie glatt sind, können für business casual passieren und man fühlt sich sehr wohl in ihnen. Geblümten Kleider sind auch ein tolles Outfit, zur Kirche oder Tempel zu gehen, treffen Sie Ihre Freund Eltern und geben eine Feder Versammlung auf dem Dach an einem sonnigen Frühlingstag. Diese ZARA geblümten Kleid überprüft die Box in alle zuvor genannten Entscheidungen Outfit. Es hat einen weichen Ausschnitt, erinnert mich an die 60er und 70er Jahre, schneiden sehr Mad Men würde ich sagen. Es ist zur Ergänzung Ihrer Figur ausgestattet, aber nicht zu eng das macht es sehr geeignet für das Büro. Das florale Druck hat einen Hauch von Asian Styling, aber insgesamt finde ich ZARA Kleid sehr klassisch und ein must-have Frühjahr Outfit. Wenn Sie mehr von meiner Feder Picks aus ZARA sehen wollen, klicken Sie hier. Outfit Details: ZARA geblümten Kleid, Zara Pumpen (ähnlich von Alice + Olivia), ZARA neon Tasche, Michael Kors Uhr, House of Harlow 1960 Chelsea Sonnenbrille, Stella & Dot abtrünnigen Cluster-Armband, Fornash Seesterne Ohrstecker mit funkelnden Stein Detail (meine neue Lieblings-Paar Ohrringe Seestern), Fornash Seestern Ring, Bauble Bar Links Armband, Chanel Joues Contraste 55, MAC Viva Glam V Lipgloss, Essie 'Pansy' Nagellack von Nordstrom. Um den Rest meiner Schönheit / Make-up Essentials klicken Sie hier.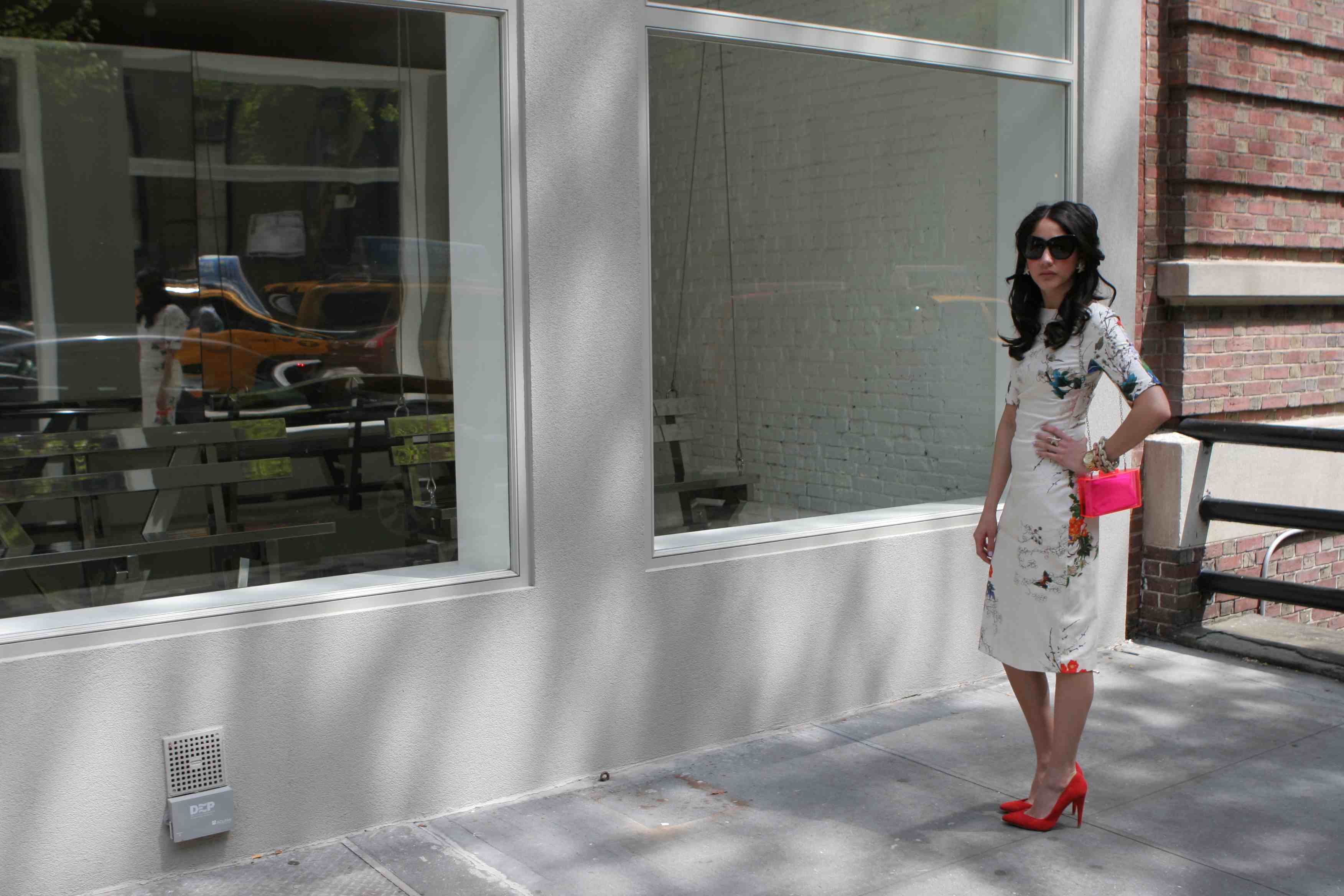 Los vestidos de primavera son ideales para la oficina, porque son elegantes, pueden pasar como outfits casuales business y te sientes muy cómoda en ellos. Vestidos de flores de primavera también son un gran atuendo para ir a la iglesia o al templo, conocer a los padres a tu pareja y ser anfitrión de una reunión de la primavera en tu terraza, en una soleada tarde de primavera. Este vestido floral ZARA tiene un visto bueno en todas las opciones antes mencionados. Tiene un corte en el cuello suave que me recuerda a los años 60 y 70, un corte muy Mad Men diría yo. Está armado para complementar tu figura pero no muy pegado, lo que lo hace muy apropiado para la oficina. El estampado floral tiene un toque de estilo asiático, pero en general me parece que este vestido de ZARA es muy clásico y un outfit de primavera que hay que tener. Si quieres ver más de mis selecciones de primavera de ZARA, haga clic aquí. Detalles de mi Outfit: vestido de flores ZARA, zapatos de Zara (similares de Alice + Olivia), cartera de ZARA, reloj Michael Kors, House of Harlow 1960 Chelsea gafas de sol, pulseras de Stella & Dot, aretes de estrellas de mar con detalles de brillantes Fornash (mi nuevo par favorito de estrellas de mar), el anillo Fornash estrellas de mar, pulseras Bauble Bar, Chanel Joues Contraste 55, MAC Viva Glam V brillo labial, esmalte de uñas Essie "Pansy" de Nordstrom. Para ver el resto de mis imprescindibles de belleza / maquillaje clic aquí.