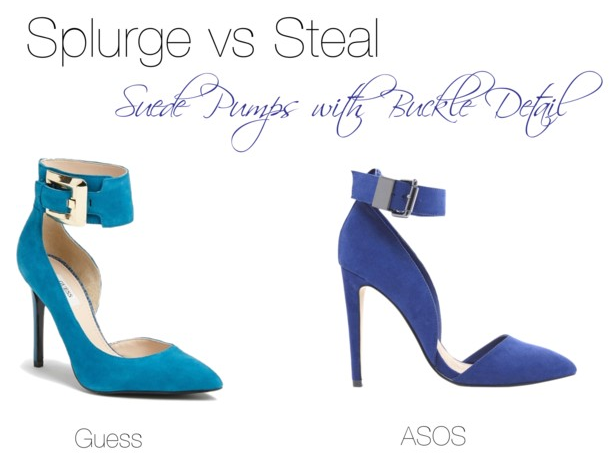 Today's steal vs splurge fashion overview focuses on suede pumps with a buckle detail. No one loves a good find more than I do. With all the options available out there sometimes it's hard to know where to start looking, so I'm going to help you every Tuesday by giving you a few recommendations. Guess 'Adal' ankle strap d-orsay pump vs ASOS photoshoot pointed high heels (love ASOS, you always find the best deals).
Heutige stehlen vs protzen fashion Überblick konzentriert sich auf Wildleder Pumpen mit einer Schnalle. Niemand liebt eine gute finden Sie mehr als ich. Mit all den verfügbaren Optionen gibt, manchmal ist es schwer zu wissen, wo zu Beginn der Suche, so werde ich Ihnen zu helfen jeden Dienstag, indem wir Ihnen ein paar Empfehlungen. Guess Adal 'Knoechelriemchen d-orsay Pumpe vs ASOS Fotoshooting wies High Heels (Liebe ASOS, finden Sie immer die besten Angebote).
En el segmento de moda de robo vs derroche , se centra en zapatps de gamuza con detalle de hebilla. A nadie le gusta una buena ganga más que a mí. Con todas las opciones disponibles, a veces es difícil saber por dónde empezar a buscar, así que voy a ayudar todos los Martes con algunas recomendaciones. Guess 'Adal' correa del tobillo d orsay-bomba vs ASOS photoshoot señaló zapatos de tacón alto (ASOS amor, siempre encontrarás las mejores).