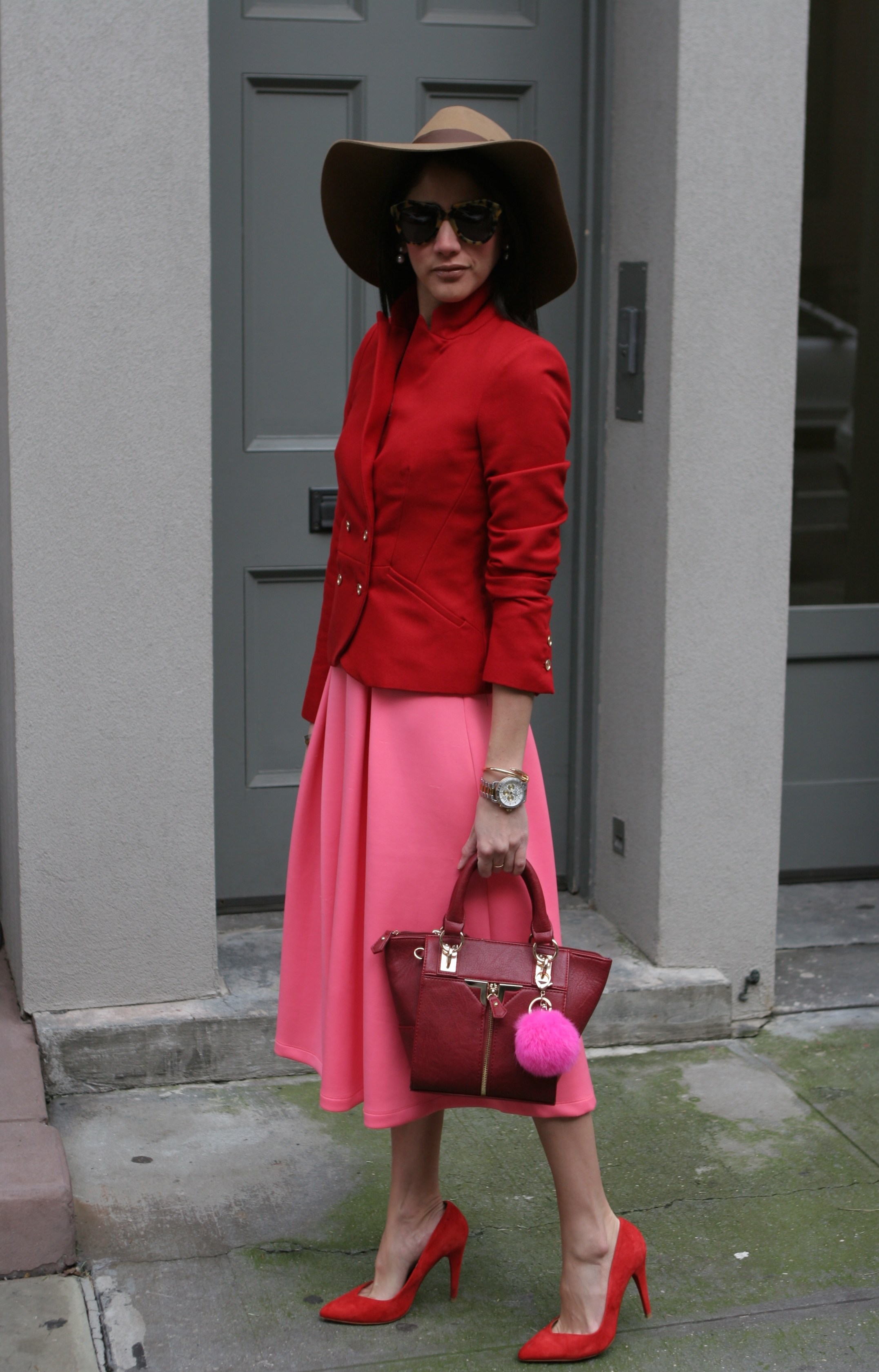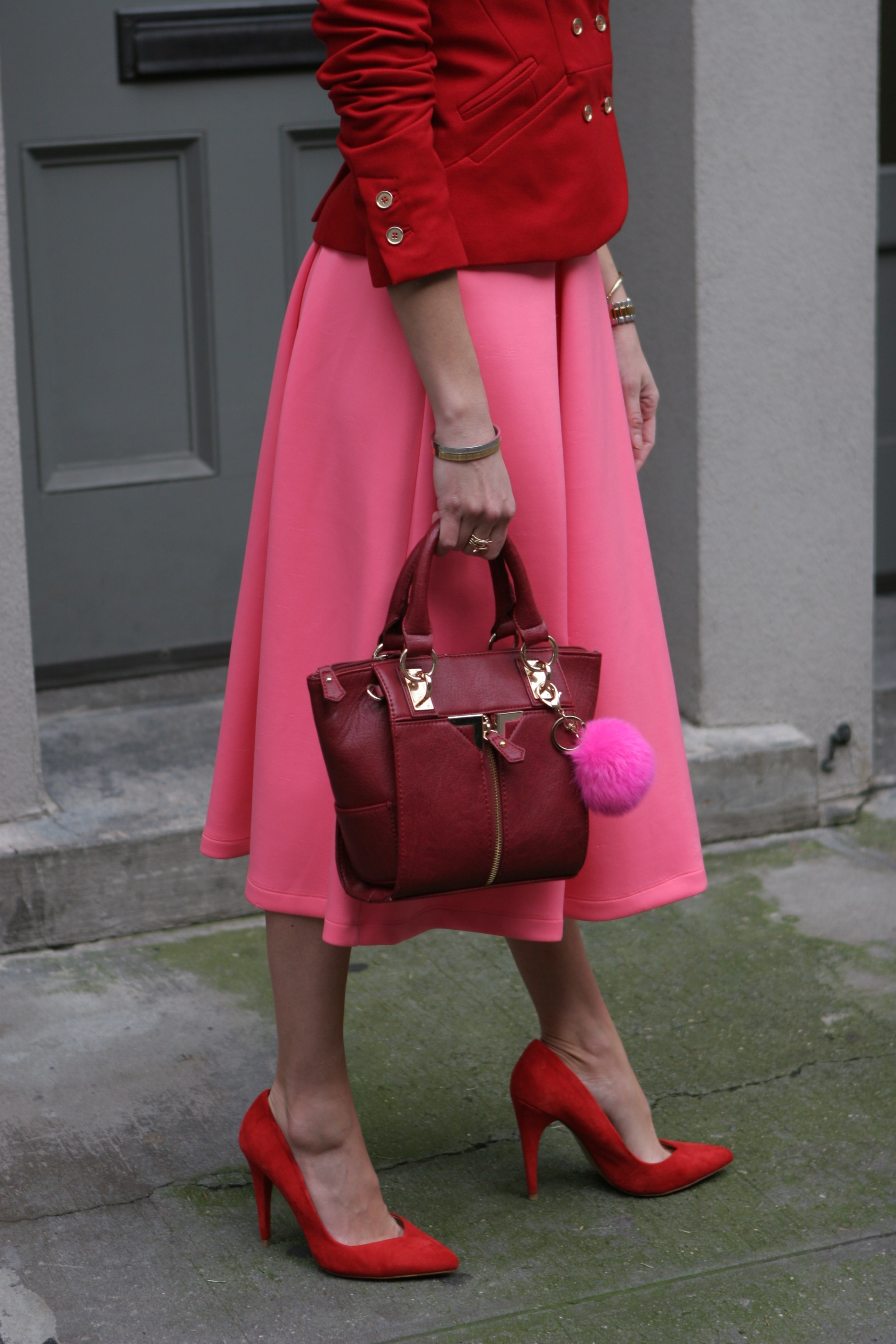 Blazer: Zara double-breasted jacket (similar from J.Crew) | Skirt: Asos midi skirt | Shoes: Zara red pumps (similar from Steve Madden for $62.98) | Bag: Danielle Nicole Alexa mini bag | Keychain: Amazon fur keychain (under $3!) | Hat: Brixton Su2c x Revolve Piper hat via Revolve Clothing | Sunglasses: Karen Walker Number One sunglasses via Shopbop | Earrings: BaubleBar Suspension pear drops | Watch: Coach | Bracelets: Anarchy Street naild it bangle | Lipstick: MAC 'Huggable' lipcolour | Make-up: Chanel Joues contraste powder blush, Bare Minerals foundation kit.
Nothing like a red and pink color combo to boost up your winter wardrobe. I love wearing bright colors year-around but specially when the weather drops so much that all I can think of is spring, I know you're with me on this one. My fashion is moody and changes from time to time. Trying to keep things simple, I opted for a double-breasted blazer with a popped collar to stay warmer and a long midi skirt to fight those cold air breezes. I completed the look with red pops of color to make the whole ensemble lively and added a sophisticated wool hat to give a chic touch. Regardless of the look I'm going for, I always try to infuse a touch of sophistication in every outfit.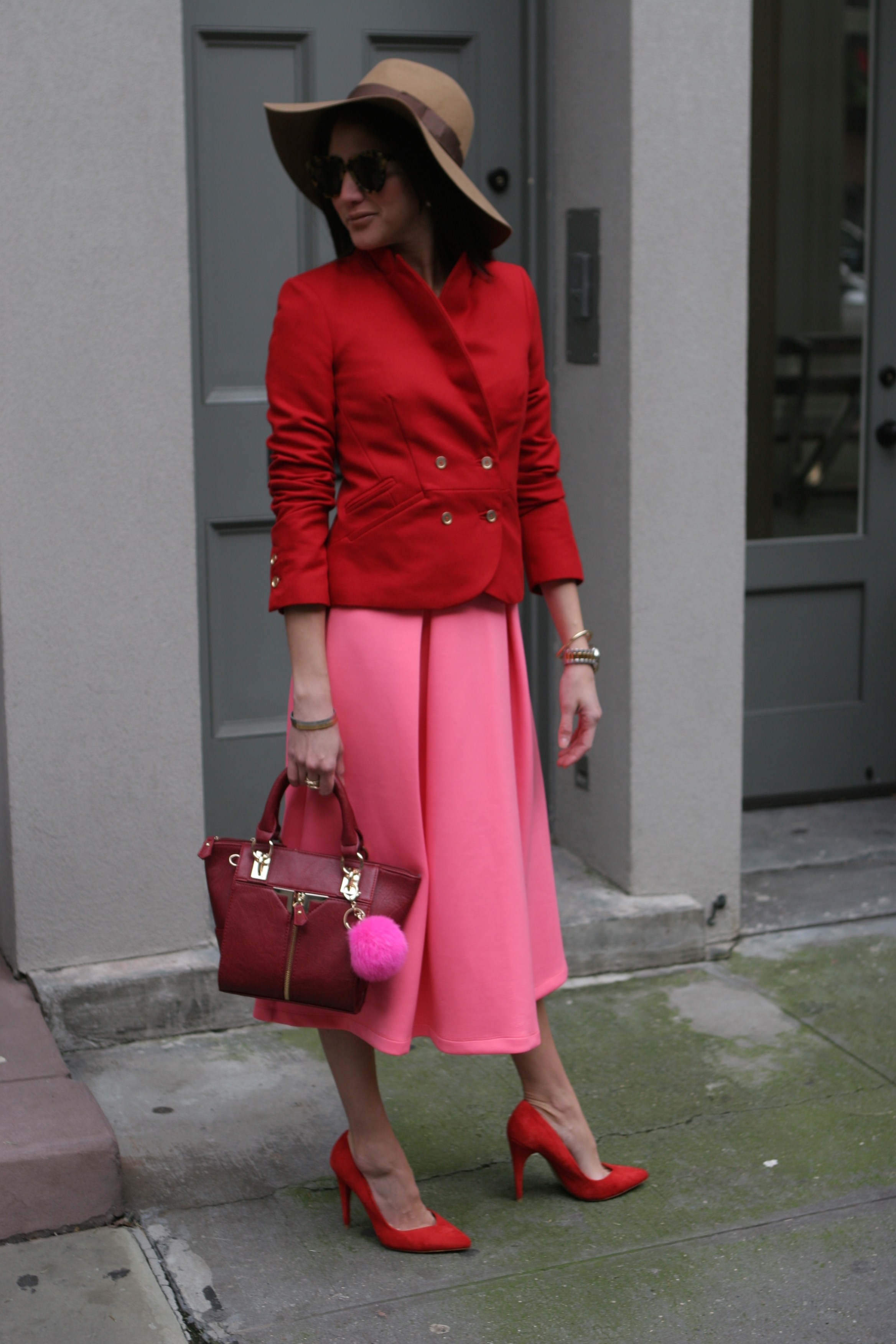 Nichts wie ein rot und rosa Farbe kombiniert, um erhöhen Sie Ihre Wintergarderobe. Ich liebe hellen Farben, aber speziell das Tragen, wenn das Wetter fällt so sehr, dass alles, was ich denken kann, ist Frühling, ich weiß, du mit mir auf diesem sind. Meine Mode ist launisch und ändert sich von Zeit zu Zeit. Der Versuch, die Dinge einfach zu halten, entschied ich mich für einen zweireihigen Blazer mit Popped Kragen wärmer und eine lange Midirock zu bleiben, diese kalte Luft Brise kämpfen. Ich schloss den Look mit roten Farbtupfern das ganze Ensemble lebendige zu machen und hat eine hoch entwickelte Wollmütze, eine schicke Note zu geben. Unabhängig von der Blick werde ich für, ich versuche immer, einen Hauch von Raffinesse in jedem Outfit ziehen lassen.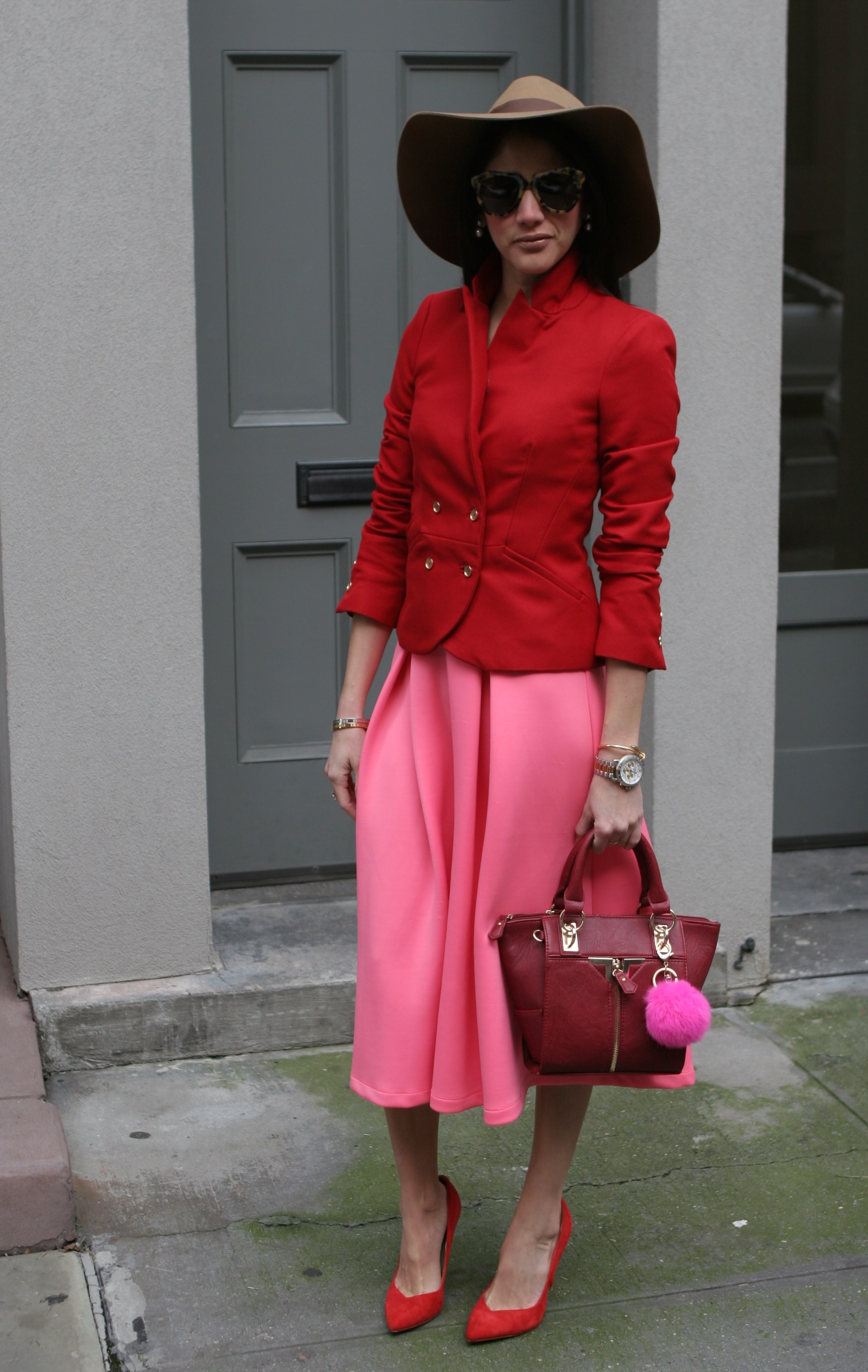 No hay nada como un combo de color rojo y rosado para revivir tu guardaropa de invierno. Me encanta usar colores vivos durante todo el año, pero especialmente cuando el clima baja tanto que lo único que puedo pensar es en la primavera, sé que estás conmigo en este pensamiento. Mi moda cambia un poco de vez en cuando. Tratando de mantener el conjunto simple, opté por un blazer de botones dobles con un collar popped para permanecer caliente y una falda midi larga para combatir esas brisas de aire frío. Completé el look con estallidos de color rojo para que el conjunto este vivo y añadí un sombrero sofisticado para darle un toque chic. Independientemente del look que quiero conseguir, siempre trato de infundir un toque de sofisticación en cada conjunto.