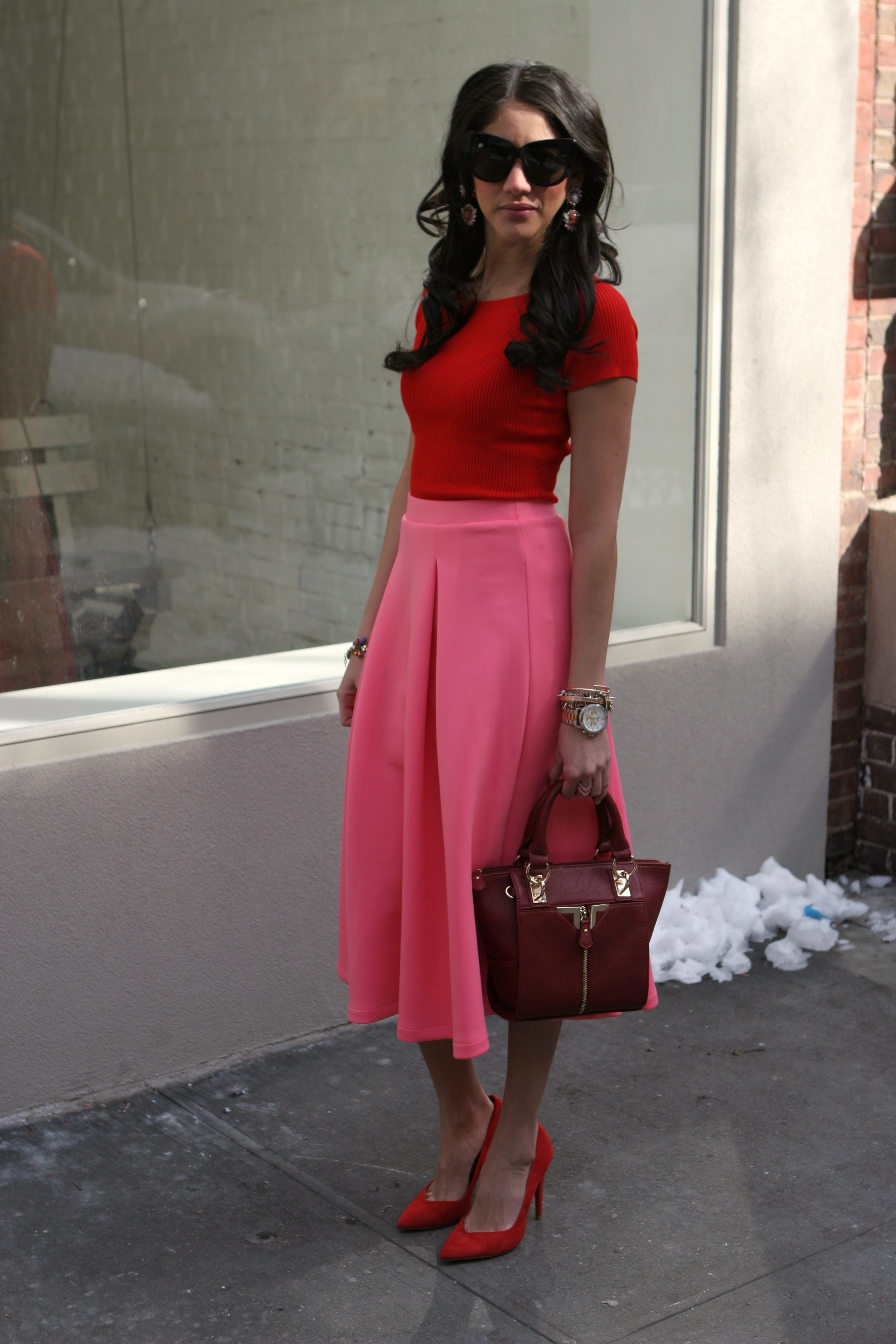 I'm already in a spring state of mind and that means sharing some of my favorite color combos: red and pink. They just go so well together plus it puts me in a better mood when I think I'll be wearing this outfit without a coat soon enough… where are you spring? This outfit is a great example of how I am transitioning from winter to spring. Bright colors, short sleeve tops and my favorite skirt: the full skirt.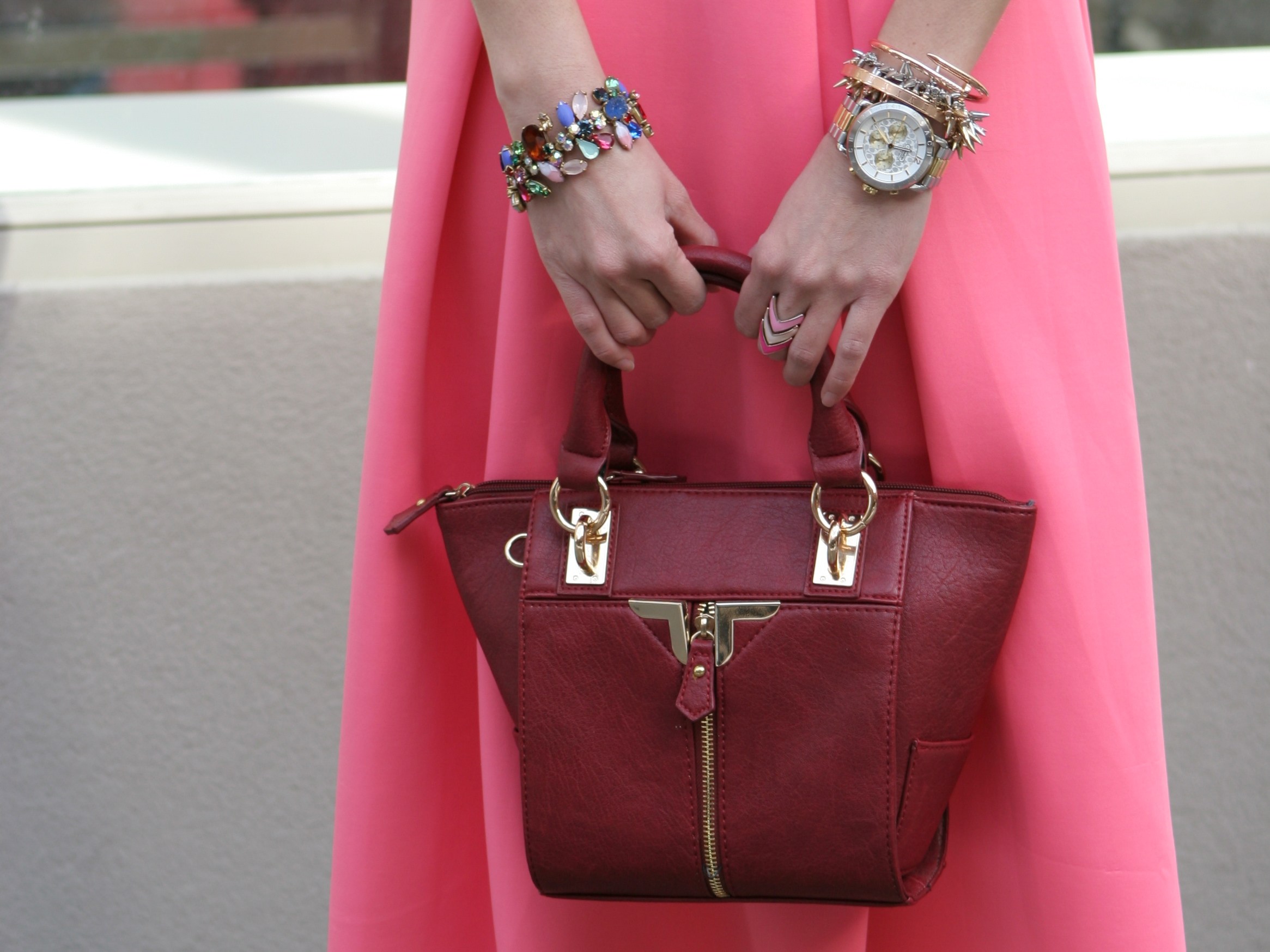 ASOS Midi Skirt with Full Pleats (love the black one too), Bebe short sleeve dress worn as a top, Zara red heels (I have these Alice & Olivia as well because you can never have too many pairs of red heels), Danielle Nicole Alexa mini crossbody (such a great bag, chic and pretty and under $100, do I need to say more?), and you know I can't leave the house with my favorite House of Harlow Chelsea sunglasses. Accessories: J.Crew bracelet (I got this one over Christmas and I absolutely love it! Well done Tony and Carol, here's a similar one), Stella & Dot renegade cluster bracelets (they have it in rose pink now, I know what is going on my wish list stat!), Anarchy Street classic nail bangle, Coach watch, earrings courtesy of The Front Row (I absolutely love these drops, you can wear them with everything and they are under $20!).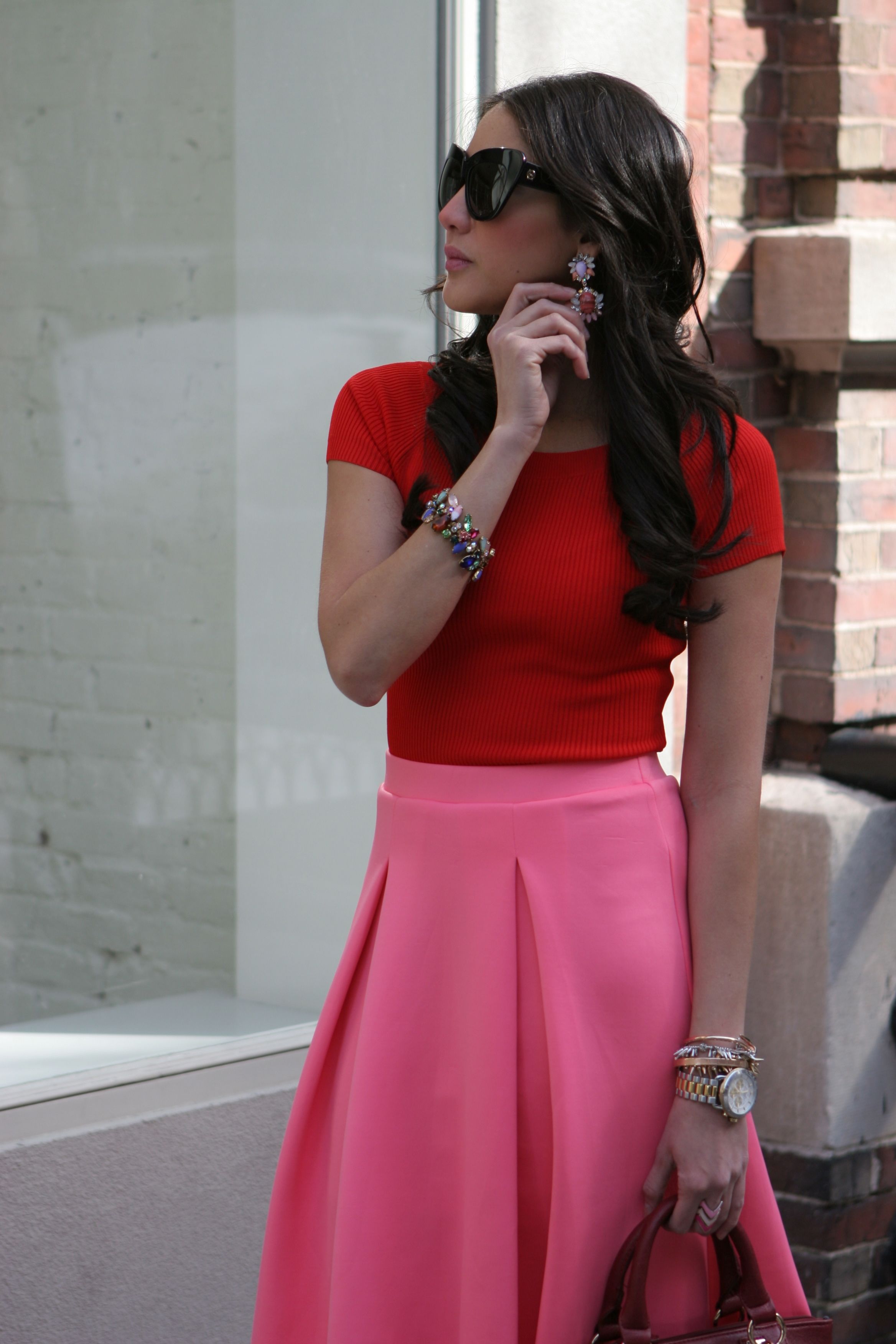 Ich bin schon in einem Frühling Zustand des Geistes und das bedeutet, dass sie einige meiner Lieblings-Farbkombinationen: rot und rosa. Sie haben einfach so gut zusammen und es bringt mich in eine bessere Stimmung, wenn ich denke, ich werde dieses Outfit ohne Mantel tragen… wo bist du Frühling? Dieses Outfit ist ein gutes Beispiel dafür, wie ich den Übergang vom Winter zum Frühling. Helle Farben, kurze Ärmel Tops und meine Lieblings-Rock: die volle Rock.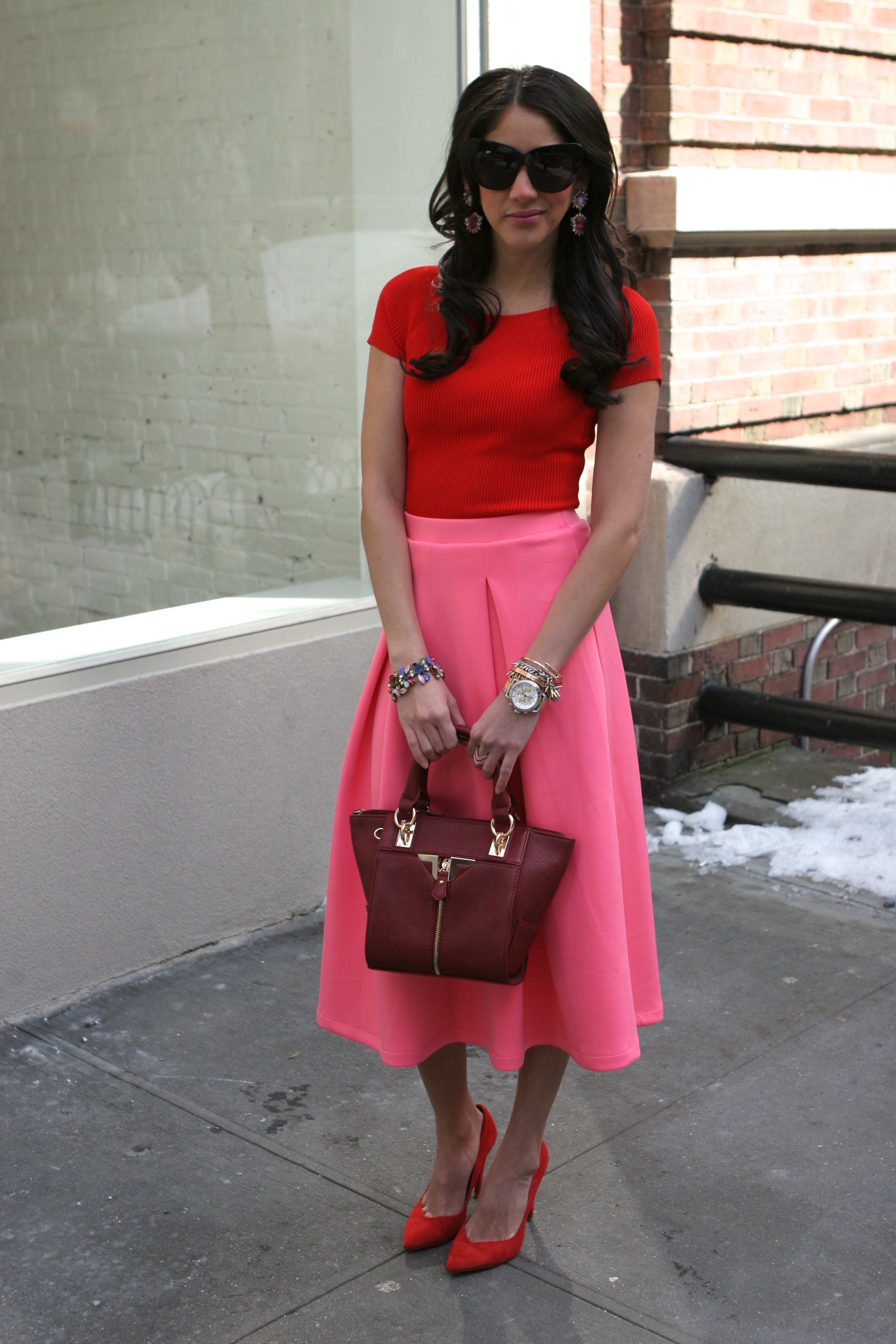 ASOS Midi-Rock mit Full-Falten (ich liebe die schwarze auch), Bebe kurzärmelige Kleidung als Top, Zara roten Schuhe (ich habe diese Alice & Olivia auch, weil man kann nie zu viele Paare von roten Schuhe), Danielle Nicole Alexa Mini Crossbody (wie eine große Tasche, chic und hübsch und unter $100, muss ich mehr sagen?), und Sie wissen, ich kann nicht mit meiner Lieblings-House of Harlow Chelsea Sonnenbrille das Haus verlassen. Zubehör: J.Crew Armband (Ich habe diese am Weihnachten bekommen und ich liebe es, absolut gut gemacht Tony und Carol, hier ist eine ähnliche), Stella & Dot abtrünnigen Cluster-Armbänder, Anarchy Street klassische Nagel Armreif, Coach Uhr, Ohrringe mit freundlicher Genehmigung von The Front Row (ich liebe diese Tropfen, können Sie sie mit allem, was sie tragen und sie sind unter $20!).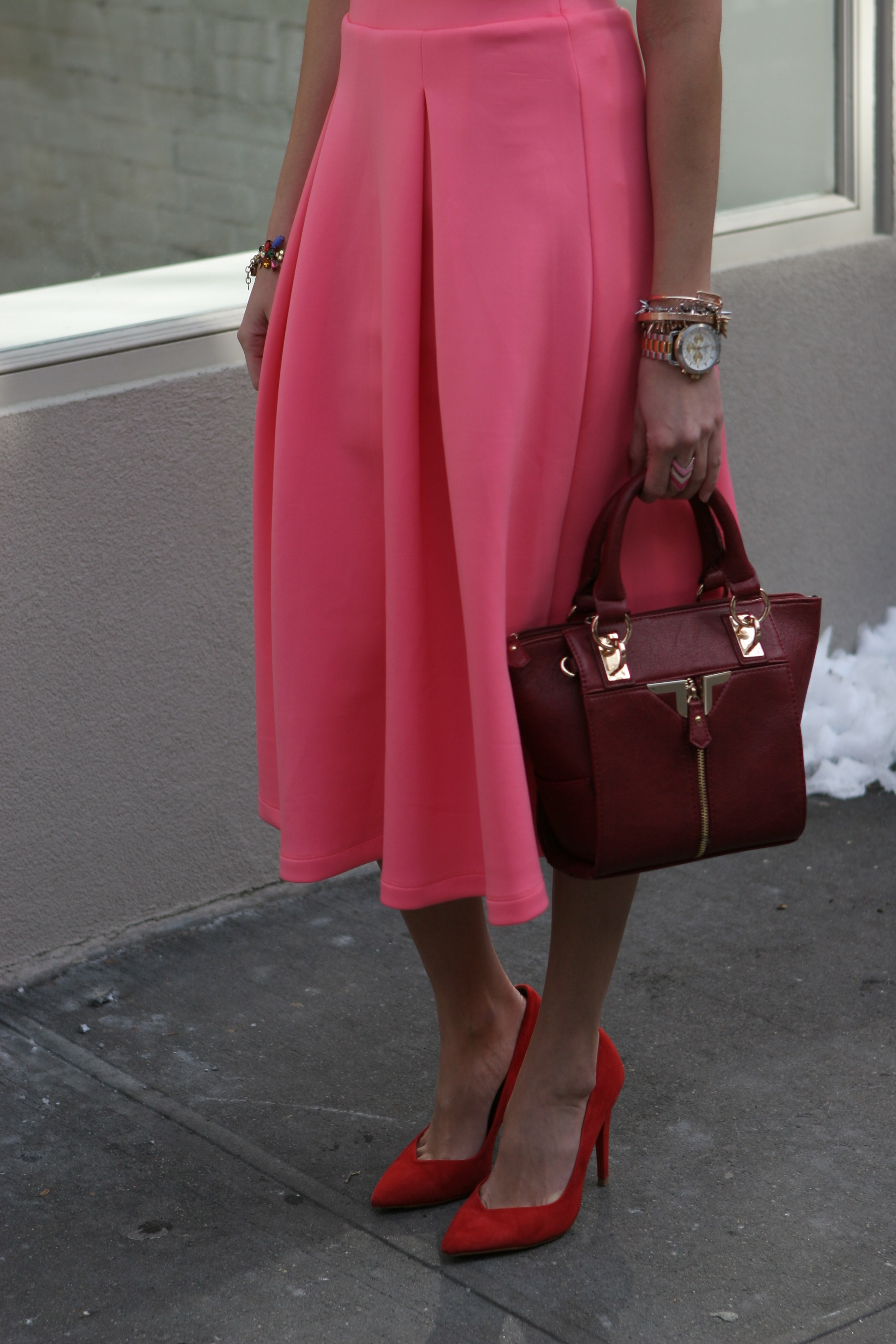 Ya estoy en un estado de ánimo de primavera y eso significa compartir algunos de mis looks y mis colores preferidos: rojo y rosado. Estos colores van tan bien juntos además de que me ponen de buen humor cuando creo que voy a estar usando este look sin un abrigo muy pronto … ¿dónde esta la primavera? Este look es un gran ejemplo de cómo voy a hacer la transición del invierno a la primavera. Los colores pops, blusas de manga corta y mi falda favorita: la falda full.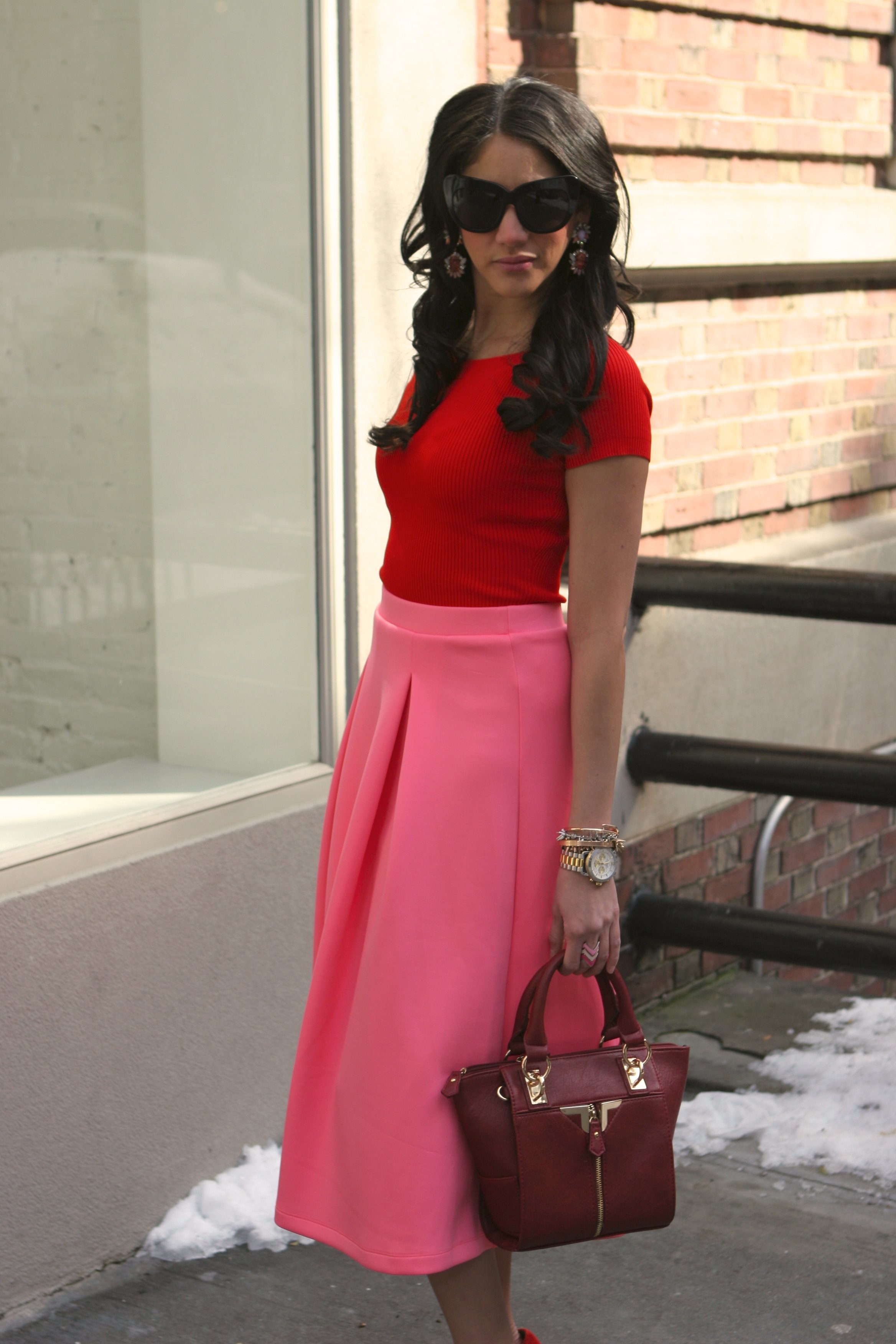 Falda Midi con plisados ASOS ​​(me encanta la falda negra también), vestido de manga corta Bebe vestido como una blusa, tacones rojos Zara (tengo estos Alice & Olivia también porque nunca se puede tener demasiados pares de zapatos de tacón de color rojo), cartera Danielle Nicole Alexa mini crossbody (una cartera super linda, elegante y bonita y a menos de $100, ¿necesito decir más?), y ya sabes que no puedo salir de la casa sin mis gafas preferidas House of Harlow Chelsea. Accesorios: Brazalete de J.Crew (me la regalaron por Navidad y me encanta, gracias Tony y Carol, aquí está otra similar), pulseras de racimo renegado Stella & Dot (la tienen en rosa rosa ahora, ya sé lo que voy a poner en mi lista de deseos ahora mismo!), brazalete clásico Anarchy Street, reloj Coach, pendientes de cortesía de The Front Row (me encantan estas gotas, se pueden usar con todo y están a menos de $20!).