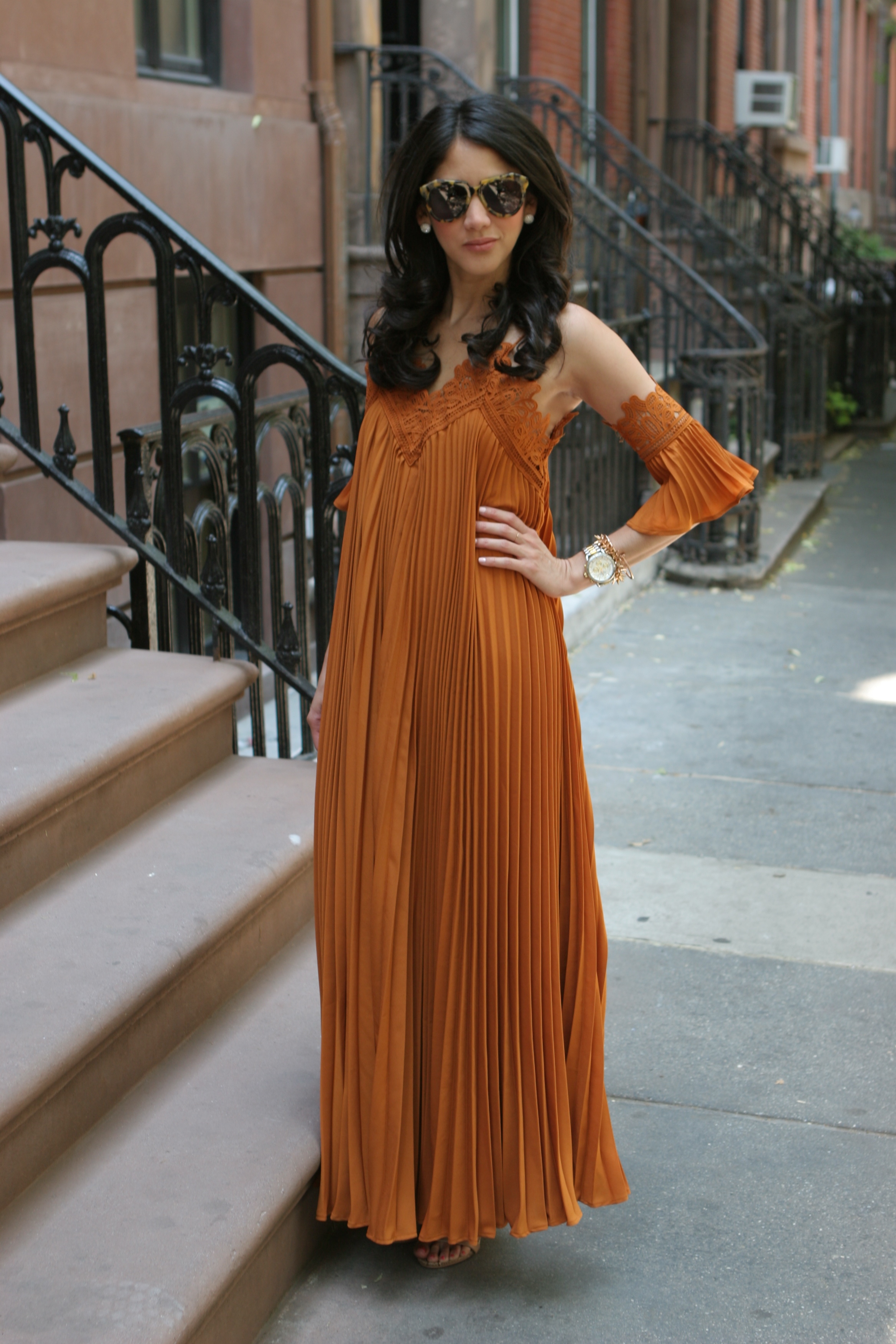 DRESS: SELF PORTRAIT PLEATED DRESS | SHOES: STEVE MADDEN FELIZ SANDALS VIA DSW | SUNGLASSES: KAREN WALKER NUMBER ONE SUNGLASSES | ACCESSORIES: COACH STAINLESS STEEL WATCH, STELLA & DOT RENEGADE CLUSTER BRACELET.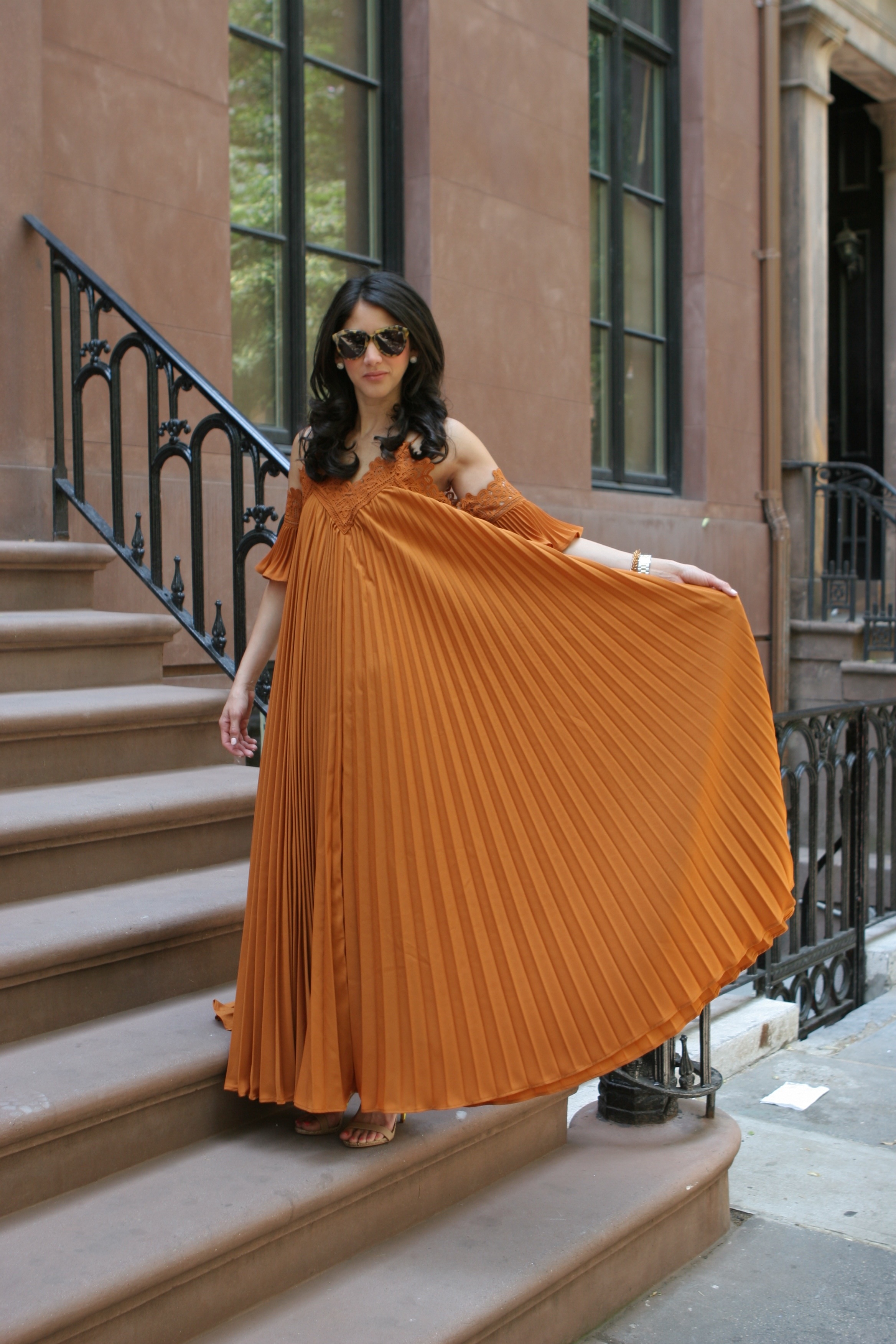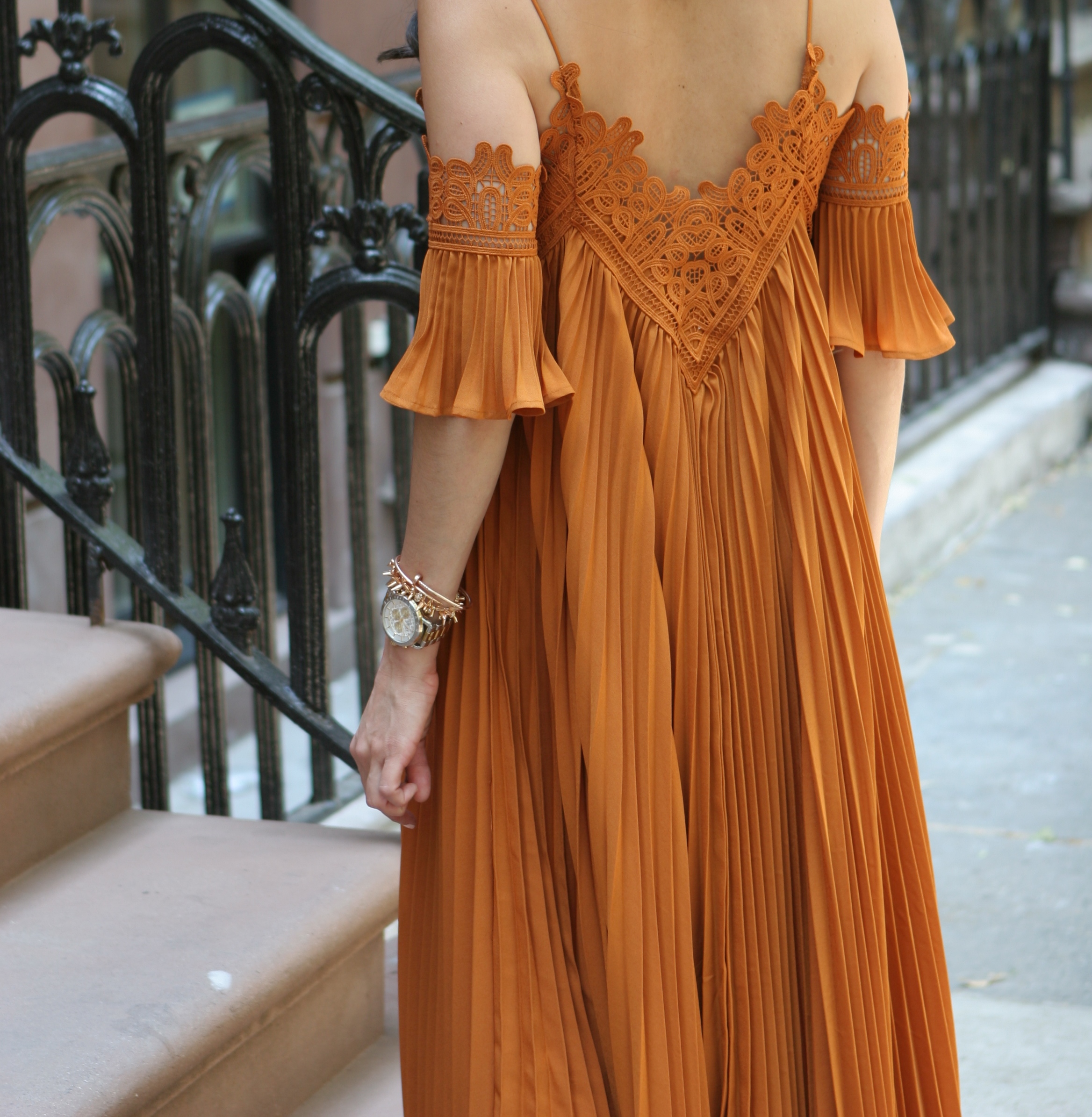 I've been a big fun of Self Portrait, their pieces are always very form fitting and the quality is amazing. When you try a dress on, it just falls perfectly into place, no hems needed, no alterations needed; it just fits you in all the right places. If you're a petite woman, this dress will work for you. The length is just right, you can wear this pleated maxi dress with flats or heeled sandals and it doesn't drag. This pleated dress is great for summer events, for an afternoon of brunch, shopping and being fabulous in the Hamptons or to celebrate a special occasion aka your birthday at Rosemary's. I have to say, it's a bit heavy so wear it when the weather is 75 degrees Fahrenheit or less. I would not recommend wearing this dress in 80-degree weather; well basically I stay indoors when the weather is as hot as it is right now. Want more good news? This dress is on sale everywhere and it's finally to a price that is not insane, still pricey but maybe just a little bit closer for consideration It would be a little gift from you to you but it's one of those pieces you'll have for a long time.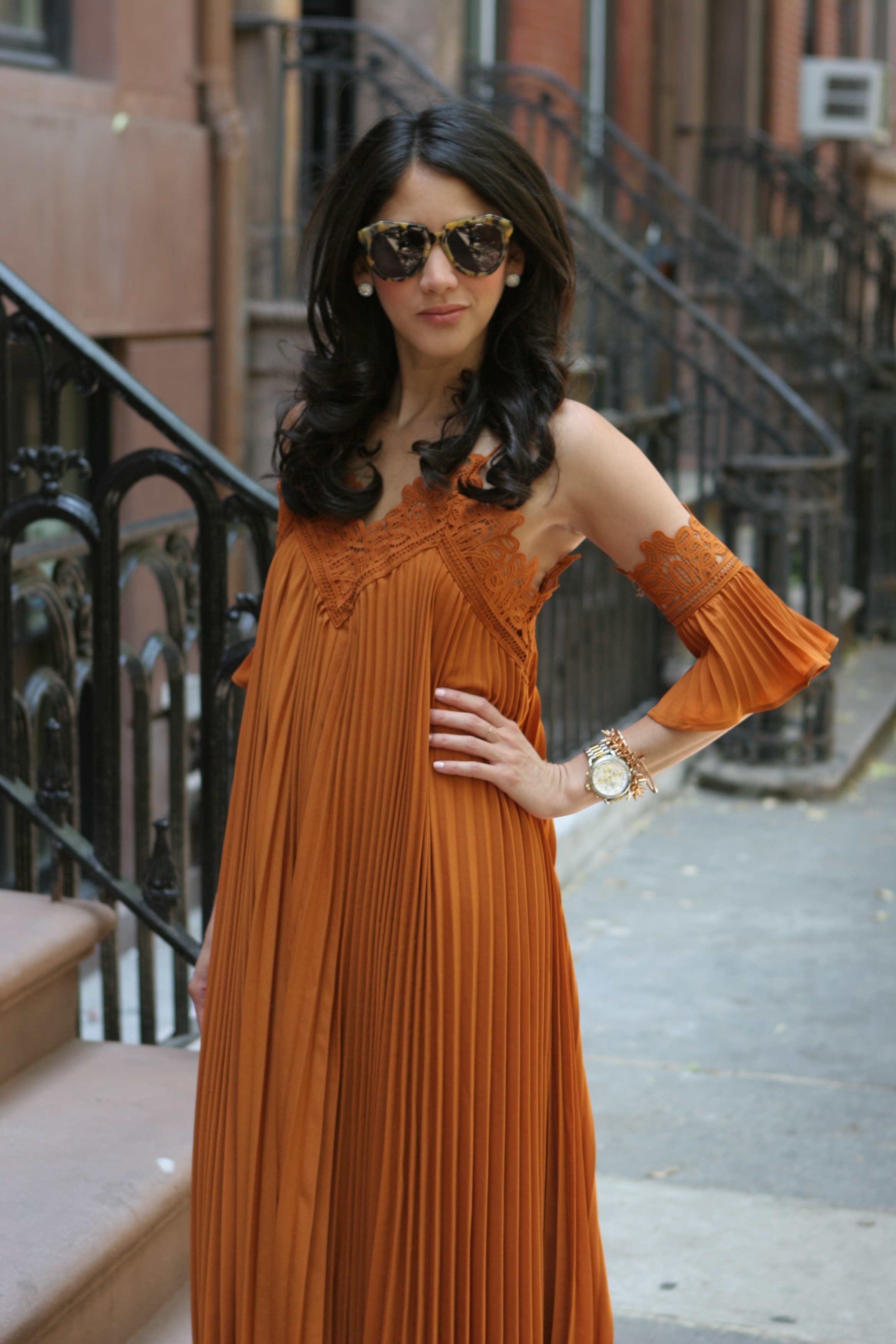 Ich habe ein großer Spaß von Self Portrait gewesen, ihre Kleidung sind, bilden immer sehr passend und die Qualität ist erstaunlich. Wenn Sie ein Kleid anprobieren, es fällt nur perfekt an ihren Platz, benötigt keine Säume, keine Änderungen erforderlich sind; es passt einfach in den richtigen Stellen. Wenn Sie eine zierliche Frau sind, wird dieses Kleid für Sie arbeiten. Die Länge ist genau richtig, können Sie diese gefaltete Maxi-Kleid mit Flats oder Sandaletten tragen und ziehen Sie es nicht. Das plissierte Kleid ist ideal für Veranstaltungen im Sommer, für einen Nachmittag Brunch, Einkaufen und in den Hamptons fabelhaft zu sein oder einen besonderen Anlass aka Ihren Geburtstag bei Rosemary's zu feiern. Ich muss sagen, es ist ein bisschen schwer es so tragen, wenn das Wetter 75 Grad Fahrenheit oder weniger beträgt. Ich würde dieses Kleid trägt in 80-Grad-Wetter nicht zu empfehlen; gut im Grunde ich im Haus bleiben, wenn das Wetter so heiß ist, wie es jetzt ist. Wollen Sie noch mehr gute Nachrichten? Dieses Kleid steht überall und es ist schließlich zu einem Preis, der nicht verrückt, immer noch teuer ist, aber vielleicht auch nur ein wenig näher zur Prüfung Es wäre ein kleines Geschenk von Ihnen zu Ihnen sein, aber es ist eines jener Stücke, die Sie für eine haben werden lange Zeit.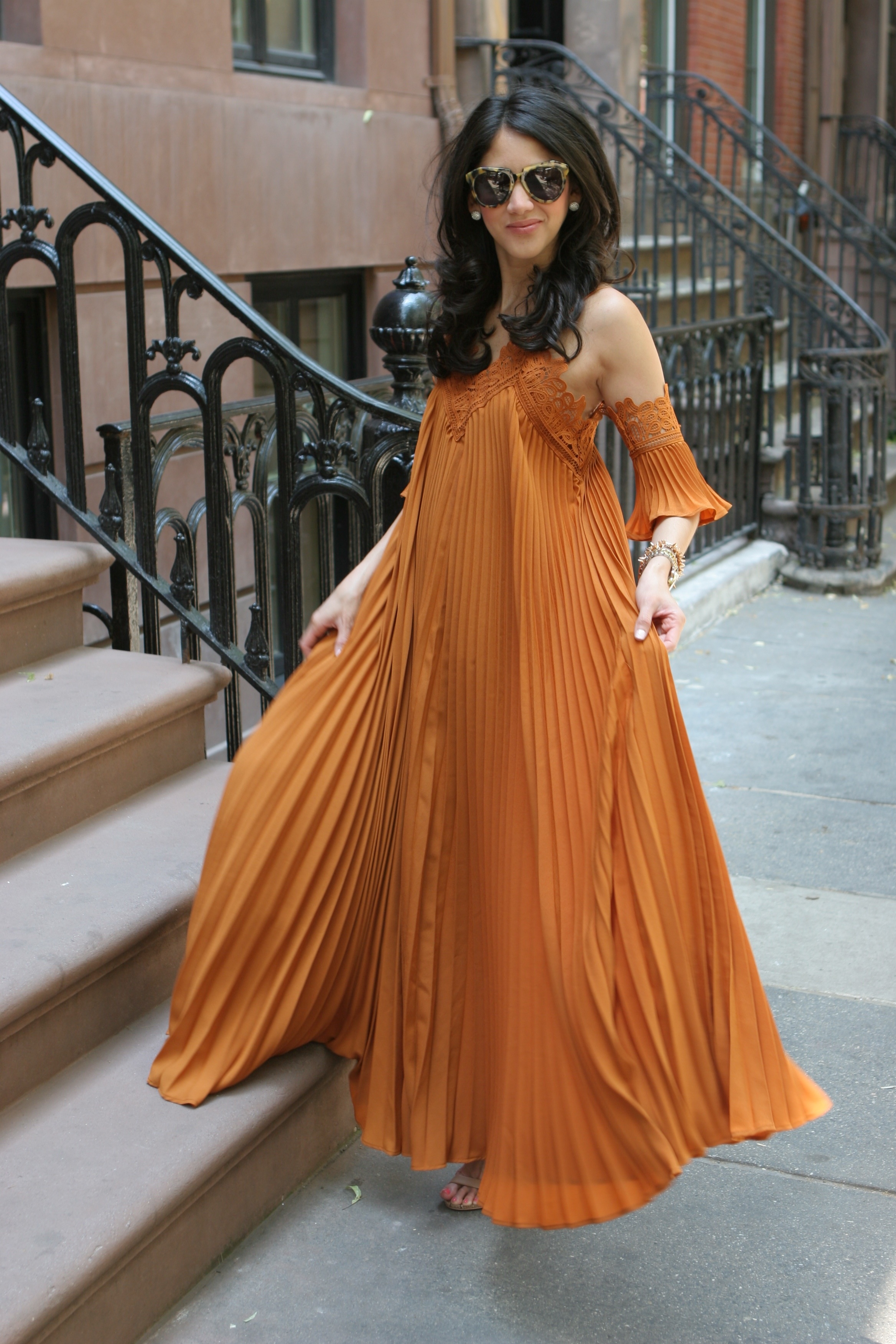 He sido fan de Self Portrait por algún tiempo, sus prendas son siempre muy ceñidas al cuerpo y la calidad es increíble. Cuando se prueba este vestido, simplemente cae perfectamente en su lugar, no se necesitan hacer dobladillos ni alteraciones; cabe en todos los lugares correctos. Si son mujeres petite, este vestido les va a armar muy bien. La longitud es correcta, pueden llevar este vestido maxi plisado flats o sandalias de tacón y no van a arrastrar el vestido. Este vestido plisado es ideal para eventos de verano, para una tarde de brunch, ir de compras y pasear en los Hamptons o para celebrar una ocasión especial como sus cumpleaños en Rosemary's, uno de mis restaurantes preferidos. Tengo que decir, que es un poco pesado y me lo pongo cuando el clima es de 75 grados Fahrenheit o menos. No recomendaría usar este vestido en un clima de 80 grados o más; básicamente, me quedo en casa cuando el clima está tan caliente como lo es en este momento. ¿Quieren más buenas noticias? Este vestido está en rebaja en todas partes y finalmente está a un precio que no es de locos, sigue siendo caro para mi bolsillo, pero está un poco más cerca para que lo considere comprar. Sería un pequeño regalo de ti para ti, pero es una de esas piezas que tendrás por una largo tiempo.
SHOP THE POST