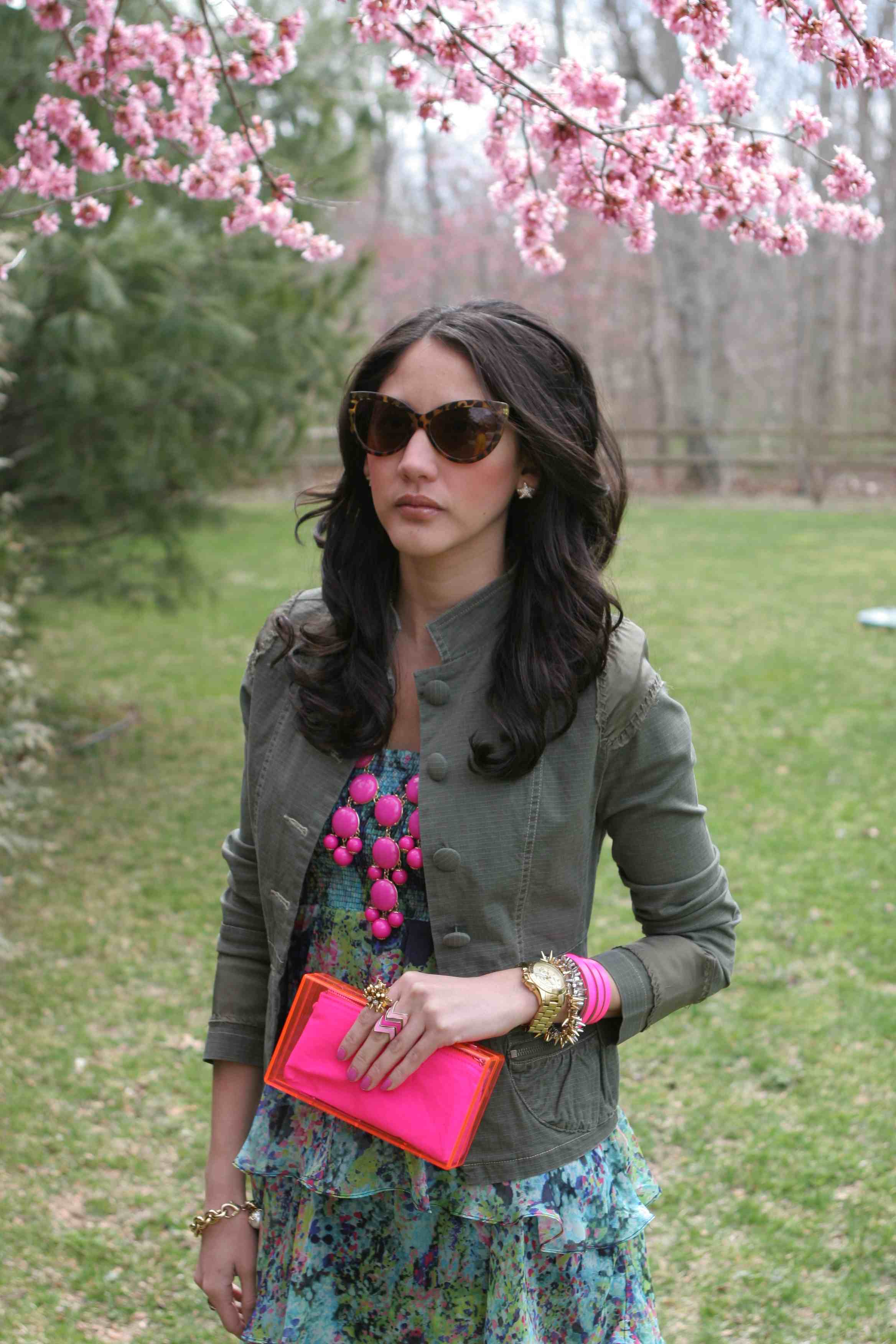 Floral dresses can brighten up every closet. The different shapes and colors give you countless of options with layers and accessories. Sometimes I even wear a double stack of these lovely JCrew bubble necklaces for fun and for a splash of pop of colors. This time, I chose to wear pink pops accents to bring out the pink flowers on the dress. From the pink bubble necklace, to the rings, arm candy and my favorite neon pink clutch, the whole ensemble pops. ZARA floral dress (old but ZARA and ASOS has many cute similar options), Forever 21 cap toe ballet flats, JCrew bubble necklace, ZARA neon box clutch, ASOS cat eye sunglasses, Michael Kors oversized watch, Stella & Dot renegade cluster bracelet, H&M belt-bracelet, Mint Julep Starfish Earrings, Bauble Bar chevron rings, Stella & Dot renegade cluster ring, Chanel Joues Contraste 55, MAC Viva Glam V lip gloss, Essie 'Pansy' nail polish from Nordstrom.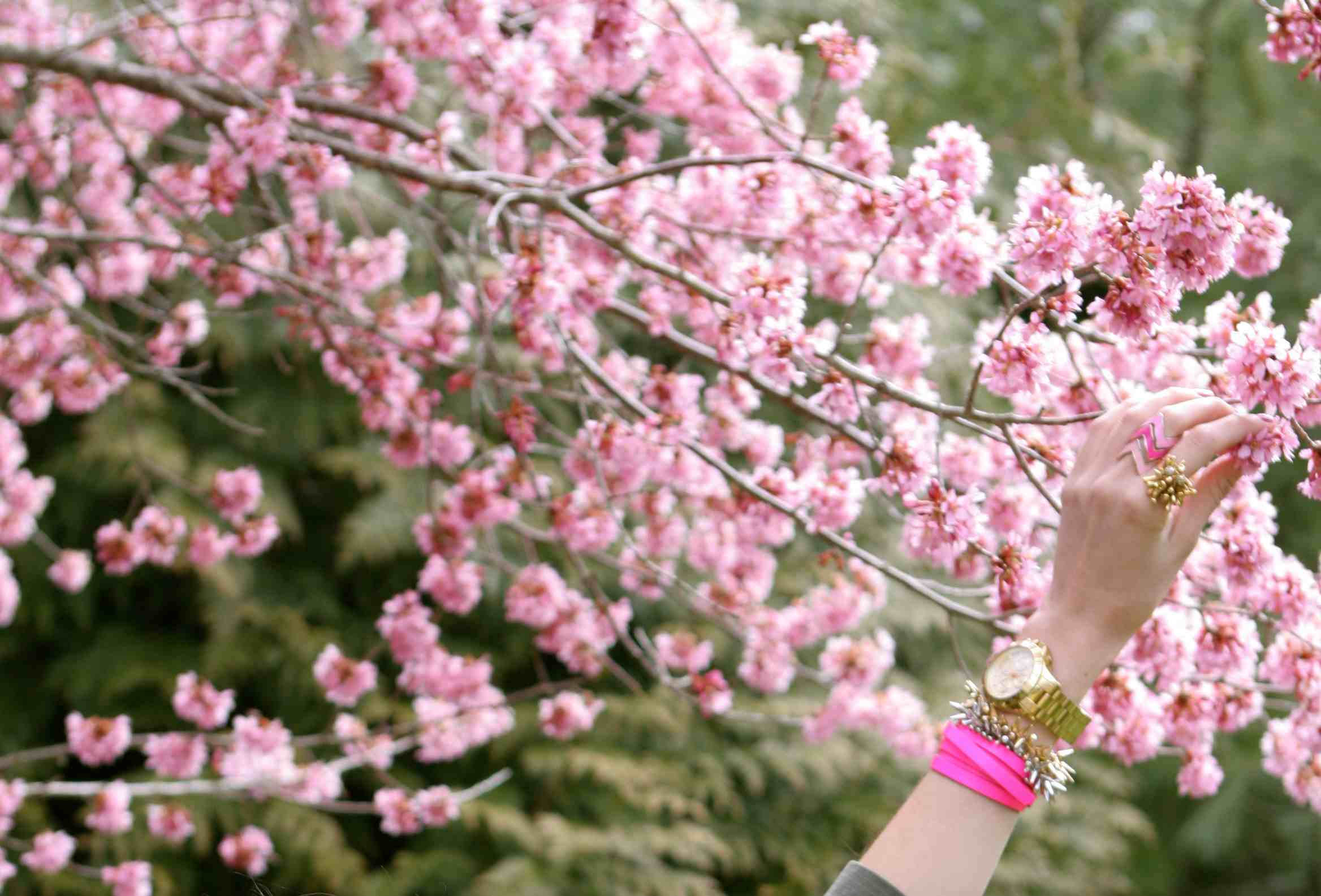 Floral Kleider können erhellen jeden Kleiderschrank. Die verschiedenen Formen und Farben geben Ihnen unzählige Möglichkeiten mit Ebenen und Zubehör. Manchmal habe ich sogar tragen eine doppelte Stapel dieser schönen JCrew bubble Halsketten für Spaß und für einen Hauch von Pop-Farben. Dieses Mal entschied ich mich zu rosa pops Akzente zu tragen, bringen die rosa Blumen auf dem Kleid. Von der rosa Blase Halskette, an den Ringen, arm candy und mein Favorit neon pink Kupplung, springt das ganze Ensemble. ZARA geblümten Kleid (alt, aber ZARA und ASOS hat viele nette ähnliche Optionen), Forever 21 cap toe Ballerinas, JCrew bubble Halskette, ZARA neon box Kupplung, ASOS Katzenauge Sonnenbrille, Michael Kors übergroßen Uhr, Stella & Dot abtrünnigen Cluster-Armband, H&M Gürtel-Armband, Mint Julep Starfish Ohrringe, Bauble Bar Dachmanschetten, Stella & Dot abtrünnigen Cluster-Ring, Chanel Joues befahren Contraste 55, MAC Viva Glam V Lipgloss, Essie 'Pansy' Nagellack von Nordstrom.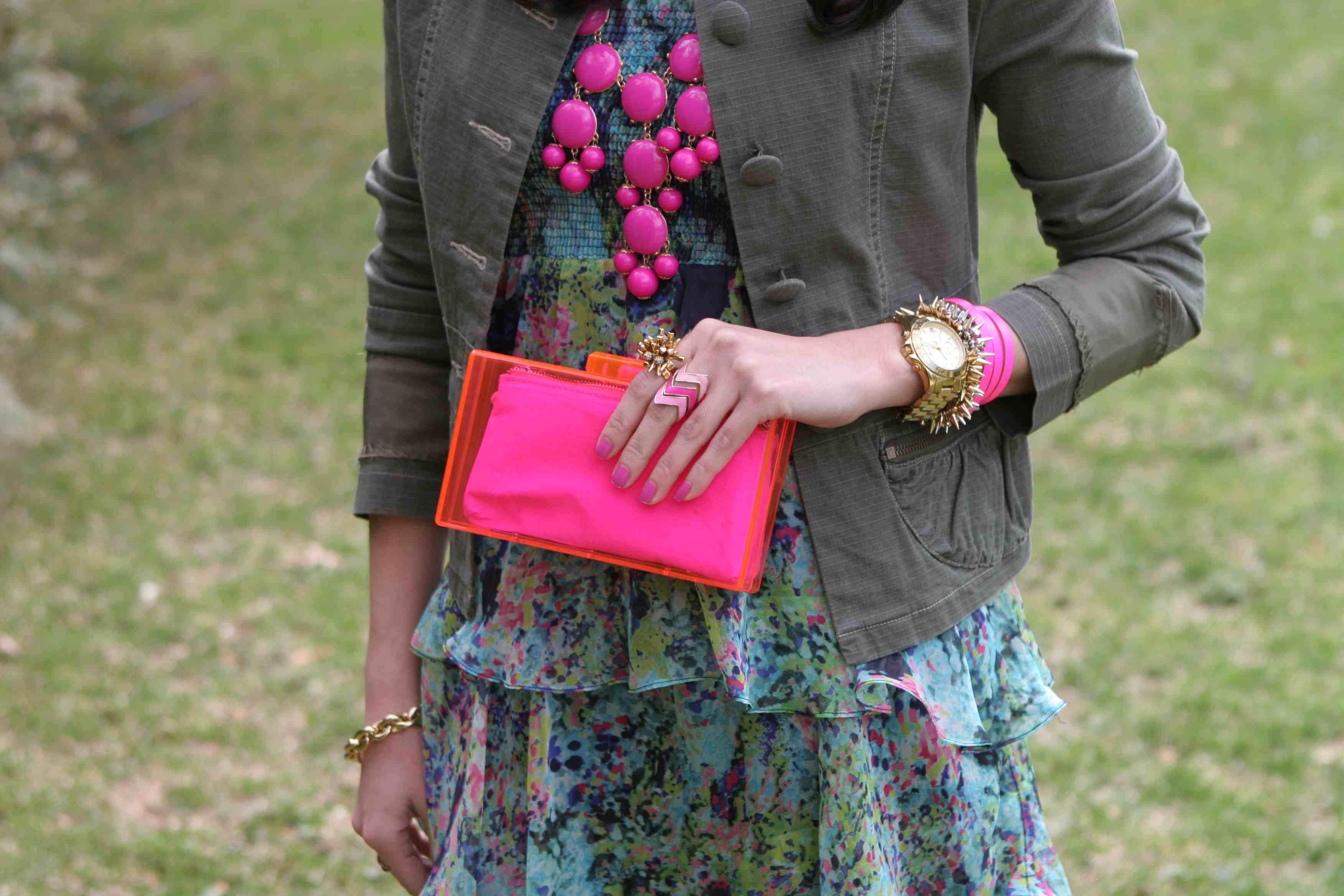 Los vestidos de flores pueden alegrar cualquier armario. Las diferentes formas y colores te dan un sin número de opciones con capas y accesorios. A veces, me pongo una pila doble de estos collares de burbuja preciosos de JCrew para que sea más divertido y darle un toque de pop de colores. Esta vez, he optado por usar acentos rosados pops para resaltar las flores de color rosa en el vestido. Desde el collar e burbuja rosa, los anillos, la fiesta en mis brazos y mi cartera neon rosa favorita, todo el conjunto hace pop. Vestido de flores de ZARA (viejo, pero ZARA y ASOS tienen muchas opciones similares lindas), Forever 21 zapatos de ballerina, collar de burbuja JCrew, cartera neón ZARA, gafas de sol ojo de gato ASOS, reloj Michael Kors, pulseras de Stella & Dot, H&M pulsera de correa, aretes de estrellas de mar Mint Julep, Bauble Bar anillos de Chevron, Stella & Dot anillo renegado clúster, Chanel Joues Contraste 55, MAC Viva Glam V brillo de labios, laca de 'Pensamiento' Essie esmalte de Nordstrom.