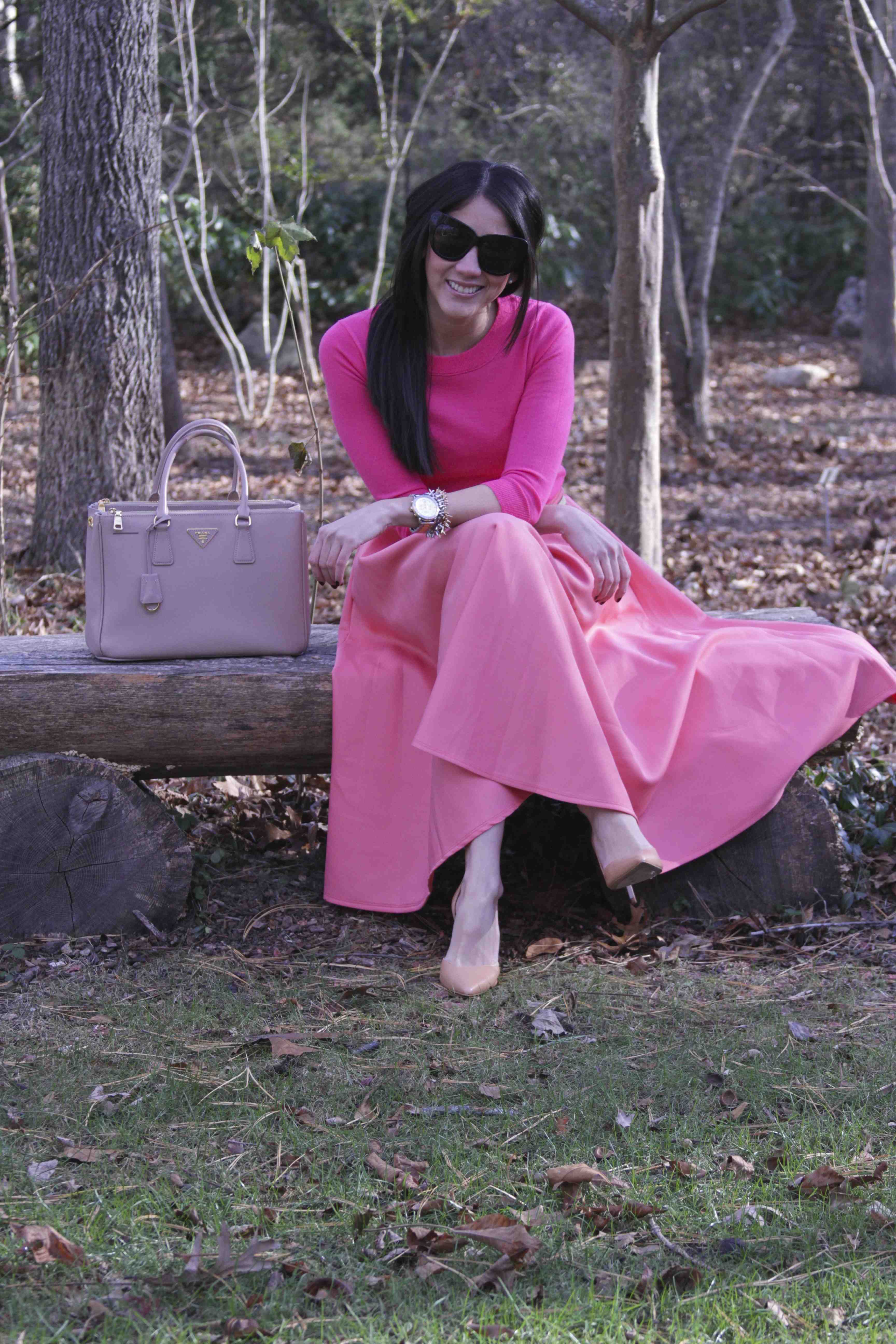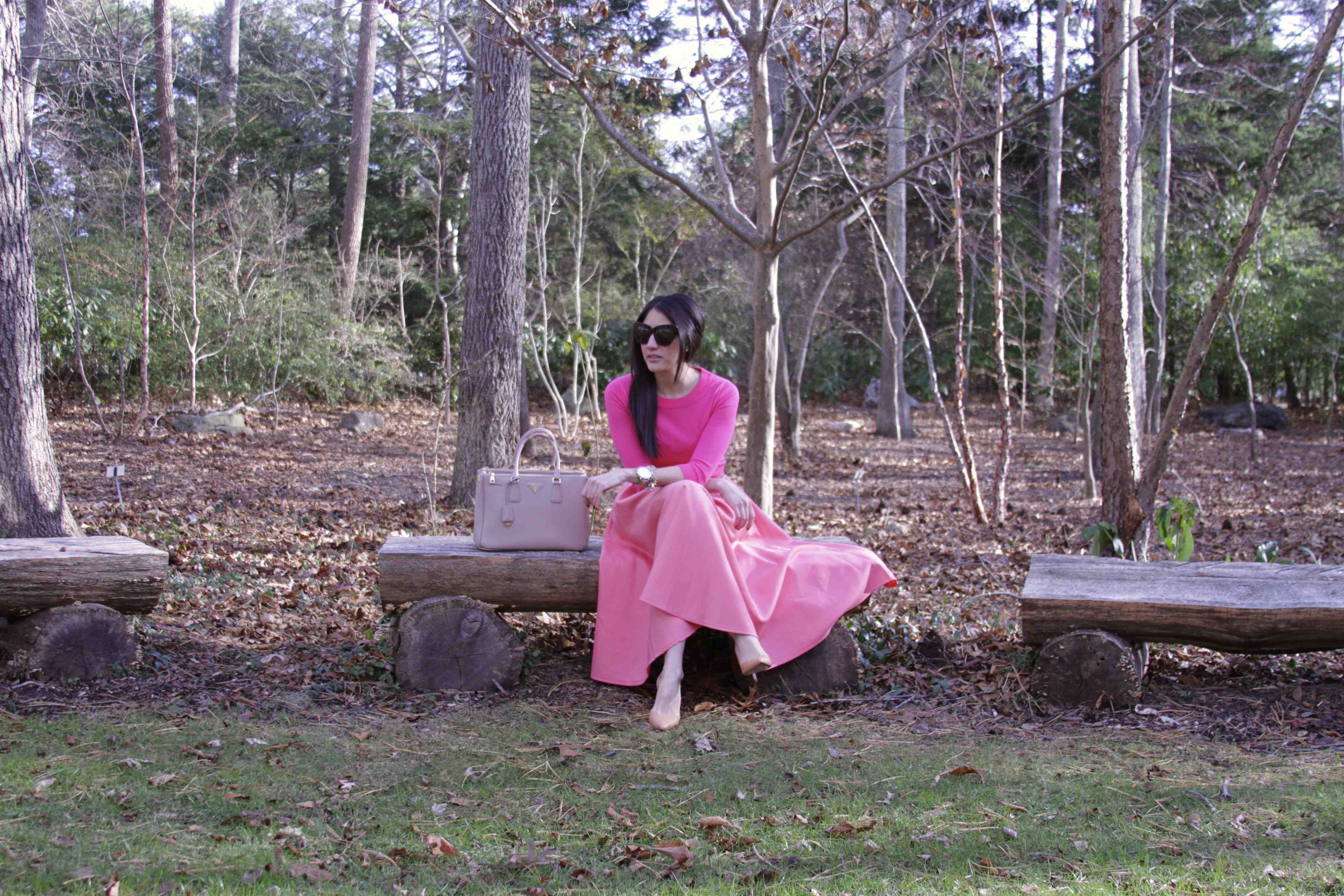 During Thanksgiving weekend I visited the Long House in East Hampton, NY. It's a beautiful reserve filled with beautiful gardens, sculptures and art everywhere. Lucky me it was member-day so we got to tour the house, which showed the owner's textile work. As you may already know, I'm really into full/midi skirts. A full skirt adds curves and slims the waist, which works great for me because I've always wanted to have a smaller waist or bigger hips and since that doesn't seem to be happening, I LOVE when I find clothes that make this happen. This skirt has some serious twirl-action going on. This along with the other midi skirts I've been showing you lately are by far my favorite skirts of the moment. In order to keep things stylish and fun, I paired this bubbly pink ASOS midi skirt with my favorite pink tippi sweater from J.Crew, my pink Prada Saffiano lux small tote, House of Harlow 1960 Chelsea sunglasses, coach watch via T.J.Maxx, Stella & Dot renegade cluster bracelets, and pointy-toe Zara heels. To complete the look I added a gold skinny belt from J.Crew to add a little sparkle. These photos were taken at the Council ring, seating area in the southwest corner of the property. It was a magical place, I felt a little bit like Snow White in the forest.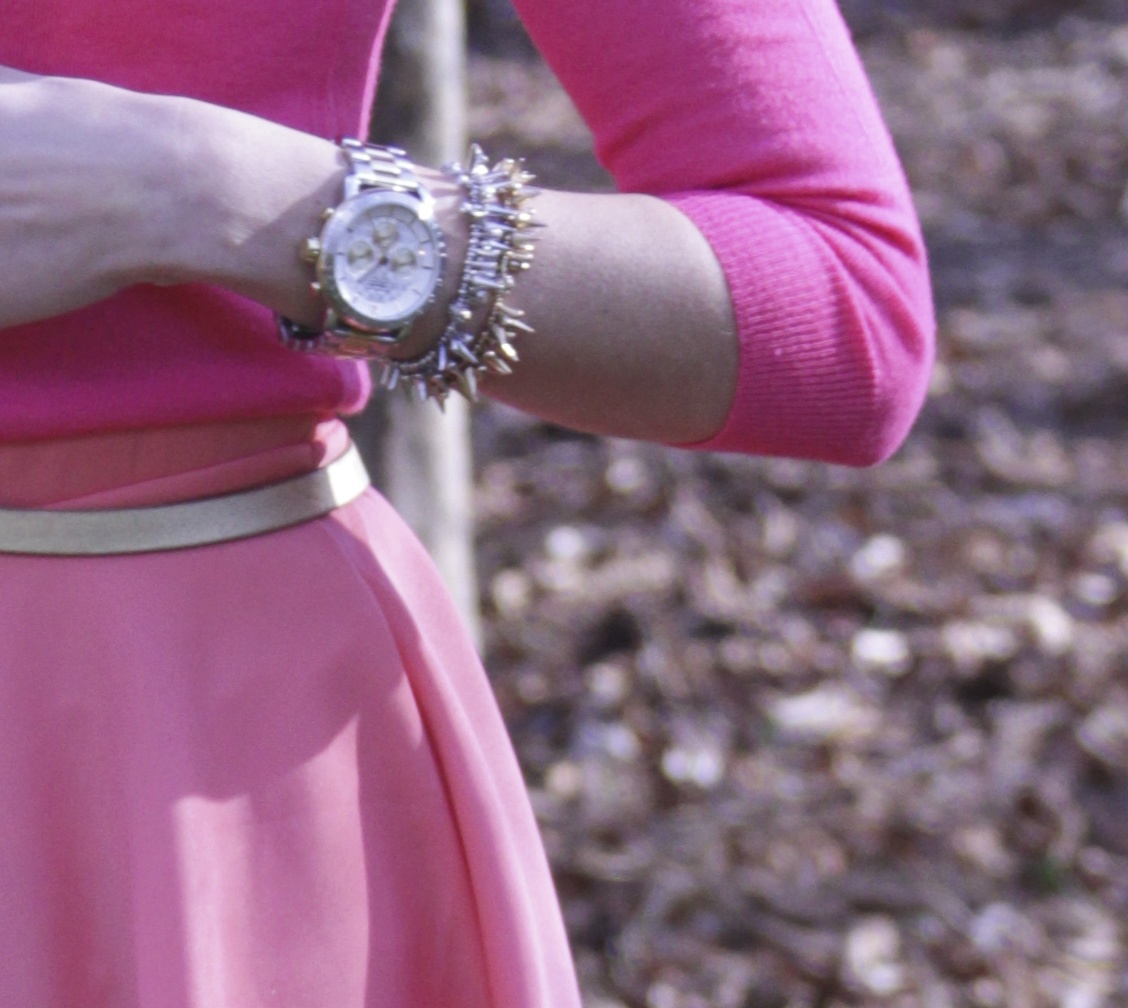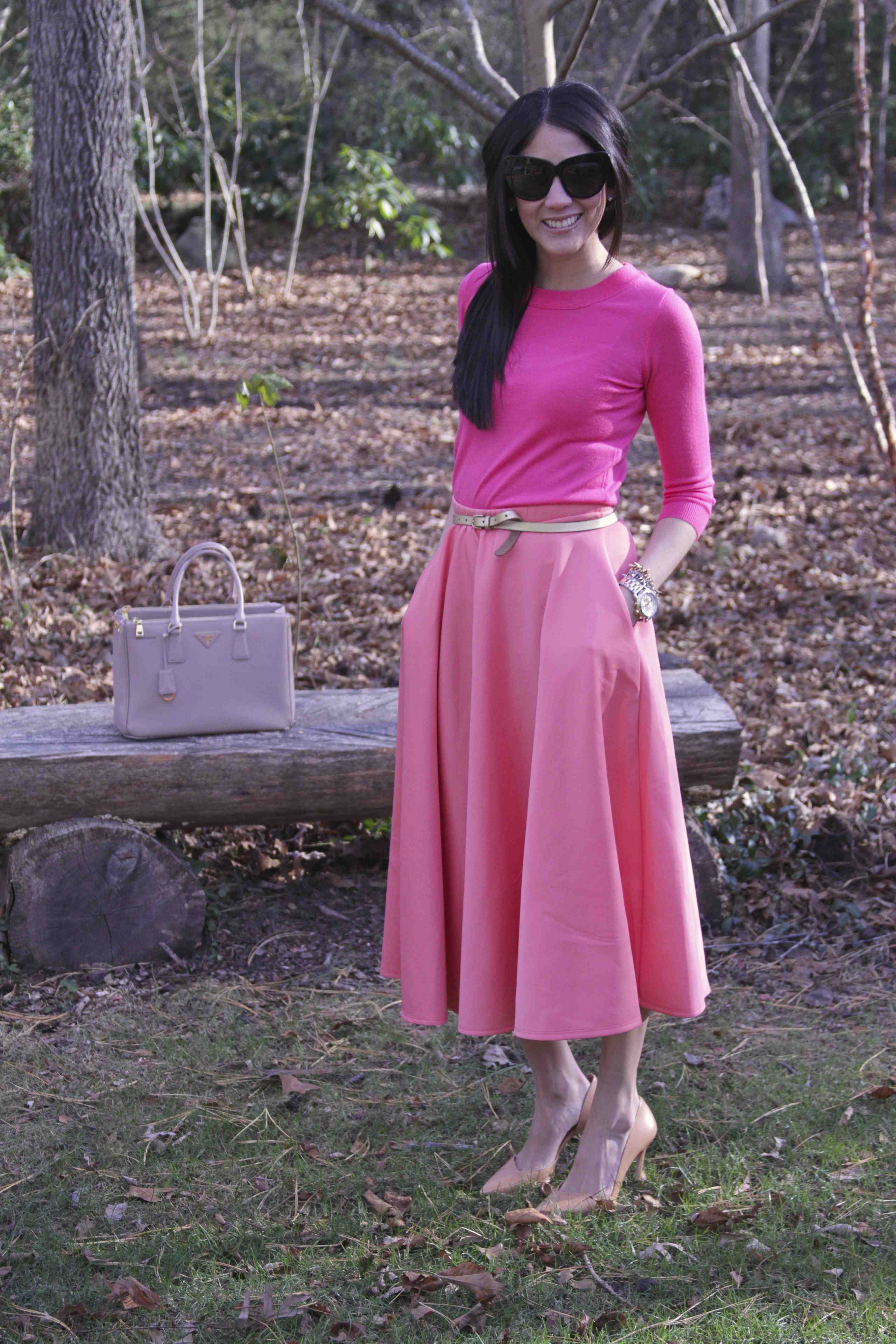 Während der Thanksgiving-Wochenende besuchte ich das Long House in East Hampton, NY. Es ist eine schöne Reserve mit schönen Gärten, Skulpturen und Kunst überall gefüllt. Glück für mich war er Mitglied Tag, so lernten wir das Haus, das der Eigentümer Textilarbeit zeigte Tour. Wie Sie vielleicht schon wissen, ich liebe wirklich Voll/Midi- Röcke. Ein voller Rock fügt Kurven und verschlankt die Taille, die funktioniert gut für mich, denn ich wollte schon immer eine kleinere oder größere Taille und Hüften haben, da das scheint nicht der Fall zu sein, ich liebe, wenn ich finde, Kleidung, die dies möglich machen. Dieser Rock hat einige ernsthafte Twirl-Aktion geht. Dies zusammen mit den anderen Midi- Röcke Ich habe Ihnen zeigt, in letzter Zeit sind die mit Abstand mein Lieblings Röcke des Augenblicks. Um die Dinge stilvoll und Spaß zu halten, gepaart ich dieses sprudelnde rosa ASOS midi Rock mit meiner Lieblings-rosa Pullover aus tippi J.Crew, meine rosa Prada Saffiano lux kleine Tasche, House of Harlow 1960 Chelsea Sonnenbrille, coach Uhr via T.J.Maxx, Stella & Dot renegade cluster Armbänder, und spitzen Zara Schuhe. Um den Look zu vervollständigen Ich habe eine Gold schmalen Gürtel von J.Crew, um ein wenig Glanz hinzuzufügen. Diese Fotos wurden im Council ring genommen, einen Sitzbereich in der südwestlichen Ecke des Grundstücks. Es war ein magischer Ort, fühlte ich mich ein bisschen wie Schneewittchen in den Wald.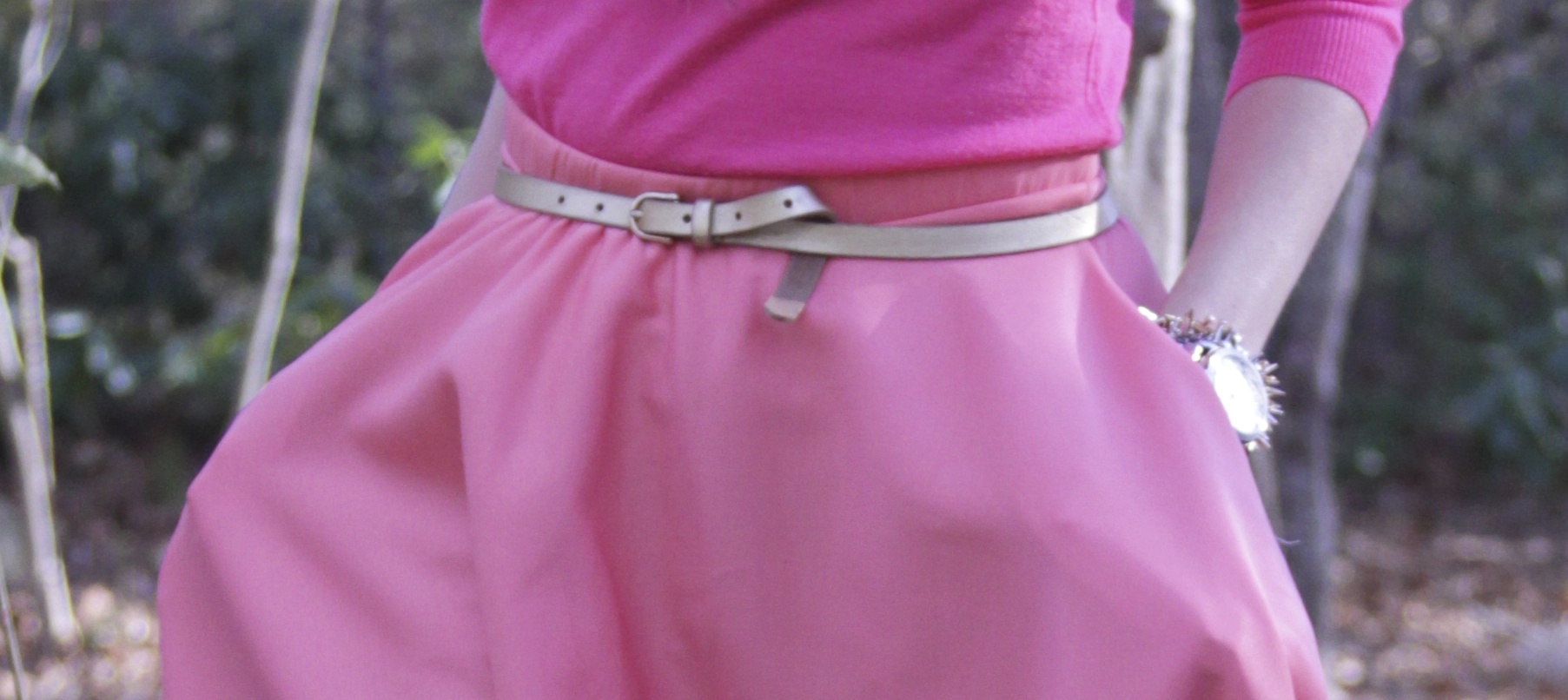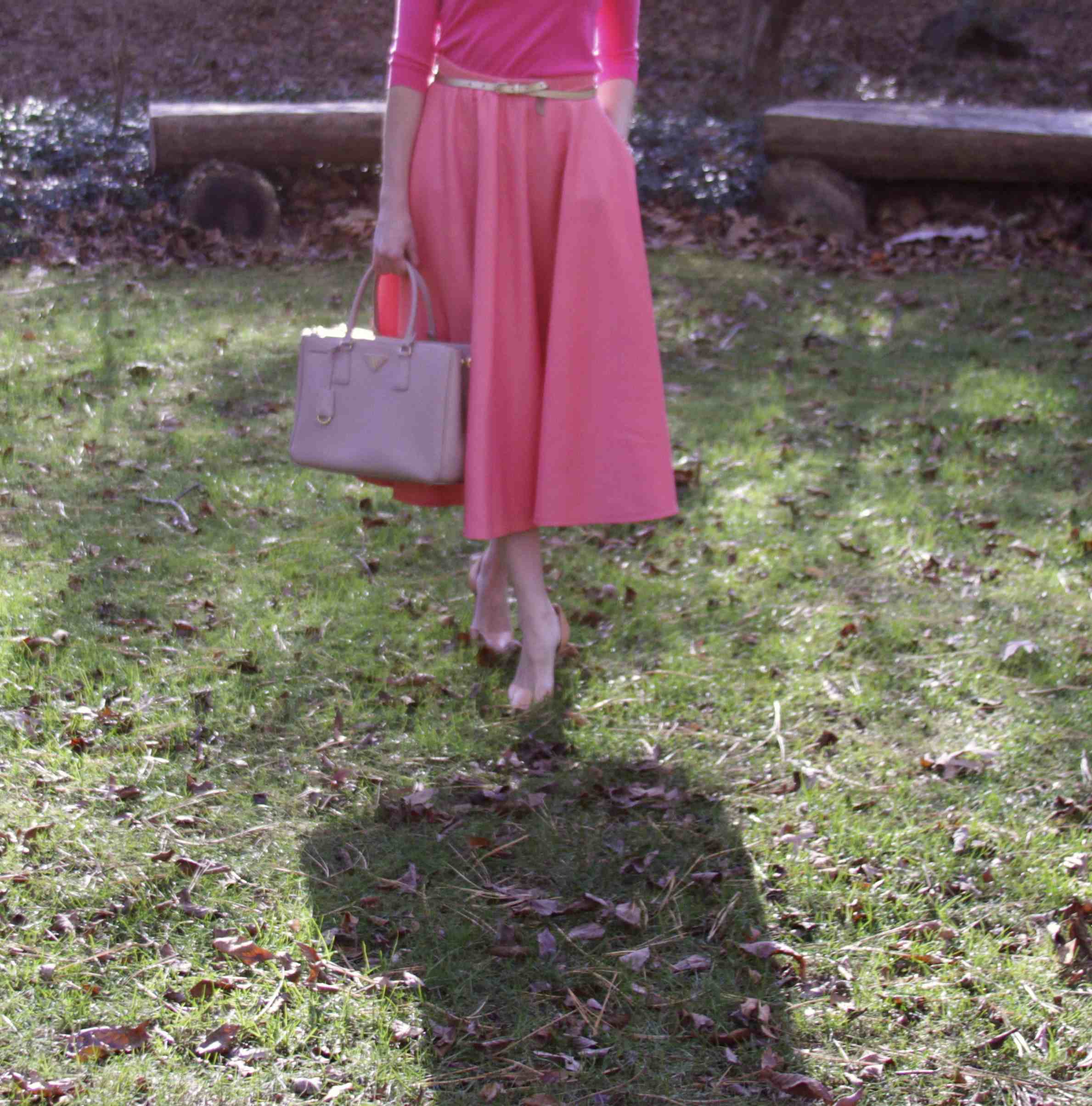 Durante el fin de semana de Acción de Gracias, visité Long House en East Hampton, Nueva York. Es una hermosa reserva llena de hermosos jardines, esculturas y obras de arte por todos lados. Qué suerte la mía que era día de los socios, así que pudimos visitar la casa que mostró el trabajo textil de los propietarios. Como ustedes ya saben, estoy enamorada de las faldas full/midi. Una falda full agrega curvas y adelgaza la cintura, que funciona muy bien para mí porque siempre he querido tener una cintura más pequeña o caderas más grandes y ya que eso no parece estar sucediendo en ningún tiempo cercano, me encanta cuando puedo encontrar ropa que hace que esto suceda. Esta falda tiene un serio giro de acción. Esta, junto con el resto de las faldas midi que he estado mostrando últimamente son mis faldas favoritas del momento. Con el fin de mantener las cosas elegantes y divertidas, combiné esta burbujeante falda rosada midi de ASOS midi con mi suéter rosa tippi favorito de J.Crew, mi rosa cartera pequeña Prada Saffiano lux, gafas House of Harlow 1960 Chelsea, reloj coach via T.J.Maxx, Stella & Dot renegade cluster pulseras y zapatos de tacón Zara. Para completar el look he añadido un cinturón dorado de J.Crew para añadir un poco de chispa. Estas fotos fueron tomadas en el Council ring, área en la esquina suroeste de la propiedad de estar. Era un lugar mágico, me sentí un poco como Blancanieves en el bosque.