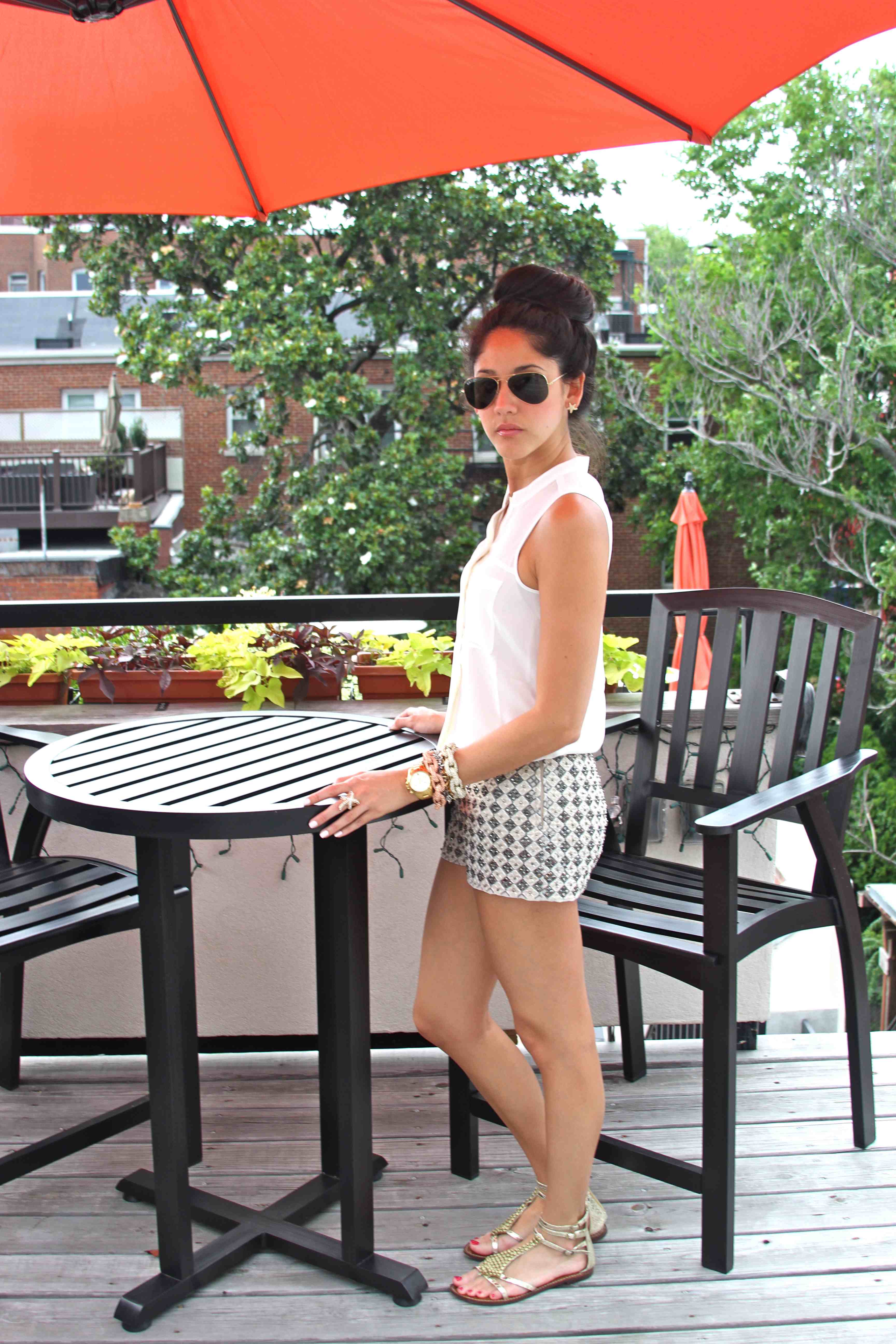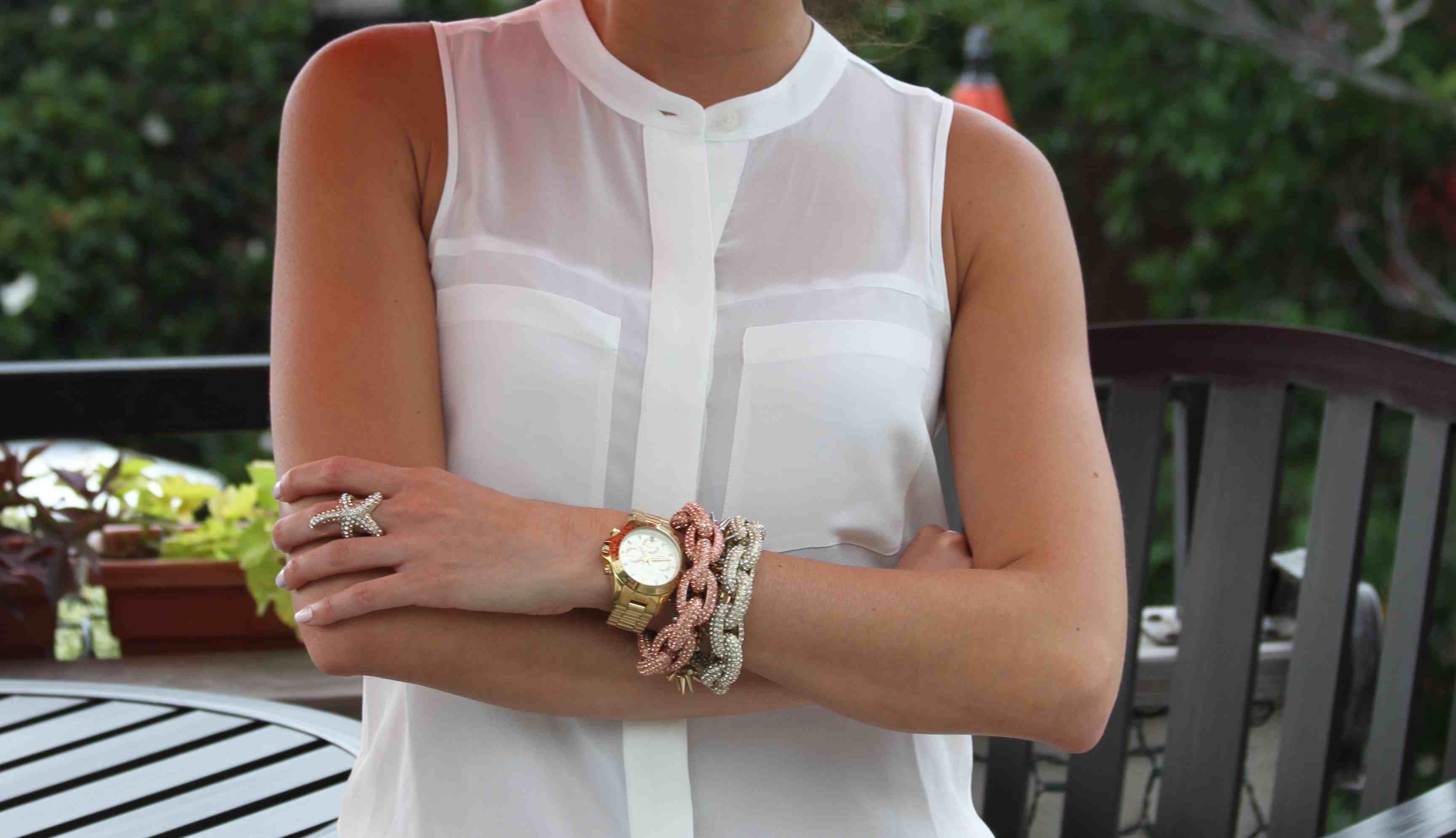 I can't get enough of this glitter wonder! What better way to embrace summer, but with these amazing shorts and this super easy-breezy white tank, right? Summer and white go hand in hand. I can't wear enough white this season. If you're looking for cute, affordable outfits to wear this summer when you go out at night, hang out with your boyfriend or just go get cocktails with your girlfriends, these ensemble is your answer. I hope everyone is having a fantastic summer, XO. Madewell silk cargo tank, H&M Beyonce line shorts (last seen here), Sam Edelman sandals, Fornash Starfish stud earrings, Michael Kors watch, Bauble Bar chunky chain bracelets, Stella & Dot renegade cluster bracelets, Ray-Ban 'Original Aviator' 58mm Sunglasses, Chanel Joues Contraste 55, MAC Viva Glam V lip gloss.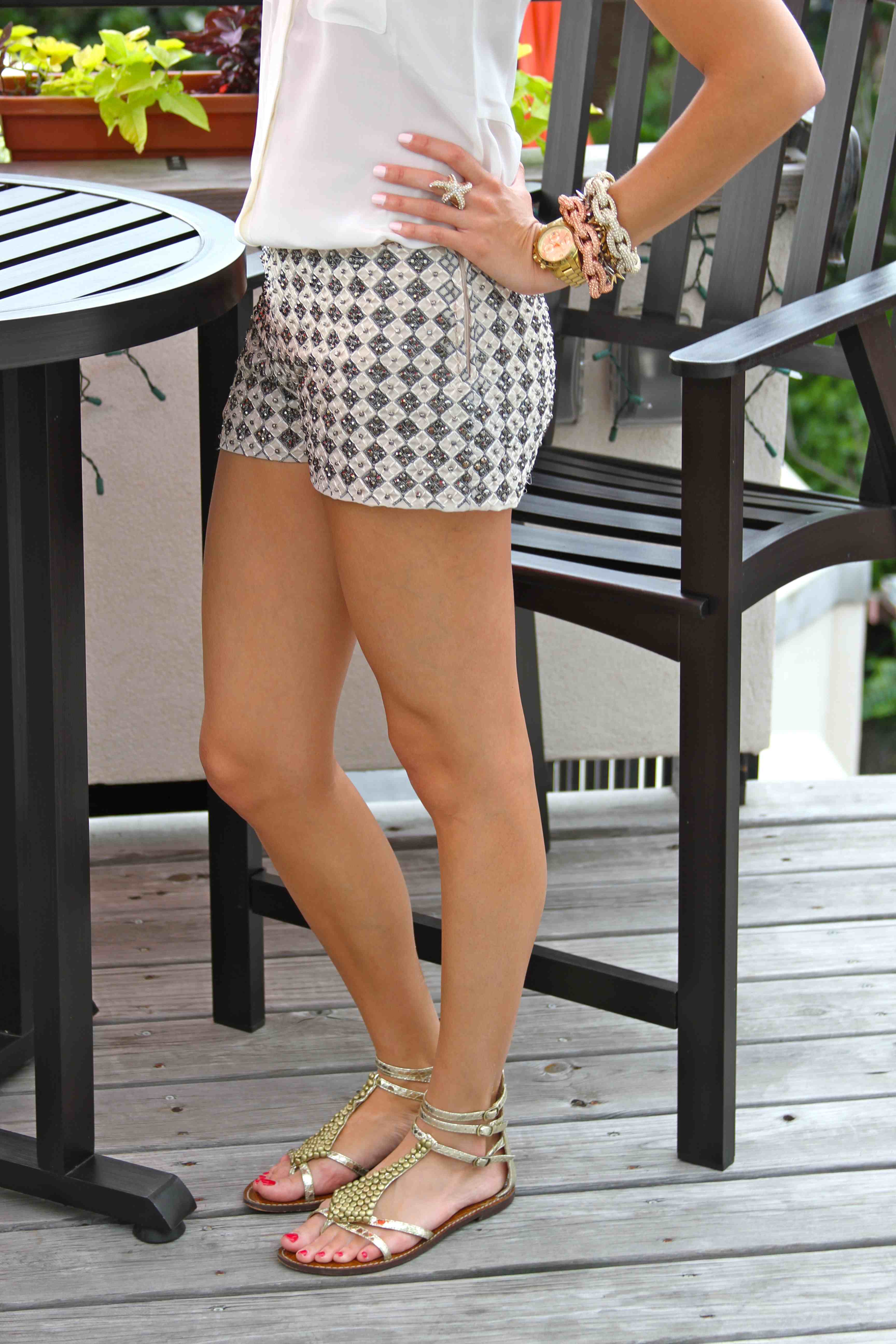 Ich kann nicht genug bekommen von diesem Glitter Wunder! Gibt es einen besseren Weg, um im Sommer zu umarmen aber mit diesen erstaunlichen Shorts und diese super leicht luftigen weißen Tank, nicht wahr? Sommer und weiße Hand in Hand gehen. Ich kann nicht genug tragen weiße in dieser Saison. Wenn Sie für nette, bezahlbare Outfits suchen zu tragen in diesem Sommer, wenn Sie sich in der Nacht gehen, rumhängen mit Ihrem Freund oder gehen Sie einfach zu Cocktails mit Ihren Freundinnen, diese Kleidung ist deine Antwort. Ich hoffe, jeder wird mit einem fantastischen Sommer, XO. Madewell Hemd, H&M Beyonce Linie Shorts (zuletzt hier gesehen), Sam Edelman Sandalen, Fornash Seesterne Ohrstecker, Michael Kors Uhr, Bauble Bar Armbänder, Stella & Dot Armbänder, Ray-Ban 'Original Aviator "58mm Sonnenbrille, Chanel Joues Contraste 55, MAC Viva Glam V Lipgloss.
No puedo tener suficiente de este maravilla brillo! ¿Qué mejor manera de abrazar el verano, que con estos shorts increíbles y este top blanco super chevere, verdad? Verano y blanco van de la mano. No puedo usar suficiente atuendos blancos esta temporada, me encantan. Si ustedes están buscando atuendos lindos y asequibles este verano cuando salen por la noche, pasean con sus novios o simplemente salen a tomar cócteles con sus amigas, estos conjuntos son su respuesta. Espero que todo el mundo está teniendo un verano fantástico, XO. Camisa de seda Madewell, shorts cortos de H&M de la línea Beyonce (visto por última vez aquí), sandalias Sam Edelman, aretes de estrellas de mar Fornash, reloj Michael Kors, pulseras gruesas Bauble Bar, pulsearas Stella & Dot, Ray-Ban Aviator originales gafas de sol de 58 mm , Chanel Joues Contraste 55, MAC Viva Glam V brillo de labios.