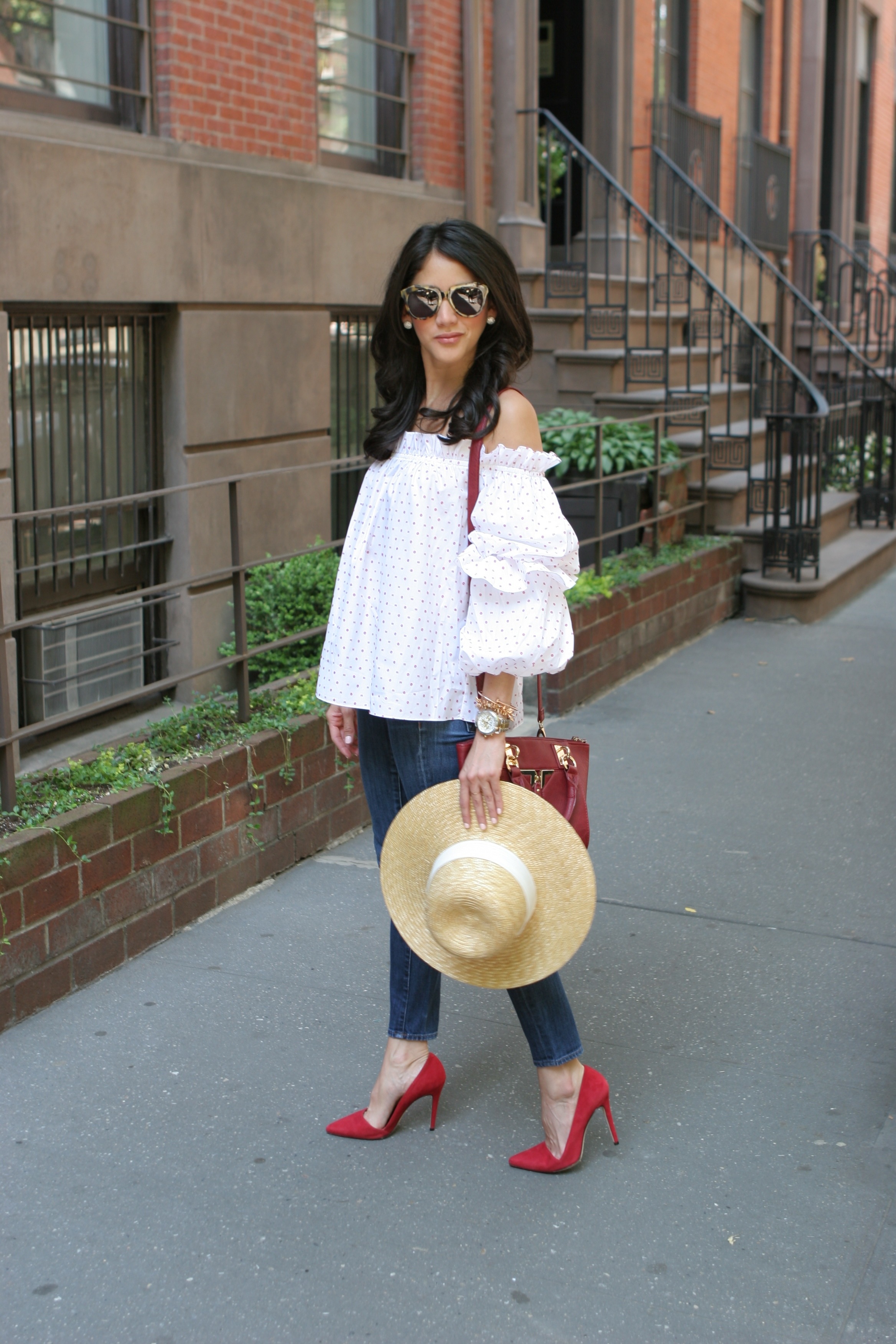 TOP: CAROLINE CONSTAS GIA OFF THE SHOULDER SWISS DOT TOP | PANTS: J.CREW TOOTHPICK JEAN IN WHITE | SHOES: ALICE + OLIVIA SUEDE POINTED TOE PUMPS (NOW $45) | HAT: BRIXTON 'JOANNA' STRAW HAT | BAG: DANIELLE NICOLE FAUX LEATHER TOTE ($14.99) | SUNGLASSES: KAREN WALKER NUMBER ONE SUNGLASSES | WATCH: COACH STAINLESS STEEL WATCH | BRACELET: STELLA & DOT RENEGADE CLUSTER BRACELET.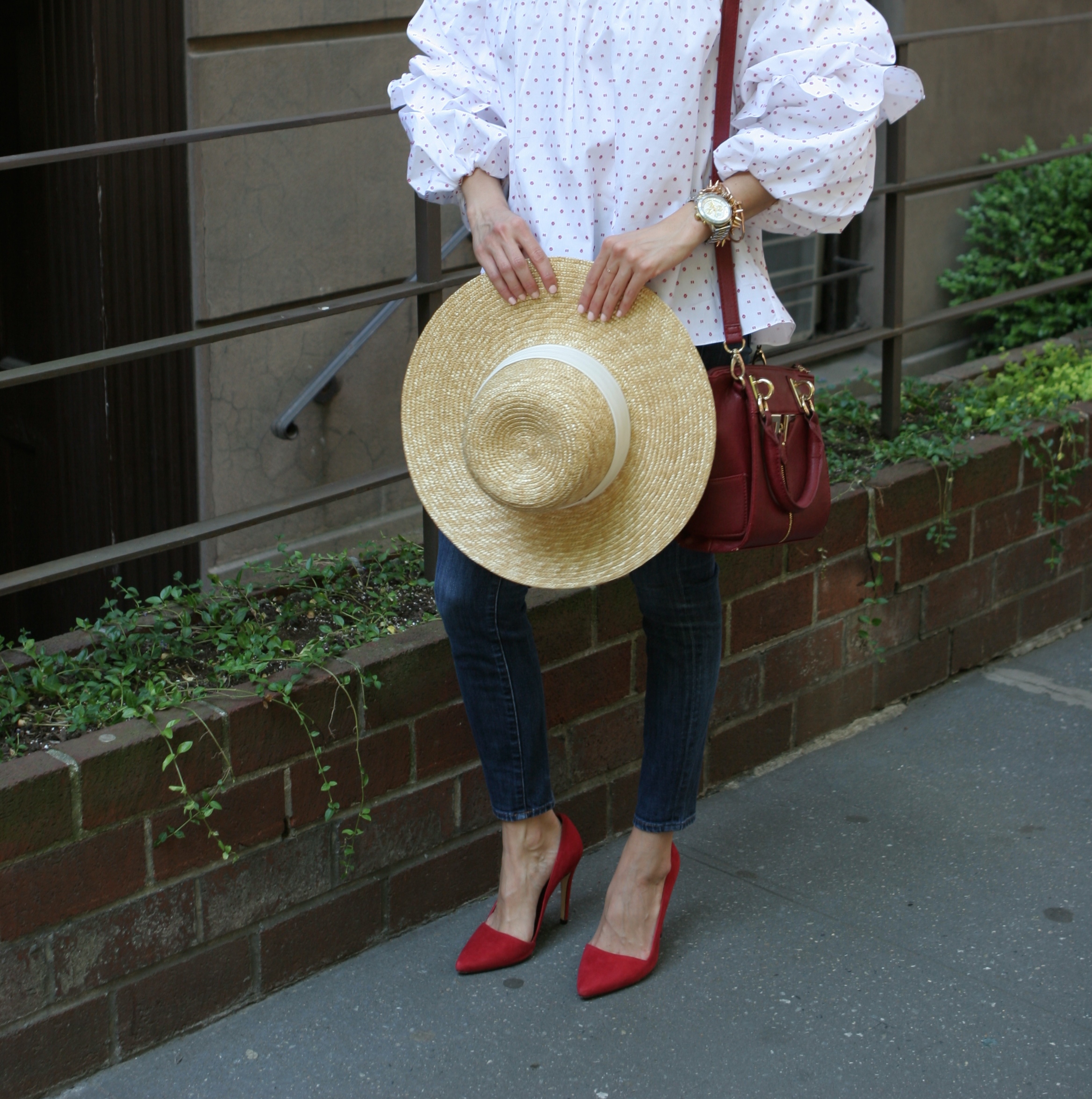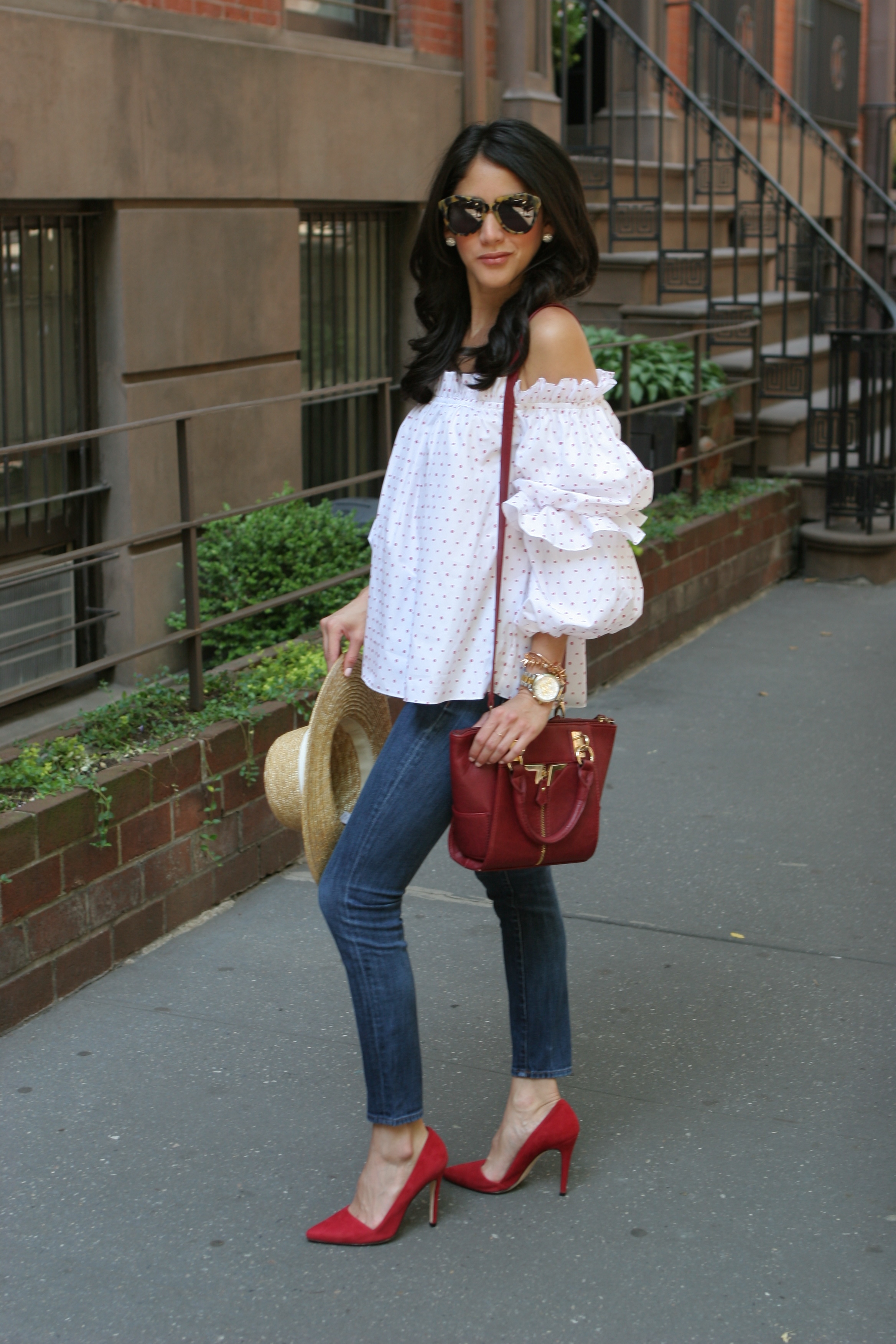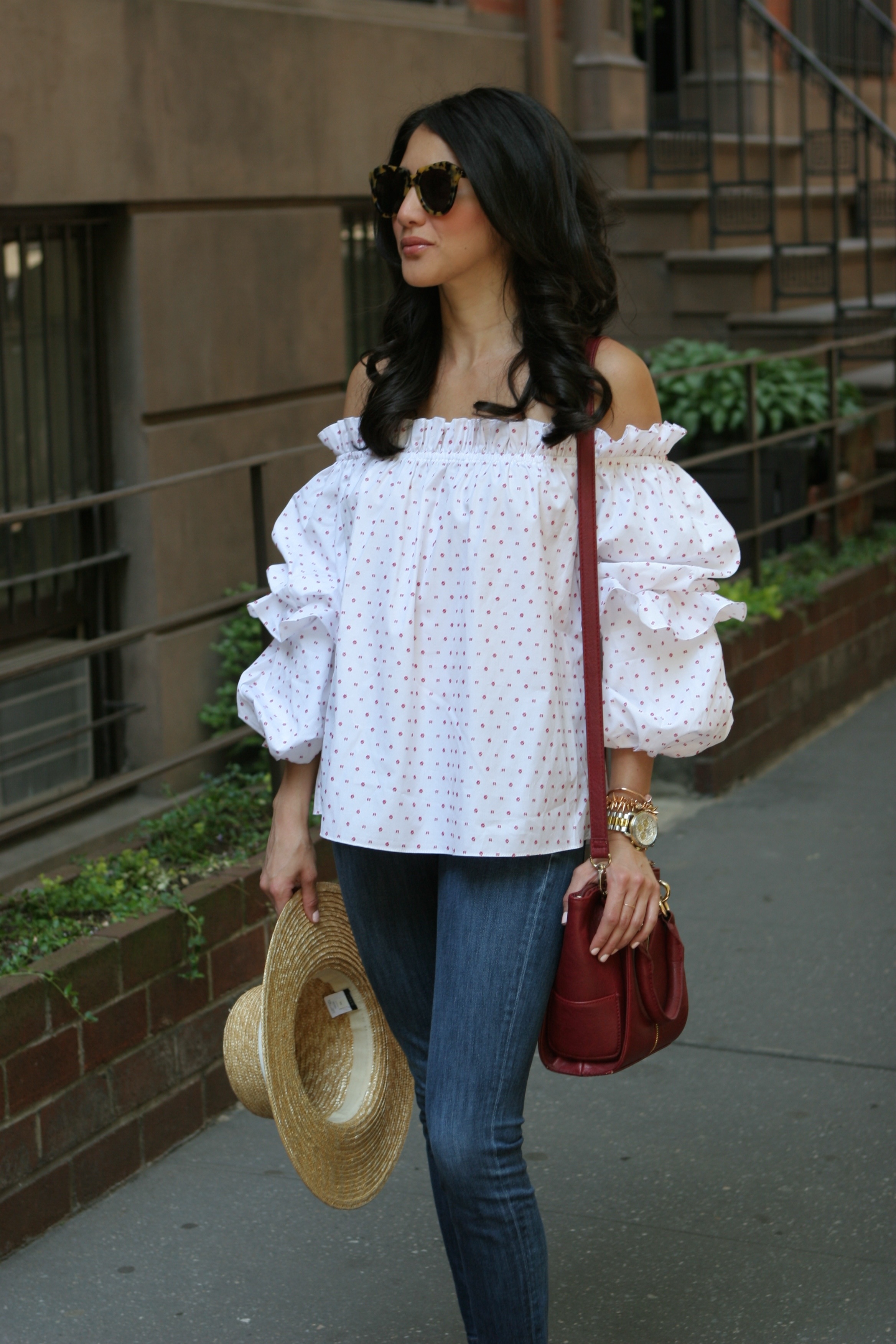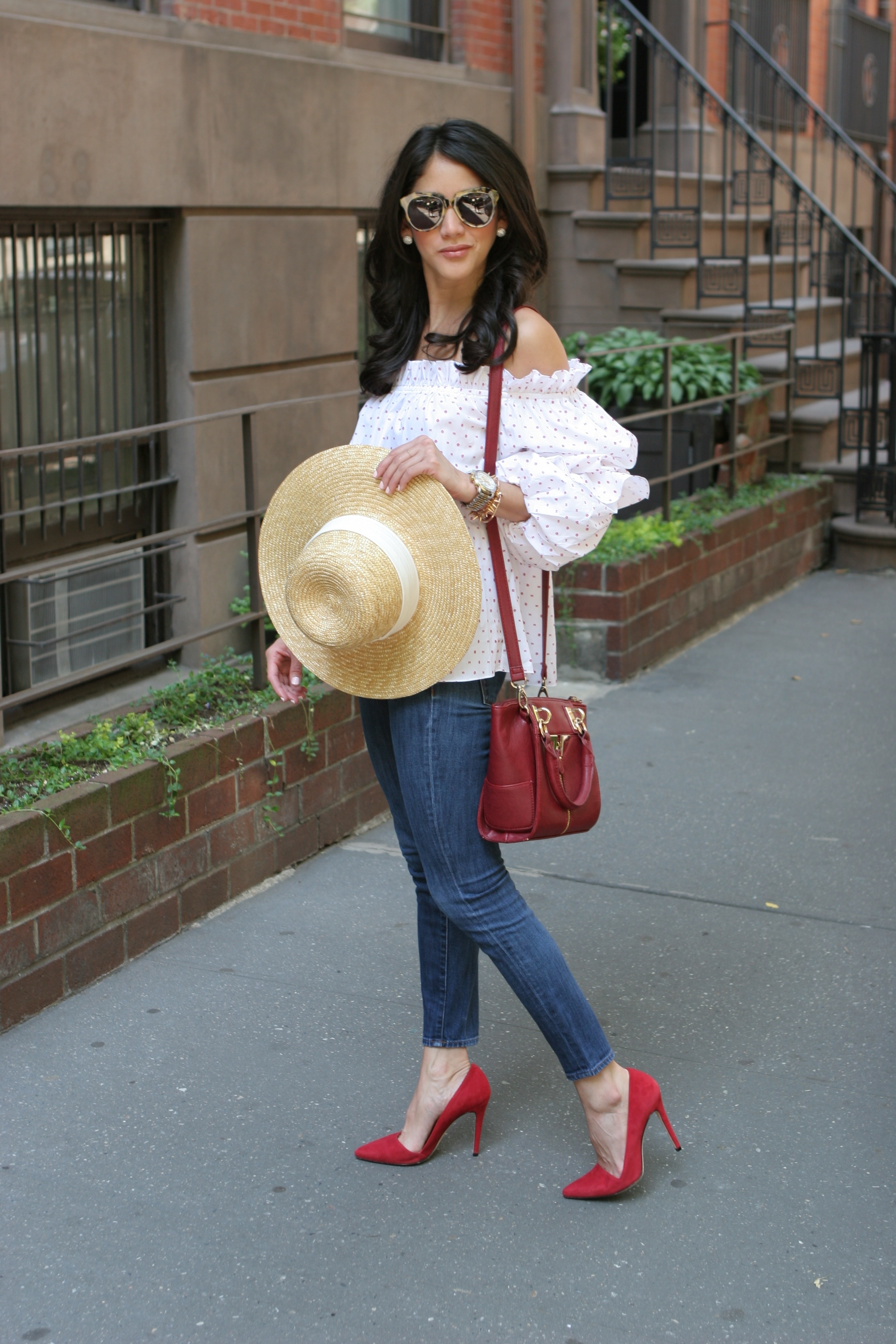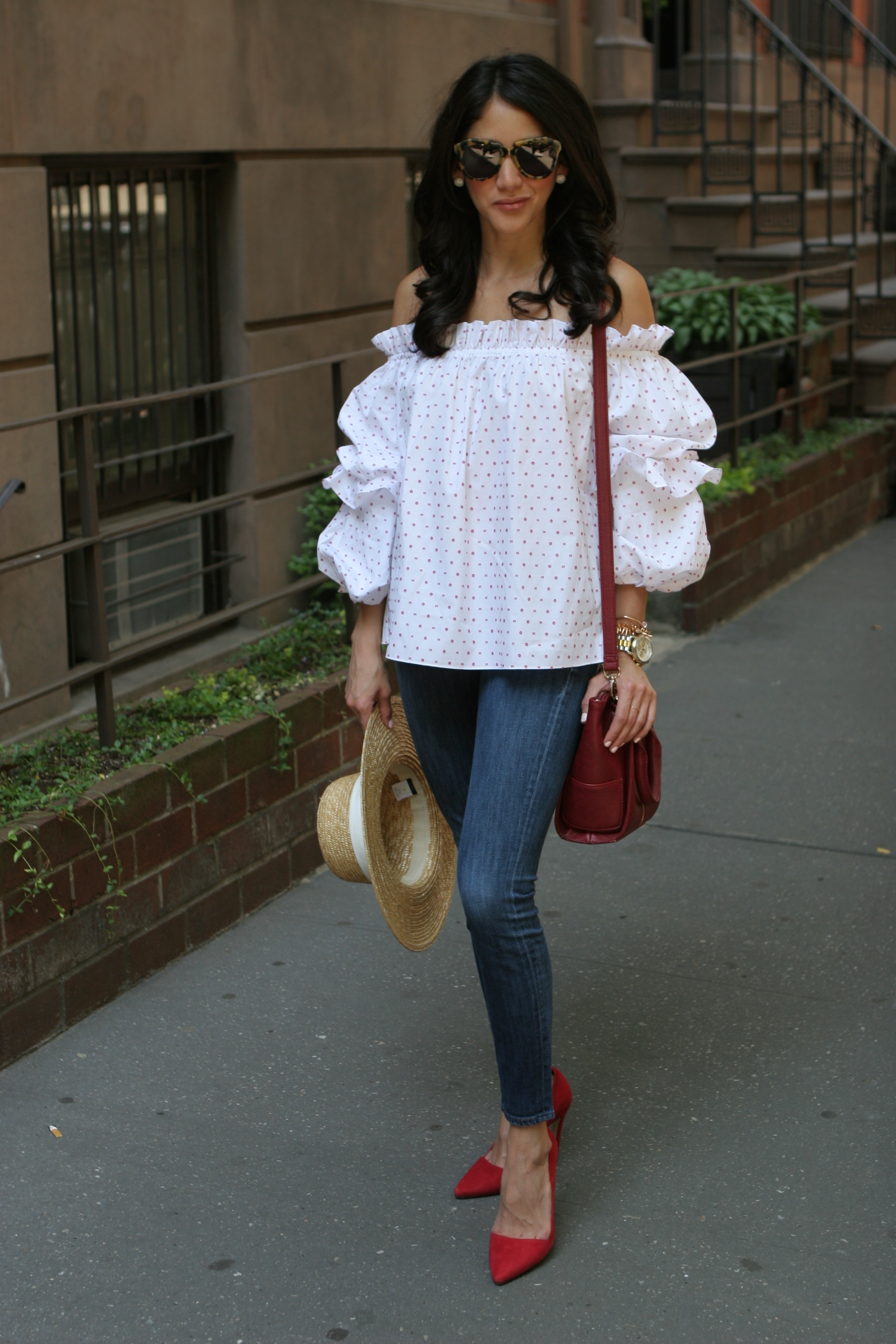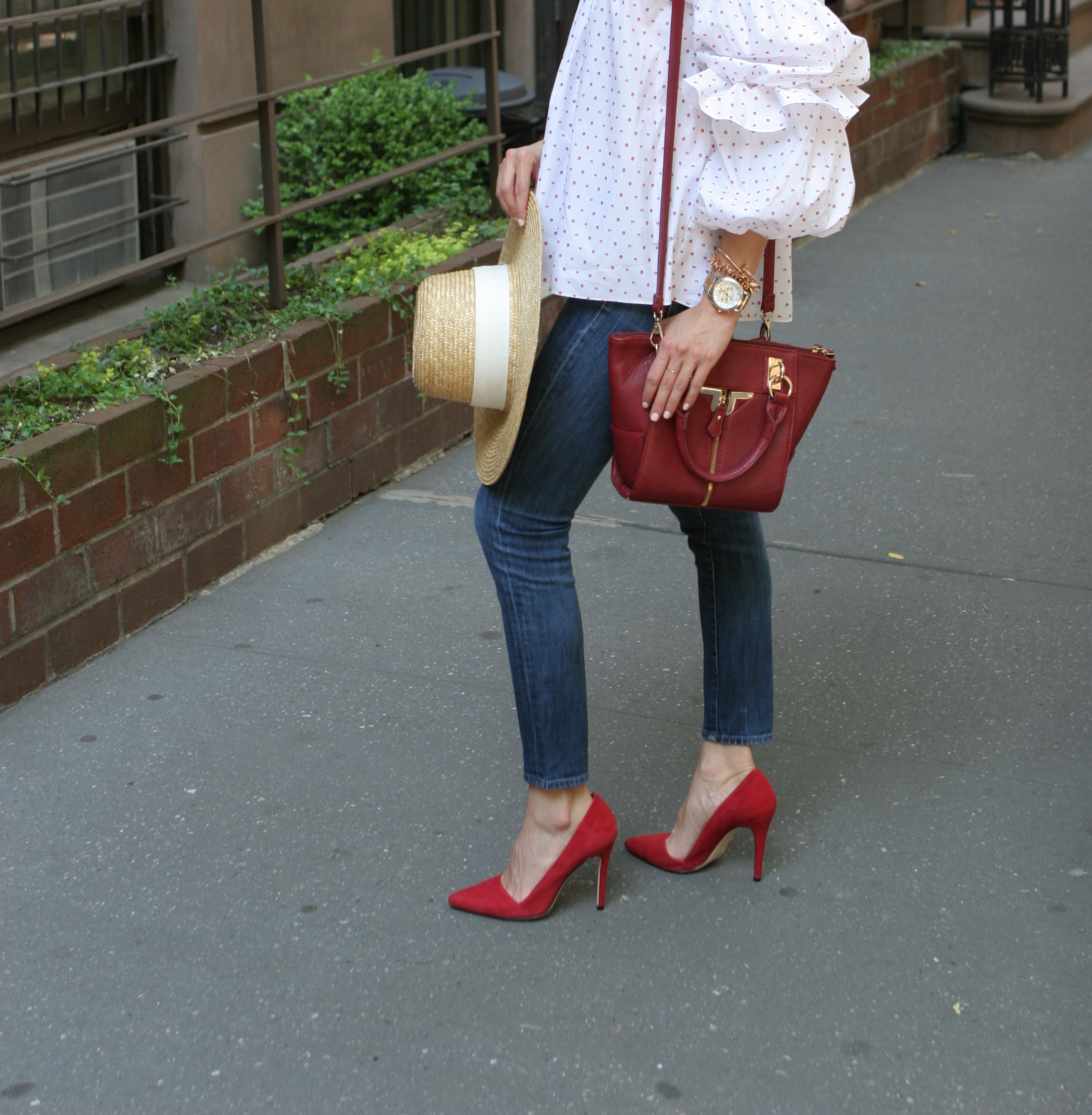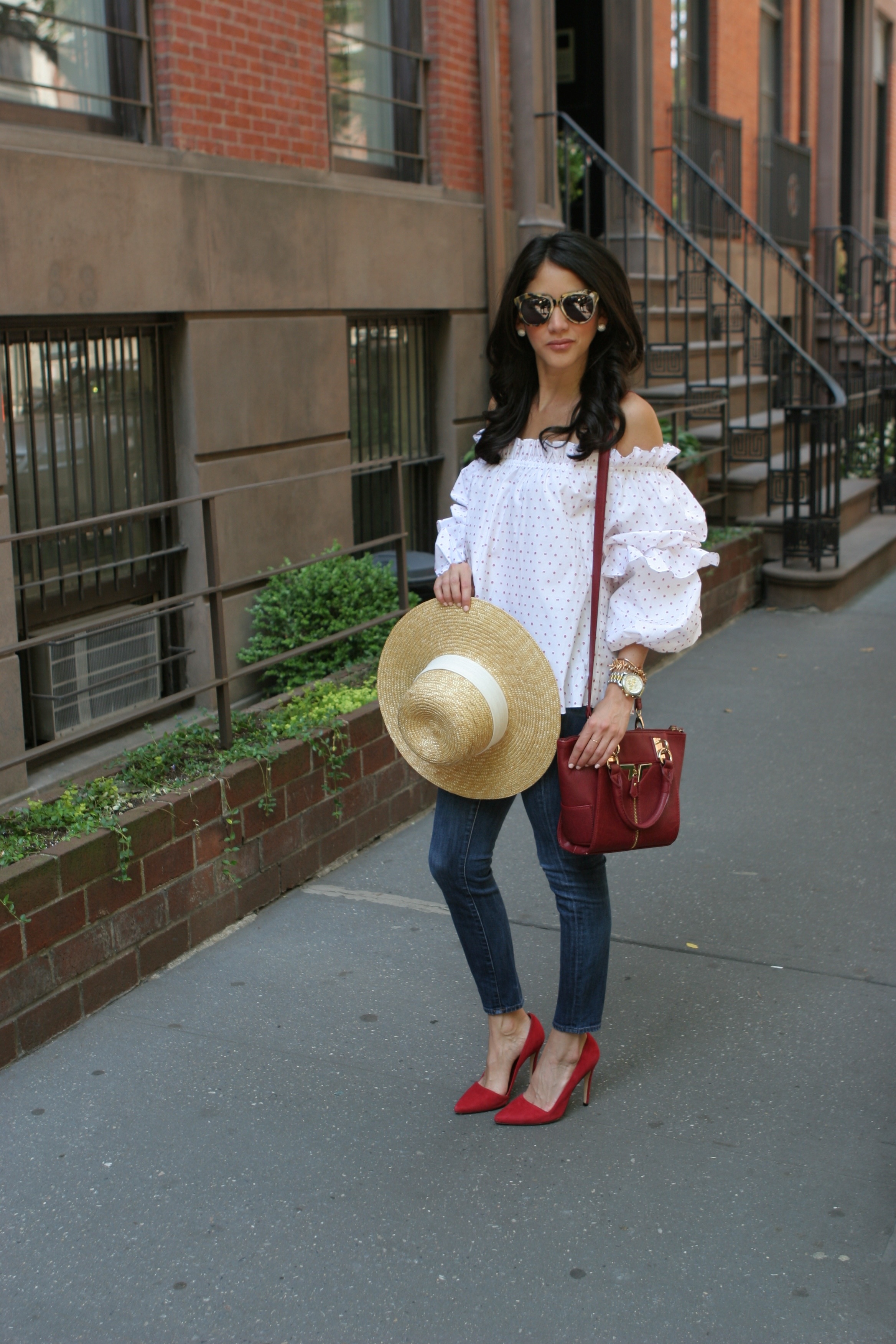 This is how I survive summer days, with feminine off the shoulder pieces. Literally, I wear this style all summer long. Whether it's an off the shoulder dress or an off the shoulder top, I love the feminine style. It accentuates your silhouette and let me say it again, off the shoulder pieces work on all body types. You can wear off the shoulder dresses that are loose, a little more fitted or ruffled like this layers and layers of ruffle wonderfulness I got in the shape of a top last time I was at Intermix. I wanted to bring out the minimal red dots on the top so I added a red pop of color via red pumps and red tote bag. If you want to see any specific style or have a question on petite styling, please do not hesitate to leave a comment or email me and I'll make sure to address it on a promptly manner.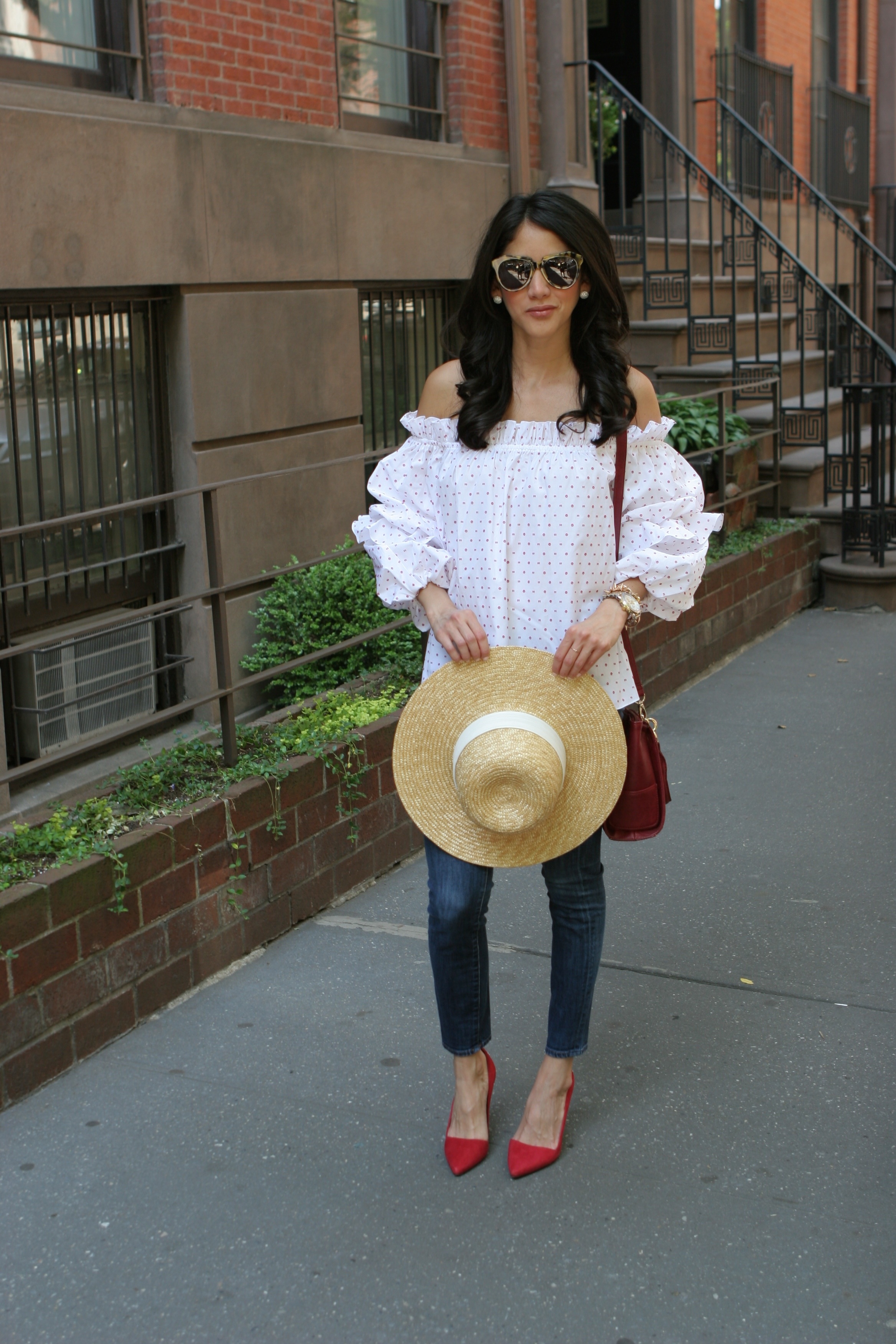 Dies ist, wie ich imSommer Tage überleben, mit femininen Kleidung. Wörtlich trage ich diesen Stil den ganzen Sommer lang. Ob es sich um eine von der Schulter Kleid oder ein von der Schulter oben ist, ich liebe den femininen Stil. Es betont Ihre Silhouette und lassen Sie es mich noch einmal sagen, weg von den Schulterstücken auf alle Körpertypen arbeiten. Sie können die Schulter Kleider tragen ab, die lose sind, ein wenig mehr vorhanden oder gekräuselt wie diese Schichten und Schichten Rüsche in der Form eines Top letzte Mal habe ich bei Intermix war. Ich wollte, dass die minimale rote Punkte auf die Spitze zu bringen, so dass ich ein rotes Pop der Farbe über roten Pumps und rot-Einkaufstasche hinzugefügt. Wenn Sie einen bestimmten Stil sehen wollen oder haben eine Frage zu petite Styling, zögern Sie bitte nicht einen Kommentar oder eine E-Mail, mich zu verlassen, und ich werde sicherstellen, dass es auf eine Art und Weise umgehend zu beheben.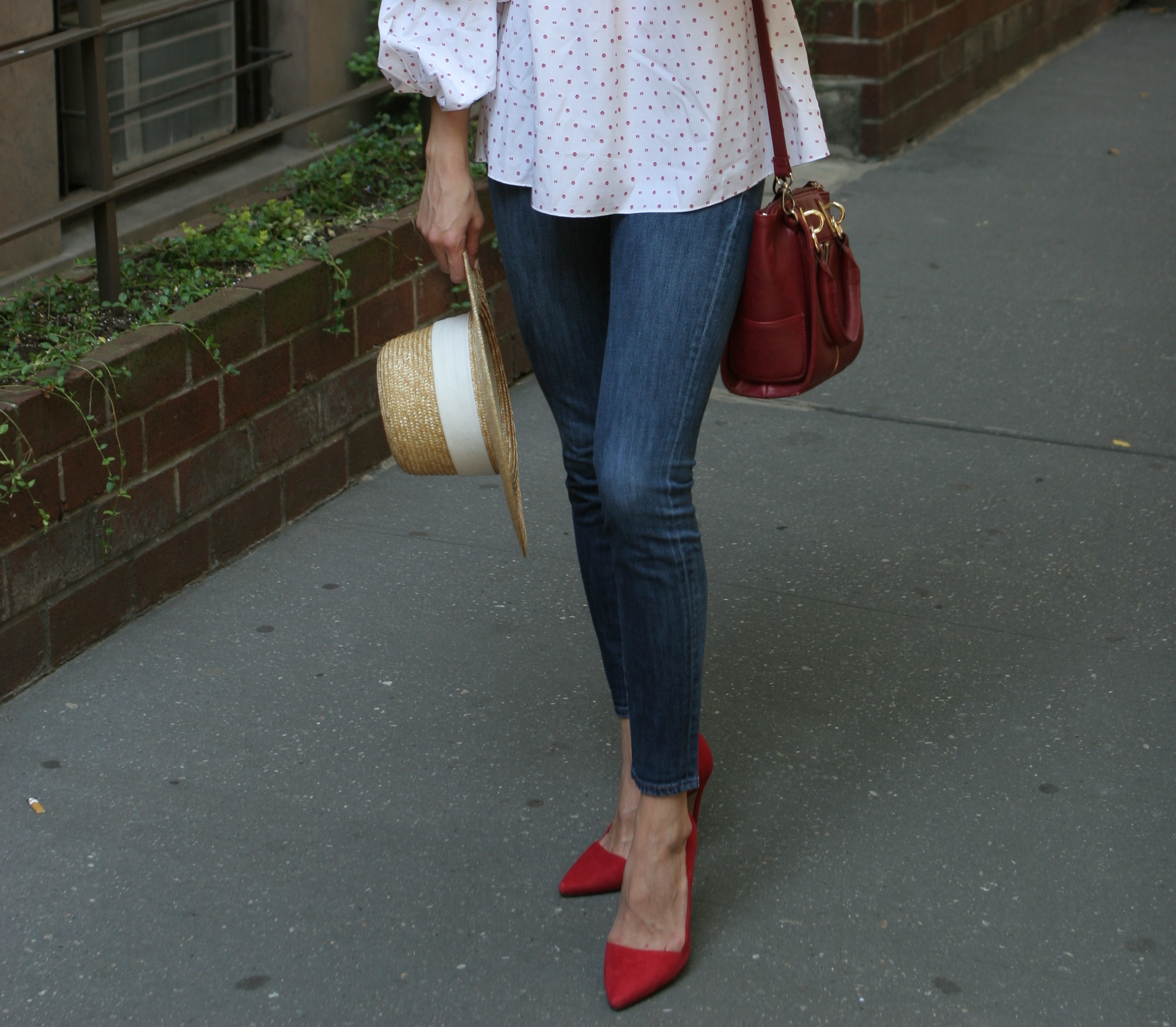 Así es como sobrevivo los días de verano, con piezas femeninas a los hombros. Literalmente, me pongo este estilo durante todo el verano. Ya se trate de un vestido a los hombros o un top a los hombros, me encanta el estilo femenino. Acentúa sus siluetas y permítanme decirles otra vez que las piezas a los hombros se ven bien en todos los tipos de cuerpo. Ustedes pueden usar los vestidos a los hombros que son sueltos, un poco más armados o similares a este top de capas sobre capas de randas que tengo puesto y que compré la última vez que estuve en Intermix. Queriendo resaltar los puntos rojos mínimos de este top a los hombros, decidí añadir un pop de color rojo con estos zapatos de gamuza de color rojo y carterita roja. Si quieren ver algún estilo en particular o si tienen alguna pregunta sobre el estilo petite, por favor no duden en dejar un comentario o enviarme un email y me aseguraré de responder con prontitud.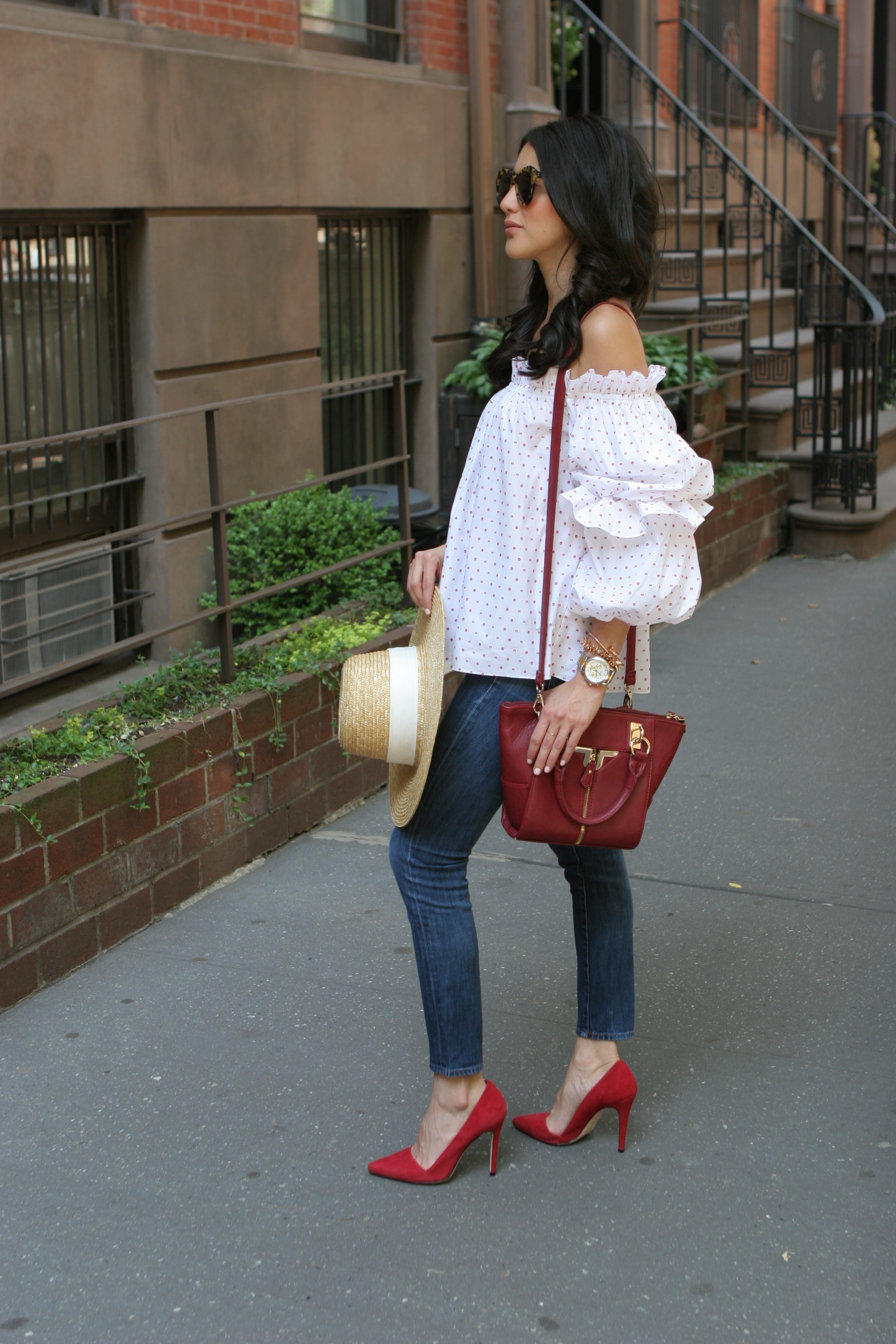 SHOP THE POST