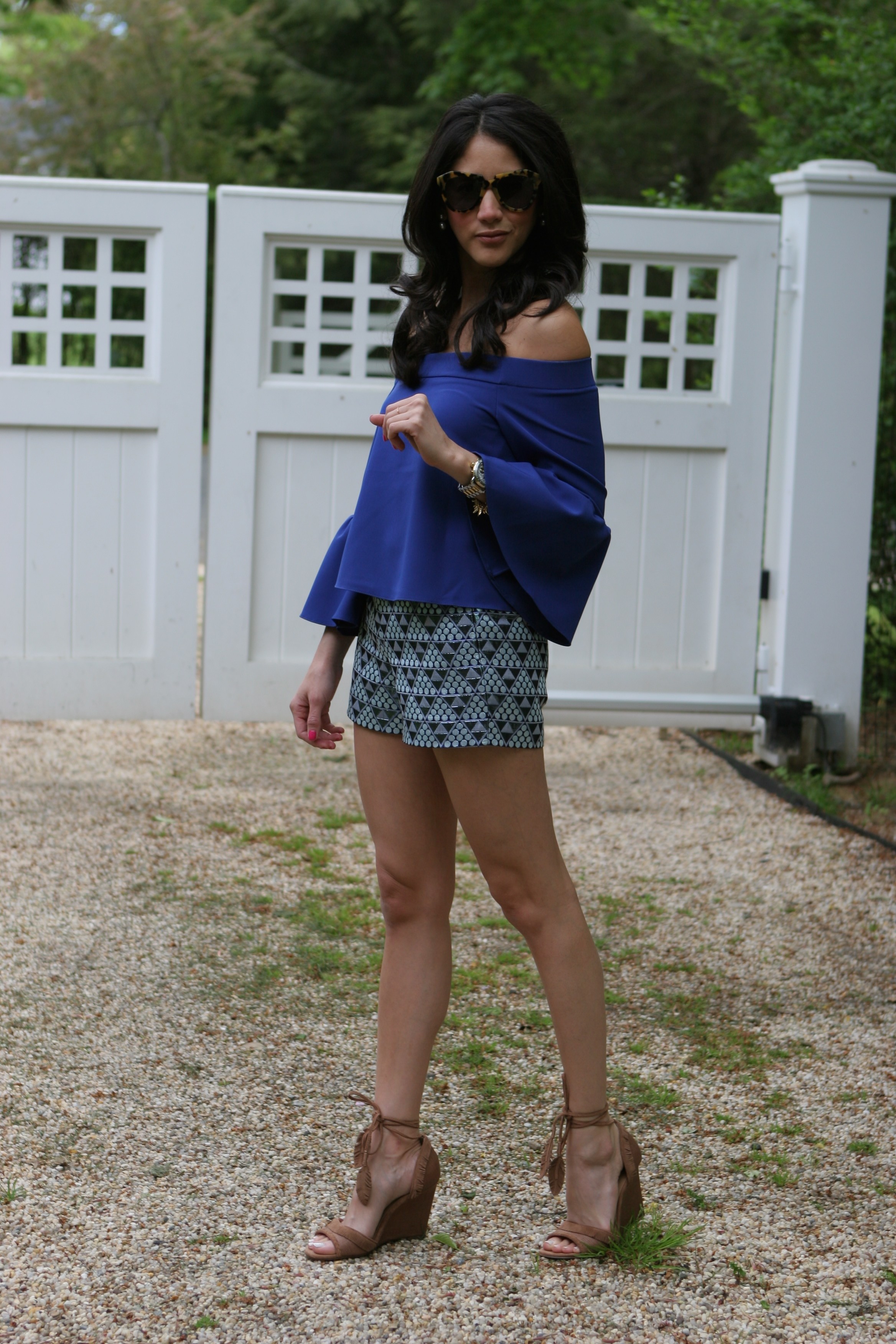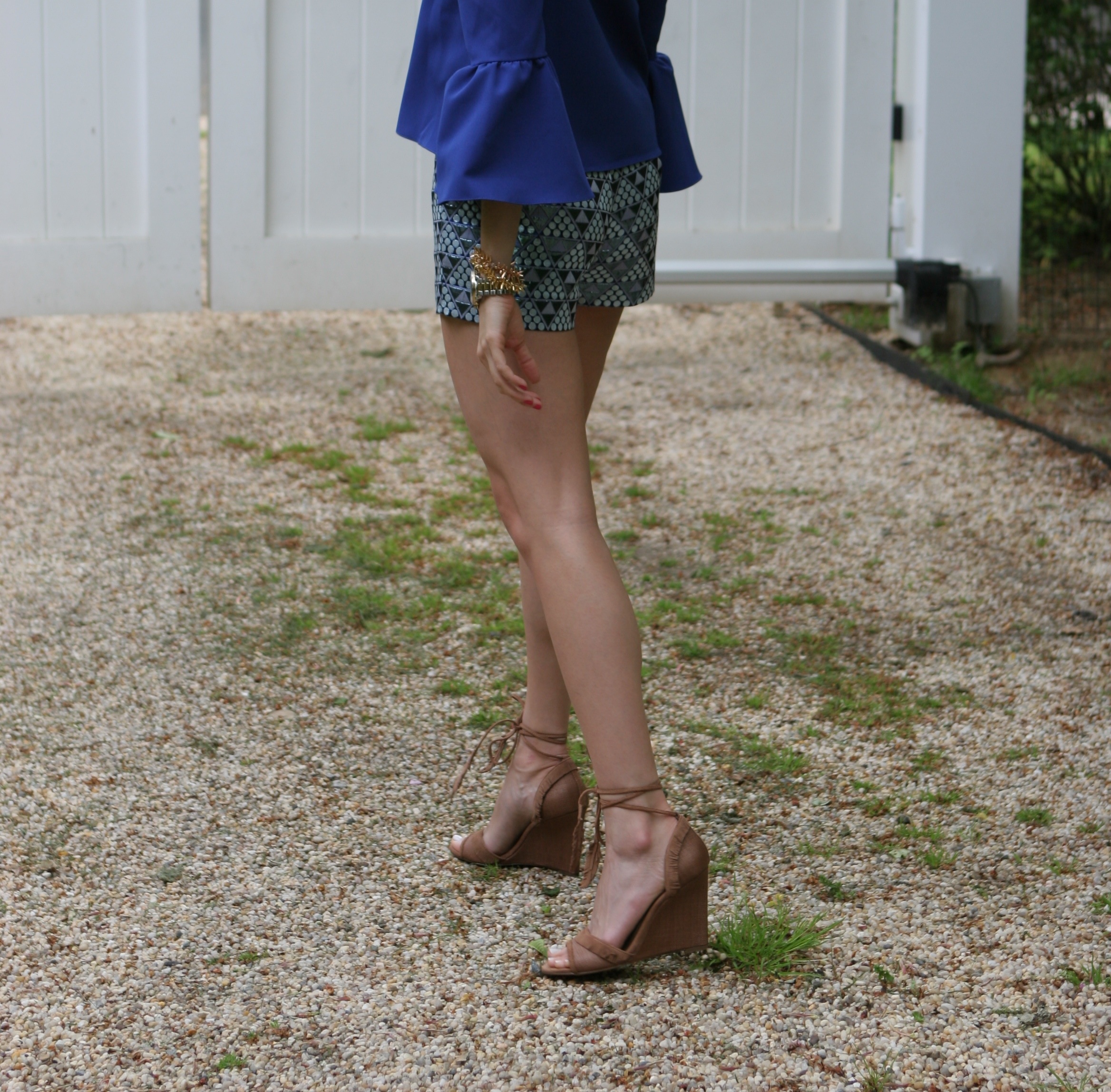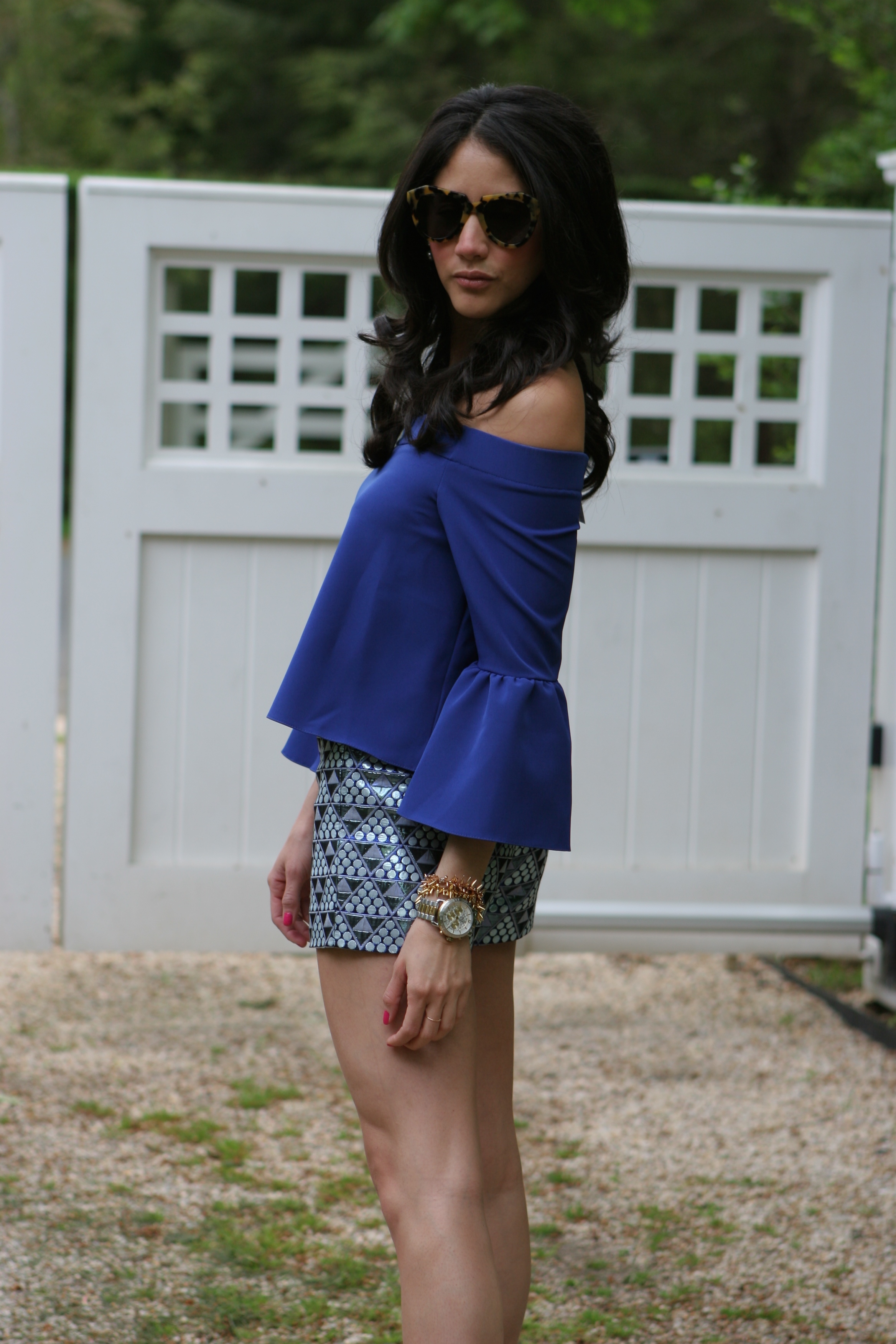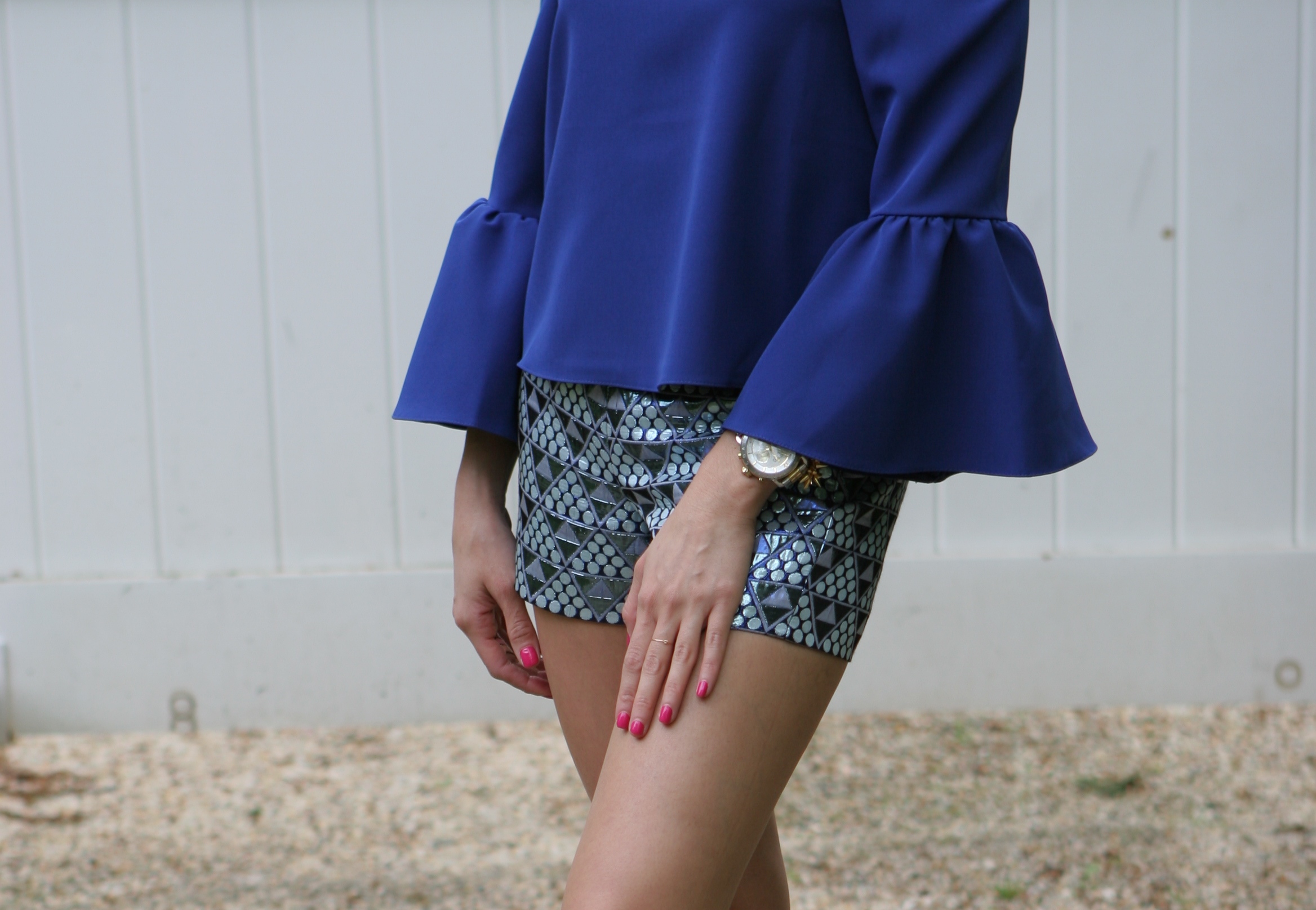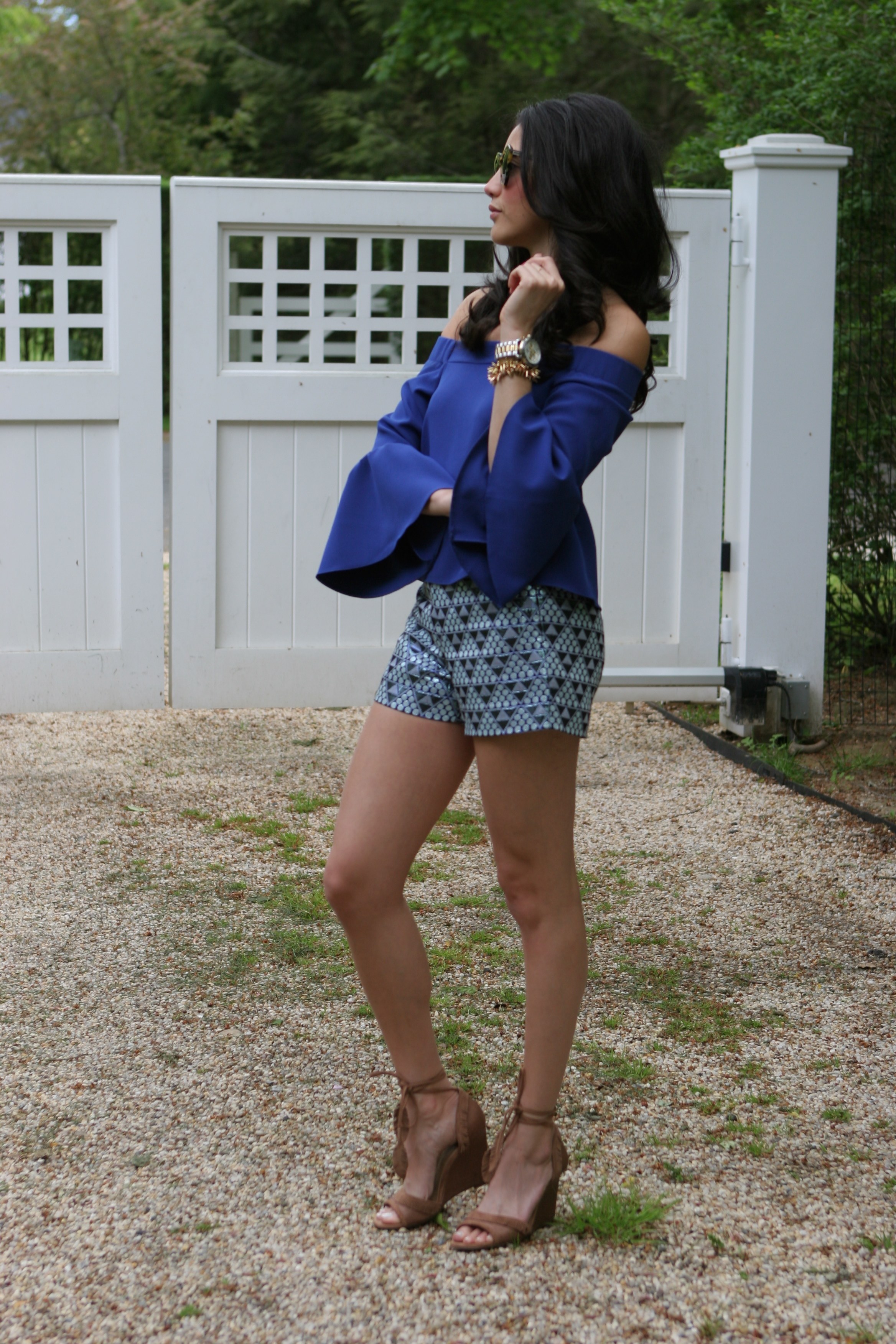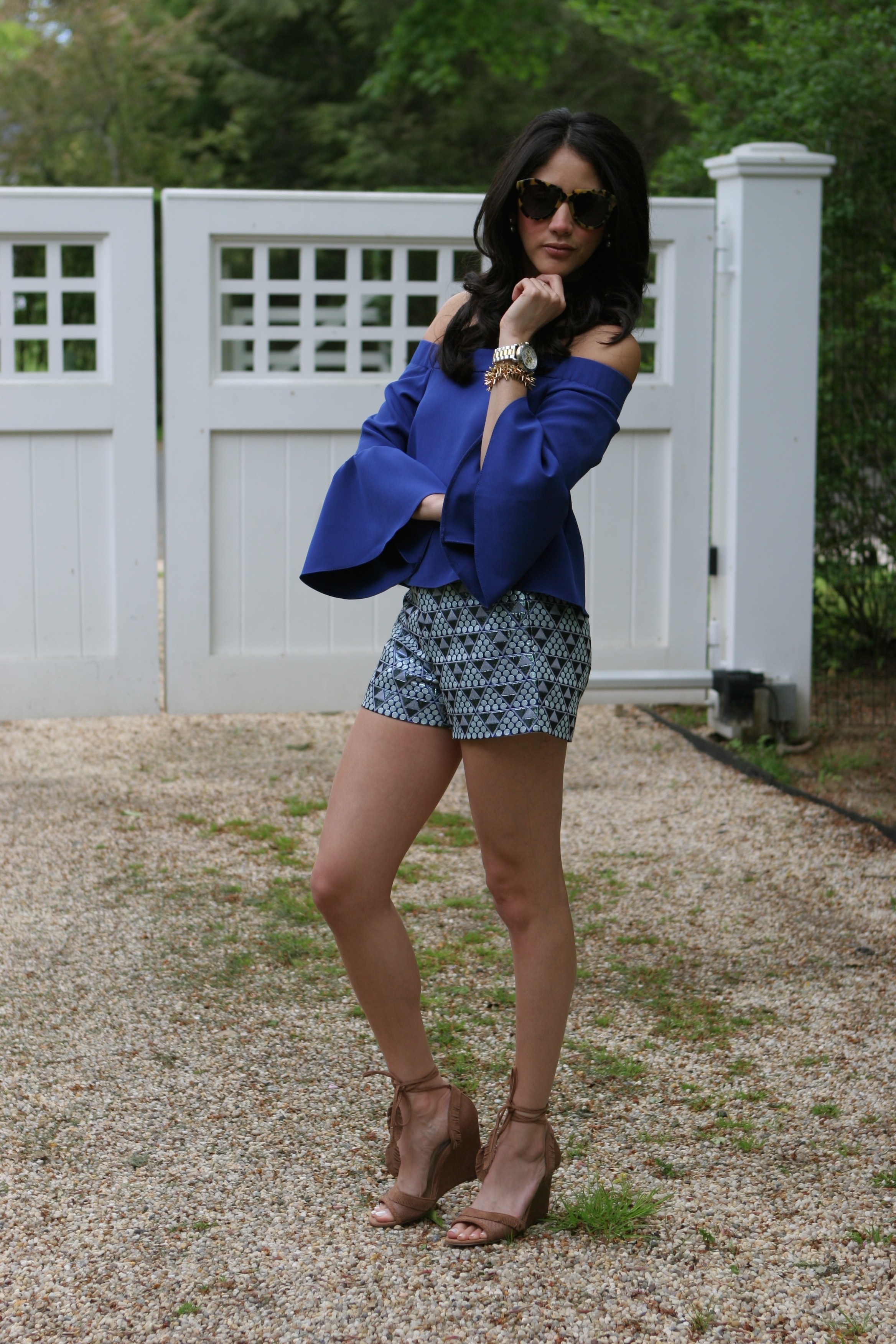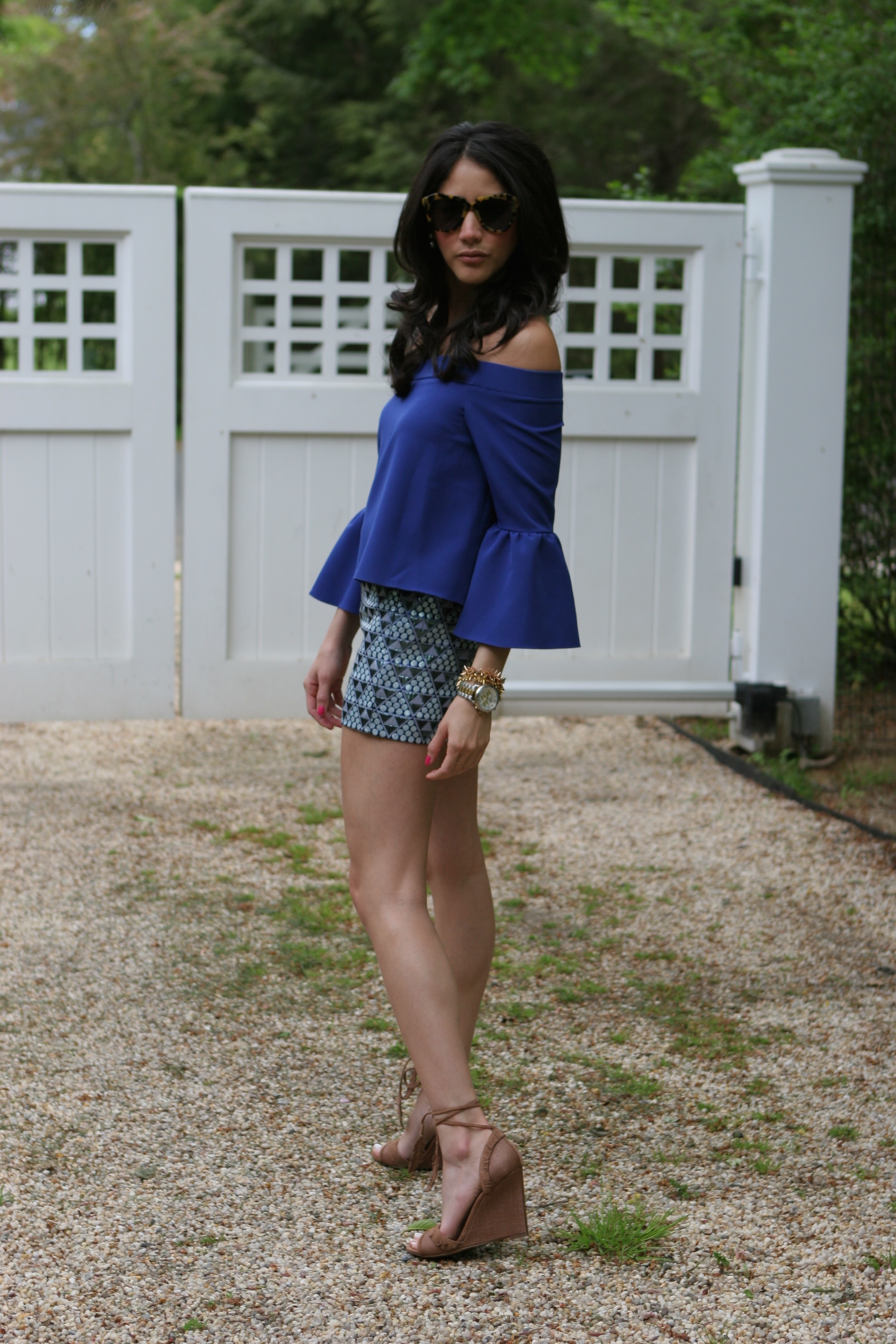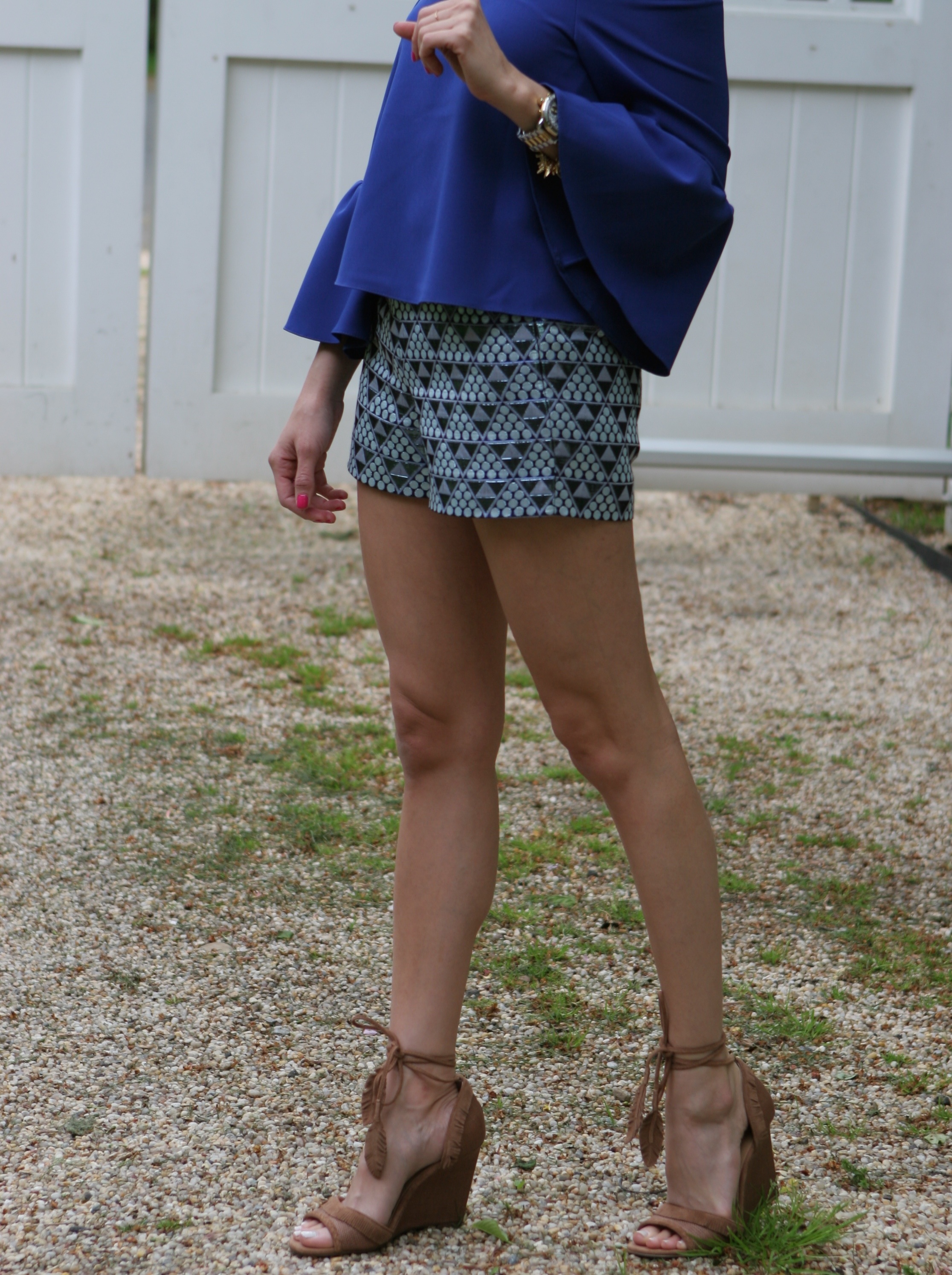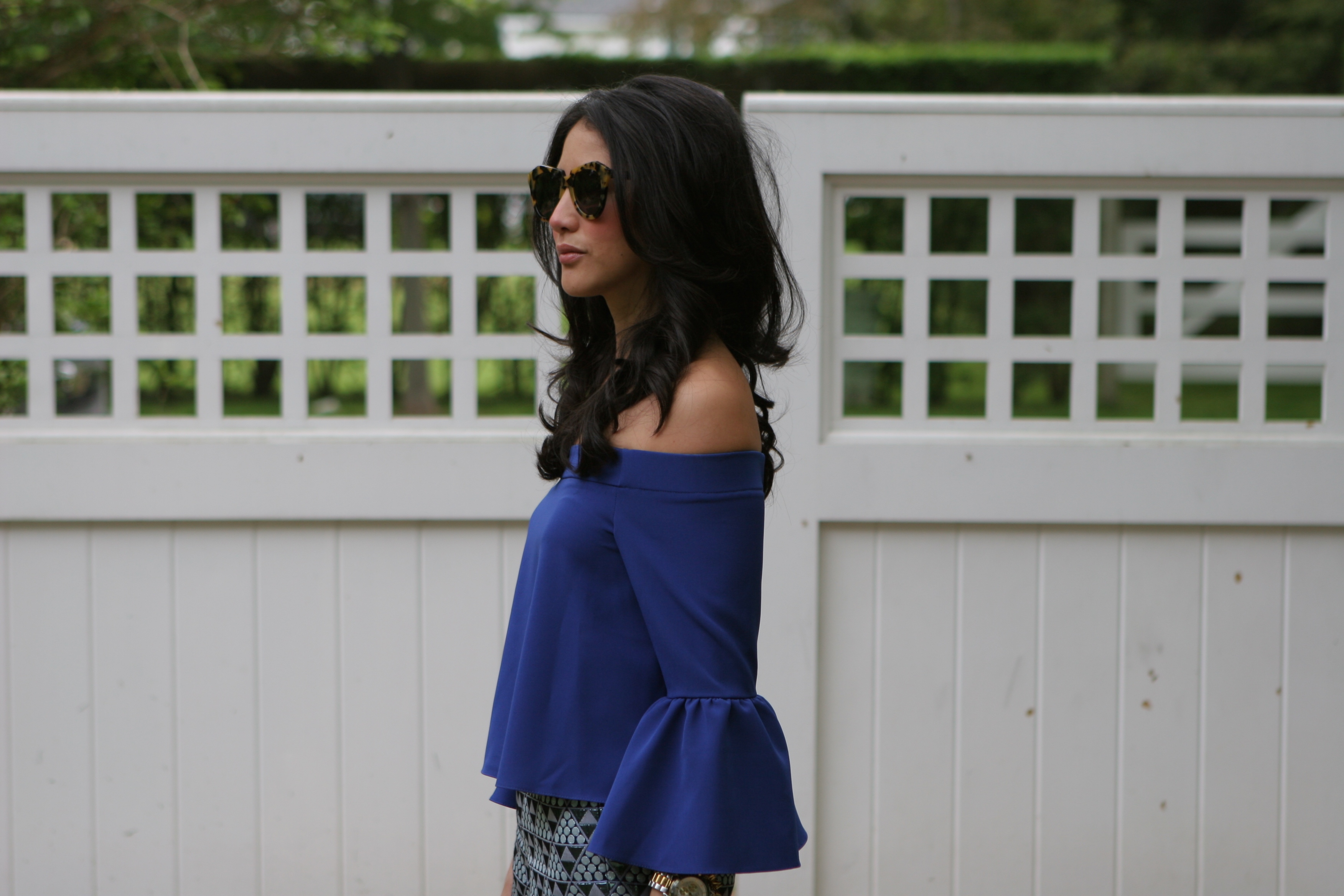 Top: Asos off the shoulder top with ruffle sleeve | Shorts: J.Crew cotton short in retro floral | Shoes: Banana Republic Delores raffia-fringe wedges | Sunglasses: Karen Walker Number One sunglasses | Watch: Coach stainless steel watch | Bracelet: Stella & Dot renegade cluster bracelet.
My obsession with anything and everything off the shoulder carries on to today's outfit. As you can probably tell, I have a very serious relationship with off the shoulder outfits. I love them all. Off the shoulder tops, off the shoulder dresses, off the shoulder tunics, you name it. I just can't get enough of the beautiful shape. This trend works great on petite women. It's sexy, comfortable and very feminine. Nothing says summer better than this cute little number. One of the biggest advantages for petite women when wearing off the shoulder items, like this off the shoulder top with bell sleeves is that you attract attention to your shoulders and it brings a little mystery to your look while letting the top gently fall down and highlight your figure, whether you're petite, tall wise or size wise, or both. I've made off the shoulder tops and dresses part of my summer wardrobe. If I could wear them to the office I would! I'll be sharing plenty more off the shoulder looks throughout the summer, as I can't seem to stop wearing them.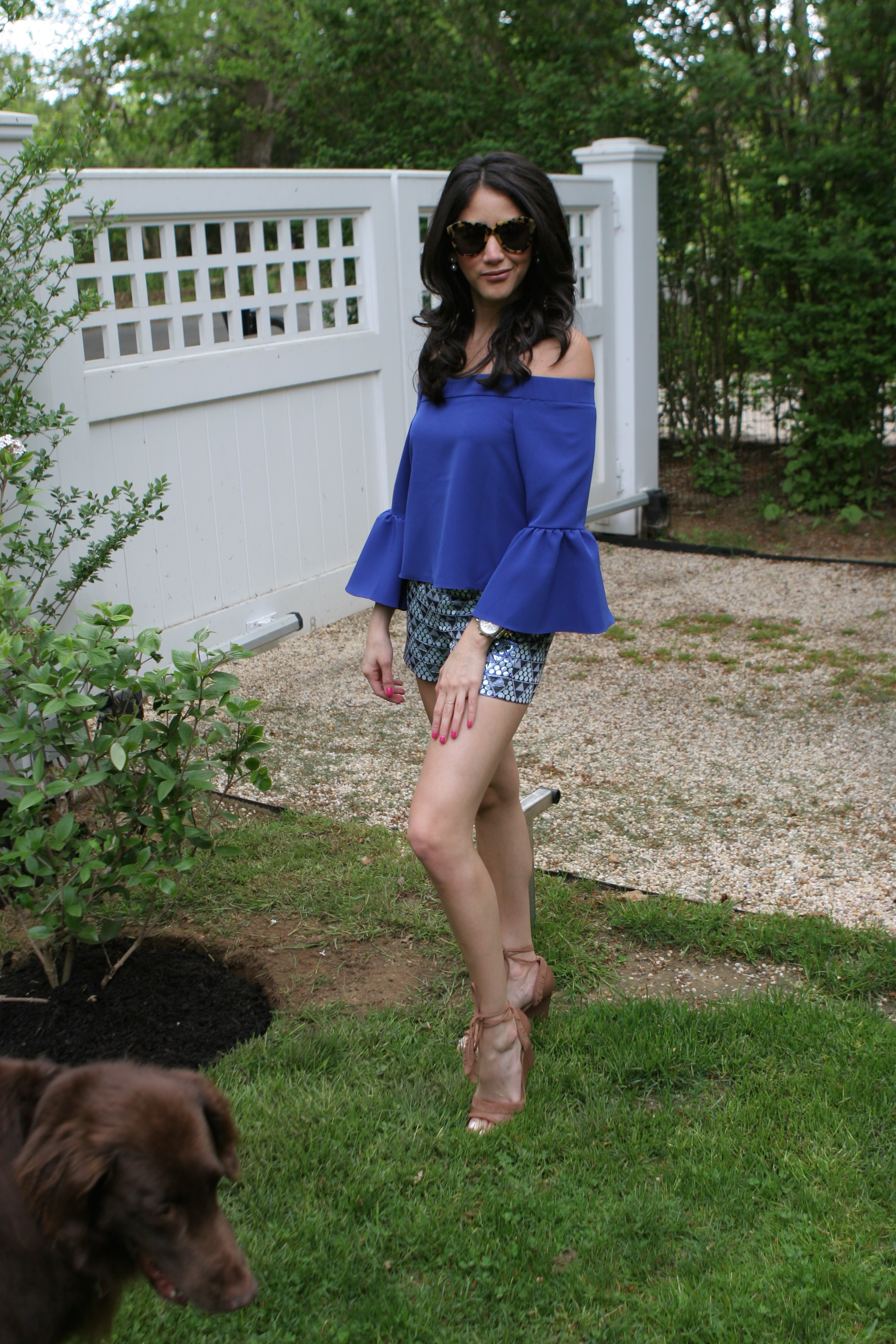 Meine Obsession mit allem auf den Schultern Blog-Post heute. Wie Sie wahrscheinlich zu realisieren sind gekommen, habe ich eine sehr ernsthafte Beziehung mit Outfits Schultern. Ich liebe alle. Schultern Tops, Schultern Kleider, Tuniken Schultern, alle ernst. Ich werde nie müde von dieser schönen Silhouette. Dieser Trend ihm zierliche Frauen ist sehr gut. Es ist reizvoll, bequem und sehr feminin. Nichts sagt Sommer besser als diese super nette oben nach Männer. Einer der größten Vorteile für zierliche Frauen Kleider Schultern, wie diese oben Schultern mit dem Glockenärmel geformt ist, dass lenkt die Aufmerksamkeit auf Ihre Schultern und geben Sie ein wenig Geheimnis zu Ihrem Look, während die Spitze sanft fällt, und unterstreicht Ihre Figur, wenn Sie petite, groß oder Größe oder beides sind. Ich machte Tops und Kleider zu Schulter Teil meiner Sommergarderobe. Wenn du mir ins Büro setzen könnte würde! Ich werde im Sommer viel mehr als Tops und Kleider Schultern teilen, wie ich es nicht scheint, kann mit ihnen zu stoppen.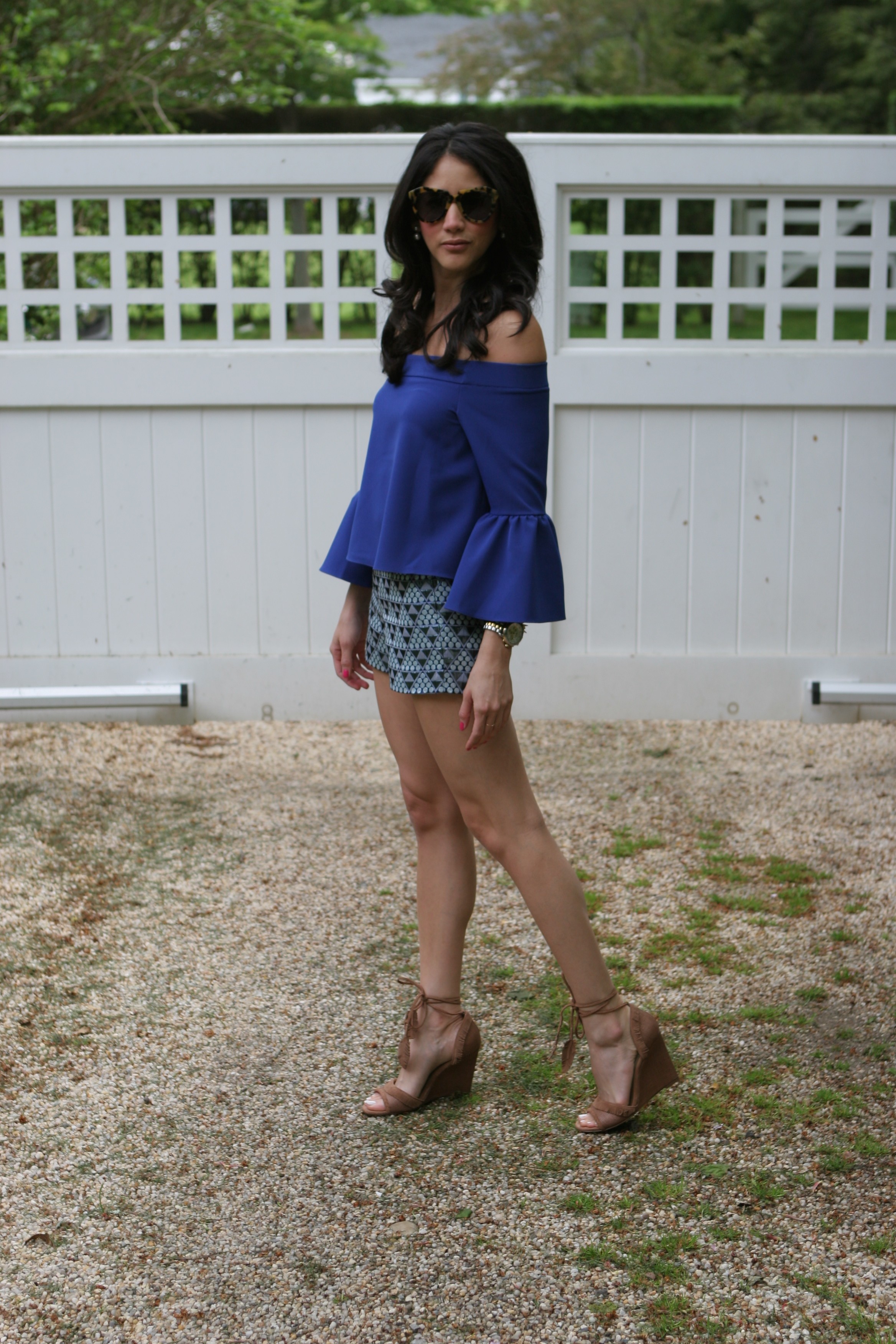 Mi obsesión con cualquier cosa y todo lo que es a los hombros sigue en la entrada del blog de hoy. Como seguramente te has podido dar cuenta, tengo una relación muy seria con los outfits a los hombros. Me encantan todos. Tops a los hombros, vestidos a los hombros, túnicas a los hombros, todos en serio. No me canso de esta silueta preciosa. Esta tendencia le queda muy bien a las mujeres petite. Es sexy, cómoda y muy femenina. Nada dice verano mejor que este top a los hombres super lindo. Una de las mayores ventajas para las mujeres petite de las prendas a los hombros, como este top a los hombros con la mangas en forma de campana es que atrae la atención hacia sus hombros y te da un poco de misterio a tu look mientras el top cae suavemente y resalta tu figura, si eres petite, de altura o talla, o ambos. He hecho de los tops y vestidos a los hombros parte de mi armario de verano. Si me los pudiera poner para la oficina lo haría! Voy a compartir un montón más de tops y vestidos a los hombros durante el verano, ya que parece que no puedo dejar de usarlos.