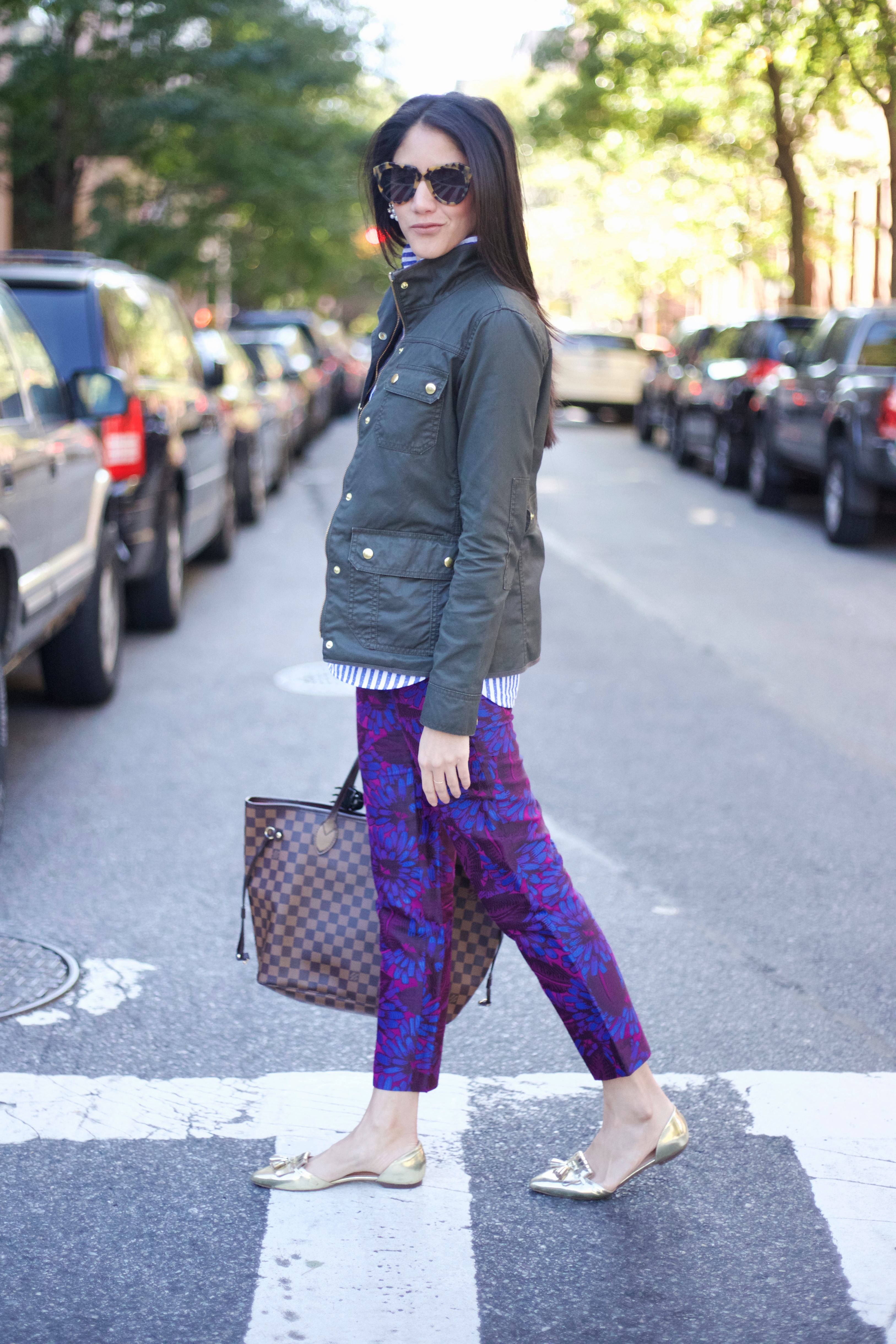 TOP: J.CREW CLUB-COLLAR BOY SHIRT IN TEXTURED JACQUARD STRIPE | PANTS: J.CREW COLLECTION PANTS (SIMILAR HERE) | JACKET: J.CREW THE DOWNTOWN FIELD JACKET | SHOES: J.CREW SADIE LOAFER FLATS (SIMILAR MORE AFFORDABLE OPTION BY SOLE SOCIETY HERE) | EARRINGS: J.CREW PEARL AND CRYSTAL EARRINGS | BAG: LOUIS VUITTON DAMIER PM BAG.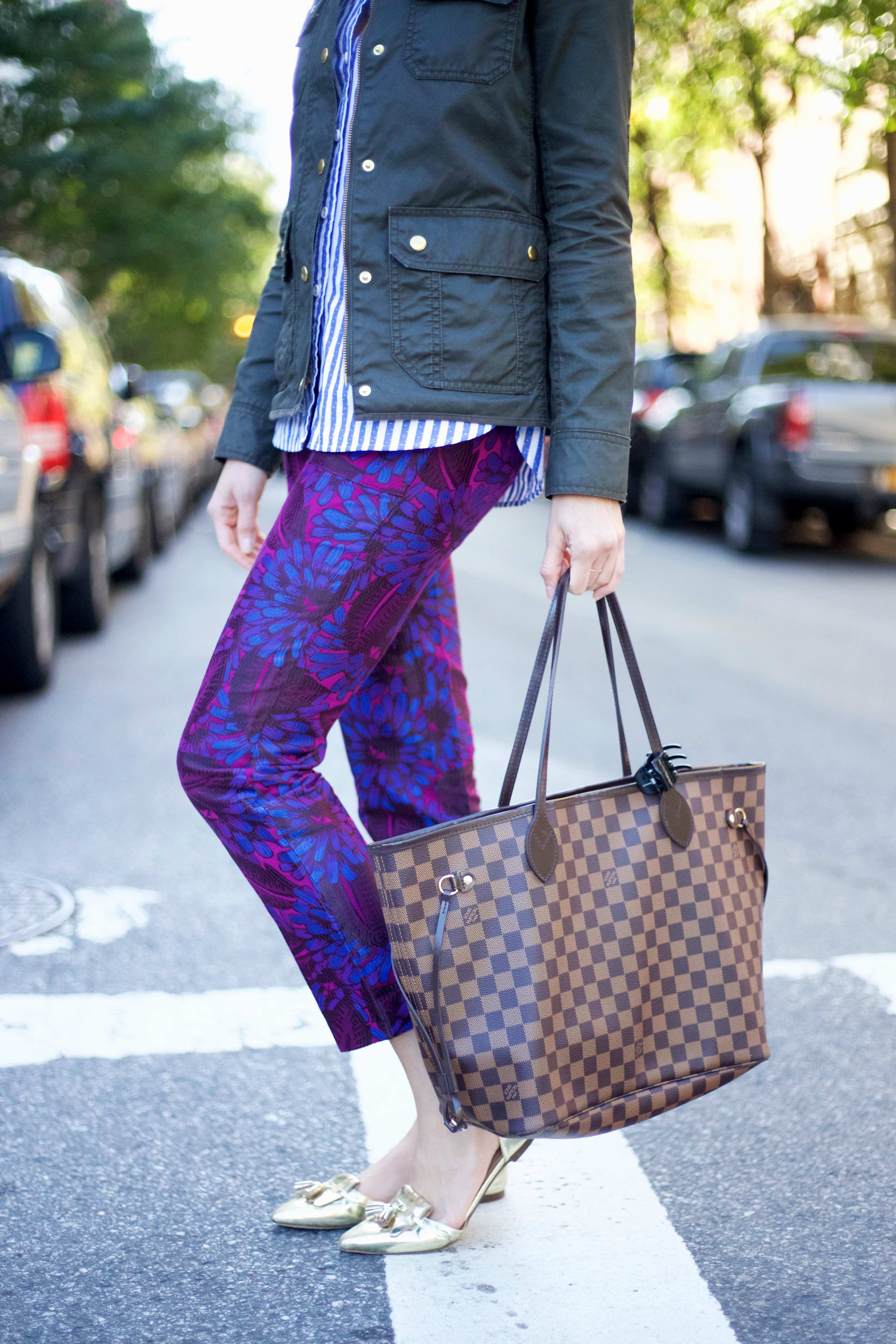 Nothing says fall more than a classic utility jacket or like J.Crew calls it, the field downtown jacket. It serves as a nice base color for fall season and you can play around with colors and patterns for the ultimate fall look. I wore this stripe fitted shirt with colorful collection pants and the J.Crew field downtown jacket was just the perfect neutralizer. It's no news that I love J.Crew, hence today's post that I'm wearing head-to-toe all J.Crew. Classic pieces that I'll continue to wear for years so I can justify the purchase.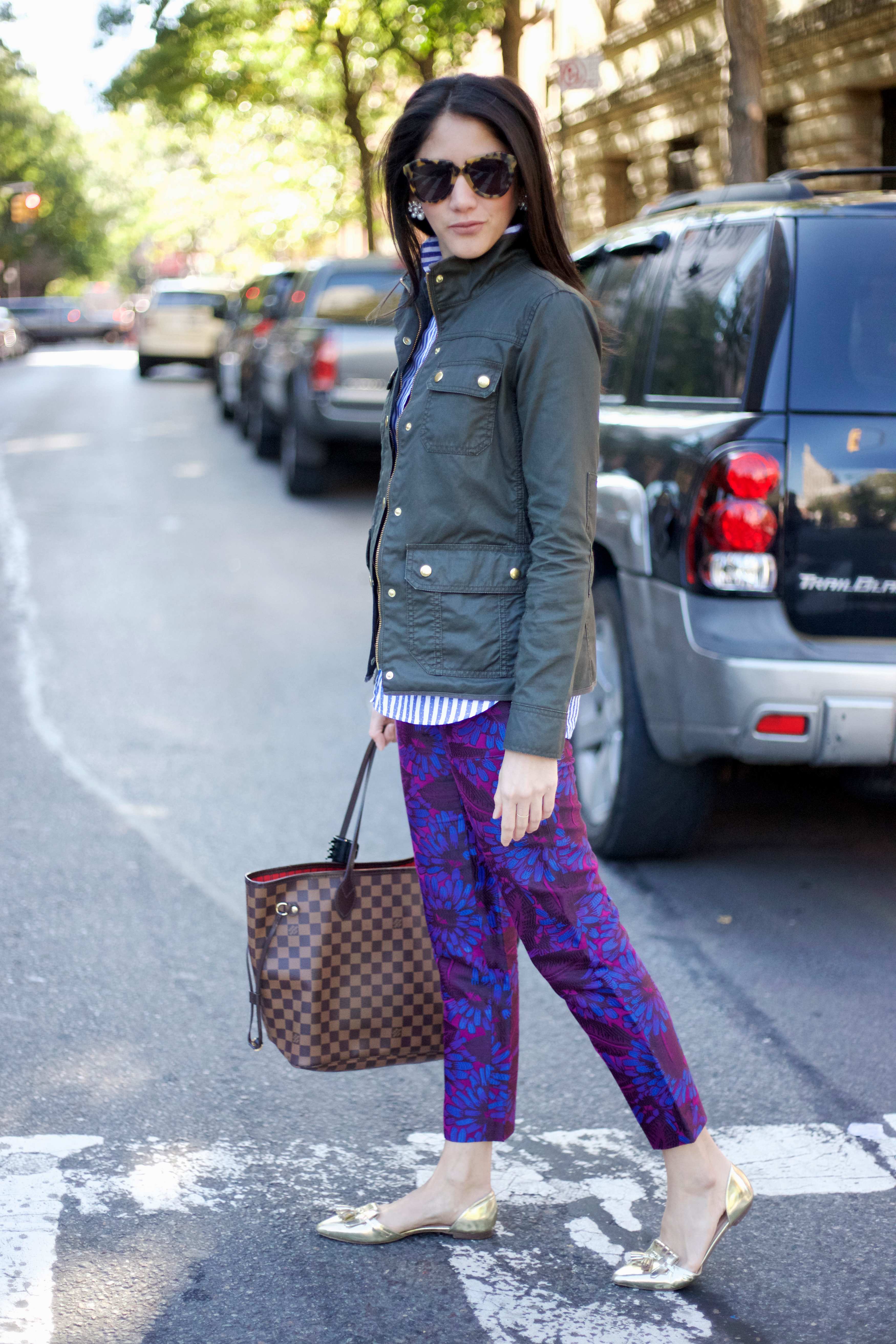 Nichts sagt Herbst mehr als ein klassisches Dienstprogramm Jacke oder wie J.Crew nennt es, das Feld Innenstadt Jacke. Es dient als eine nette Unterseitefarbe für Herbstjahreszeit und Sie können herum mit Farben und Mustern für den entscheidenden Fallblick spielen. Ich trug dieses gestreiftes T-Shirt mit bunten Kollektion Hosen und das J.Crew Feld Downtown Jacke war nur die perfekte Neutralisator. Es ist keine Neuigkeit, dass ich J.Crew liebe, daher die heutige Post, dass ich Kopf-an-Kopf alle J.Crew tragen. Klassische Stücke, die ich für Jahre weiter tragen werde, damit ich den Kauf rechtfertigen kann.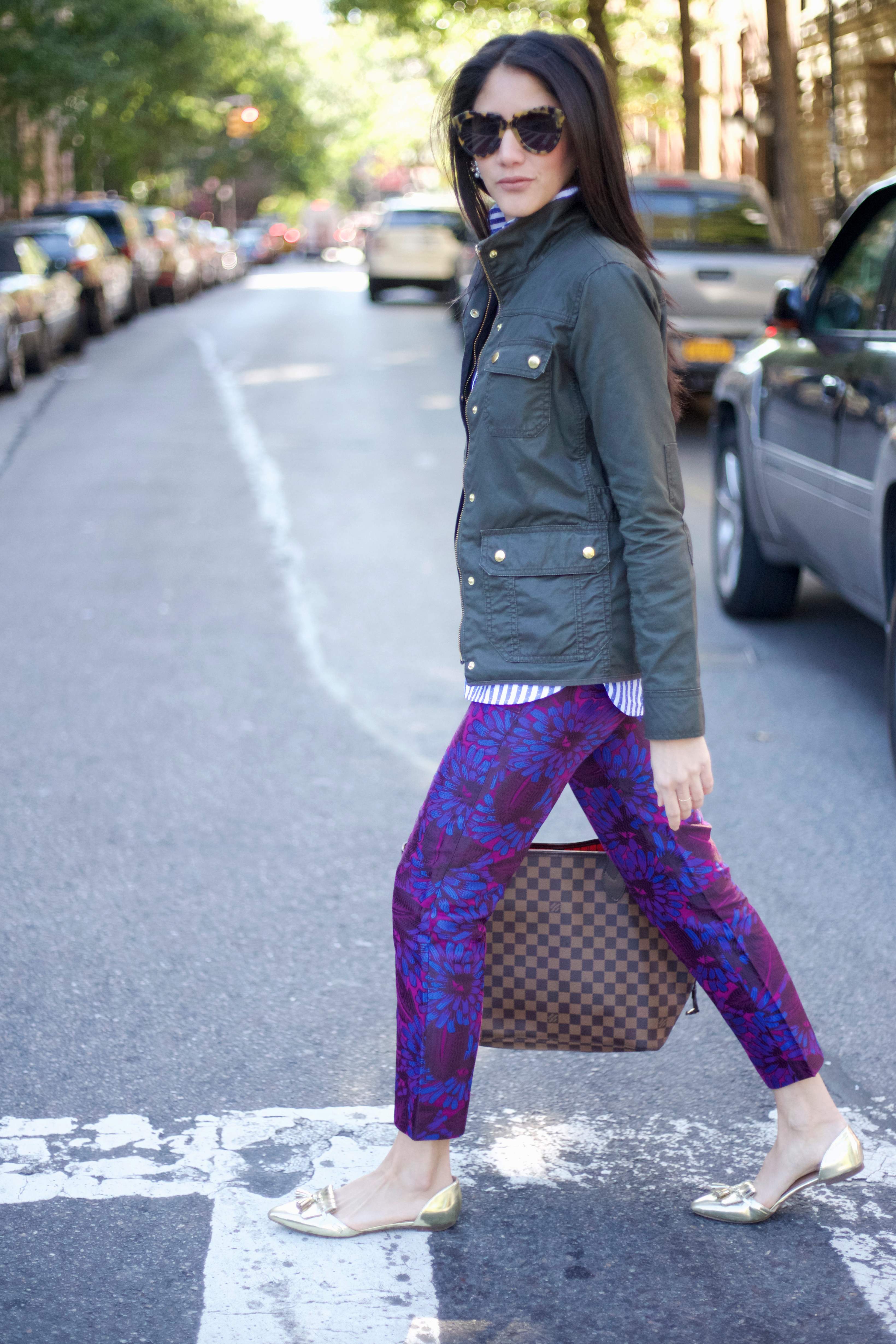 Nada dice otoño más que una chaqueta de utilidad clásica o como J.Crew la llama, la chaqueta del campo. Sirve como un color base ligero para la temporada de otoño y puedes jugar con colores y patrones para el look it de otoño. Me puse esta camisa ajustada de rayas con pantalones coloridos de colección y la chaqueta céntrica del campo de J.Crew fue el neutralizador perfecto. No es ninguna noticia que me encanta J.Crew, por lo tanto, en el post de hoy estoy usando de cabeza a los pies J.Crew. Piezas clásicas que seguiré usando durante años siempre justifican la compra.
Photos by Andrea from PrettyProperQuaint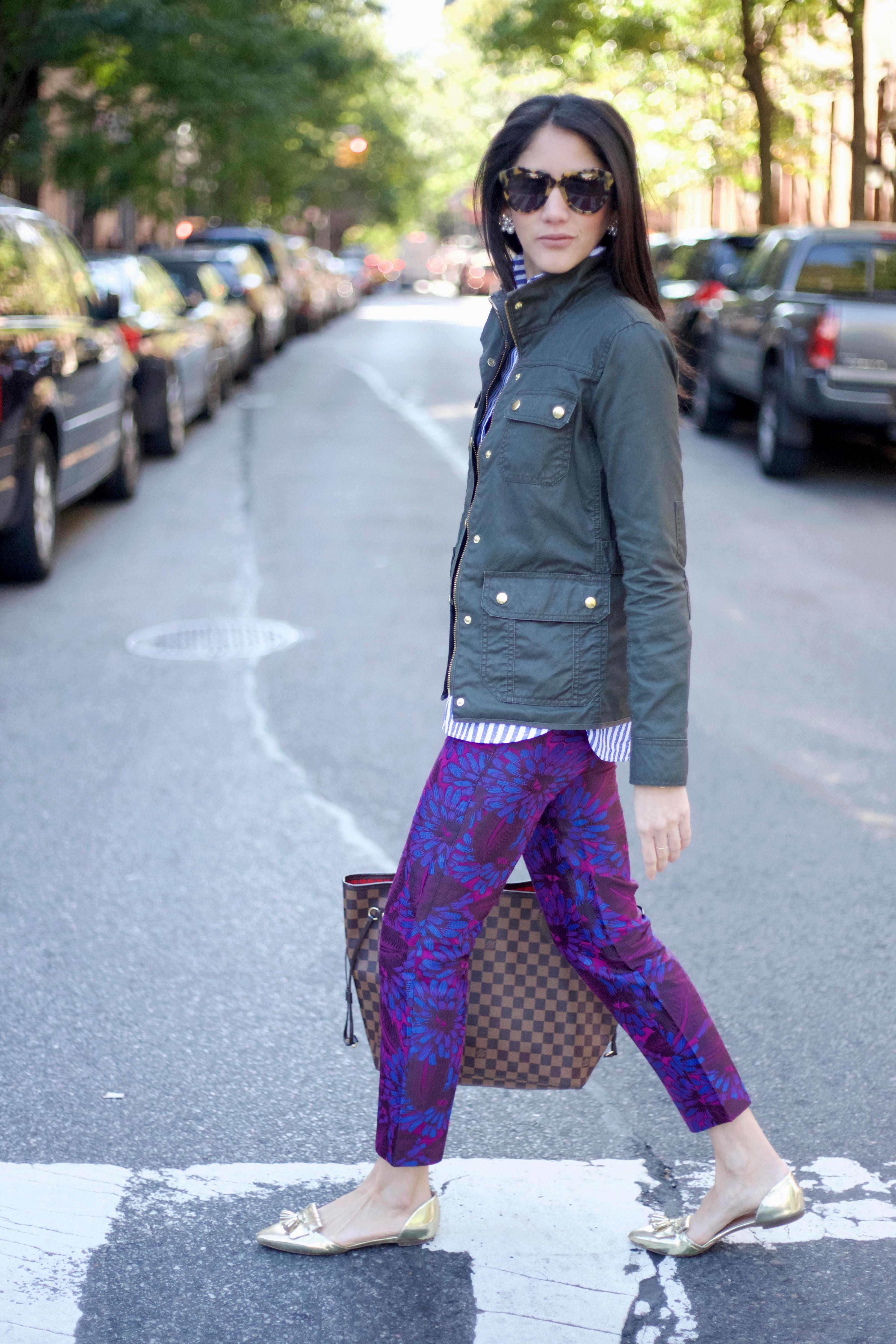 SHOP THE POST