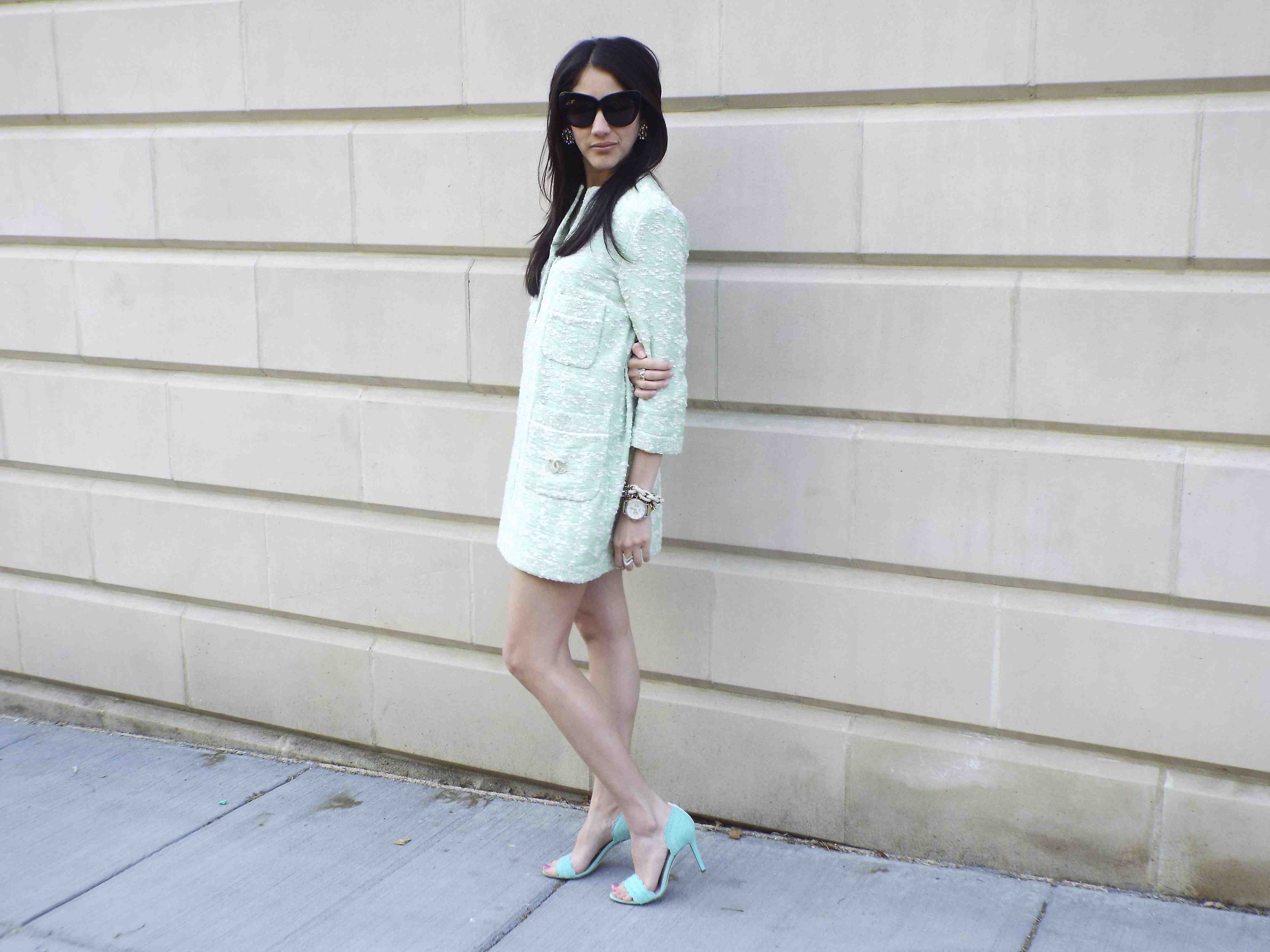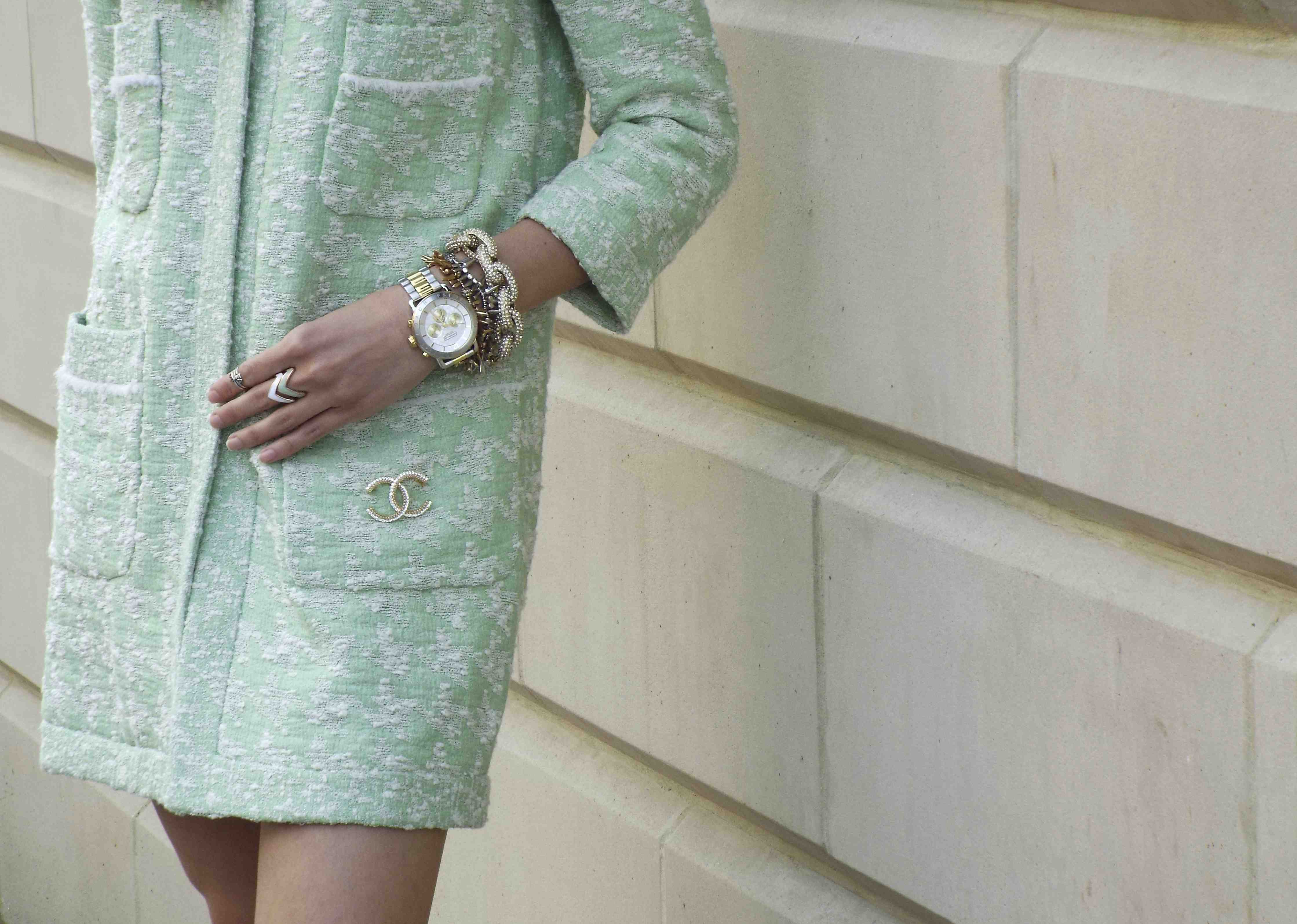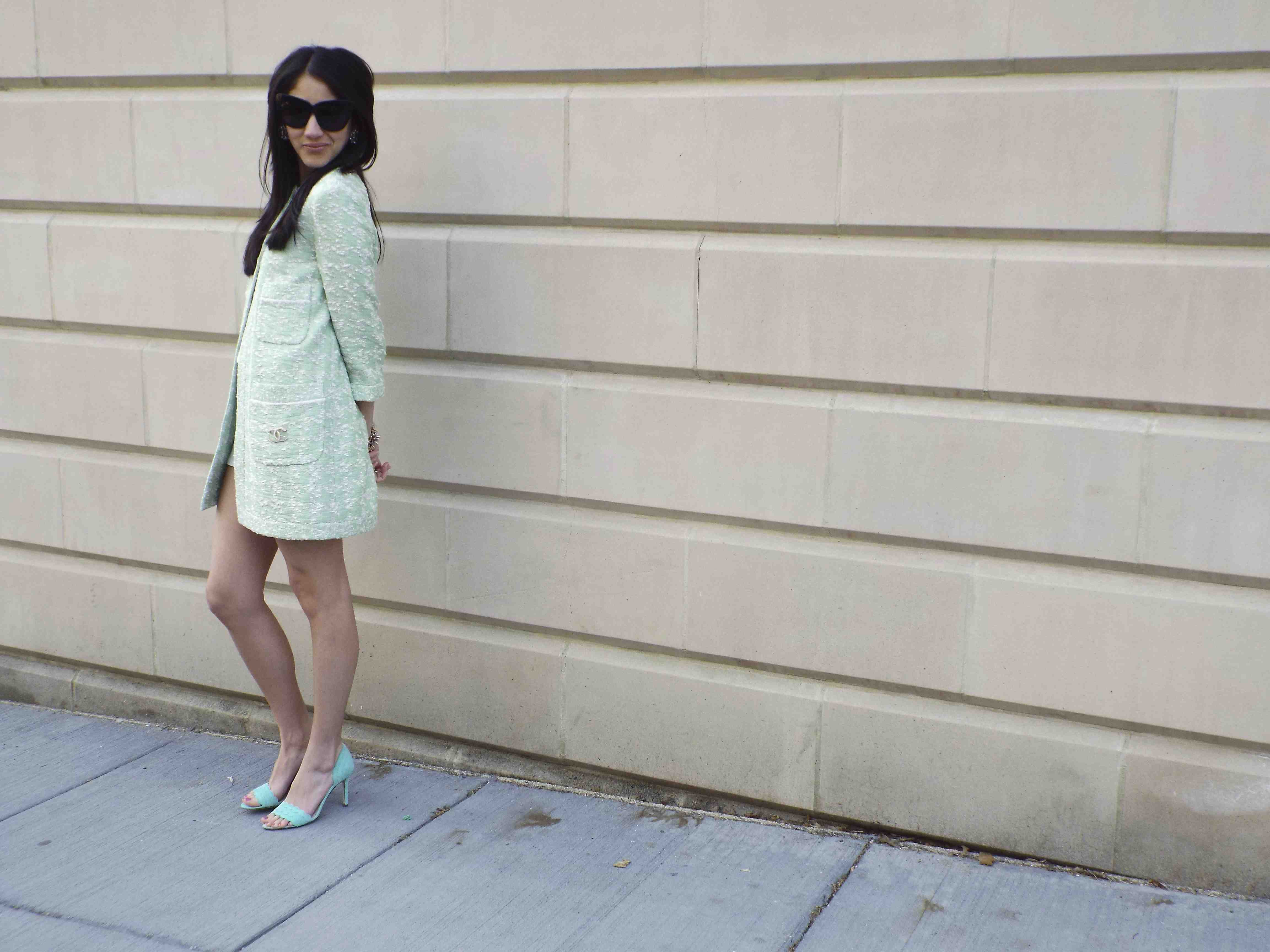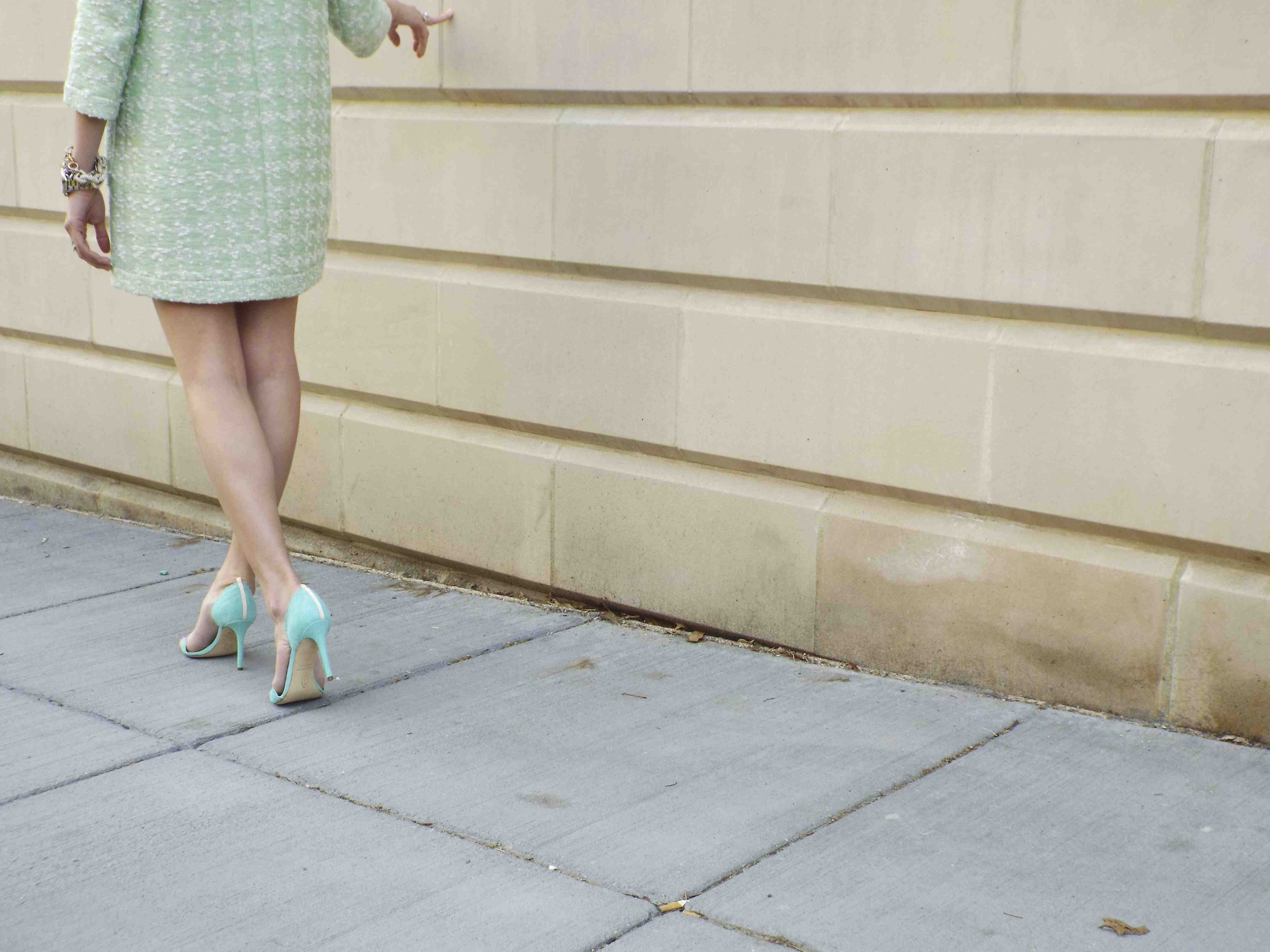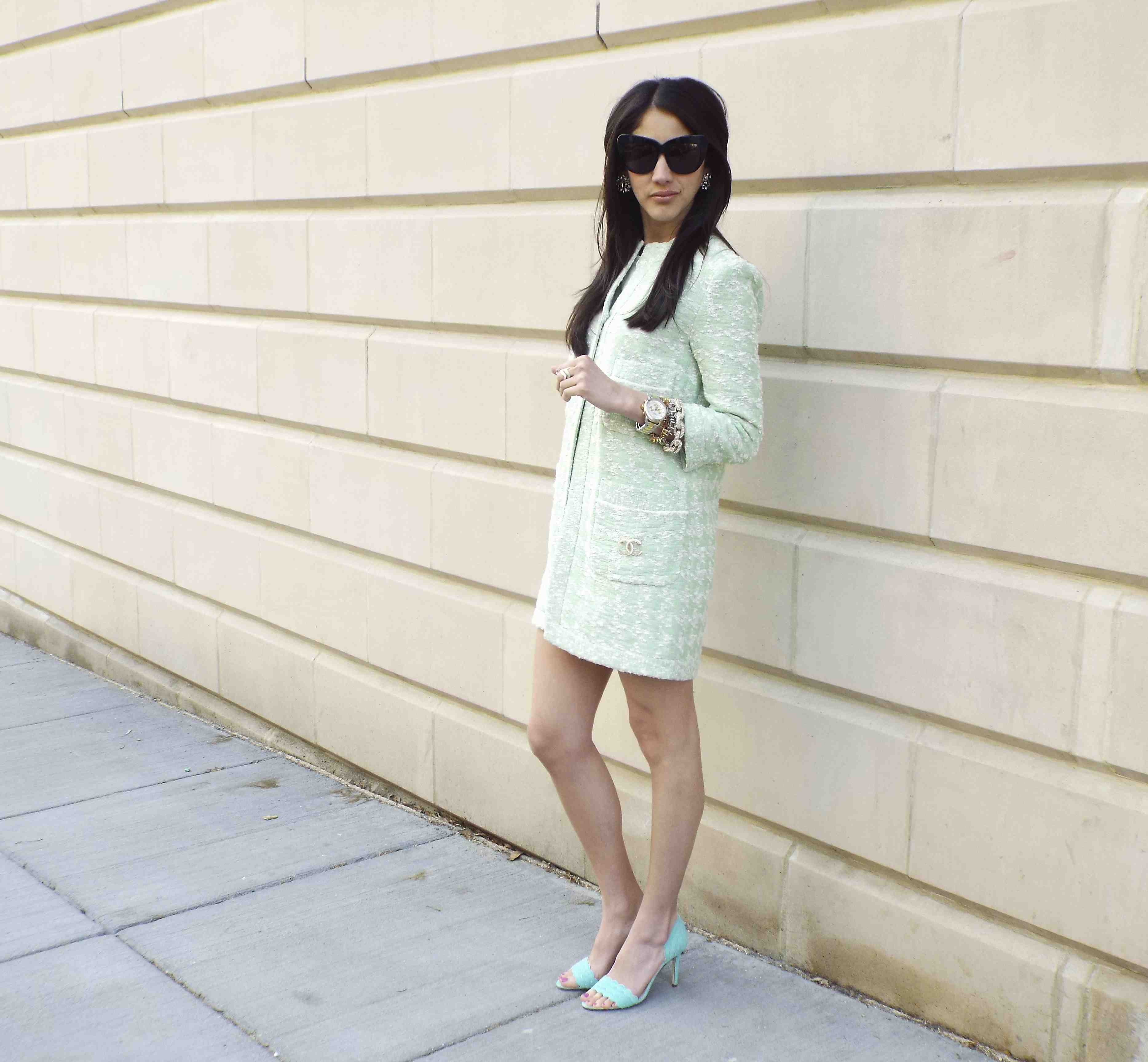 The sun is shinning and even though it's still a little bit cold, it's spring weather for sure. I'm totally in love with this Zara jacquard coat with pockets (last seen on the splurge versus steal post) I snagged last weekend. It has that Chanel look plus the mint color and subtle spring flowers are just perfection. You'll be seeing a lot of this one on the blog. Wanting to keep my look very springy, I wore my coat with a Madewell blouse, Zara shorts, House of Harlow Chelsea sunglasses, Stella & Dot renegade cluster bracelets, Coach watch, BaubleBar bracelet and rings, Forever 21 rings.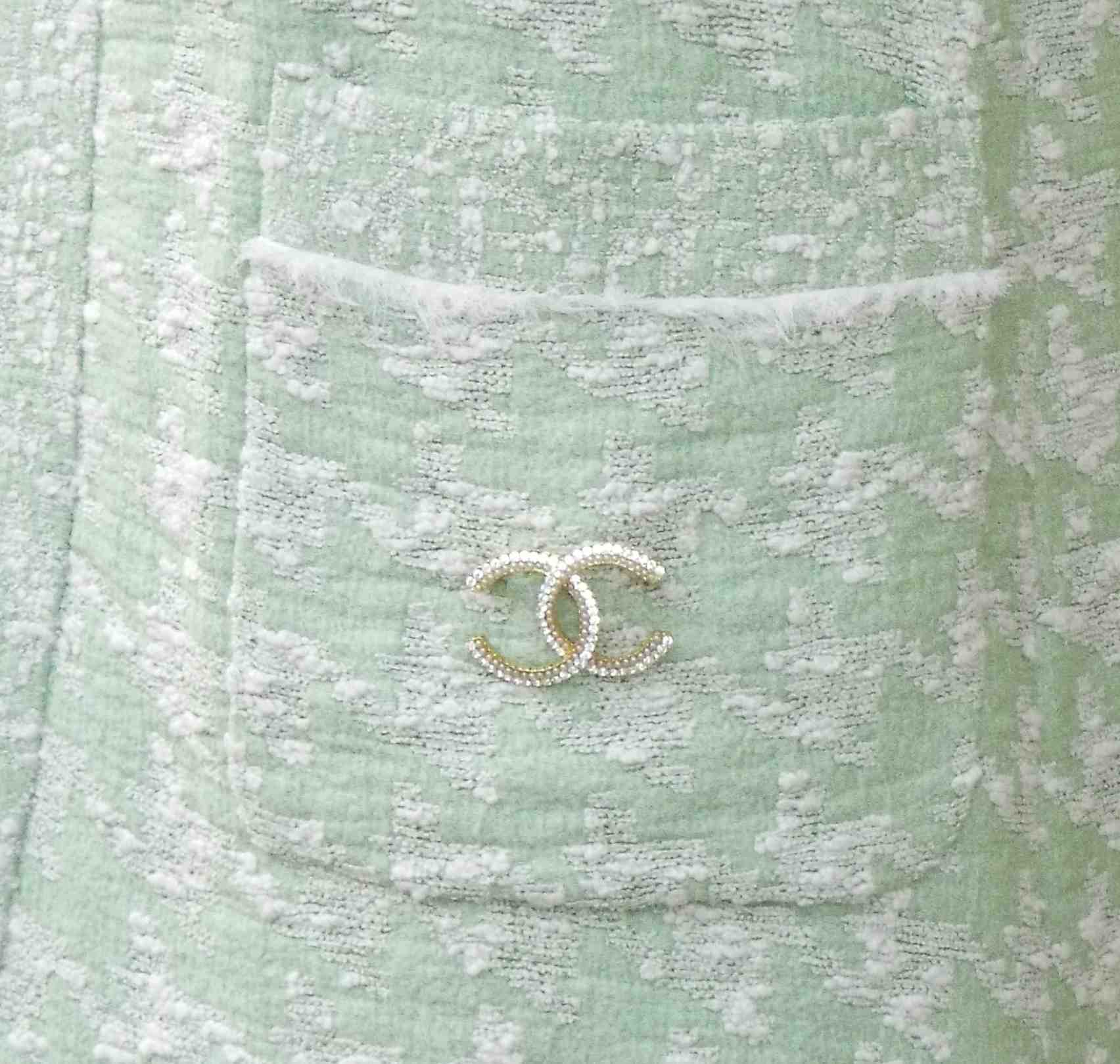 Today, I'm also sharing my SJP 'Bobbie' sandals from the recently launched collection by Sarah Jessica Parker. She signed the shoes and my shoebox. I just know I'll wear them forever. These sandals have a classic style and pretty color. I still can't believe I got to meet her during the launch, such a fun experience. You can fin the collection exclusively at Nordstrom. She's already giving previews of her Fall collection, can't wait to see more! You can read more about my shopping experience with the ever-fabulous SJP here.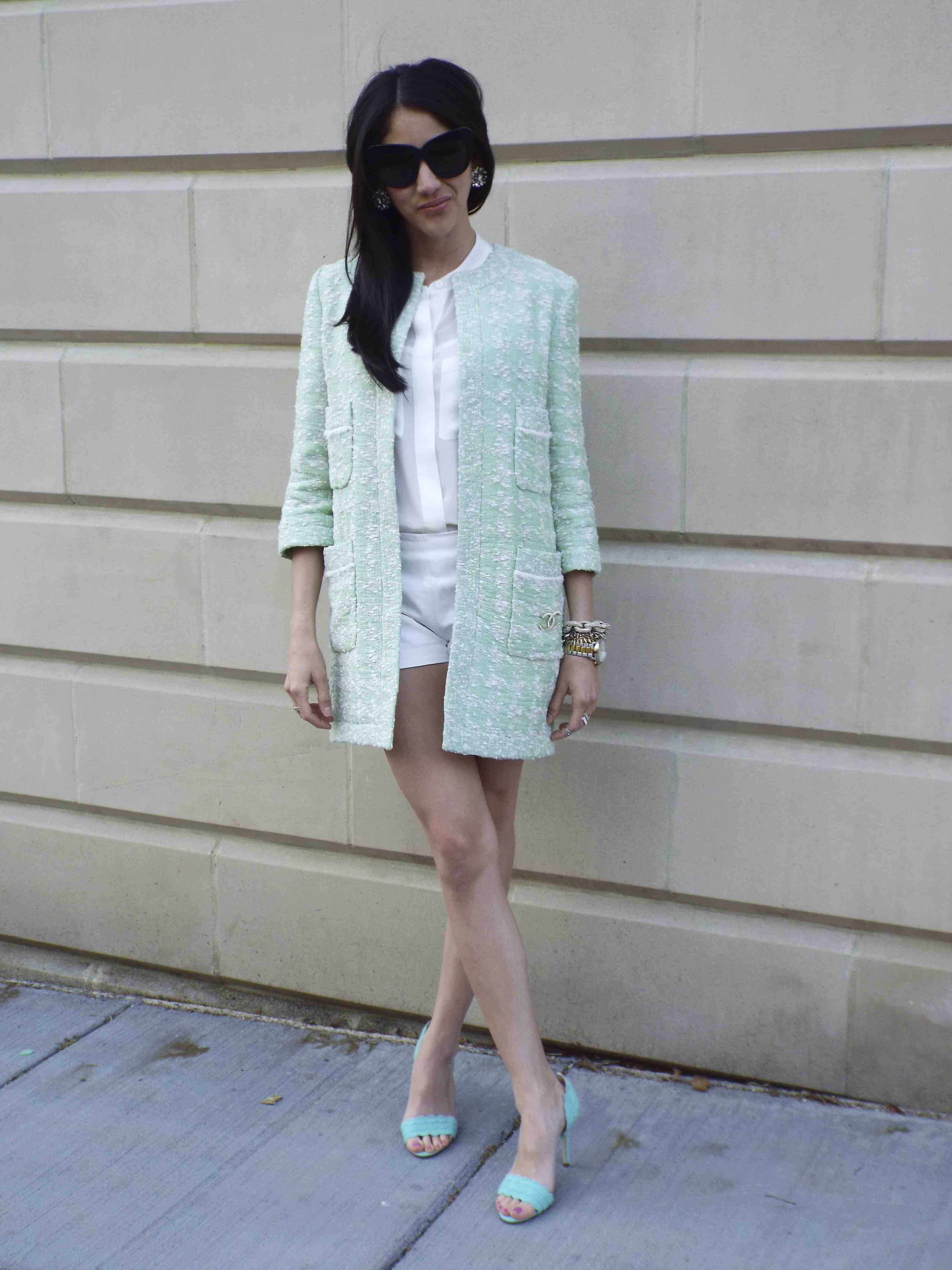 Die Sonne scheint und Frühling ist hier. Ich bin total verliebt mit diesem Zara Jacquard-Mantel (zuletzt gesehen auf dem protzen gegenüber stiehl Eintrag), dass ich letzte Wochenende gekauft habe. Es hat der Chanel-Look und dezente Minze farbigen Frühlingsblumen sind nur Perfektion. Ich habe meinen Mantel mit einem Madewell Bluse, Zara Shorts, House of Harlow Chelsea Sonnenbrille, Stella & Dot abtrünnigen Cluster-Armbänder, Coach Uhr, BaubleBar Armband und Ringe, Forever21 Ringe getrugen.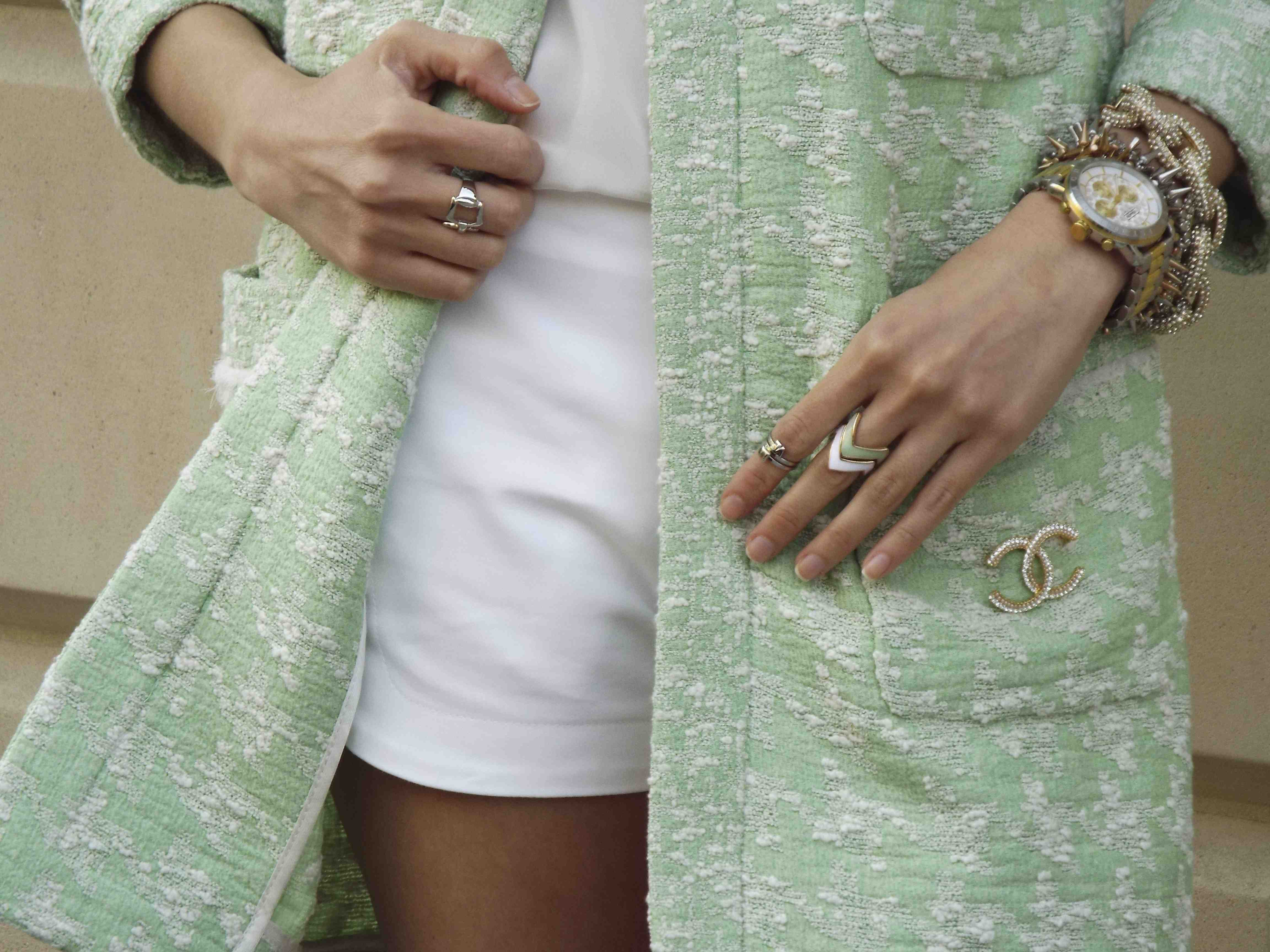 Heute werde ich auch meine SJP' Bobbie' Sandalen aus der Sammlung vor kurzem von Sarah Jessica Parker ins Leben gerufen. Sie unterschrieb die Schuhe und meine Zwischenablage. Ich weiß nur, ich werde sie immer tragen. Diese Sandalen sind klassischen und haben eine schöne Farbe. Ich kann immer noch nicht glauben, dass ich ihr kennen zu lernen habe. Sie können die Sammlung exklusiv bei Nordstrom bestellen. Sie können mehr über meine Shopping-Erlebnis mit SJP hier lesen.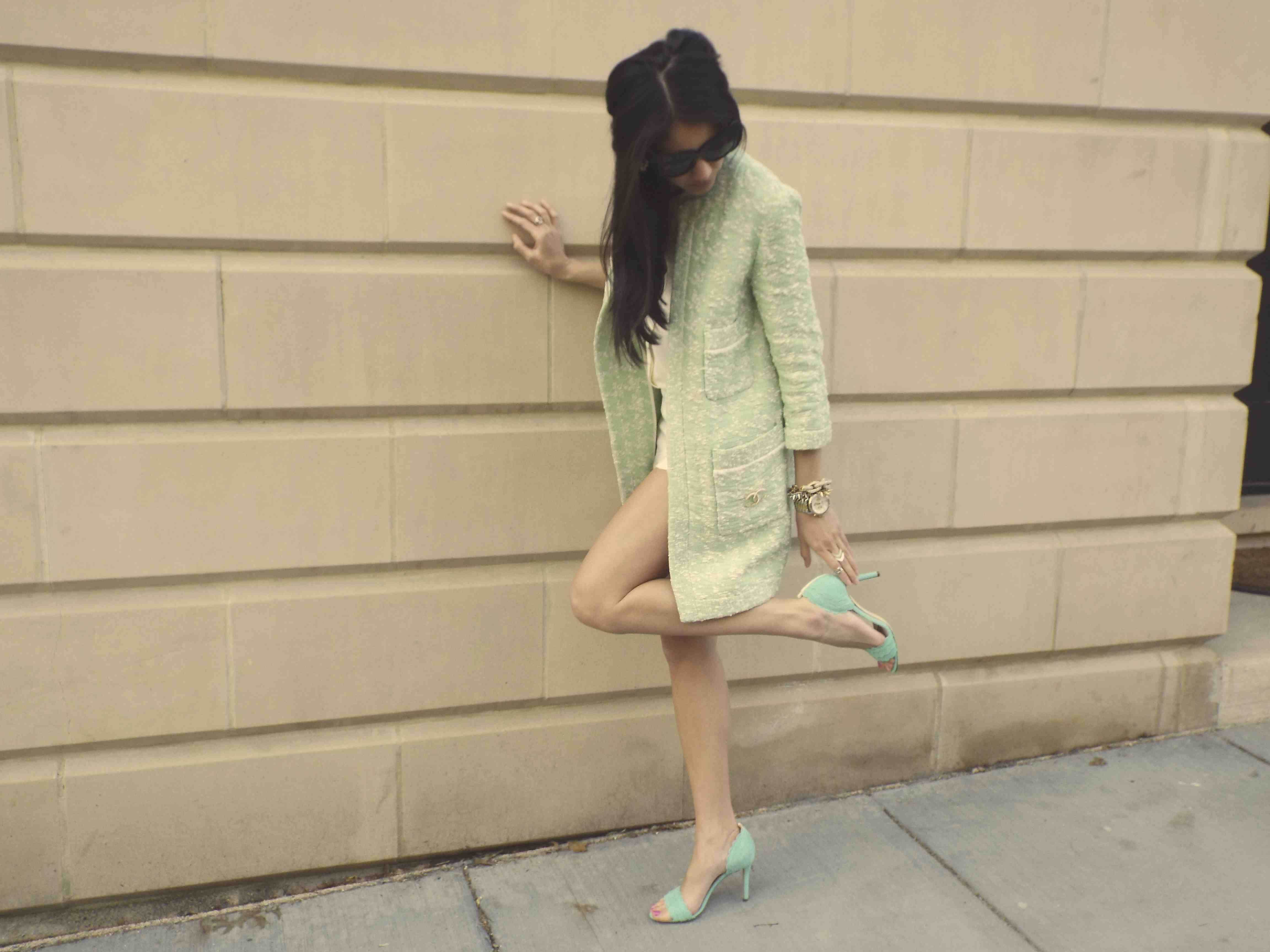 El sol está brillando y aunque todavía hace un poco de frío, ya se siente la primavera. Estoy totalmente enamorada de este abrigo jacquard Zara con bolsillos (visto por última vez en la entrada de derroche versus robo) que me compré el pasado fin de semana. Tiene ese aire de Chanel más el color menta y el bordado sutil de flores son perfectos. Van a ver este abrigo muchas veces en el blog. Queriendo tener un look super de primavera, combiné el abrigo un una blusa Madewell, shorts Zara y mis gafas preferidas House of Harlow Chelsea, pulseras de racimo renegado Stella & Dot, reloj Coach, anillos y pulsera BaubleBar, anillos Forever21.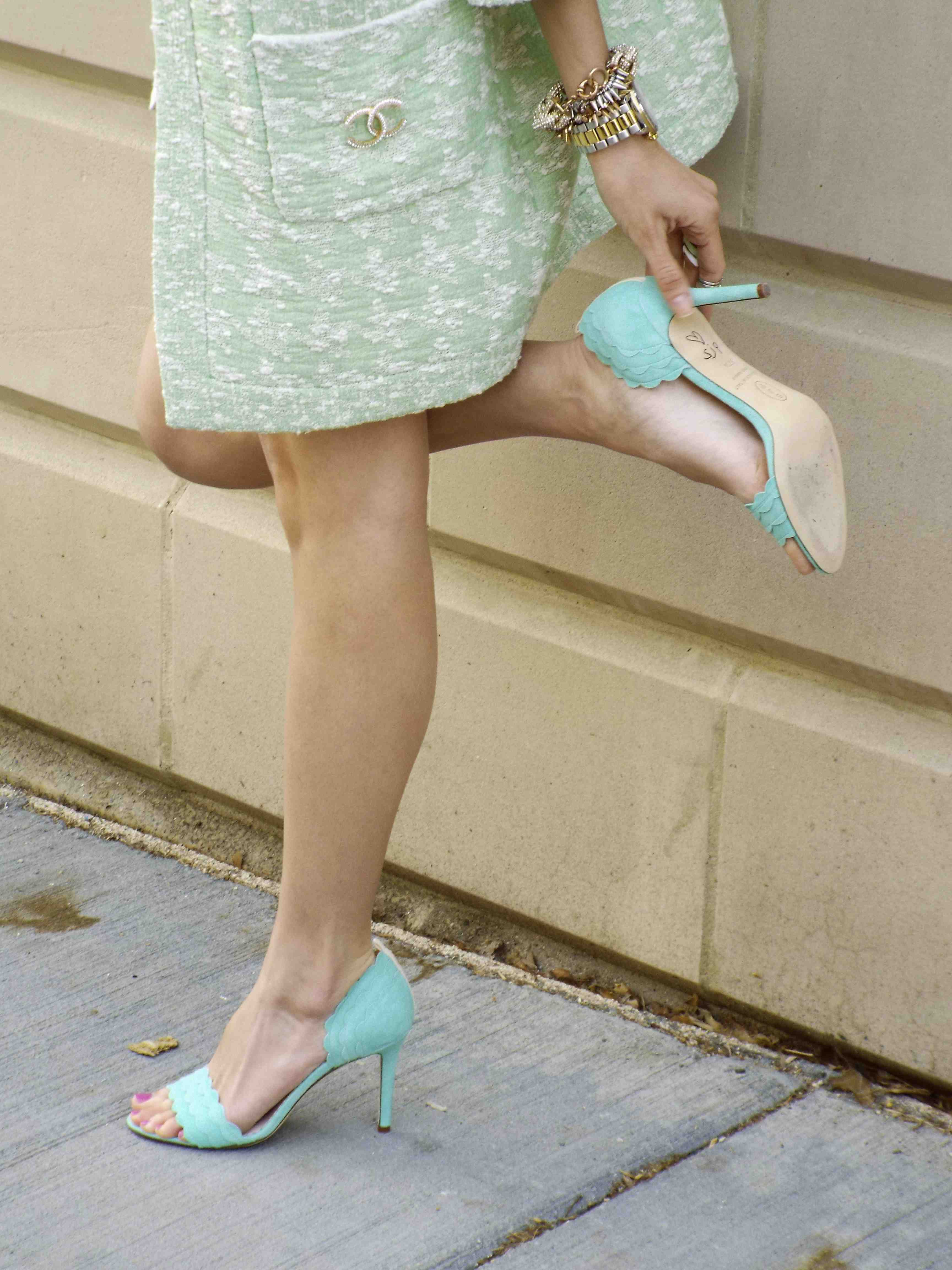 Hoy también estoy compartiendo  mis sandalis 'Bobbie' de la reciente lanzada colección de Sarah Jessica Parker. Ella firmó mis zapatos y la caja de mis zapatos. Yo se que los voy a usar para siempre. Estas sandalias tienen un estilo clásico y un color divino. Todavía no puedo creer que llegué a conocerla en su lanzamiento, fue una experiencia increible. Pueden encontrar la colección en Nordstrom. Ella ya ha proporcionado avances de su colección de otoño, ya muero por ver más. Pueden leer más acerca de mi experiencia aquí.