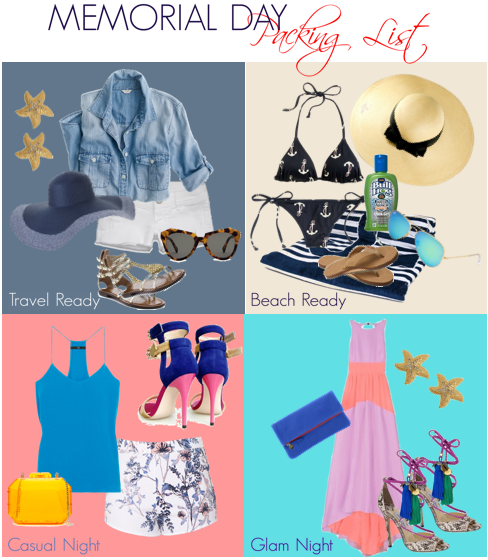 Are you ready for Memorial Day Weekend? Take a look at my packing list. Whether you're heading to East Hampton, Cape Cod, or dream-packing what you would have wore if you were not working during the holiday, these outfits can help you. Starting with my TRAVEL OUTFIT: chambray shirt, white jean shorts, metallic sandals, big hat, big shades, starfish earrings. BEACH READY OUTFIT: anchor bikini, Bull Frog sun-block, aviators, beach sandals, towel and big hat. CASUAL NIGHT OUTFIT: pop of color top, floral print shorts, statement heels, clear neon box clutch. GLAM NIGHT OUTFIT: statement maxi dress, colorful heels, starfish earrings, pop of color clutch. To get my packing list details, check out my Polyvore set.
Sind Sie bereit für Memorial Day Weekend? Kuck mal meine Packliste. Egal, ob Sie nach East Hampton, Cape Cod Überschrift oder Traum-Verpackung, was Sie hätten trug, wenn Sie nicht arbeiten während des Urlaubs, können diese Outfits helfen. Beginnend mit meinem TRAVEL OUTFIT: Chambray Hemd, weiße Jeans-Shorts, metallic Sandalen, großen Hut, großer Schatten, Seesterne Ohrringe. BEACH READY OUTFIT: Anker Bikini, Bull Frog Sonne-Block, Flieger, Badesandalen, Handtuch und großen Hut. GEMÜTLICHE NACHT OUTFIT: Pop der Farbe top, floral print Shorts, Aussage Heels, klar neon Box Clutch. GLAM NIGHT OUTFIT: Aussage Maxi-Kleid, bunte Fersen, Seesterne Ohrringe, Pop der Farbe Kupplung. Um meine Packliste Details zu erhalten, besuche meine Polyvore-Set.
¿Estás listo para el fin de semana de Memorial Day? Echa un vistazo a mi lista de embalaje. Ya sea que vayas a East Hampton, Cape Cod, o sueñes con la lista de equipaje de la ropa que pensabas usar si no estubieras trabajando este feriado, estos conjuntos te pueden ayudar. A partir de mi TRAVEL OUTFIT: Camisa de cambray, short blanco, sandalias metálicas, sombrero grande, grandes gafas de sol, aretes de estrellas de mar. BEACH READY OUTFIT: bikini de dibujos de ancla, Bull Frog bloqueador solar, gafas de aviadores, sandalias de playa, toalla y sombrero grande. TRAJE CASUAL NOCHE: top de color vivo, pantalones cortos estampados florales, tacones de declaración, cartera neón. CONJUNTO PARA UNA NOCHE GLAM: vestido maxi, tacones de colores, aretes de estrellas de mar, cartera de pop de color. Para obtener mis detalles de la lista de equipaje, mira mi set en Polyvore.