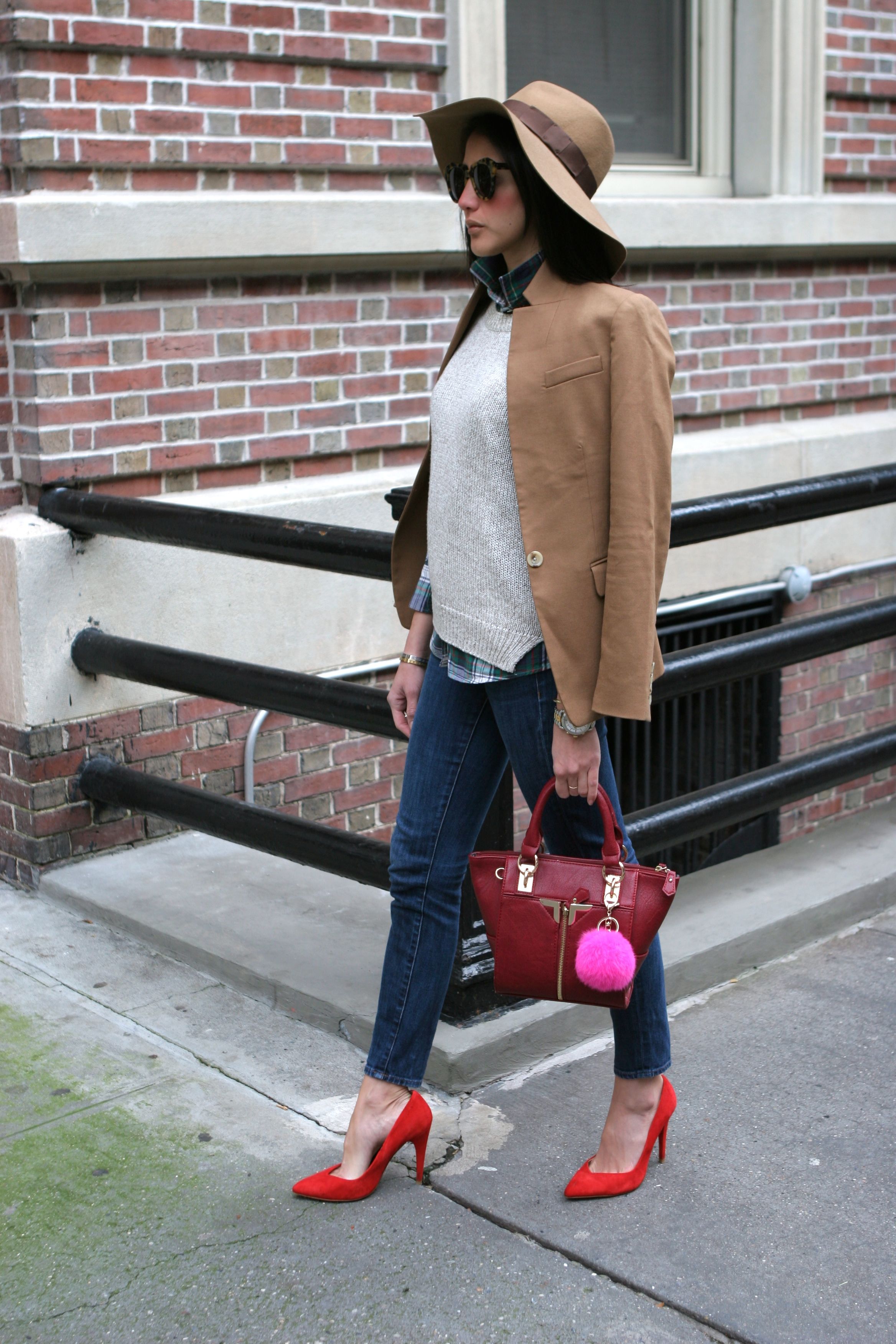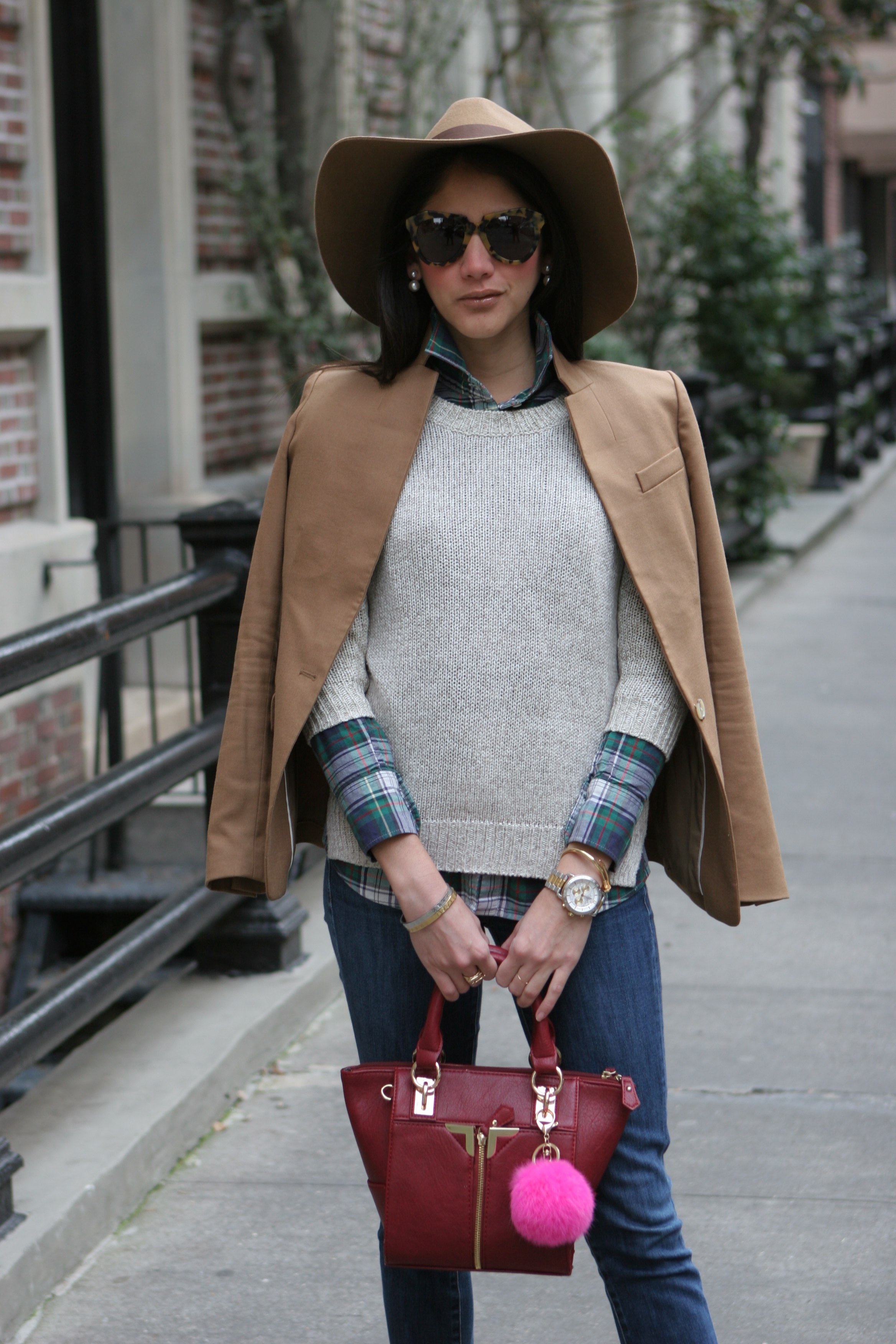 Blazer: J.Crew regent blazer | Sweater: J.Crew Factory sweater | Shirt: J.Crew perfect shirt in stewart plaid | Pants: J.Crew toothpick jeans | Hat: Brixton Su2c x Revolve Piper hat via Revolve Clothing | Bag: Danielle Nicole Alexa mini bag | Sunglasses: Karen Walker Number One sunglasses via Shopbop | Earrings: BaubleBar Suspension pear drops | Watch: Coach (I snagged this one at T.J.Maxx and I absolutely love it, wear it every day) | Bracelets: Anarchy Street naild it bangle | Lipstick: MAC 'Huggable' lipcolour | Make-up: Chanel Joues contraste powder blush, Bare Minerals foundation kit.
Layers, layers, and more layers are exactly what we all need these days. I love shopping if you couldn't tell by now but I also love mixing and matching new clothes with staple pieces I already have in my closet. It gives me comfort knowing that I can still wear those classic pieces I've been collecting throughout the years. I'm a J.Crew groupie. Pretty much my whole work wardrobe is from J.Crew. They have classic pieces I can wear both to the office and to go out. You know the rule, if you can justify multiple uses on one piece of clothing, then it must be right and it's coming home with me. This blazer is a little tighter than the classic J.Crew blazers. I still got it in the same size I wear every other J.Crew piece of clothing because I liked the fitted look better. There are so many great pieces to grab this season. Not to stress you out but this is also a great time to look for those pieces that were sold out around the holidays because everyone is returning and exchanging Christmas gift right now! (In stores and online: extra 40% off winter sale styles, with code SHOPNOW).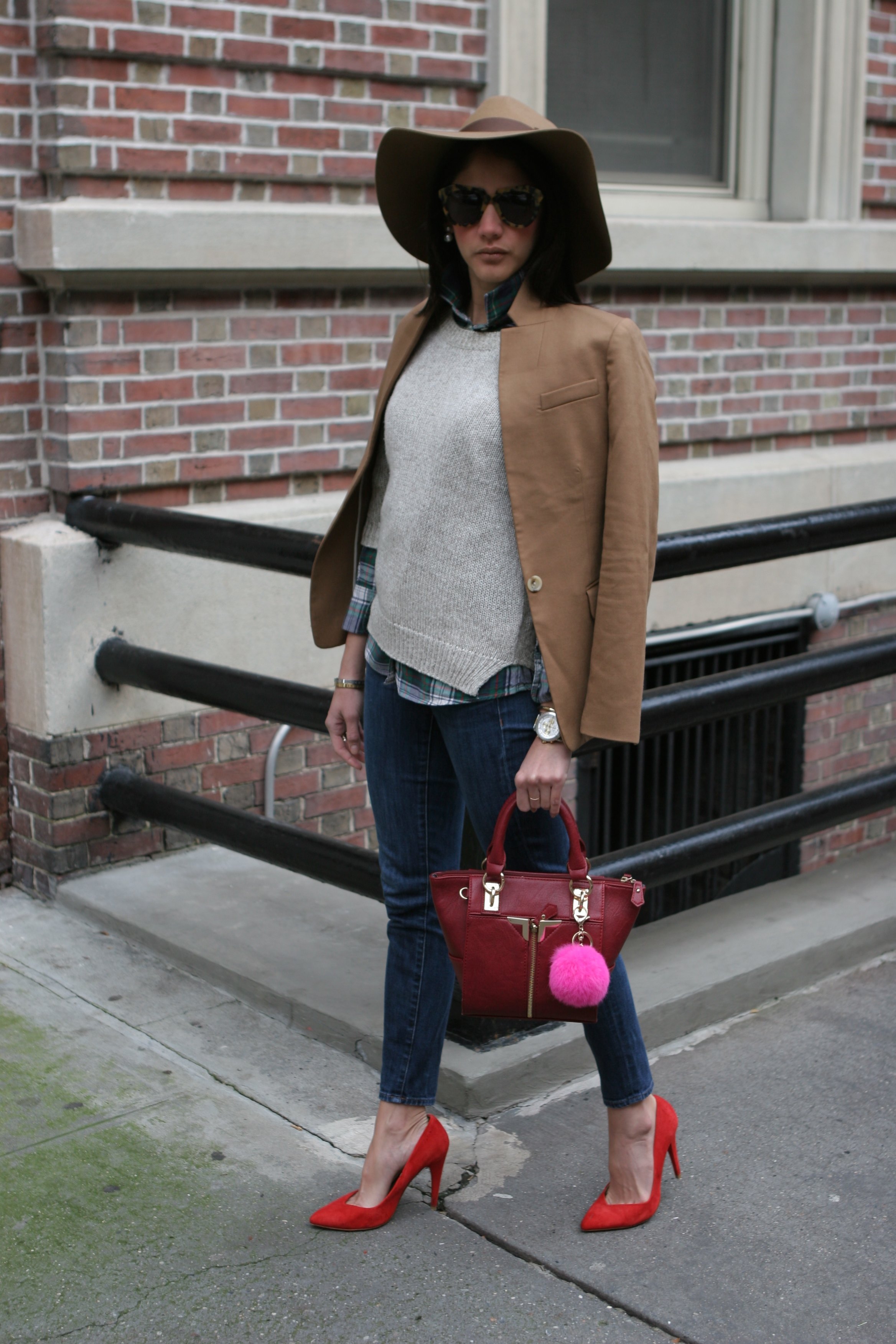 Schichten, und mehrere Schichten sind genau das, was wir alle in diesen Tagen brauchen. Ich liebe shopping, wenn Sie konnte nicht von jetzt sagen, aber ich liebe auch Mischen und Anpassen von neuen Kleidern mit Klammer Stücke habe ich schon in meinem Schrank. Es gibt mir Trost zu wissen, dass ich immer noch tragen die klassischen Stücke habe ich im Laufe der Jahre sammeln worden. Ich bin ein J.Crew Groupie. So ziemlich mein ganzes Werk Garderobe ist von J.Crew. Sie haben klassische Stücke, die ich sowohl in das Büro zu tragen und sich zu gehen. Sie kennen die Regel gilt, wenn Sie mehrere Anwendungen auf einem Kleidungsstück zu rechtfertigen, dann muss es richtig sein, und es ist mit mir nach Hause kommen. Dieser Blazer ist ein wenig fester als die klassischen J.Crew Blazer. Ich erhielt es noch in der gleichen Größe trage ich jeden zweiten J.Crew Kleidungsstück, weil ich die angepasste Optik besser gefallen. Es gibt so viele großartige Stücke in dieser Saison zu greifen. Nicht auf Sie betonen, aber das ist auch eine gute Zeit, um für jene Stücke, die sich rund um die Feiertage verkauft wurden, weil jeder der Rückkehr und Austausch Weihnachtsgeschenk jetzt aussehen! (In Geschäften und online: extra 40% Rabatt auf Winter Verkauf von Designs, mit Code SHOPNOW).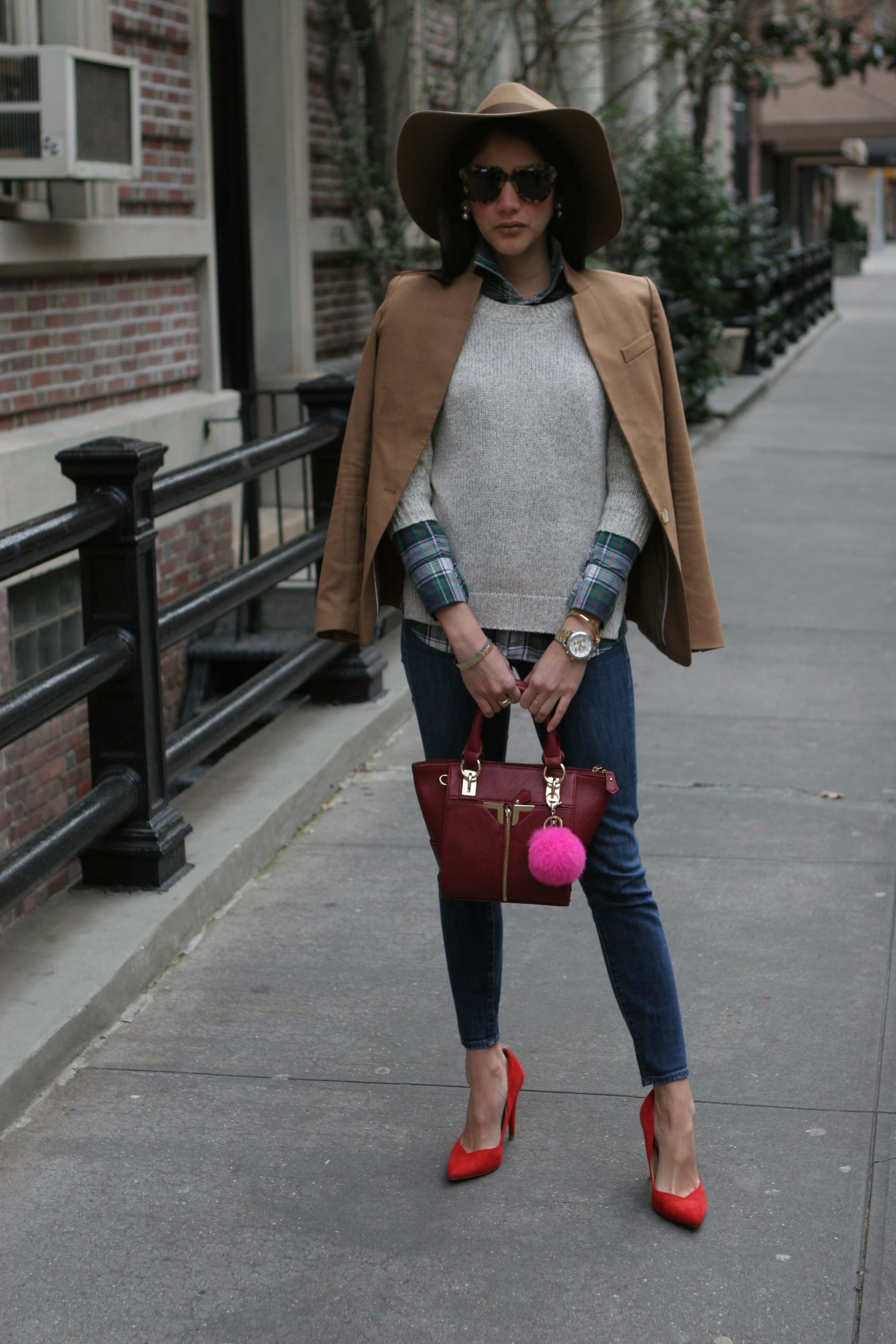 Capas, capas y más capas son exactamente lo que todos necesitamos en estos días. Me encanta ir de compras si no se han dado cuenta, pero también me encanta mezclar y combinar ropa nueva con piezas que ya tengo en mi closet. Es un consuelo saber que todavía me puedo poner esas piezas clásicas que he ido recopilando a lo largo de los años. Soy una groupie de J.Crew. Casi todo mi closet de ropa de trabajo es de J.Crew. Tienen piezas clásicas que puedo usar tanto para la oficina y para salir a la calle. Sabes la regla, si puedes justificar múltiples usos en una pieza de ropa, entonces debes comprarlo. Este blazer es un poco más ajustado que los blazers clásicos de J.Crew. Igual lo compré en la misma talla que me pongo cualquier otra pieza de ropa de J.Crew porque me gustaba más el look armado. Hay tantas piezas lindas esta temporada. No quiero estresarte, pero este es un buen momento para buscar las piezas que se vendieron y no encontraste durante las fiestas navideñas porque todo el mundo está devolviendo e intercambiando regalos de Navidad en este momento! (En las tiendas y online recibe un extra 40% en estilos de venta de invierno, con código SHOPNOW).