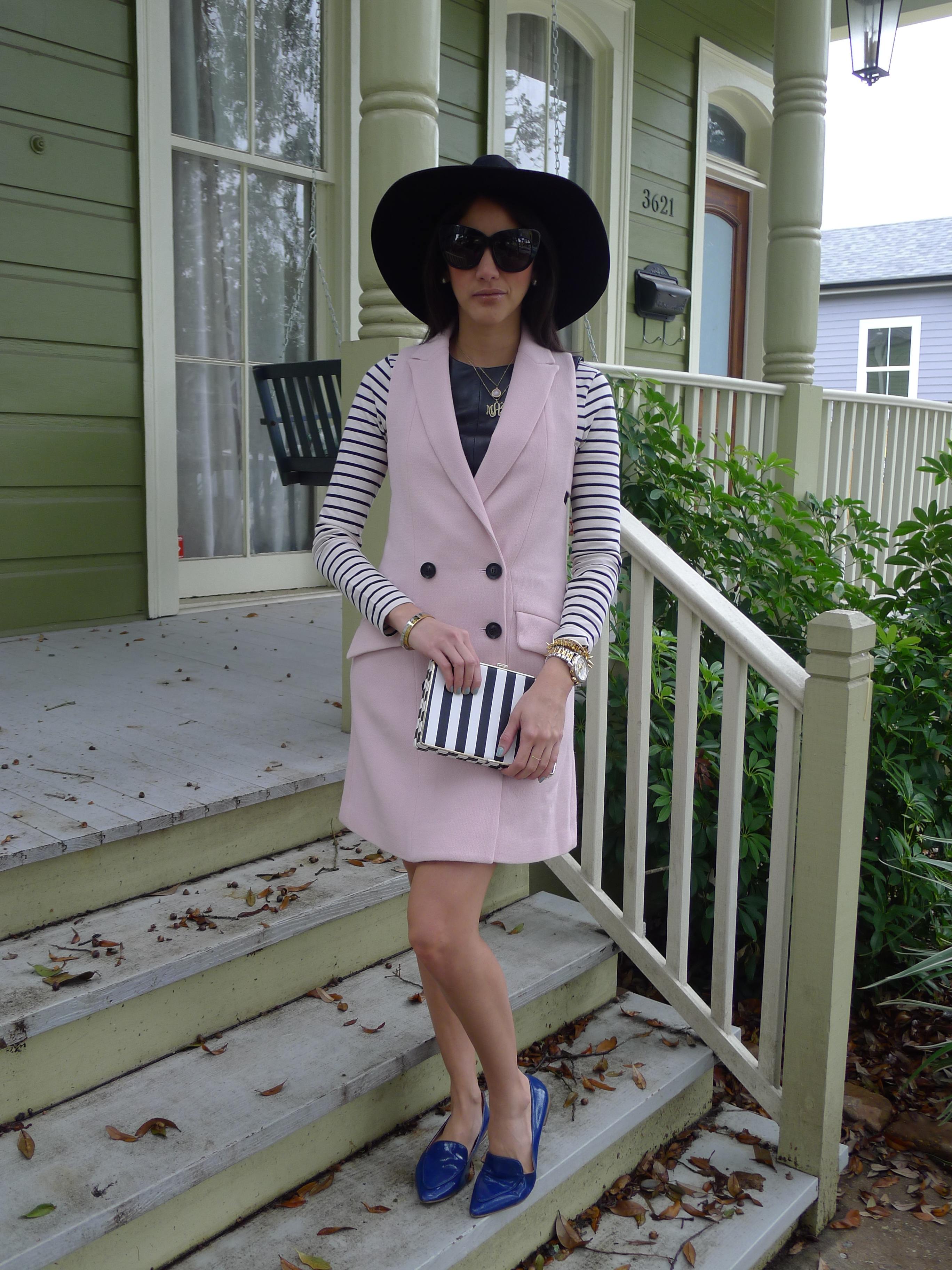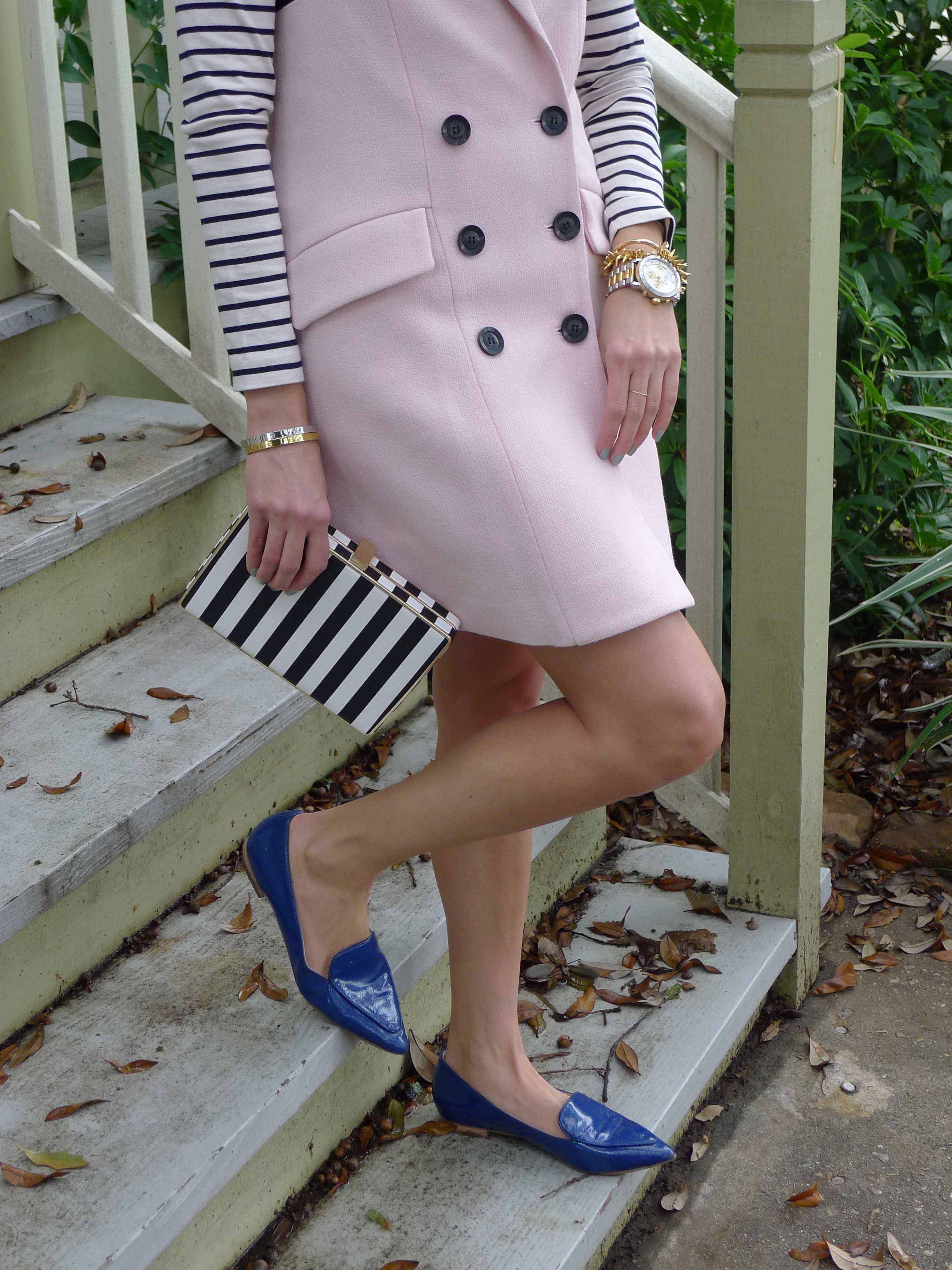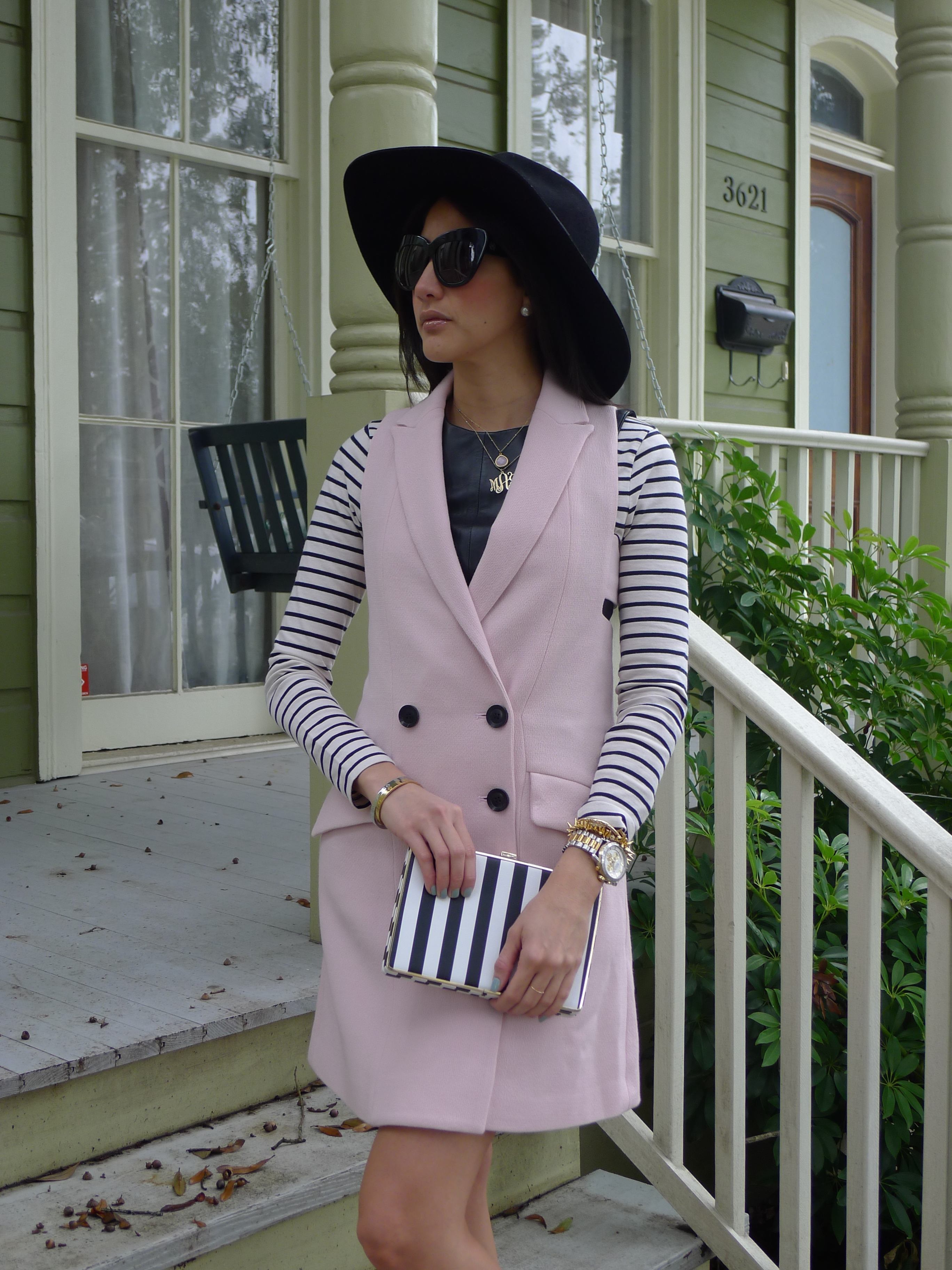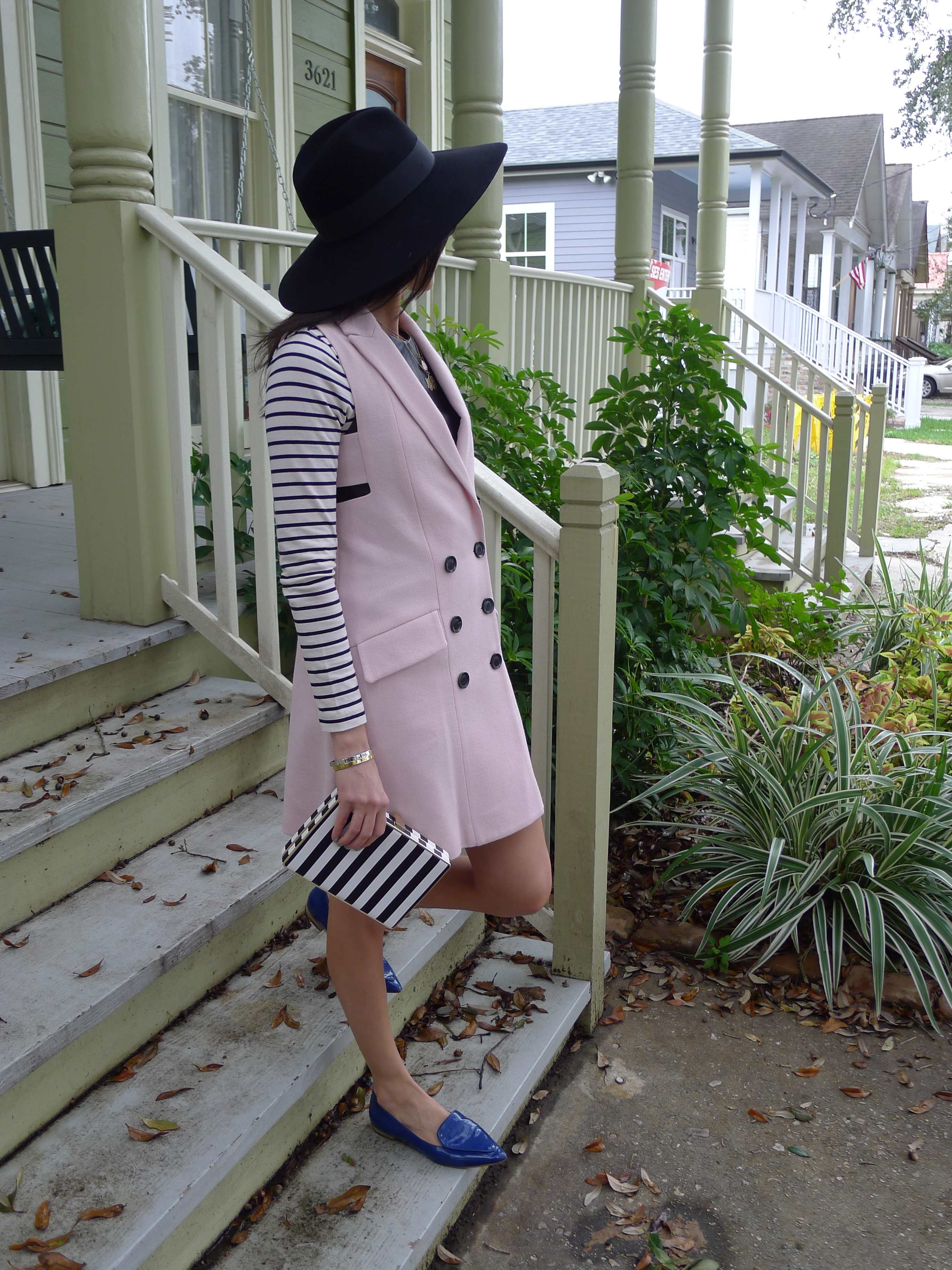 Tee: J.Crew Factory long-sleeve striped boatneck tee | Dress: H&M sleeveless dress ($9.99) | Vest: Marissa Webb Tessa sleeveless crepe dress (I'm also loving this Marissa Webb Marlow vest dress, it has spring statement trench coat-esque written all over it) | Shoes: Sole Society Cammila flats | Hat: Brixton Su2c x Revolve Piper hat via Revolve Clothing | Bag: Stella & Dot black and cream clean stripe clutch | Sunglasses: House of Harlow 1960 Chelsea | Earrings: BaubleBar Suspension pear drops | Watch: Coach | Bracelets: Stella & Dot renegade cluster bracelet, Anarchy Street nail bangle, vintage bracelets | Lipstick: MAC 'Huggable' lipcolour | Make-up: Chanel Joues contraste powder blush, Bare Minerals foundation kit.
This weekend was sunny with a chance of rain. It went from cold to warm, from cloudy to sunny, from sunny to rainy, from rainy to cloudy all in the same day. When the weather gets this crazy, especially in the winter in the middle of January, you have to plan your layers properly. You don't' want to wear thick coats or sweaters because you'll get too hot too fast when it gets warm during the day. My recommendation is to layer up. Take this outfit for example. Try a cotton stripe tee with a fitted yet breathable faux leather dress and top it off with a statement vest dress. Add a hat and cute flats for warmth, comfort with dash of chicness. You'll be warm but comfortable with these ever-changing temperatures. If it gets too warm, you can take off one of the layers and if you get a little chilly, you can add a blazer or cardigan. It's all about properly balancing your layers.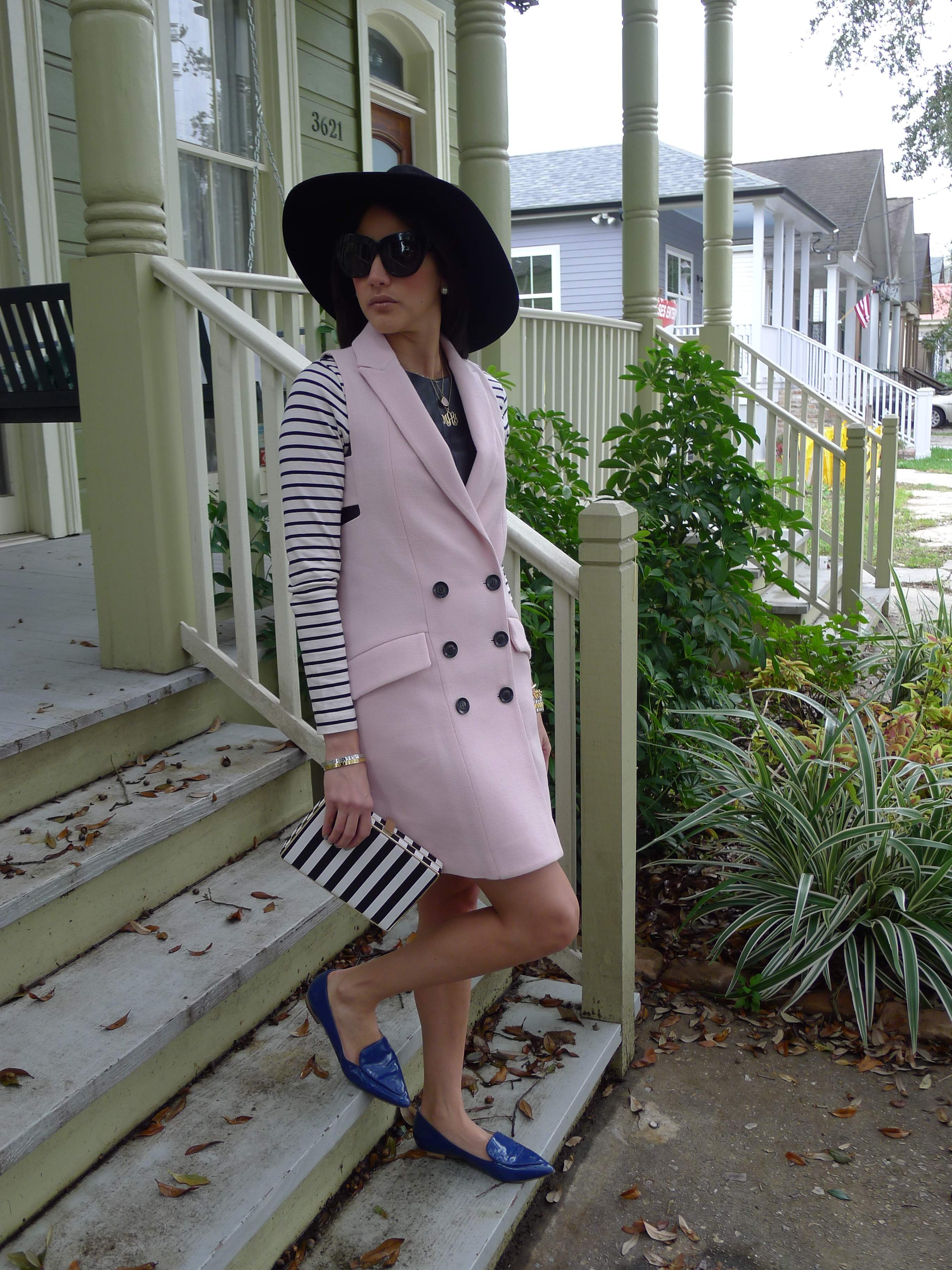 Wir haben sonnig und regen Tagen diese Wochenende gehabt. Es ging von kalt zu warm, vom bewölkt bis sonnig, von Sonne zu Regen, vom Regen, alle in den gleichen Tag trüb. Wenn das Wetter dieses verrückt, vor allem im Winter in der Mitte Januar, müssen Sie Ihre Schichten richtig zu planen. Sie müssen nicht wollen dicken Mänteln oder Pullover tragen, weil Sie zu heiß zu schnell, wenn es während des Tages warm wird. Meine Empfehlung ist, Schicht bis. Nehmen Sie dieses Outfit zum Beispiel. Versuchen Sie, ein Baumwollstreifen-T-Shirt mit einer Einbauatmungsaktiv faux Leder-Kleid und das Ganze abzurunden mit einer Aussage Westekleides. Fügen Sie einen Hut und eine nette Wohnungen für Wärme, Komfort mit Schlag von chicness. Sie werden warm, aber komfortabel mit diesen ständig wechselnden Temperaturen. Wenn es zu warm wird, können Sie nehmen Sie eine der Schichten, und wenn Sie ein wenig kühl zu erhalten, können Sie einen Blazer oder Cardigan hinzuzufügen. Es geht nur um richtig Ausgleich Ihrer Schichten.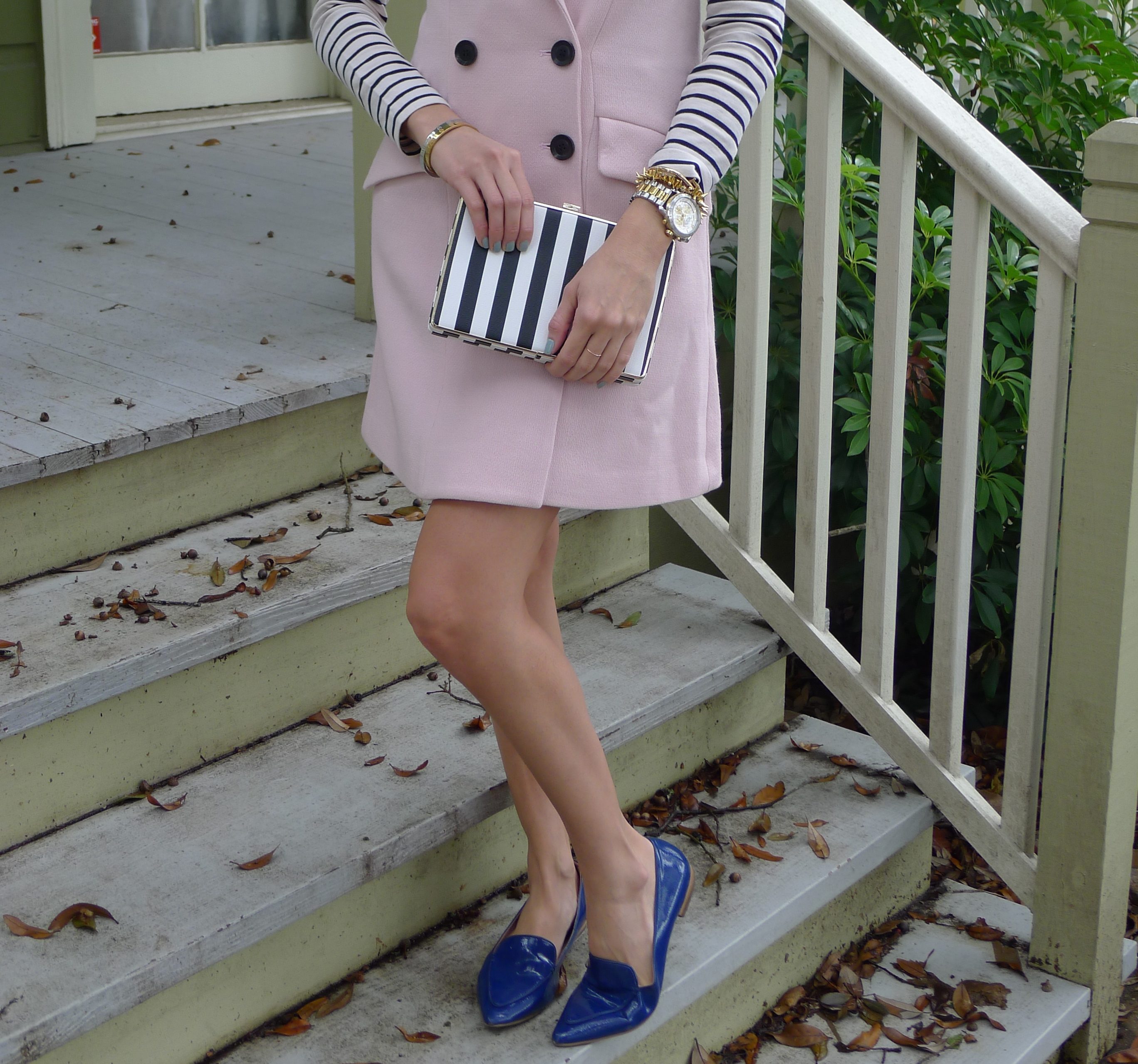 Este fin de semana fue soleado, con probabilidad de lluvia. El día estuvo como loco, estuvo de frío a caliente, de nublado a soleado, de soleado a lluvioso, de lluvioso a nublado en el mismo día. Cuando el clima se pone así de loco, especialmente en el invierno a mediados de enero, tienes que planificar tus capas correctamente. No uses abrigos o suéteres gruesos porque te pondrás demasiado caliente demasiado rápido cuando hace calor durante el día. Mi recomendación es usar capas sobre capas. Toma este conjunto por ejemplo. Prueba una camiseta de raya de algodón con un vestido de cuero de imitación pero transpirable armadito y termina el look con un vestido de chaleco que complemente tu figura. Añade un sombrero y flas lindos para mantenerte calientita, cómoda con una pizca de chicness. Estarás caliente pero cómoda con estas temperaturas cambiantes. Si te sientes demasiado caliente, puedes sacarte una de las capas y si te da un poco de frío, puedes agregar un blazer o una chaqueta. Todo es cuestión de equilibrar adecuadamente tus capas.