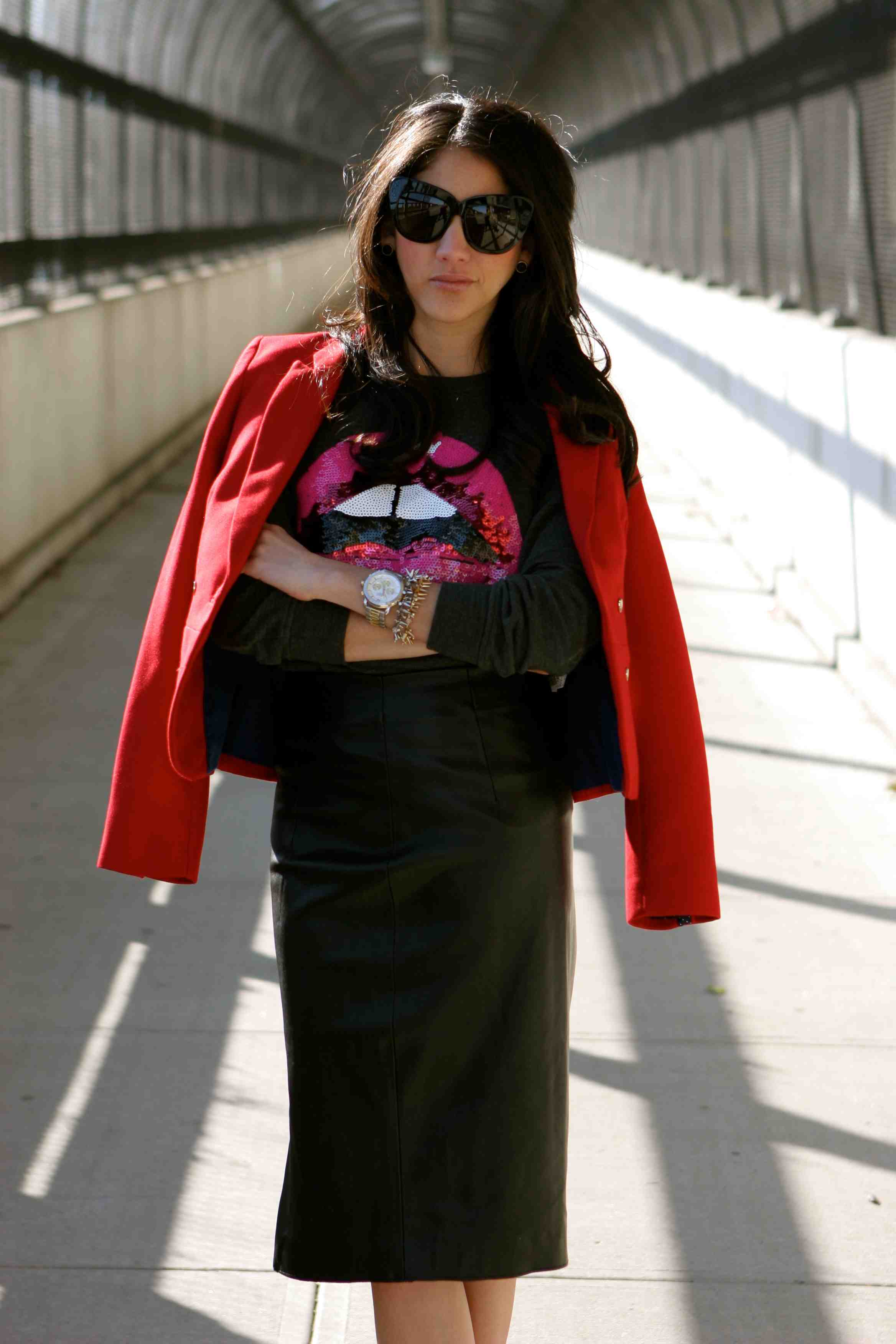 When it comes to fall fashion, pop of color and layers always come to mind. Add them together on an easy breezy outfit and there you go, the perfect combo for a fall day! I love this sequined lips sweatshirt from Forever21 (last time seen here). When I first got it, it was a bit too big on the shoulders so I got it tailored (yes, it's the perfectionist in me that wants everything jut right), and BAM, it fits perfect. The fabric is super soft and it's easy to wear with skirts, leggings, pants, you name it. I opted for leather skirt this time and red heels to add to the red blazer pop of color. Forever21 dazzling sequined lips sweatshirt, ZARA red blazer, ZARA leather skirt (also loving this brown and red versions), ZARA heels, House of Harlow 1960 Chelsea sunglasses, Coach watch via T.J.Maxx, Stella & Dot renegade cluster bracelets.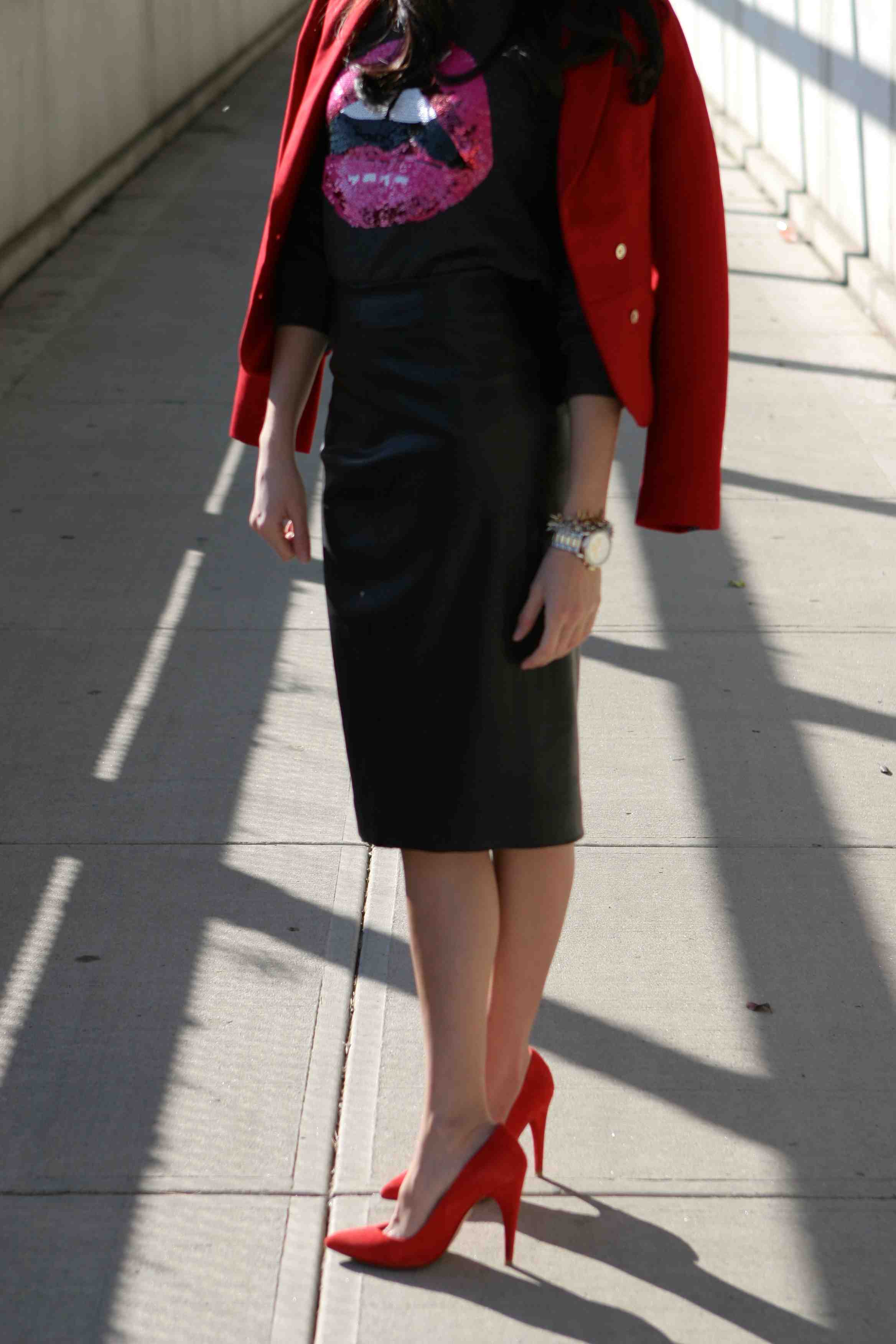 Wenn es um Herbst Mode denke, Pop von Farbe und Schichten immer in den Sinn kommen. Fügen Sie sie zusammen auf einem leicht luftigen Outfit und dort gehen Sie, die perfekte Kombination für einen Tag fallen! Ich liebe diese Pailletten Lippen Sweatshirt von Forever21 (letzte Mal hier zu sehen). Als ich zum ersten Mal, es war ein bisschen zu groß auf den Schultern, damit ich es zugeschnitten (ja, es ist der Perfektionist in mir, alles Recht will) bekam, und BAM, es passt perfekt. Der Stoff ist super weich und es ist einfach, mit Röcken, Leggings, Hosen zu tragen, you name it. Ich entschied mich für dieses Mal Lederrock und roten Heels auf dem roten Blazer Pop der Farbe hinzuzufügen. Forever21 Pullover, ZARA rotte Jacke, ZARA Leder Rock (auch liebevoll Dieser braune und rote Versionen), ZARA Schuhe, House of Harlow 1960 Chelsea Sonnenbrillen, Coach Uhr via T.J.Maxx, Stella & Dot abtrünnigen Cluster Armbänder.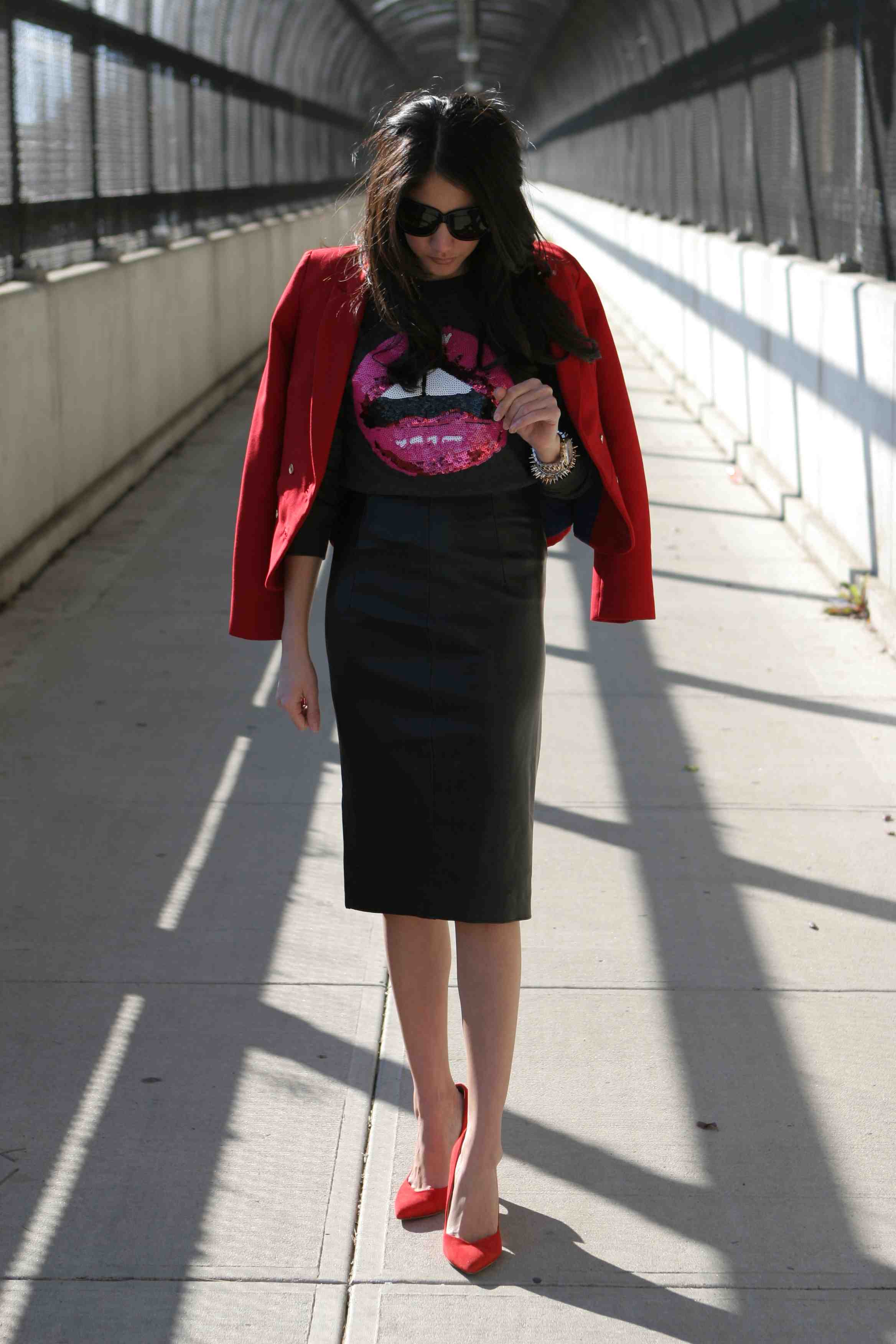 Cuando se trata de moda de otoño, un pop de color y capas siempre vienen a la mente. Agrega este par juntos en un conjunto fácil de armar y ahí lo tienes, el combo perfecto para un día de otoño! Me encanta este suéter de labios de lentejuelas de Forever21 (última vez visto aquí). Cuando me lo puse por primera vez, me quedó un poco grande en los hombros, así que lo tuve que ajustar con una costurera (sí, es la perfeccionista en mí que quiere todo exactamente perfecto), y BAM, quedó perfecto. La tela es muy suave y es fácil de combinar con faldas, leggings, pantalones, lo que sea. Yo he optado por la falda de cuero en esta ocasión y tacones rojos para añadir al pop de color rojo de la chaqueta. Suéter Forever21, blazer de ZARA, falda de cuero de ZARA (también estoy amando esta versión de color marrón y rojo), zapatos ZARA, gafas de sol de House of Harlow 1960 Chelsea, reloj Coach a través de T.J.Maxx, Stella & Dot pulseras racimo renegado.