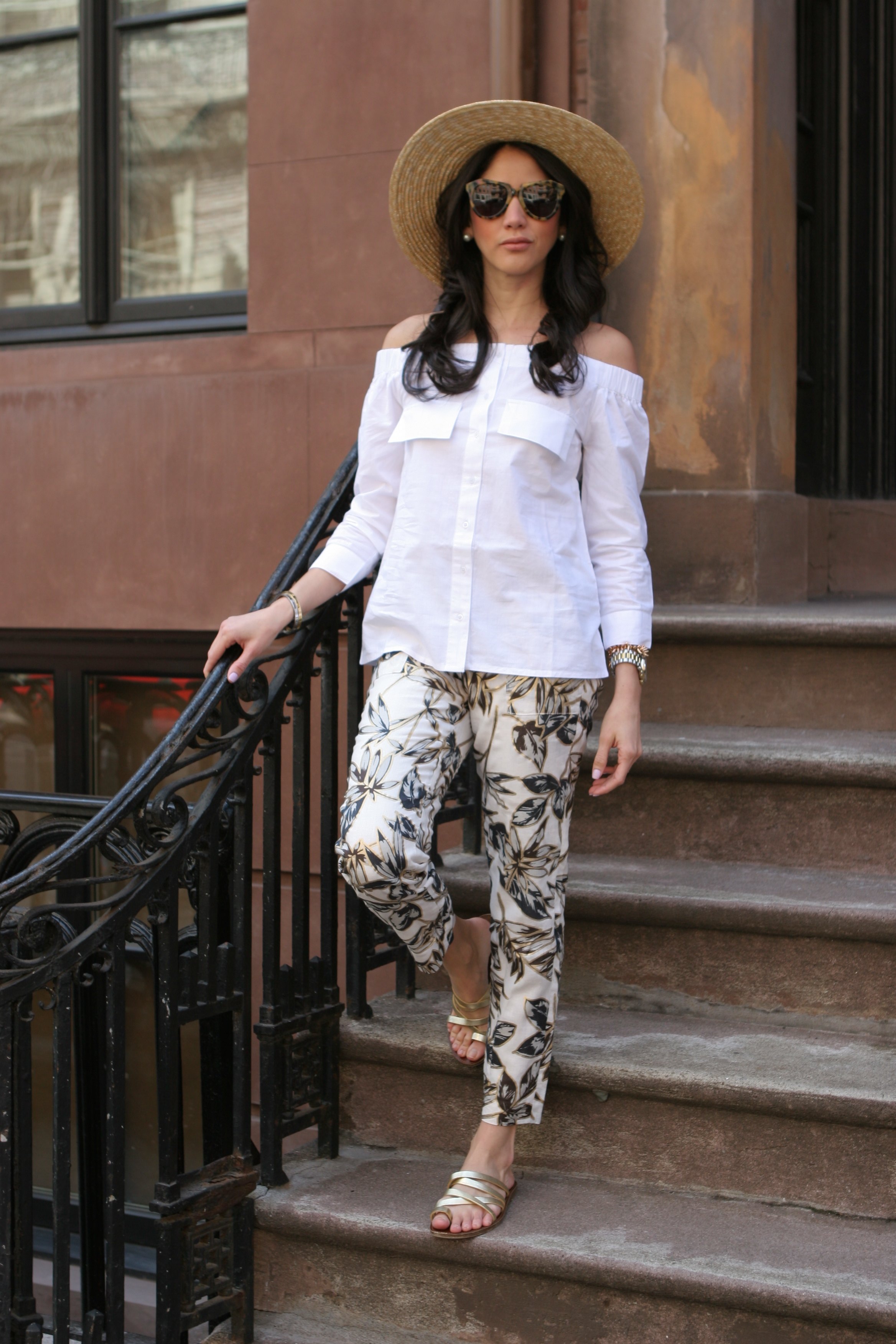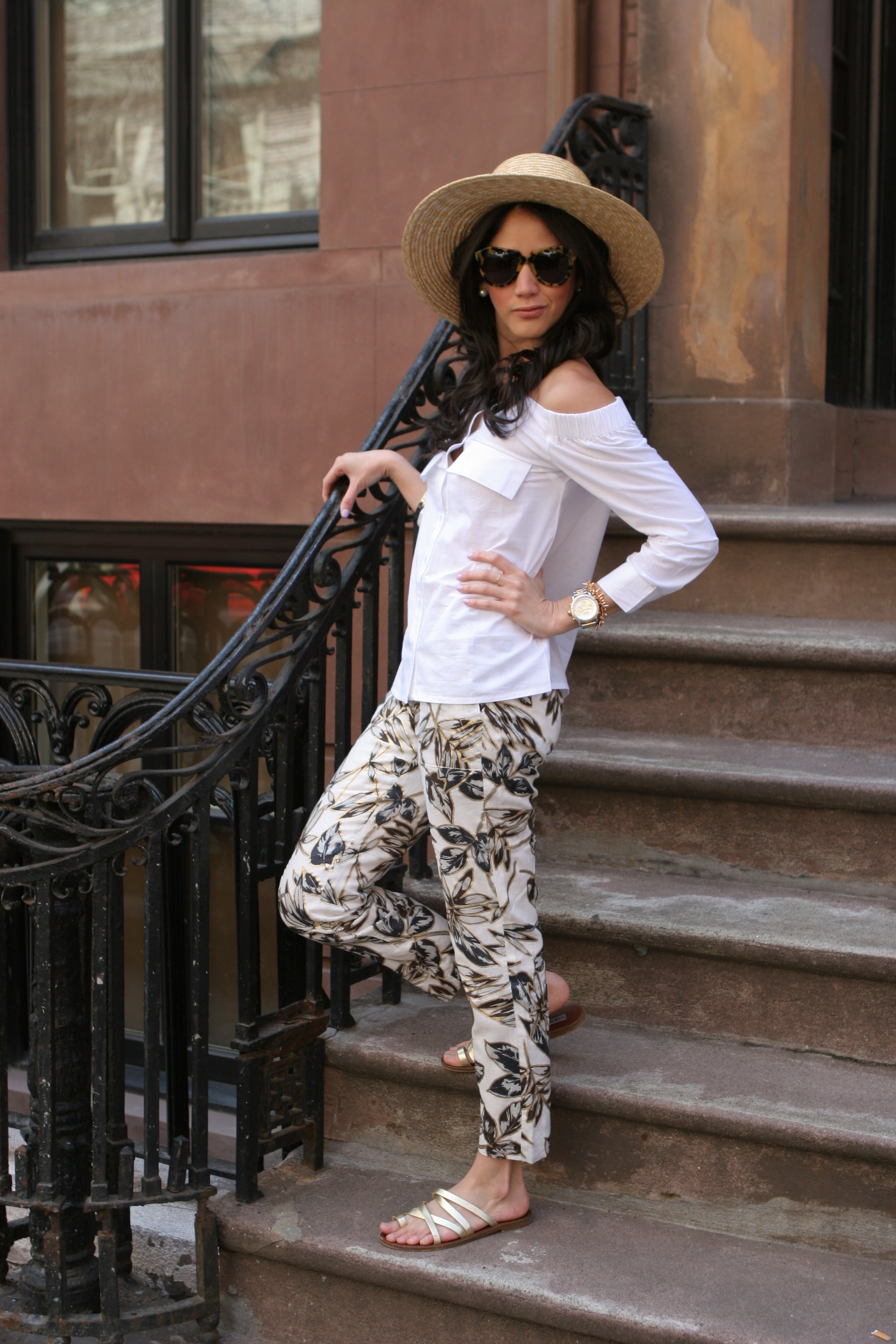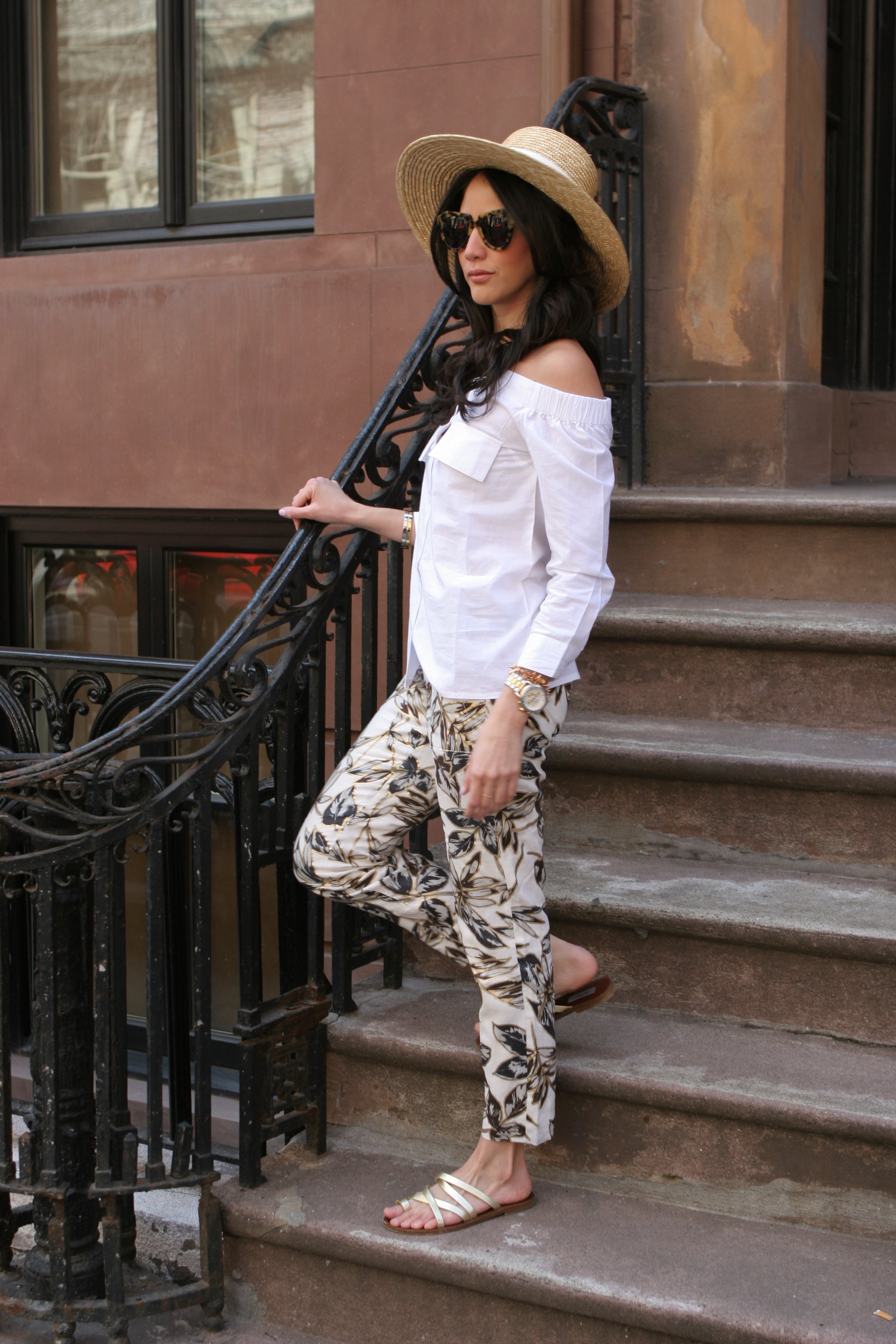 Top: Walter Baker sunny off-the-shoulder shirt | Pants: J.Crew pants | Shoes: Steve Madden agathist flat sandals | Hat: J.Crew wide brimmed straw hat (also loving these ones: 1, 2, 3) | Earrings: J.Crew pearl and crystal earrings | Watch: Coach| Bracelets: Anarchy Street naild it bangle, Stella & Dot renegade cluster bracelet | Lipstick: MAC 'Huggable' lipcolour | Make-up: Chanel Joues contraste powder blush, Bare Minerals foundation kit.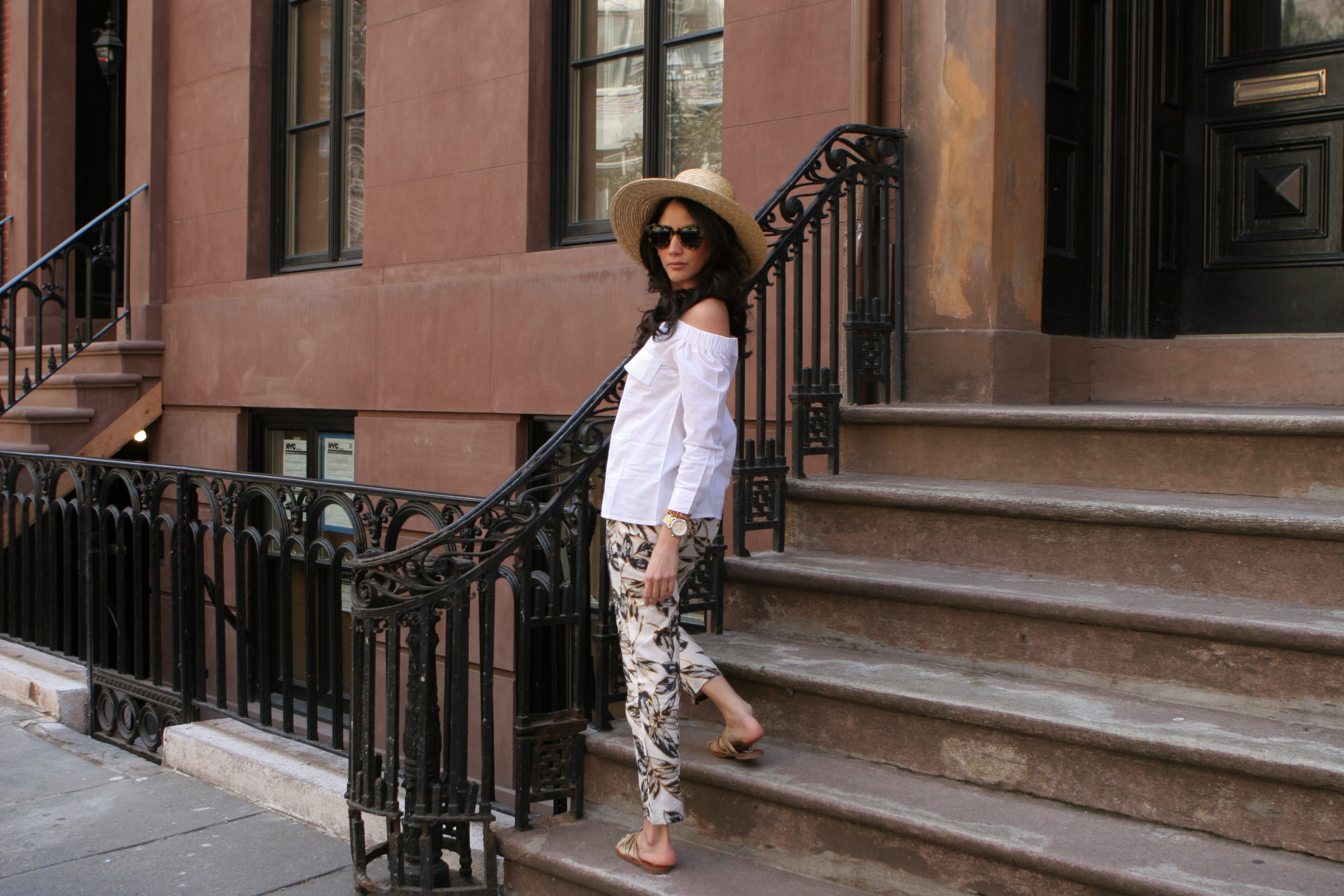 Brace yourself because spring is here and that means off-the-shoulder tops and dresses are taking over my wardrobe. Take this white off-the-shoulder top for example, it's simple, comfortable and it's under $30. There are so many options for everyone's taste and budget. I have done some research and below I'm sharing a few of my favorite off-the-shoulder tops for you to check out. Wanting to keep things simple, I pair this white off-the-shoulder top with fun printed pants and an IT straw hat. For those out there that weren't gifted with curves, off-the-shoulder tops add a little spike to your look.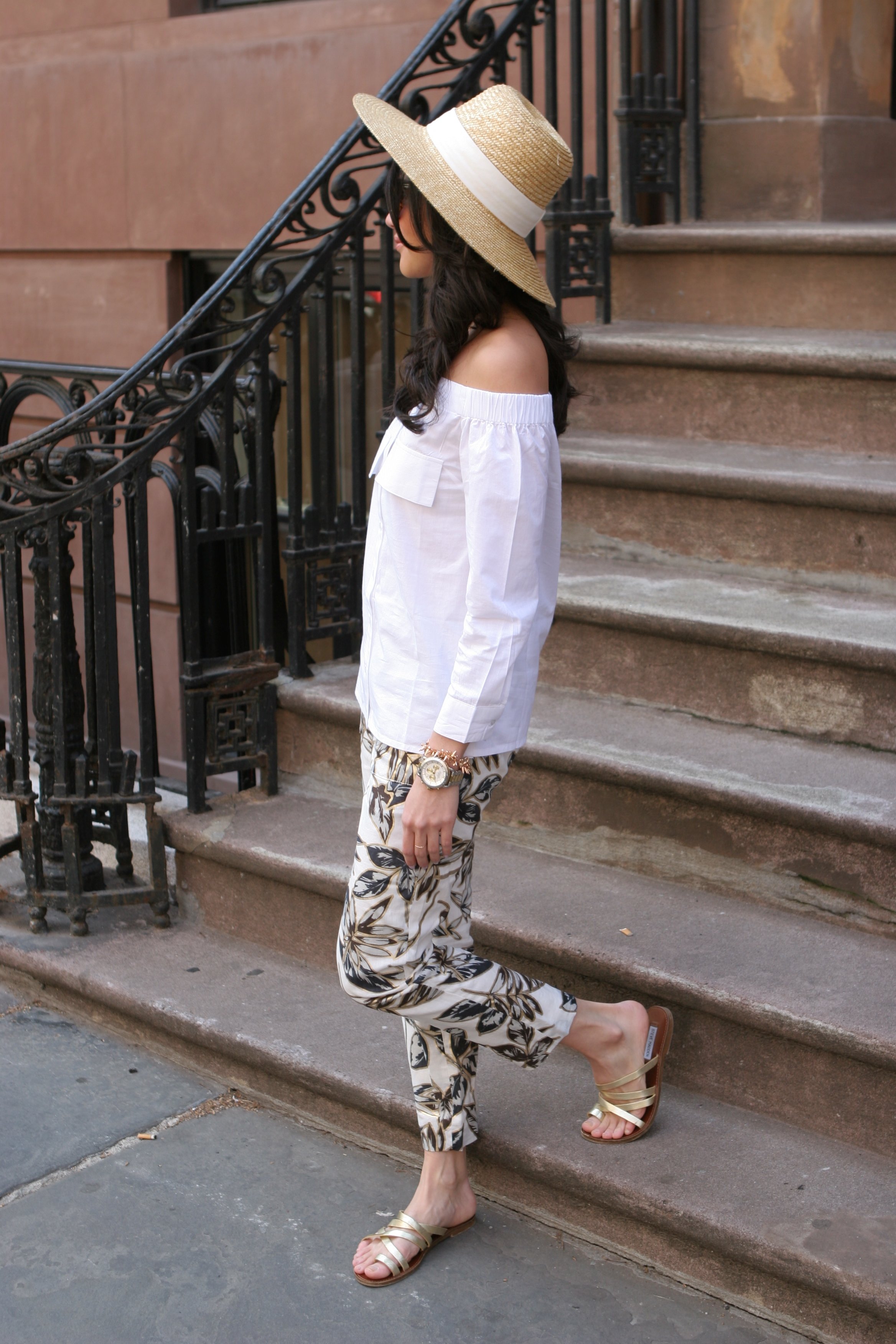 Halten Sie sich fest, weil der Frühling ist hier und das bedeutet off-die-Schulter-Tops und Kleider sind die Übernahme meiner Garderobe. Nehmen Sie diese weißen off-die-Schulter-Top zum Beispiel, es ist einfach, komfortabel und es ist unter 30 $. Es gibt so viele Möglichkeiten für jeden Geschmack und jedes Budget. Ich habe einige der Forschung getan und unten ich ein paar meiner Lieblings off-die-Schulter-Tops teilen für Sie heraus zu überprüfen. Wollen Dinge einfach zu halten, verbinde ich diese weiße off-the-Schulter-Top mit Spaß gedruckt Hose und einem IT-Strohhut.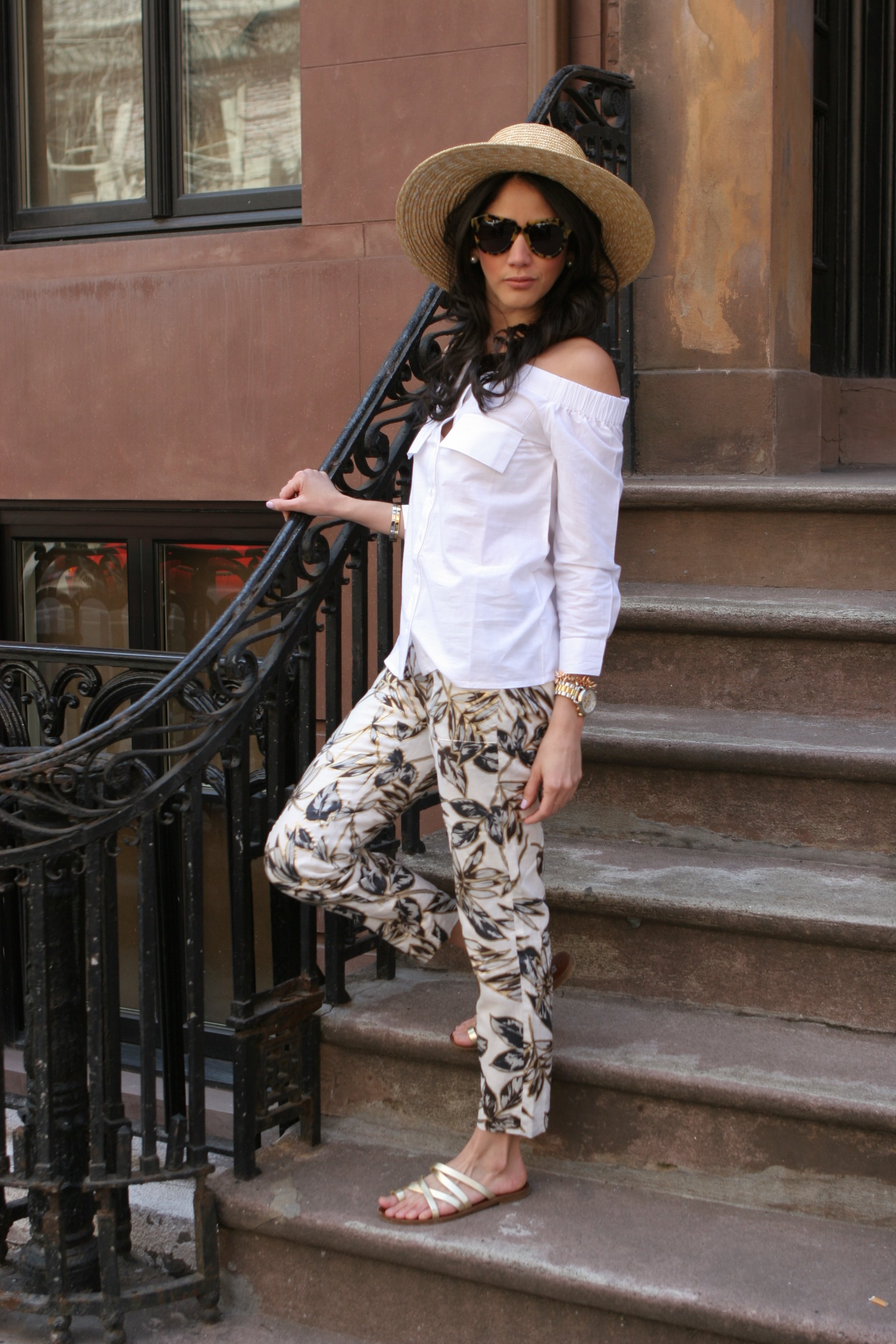 Prepárate porque la primavera está aquí y eso significa fuera los tops y vestidos a los hombros están apoderándose de mi armario. Toma este top blanco al hombro, por ejemplo, es muy sencillo, cómodo y está a menos de $30. Hay tantas opciones para todos los gustos y todos los presupuestos. He hecho algunas investigaciones y a continuación estoy compartiendo algunos de mis tops a los hombros preferidos esta temporada, echale un vistazo. Queriendo mi outfit simple, combiné este al hombro blanco con unos pantalones estampados super divertidos y un sombrero de paja. Para las chicas que no fueron dotadas con curvas, los tops a los hombros te dan un look cool.