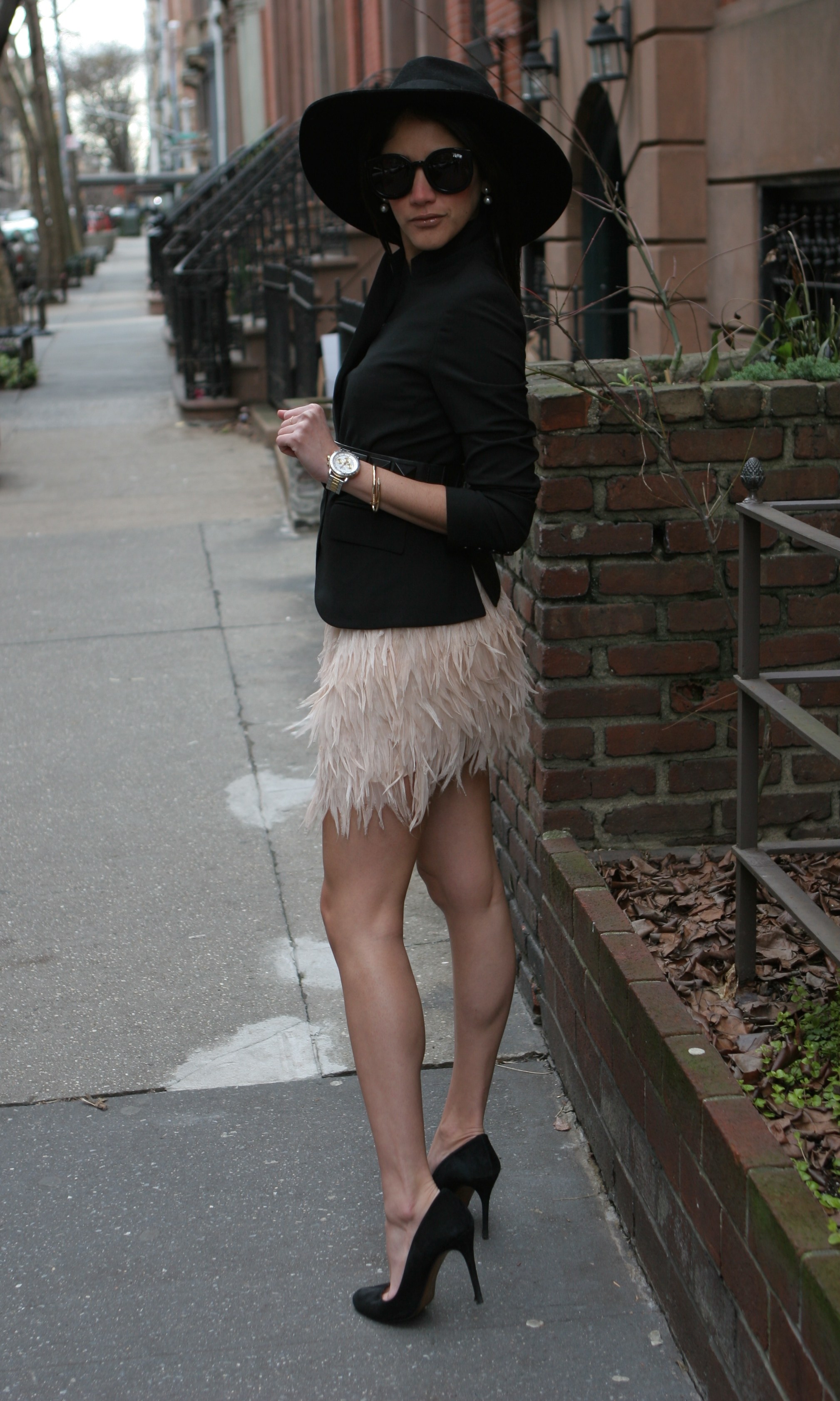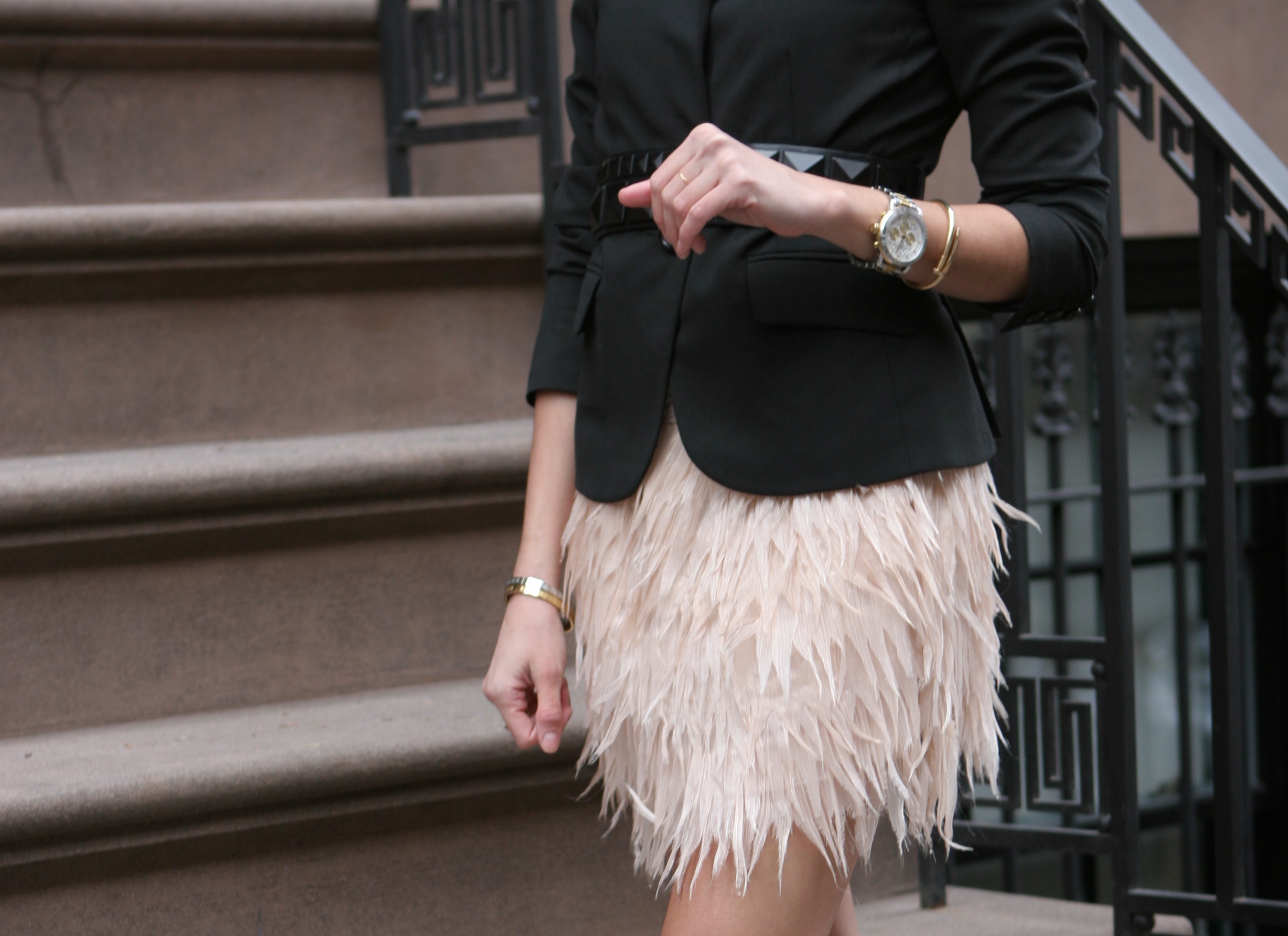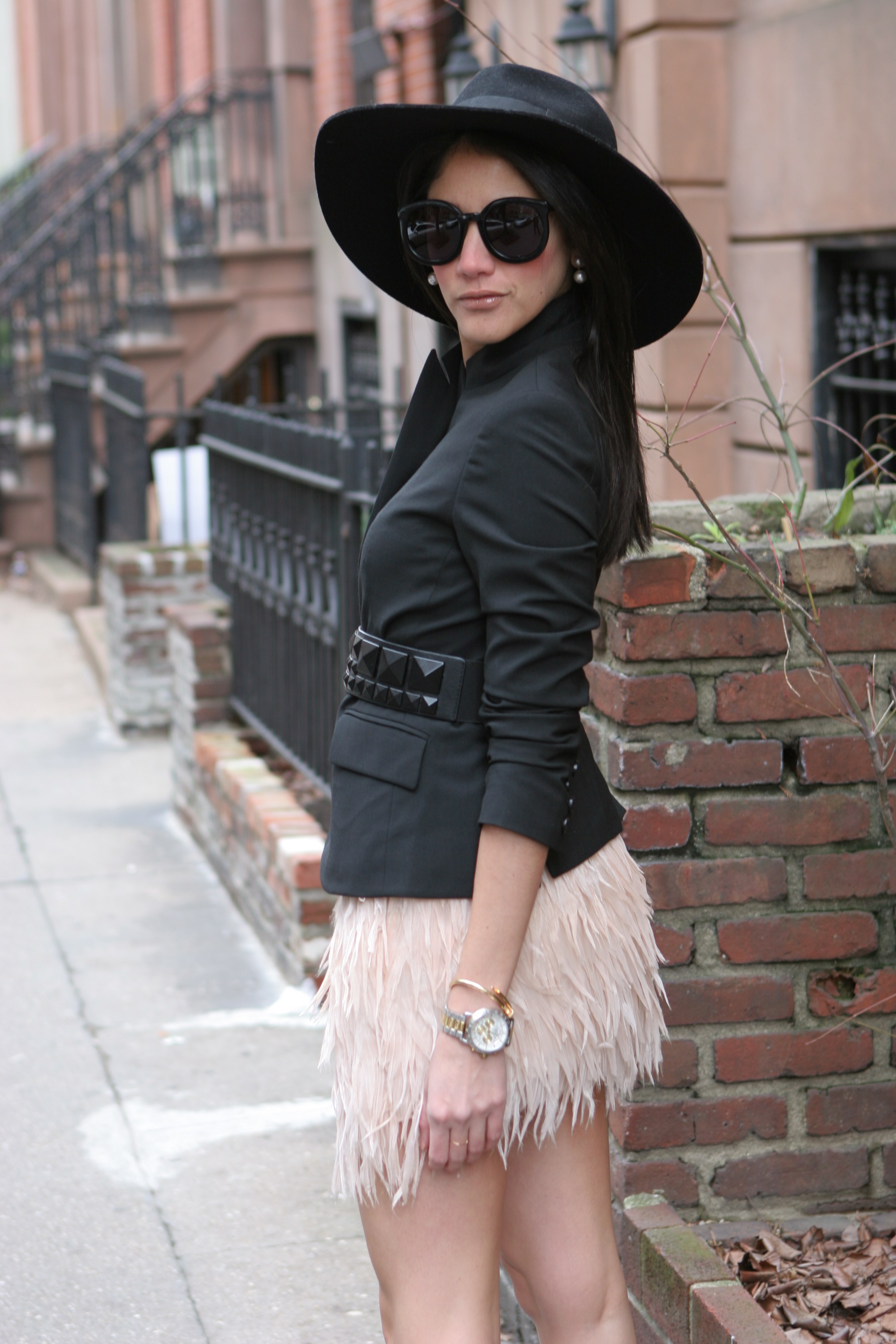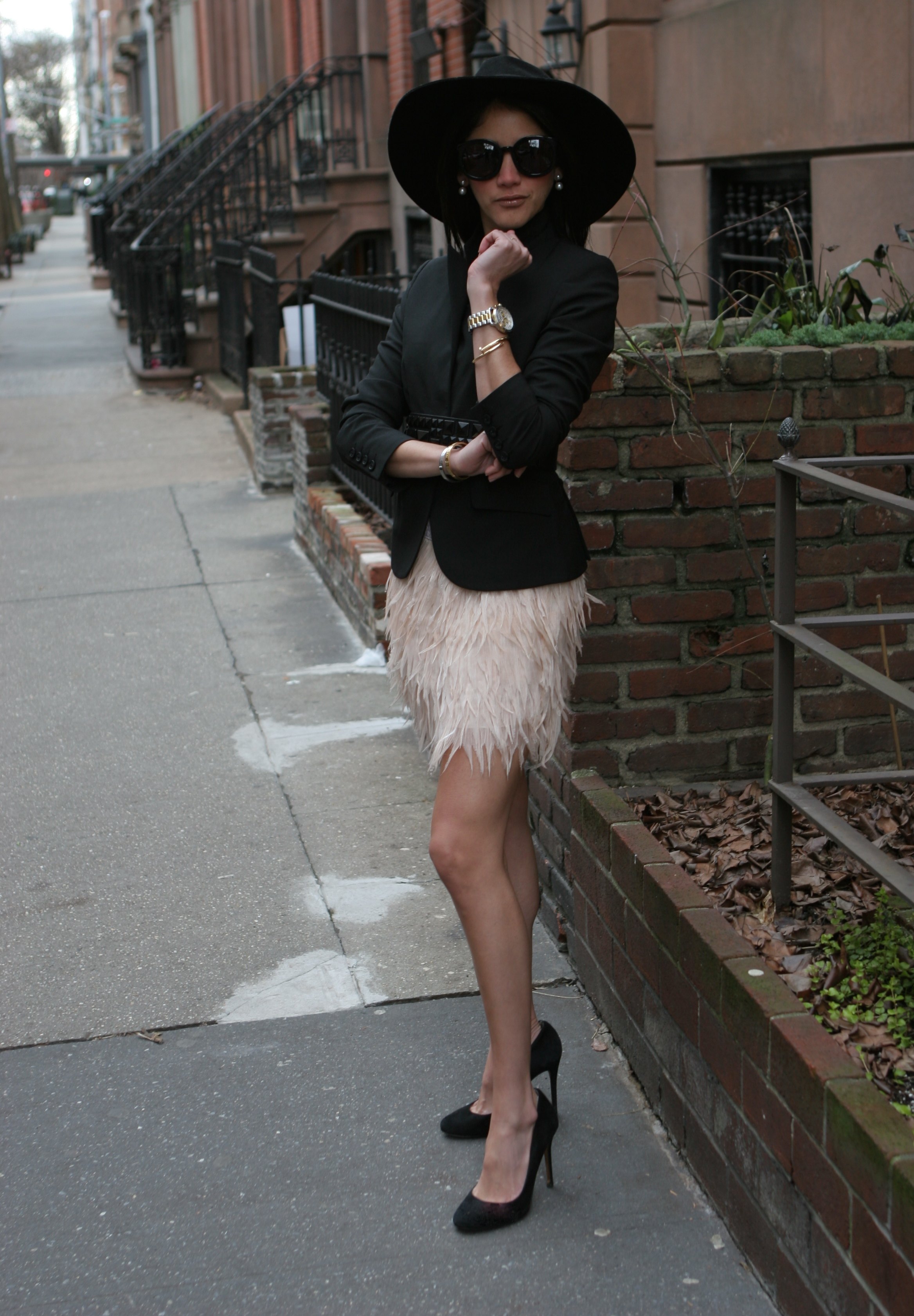 Blazer: Express 24 inch studio stretch jacket | Skirt: Club Monaco dace feather skirt | Shoes: Asos lost ink cady black set black heel pumps | Belt: BCBG looped faux-leather contour waist belt | Hat: Brixton Su2c x Revolve Piper hat via Revolve Clothing | Sunglasses: Karen Walker Number One sunglasses via Shopbop | Earrings: BaubleBar Suspension pear drops | Watch: Coach | Bracelets: Anarchy Street naild it bangle | Lipstick: MAC 'Huggable' lipcolour | Make-up: Chanel Joues contraste powder blush, Bare Minerals foundation kit.
If you're wondering how to wear feathers without looking like a bird, try adding one subtle feather item to your wardrobe. Feather skirts are the easiest and stylish way to wear feathers. Try a classic nude, black or colorful feather mini skirt to showcase your legs and pair it with a form-fitting blazer and structured belt, v-neck tee, shirt with a popped collar, to finish up the look you can wear feminine high heels, sexy sandals or knee-high boots. Feather outfits are great to wear during autumn and winter seasons and I just love them. In the spring, it's also nice to wear with a classic tee and fun flats, cannot wait! You can also try feathering up your top with a blazer or cardigan with feathers at the bottom for a chic twist to your routine outfit.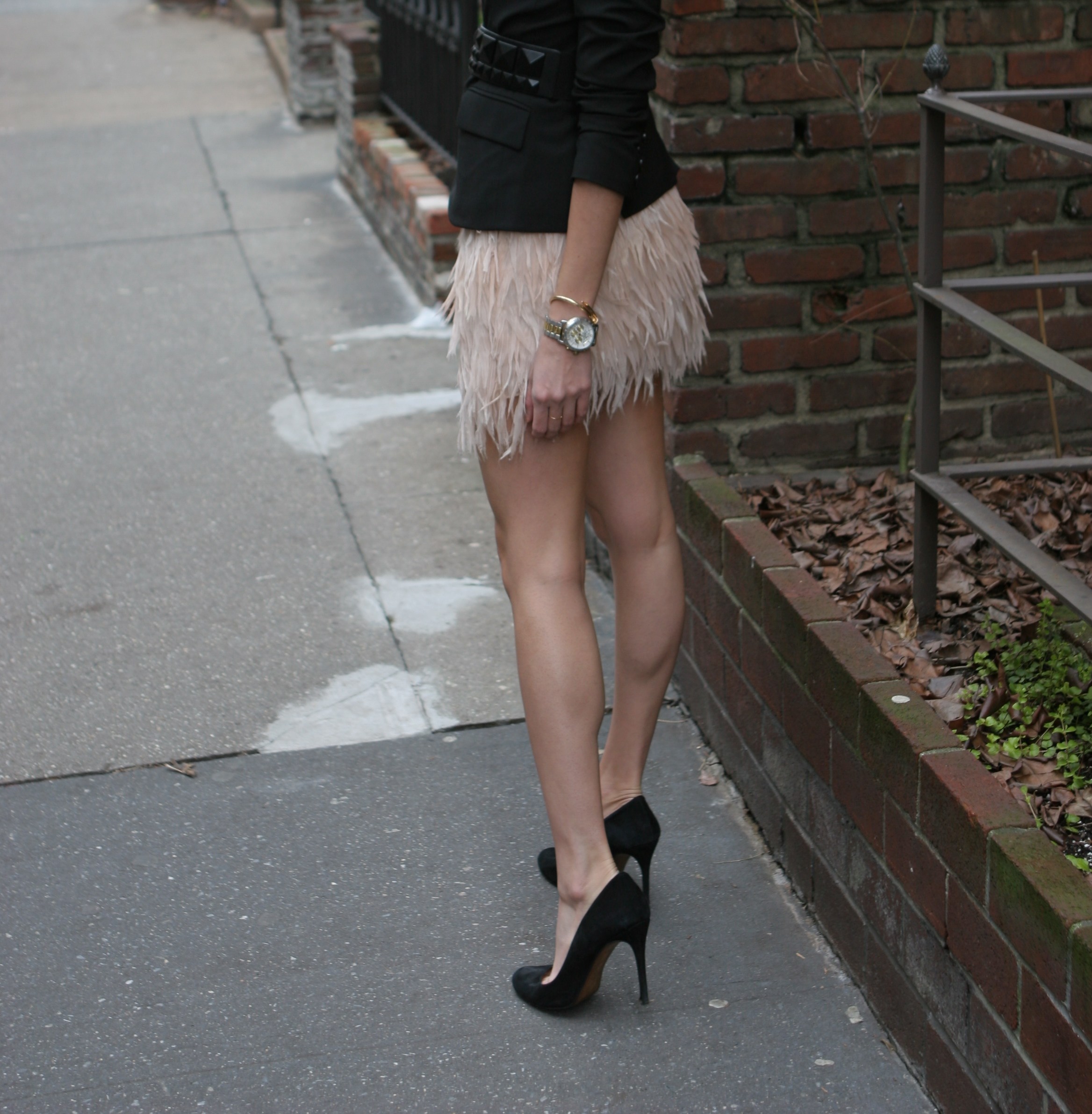 Wenn Sie sich fragen, wie Federn zu tragen, ohne wie ein Vogel suchen, versuchen Sie zu Ihrem Kleiderschrank eine subtile Feder Artikel hinzufügen. Feder Röcke sind die einfachste und elegante Möglichkeit, Federn zu tragen. Versuchen Sie, eine klassische nackt, schwarz oder bunte Feder-Minirock Beine zu präsentieren und kombinieren Sie ihn mit einem formschlüssigen Blazer und strukturierte Band, V-Ausschnitt, T-Shirt mit einem aufgetaucht Kragen, bis zum Ende der Nachschlag Sie weibliche hohe Absätze tragen kann , sexy Sandalen oder kniehohe Stiefel. Feder-Kombinationen sind groß im Herbst und Winter zu tragen, und ich liebe sie einfach. Im Frühjahr, dann ist es auch schön, mit einem klassischen T-Stück und Spaß Wohnungen zu tragen, kann nicht warten! Sie können auch Ihre Oberseite mit einem Blazer oder Cardigan mit Federn an der Unterseite für eine mondäne zu Ihrer Routine Outfit versuchen Gefieder auf.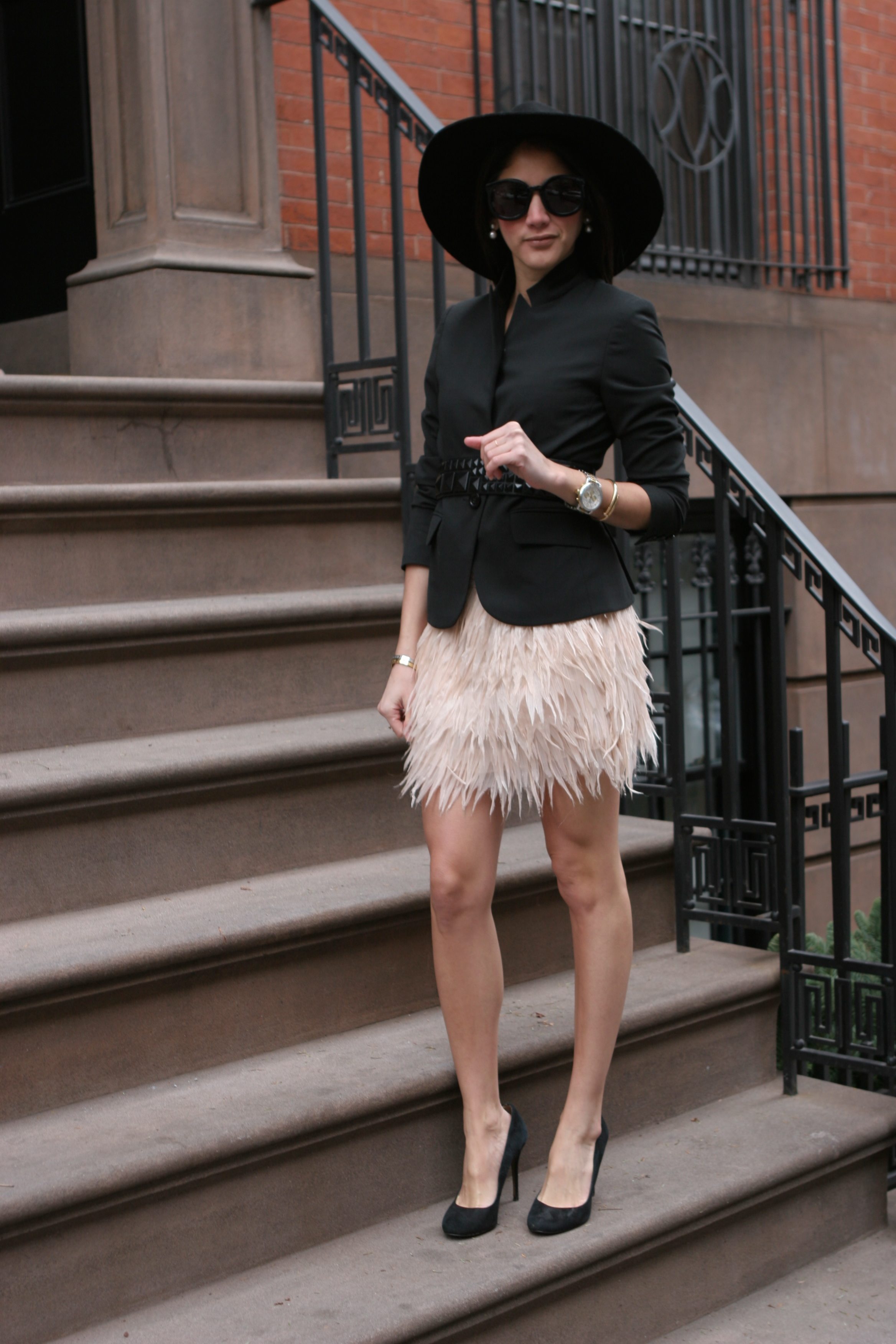 Si te estás preguntando cómo usar plumas sin verte como un pájaro, trata de añadir un elemento de plumas sutil a tu guardarropa. Las faldas de plumas son la forma más fácil y chic de llevar plumas. Prueba una mini falda de plumas de color piel, negra o de colores clásica para mostrar tus piernas y combínala con un blazer armado y un cinturón estructurado, una camiseta con cuello en V, camisa, para terminar tu look ponte unos tacones femeninos, sandalias sexy o botas altas hasta la rodilla en los días fríos. Outfits de plumas son perfectos durante las estaciones de otoño e invierno y me encantan. En la primavera, también me gusta ponerme esta falda con una camiseta clásica y flats divertidos, ya quiero que sea primavera! También puedes usar un blazer o chaqueta con plumas en la parte inferior para un toque chic a tu outfit cotidiano.