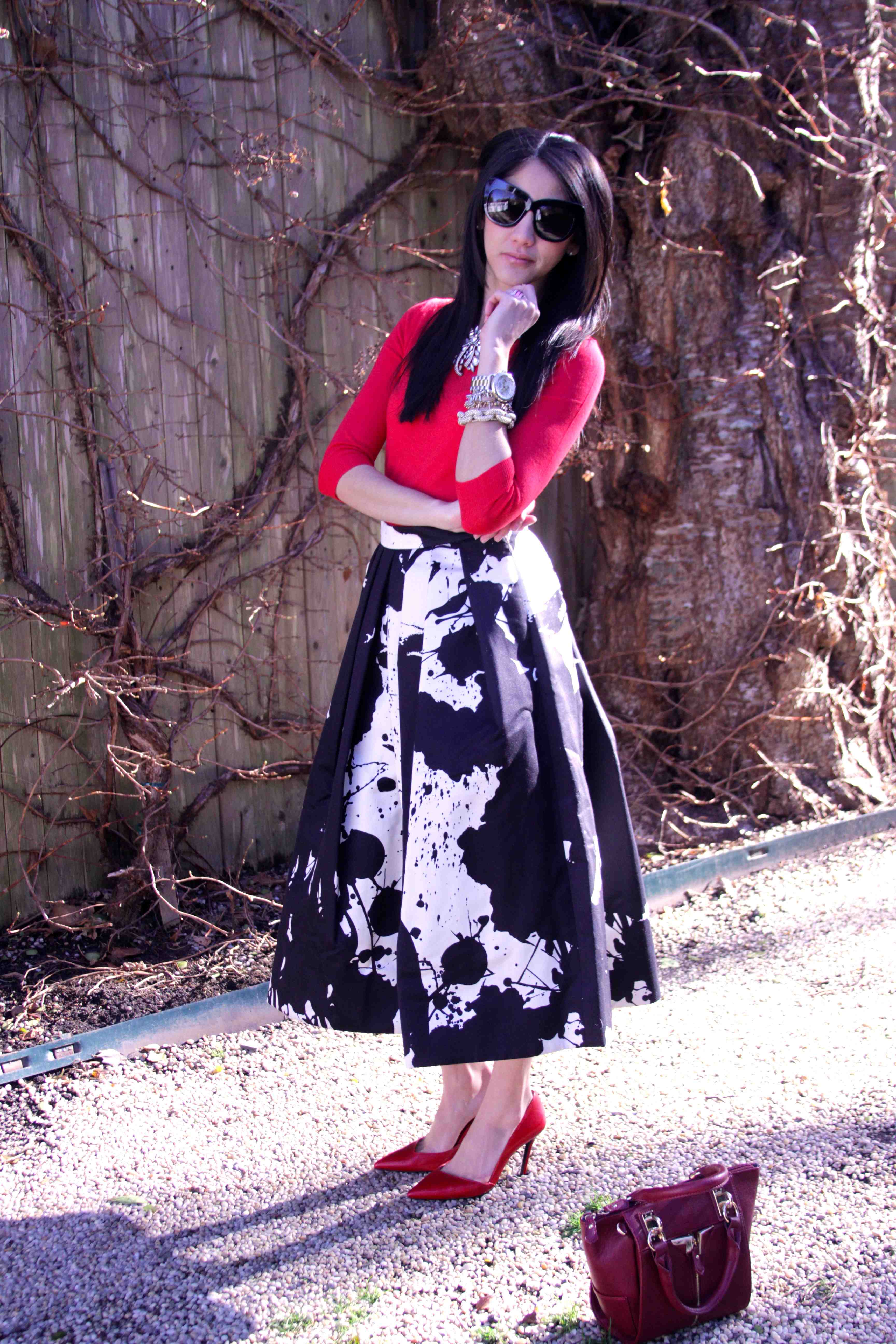 Christmas is coming up faster than I thought so I want to share with you one of my favorite holiday looks consisting of this perfectly feminine splatter paint full skirt from tibi (last seen here, similar here), which comes in two colors, black and white multi and red and black multi. What's so great about this skirt is that you can dress it up or down and feel great either way. You've probably seen it on a series of fashion-forward ladies such as Aimee Song from Song of Style, Eva Chen from Lucky Magazine during Mercedes Benz Fashion Week, Blair Eadie from Atlantic Pacific, one of my favorite bloggers and many others. I first saw it on Aimee Song and as soon as it was available online, I bought it. Every year or every other year I make one big purchase. You know that one thing you save all year long for. I was coveting it so much and I couldn't be happier with the quality, color, pattern, everything.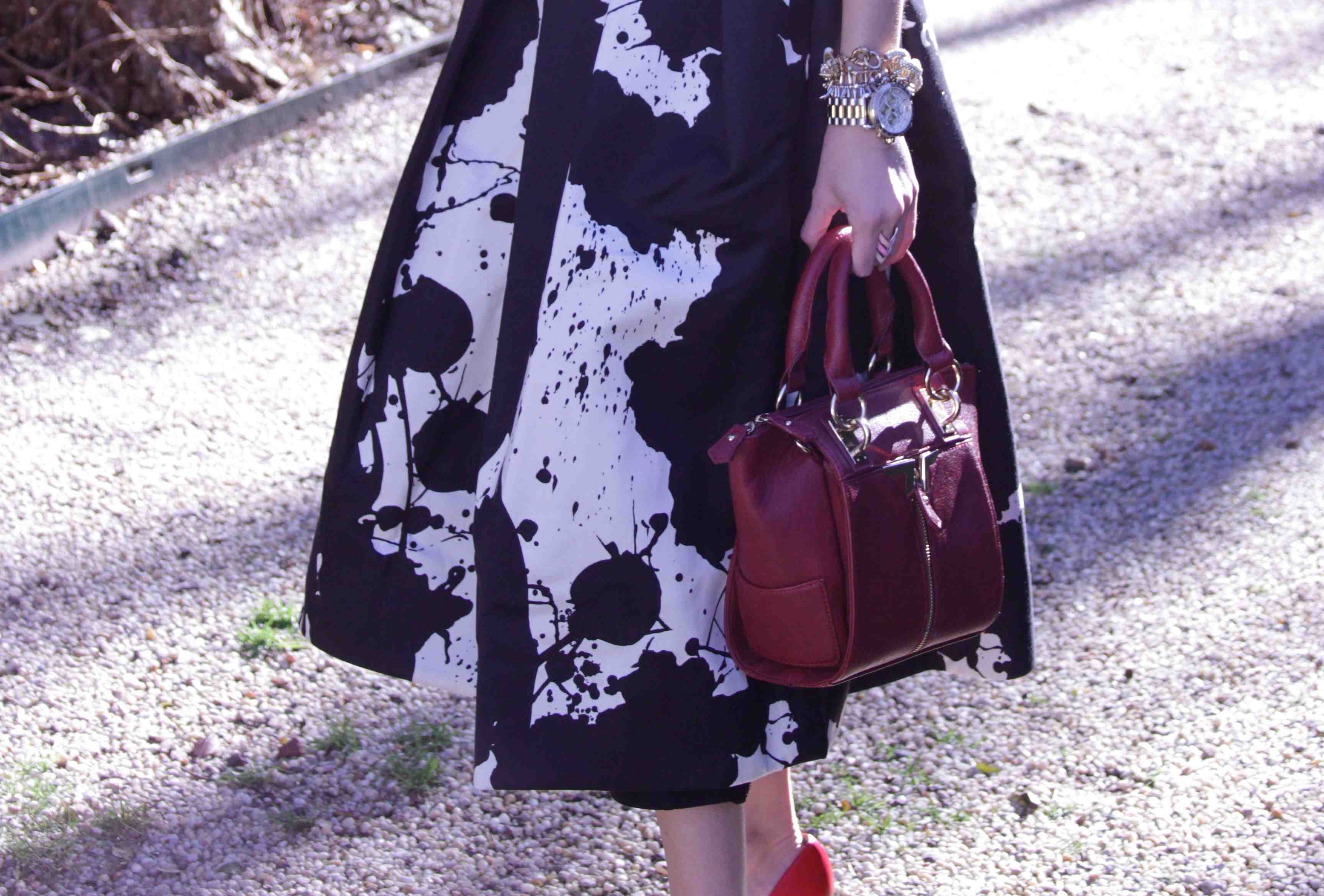 Who What Wear, one of my daily reads, calls this skirt, 'the skirt every street style it-girl is wearing,' and with a reason. The skirt is every bit as picturesque as it is covet-worthy, couldn't agree more Who What Wear. To continue with my glamorous Christmas look, I added a pop of red through this Danielle Nicole Alexa Mini Crossbody bag, Zara heels and my favorite J.Crew tippi sweater, I totally recommend these sweaters, they're the best. I wear them to the office, on a casual day to stroll down Washington Square Park.. the list never ends. Jewelry: Coach watch, Stella & Dot renegade cluster bracelets, BaubleBar original pave links bracelet, J.Crew Factory crystal necklace. To top it off I added my House of Harlow 1960 Chelsea sunglasses. Looking for more stylish ways to wear this full skirt? You can wear this full skirt with a black and white ruffle top for a fancy event (seen here), you can wear it with crop tops in warmer days, and many more.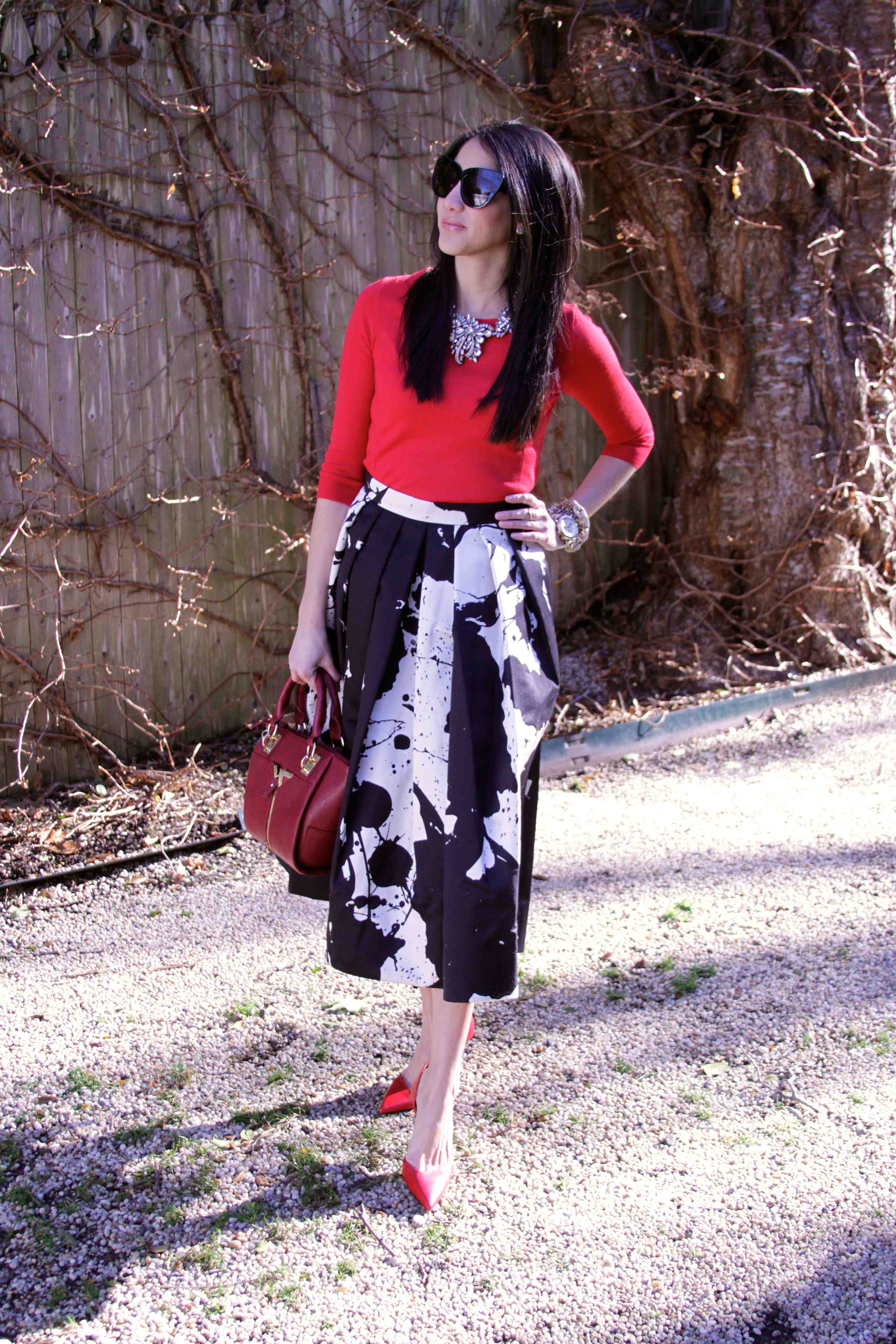 Weihnachten kommt schneller, als ich dachte, so will ich mit Ihnen teilen, einer meiner Lieblings-Weichnachsten sieht aus diesem perfekt feminine Farbe Splatter voller Rock von tibi (letzte hier zu sehen, ist hier ähnlich), die in zwei Farben, schwarz und weiß kommt Mehr und rot und schwarz multi. Was ist so toll an diesem Rock ist, dass man es nach oben oder unten zu kleiden und sich wohl fühlen oder so. Wahrscheinlich haben Sie es auf einer Reihe von fashion-forward Damen wie Aimee Lied von Song of Style, Eva Chen von Lucky Magazine während der Mercedes Benz Fashion Week, Blair Eadie von Atlantic Pacific, einer meiner Lieblings-Blogger und viele andere zu sehen. Ich sah es zuerst auf Aimee Song und sobald es online verfügbar war, kaufte ich es. Jedes Jahr oder alle zwei Jahre mache ich eine große Anschaffung. Sie wissen, dass eine Sache, die Sie das ganze Jahr sparen für. Ich war es so sehr begehren, und ich könnte nicht glücklicher sein mit der Qualität, Farbe, Muster, alles.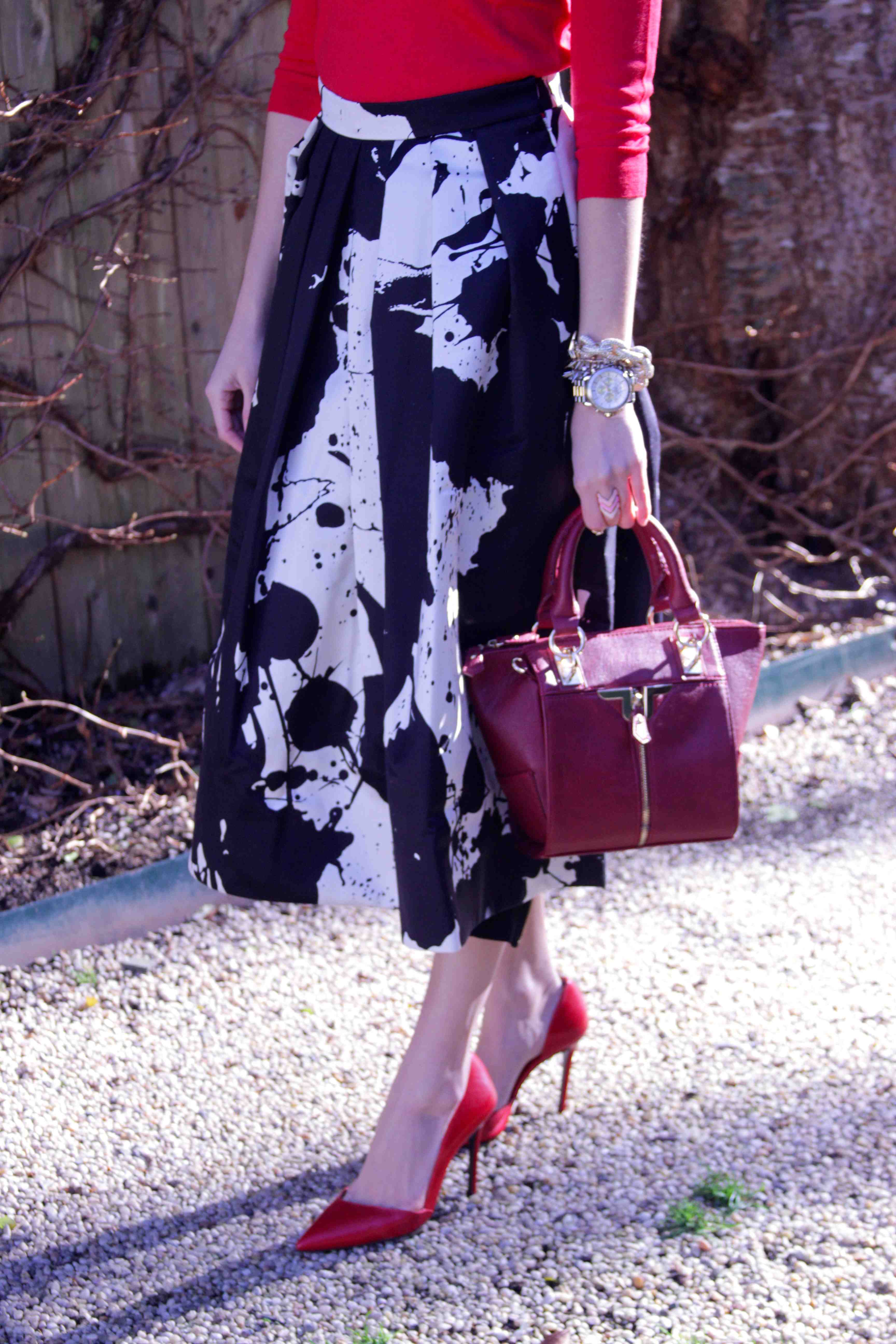 Who What Wear, einem meiner täglichen liest, ruft diesen Rock, 'the skirt every street style it-girl is wearing,' und mit ein Grund. Der Rock ist ebenso malerisch wie es begehren würdig, konnte nicht mehr Who What Wear tragen zustimmen. Um mit meinen glamourösen Look Weihnachten weiter, fügte ich ein Pop der rot durch diese Danielle Nicole Alexa Mini Crossbody Tasche, Zara Schuhe und meine Lieblings J.Crew tippi Pullover, ich total empfehlen diese Pullover, sind sie die besten. Ich trage sie ins Büro, auf einem zufälligen Tag zu schlendern Washington Square Park .. Die Liste endet nie. Schmuck: Coach Uhr, Stella & Dot abtrünnigen Cluster- Armbänder, BaubleBar Armband J.Crew Factory Kristall Halskette. Um das Ganze abzurunden Ich habe mein House of Harlow 1960 Chelsea Sonnenbrille. Suche nach mehr stilvolle Möglichkeiten, um diese voller Rock tragen? Sie können diese vollständige Rock mit einem schwarzen und weißen Rüschen -Top für ein schickes Ereignis (letztes Mal hier zu sehen), können Sie es mit Crop-Tops in den wärmeren Tagen zu tragen, und viele mehr.
La Navidad se acerca más rápido de lo que pensaba, así que quiero compartir con ustedes una de mis looks favoritos para las fiestas navideñas que consiste en esta falda de perfección femenina splash de pintura de tibi (visto por última vez aquí, similar aquí), que viene en dos colores, blanco y negro múltiple y rojo y negro de múltiple. Lo bueno de esta falda es que puedes vestirte casual o elegante y sentirte muy bien en ambos sentidos. Probablemente has visto una serie de chicas de la moda como Aimee Song de Songo of Style, Eva Chen de la revista Lucky Magazine en la Semana de la Moda Mercedes-Benz, Blair Eadie de Atlantic Pacific, una de mis bloggers favoritas y muchas otras. Vi por primera vez esta falda en Aimee Song y tan pronto como estuvo disponible online, la compré. Cada año o cada dos años hago una compra grande. Sabes a lo que me refiero a eso que ahorras todo el año y anhelas comprar. Yo estaba codiciando esta falda y no podría estar más feliz con la calidad, el color, el diseño, todo.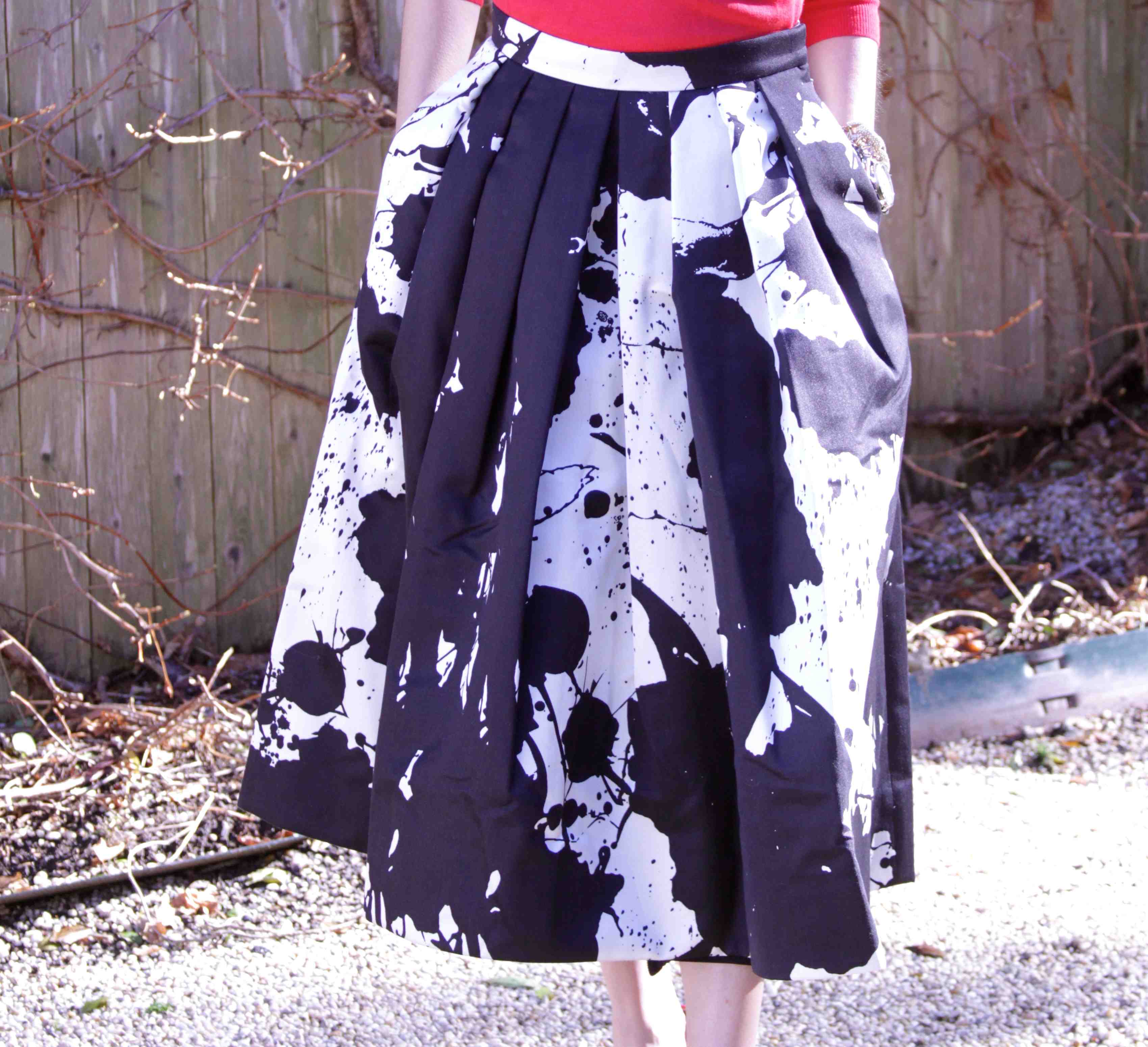 Who What Wear, uno de mis sitios web preferidos, llama esta falda, 'the skirt every street style it-girl is wearing,' y con razón. La falda es tan pintoresca como es codiciada, no podía estar más de acuerdo con Who What Wear. Para continuar con mi look de la Navidad, he añadido un toque de rojo a través de esta cartera de Danielle Nicole Alexa Mini Crossbody, tacones de Zara y mi suéter favorito tippi de J.Crew, recomiendo totalmente estos suéteres, son los mejores. Me los pongo para la oficina, en un día casual para pasear por Washington Square Park.. la lista no tiene fin. Accesorios: Reloj Coach, pulseras Stella & Dot, BaubleBar pave originales, collar de cristal de J.Crew Factory. Por si fuera poco he añadido mis gafas House of Harlow 1960 Chelsea. Están buscando otras maneras para usar esta falda? Puedes usar esta falda full con una blusa de ondas blanca y negra para un evento elegante (visto por última vez aquí), puedes usarla con blusas ligeras en los días más calurosos, y muchos más.