DRESS: BCBG JOHANA RIBBED DRESS | HAT: BP STRAW BOATER HAT VIA NORDSTROM | SHOES: TOPSHOP MAJORCA SKINNY STILETTO HEELS (THESE BEAUTIES ARE $48, YOU'RE WELCOME!) | SUNGLASSES: KAREN WALKER SUPER DUPER STRENGTH SUNGLASSES | EARRINGS: J.CREW PEARL AND CRYSTAL EARRINGS | WATCH: COACH| BRACELETS: STELLA & DOT RENEGADE CLUSTER BRACELET | LIPSTICK: MAC 'HUGGABLE' LIPCOLOUR | MAKE-UP: CHANEL JOUES CONTRASTE POWDER BLUSH, BARE MINERALS FOUNDATION KIT.
[show_shopthepost_widget id="2732534″]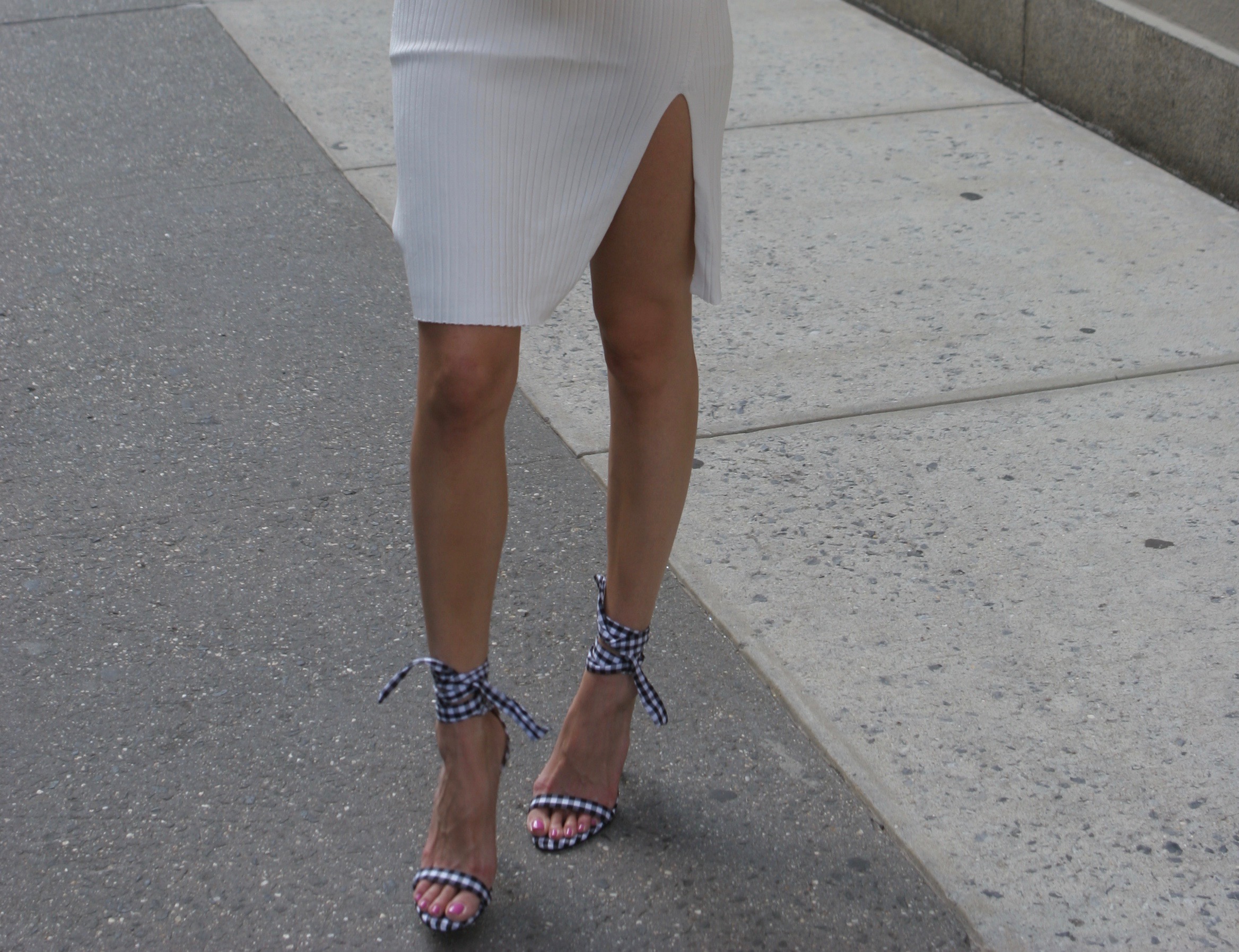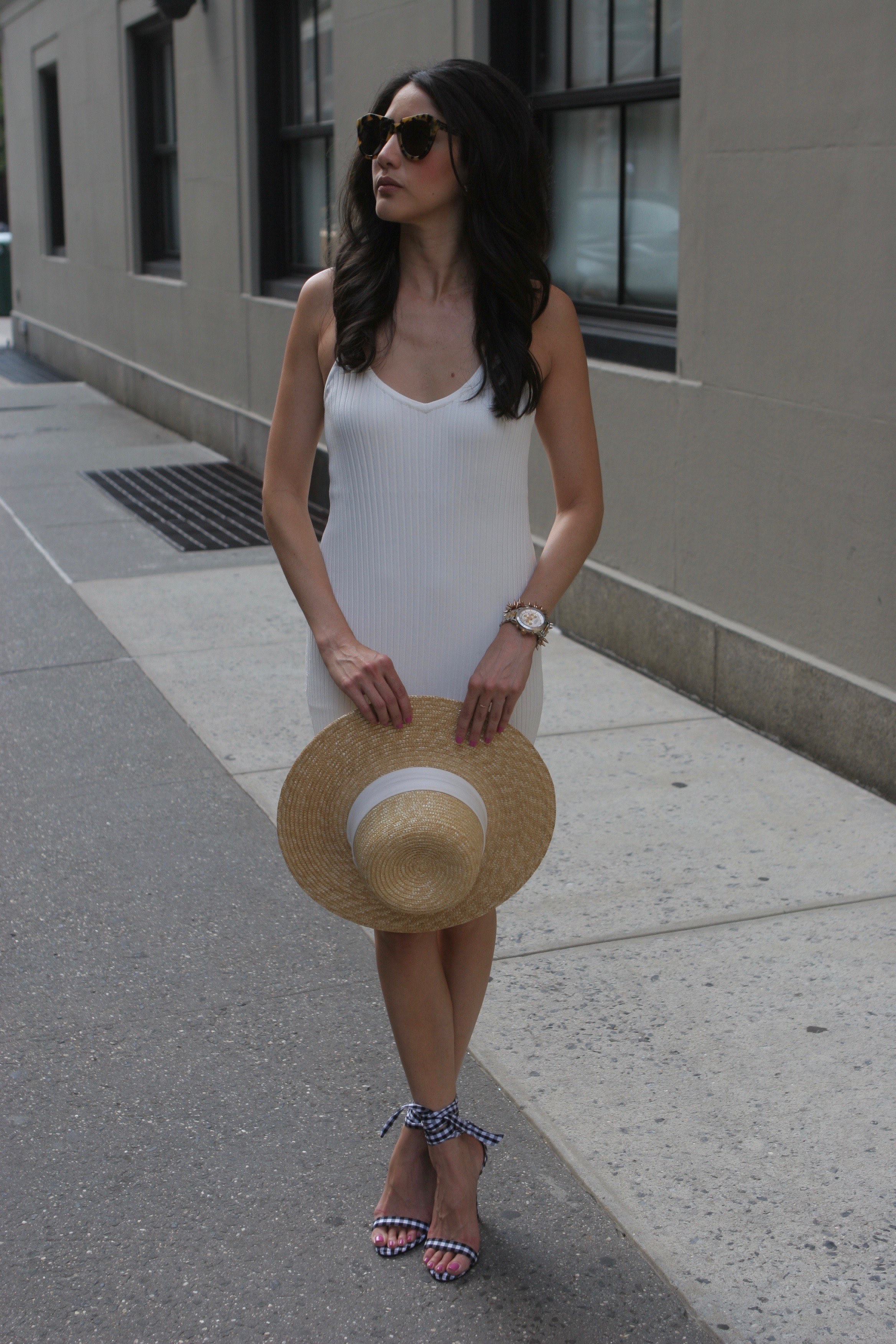 White dresses and summer are like salt and pepper. They just go well together. This dress effortless to wear as a solo piece with striking skyscraper gingham heels for a stylish monochrome look that elongate your legs and add a little spice to the entire outfit. You can also layer the dress with a long sleeve top or vest. Now, let's get to the features of this LWD. It is stretch, which is always a plus in my book! I'm petite but "tall" for petite sizes and stretchy fabrics are my best friends. This ribbed dress is fitted yet it gives you room around the waist so you don't feel too tight up. I'm usually an XXS when it comes to BCBG dresses but I'm wearing an XS here. I found the fit was a little looser and if I went a size lower, the slit was going to be too much for me to handle! I've worn this dress to brunch, to rooftops for afternoon cocktails and for date night. It was a great addition to my LWD collection and it's on major sale right now. You'll thank me later.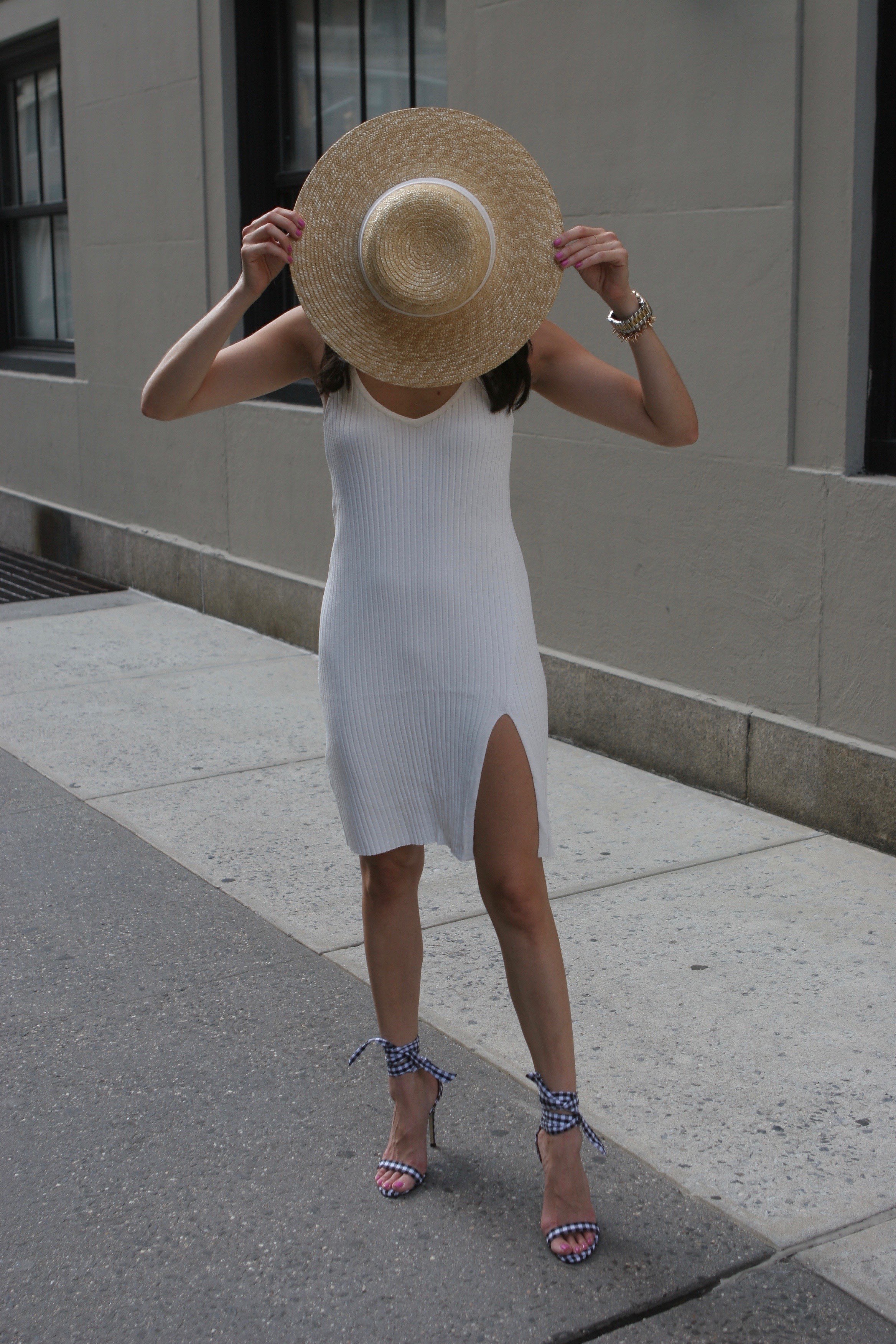 Weiße Kleider und Sommer sind wie Salz und Pfeffer. Sie gehen einfach gut zusammen. Dieses Kleid mühelos, um als Solo-Stück mit auffälligen Wolkenkratzer Gingham-Fersen für eine stilvolle Monochrom-Look, die Ihre Beine verlängern und fügen Sie ein wenig Gewürz, um die gesamte Outfit zu tragen. Sie können auch das Kleid mit einer langen Ärmel oder Westeanziehen. Nun, lasst uns die Features dieser LWD bekommen. Es ist Stretch, das ist immer ein Plus in meinem Buch! Ich bin zierlich, aber "groß" für zierliche Größen und dehnbare Stoffe sind meine besten Freunde. Dieses gerippte Kleid ist gepasst, aber es gibt dir Raum um die Taille, also fühlst du dich nicht zu eng an. Ich bin in der Regel ein XXS, wenn es um BCBG Kleider kommt, aber ich trage ein XS hier. Ich fand die Passform ein wenig locker und wenn ich eine Größe niedriger ging, würde der Schlitz zu viel für mich zu behandeln! Ich habe dieses Kleid zum Brunch getragen, zu den Dächern für Cocktails am Nachmittag und für die Nacht Nacht. Es war eine tolle Ergänzung zu meiner LWD-Kollektion und es ist auf Großverkauf jetzt. Du wirst mir später danken.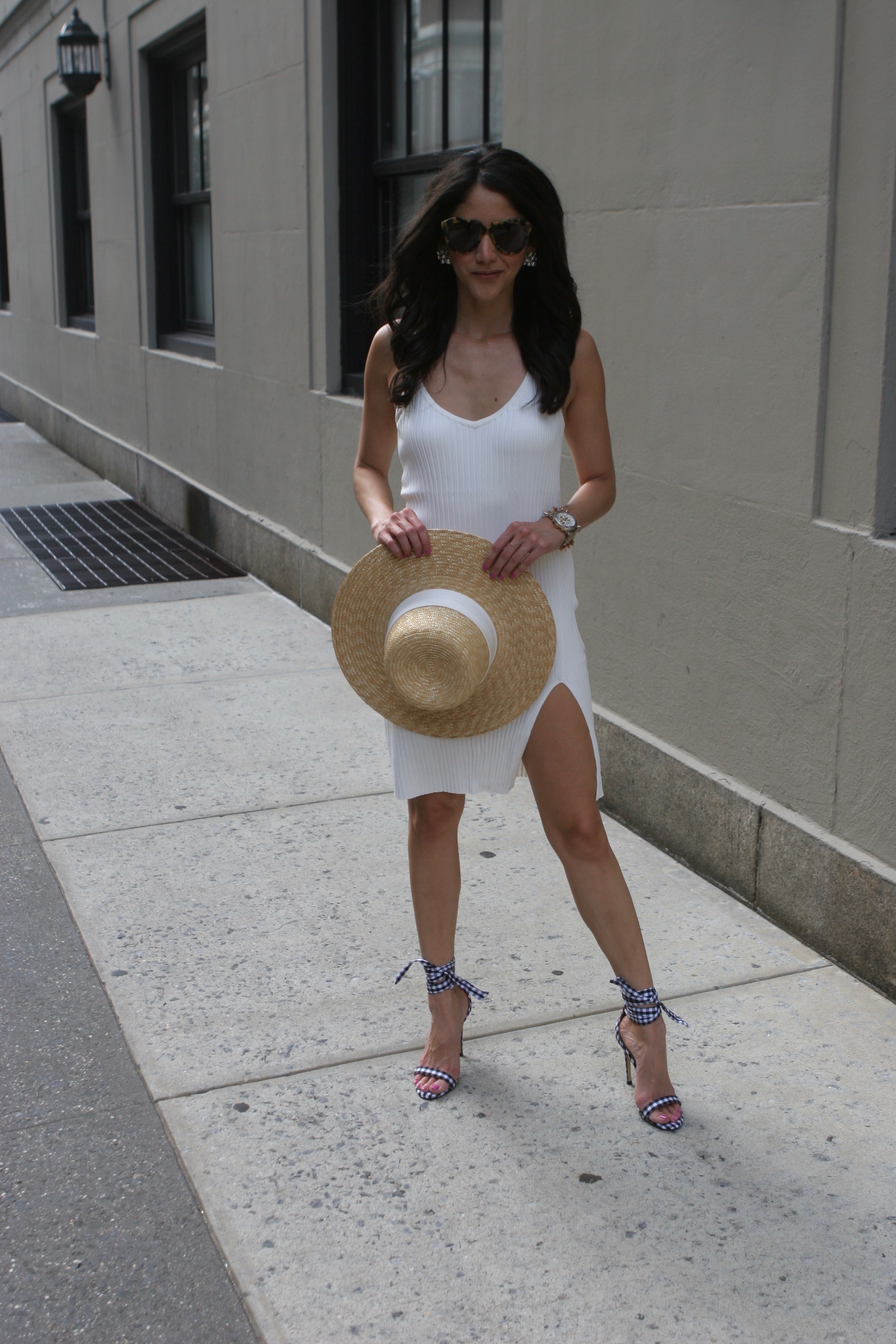 Los vestidos blancos y el verano son como la sal y la pimienta. Simplemente van bien juntos. Este vestido sin esfuerzo fue diseñado para vestirlo en solitario con tacos altos de gingham monocromáticos que alargan tus piernas y añaden un poco de sazón al conjunto. También puedes vestirlo con una camisa o suéter de manga larga o un chaleco. Ahora, pasemos a las características de este LWD. ¡Es stretch, que es siempre una ventaja en mi libro! Soy petite pero "alta" para los tamaños petite tradicionales y las telas elásticas son mis mejores amigos. Este vestido acanalado es armado al cuerpo sin embargo, te da espacio alrededor de la cintura para que no te sientas demasiado apretada. Normalmente soy una talla XXS cuando se trata de vestidos BCBG pero estoy usando una talla XS aquí. Esta talle es un poco más floja y si cogía un tamaño más bajo, la rendija iba a ser demasiado para mí! Me he puesto este vestido para brunch, cuando he ido a las terrazas para los cócteles de la tarde y para la noche de date night. Fue una gran adición a mi colección de LWD y está en rebaja en este momento. Me darás las gracias después.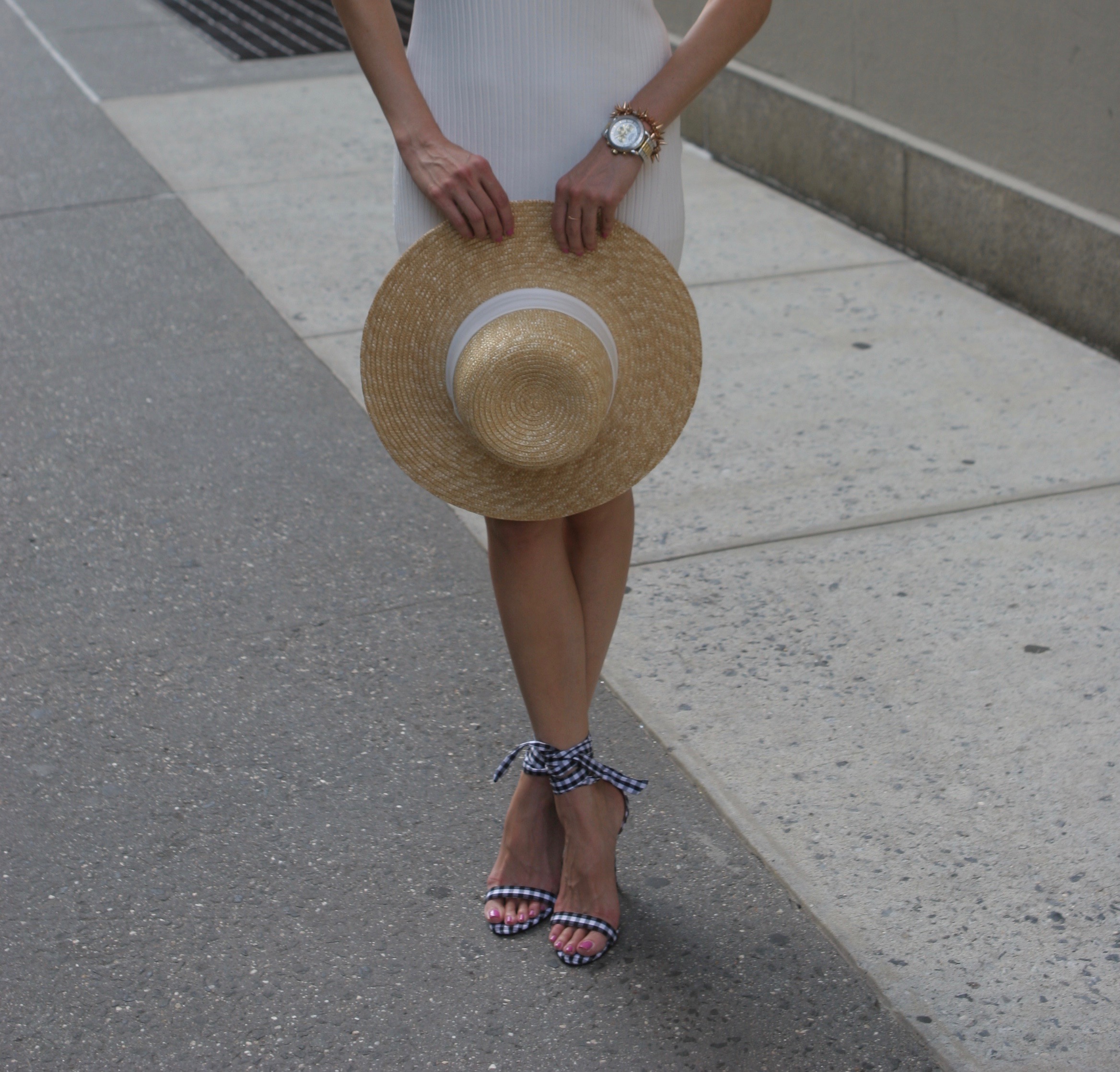 SHOP THE POST
[show_shopthepost_widget id="2732534″]