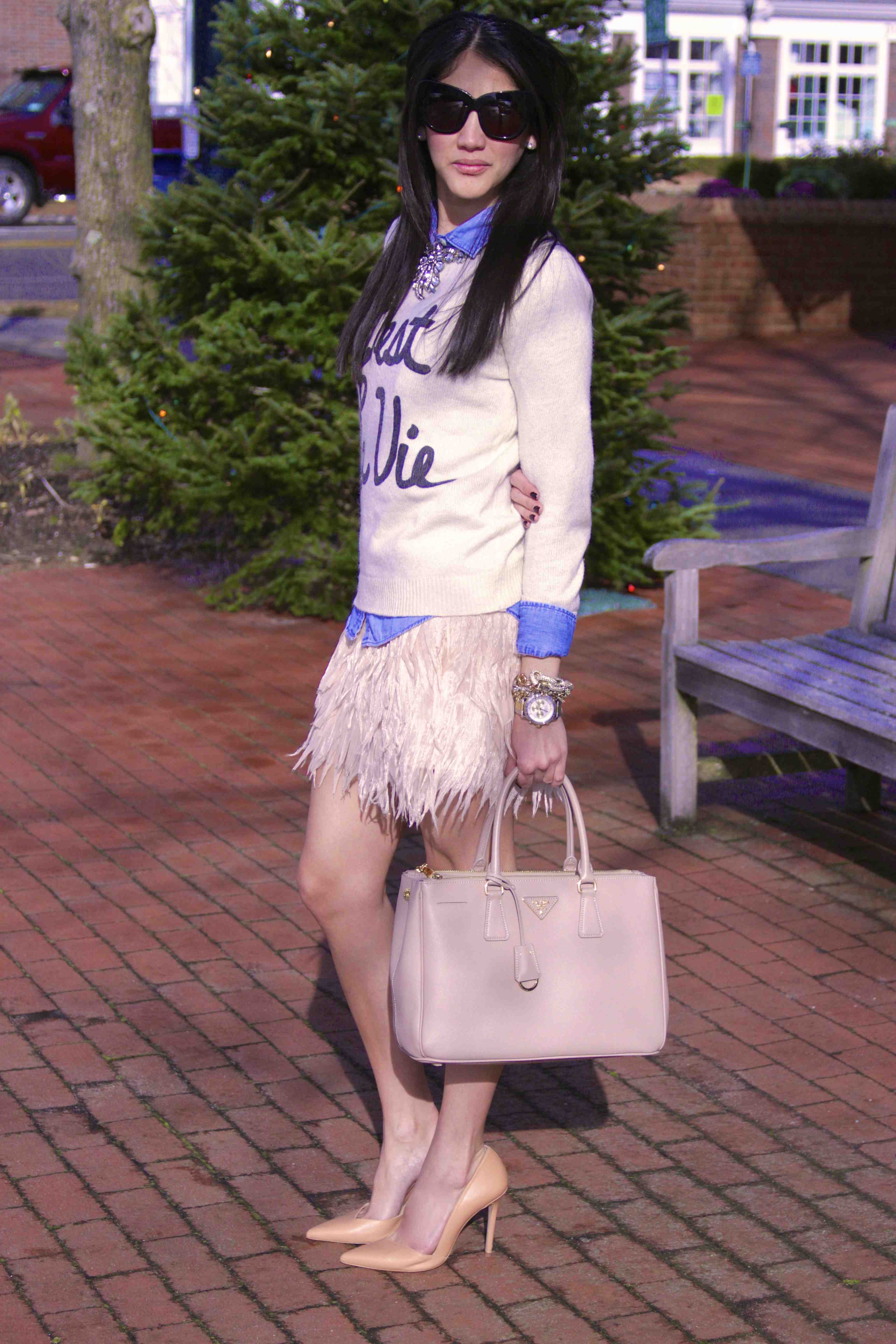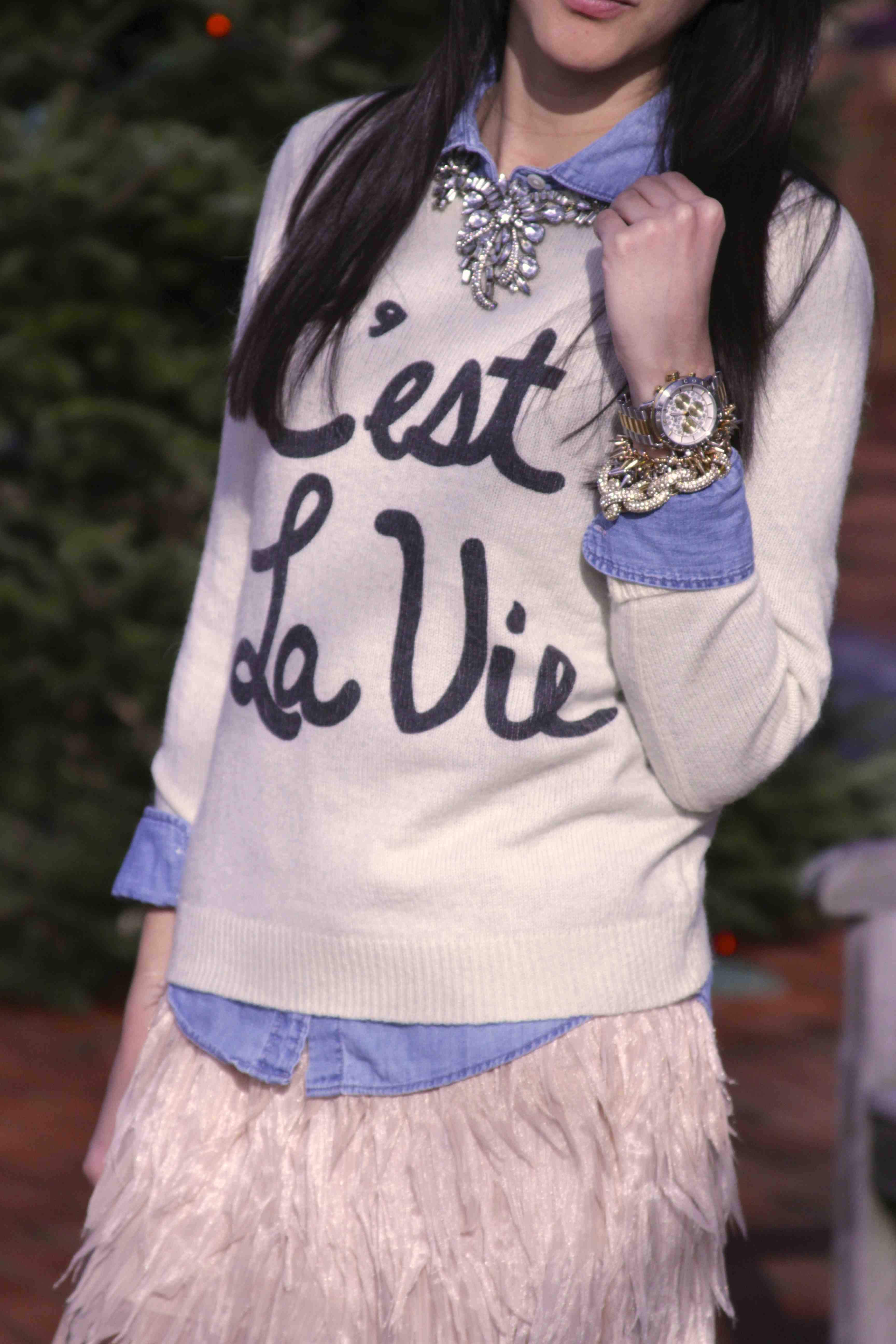 2014 is only a few weeks away. It's unbelievable how fast time flies. Holiday parties are popping up everywhere and the question of what to wear to a holiday party continues to crowd our minds. Today, I'm sharing with you a casual yet chic festive look. You know how much I love skirts, such as skater skirts, full skirts, midi skirts, pencil skirts, you name them. It was no surprise I fell in love with this festive feather little piece as soon as I saw it. Isn't it dashing? To keep things causal and chic, I added a fun sweater and chambray shirt as it's always a good background piece and top it all off with a statement necklace. To recreate my look, follow these links. Skirt: Press Sabine chiffon feather skirt via Piperlime. Shirt: J.Crew Factory chambray shirt. Sweater: Forever21 sweet Parisian sweater. Shoes: Zara heels. Sunglasses: House of Harlow 1960 Chelsea sunglasses. Jewelry: Coach watch, Stella & Dot renegade cluster bracelets, BaubleBar original pave links bracelet, J.Crew Factory crystal necklace. Bag: Prada Saffiano lux small tote.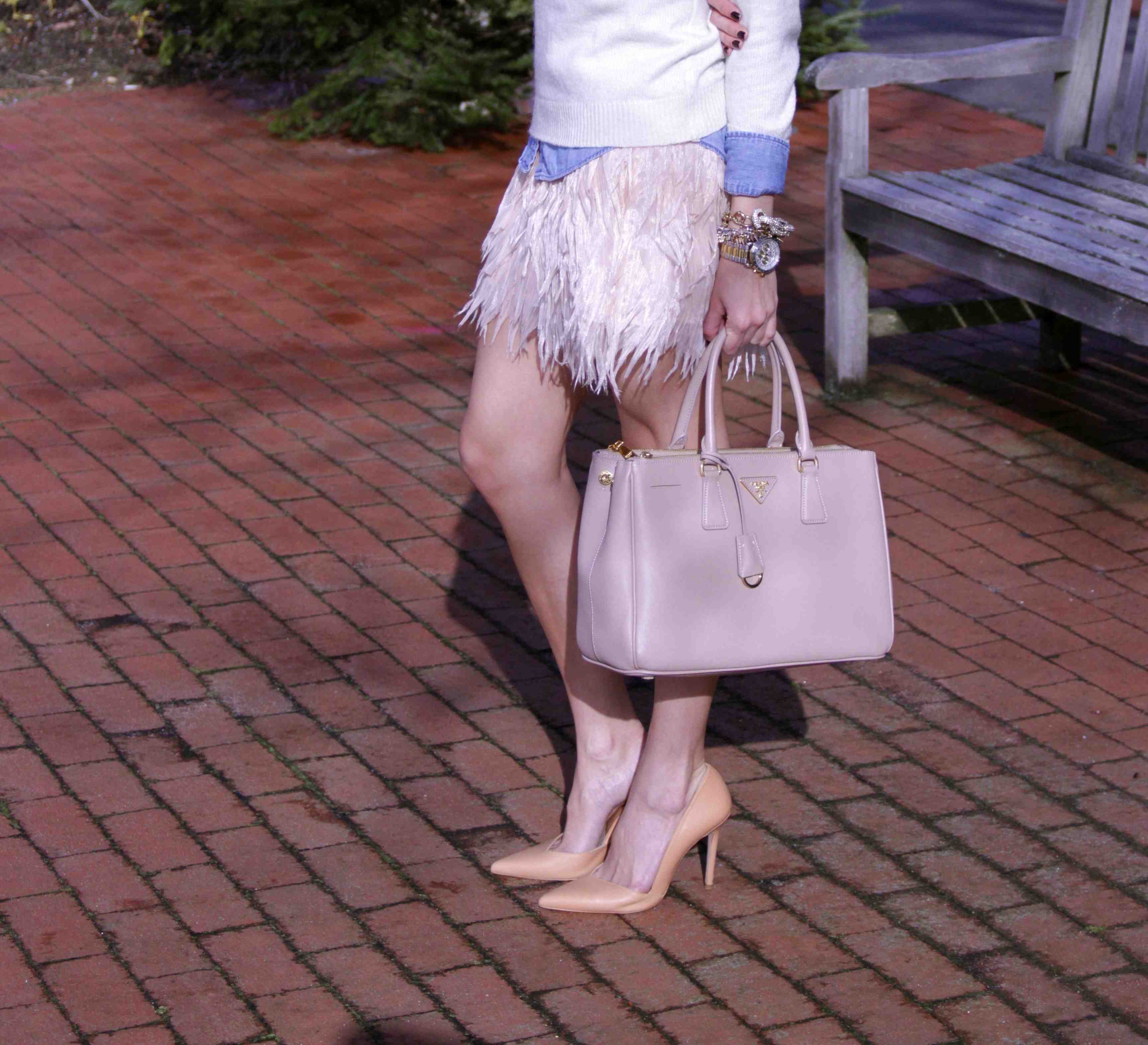 2014 wird bald kommen. Es ist unglaublich, wie schnell die Zeit vergeht. Ferien Parteien tauchen überall auf und die Frage, was zu einem Urlaub Partei zu tragen weiterhin zu verdrängen unseren Köpfen. Heute werde ich mit Ihnen teilen eine sportlich-chic festlichen Look. Du weißt, wie sehr ich dich liebe Röcke, wie Skater Röcke, Röcke, Midi -Röcke, Bleistiftröcke, können Sie sie nennen. Es war keine Überraschung, ich verliebte mich mit diesem festlichen Feder kleines Stück, sobald ich es sah. Ist es nicht stürzen? Um die Look kausal und schicke, habe ich eine lustige Pullover und Chambray-Hemd, wie es ist immer eine gute Hintergrundstück und Krönung mit einer Aussage Halskette. Um meinen Blick neu zu erstellen, folgen Sie diesen Links. Rock: Presse Sabine Feder Chiffon-Rock über Piperlime. Shirt: J.Crew Factory Chambray-Hemd. Pullover: Forever21 süßen Pariser Pullover. Schuhe: Zara Heels. Sonnenbrille: House of Harlow 1960 Chelsea Sonnenbrille. Schmuck: Coach Uhr, Stella & Dot abtrünnigen Cluster- Armbänder, Verbindungsarmband, J.Crew Factory Kristall Halskette BaubleBar Original pflastern. Tasche: Prada Saffiano Lux kleine Tasche.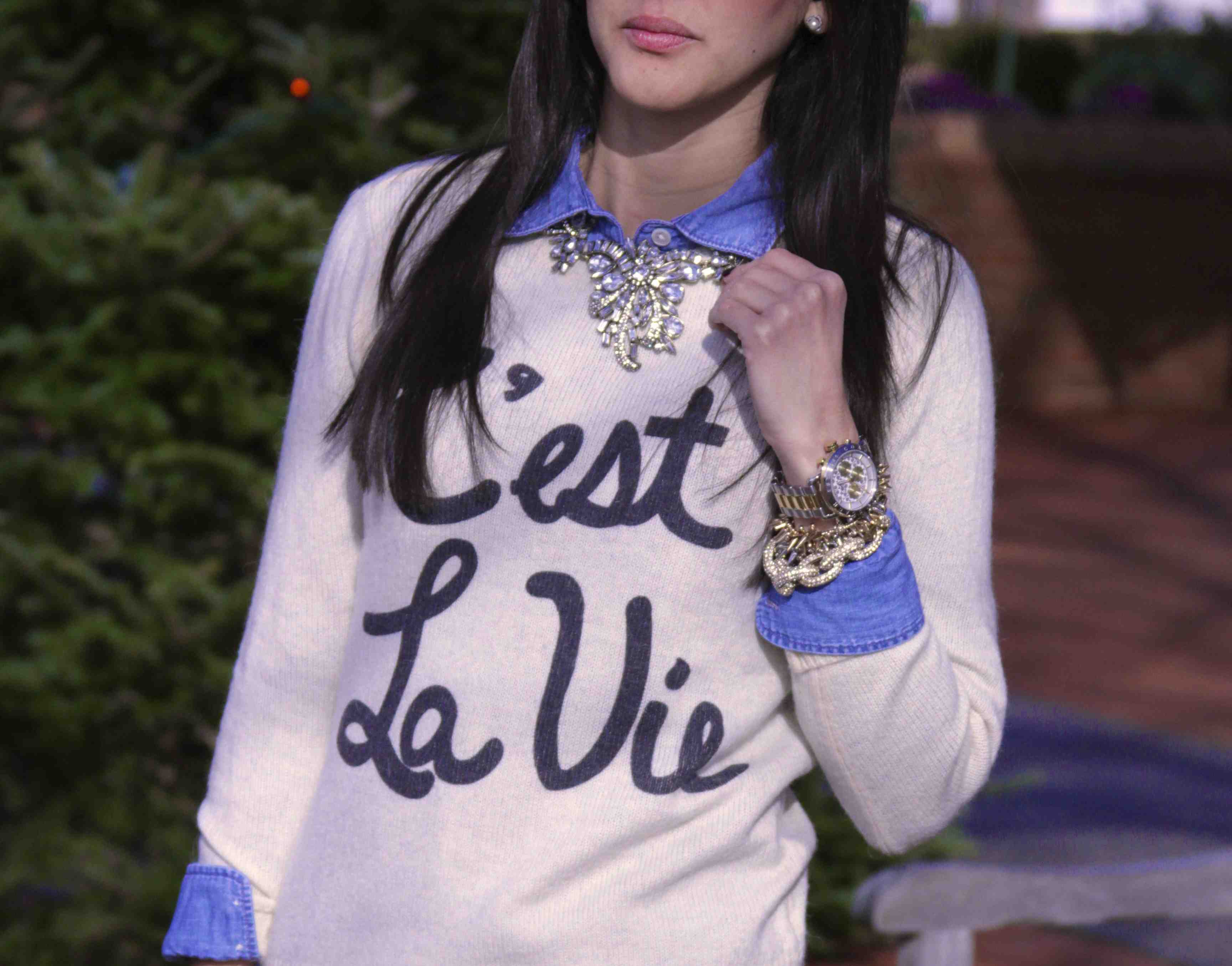 2014 está sólo a unas semanas. Es increíble lo rápido que pasa el tiempo. Las fiestas navideñas están apareciendo por todas partes y la cuestión de qué ponerse para una fiesta continúa en nuestras mentes. Hoy, estoy compartiendo con ustedes un look festivo informal pero con estilo. Ya saben lo mucho que me gustan faldas, tales como faldas patinador, faldas full, faldas midi, faldas de lápiz, nombra las que quieras, me gustan TODAS. No fue una sorpresa que me enamoré con esta falda de plumas festiva tan pronto como lo ví. ¿No es un sueño? Para mantener las cosas causales y chic, he añadido un suéter divertido y una camisa de chambray ya que siempre es una buena pieza de fondo y por si fuera poco terminé el look con un collar de declaración. Para recrear mi look, sigan estos enlaces. Falda: Sabine falda de plumas de gasa a través Piperlime. Camisa: Camisa de chambray J.Crew Factory. Suéter: Forever21 suéter parisino dulce. Zapatos: tacones de Zara. Gafas de sol: House of Harlow 1960 gafas de sol de Chelsea. Accesorios: Reloj Coach, pulseras Stella & Dot, pulseras BaubleBar pave originales, collar de cristal de J.Crew Factory. Cartera: Prada Saffiano lux pequeña.