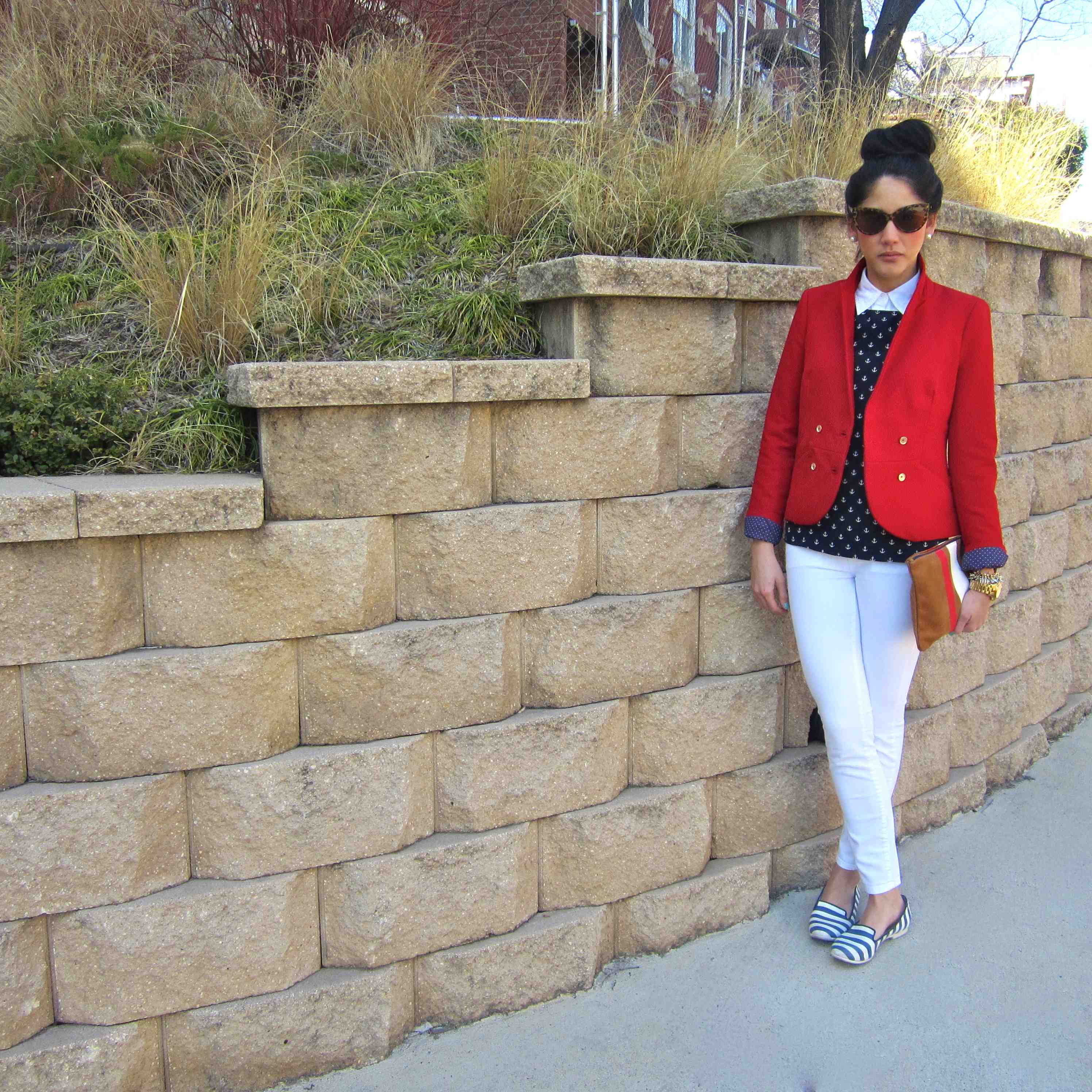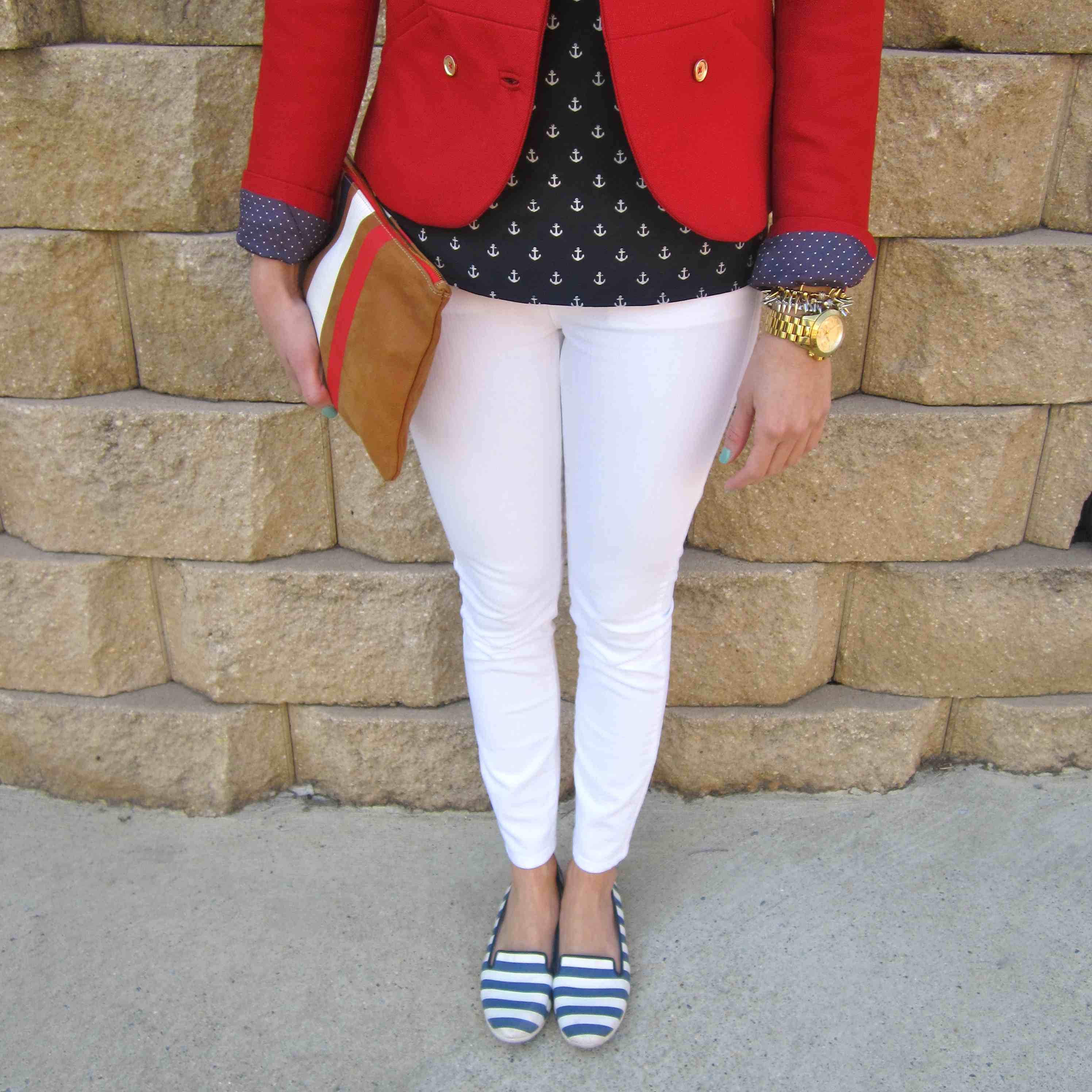 Want to get extra style points? Button up your shirt collar for a fabulous outfit. Throw a printed blouse on top of your casual shirt for winter-spring transition and woola! What a better way to spring into spring but with a simple but form-fitting pair of white slacks, I wear them year-around and to be honest I love to wear white pieces in the winter. Another style tip I have for you today is to use color pop accessories to complete your look. Whether you're adding shiny or colorful jewelry, or a red blazer, I assure you this addition will make the whole outfit pop. The hair bun has definitely become part of my weekly hair-dos. It's very easy and fast to do and it looks very chic and sophisticated. If you're looking for hair-dos for the office, casual cocktail hour, or even a formal event, give the hair bun a try and I guarantee you'll love it! JCrew Factory blouse, American Apparel shirt, JCrew Factory jeans, Zara blazer, Steve Madden shoes, Clare Vivier clutch. Accessories: BCBG sunglasses, Stella&Dot, Michael Kors. Make-up: Chanel Joues Contraste 55, I'm loving my Essie Turquoise & Caicos new nail polish, it's flirty and it brings me closer to clear blue summer days.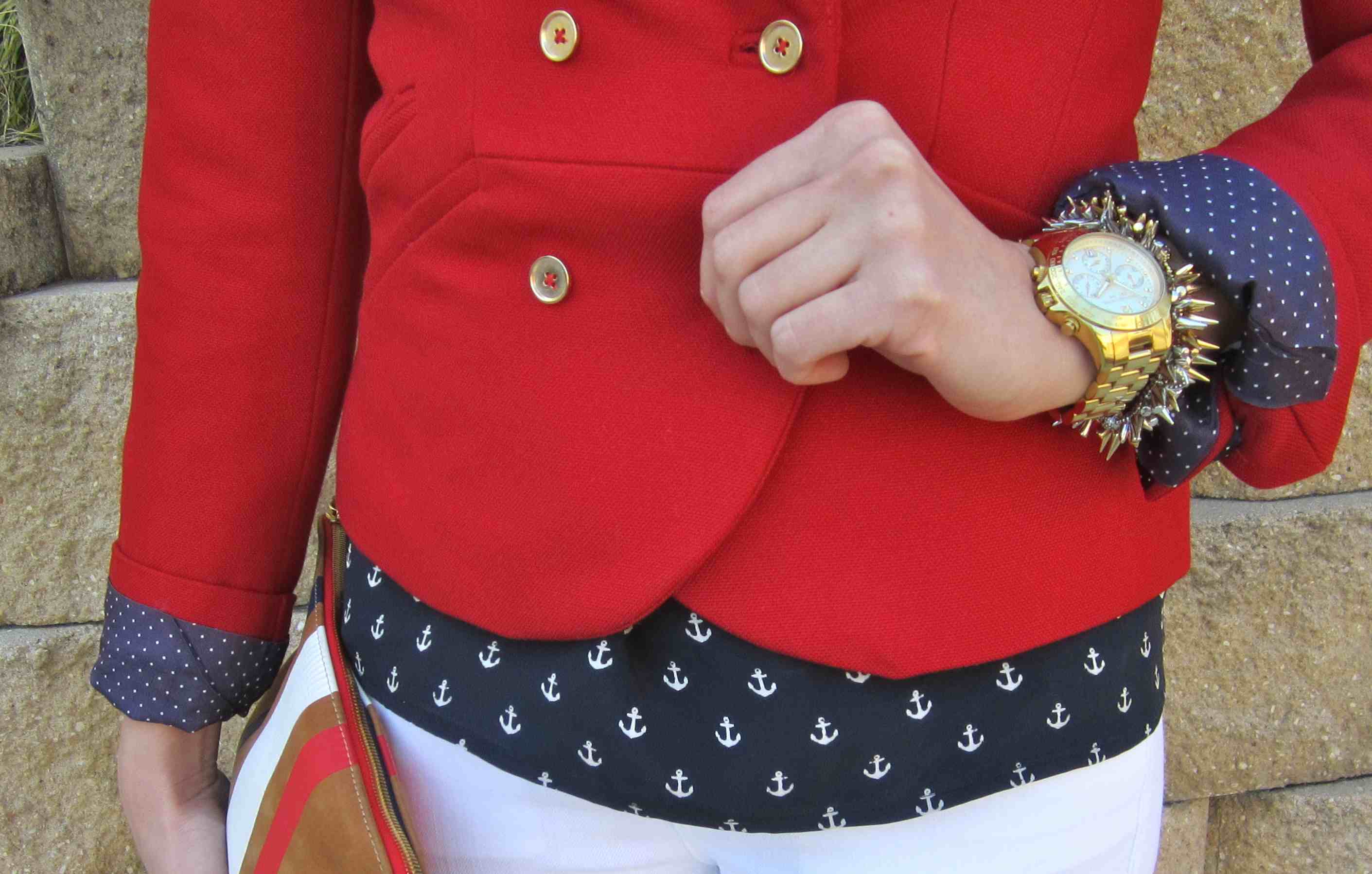 Möchten Sie zusätzliche Stil Tipp zu haben? Taste nach oben Ihr Hemd Halskette für eine fabelhafte Outfit. Werfen Sie eine gedruckte Bluse auf Ihre lässige Hemd für Winter-Frühling Übergang und Woola! Gibt es einen besseren Weg, um in Frühling, aber mit einem einfachen, aber formschlüssige Paar weiße Hosen, trage ich sie Jahr um und um ehrlich zu sein ich liebe es weiße Stücke im Winter tragen. Ein weiterer Stil Tipp dass ich heute für euch habe, ist die Farbe pop Zubehör zu verwenden, um Ihren Look zu vervollständigen. Egal, ob Sie das Hinzufügen glänzenden oder bunten Schmuck, oder ein Netzwerk Blazer, das versichere ich Ihnen Dadurch wird die gesamte Addition pop Outfit machen. Das Haar bun ist in meiner wöchentlichen Frisur. Es ist sehr einfach und schnell zu tun, und es sieht sehr schick und anspruchsvoll. Wenn Sie für Haar-two suchen für das Büro, Casual Cocktail-Stunde oder sogar eine formelle Veranstaltung, geben dem Haar bun einen Versuch und ich garantiere Ihnen werden es lieben! JCrew Factory Bluse, American Apparel T-Shirt, JCrew Factory Jeans, Zara Blazer, Steve Madden Schuhe, Clare Vivier Tasche. Schmuck: BCBG Sonnenbrille, Stella&Dot, Michael Kors. Make-up: Chanel Joues Kontrast 55, ich liebe meinen neuen Essie Turquoise & Caicos Nagellack, ist es kokett und es bringt mich näher an blauen Sommerhimmel Tag zu löschen.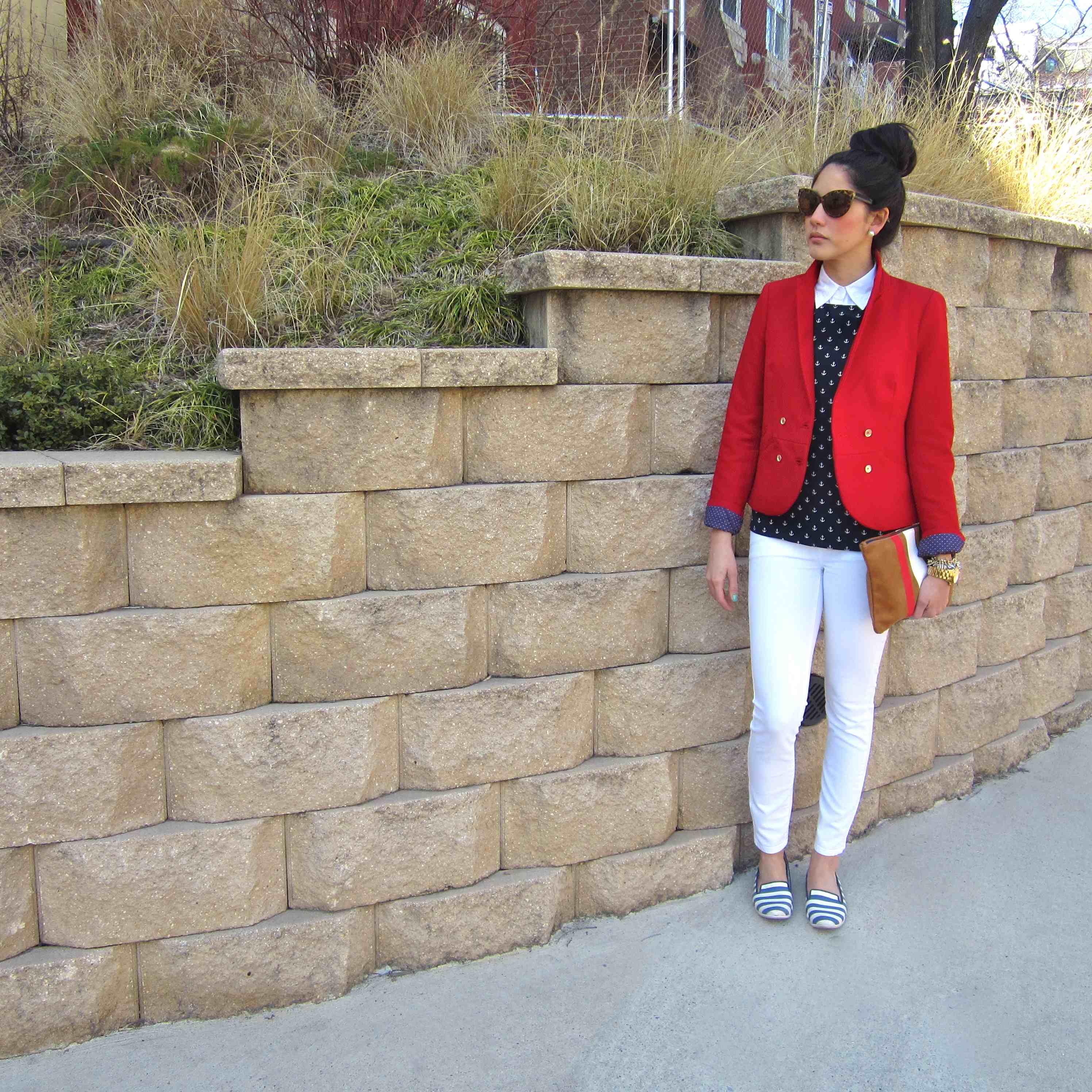 ¿Quieres conseguir un puntos extras de estilo? Abrocha tu camisa hasta el cuello para un atuendo fabuloso. Usa una blusa impresa sobre tu camisa casual para la transición de invierno-primavera y woola! ¡Qué mejor manera de saltar a la primavera, que con un simple par de jeans, los cuales me los pongo durante todo el año y para ser sincera me encanta usar piezas blancas en el invierno. Otro consejo de estilo que tengo para ustedes hoy es el uso de accesorios de colores pop para completar tu look. Ya sea que estés añadiendo joyas brillantes o de colores, o una chaqueta de color rojo, te aseguro que esta incorporación hará que todo el atuendo sobresalte. El moño se ha convertido definitivamente en parte de mis peinados semanales. Es muy fácil y rápido de hacer y se ve muy elegante y sofisticado. Si estás buscando peinados para la oficina, la hora del cóctel ocasional, o incluso un evento formal, dale una oportunidad al moño y te garantizo que te encantará! Blusa JCrew Factory, camisa de American Apparel, jeans JCrew Factory, Zara blazer, Steve Madden zapatos, cartera Clare Vivier. Accesorios: gafas BCGB, Stella&Dot, Michael Kors. Maquillaje: Chanell Joues Contraste 55, Me encanta mi nuevo esmalte de uñas Essie Turquoise & Caicos, es coqueto y me lleva más cerca de los días azules de verano.