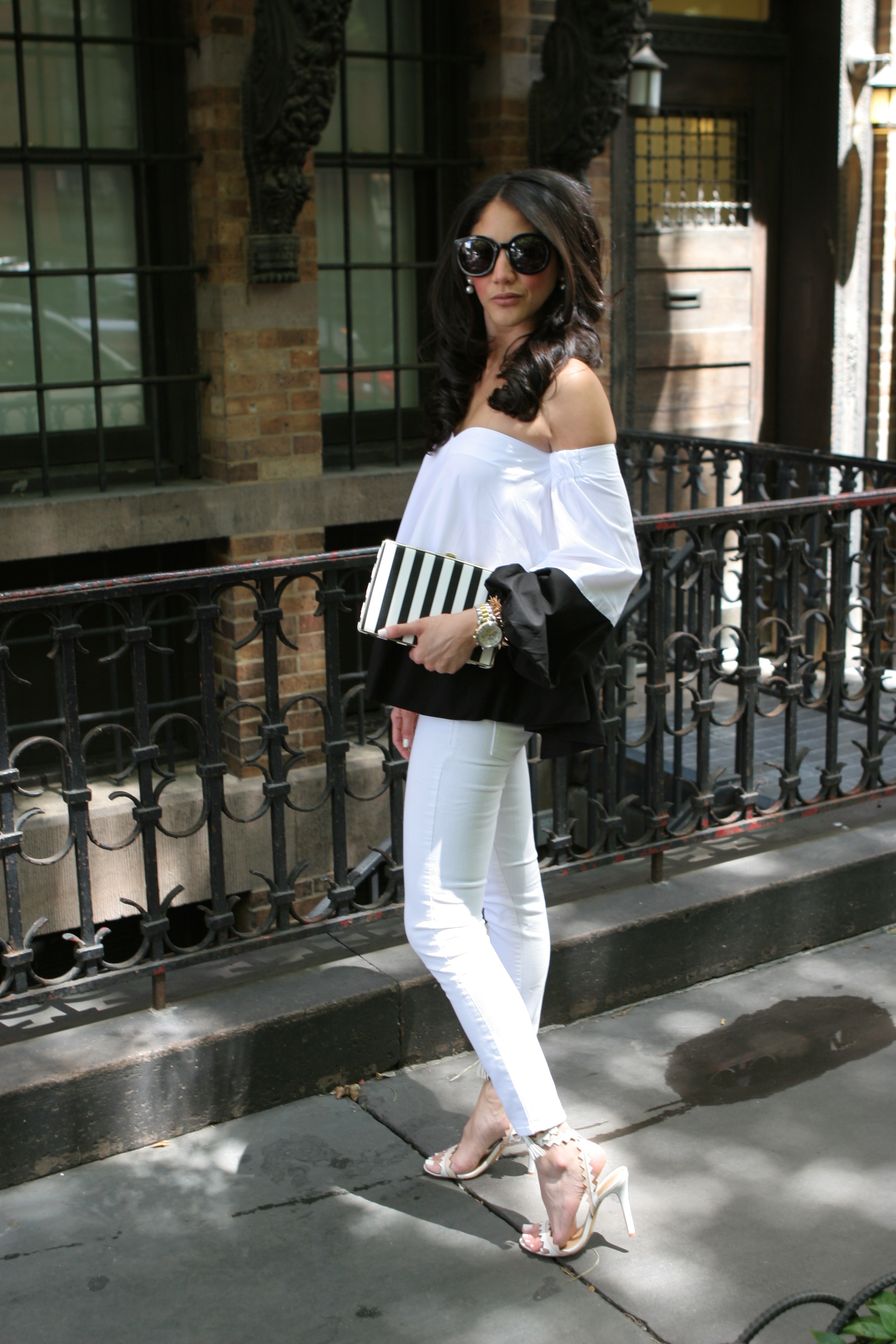 TOP: PIXIE MARKET DUAL COLOR OFF THE SHOULDER TOP BY REVIVAL | PANTS: J.CREW TOOTHPICK JEAN IN WHITE (25% OFF WITH CODE WEEKOFSTYLE) | SHOES: SCHUTZ MARGO SANDALS | SUNGLASSES: KAREN WALKER NUMBER ONE SUNGLASSES | WATCH: COACH STAINLESS STEEL WATCH | BRACELET: STELLA & DOT RENEGADE CLUSTER BRACELET.
Summer is finally back to being enjoyable. I know we are getting close to fall but as long as I can wear off the shoulder pieces, I'll stay in a summer state of mind. I love the details on this top. Everything from the heart-shaped chest to the bell-shaped sleeves to the white and black color contrast, it's one for the books. When I first saw this top, it was out of stock but I added my name to the wish list and within a week, I got an alert giving me the good news that I could buy it and sure I did. Pixie Market is really good at bringing items back in stock pretty quickly.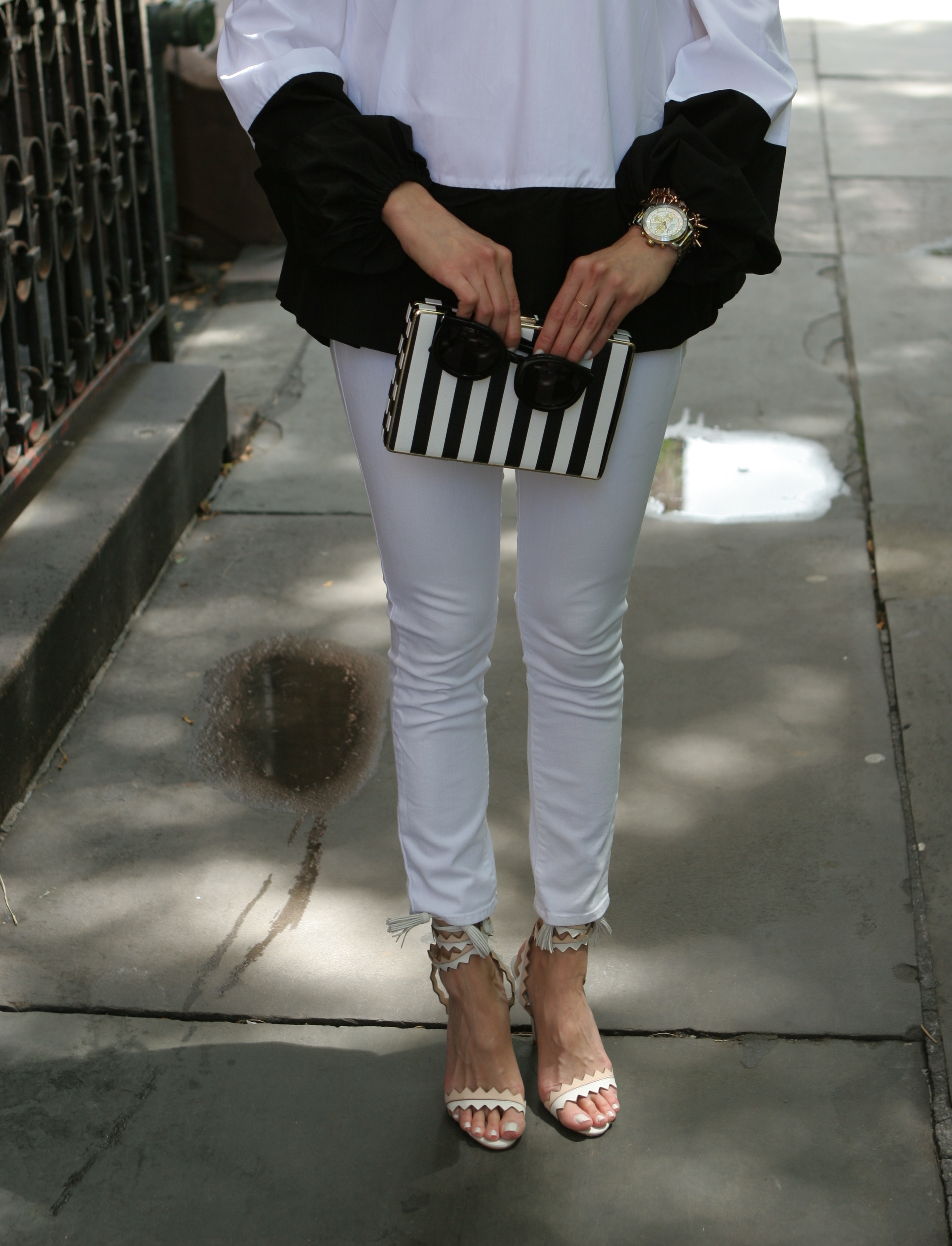 Der Sommer ist endlich wieder angenehm zu sein. Ich weiß, wir sind immer in der Nähe zu Herbst, aber solange ich die Schulterstücke abnutzen kann, werde ich in einem Sommergeisteszustand bleiben. Ich liebe die Details zu diesem oben. Alles, von der herzförmigen Brust zu den glockenförmigen Hülsen auf den weißen und schwarzen Farbkontrast, dann ist es eine für die Bücher. Als ich diese Top sah, war es ausverkauft, aber ich hinzugefügt meinen Namen in die Liste Wunsch und innerhalb einer Woche bekam ich eine Warnung mir die gute Nachricht zu geben, dass ich es kaufen konnte und sicher habe ich getan. Pixie Market ist wirklich gut Artikel wieder auf Lager ist ziemlich schnell zu bringen.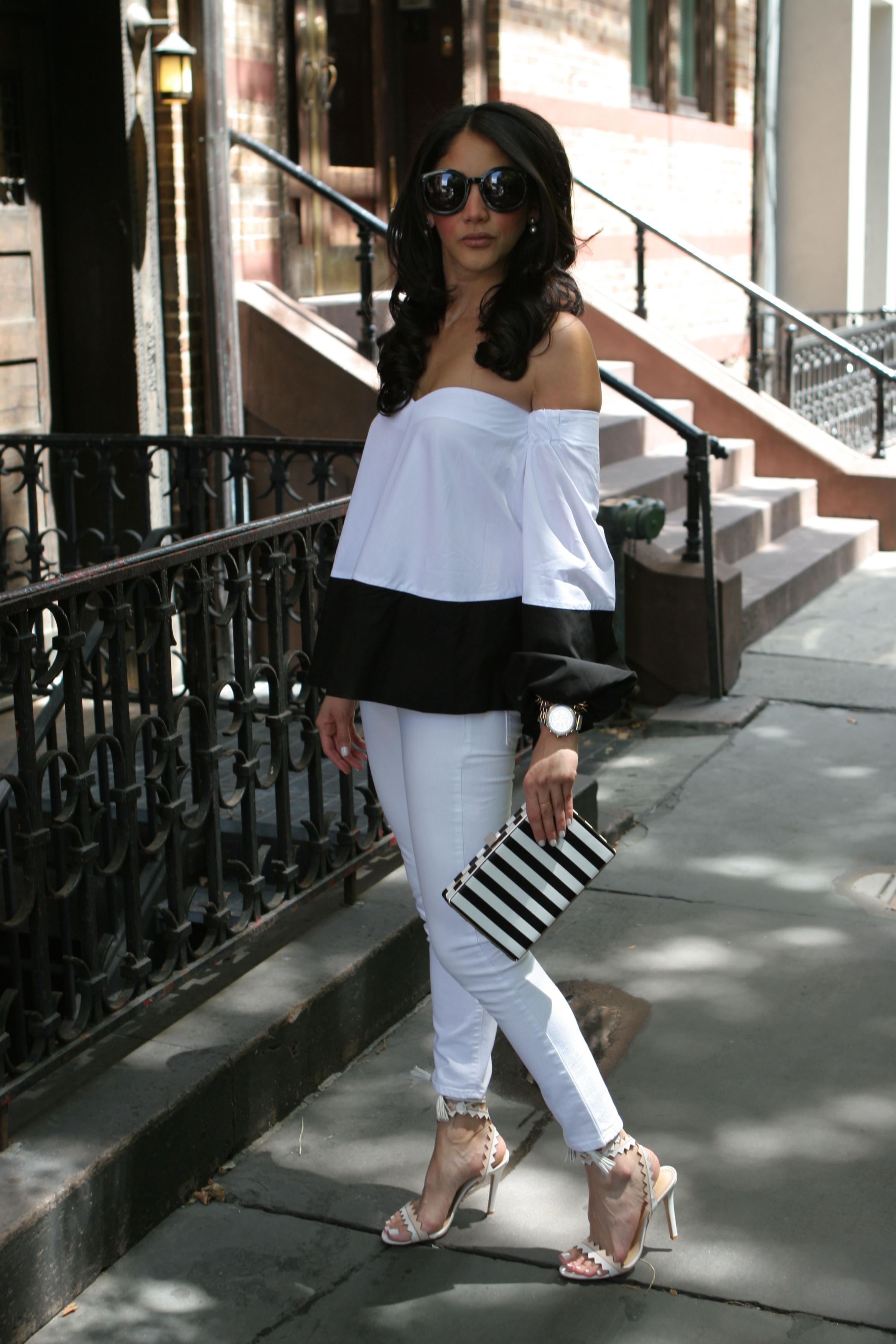 El verano finalmente se siente rico. Sé que nos estamos acercando al otoño, pero mientras me pueda seguir poniendo tops a los hombros, voy a permanecer en un estado de ánimo de verano. Me encantan los detalles de top. Todo, desde el pecho en forma de corazón a las mangas acampanadas al contraste de colores blanco y negro, es uno de esos tops que sabes que lo tendrás por años. Cuando vi por primera vez este top, estaba sold out, pero igual añadí mi nombre a mi wishlist y dentro de una semana, me llegó una alerta para darme la buena noticia de que podía comprarlo y seguro de lo hice. Pixie Market es súper bueno en traer artículos de nuevo en stock con bastante rapidez.
SHOP THE POST