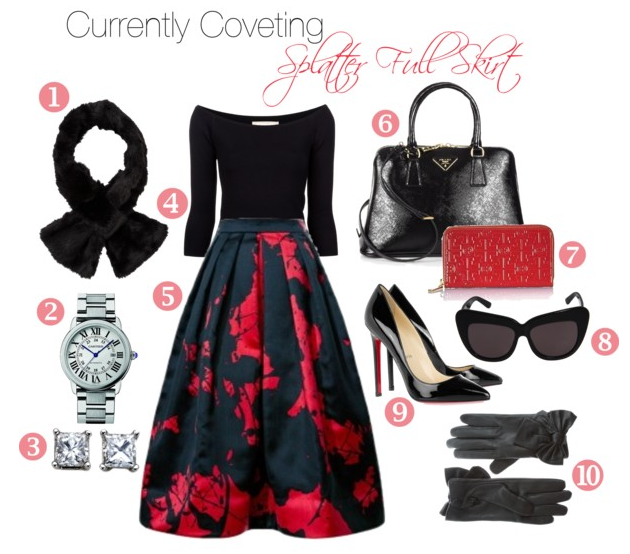 Ready, set, go! The tibi paint splatter full skirt is finally available online. I've been coveting this skirt since I saw it on tibi's spring/summer 2014 runway, isn't it amazing? Full skirts are very feminine and this statement skirt really makes the trick. They have the splatter full skirt in both black and red multi. If you remember fashion week, Aimee Song from Song of Style, Eva Chen from Lucky Magazine among other fashion icons wore this beautiful skirt.. tibi is doing it right. Getting all the It girls to wear this fantastic skirt definitely created a buzz. You can mix this full skirt with a long-sleeve off the shoulder top, crop top, silk blouse and the list goes on… 1) John Lewis faux fur scarf, 2) Cartier watch, 3) diamond earrings, 4) Michael Kors off the shoulder knit top, 5) Tibi paint splatter full skirt, 6) Prada Saffiano Vernice small promenade bag, 7) Tory Burch wallet, 9) Christian Louboutin Pigalle 120 patent-leather pumps, 10) Mango balm gloves.
Achtung, fertig los! Die tibi Splatter voller Rock ist endlich online. Ich habe diesen Rock begehren, da ich es sah auf tibi Frühjahr/ ommer 2014 Start-und Landebahn, ist es nicht erstaunlich? Volle Röcke sind sehr feminin und diese Aussage Rock macht wirklich den Trick. Sie haben die Splatter voller Rock in den Farben schwarz und rot multi. Wenn Sie Mode Woche erinnern, trug Aimee Song von Song of Style, Eva Chen von Lucky Magazine unter anderem Mode-Ikonen dieses schönen Rock .. tibi tut es richtig. Erste alle It-Girls, diese fantastische Rock tragen definitiv erstellt ein Summen. 1) John Lewis Kunstpelz Schal, 2) Cartier-Uhr, 3) Diamant-Ohrringe, 4) Michael Kors von der Schulter stricken top, 5) Tibi Splatter voller Rock, 6) Prada Saffiano Vernice kleine Promenade Tasche, 7) Tory Burch Brieftasche , 9) Christian Louboutin Pigalle 120 Lackpumps, 10) Mango Balsam Handschuhe.
Preparados, listos, ¡ya! La falda tibi splatter por fin está disponible online. He estado codiciando esta falda desde que la ví en la pasarela de primavera/verano 2014 ¿no es increíble? Las faldas "full" son muy femeninas y esta falda de declaración realmente hace el truco. Tienen la falda de estilo salpicaduras en múltiples tanto en negro y rojo. Si te acuerdas de la semana de la moda, Aimee Song de Song of Style (una de mis bloggers favoritas), Eva Chen de Lucky Magazine, entre otros iconos de la moda lucieron esta hermosa falda .. tibi está haciendo las cosas bien. Conseguir que todas las It girls usen esta falda preciosa sin duda creó un zumbido en los medios. 1) Bufanda de piel sintética John Lewis, 2) reloj Cartier, 3) pendientes de diamantes, 4) blusa a los hombros Michael Kors, 5) falda de salpicaduras de pintura tibi, 6) cartera Prada Saffiano Vernice, 7) billetera Tory Burch, 9) zapatos Christian Louboutin Pigalle 120 bombas de Christian de charol, 10) guantes de bálsamo de Mango.