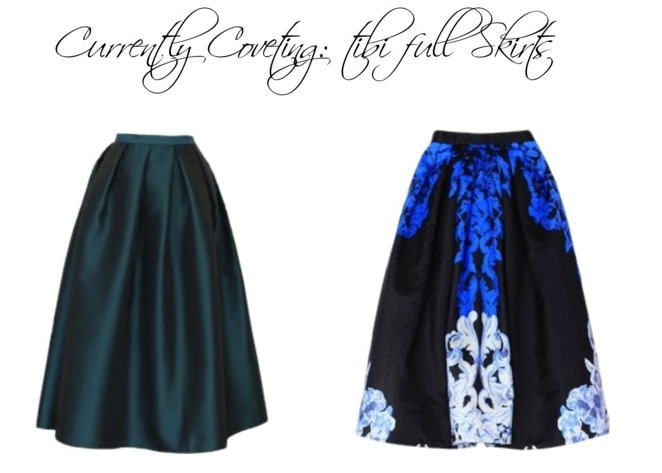 Lately, I've been really into full skirts. They're classic, timeless and have an old glamour feel that I just can't get enough about them. Full skirts were all over Mercedes Benz Fashion Week street style. Leather ones and so many other fabrics but currently I'm coveting these stunning full skirts from tibi. 1) Tibi Simona Jacquard skirt, 2) Tibi Rococo full skirt.
In letzter Zeit habe ich wirklich in weiten Röcken gewesen. Sie sind klassisch, zeitlos und haben eine alte Glamour Gefühl, dass ich einfach nicht genug bekommen von ihnen. Volle Röcke waren alle über Mercedes Benz Fashion Week. Leder Einsen und so viele andere Stoffe, aber momentan bin ich begehren diese atemberaubende Röcke von Tibi. 1) Tibi Simona Jacquard Rock, 2) Tibi Rococo voller Rock.
Últimamente, he estado obsesionada con las faldas largas. Son clásicas, nunca pasan de moda y tienen un look de glamour. Faldas estaban alrededor de todo el estilo de la calle en la semana de fashion de Mercedes Benz en Nueva York. Los de cuero y muchos otros tejidos, pero actualmente estoy codiciando estos impresionantes faldas de Tibi. 1) Tibi Simona Jacquard falda, 2) Tibi Rococo falda.