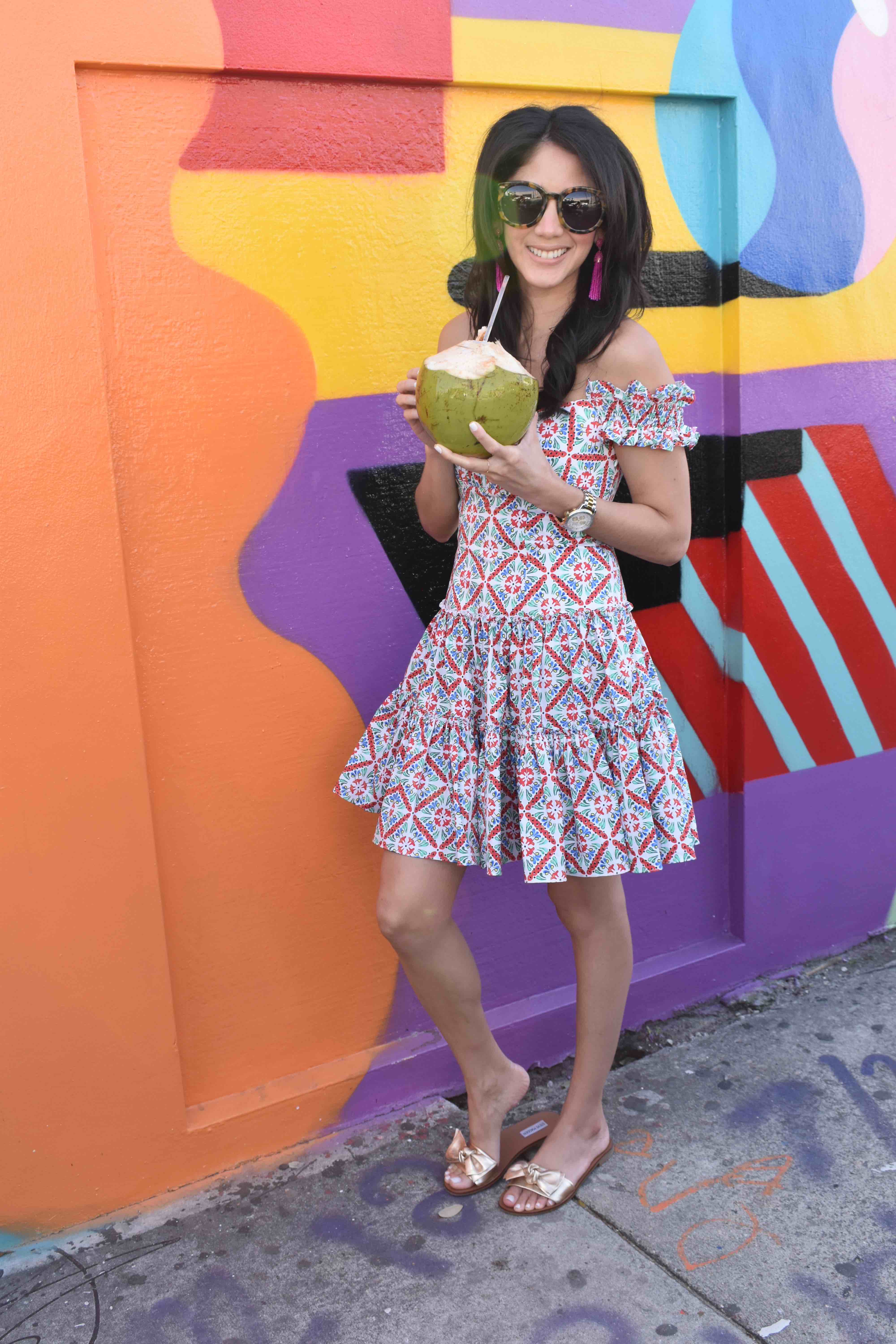 DRESS: CAROLINE CONSTAS SQUARE NECK TIERED MINI DRESS (NOW $173, I'M ALSO LOVING THIS PRINT FOR SPRING) | SHOES: STEVE MADDEN KNOTS BOW SANDALS (UNDER $25 AT MACY'S) | SUNGLASSES: KAREN WALKERSUPER DUPER STRENGTH SUNGLASSES | HAT: J.CREW WIDE BRI STARW HAT (SIMILAR BOATER STRAW HAT FROM ASOS) | BAG: EXPRESS CROSSBODY STRAW ROUND BAG EARRINGS: BAUBLEBAR PIÑATA TASSEL EARRINGS.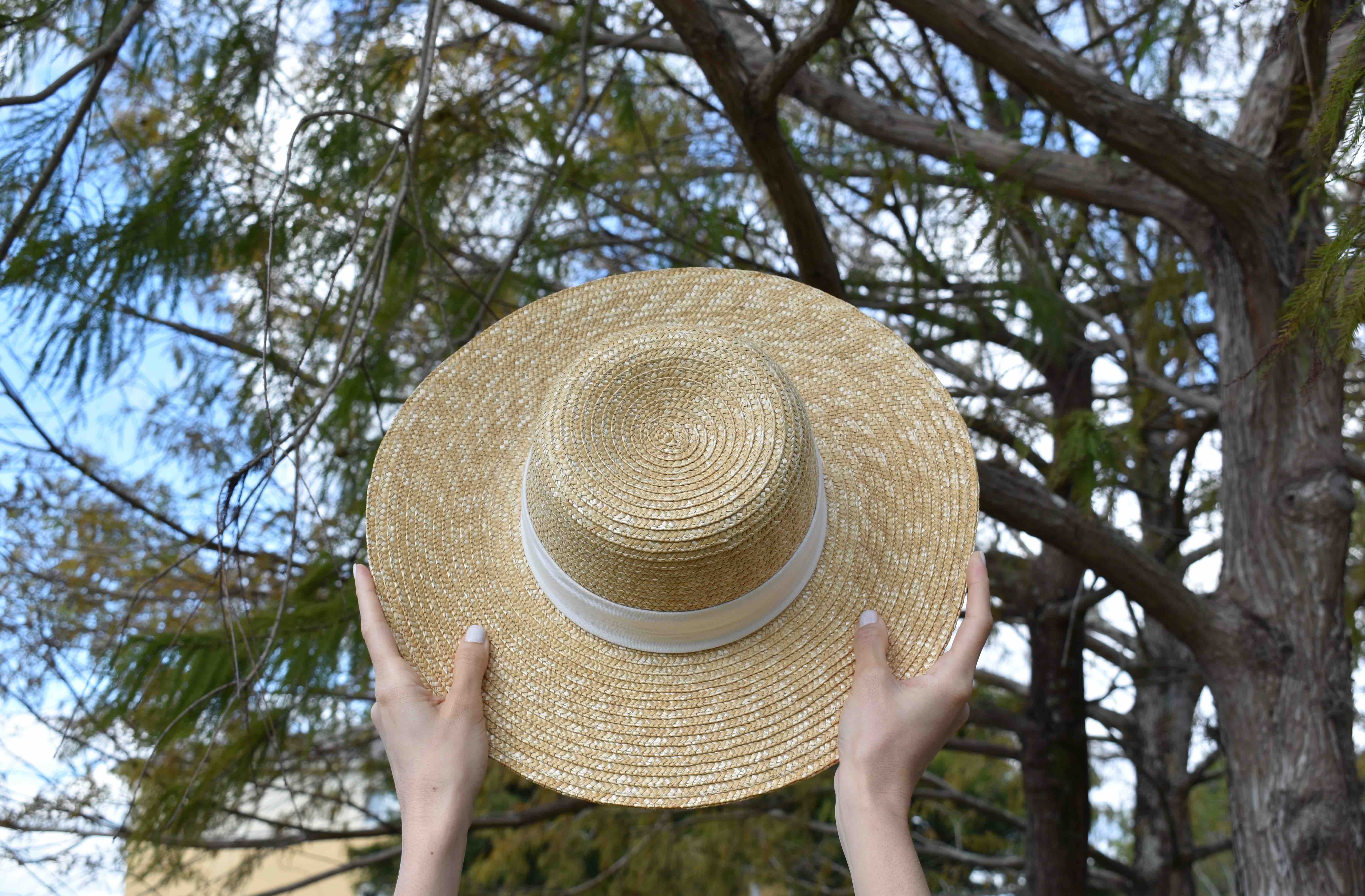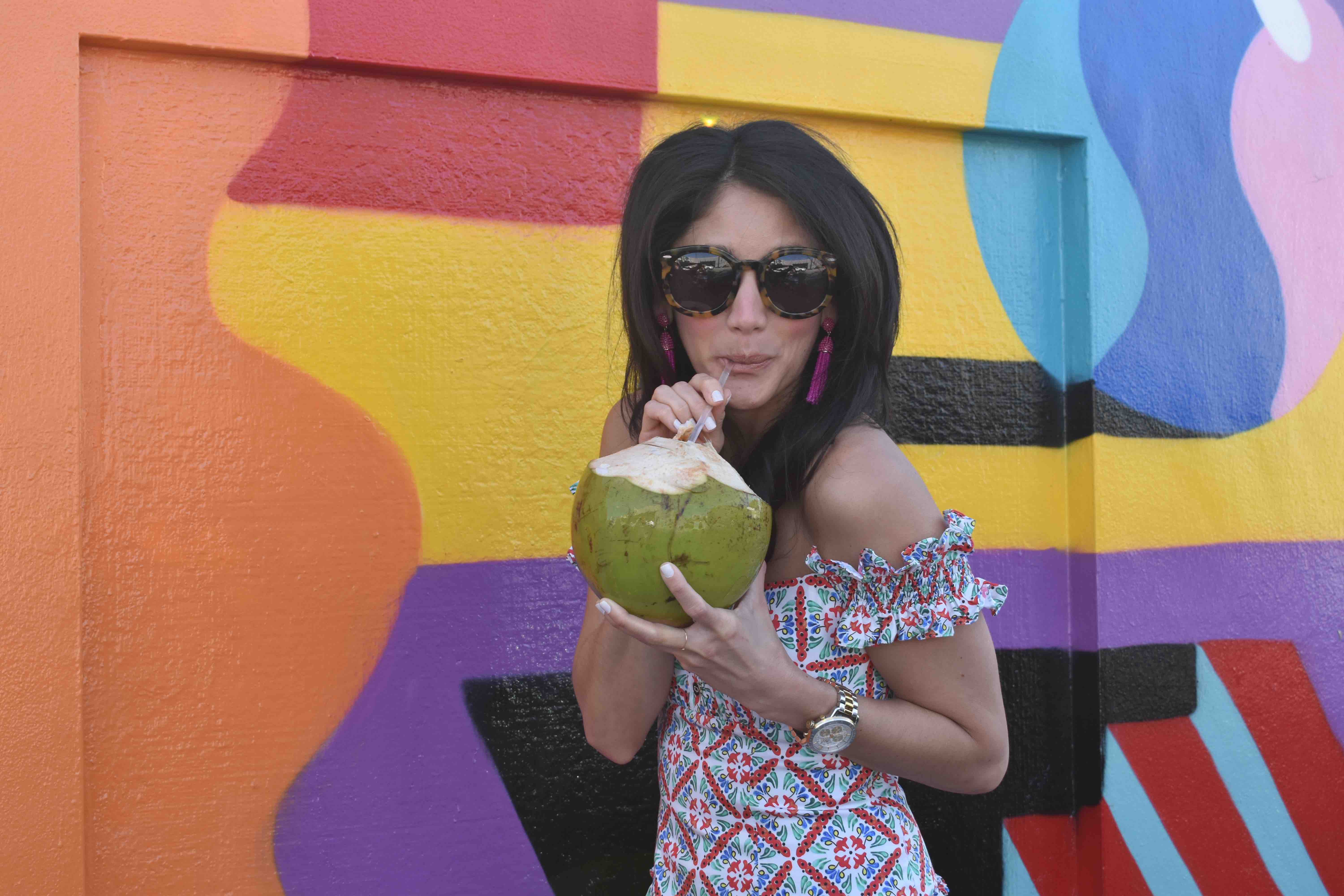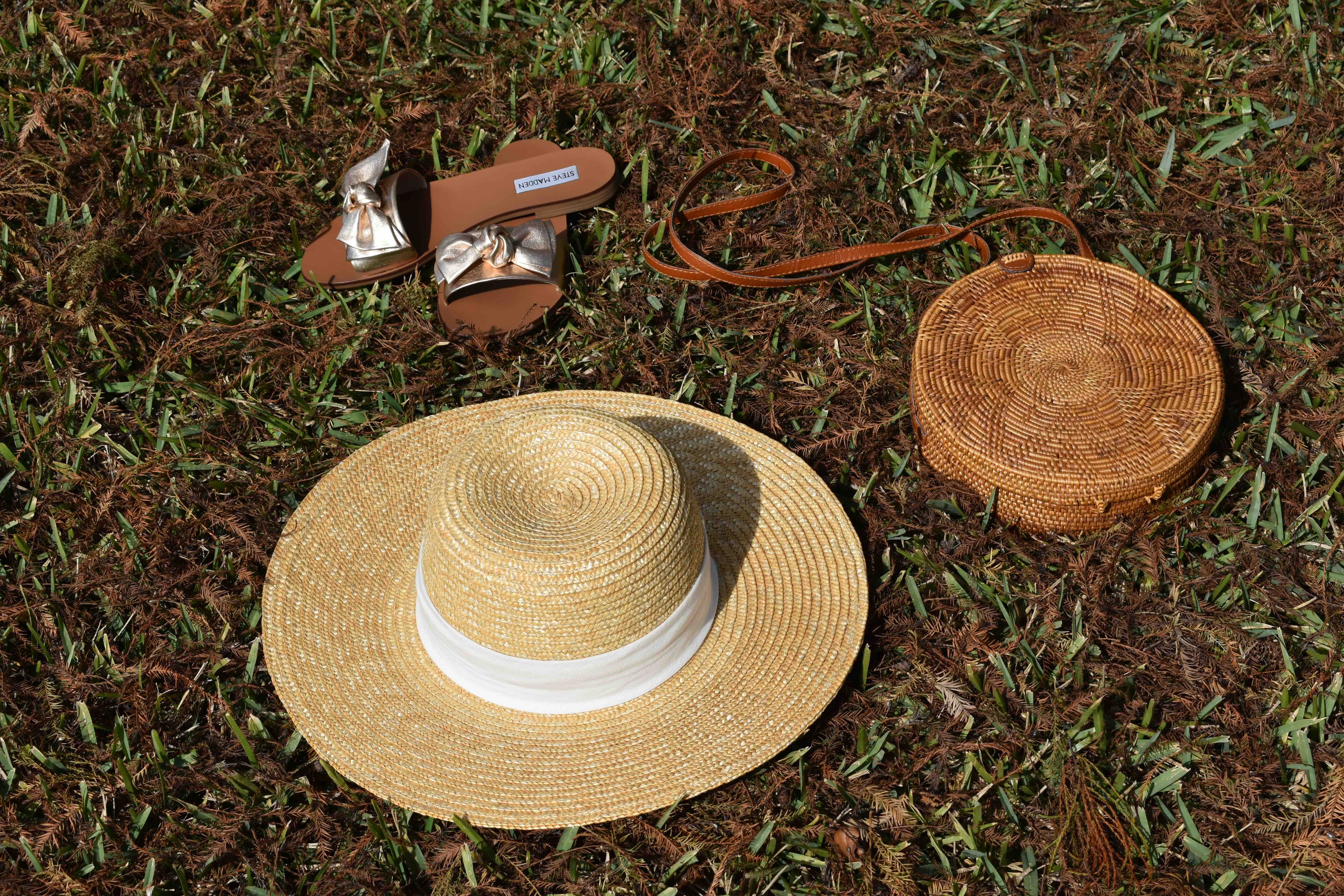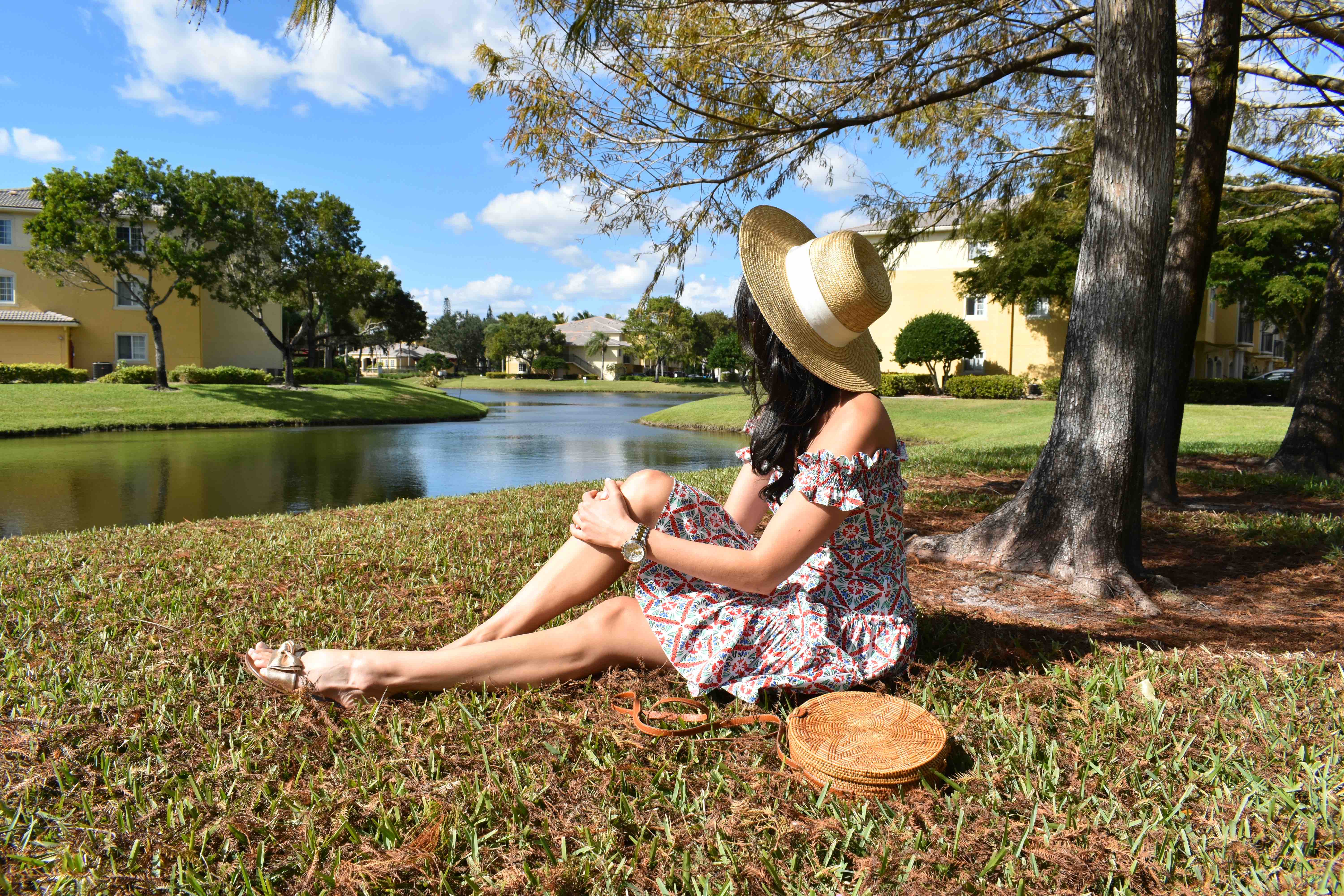 Every occasion requires different clothes to wear and most of the time, at least for me, the fun is in picking up an outfit, mixing and matching clothes, dressing up overall as much as in the event you're going to. Sometimes I just put on a pretty dress because that makes me smile. Last month, when I was in Miami, I went to Wyndwood Art District and bumped into a coconut stand and by coconut stand I mean a Jamaican vendor selling coconuts from the back of his truck. They were delicious and I cannot wait to go back next month. This Caroline Constas dress is best summer travel buddy. It's fitted but loose in the stomach area which works great when you're restaurant hopping in Wyndwood. The fabric is airy and soft and you can wear the ruffle sleeves up or on the shoulders.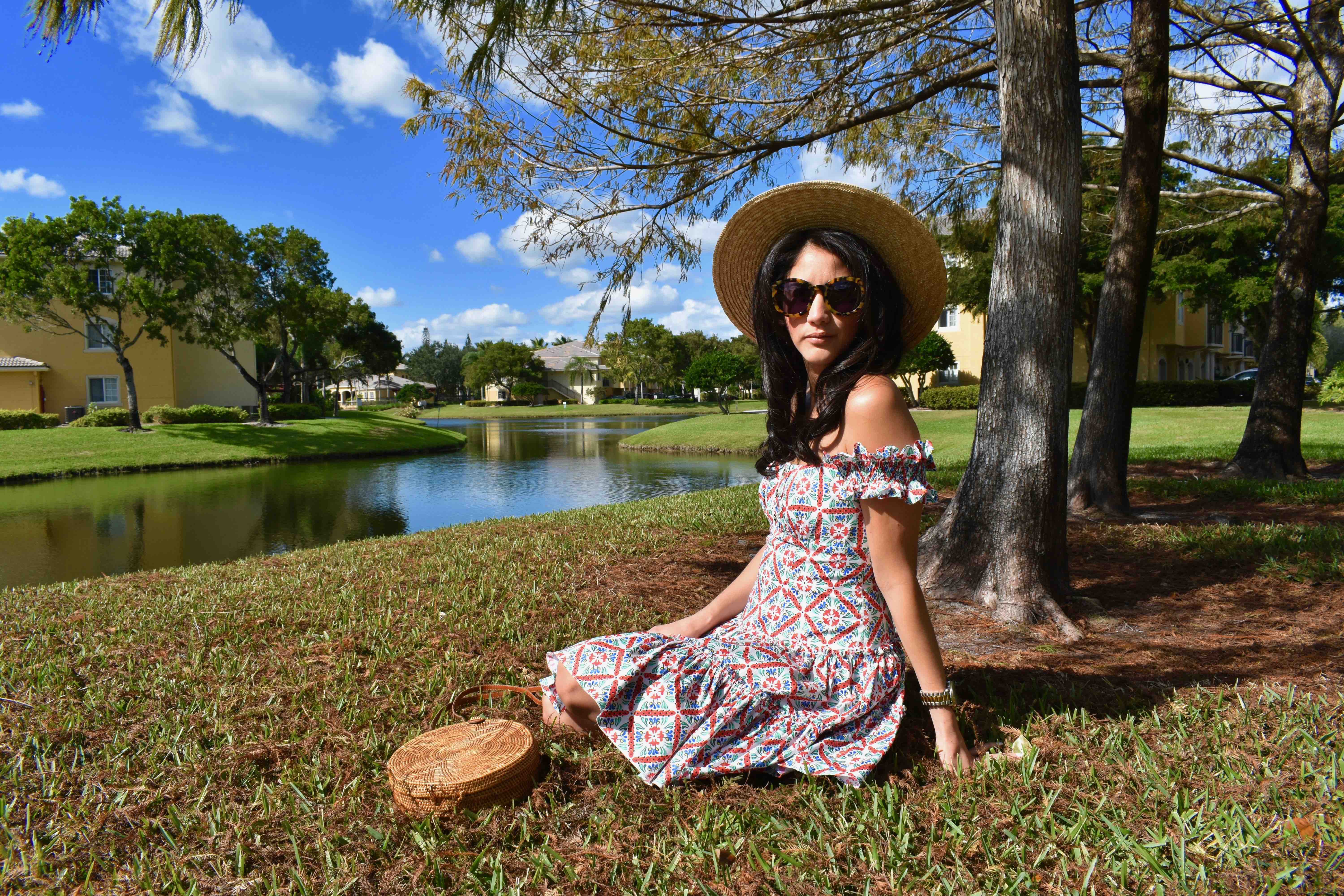 Jeder Anlass erfordert andere Kleidung zu tragen und die meiste Zeit, zumindest für mich, ist der Spaß in einem Outfit, Mischen und Anpassen von Kleidung, Verkleiden insgesamt so viel wie im Falle, dass Sie gehen. Manchmal ziehe ich mir einfach ein hübsches Kleid an, das bringt mich zum Lächeln. Letzten Monat, als ich in Miami war, ging ich in den Wyndwood Art District und stieß auf einen Kokosnussstand und auf einen Kokosnussstand. Ich meine einen jamaikanischen Händler, der Kokosnüsse von der Ladefläche seines Lastwagens verkauft. Sie waren köstlich und ich kann es kaum erwarten, nächsten Monat wiederzukommen. Dieses Caroline Constas Kleid ist der beste Sommerreisepartner. Es ist ausgestattet, aber locker in der Magengegend, die gut funktioniert, wenn Sie in Wyndwood Restaurant Hüpfen sind. Der Stoff ist luftig und weich und Sie können die Rüschenärmel oben oder an den Schultern tragen.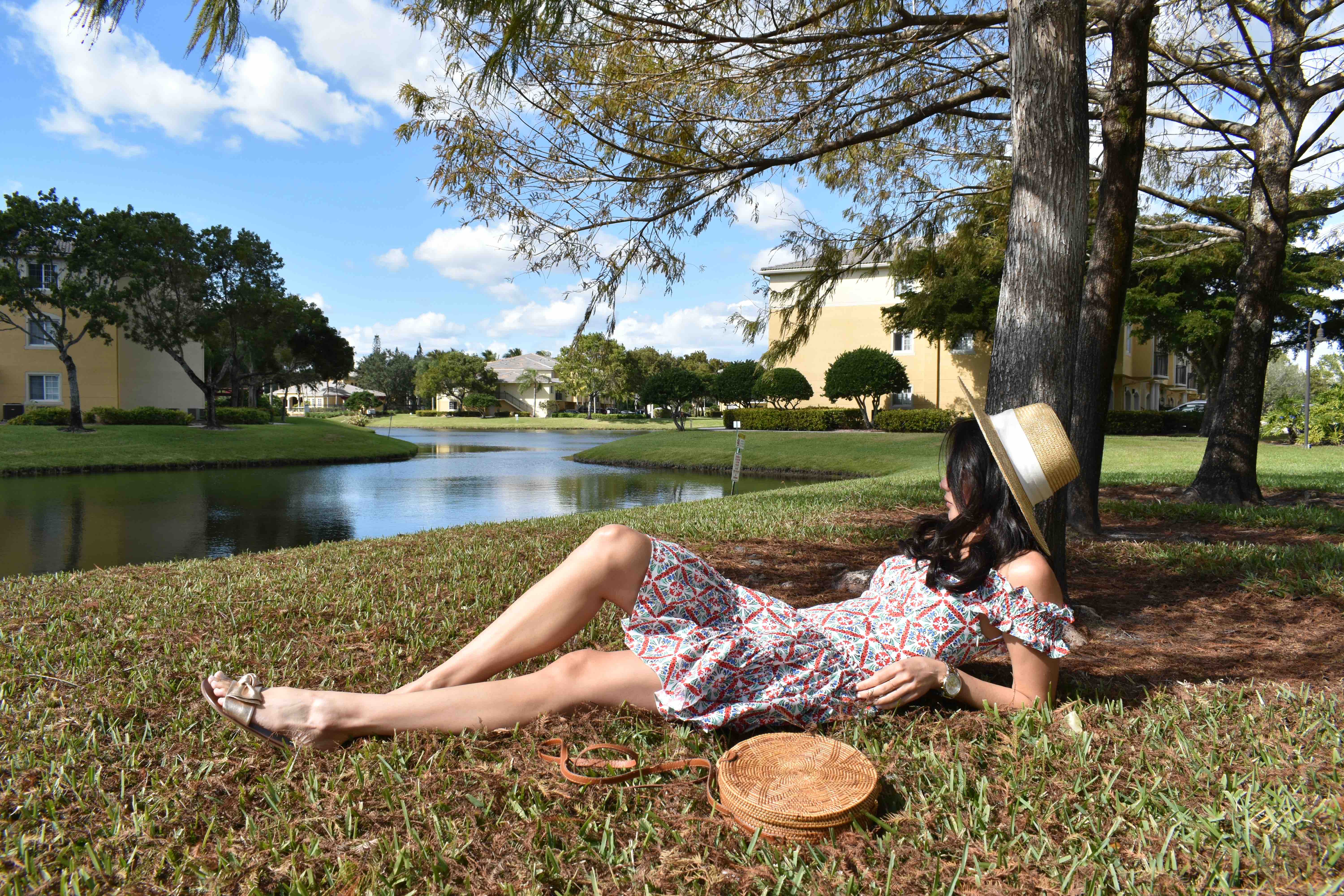 Cada ocasión requiere ropa diferente y la mayoría de las veces, al menos para mí, la diversión está en elegir un outfit, mezclar y combinar la ropa, vestirse en general, tanto como el evento al que voy a ir. A veces me pongo un vestido lindo sólo porque eso me hace sonreír. El mes pasado, cuando estuve en Miami, fui a Wyndwood Art District y me topé con un puesto de coco y cuando hable de un puesto de coco, me refiero a un vendedor jamaicano que vendía cocos del baúl de su camioneta. Estaban deliciosos y ya quiero regresar el próximo mes. Este vestido de Caroline Constas es el mejor compañero de viaje de verano. Es armadito pero suelto en la zona del estómago, lo cual funciona muy bien cuando vas de restaurante en restaurante en Wyndwood. La tela es aireada y suave y puede usar las mangas con volantes hacia arriba o sobre los hombros.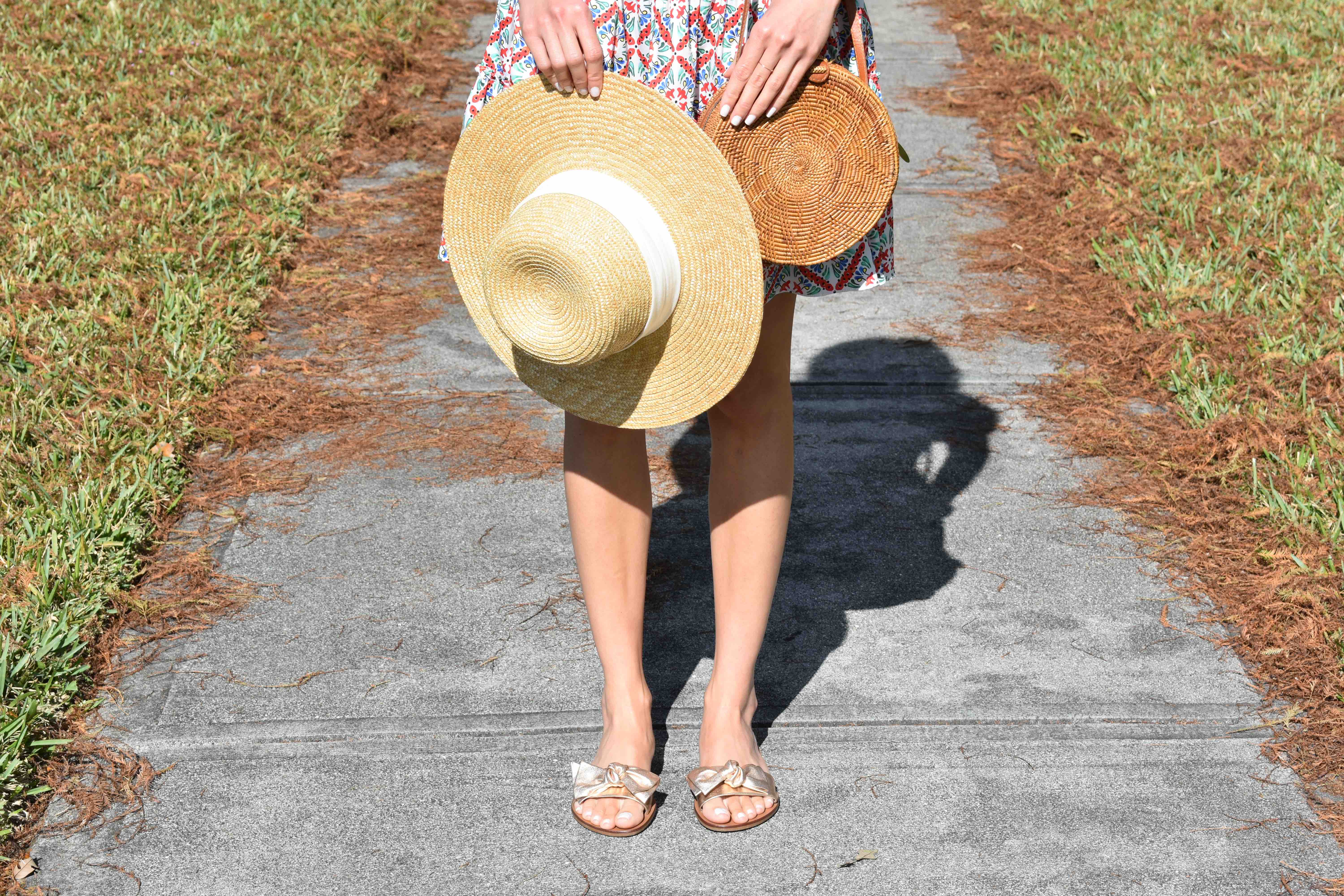 SHOP THE POST