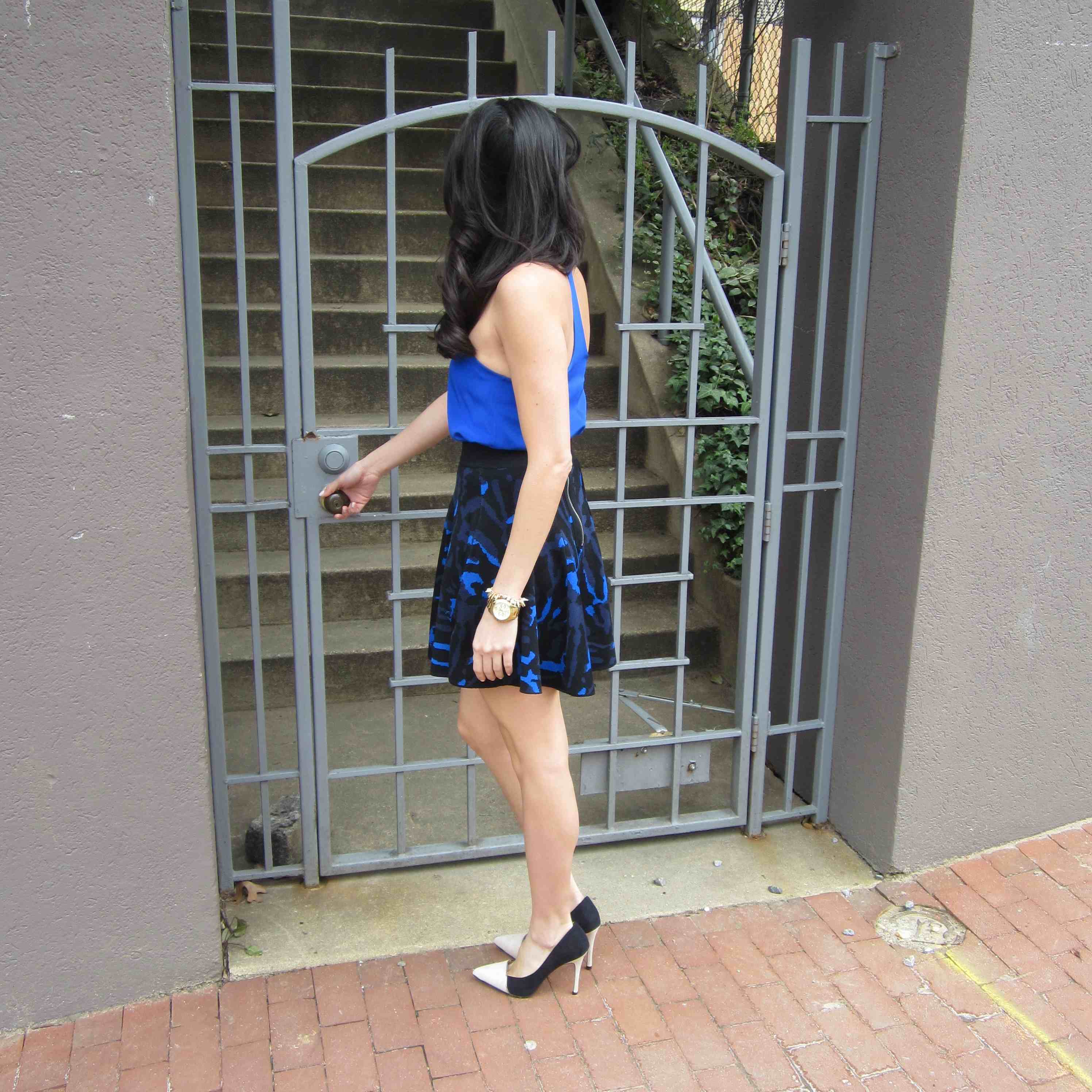 As we move closer to spring and summer, punch colors will help you brighten up your closet. Cobalt is one of those colors that really catches your eye, it just pops. It was no surprise to see cobalt blue pop on the fashion runways; it was definitely a runway favorite. Bright cobalt blue pops when paired with basic black. Tibi camis are sleek, chic and worry-free. I wear this cobalt blue year-around. I'm currently in love with the black and white starfish print Tibi has. You know I'm so weak when it comes to starfish. Outfit details: Tibi cami, skirt (similar here), Shoe Dazzle pumps, Michael Kors watch, Stella&Dot renegade cluster bracelet, Mint Julep starfish earrings, Bauble Bar Monogram necklace, vintage necklace, House of Harlow 1960 Chelsea sunglasses, Chanel Joues Contraste 55, Essie pink-a-boo nail polish.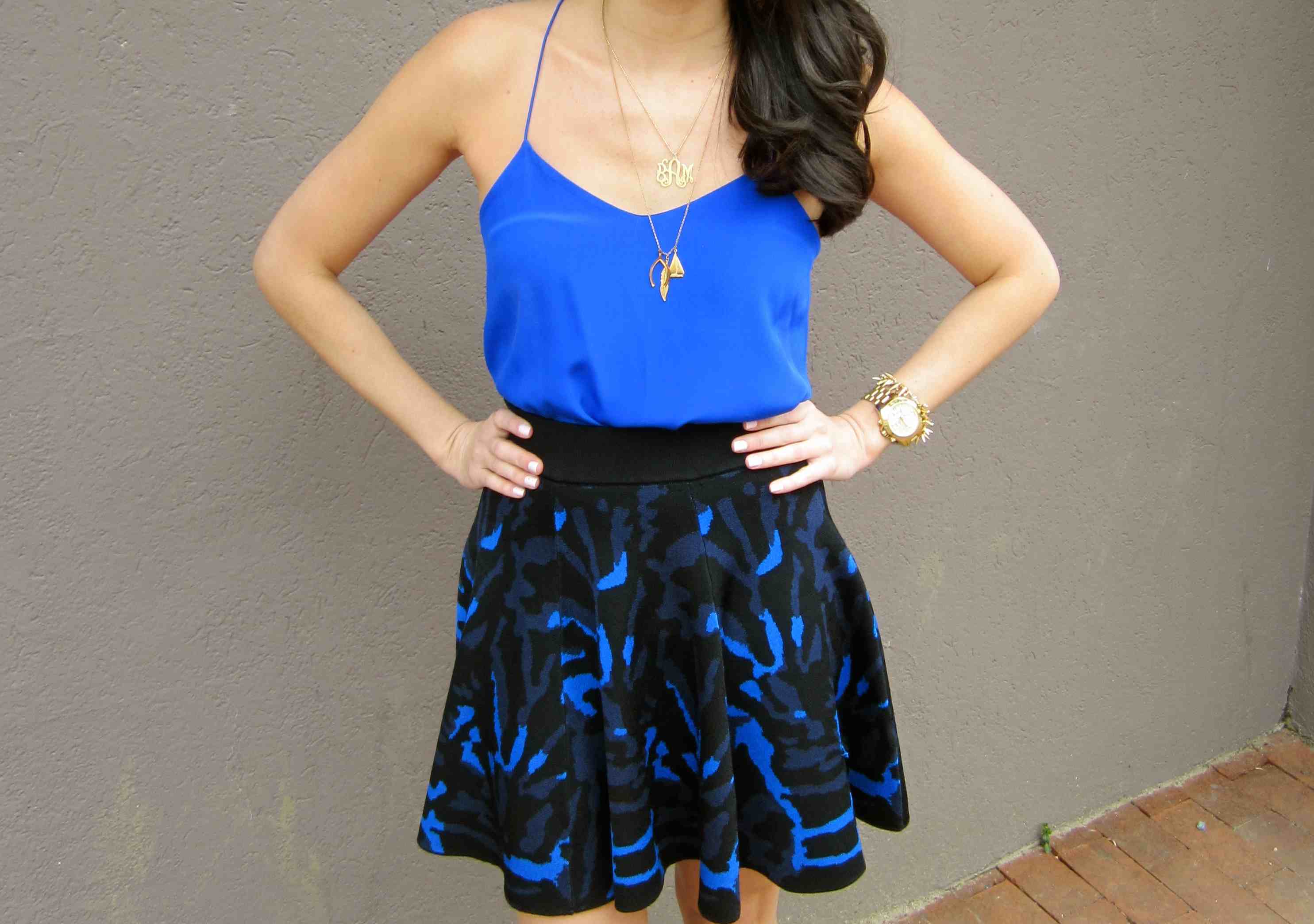 Als wir näher an Frühling und Sommer bewegen, wird Punsch Farben helfen Ihnen erhellen Ihrem Kleiderschrank. Kobalt ist einer jener Farben, die wirklich ins Auge fällt, ist nur knallt. Es war keine Überraschung, Kobaltblau Pop auf den Laufstegen der Modewelt zu sehen, es war definitiv ein Runway Liebling. Helle Kobaltblau erscheint, wenn mit einfachen schwarzen gepaart. Tibi camis sind schlank, schick und sorgenfrei. Ich trage dieses Kobaltblau Jahr-around. Ich bin derzeit in der Liebe mit den schwarzen und weißen Seesterne Druck Tibi hat. Du weißt, ich bin so schwach, wenn es um Seesterne kommt. Outfit Details: Tibi cami, Rock (ähnlich hier), Shoe Dazzle Schuhe, Michael Kors Uhren, Stella&Dot abtrünnigen Cluster-Armband, Mint Julep Seesterne Ohrringe, Bauble Bar Monogram Halskette, Vintage Halskette, House of Harlow 1960 Chelsea Sonnenbrille, Chanel Joues Contraste 55, Essie pink-a-boo Nagellack.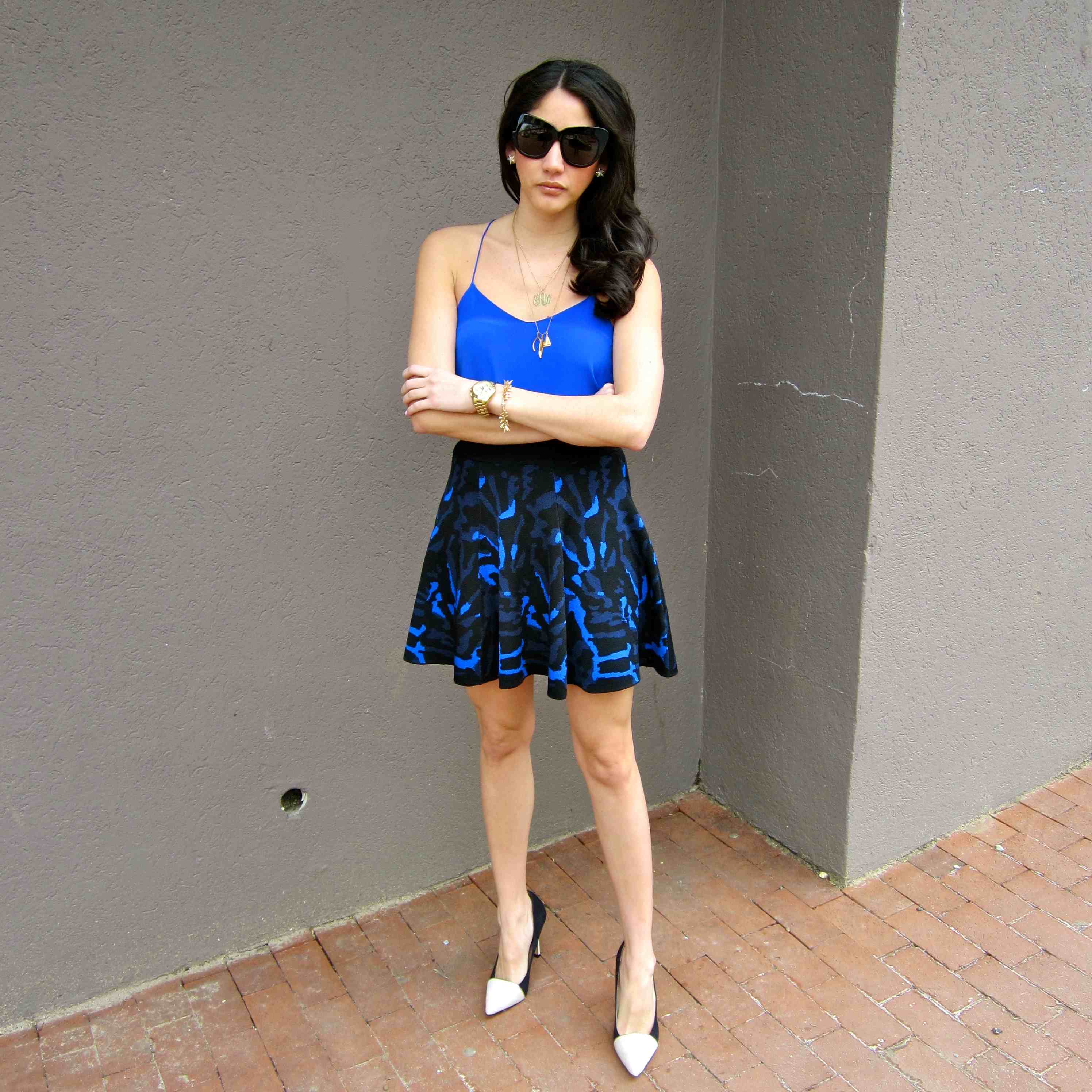 A medida que nos acercamos a la primavera y el verano, los colores ponche te ayudarán a aclarar tu armario. El cobalto es uno de los colores que realmente te llame la atención, simplemente hace un pop. No fue una sorpresa ver pop azul cobalto en las pasarelas de la moda, que fue sin duda uno de los favoritos de la pista. Azul cobalto hace un pop cuando se combina con negro básico. Camis Tibi son elegantes, chic y libre de preocupaciones. Me pongo este azul cobalto durante todo el año. Actualmente estoy enamorada de la blusa de estrella de mar Tibi en blanco y negro. Sabes que soy super débil cuando se trata de estrellas de mar. Detalles de mi atuendo: Tibi cami, falda (similar aquí), zapatos Shoe Dazzle, reloj Michael Kors, pulsera Stella&Dot, pendientes estrellas de mar Mint Julep, collar Bauble Bar, collar vintage, gafas House of Harlow 1960 Chelsea, Chanel Joues Contraste 55, Essie rosa-a-boo esmalte de uñas.